Looking for your next relaxing weekender out of Sydney? Located just 1 1/2-hours drive from Sydney's CBD in the small town of Bilpin, Eden Farm Escape is a beautiful, luxury farm stay, owned and managed by Eden Equine.
Set on a 90-acre equine farm, this is one of the most unique, pet friendly accommodation stays that I've experienced.. and thoroughly enjoyed too mind you. The change in scenery hits you as soon as you arrive, that 'ahh moment' knowing you're about to unwind from what was only a short road trip out of the big city.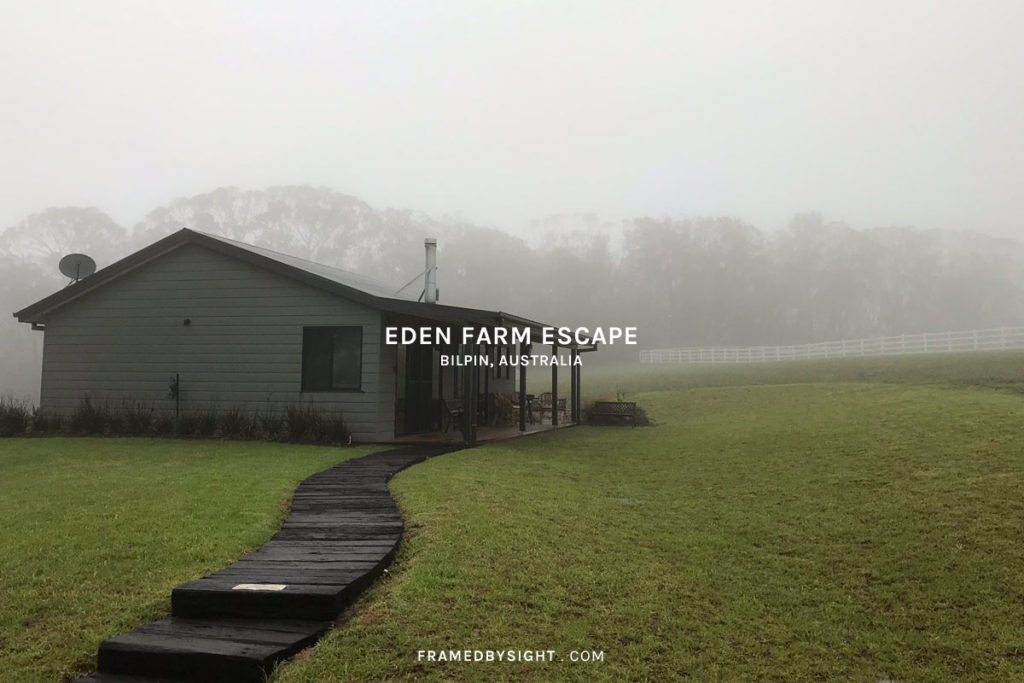 With your choice of five self-contained cabins, this is the perfect getaway for a couple, a family, or a group of friends to stay on a relatively quiet and peaceful acreage. The cabins are clustered near enough to each other and only walking distance apart, yet still offering privacy in between. And what I love even more about this stay, is that your dog is welcome too.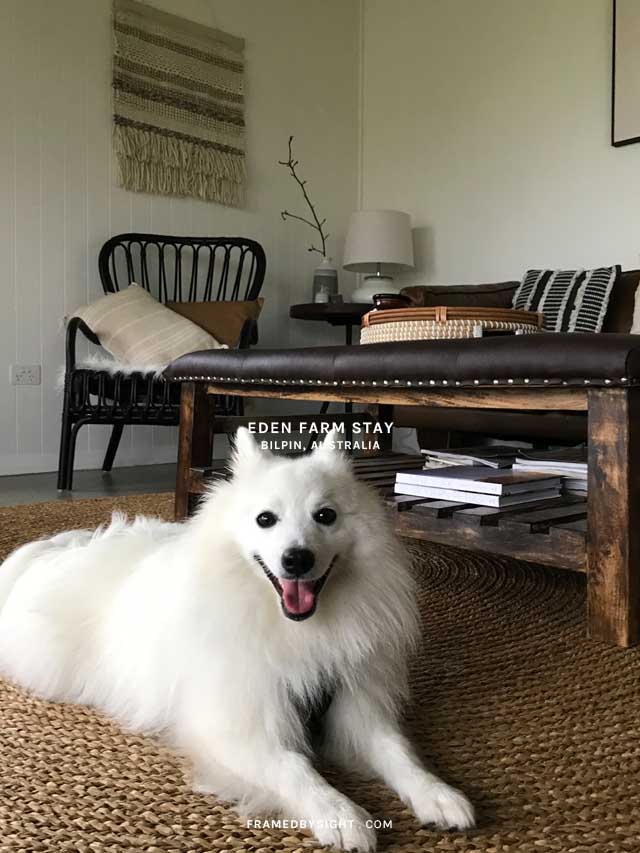 Our accommodation was in the Charlie Cabin, a modern 2-bedroom property equipped with a full-sized kitchen and bathroom. This cabin will comfortably fit a family of four, or even up to six when sharing. In our case it was just a family of two plus Kenji, our pooch.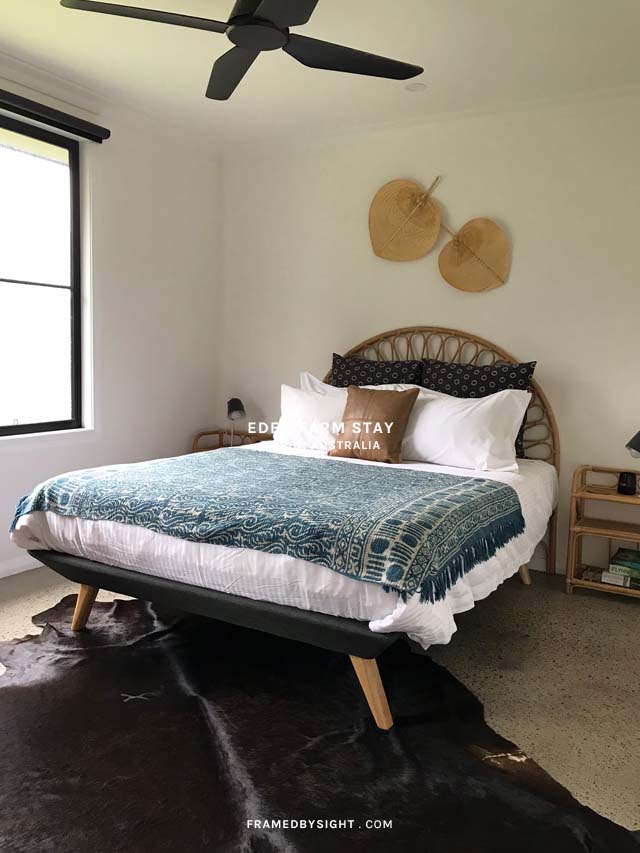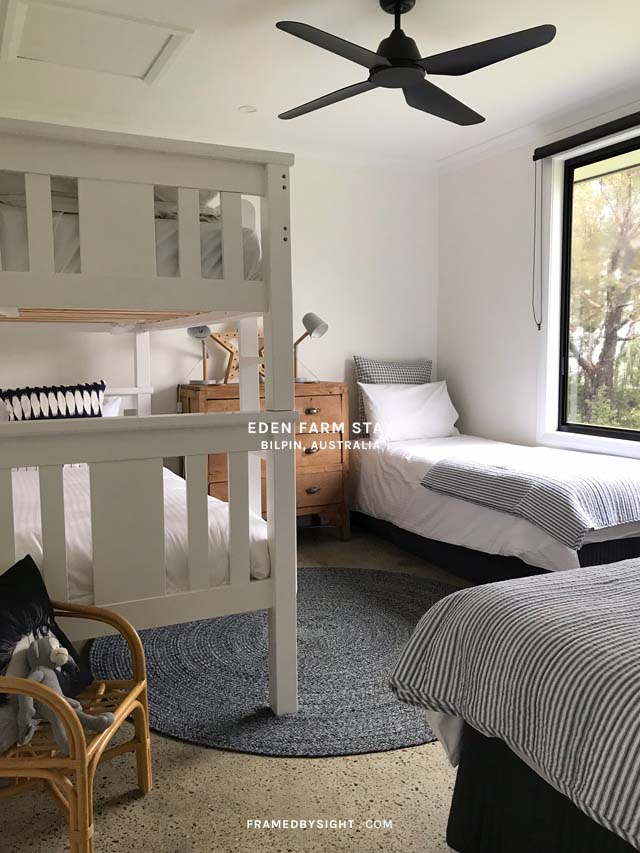 There are other room types available at Eden Farm Escape such as a studio cabin with disabled access, another 2-bedroom cabin, and two 3-bedroom cabins, all of which are pet friendly too.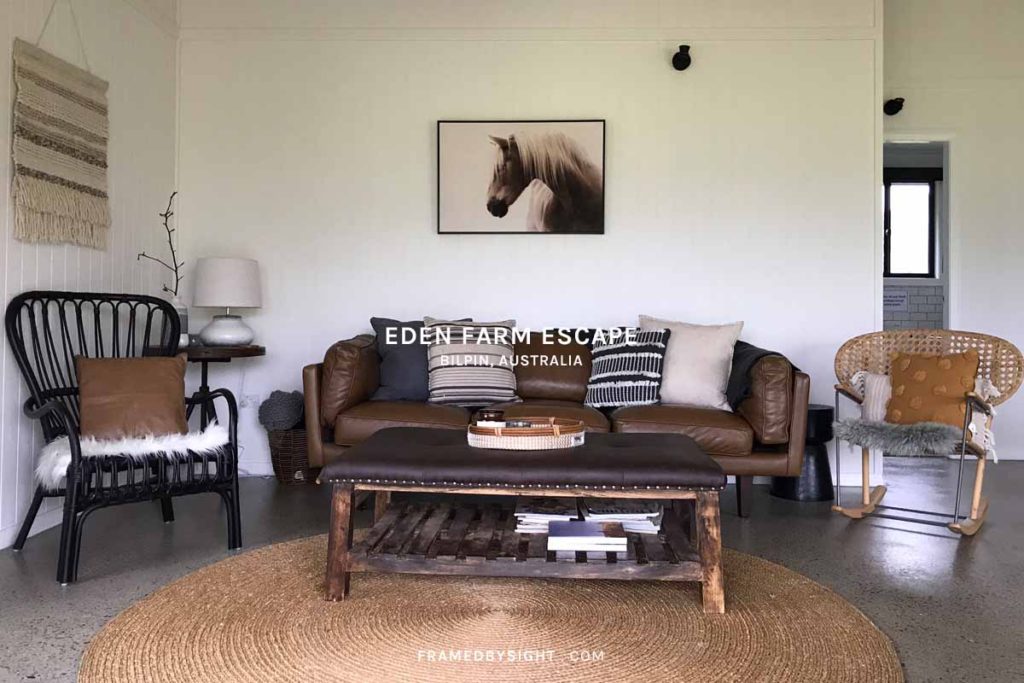 As you're staying on a large farm, the main road entrance is about 1.5km away from your actual cabin, so you do need to drive in and out of the property each time. The road on the farm is predominantly compacted dirt – which includes a few bends and bumps and isn't completely flat – and horses surround nearby paddocks, so expect to drive slowly. That said, we had a hatchback car which was still ok to get around throughout.
Upon arrival, you're first met with a gated entrance and once you enter and drive towards your assigned cabin, you'll find your room key in a wall-mounted lockbox next to your door. Our entry doors have both a glass sliding front door, in addition to a fitted fly screen. The floors for this cabin are polished concrete, and fortunately we have tiles at home so Kenji was able to adapt his footing. That said, he's not good on wooden floors, so do keep this in mind if you're considering to bring your pet as one of the cabins at Eden Farm Escape have wooden floors.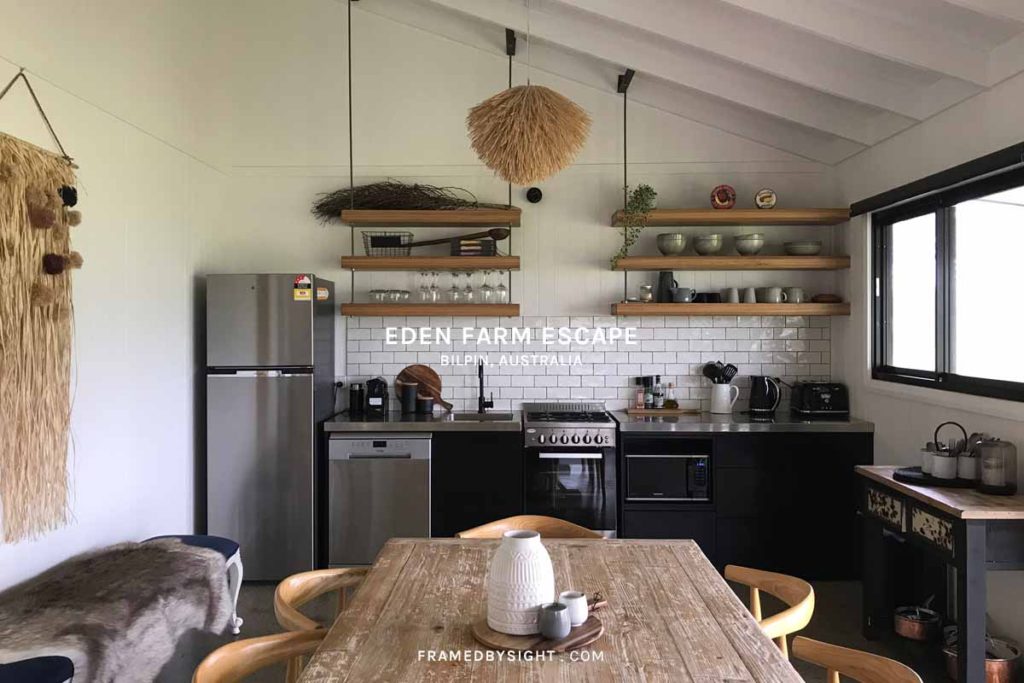 The Charlie Cabin is very spacious inside. Expect plenty of bench space in the kitchen equipped with a gas stove, microwave, dishwasher and a well-stocked selection of kitchen utensils and cutlery. There's solar powered air-conditioning (available only during daylight hours) and ceiling fans in most rooms.
You'll also have access to a Nespresso coffee machine and a dining area to seat up to 8 people. Essential cooking condiments are readily available such as oil, balsamic vinegar, salt and pepper, so all you need to bring are the main ingredients for food preparation if you're planning to stay in for a few days. I could definitely see myself with a bunch of friends catching up all together here, each staying in the different cabins with their young families.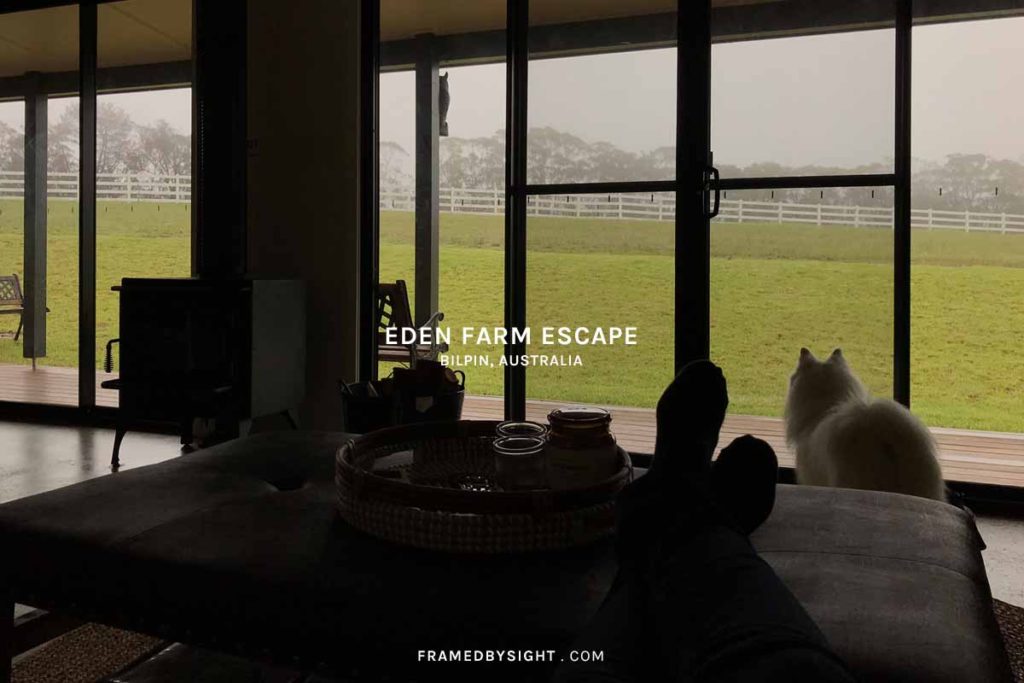 Surrounded by tall trees and rolling green paddocks, this was the perfect, relaxing "weekend in" that we needed. Think warm cosy fireplace, a cheese and crackers board, a few drinks.. and just being in great company together. We didn't have many plans, we just spent time walking around the property and popped up to the local towns of Berambing and Bilpin to dine out a few times.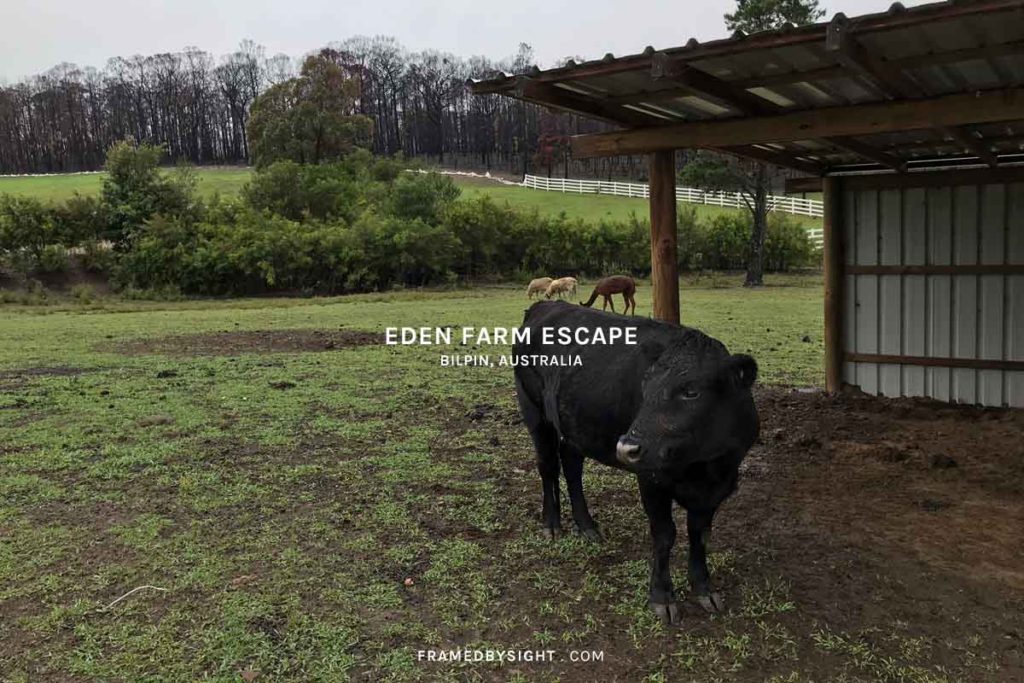 Of a morning, stroll around the farm and interact with the farm animals, or sit on your patio with a good book.. ahh, yes please. If you and/or your children love animals, you'll meet the cows Coco (black) and Monte (brown) and the alpacas Watson, Cinnamon and Cappuccino.
You'll also find Fiona, Shrek and Donkey – yes the third donkey is named Donkey – and the goats Willow, Patch and Oreo. See if you can also spot the family of sheep; Ellie, Rambo, and twins Lavender and Sunday.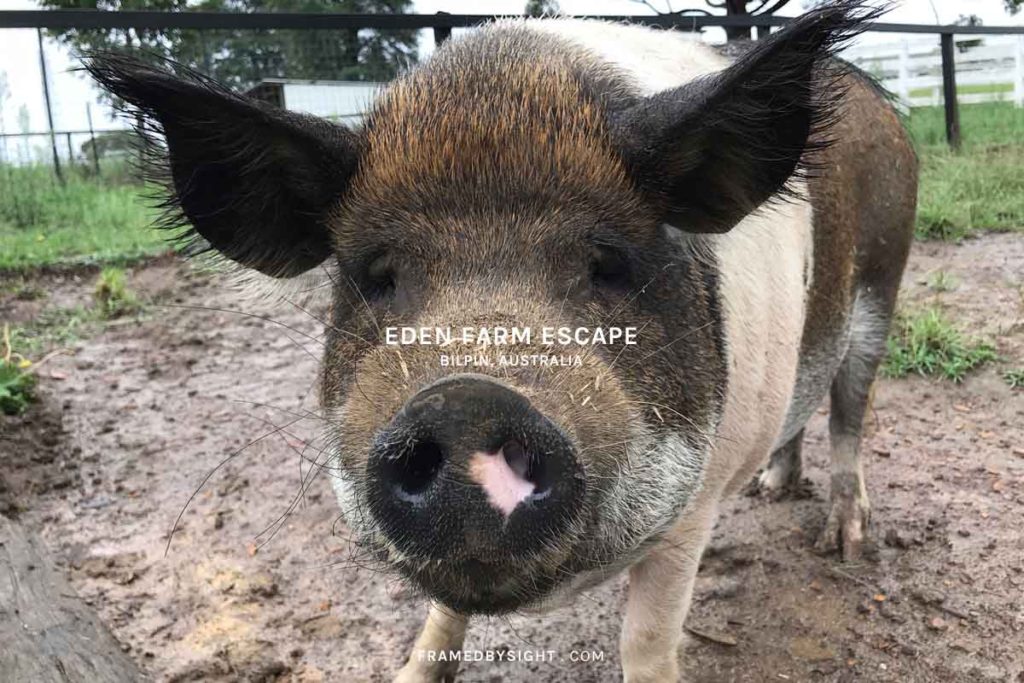 And my ultimate favourite was when I saw Sir Russell Pigsley the III, who I learnt was originally adopted from the RSPCA. He was found on the street as a little piglet and has since grown to love the farm life and sidles up to the fence for a back rub as soon as he sees you.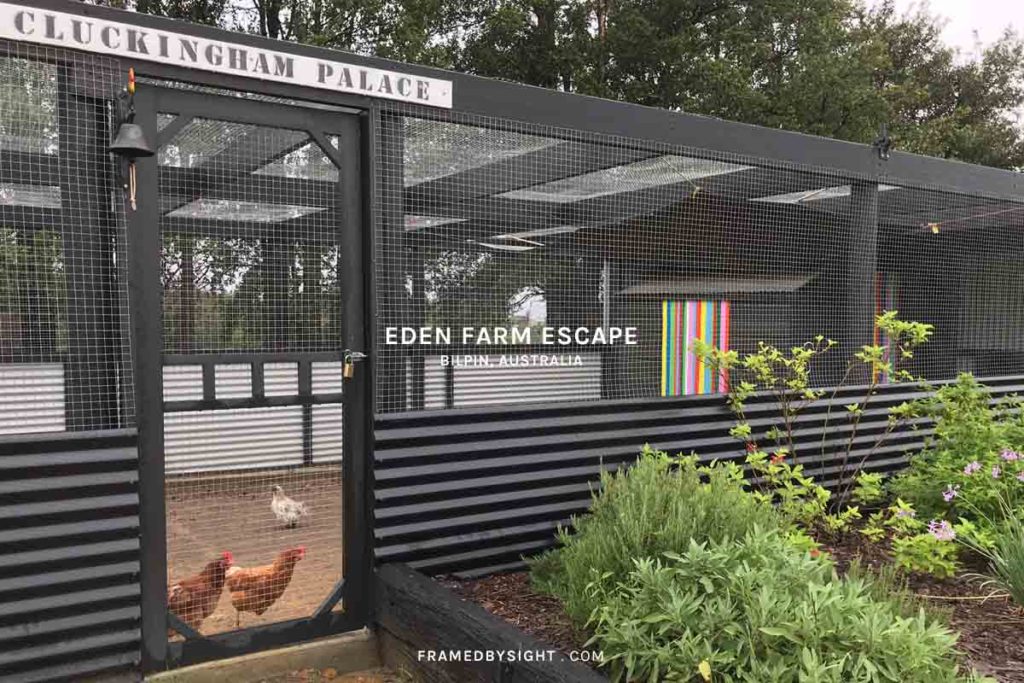 Don't forget to take a sneak peak at the Cluckingham Palace too, home to a pen full of chickens. I'm sure the chickens have names as well, but I don't think I can tell you all of these!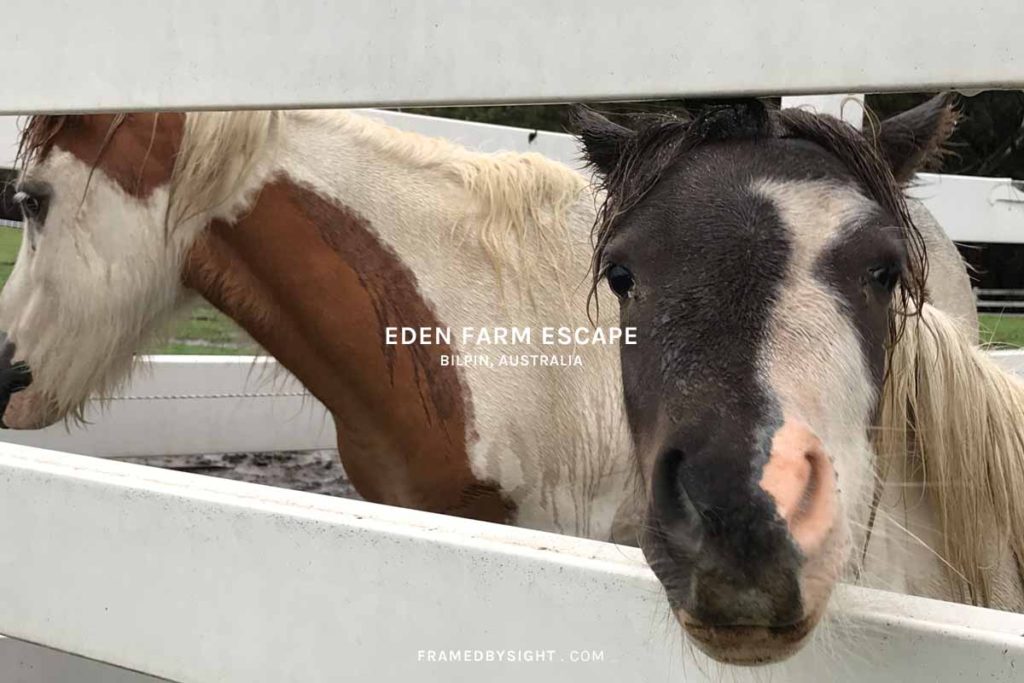 Across the paddocks, you'll find 12 owned horses and ponies on-site, in addition to other horses which may be agisting on the Eden Equine property. We met these two beautiful ponies who were very curious when we approached, yet friendly enough to pop their nose out for a pat between the fence.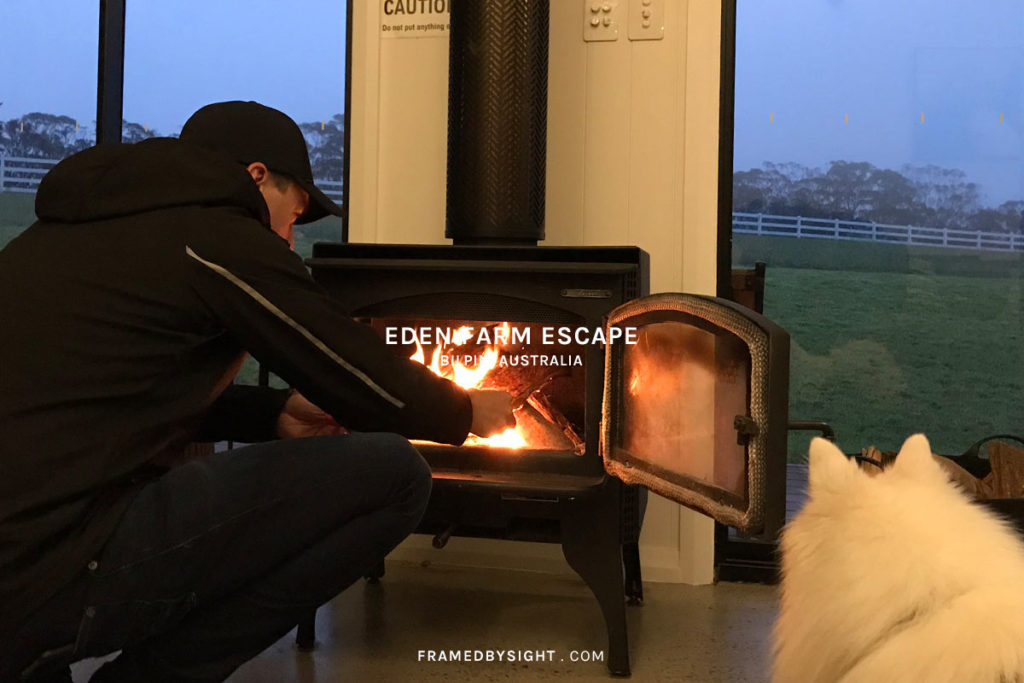 Eden Farm Escape is such a beautiful animal haven to relax and stay at. What I love about this place is the serenity – a peaceful distraction from Sydney's fast paced life; not too far to drive to, yet still oh so close.
Highly recommended stay, to anyone looking for their next relaxing and short driving trip around Sydney. #lovensw #togetherintravel #backtobilpin
Tips:
If you're planning a cosy weekend in, bring your food in the car before you arrive (so you don't have to head out again). There's an IGA Express supermarket in Kurrajong Heights that you'll pass if you're driving from Sydney's CBD direction, or for a larger supermarket, there's a Woolworths in Richmond.
Each of the cabins come stocked with oil, salt, pepper, sugar, tea, coffee pods, hand wash, body wash, bath linen and bedding – so don't pack your entire home before you arrive.
If you're staying at Eden Farm Escape during a weekend, public holiday or school holidays, you might experience a complimentary morning equine session. Learn the basics about horses, feeding time, grooming time, and possibly meet the other farm animals too. All other session times are on request only.
Interested in horse riding lessons? These are available at an additional cost (prior notice required).
Bring some good walking boots to use around the farm as there aren't many sealed footpaths.
The New Apple Bar, Bilpin is across the road from Eden Equine and they have a great outdoor, dog friendly seating area. I'd highly recommend trying their delicious handmade pizzas.
The Hive Cafe, Berambing offers a light breakfast and coffee, with a handful of dog friendly, outdoor dining tables. The cafe is on the main road, so do keep this in mind if your pooch is not comfortable with moving cars nearby. When you're here, you must pick up a jar of their locally produced Cinnamon Creamed or Raw Bilpin Bush Honey, perfect for your toast or pancakes of a morning.
I'd highly recommend buying a homemade apple pie from Pie In the Sky Roadhouse, Bilpin. There's also a great outdoor grassed area where you can sit with your pooch.
Bilpin Cider Co. is another dog friendly spot to visit, with plenty of grounds to explore and the opportunity to try their local brew first-hand.
The World Heritage Blue Mountains National Park is less than a 45-minute drive away. Pets are not allowed in NSW national parks and reserves, however Katoomba is a great town to visit for the day. Or, if it's just you and the family (no pooch), enjoy the outdoors and see The Three Sisters and Wentworth Falls.
Address
Eden Farm Escape
13 Hanlons Road South, Bilpin, New South Wales, Australia 2758
24