(Edit: Stay was pre- COVID-19 lockdown)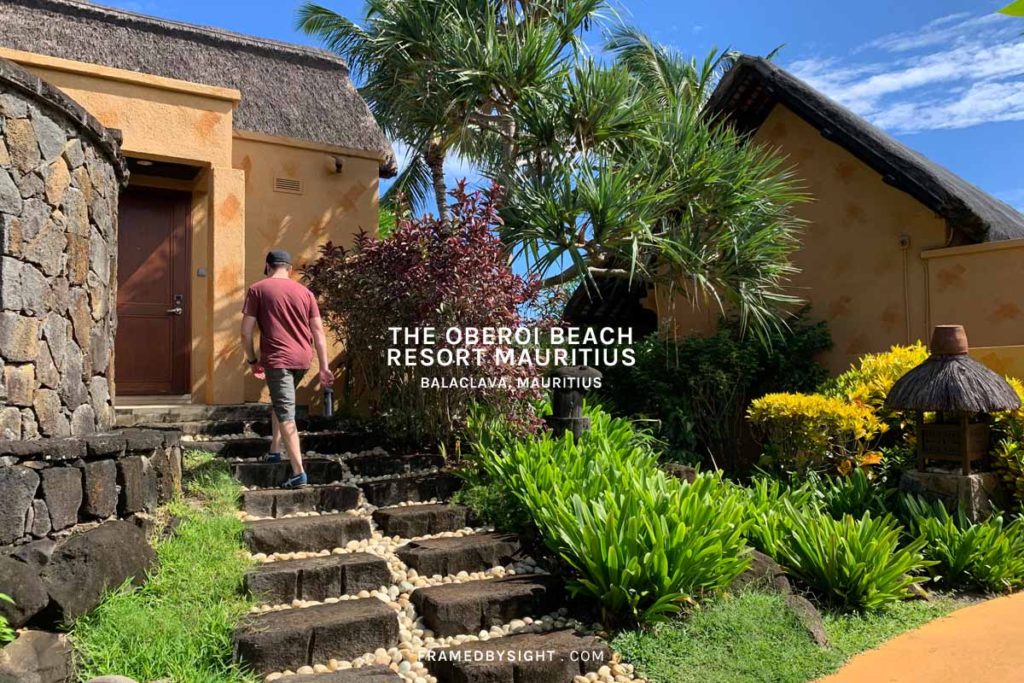 The Luxury Pavilion at The Oberoi Beach Resort Mauritius is a relaxing and spacious hotel stay, featuring a large open plan room with a separate living area and an adjoining outdoor private terrace.
At 70sqm in size, it is much bigger than many other international hotel rooms we've stayed at and I would love to stay here more frequently.. if only I didn't live so far away in Australia that is.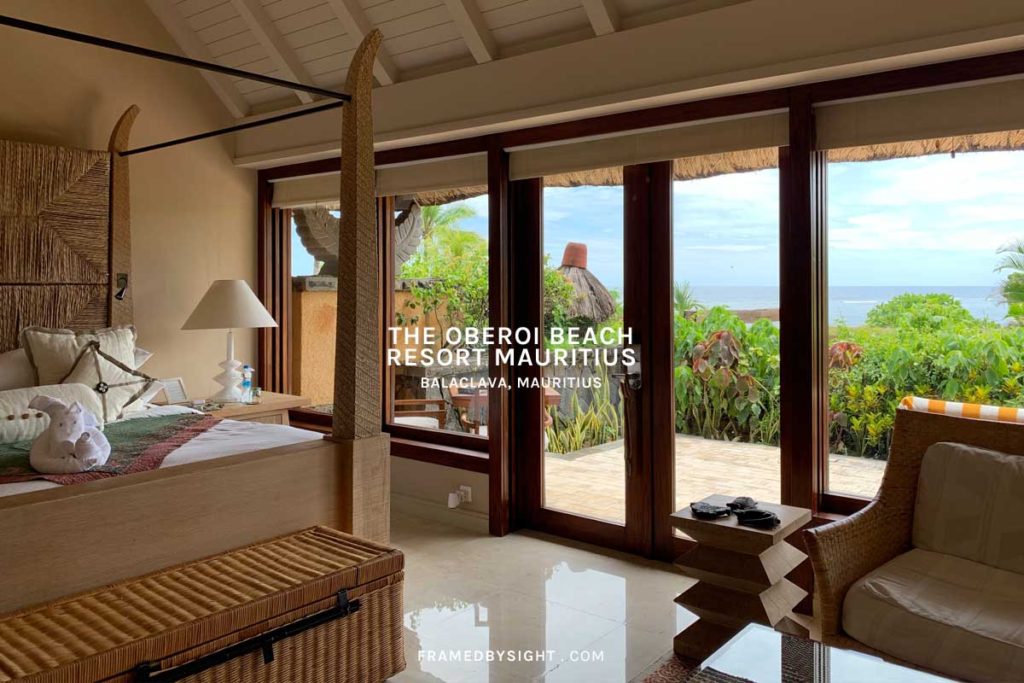 Upon entering, you're in awe of the epic water views straight out the glass doors and windows facing the garden. This fills the room with plenty of natural lighting and can be filtered throughout the day using sheer or blockout blinds available on all windows and doors.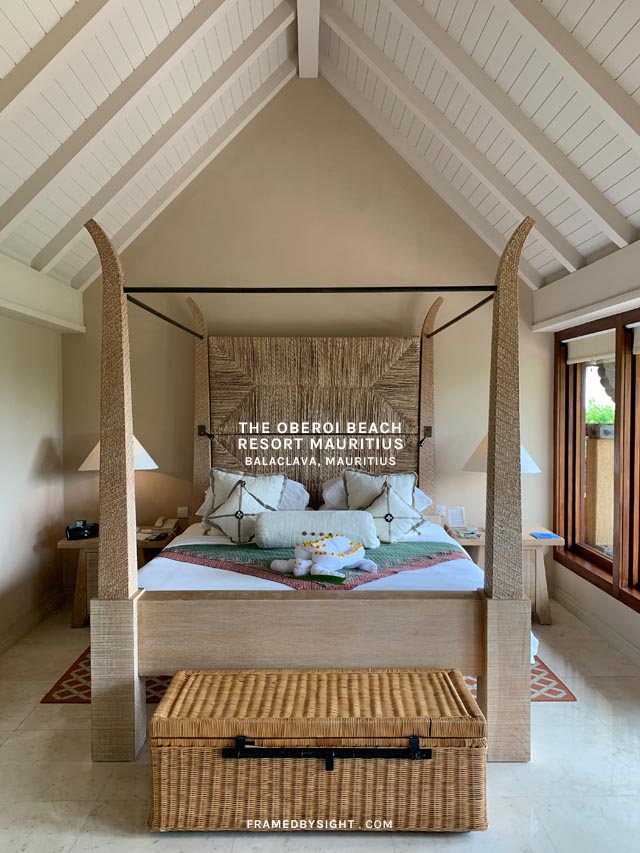 Expect that relaxing feeling – "ahh.. I'm on holiday" moment whilst staying here. Fitted with modern coastal and natural bamboo furnishings, this pavilion exudes luxury at all corners of the room; soft and cosy bedding, marble bathroom fixtures, spacious living and a private terrace with sun loungers and an outdoor seating area.
The king-sized bed was layered with comfy textured linen and far too many decorative pillows (which I love mind you) and it was so easy to close my eyes and rest. Make sure you give their pillow menu service a go, ensuring you have the best possible nights' sleep every night.
I did have one challenge though and it was the bedside power points which were really only for the lamps and in an awkward position. If you needed to charge your phone, you'd have to walk across to the living area and plug it in near the table – or, you could still choose to unplug your lamp if it bothered you that much.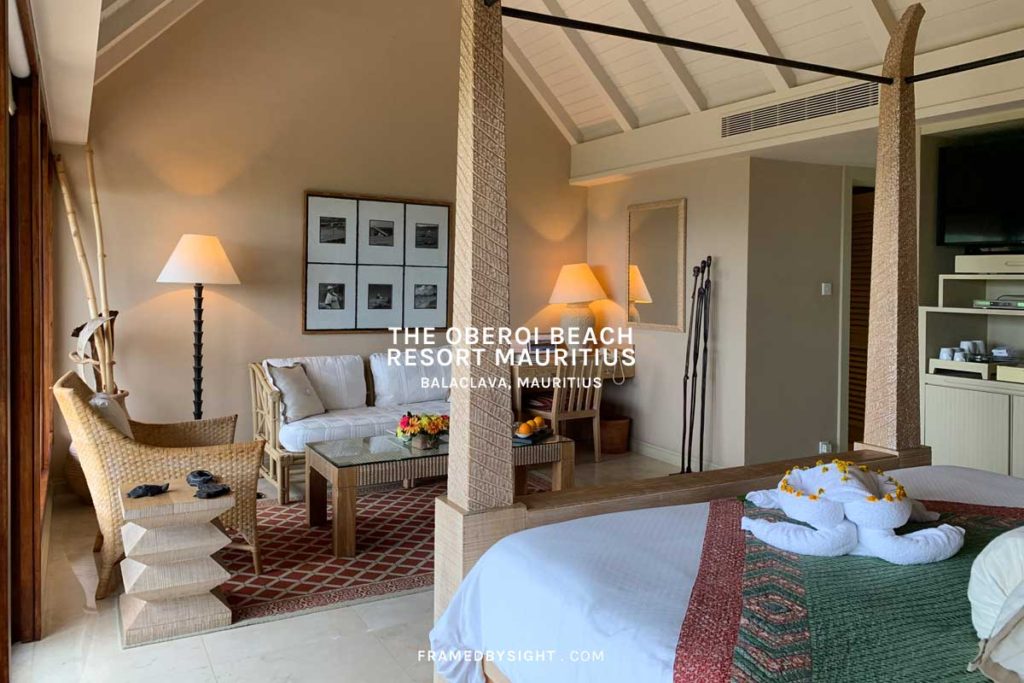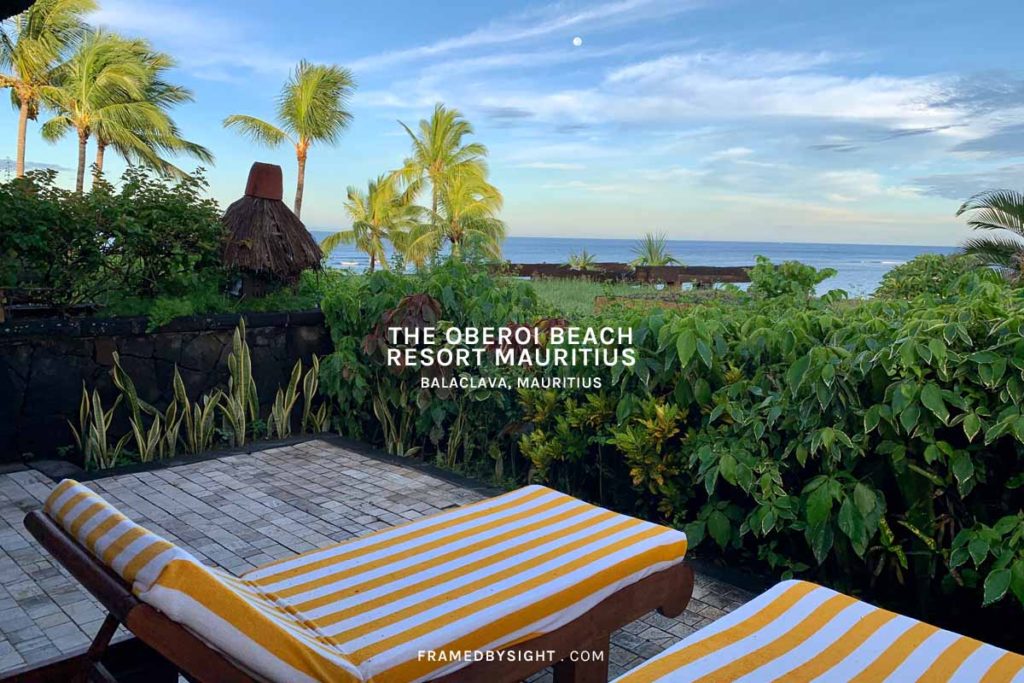 I don't know how many times we commented on how mesmerising the view was, such a peaceful and calming respite.. and you really felt like you were staying on an exclusive tropical island. What more could you ask for?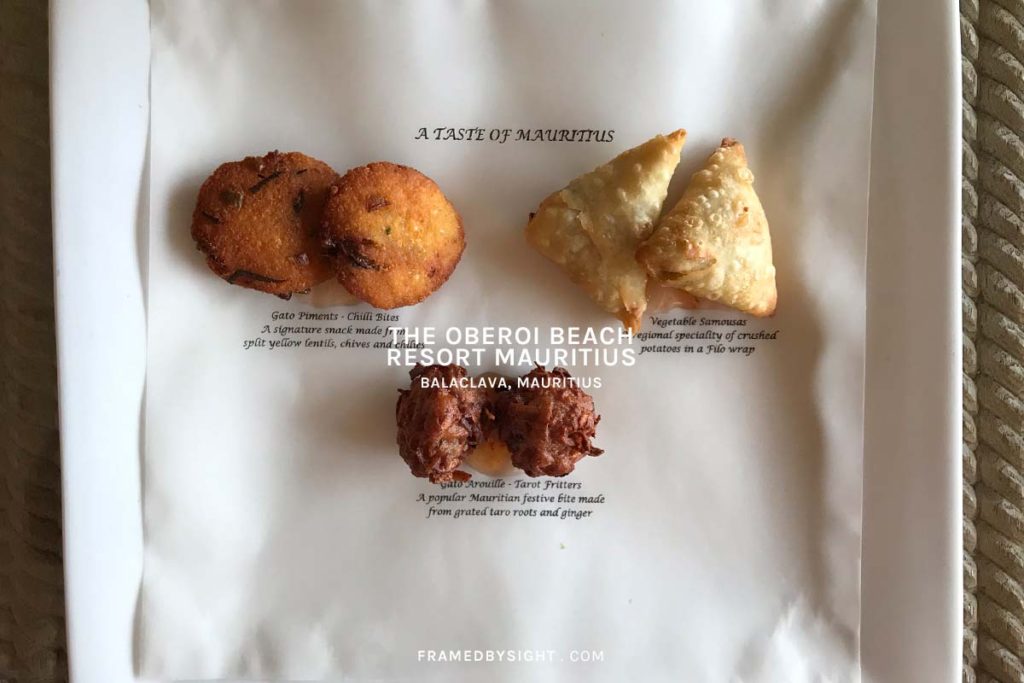 On the first day we arrived, there was a delicious food platter in our room which included bite-sized traditional Mauritian treats: gato piments (chilli bites), vegetable samosas and gato arouille (taro fritters) – a great way to kick off our experience here at The Oberoi Beach Resort Mauritius, tasting local flavours.. and it was such a nice gesture too. Btw, the taro fritters became my favourite during my stay, so I ordered them with my breakfast nearly every day too.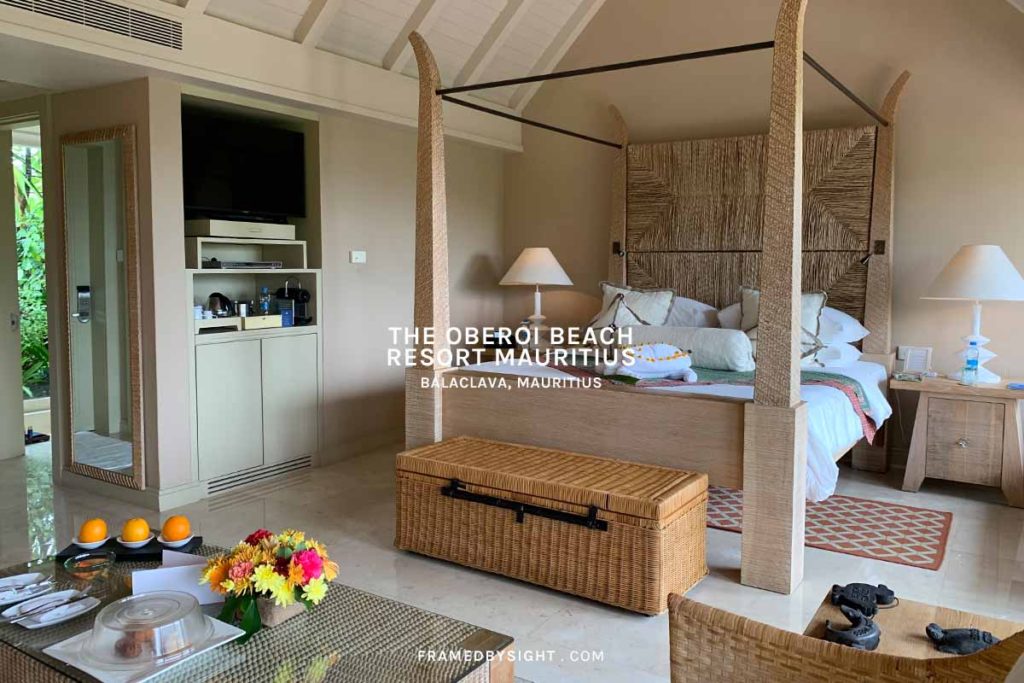 Our room was equipped will all the modern technologies including air-conditioning, complimentary access to Netflix set-up under The Oberoi's account (not your own), a TV mounted on an extendable swivel platform to view from all different angles in the room.. and not to forget an espresso coffee machine. Wi-Fi is complimentary in-room and on the property grounds and we never had issues with connecting, even near the main pools or restaurants.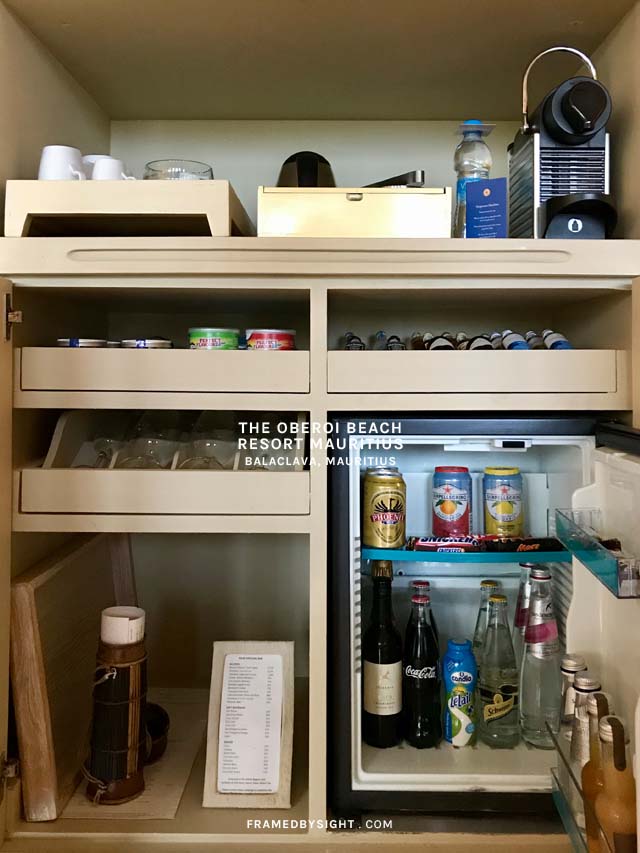 Expect a fully stocked minibar (pay on consumption) with a range of alcohol, soft drinks, other beverages and snacks.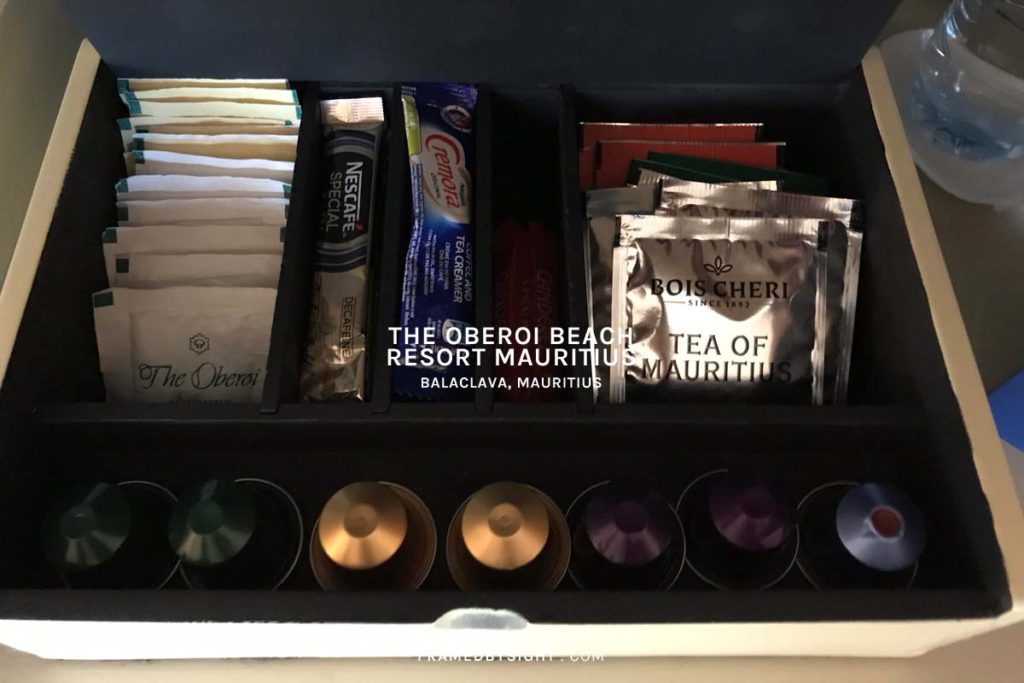 Complimentary bottled water, tea and coffee pods for the espresso coffee machine are provided in-room and replenished daily.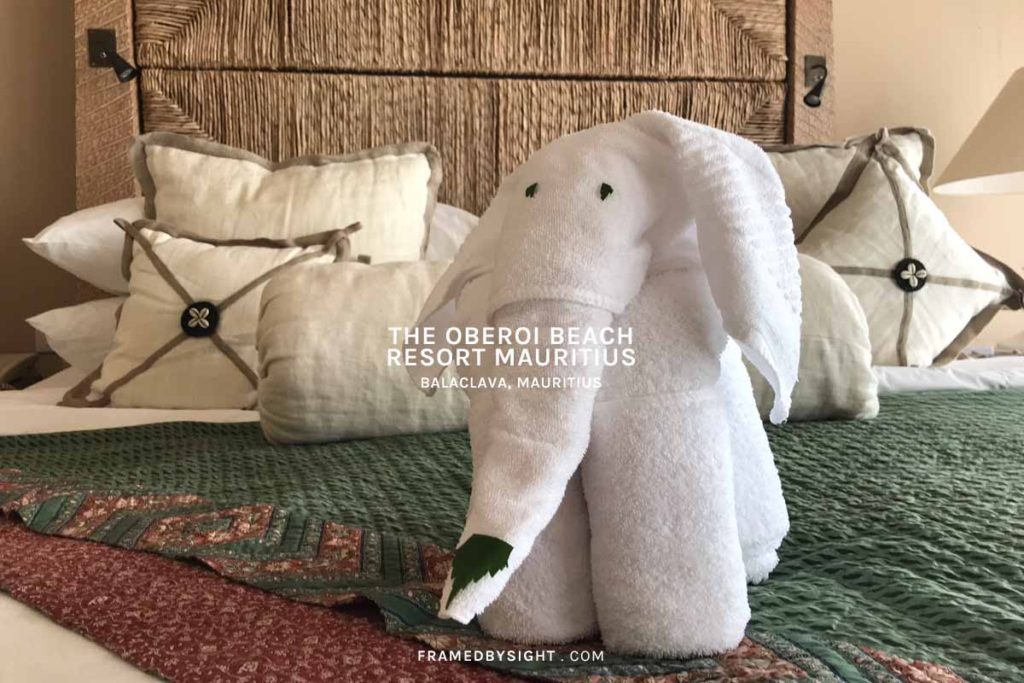 You also start learning that the room service attendants are decorative towel art masters and each day after returning, there would be new creation on the bed. My favourite was the elephant!
There was fresh fruit on the table every morning, and the evening turn down services were prepared with slippers and a mat by the bed and notecard reminders of the complimentary activities available each day. The room service was always immaculate and we had no issues throughout.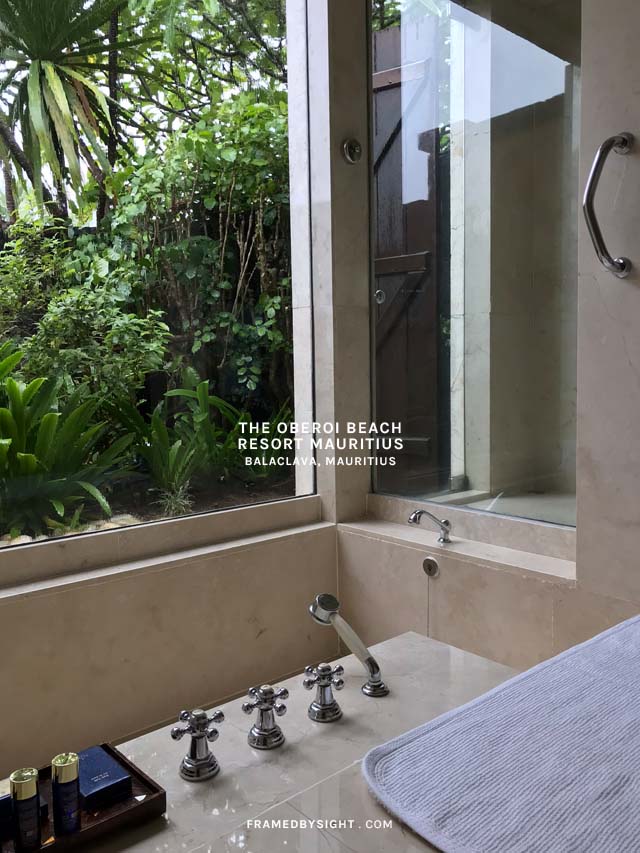 In the bathroom, the products are ladened with amenities from Forest Essentials, specially blended for The Oberoi Hotels & Resorts. The fancy sunken marble bath (ooh la la), took about 20-minutes to fill and when you opened up the bath salts, they soaked clear into the water and released a calming floral scent. It was huge for a bath and felt like a mini plunge pool to be honest. There was also a head cushion in the corner of the bath so you could relax in peace and quiet with a garden view, all privately screened behind a high wall.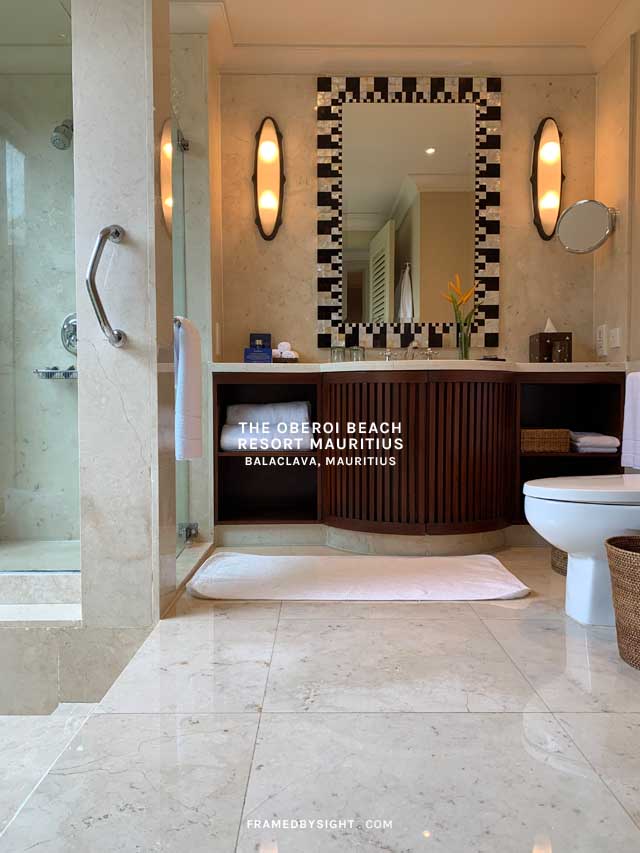 The shower was excellent, with a wall mounted adjustable pressure nozzle and a handheld option also available.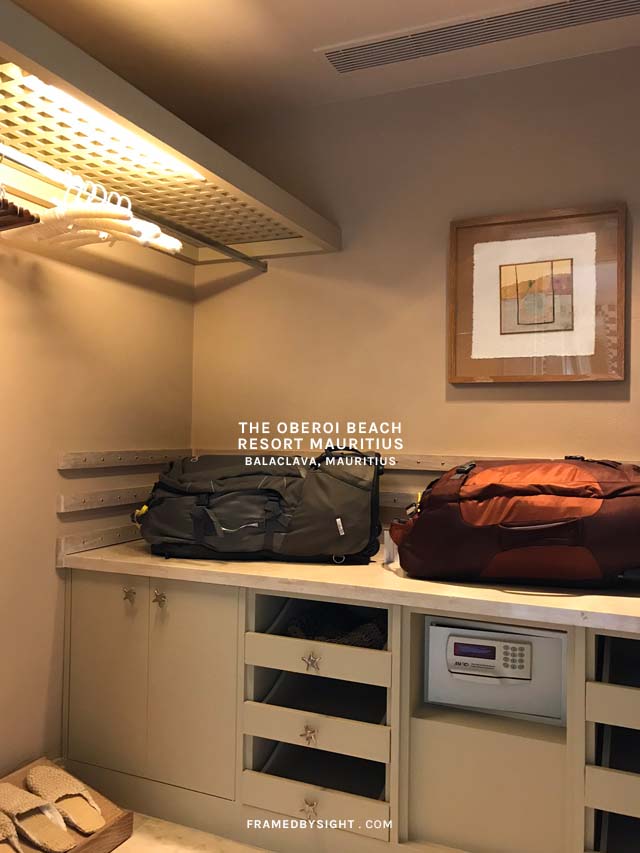 Now let's talk about this walk-in wardrobe. I've never experienced so much space. Clearly our house wardrobe is too small or I need to ask my husband to consider a renovation – this wardrobe felt like an oversized kitchen pantry cupboard. Ample space for luggage, plenty of hangers and hanging space for clothing, access to an electronic safe, use of a beach bag and some comfy slippers to wear around the room.
We truly enjoyed our accommodation in the Luxury Pavilion. We were out of the room most days and only really stayed in to binge watch Netflix and read our books on rained-in afternoons, or to sleep. Otherwise, we enjoyed our time around the resort, had mojitos by the pool or an afternoon beverage at The Bar, and participated in most of the daily resort activities on offer. Every time we returned to the room, it was such a relaxing haven to come back to.. this trip was the ultimate holiday that we had been longing for.
–
During our stay, we were very fortunate to meet Prattima. We asked to see what other hotel rooms looked like inside and take a proper tour around the resort. This is when we also discovered where the adults only pool was located as we couldn't find it in the beginning.
The Luxury Villa with Garden was pretty much the same as the Luxury Pavilion other than its overall footprint at 275sqm with an expansive garden area. Behind enclosed walls, the garden included a full-sized outdoor, undercover dining terrace with seating for up to four – perfect for young families requiring the extra space.
The Luxury Villa with Private Pool was starting to get a little more fancy. Again, pretty much the same as the Luxury Pavilion other than its overall footprint at 325sqm with a large garden and pool area. Expect a raised full-sized outdoor, undercover dining terrace and a heated pool which you will have the ultimate privacy behind a walled villa. The actual accommodation room itself is exactly the same as the Luxury Pavilion, so the main differences are the outdoors.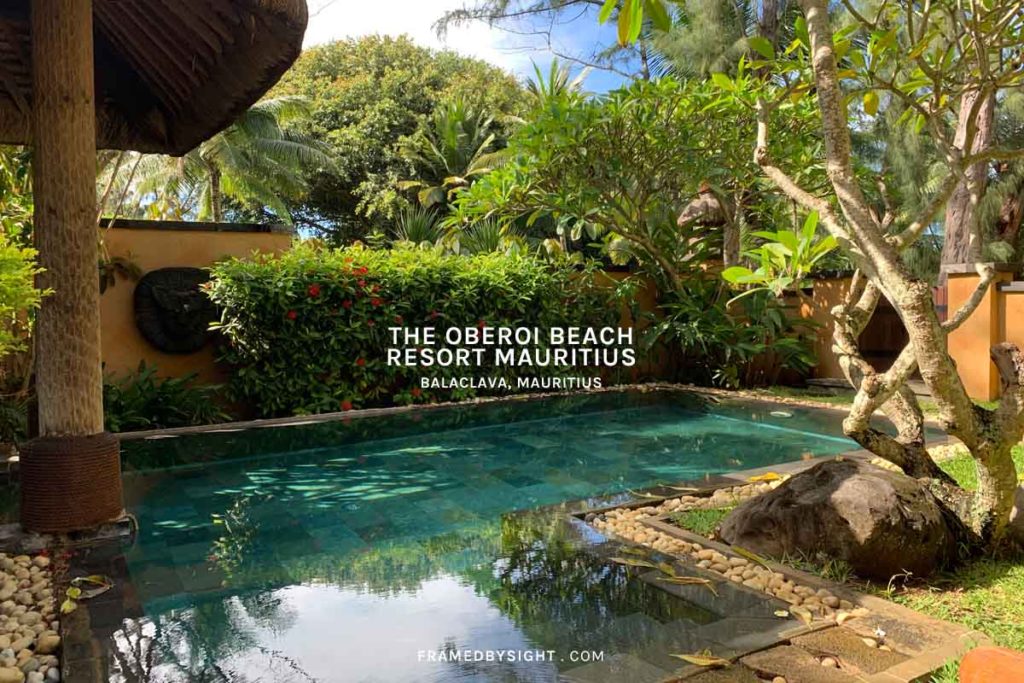 We also got the chance to look at the Royal Villa with Private Pool and oh.em.g I wish I stayed here! This felt like a mansion.. expect 180-degree ocean views, outdoor entertaining and dining areas, full-sized living areas, large pool.. and the opportunity for two families to stay within close proximity, yet also feel quite separated and private from each other.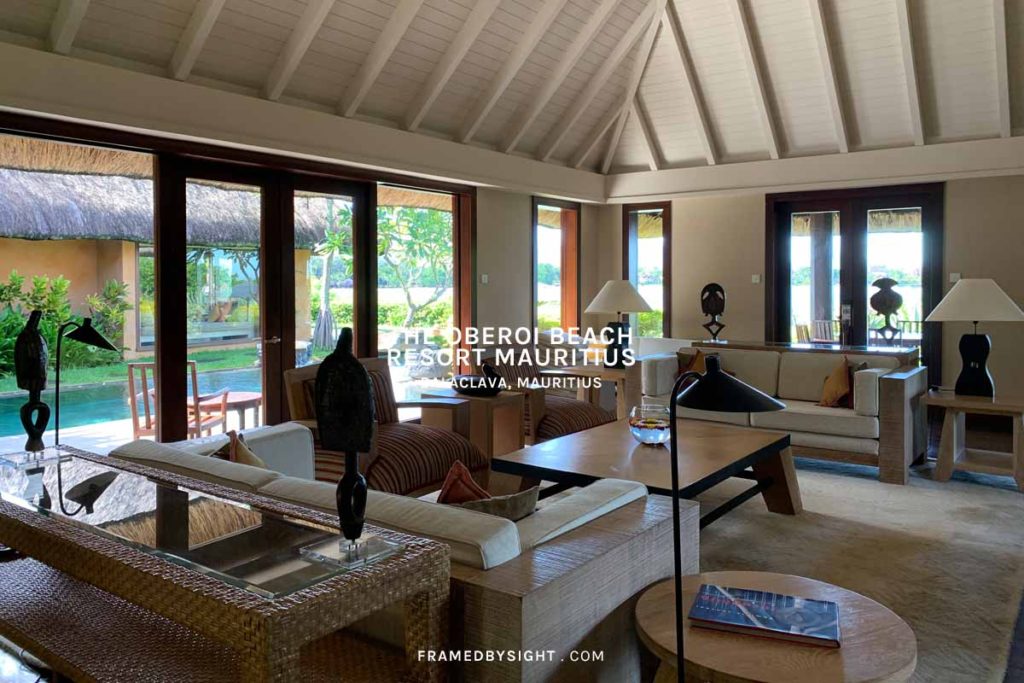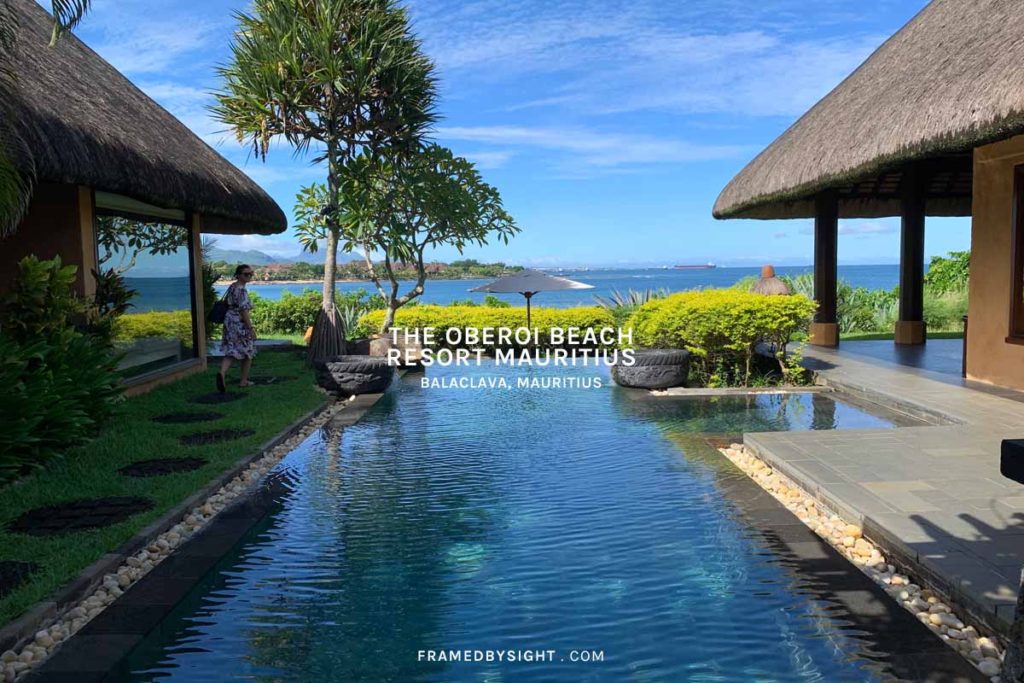 We also popped into The Hub Kids Club available for children aged between 4 and 12 years old. This is complimentary for guests staying at the resort, with a range of daily activities available including access to a children's swimming pool, computer games, an outdoor play area, movie mornings and more.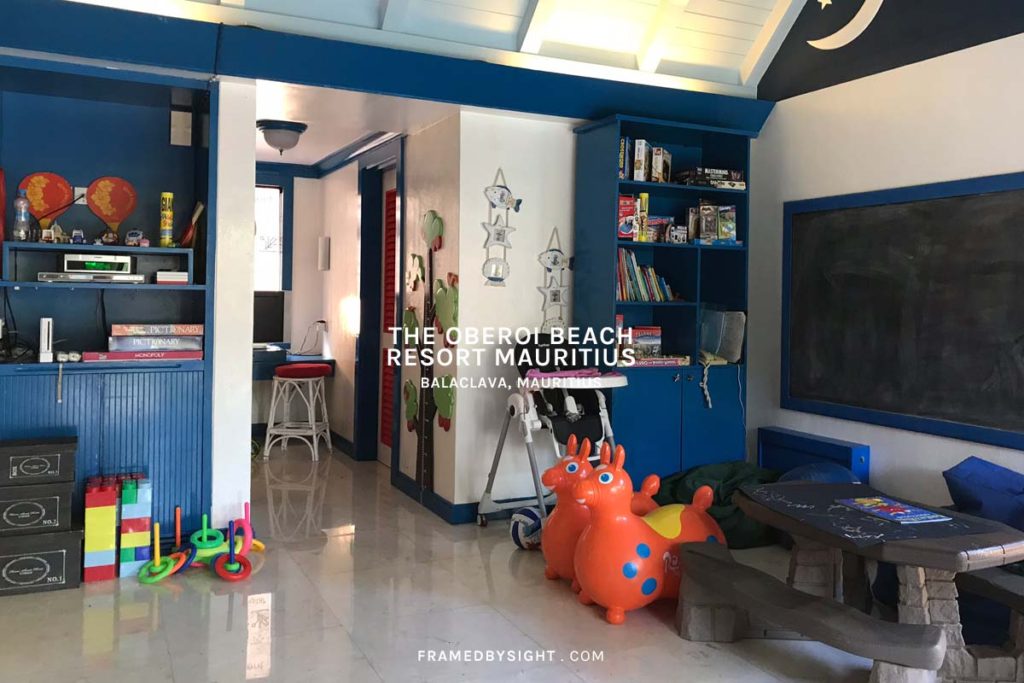 We were shown a number of rooms at The Oberoi Beach Resort Mauritius, but what I'm trying to share is between the first few accommodation types (Luxury Pavilion, Luxury Villa with Garden, Luxury Villa with Private Pool, and Premier Villa with Private Pool), the main difference is only the additional space and / or its location within the resort. The actual accommodation pavilion itself is all the same furnishings inside, regardless of the chosen room type.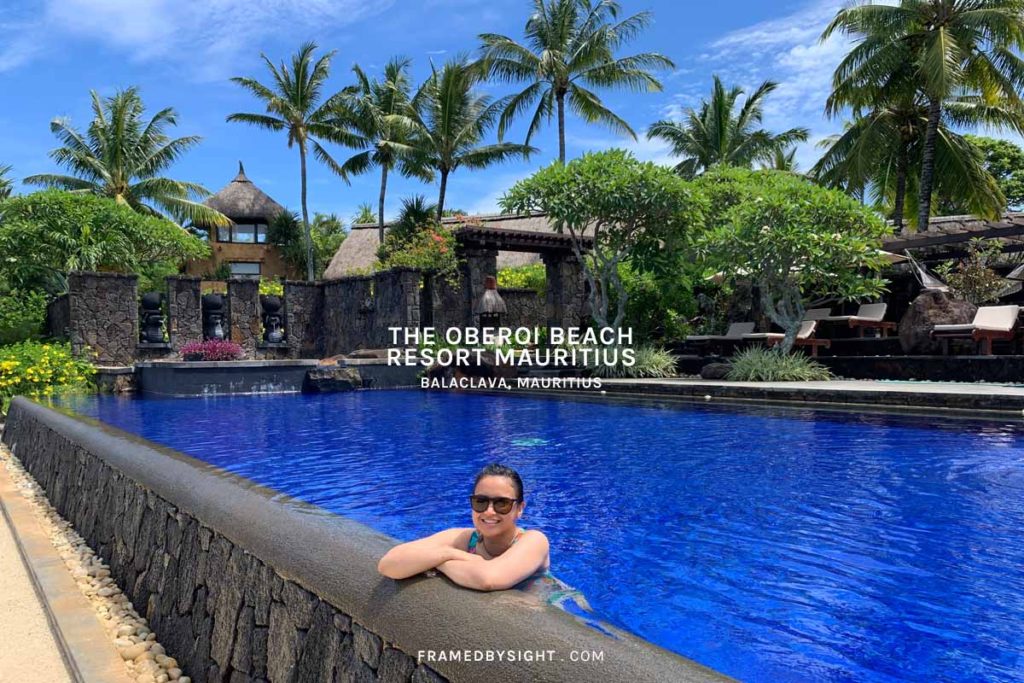 For us, our stay in the Luxury Pavilion was perfect and the staff at The Oberoi Beach Resort Mauritius always went above and beyond to make us feel welcomed. We visited in March 2020 and whilst it was not peak season, we made frequent use of the hotel facilities with not many guests in abundance – in lieu of upgrading our room. I do understand though every trip differs between travellers, so these extra room options can benefit anyone's stay, how they see fit.
I highly recommend our hotel stay at The Oberoi Beach Resort Mauritius and by all means, do reach out to the hotel directly if you have any further questions as they're more than willing to help.
Address
The Oberoi Beach Resort Mauritius
Baie Aux Tortues, Balaclava, Terre Rouge 20108, Mauritius
---
---
16