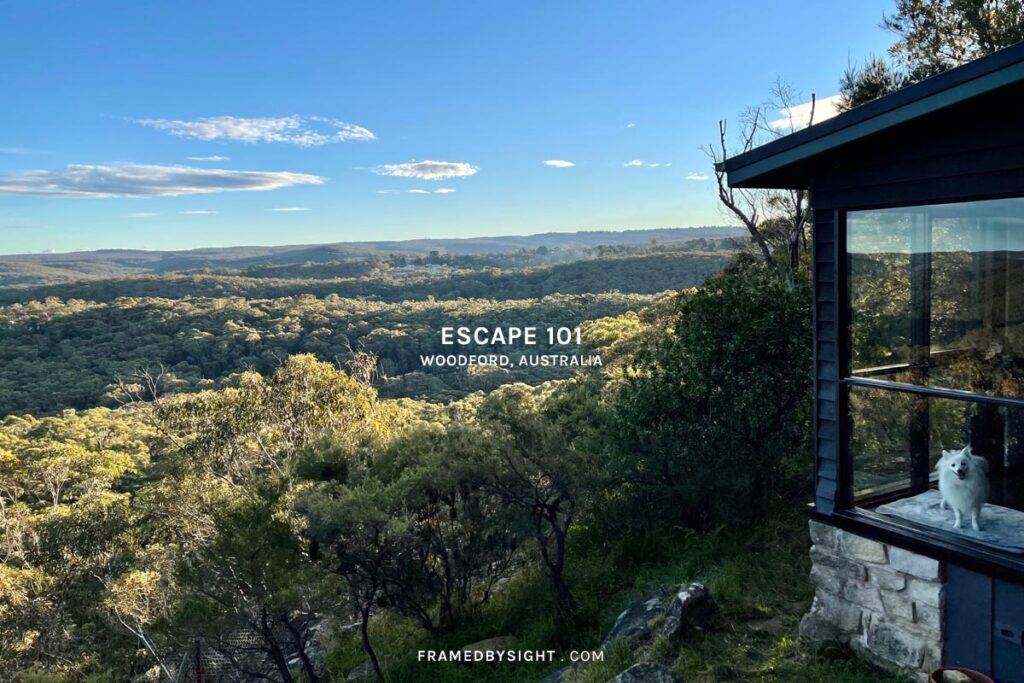 Located in the Blue Mountains village of Woodford, and just a 20-minute drive from Katoomba and Leura, or 1 1/2-hours from Sydney's CBD, Escape 101 is a gorgeous dog friendly stay, and one to add to your bucket list.
Finding dog friendly accommodation in Greater Sydney is not always easy, but when you stumble across a place like this, it's one that needs to be shared amongst fellow travelling pooch parents.
It's the perfect stay for couples with or without pets; a secret 1-bedroom chalet on the edge of the Jamison Valley, with sweeping views from all corners of the house.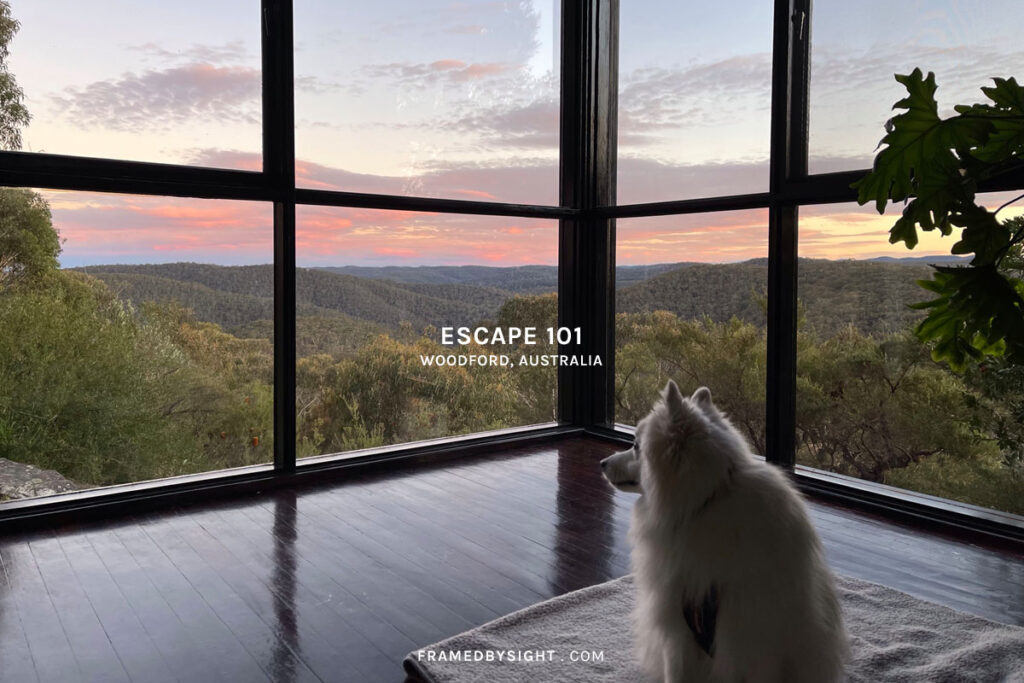 Located at the end of a cul-de-sac street, you'll feel like there are no other neighbours in existence, transported to a private magical place, dropped into the middle of a lush, green valley. That said, you are actually in suburbia, but you don't see the neighbours next door that is, unless you exit the chalet itself.
As you settle in to your stay, the views from the sunken living area are phenomenal. Quiet and restful to say the very least. We were fortunate to have the most perfect sunsets during our stay, the sky was clear and it would light up the valley. To note, there are about five or so steps (unaided) down to the sunken area, so do keep this in mind for those with mobility issues.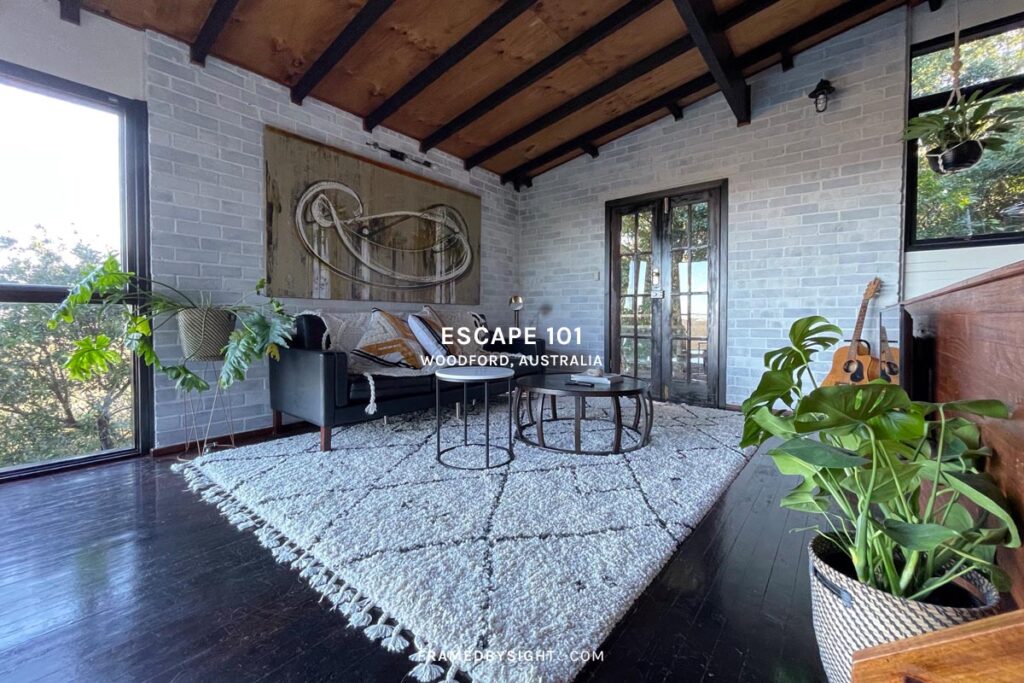 The valley light changes throughout the day, so I'd highly recommend to bring a good book and sit in their rattan hanging chair to simply relax.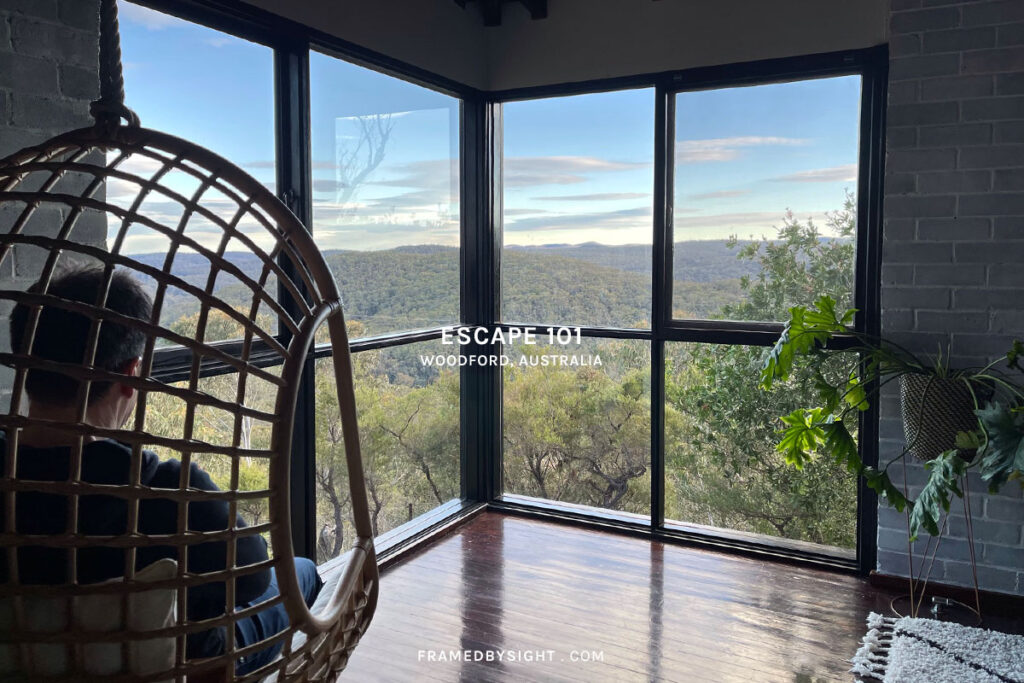 There are two separate outdoor decks; one adjoining the bedroom and the other, wrapping around the side of the sunken living area. If the weather is good, both of these areas are perfect spots to sit outdoors, with a nice coffee in hand.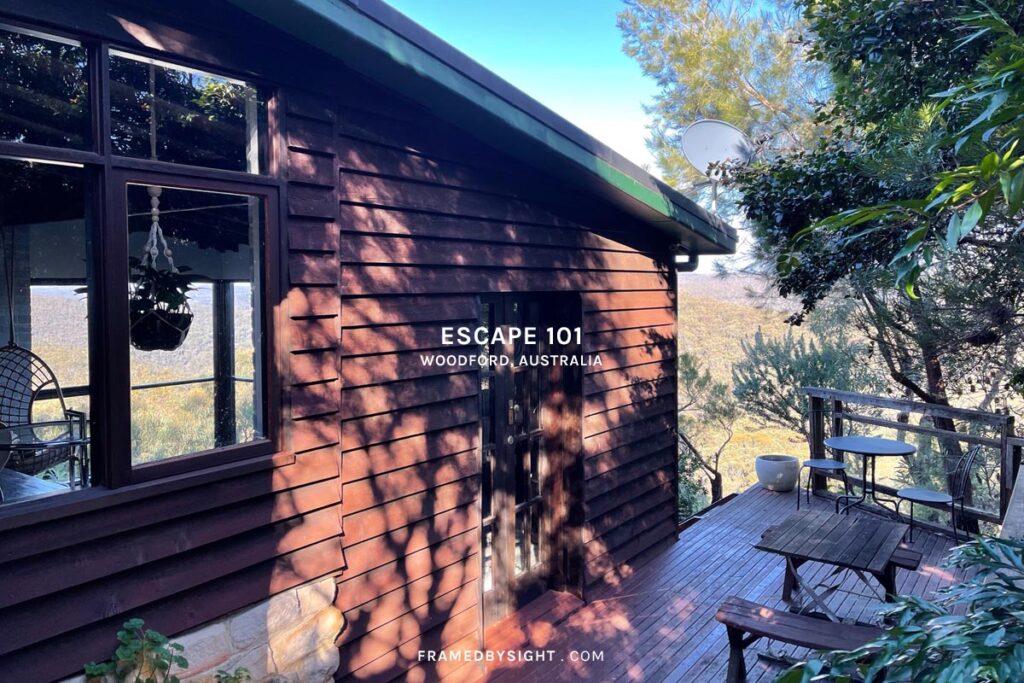 If you have a small to mid-sized dog, the space suits just fine. Keeping in mind, there are floorboards throughout the chalet, so hopefully your dog can manage their footing on this surface, and you will truly enjoy your stay. The external areas surrounding the home are not fully fenced in (that I could easily see), and not levelled either. That said, if you have an active dog that needs space to play and run, you can go for long walks around the local streets and/or dog friendly walking trails nearby.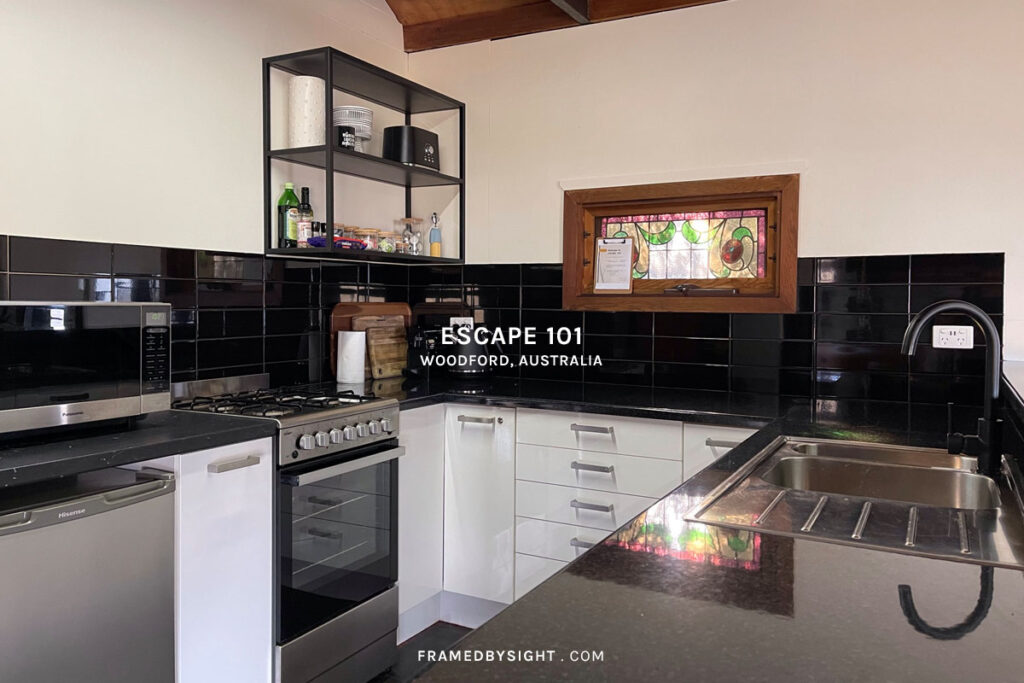 Expect a well equipped kitchen with a gas cooker, microwave, kettle and bar fridge. You'll find cooking oil, a Nespresso coffee machine with pods, tea and sugar all provided. We also saw a packet of sealed Cadbury cookies tucked on the shelf, which was a nice surprise.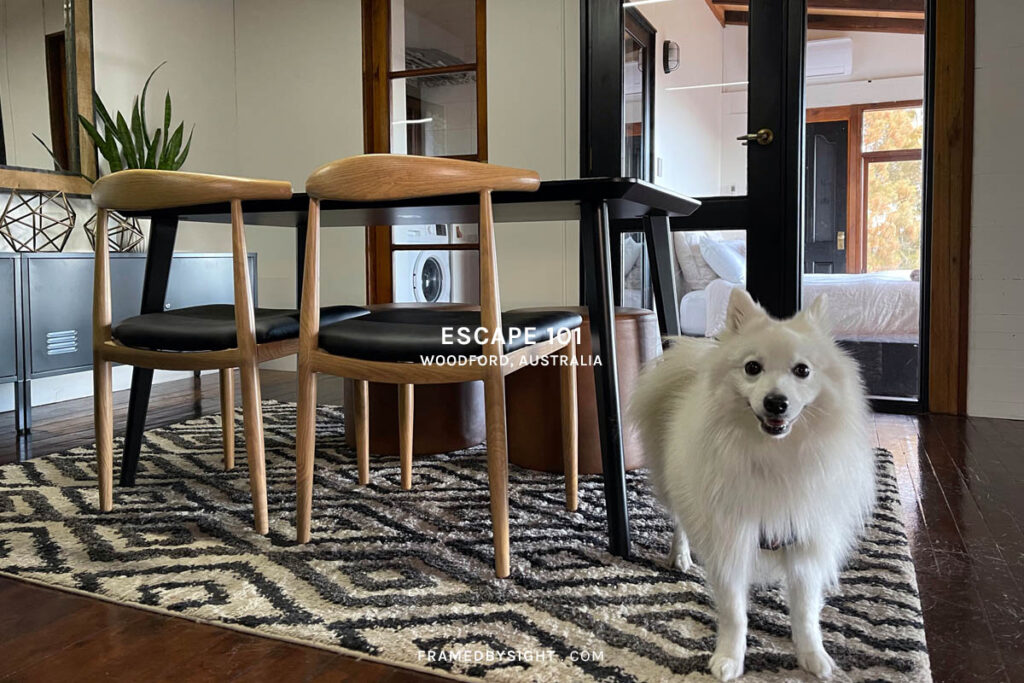 Dining adjoins the kitchen area, with a split system air-conditioning unit mounted on the wall above. There's also a second air-conditioning unit in the bedroom. And whilst the house looks to be in an isolated location, the Wi-Fi was excellent and we had no issues at all.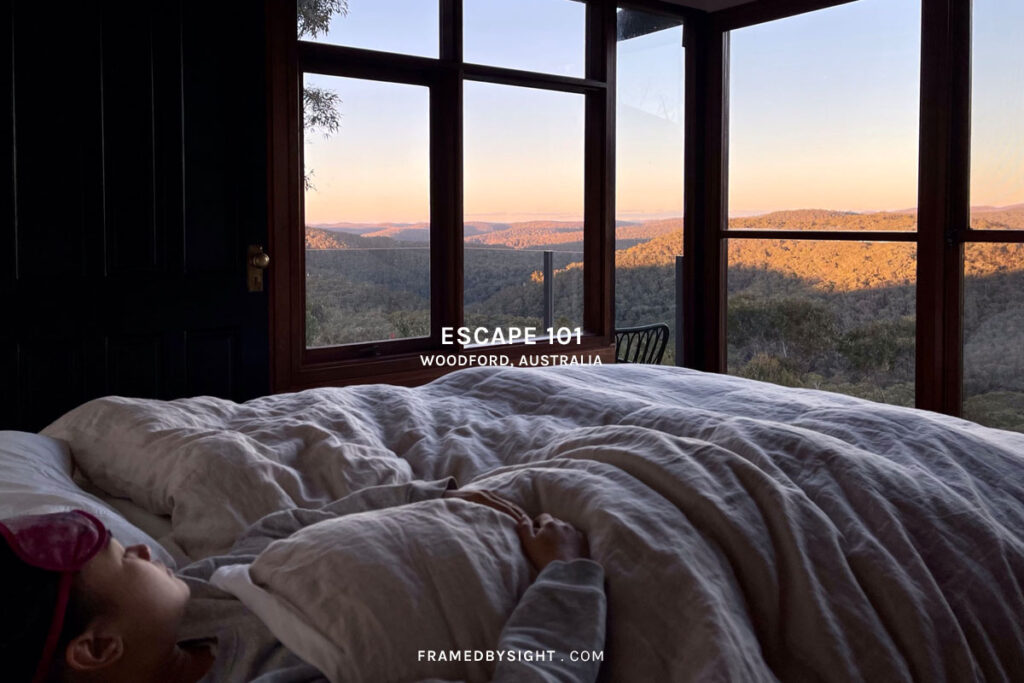 A quick tip, is that the windows in the bedroom have no blinds. So make sure you bring an eye mask. We read this on other reviews beforehand, so we came prepared.
But otherwise, the view from your bedroom to stargaze on a clear night, is amazing. And through the side door from the bedroom, you'll find the second private deck overlooking the valley.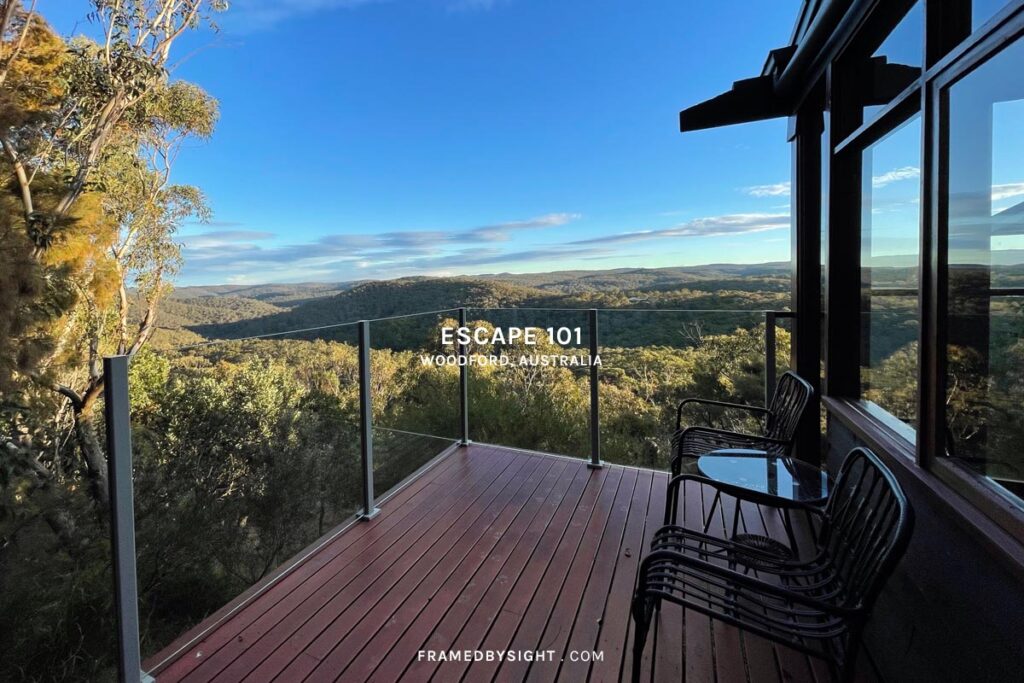 Nearby, there aren't any cafes or restaurants in close walking distance. But one of the benefits for staying here, is that you feel like you're isolated in your own relaxing hideaway, yet the local villages of both Leura and Katoomba are just a short drive away.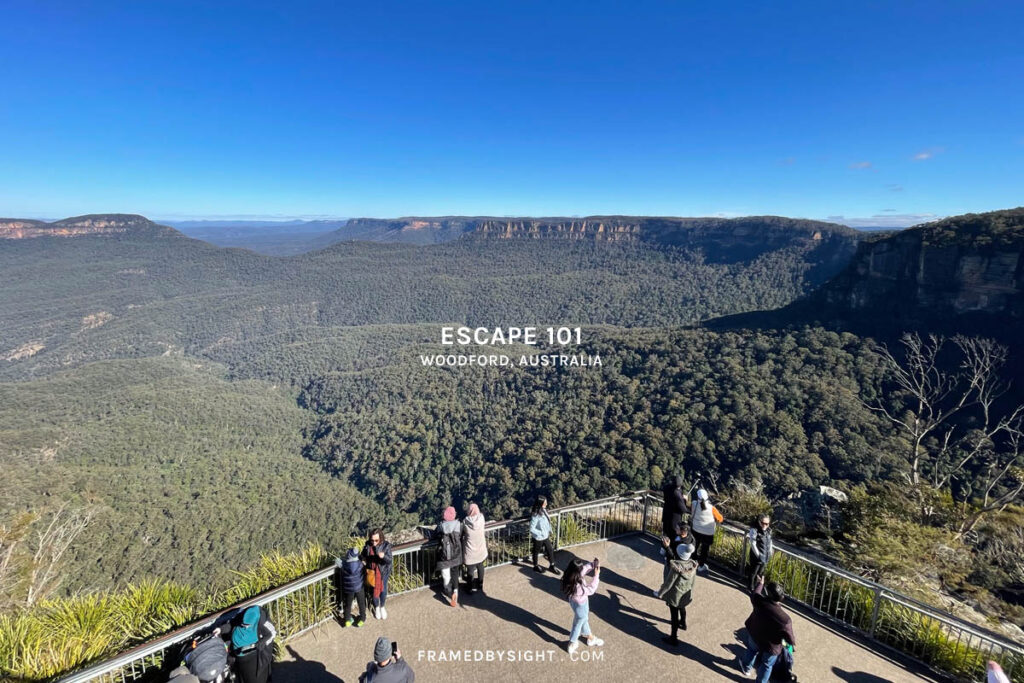 When travelling with a dog, it isn't always easy to find dog friendly cafes, but I'd suggest to head off early – before all the tourists arrive – and you'll be absolutely fine.
If you're visiting Echo Point lookout (Three Sisters) in Katoomba, do pop by the Blue Mountains Chocolate Company and try their famous hot chocolate. They're open daily from 10am to 6pm, and located just a 10-minute walk from the lookout area, with dog friendly dining outdoors. To note, you cannot walk up to the Three Sisters with your dog, as pets are not allowed in NSW national parks and reserves. But you can do so at the main viewing platforms, before entering the actual national parklands.
Escape 101 is a lovely dog friendly stay in the Blue Mountains that I'd highly recommend, and one I look forward to returning to again soon.
Address
Escape 101
Woodford, New South Wales, Australia 2778 (in the Blue Mountains)
18