With overseas trips paused for some time yet, road trips around Sydney have become part of my new norm when planning travel – and with a dog accompanying us, it is not always easy to find accommodation to suit. That said, Canberra was on the radar for our next weekender… and hello Abode Hotels, you are a blessing in disguise waiting to be found.
With six Abode Hotels located in Canberra and two other properties in greater NSW, all but one of their properties offer dog friendly accommodation stays. Abode Belconnen, Gungahlin, Kingston, Narrabundah and Tuggeranong, are all pet friendly hotels in Canberra; whilst the Abode Murrumbateman (nearer to Yass), and the Abode Malua Bay (towards Batemans Bay), are dog friendly hotels too.
We were visiting family friends in Canberra and opted to stay at the newish Abode Kingston hotel – in the heart of Kingston and walking distance to the foreshore. The hotel's location is near many of Kingston's outdoor cafes and restaurants, and less than a 600-metre walk away from Telopea Park, which was perfect for our pooch.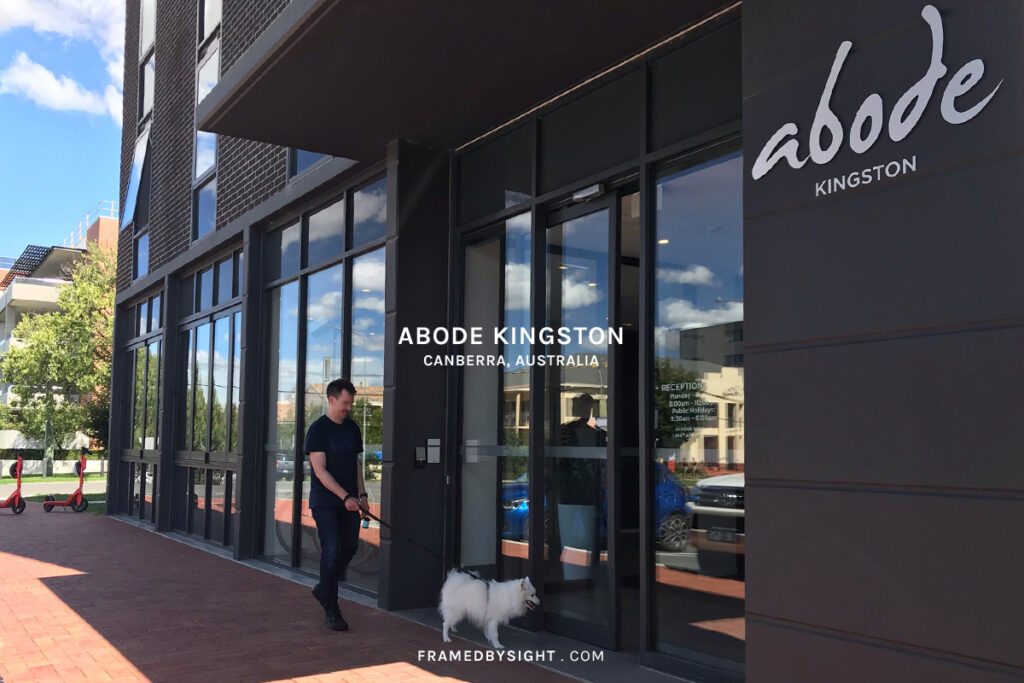 The Abode Kingston reminds me of a boutique hotel stay. It is not an overly large hotel, with 63 mixed hotel and apartment style rooms available, all of which are fairly modern inside.
We were met by the lovely Rhiannon at reception, who was friendly and courteous in every way. Sometimes you're challenged when bringing your dog on your travels, but Rhiannon was patient with us, despite our boy taking his time adjusting to walking on the tiles near reception.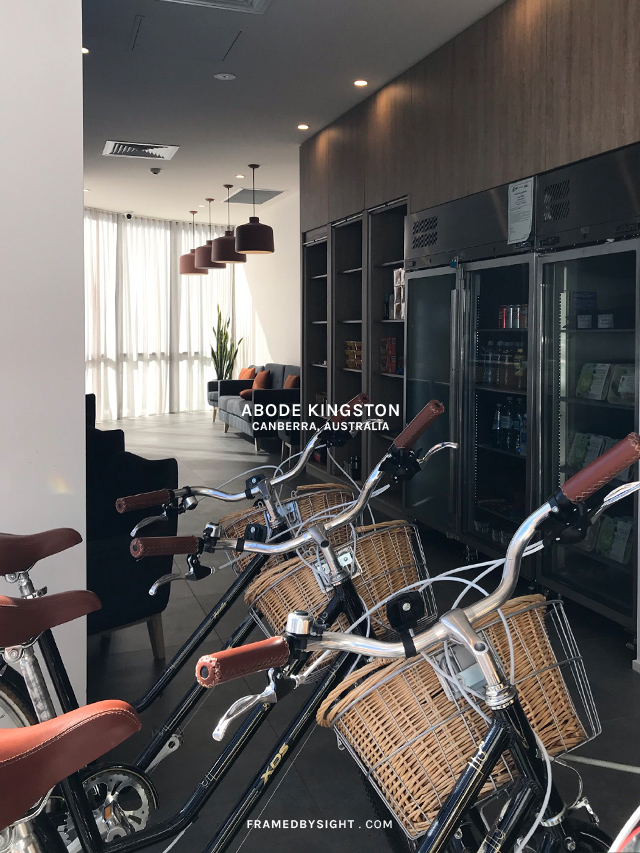 When you first arrive – and visible from the reception area – you'll see the stocked Abode Pantry. If you're choosing to staying in for the night, or just after a quick bite to eat, you can pick up snacks like chips, crackers, chocolates and ice-cream from this pantry (additional cost). Or ready made meals such as Dinner's Ready Ravioli Primavera, Sausage & Mash, or Butter Chicken to name a few. Plus, you can pre-order beverages from the Abode Pantry Online during reception hours, which will then be delivered direct to your room.
The Abode Kingston also has bikes available for hire, so if you don't feel like walking around town, this is a great way to explore the Canberra sights.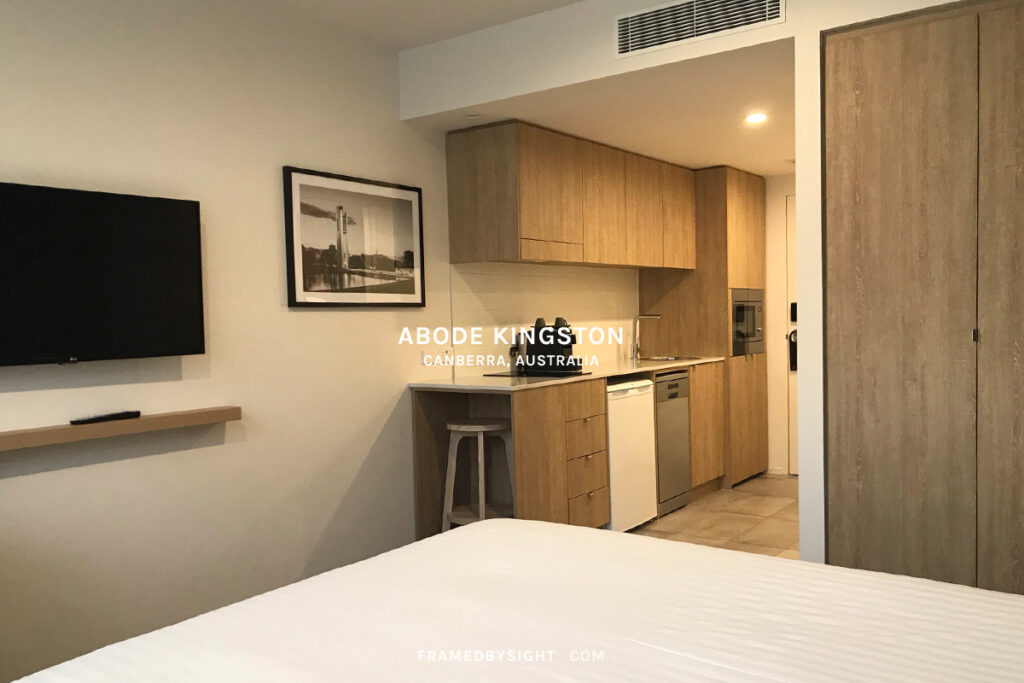 During our trip, we stayed in a pet friendly Courtyard Studio room #petfriendlyhotel #ilovemypooch. What I loved about these rooms, is that they're located on the Ground Floor, separated from the main guest rooms, so your neighbours are other dog friendly guests. If your dog lets out a bark or two, you don't feel like you're upsetting other guests, as you may hear a distant dog bark returned from another room.
The other room types at the hotel are accessible via a lift, which take you to the upper floors – and these rooms are not dog friendly. I counted the pet friendly Courtyard Studio rooms and it looks like there were eight, located right next to the main entrance and reception area.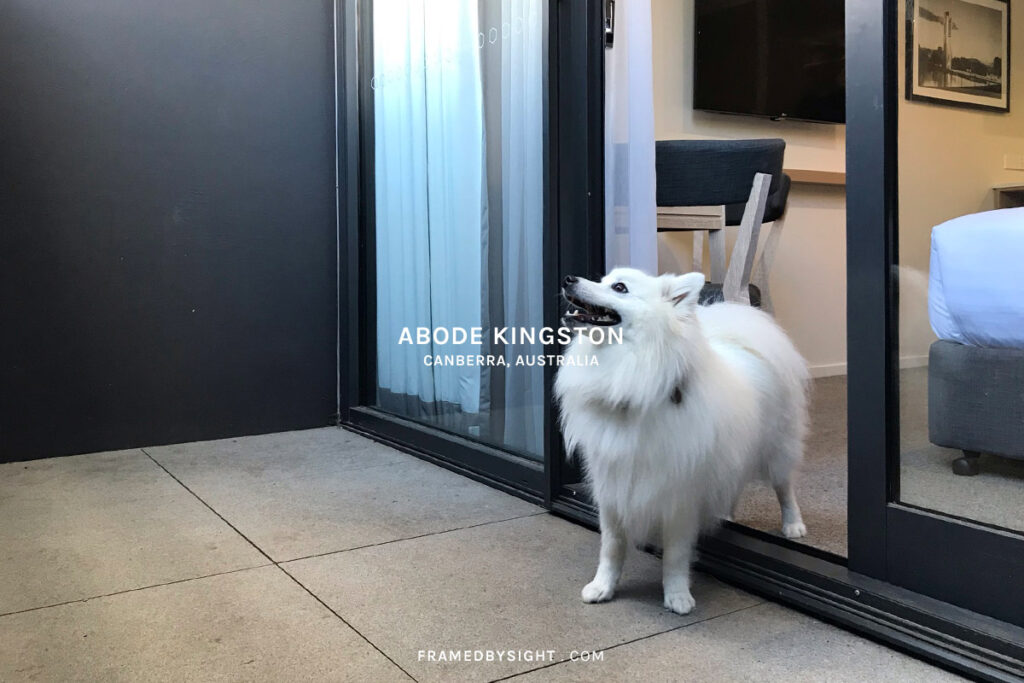 With a kitchenette and a small private courtyard, the room feels spacious enough for two people and a small to medium sized dog that isn't overly active. The outdoor courtyard is small – I'd say it's about 1.5m x 4m in size – so it's just enough for your dog to stretch their legs and not feel boxed into your room. Your dog won't be able to run around the room or in the courtyard, but if you're out and about throughout the day, and your dog gets the relevant exercise outside, you'll have a dream sleep each night.
The rooms are accessible via swipe cards, so you can enter and exit the room quite easily whilst handling your dog – no keys required – and after walking past reception, you'll be out to the main road in a matter of seconds.
The room offers modern power points with direct USB charging, a decent sized kitchenette equipped with a coffee pod machine, complimentary tea, a small fridge, microwave, stove and an in-room washer/dryer. Wi-Fi was available throughout the room, and they have this groovy feature called STAYCAST streaming. What is that you ask? Basically, you can use your mobile device to stream apps directly to the in-room TV, with no personal login required… fancy hey. I'm not usually into technology, but this was pretty good to use during our stay.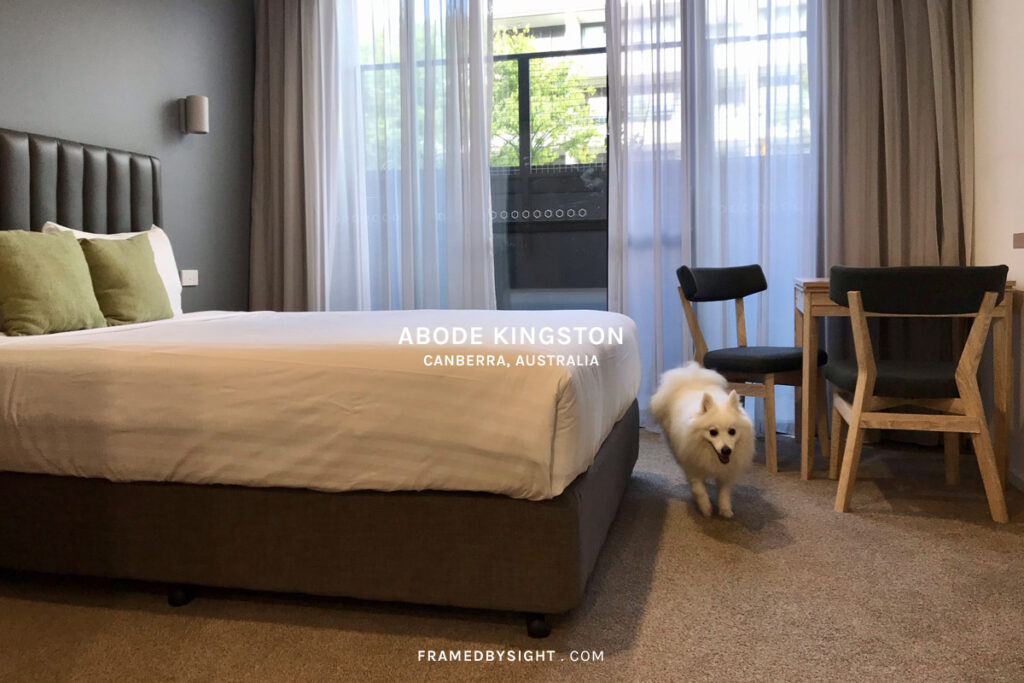 I found their bed comfy to sleep on and despite having large sliding glass doors out to the courtyard, they had both sheer and blockout curtains covering these, which helped manage the natural lighting. Perfect to hide the foot traffic and noise from the outside, yet private enough to open the sliding door to allow filtered natural sunlight and a cool breeze to come in.
Whilst it isn't an issue at all for us, you will need to bring your own bowl and pet bed. When we travel, we do this anyway, but I know some pet friendly stays offer this as an included option.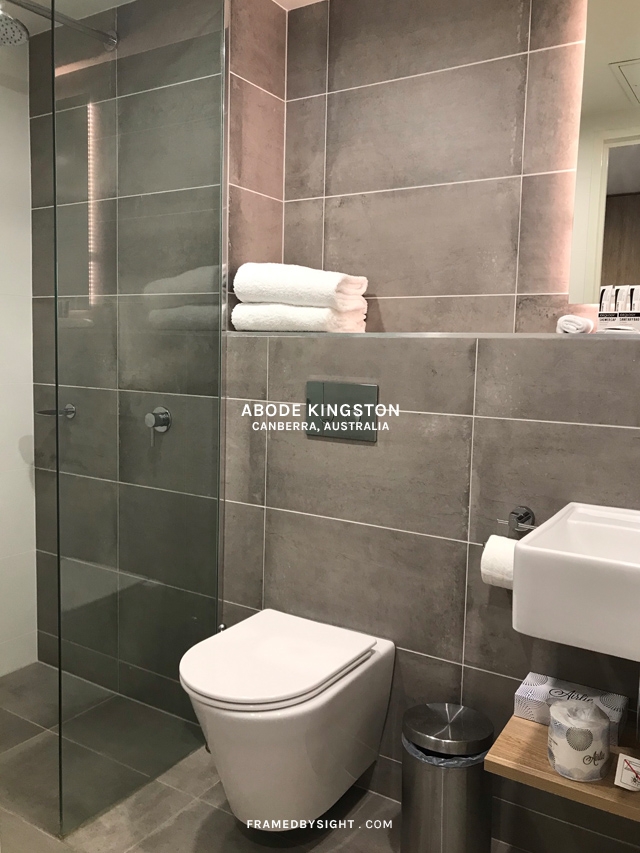 The bathroom itself is spacious with a large rain shower overhead and stocked with Ideology amenities throughout.
If you're driving to Canberra, there is street parking right in front of the hotel – most of which is metred during the weekdays. Or, you can choose to park in the undercover car park for A$15 per night, with direct access to the lifts to take you to reception and the Ground Floor area.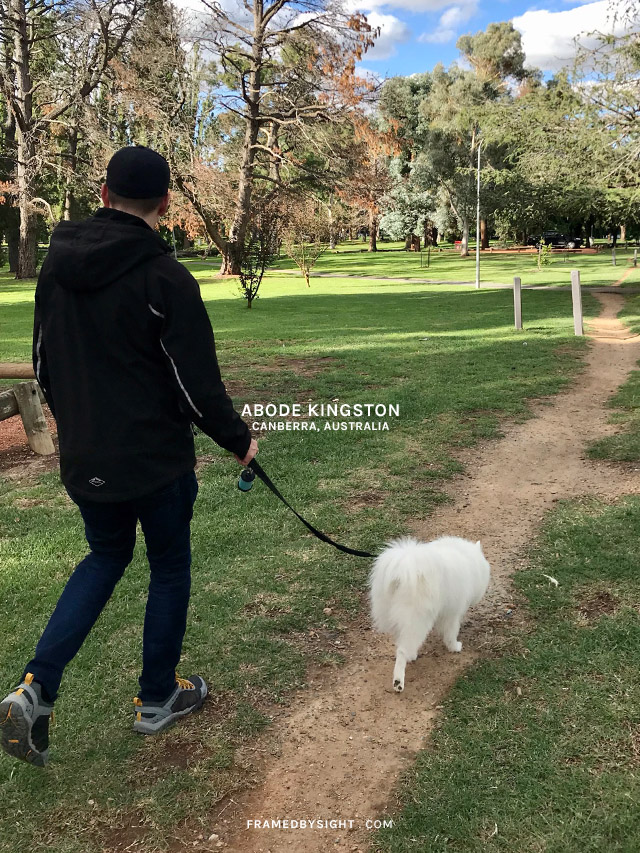 Outside of the hotel, I'd suggest to visit the large Telopea Park which is less than a 10-minute walk away – a green, leafy park, perfect for a stroll with the pooch. From here, you can continue on towards the Kingston Foreshore where there are many dog friendly cafes and restaurants.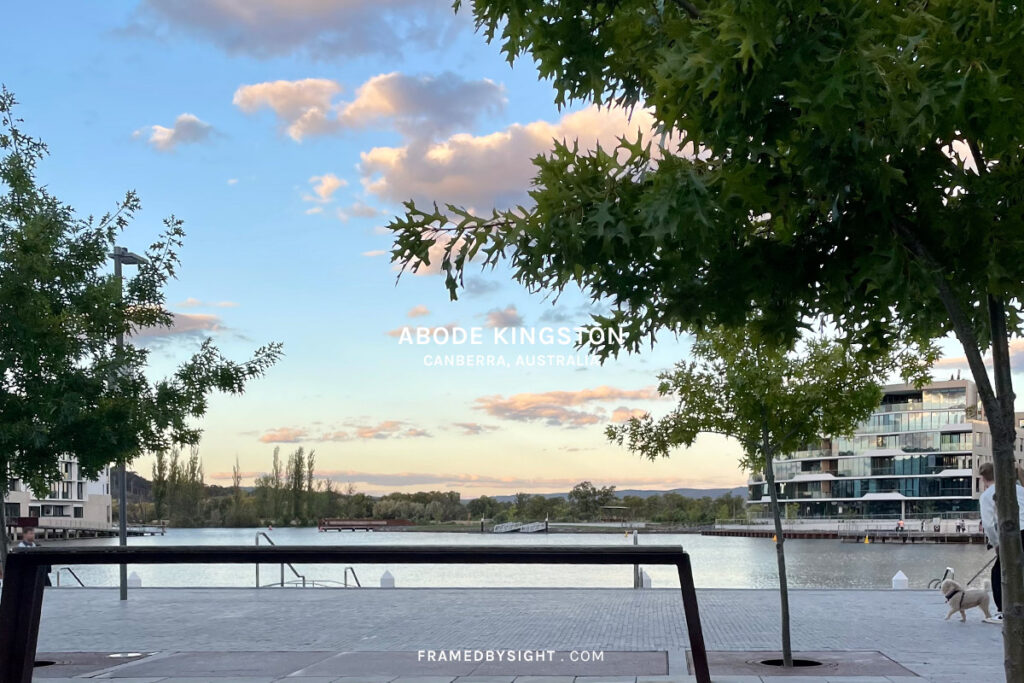 Along the Kingston Foreshore, I'd recommend the 7th & Bake Patisserie Cafe or the Local Press Cafe, both of which are dog friendly and great coffee spots outdoors with beautiful views over the lake. The Dock which is a local pub by the water, also permits dog friendly dining outdoors.
A street away from the Kingston Foreshore is Brodburger, so if you're after a slightly 'less busy' atmosphere, this burger place is close to the parklands and just before the foreshore with a spacious, dog friendly outdoor dining section.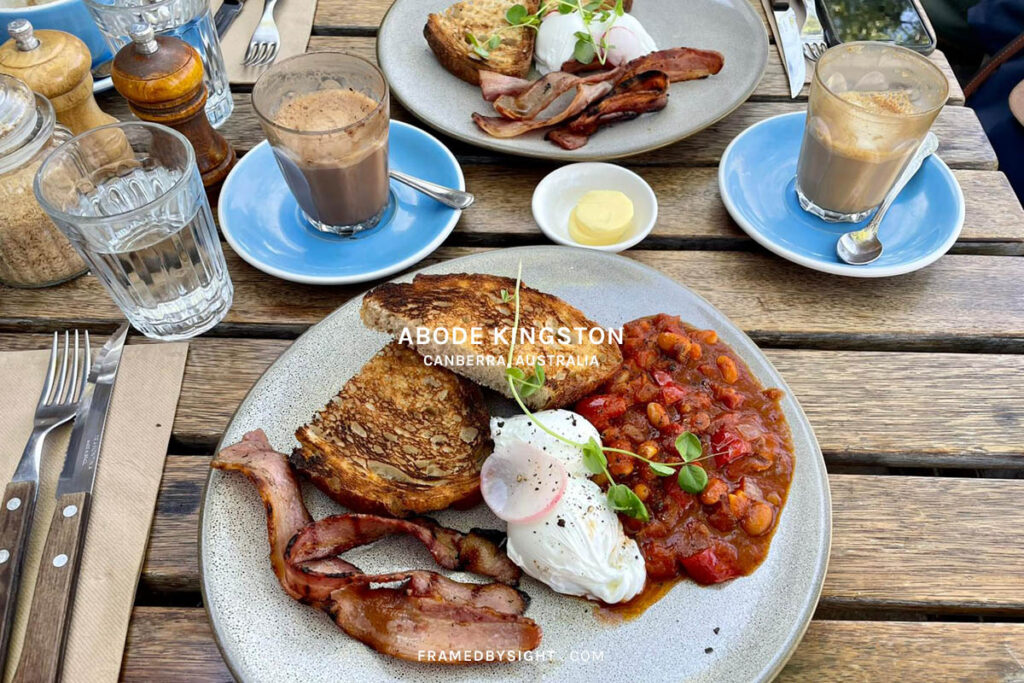 If you're after a venue closer to the Abode Kingston, less than a 1-minute walk away from the hotel, is the dog friendly Penny University Cafe or Bittersweet Cafe, both offering outdoor dog friendly dining options too.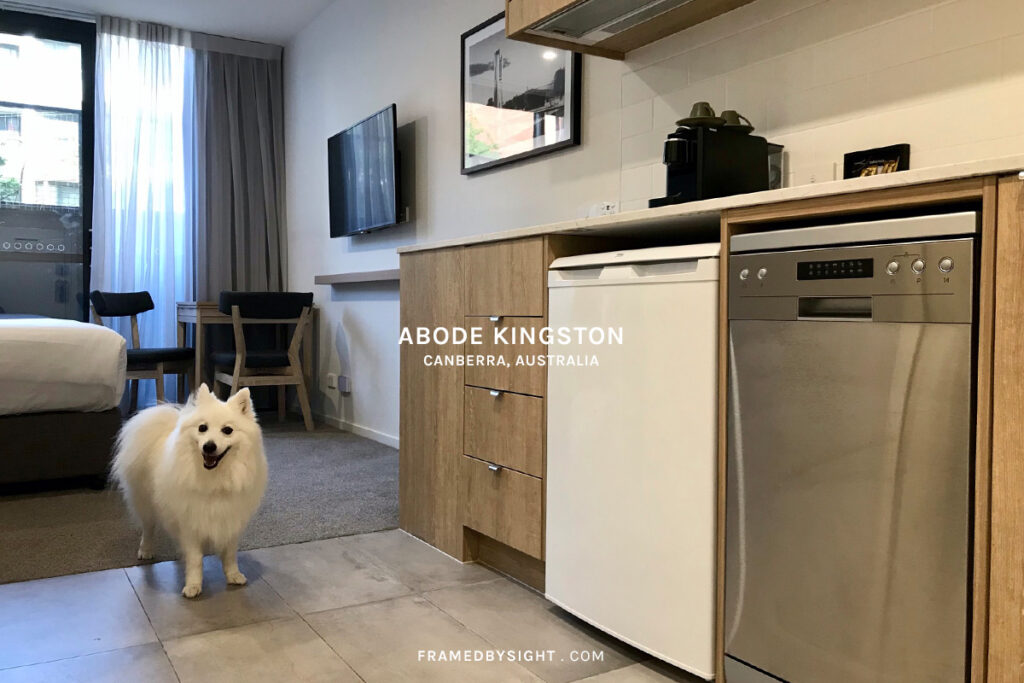 I was genuinely happy that there were a number of pet friendly rooms available when staying at the Abode Kingston. The atmosphere of Kingston itself also felt quite accepting of dog friendly dining, which was an added surprise. Plus, the nearby park made my boy Kenji very happy too. To note, there are small grassed areas as soon as you exit the hotel, however they're not overly large and simply the council nature strips adjoining the public footpaths.
The Abode Kingston offers well-priced accommodation and is walking distance to most things that you need whilst enjoying a mini getaway. The apartment type facilities are great when you're staying a fraction longer than a handful of nights, and you don't feel obliged to constantly eat out during your stay.
If I was to visit Canberra again, I'd definitely stay at another one of the dog friendly Abode Hotels – personally, I'd highly recommend the Abode Kingston and its excellent location.
Address
Abode Kingston
14 Kennedy Street, Kingston, ACT, Australia 2604
37