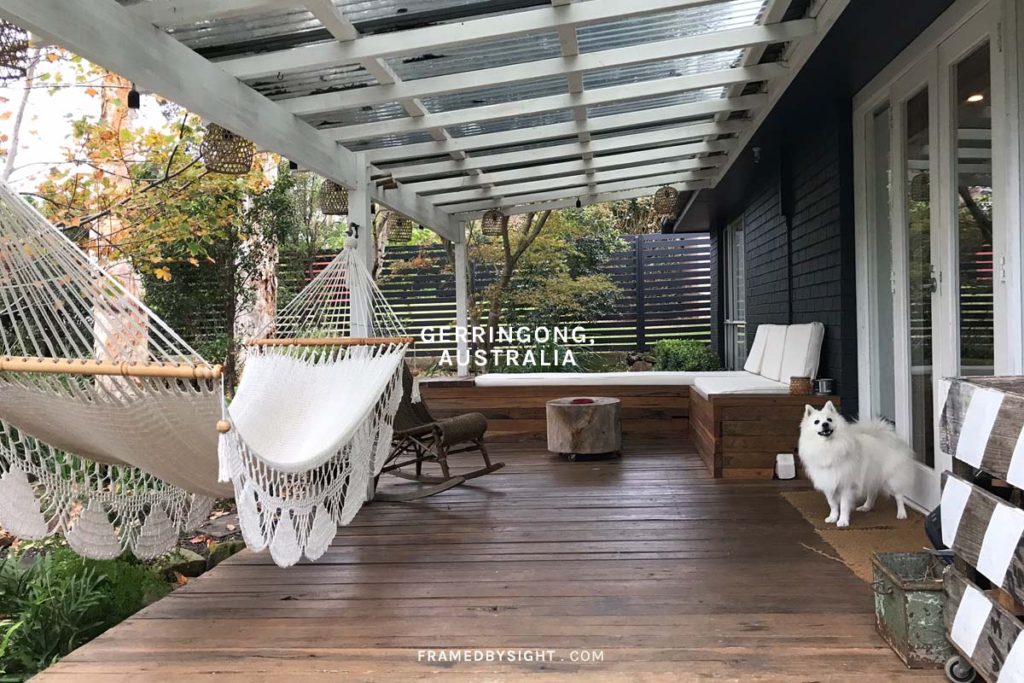 I'm always on the lookout for pet friendly accommodation in Sydney as I love bringing Kenji with me wherever I go. For the next road trip, we're met with a beautiful dog friendly home stay at Werri Cosy on the south coast of NSW, in Gerringong.
This is such a brilliant and affordable find, a private 2-bedroom home located in a quiet, suburban leafy street, less than a 500m walk from Werri Beach. I'm going to confess, this area is a little hilly on foot, so a walk to the beach might feel like a slightly longer walk than expected.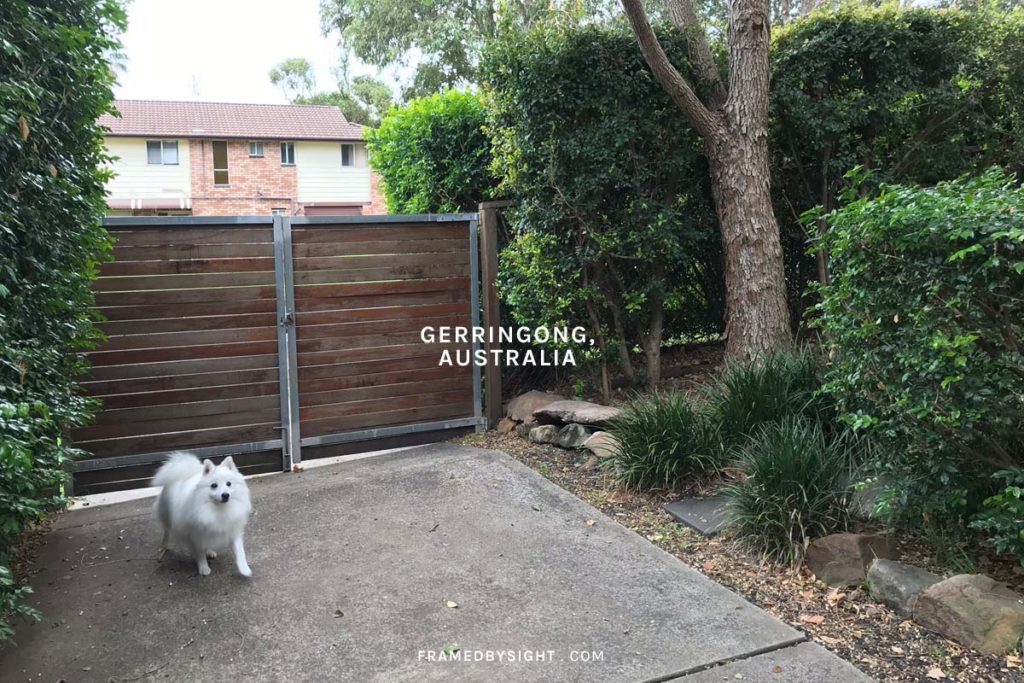 The house itself has a fenced front and back yard. We mainly used the front yard for our dog, however both yards are accessible if required.
At the front of the house, there's a gated car park area which would only fit a small hatchback. That said, we preferred to keep our car on the street to give our dog more area to roam. The front of this home was such a peaceful spot to relax in – a private little, green oasis surrounded by nature and birds all around.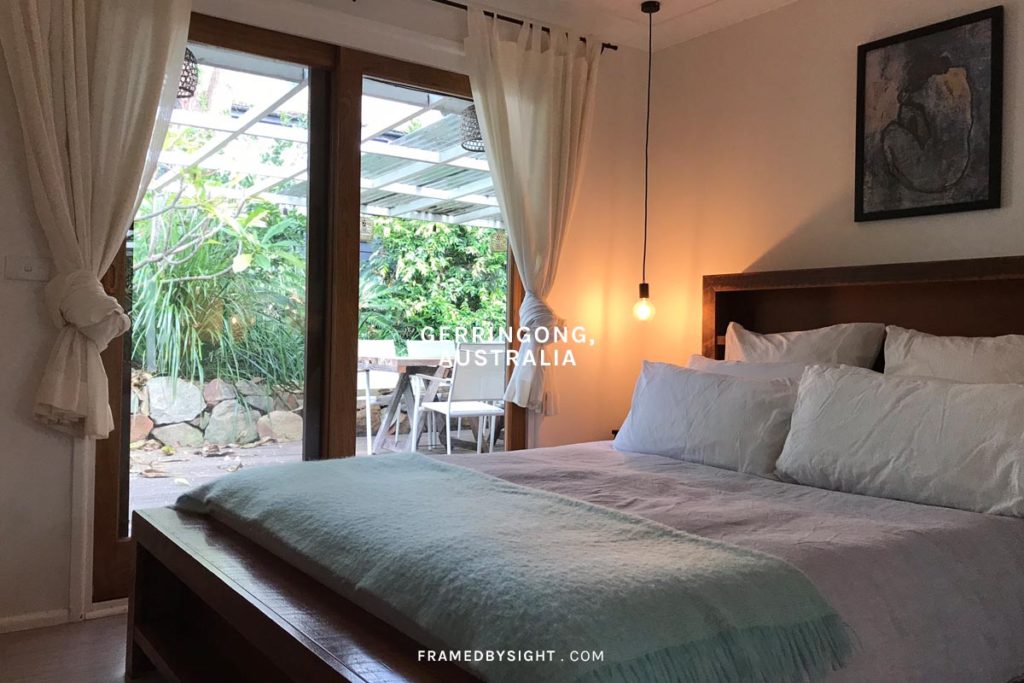 With plenty of natural lighting, sheer curtains and blinds are fitted throughout the home to filter to your needs. There are two snug queen beds in separate rooms, equipped with ample linen, blankets and spare pillows housed in the main wardrobe.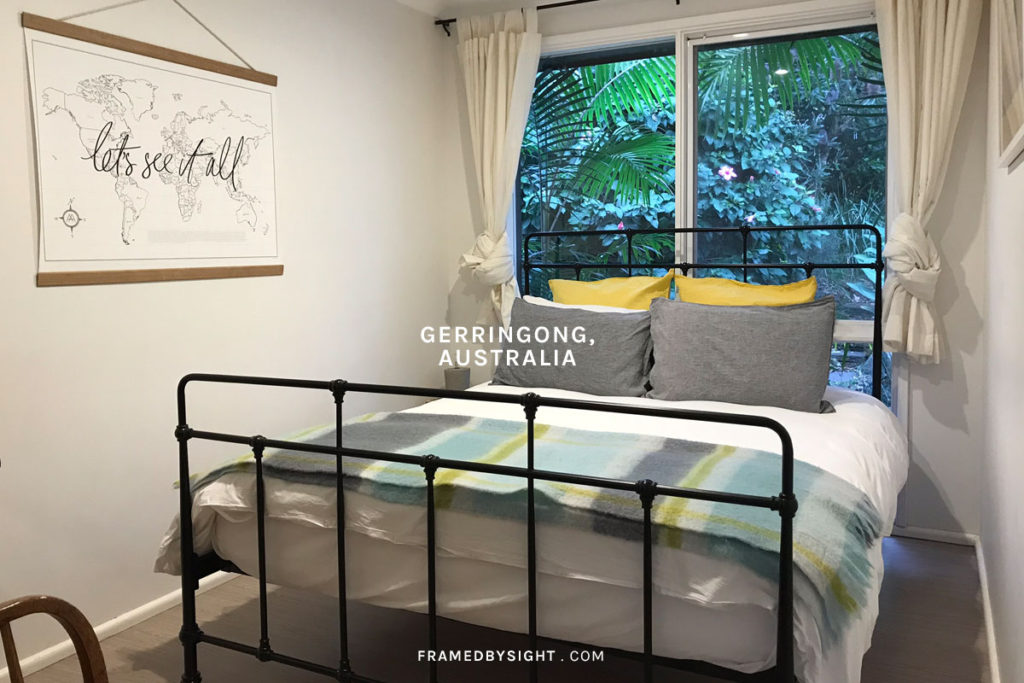 I must admit, there's not a lot of space surrounding the beds (which is completely fine), but incase you're use to having a large bedroom with seating, en-suite and more, these rooms are simply for sleeping. It's a cosy house, perfect for couples or young families alike, staying a handful of nights in the area.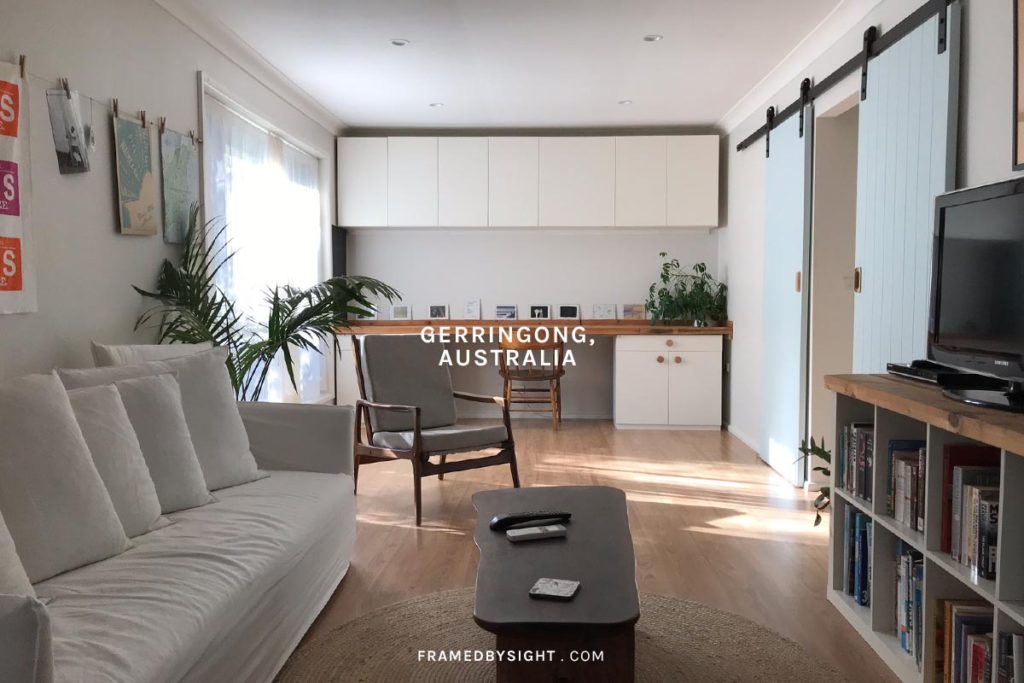 Both the living and dining space is open plan, with a pot belly fireplace at arms' reach and firewood chopped, ready to be used. For the summer months, a wall-mounted air-conditioner is situated between the living and dining areas too.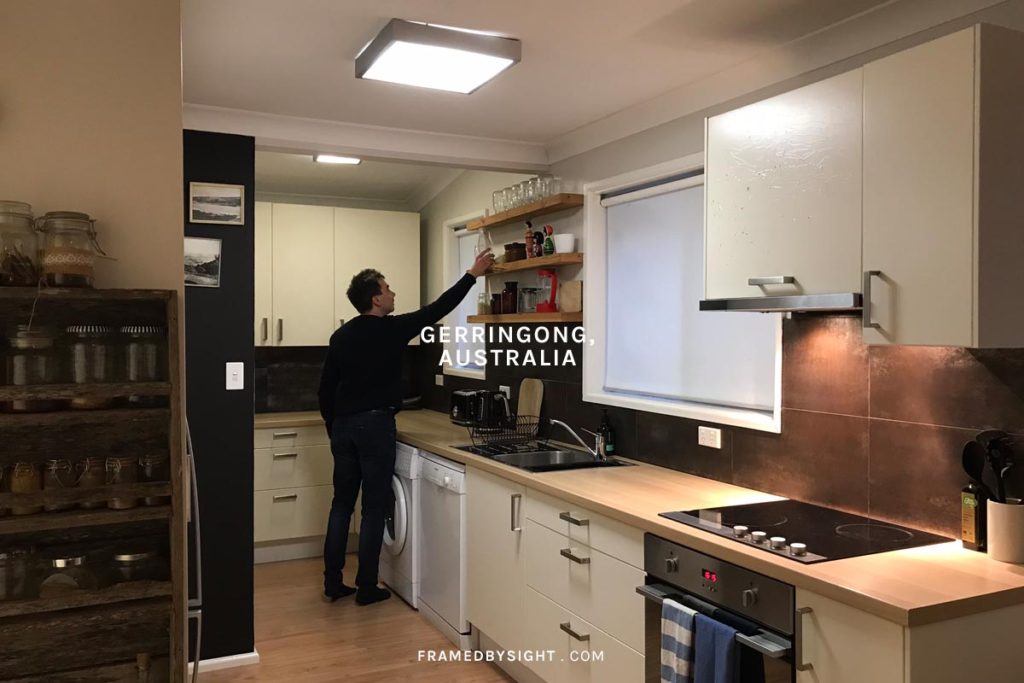 The kitchen is a full-sized kitchen equipped with utensils. We did cook in on one of the nights and I don't recall missing anything in particular, so to me, the home was well-catered for. I was also chuffed as the house is very environmentally friendly which is an added bonus in my books.
This house supports sustainability and considers its carbon footprint; when I placed rubbish in the bin, I noticed we also use the same green eco-friendly bin liners in our home by Compost-A-Pak; supermarket shopping bags are provided in the cupboard if you need to pop up to the shops; hand wash is by Thank You; and toilet paper is 100% recycled by Who Gives A Crap.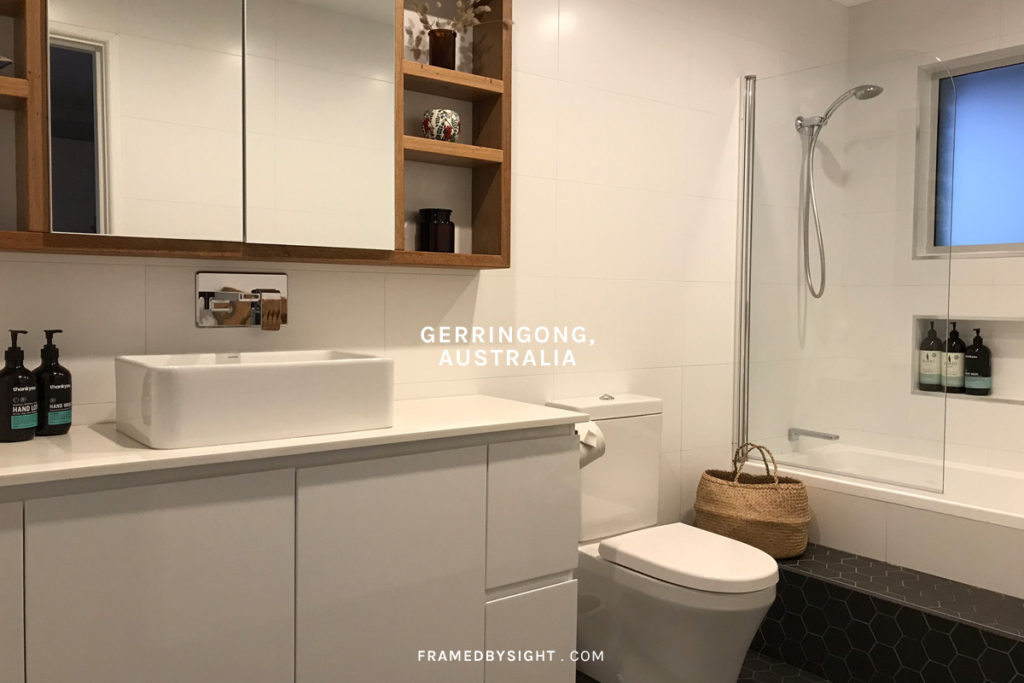 The home has recently been through a bathroom renovation too. Towels, shampoo and conditioner by Sukin is provided during your stay.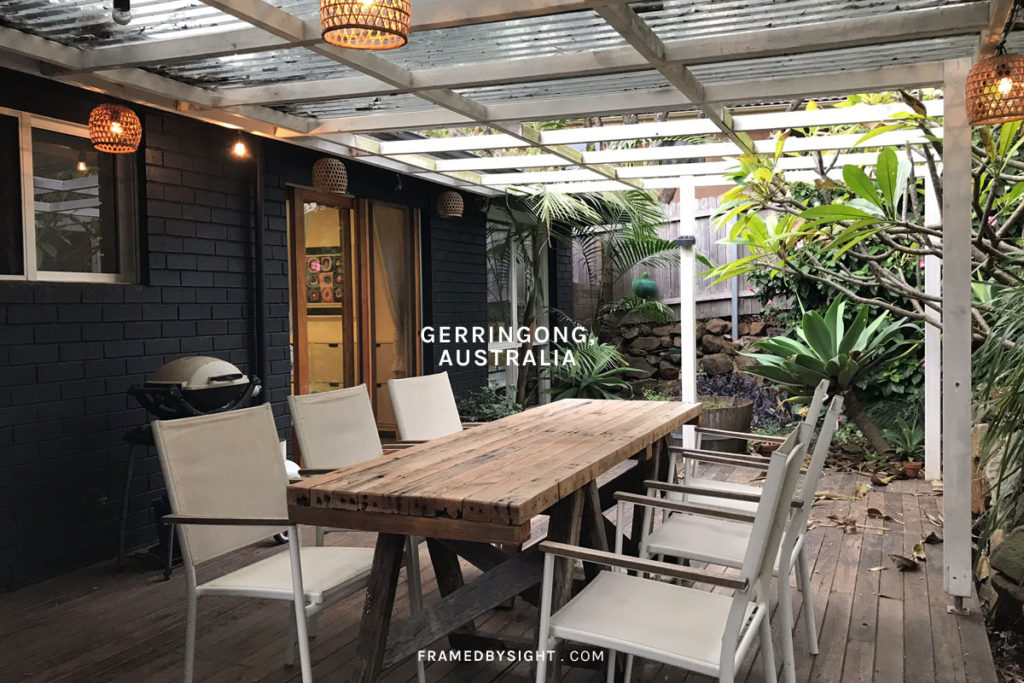 Whilst we didn't use the backyard much, it features an undercover entertainment area with access to a bbq and outdoor dining.
Overall, we had a lovely stay here at Werri Cosy. Less than a 2-hour drive from Sydney, this relaxing dog friendly, weekender in Gerringong is in a great location. With homely creature comforts throughout and walking distance to local cafes, the supermarket, Werri Beach and parklands, this was a surprise find. The only catch is there are a few hills, so do bring some comfy walking shoes with you.
I'm also very grateful when I can bring our dog with us on our getaways, so thank you Kimberley for letting us do so. Kimberley was brilliant with communication, very prompt with responses and also provided pre-arrival information which included off-leash dog friendly areas to visit. #petfriendly #excellenthost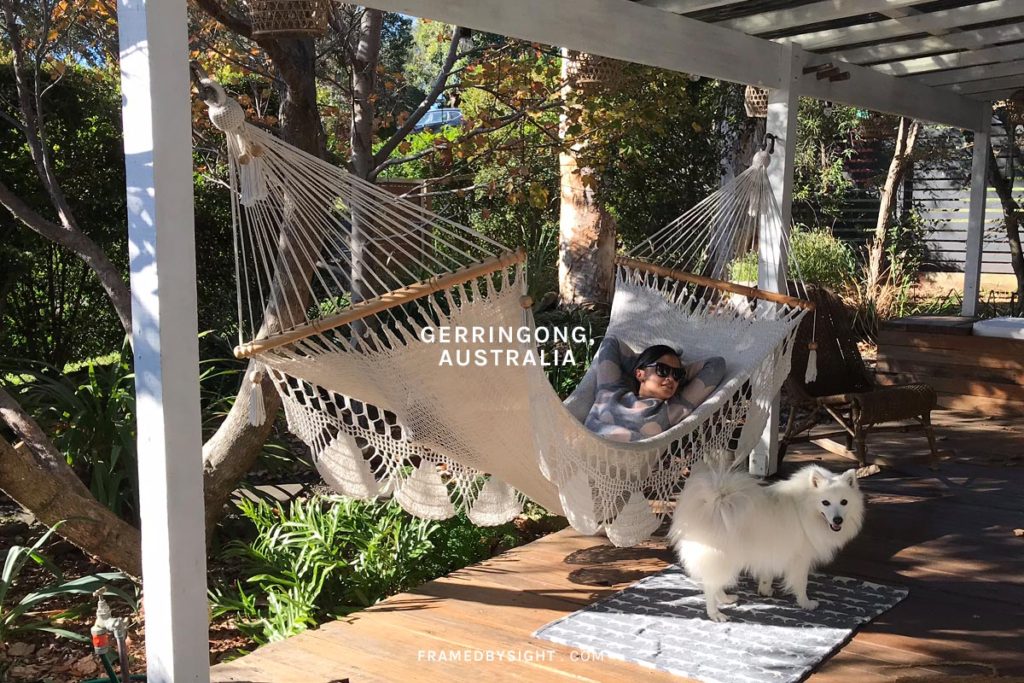 Tips:
Bring a good book and enjoy lazing about in the outdoor hammock or day bed. Surrounded by tall trees, native plants, flora and fauna, you'll hear birds chirping each morning and afternoon, with the sun shining on the front verandah throughout the day.
Walk down to Werri Beach with your pooch. Dogs are permitted off-leash in the swimming area between sunrise and sunset.
Adjoining the beach, there's also a beautiful off-leash, dog friendly parkland behind Boat Harbour Reserve with 180-degree water views of Gerringong Headland. This is a must to visit, the view is absolutely breathtaking.
Order local fish & chips at the Werri Fish Shop and enjoy these down by the beach.
The Hill Bar & Kitchen, Gerringong have a great outdoor, dog friendly seating area. Again, beautiful views and a brilliant spot for lunch.
The Quiet Cafe, Gerringong is also another dog friendly cafe to grab a coffee whilst on the go.
Visit the IGA supermarket – hilly to walk to, but feasible from this home stay accommodation – and pick up some crisps and dips. On a cool winter night, rug up of an evening and light the indoor pot belly fireplace to keep you warm and toasty.
Less than a 15-minute drive away is the gorgeous town of Berry. Do take some time to stroll this area. You'll find The Garden, Berry is another dog friendly venue, so try to arrive early as they don't take reservations in advance.
Address
Gerringong, New South Wales, Australia 2534
13