I stumbled across Hills Professional Mobile Pet Grooming whilst on a drive home in Sydney's north-west. Sitting in the passenger seat, I saw their mobile unit drive past and I quickly took down their details to remember to call them.
We use to take our previous Japanese Spitz dog to the local pet store for regular dog washing and grooming services. He was generally calm and happy to be left in-store and didn't mind being handled for his grooming routine. That said, unfortunately our boy passed away… but later that year, we re-homed another Japanese Spitz dog named Kenji.
To say the least, it was a very different experience when Kenji came to being washed and groomed – he absolutely hated it.
Kenji was less than a year old when we re-homed him, so it took some time to build his trust with us, let alone with anyone else. Our initial pet store grooming service was not as expected – the feedback was that Kenji frequently barked and would not comfortably sit still for long periods of time. We actually couldn't believe it as we thought he'd be an angel (don't we all?). He behaved much differently to our previous dog, but it also made me uncomfortable that he was acting up – so I decided to try someone different.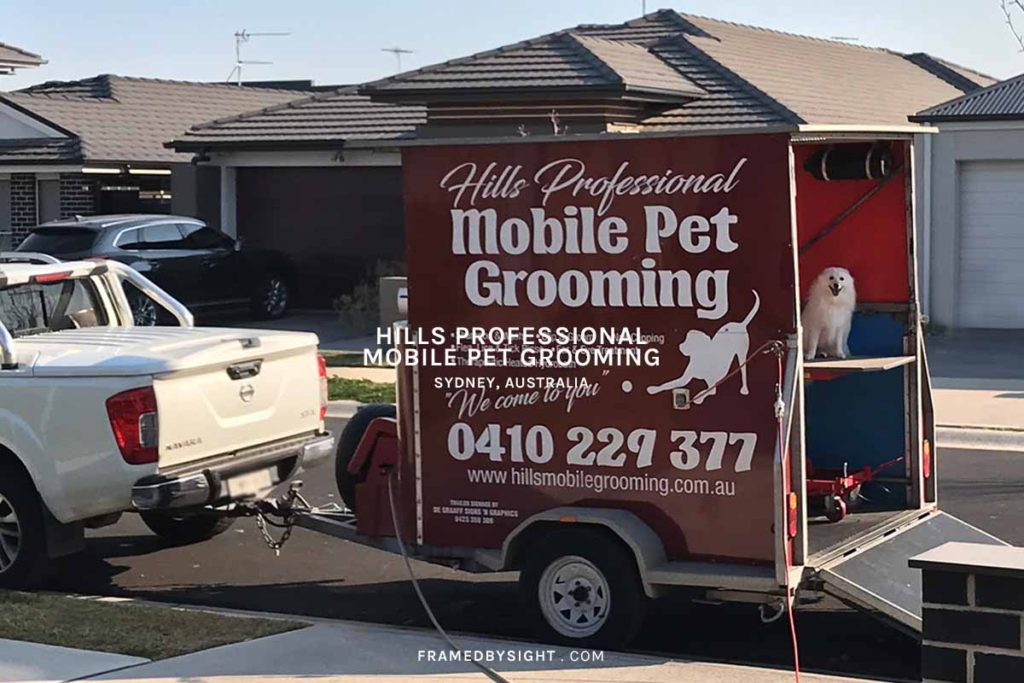 I first met Antoinette and Daniel nearly two years ago. I hadn't used a mobile groomer before and it was by chance that the Hills Professional Mobile Pet Grooming vehicle drove by when it did, as I hadn't heard of them prior. They pulled up to our driveway, connected in to our tap and a powerpoint, and that was pretty much all they needed to service our boy.
Writing this post, makes me realise how far Kenji has come – these days, he is much more comfortable to walk with Daniel to the grooming unit each time he's getting a wash. He actually use to resist; park his feet in the ground and bark profusely when he first met Daniel. But over time, he began to trust. Daniel ensured he bonded with Kenji over treats and regular conversation – yes, encouraging him and comforting him throughout the process to help him relax and not be as stressed. I could hear it from the front door, words of encouragement along the way and I felt Daniel was determined to cement that relationship… And soon, they actually became great friends (well, I think so anyway).
Today, the barking isn't anywhere as frequent as what it use to be – only when Kenji is put under the blow dryer as he still doesn't like that bit of the process. He's usually content to be handed over to Daniel, despite already knowing the trailer has arrived and he's about to have his dreaded wash and groom service. He has a double coat of fur, so he needs regular brushing and unfortunately a towel dry service doesn't suffice for his thick coat – so the blow dryer it is.
Hills Professional Mobile Pet Grooming offers the following puppy and dog grooming services:
Shampoo, wash and blow dry
Flea, lice and tick rinse
Clipping of body fur and grooming services
Nail clipping
Brush out (when required)
Ear and eye treatment
Therapeutic, heated hydrobath
In terms of costs, it was actually similar pricing as the local pet store services, with the added benefit of not needing to drive our pooch to the store and, the grooming happens right in-front of the house (by scheduled appointment). For our medium-sized boy, he is washed (including 'tidy-up' services) within about 30-minutes.
With over 15-years of experience, Hills Professional Mobile Pet Grooming is a reliable and friendly, family-run Sydney business, and to date, Daniel has not missed any of our scheduled appointments. You even receive a reminder text the day prior to re-confirm your appointment.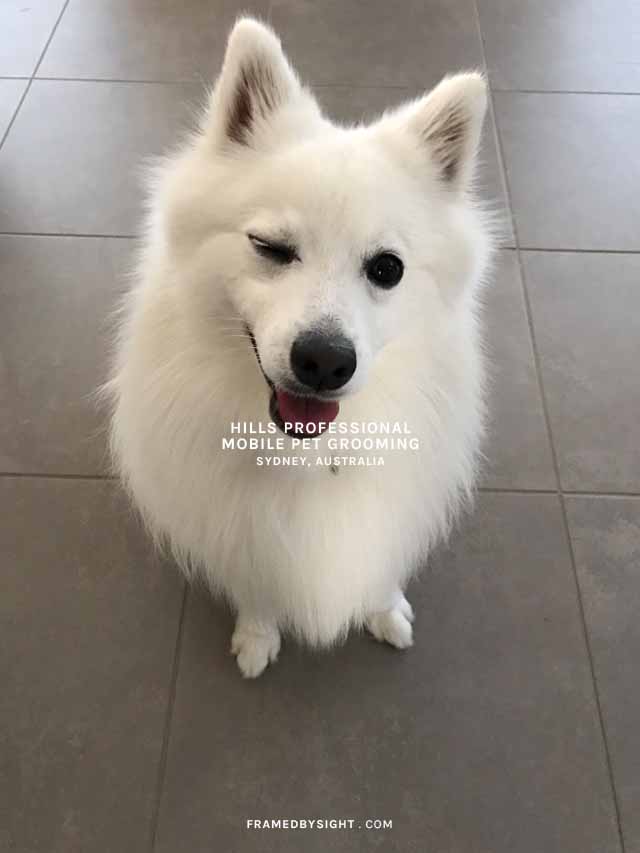 I know for a fact that Kenji is being well looked after when in Daniel's care. His tail is still wagging when he returns through the door and smells amazing too after his groom and wash.
If you're on the lookout for a puppy or dog mobile grooming and wash service, I'd highly recommend you giving Hills Professional Mobile Pet Grooming a go. They service Sydney's north-west and the Hills District; North Kellyville, Castle Hill, Baulkham Hills, Blacktown, Schofields, Marsden Park and all suburbs in between.
Two neighbours have since taken to their services after our recommendation and to note, I am not connected with this company in any way other than our pooch getting bathed – when you meet good people and you feel their business deserves the shout out, this is one of them.
Phone
Hills Professional Mobile Pet Grooming
0410229377
18