This experience is out of this world – it's the perfect Blue Mountains retreat – and only a 1 1/2 hour drive from Sydney's CBD. Set amongst 600 acres of private bush surroundings, the Love Cabins are a group of individually crafted cabins located near Bilpin in the Blue Mountains, designed by award winning local builder Lionel Buckett.
When you stay in the Enchanted Cave or the Treehouse cabin, it does come at a high price tag (in comparison to most hotel stays), but what you're about to experience is one-of-a-kind in Sydney.
It feels like such a magical place. A secluded hideaway with no other interruptions; a relaxing haven for two, surrounded by endless wilderness and breathtaking views all-round.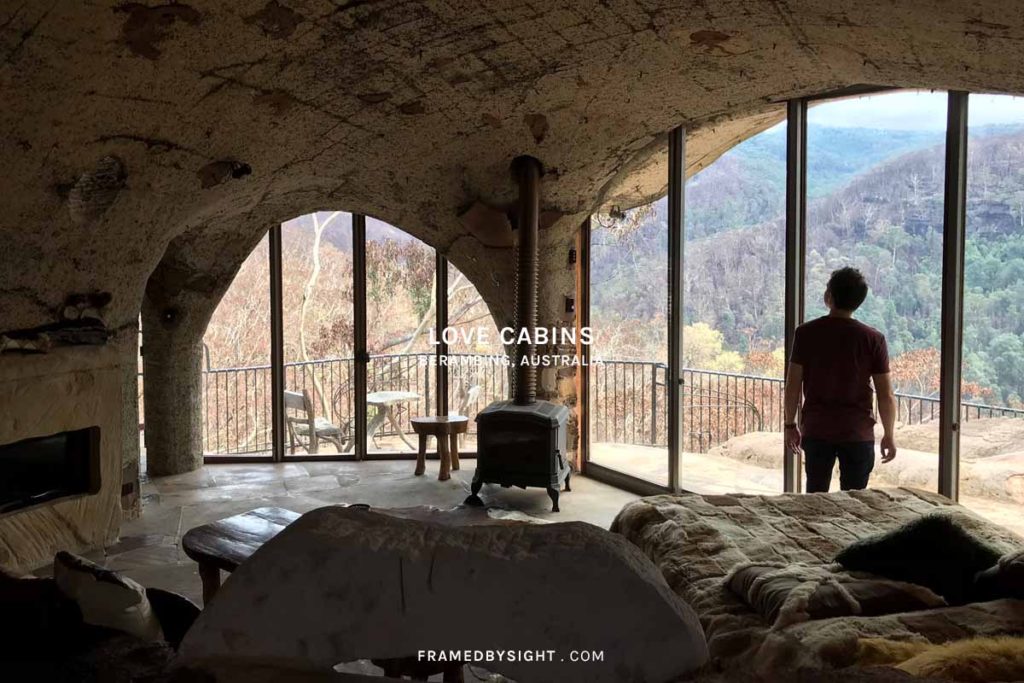 Expect to completely switch off in the Enchanted Cave in Berambing. There's minimal human interaction during your stay, limited/no mobile reception or internet/data capabilities, coupled with the stillness and silence of nothing but nature – and just yourselves.
Staying here is as though you're living in a completely different era. The front door entrance reminds me of a Hobbit House, which then opens up to the most grandeur and stunning valley views through large glass doors.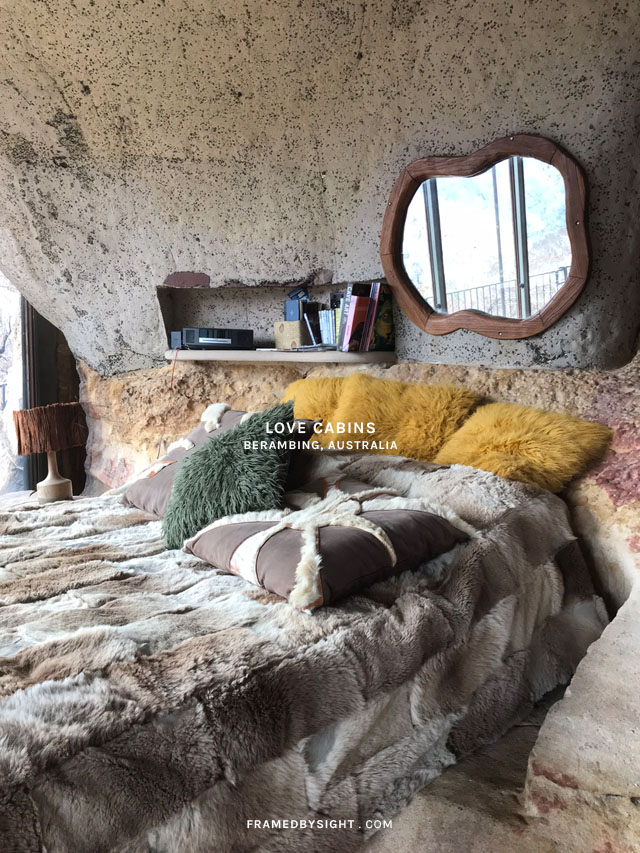 It's an unusual, yet unique opportunity to sleep in what is an architecturally designed cave; your queen-sized bed rests on bedrock and there's a bathroom which has the best views in the house – literally – with your choice of both an indoor spa bath or an outdoor shower. That said, due to the rugged and remote location of the cave, just to note, the bathroom has a drop toilet.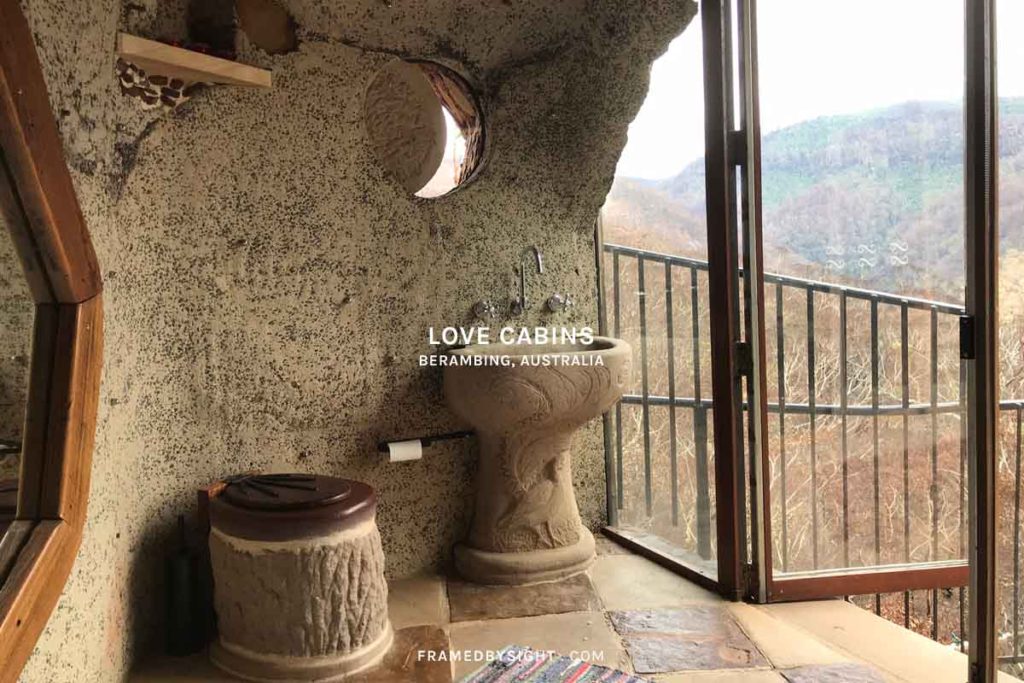 We spent hours wandering around admiring the room, amazed that electricity was even possible into this remote location. The detail too that has gone into designing this place is phenomenal.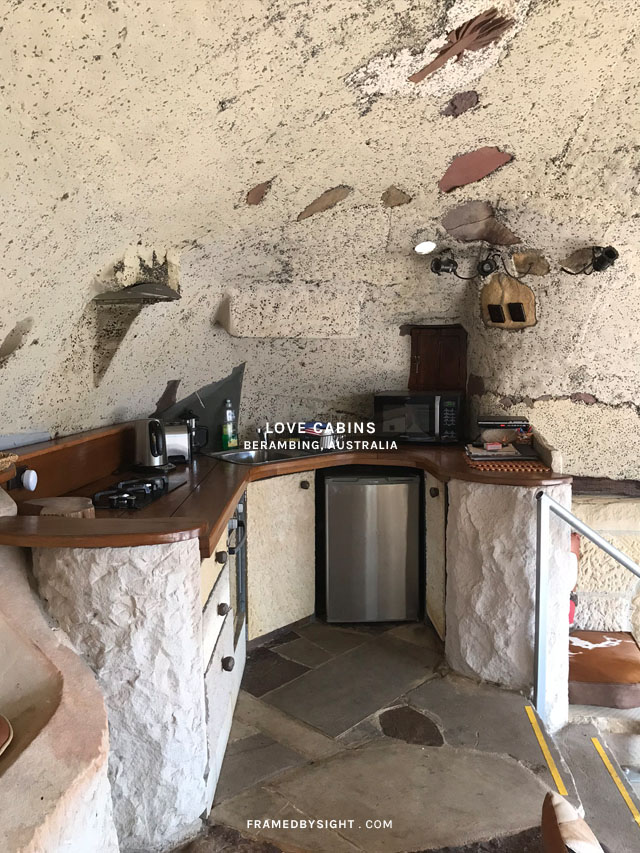 The kitchenette has all the basic essentials including a kettle, toaster, gas stove top and oven. It felt like we were living in an apartment which surprised us even more because from the outside, you're left wondering how everything is plugged in and even working.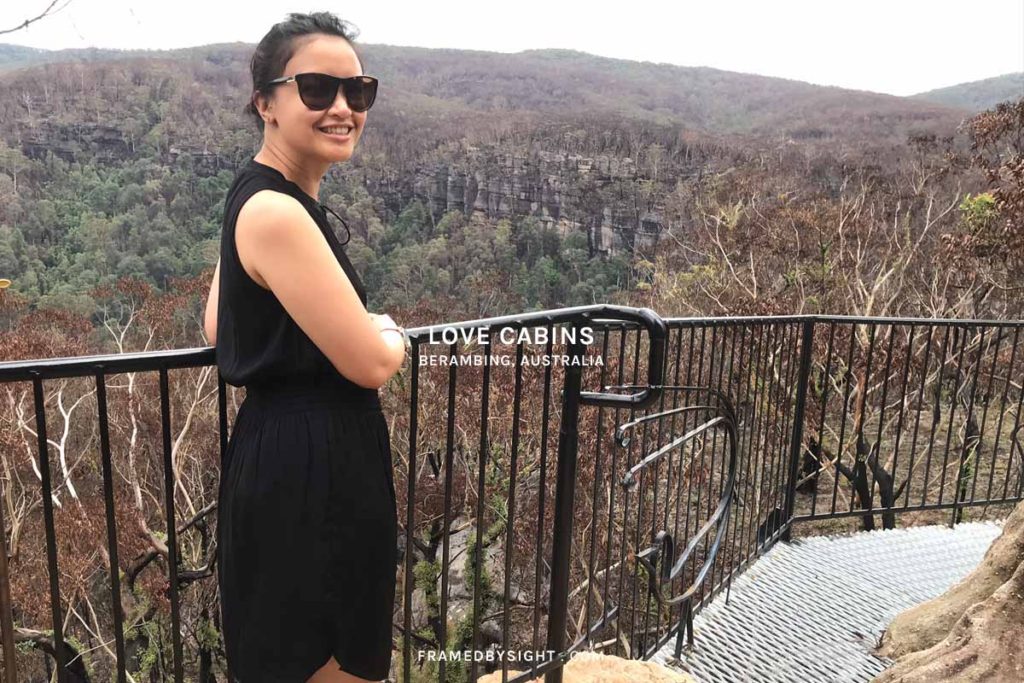 This is the most peaceful place to stay at, nothing but national park views as far as the eye can see. Unfortunately, the surrounding Wollemi National Park was affected by the major bushfires of December 2019 – but the trees are starting to show signs of new growth, which is a positive step to the regeneration process.
There's not much else nearby within walking distance, so expect a cosy night in with your slow-combustion fireplace burning. During the day, explore the local towns of Bilpin or Berambing, enjoy nature hikes or even book a Glow Worm Night Tour nearby (at additional cost).
If there are any call-outs, just remember you're technically sleeping outdoors – in a cave that is – and with that also comes insects. So when you open a handful of doors, this doesn't prevent bugs from coming in – if anything they may enter your room unannounced. There's also no air-conditioning or ceiling fans, so in the cooler months a fireplace would be perfect, but I'm not sure what it would be like during a summer stay.
Expect absolute tranquility, with a plan to detox from Sydney city life for a few days. The sounds of birds chirping and even just watching the night skies light up and transform, is definitely one to remember.
–
I got the chance to have a look at the award-winning Treehouse, and wow, this cabin is strikingly amazing – what a view. If you're not good with stairs or heights, you might prefer the Enchanted Cave instead, but perched high above the tree tops, the view from this treehouse is spectacular.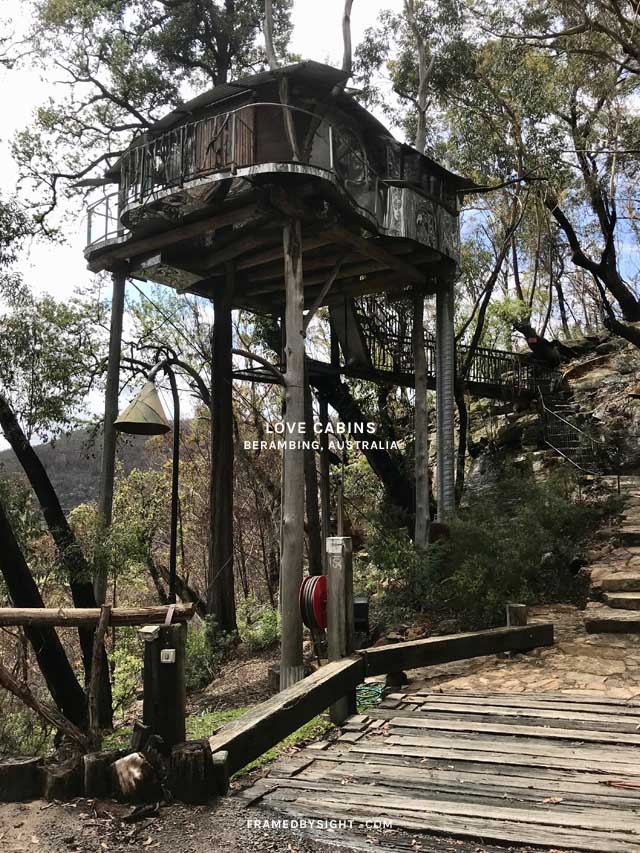 The way the natural timbers are integrated and intertwined into the treehouse structure is such a unique design – the personality of this accommodation is eye-catching all around. It feels like your cabin is floating in the clouds, so high up.. overlooking a valley filled with greenery.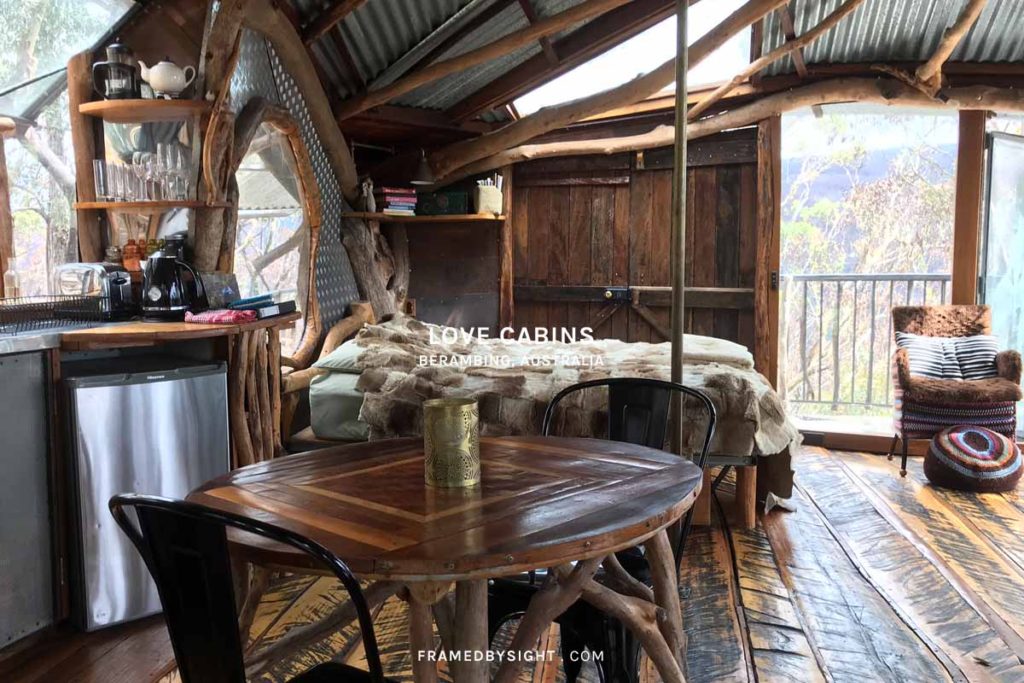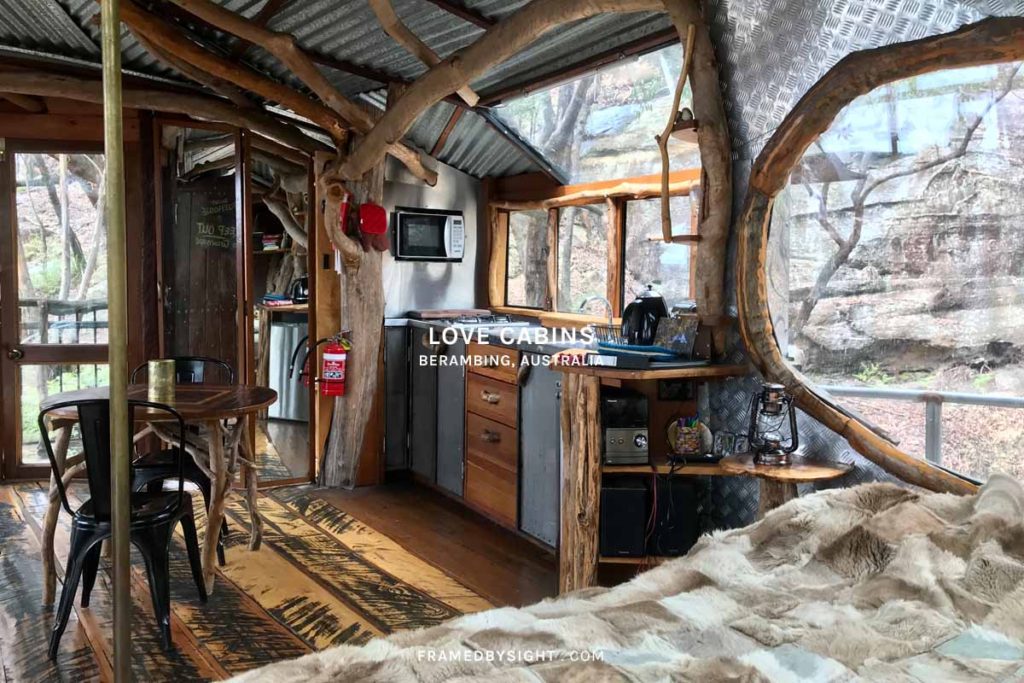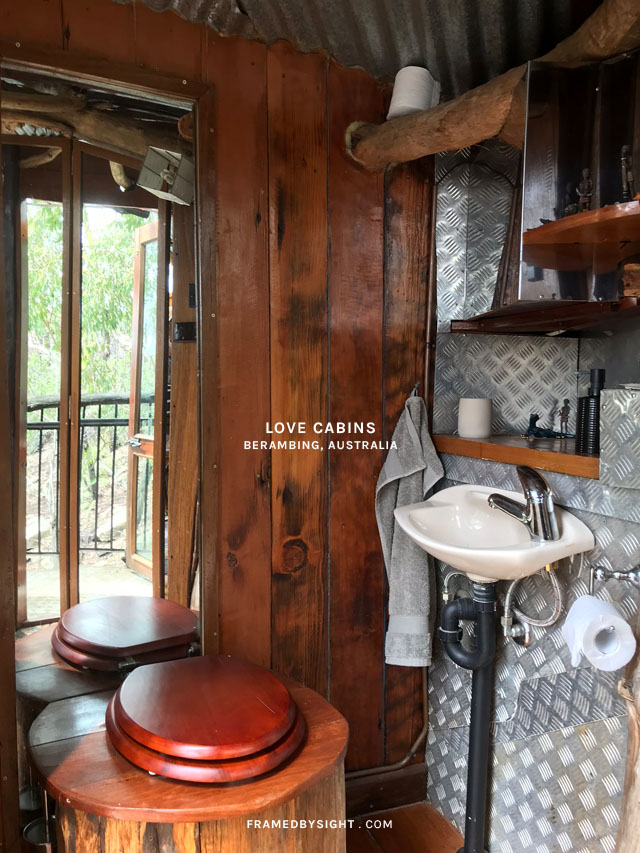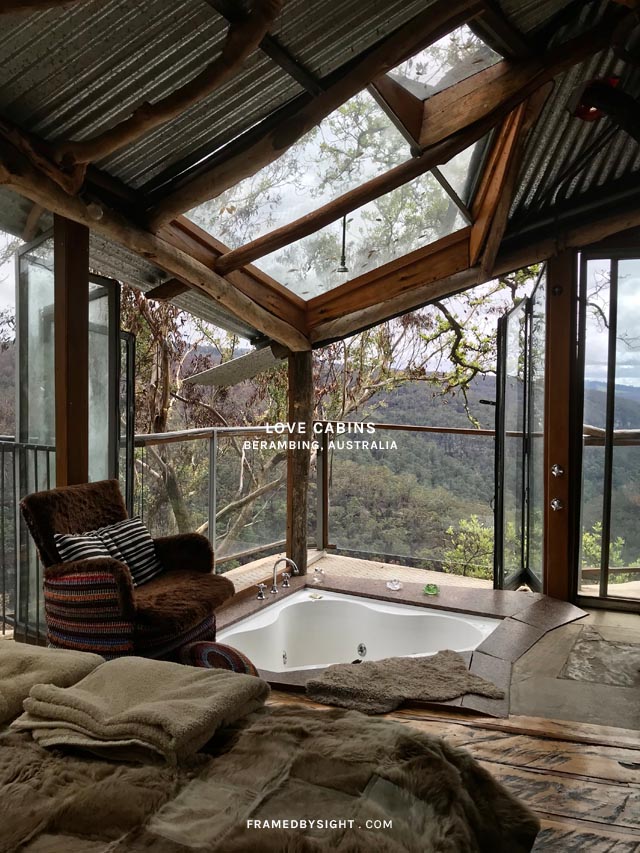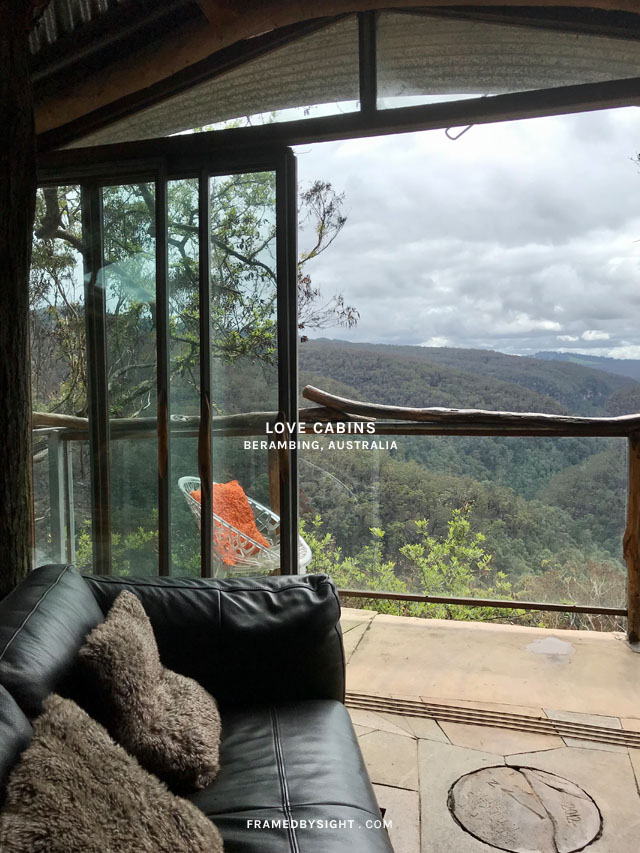 There are a number of different Love Cabins dotted between two wilderness locations in the Blue Mountains; Mountain Lagoon and Berambing. Choose from a Dream Cabin, Love Studio, Love Tee Pee, Wollemi House and Wollemi Cabin – in addition to the Enchanted Cave and Treehouse – not too close to each other (that you can hear chatter or constantly see people), so your stay is quite private and intimate. The pricing differs between each cabin type and they all have their own individual design and unique quirks.
If you plan your stay with an open mind, you'll truly immerse yourself in the outdoor experience and enjoy every moment of your getaway. It's the perfect romantic weekender, anniversary or birthday celebration, or just a relaxing haven to simply reset and unwind.
Address
Enchanted Cave or Treehouse
Berambing, New South Wales, Australia 2758 (in the Blue Mountains)
36