(Edit: Stay was pre- COVID-19 lockdown)
Thinking of your next holiday, we couldn't wait to consider another relaxing island destination.. so why not head to Mauritius? Whilst researching where to stay, we discovered The Oberoi Beach Resort Mauritius (part of The Oberoi Group) was getting a huge wrap, voted as one of the top 5 Mauritius Trip Advisor 'Traveller Ranked' hotels of 2020.
The countless positive reviews could not fault what we were about to experience – and I must admit, after our stay, they truly lived up to our expectations.. plus more. Their impeccable service was superb (not just great) and we genuinely would recommend this hotel to anyone looking for a seaside stay in Mauritius.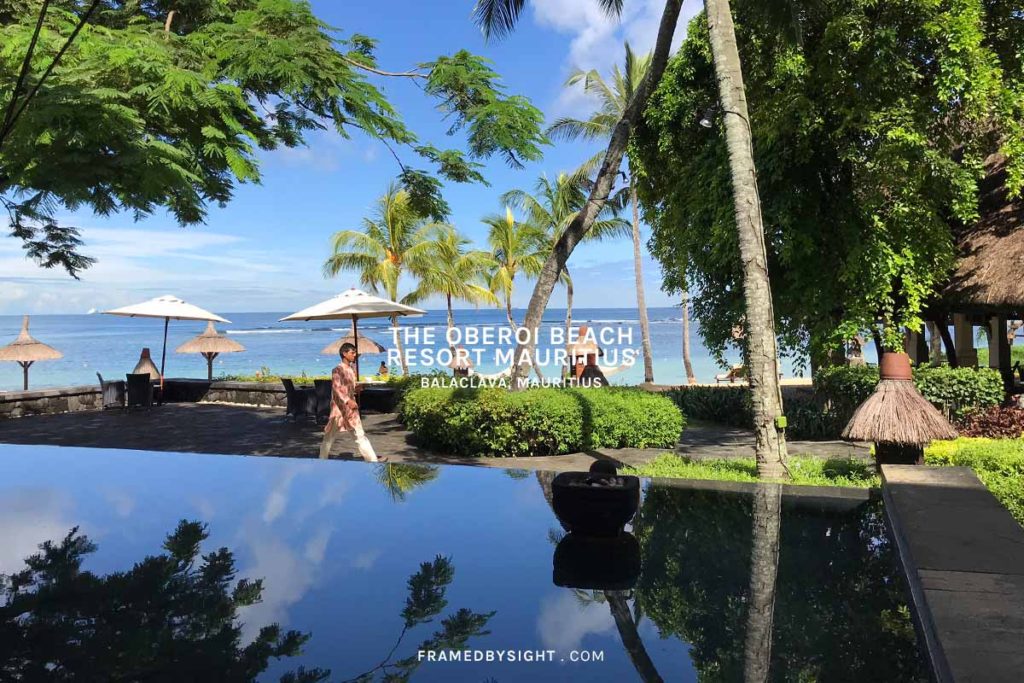 Located in the Indian Ocean and off the coast of Africa, The Oberoi Beach Resort Mauritius is less than a one hour drive from the Sir Seewoosagur Ramgoolam International Airport. Situated on the north-west coast of Turtle Bay in Balaclava, tucked away behind quiet stretches of local roads, The Oberoi Beach Resort Mauritius offers privacy as soon as you enter its luscious grounds, with a security hut manned at the main entrance checking every visitor's purpose of entry.
If you're looking to go on daily leisurely strolls outside of the property, there isn't anywhere really nearby to walk to (i.e. don't expect shopping centres or supermarkets in close proximity). Enjoy the hotel facilities and make sure you book into some of the daily complimentary activities on offer. For those that want to go sightseeing around the main island, you can make arrangements for day tours separately.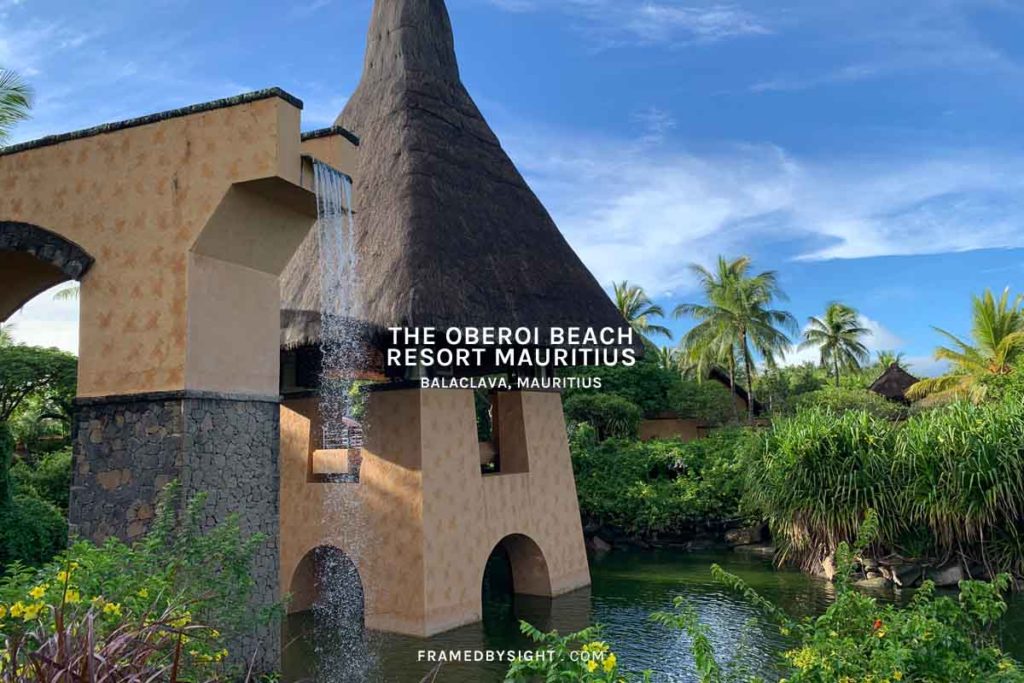 We were first greeted by Pritam who, upon arrival presented us with refreshing drinks as we took in the view. We also met the lovely Nishi, and following, were whisked away in a buggy and straight to our room – talk about service! The Oberoi Beach Resort Mauritius had been in frequent correspondence prior to our arrival, so we completed all the required paperwork beforehand. I'm not sure if this is normal practise for all guests, but we hadn't experienced in-room check-in as such before. Formalities such as ID validation and credit card imprint for the bond was all serviced whilst in the room as well.
Nishi then proceeded to show us around our accommodation in detail and was a regular, friendly face at the resort throughout our trip. As the hotel is not overly large, and depending how long you stay, you will begin to start learning some of the staff names – and that's what I loved about this place. In return, they also recognised us. It's these warm gestures that added even more value to our holiday, making our stay all the more personable throughout.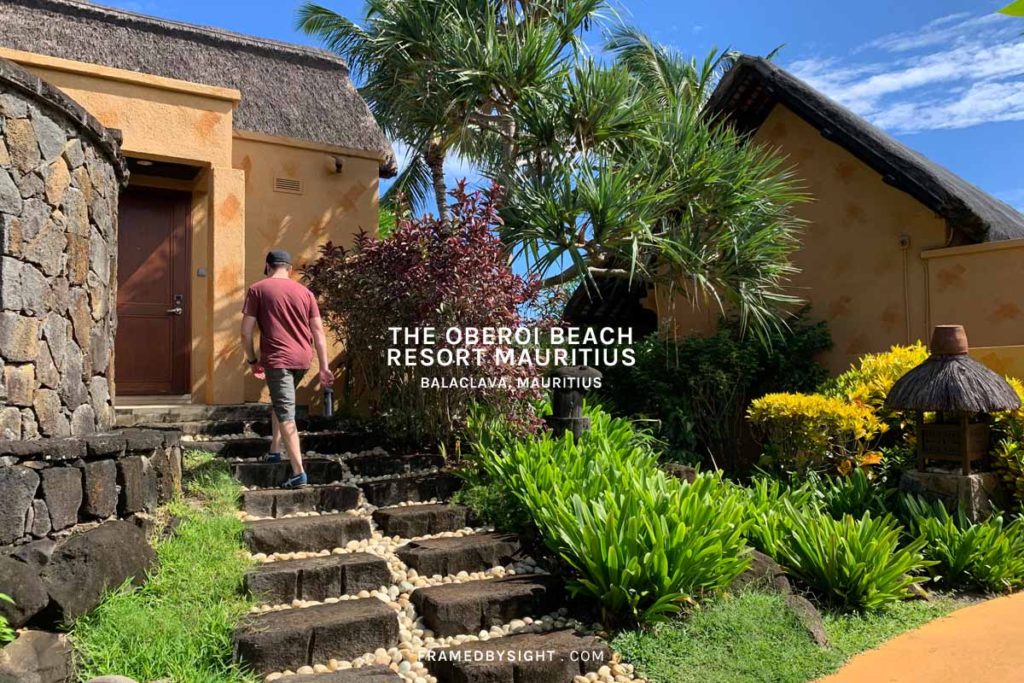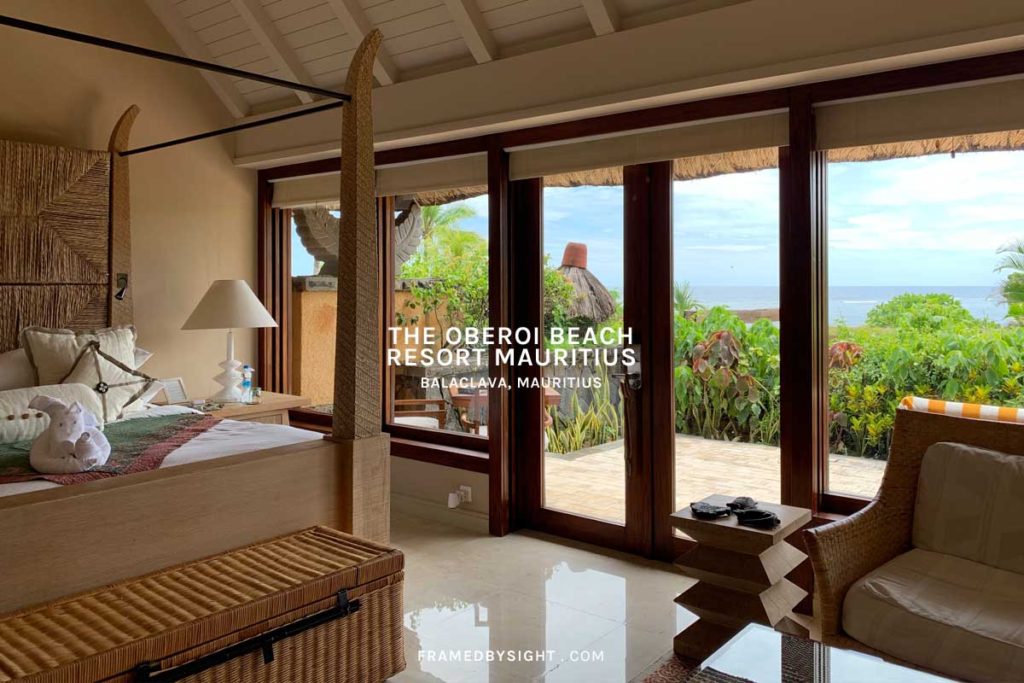 At 70sqm in size, our Luxury Pavilion was a traditional thatched-roof like structure, yet fitted with all the modern furnishings inside – and significantly larger too might I add, in comparison to other international hotels.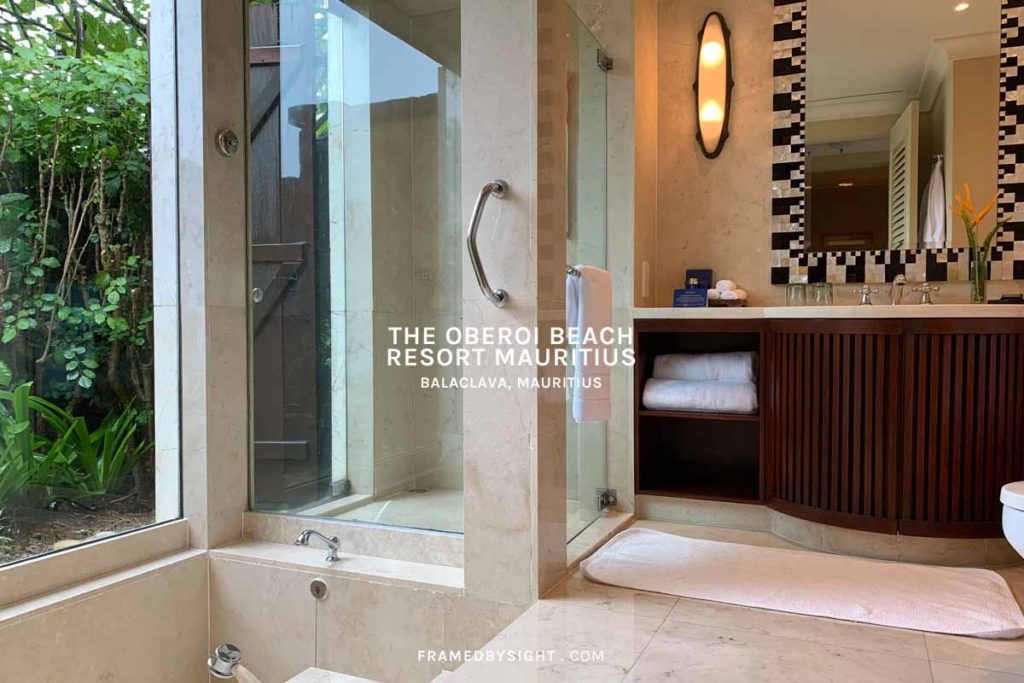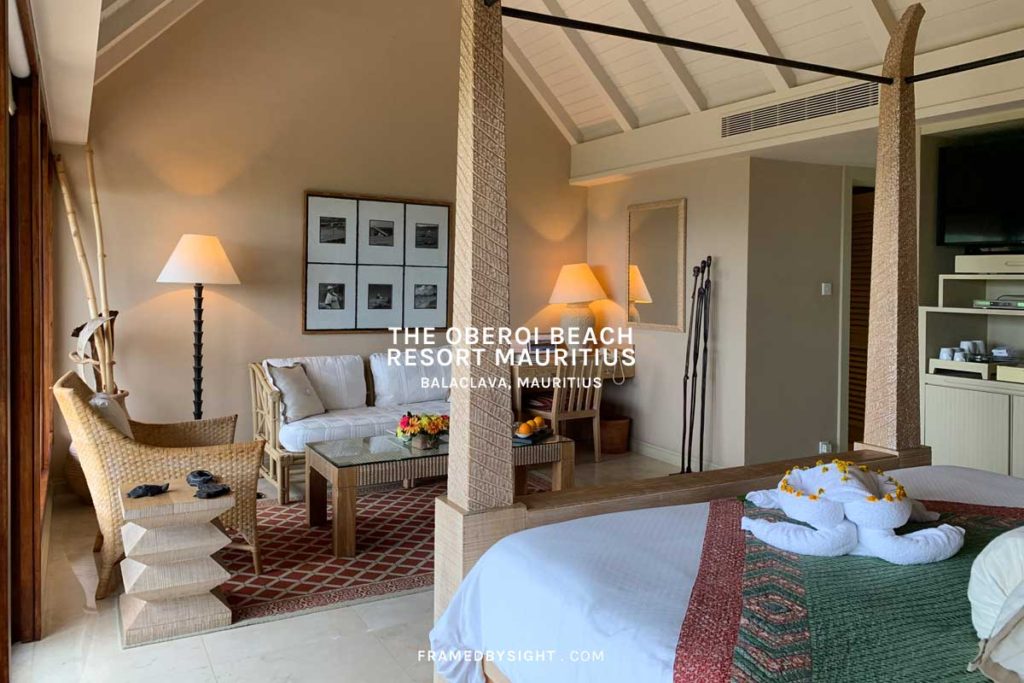 What I loved was the spacious and oversized bathroom with a sunken marble bathtub and separate shower, filled with plenty of natural light through large windows, all privately screened. Expect a full-sized walk-in wardrobe, lounge with sitting area, and a luxurious king-sized bed and amazing views out to the ocean at a distance.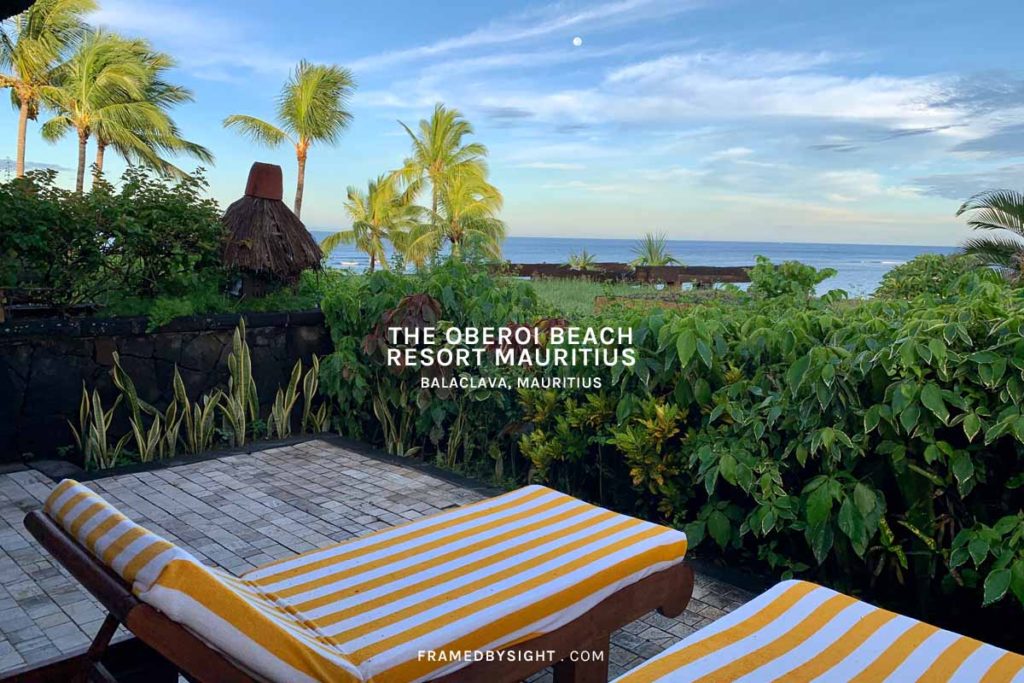 Adjoining your room is a private garden terrace inclusive of sun loungers and an outdoor seating area for two. Every day, I felt like I had returned to a new hotel room, the decorative towel art on the bed differed each morning, coupled with daily fresh fruit on the table. The evening turn down service was also a nice treat with the slippers by the bed. The team here ensured the room was left tidy and immaculate after each service.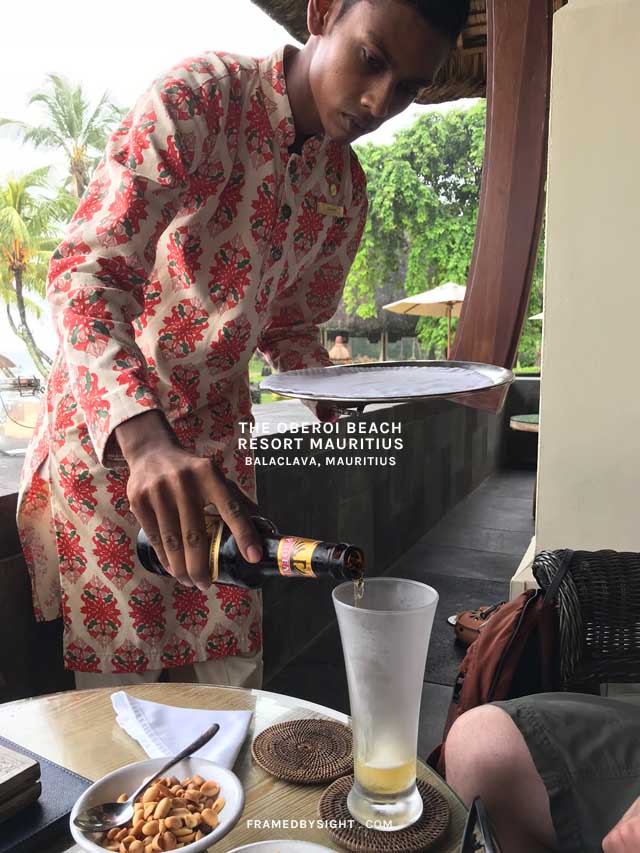 Pranaw was another friendly face we met on arrival. After flying from Australia, Pranaw served us our first beer during 'happy hour' at The Bar and also during other times we popped in for a beverage or afternoon tea. The Bar itself has the best views out to sea and it is the prime position for epic sunsets, so grab yourself a drink here, kick back, relax and wait patiently for the skies to unfold.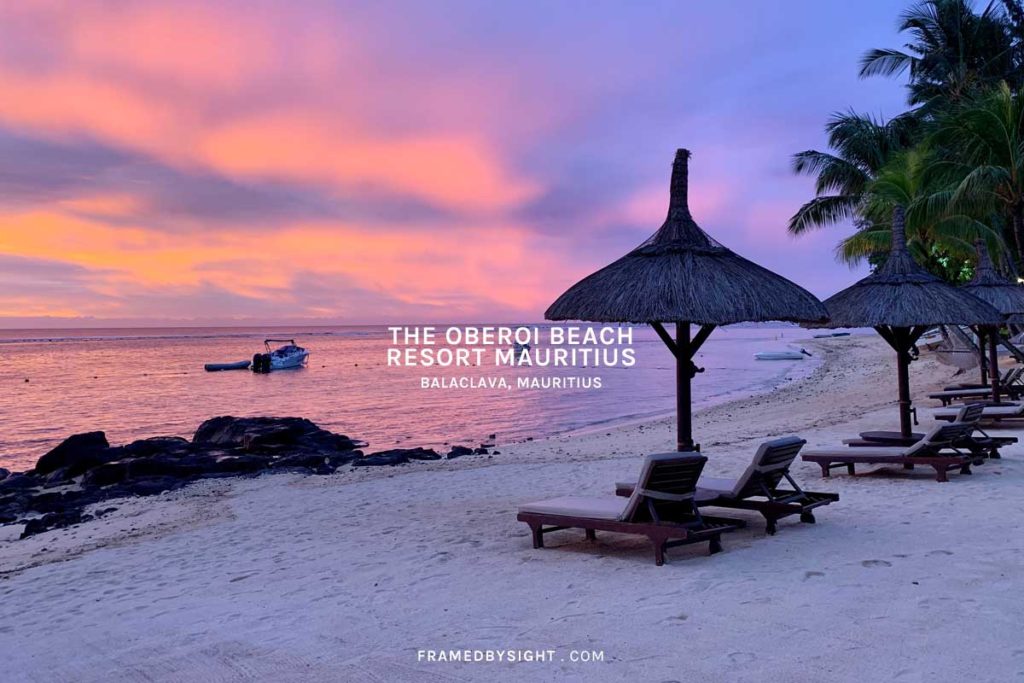 There was one evening when I was running up and down the beach taking photos in awe of the sunset – and another staffer, Prayag stopped mid-tracks for a few minutes as he didn't want to interrupt me taking photos. We saw each other the next day and had a bit of a laugh about it, more so how I was so captivated by what was happening across the sky.. and really, the number of the photos I took of one fluorescent pink sky in one night (hha). It felt like its own version of the northern lights (in Mauritius) – and I was in absolute awe.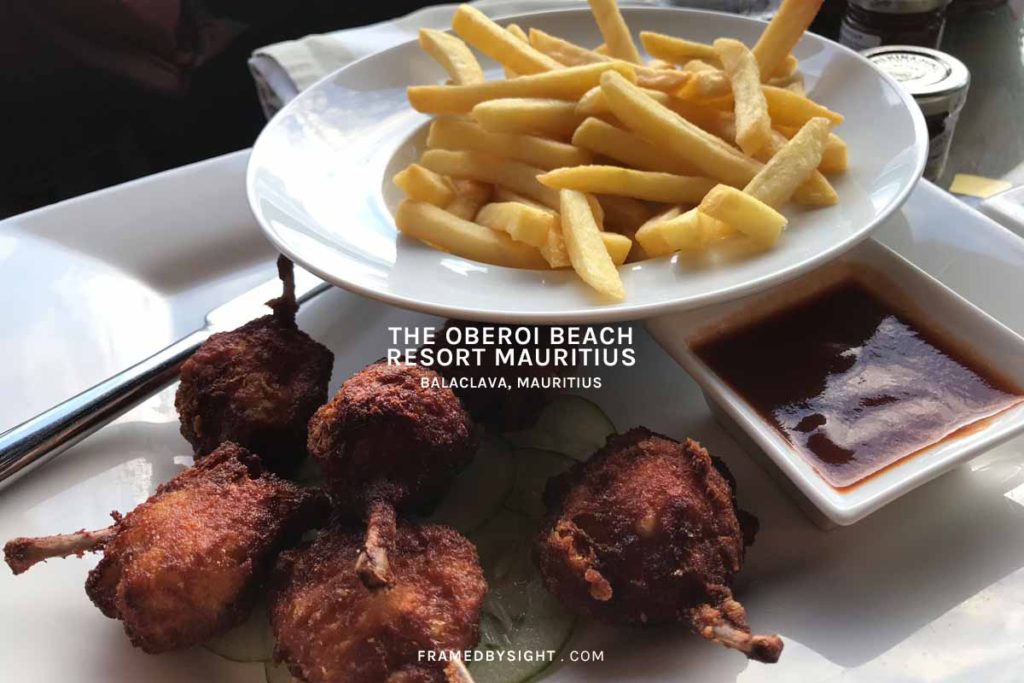 At The Bar, soft drinks and teas start from 200 Mauritian Rupees; beers from 250; cocktails from 450; and wines from 500. There are also a handful of bar snacks available for purchase such as bruschetta, chicken lollipops and local treats. Don't forget to ask about their "Sunset Surprise" happy hour offers between 4pm and 7pm.
In the corners of the bar, you'll find mosquito coils available and Pranaw was more than happy to pop one of these on for me. Whilst mosquitoes are not in abundance in Mauritius, do expect them as you're visiting a tropical island, so they are present every now and then. Throughout our stay, we ran into Pranaw every day and he always greeted us with a friendly smile.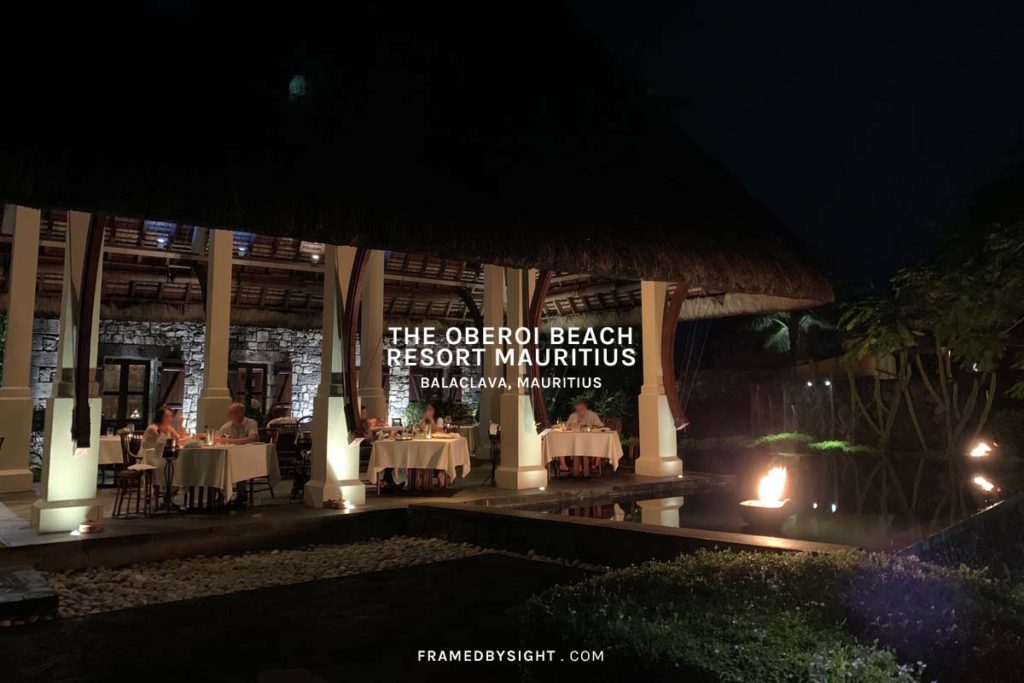 Dining at the resort had mixed reviews online. Personally, it was on par with Sydney fine dining prices and we didn't find them too overwhelming. The freshness, the quality and serving sizes were relative to the price, so depending on where you reside, your views could differ.
We didn't take up the dinner supplement provision and just paid for the menu options each day, but if you are interested, do ask about this at the beginning of your stay. It was 75EUR per person, per day for a 3-course meal (beverages charged at an additional cost). During our stay, full board provisions were not an option however, by paying the dinner supplement it somewhat compensated as half board since breakfast was already included in the room rate.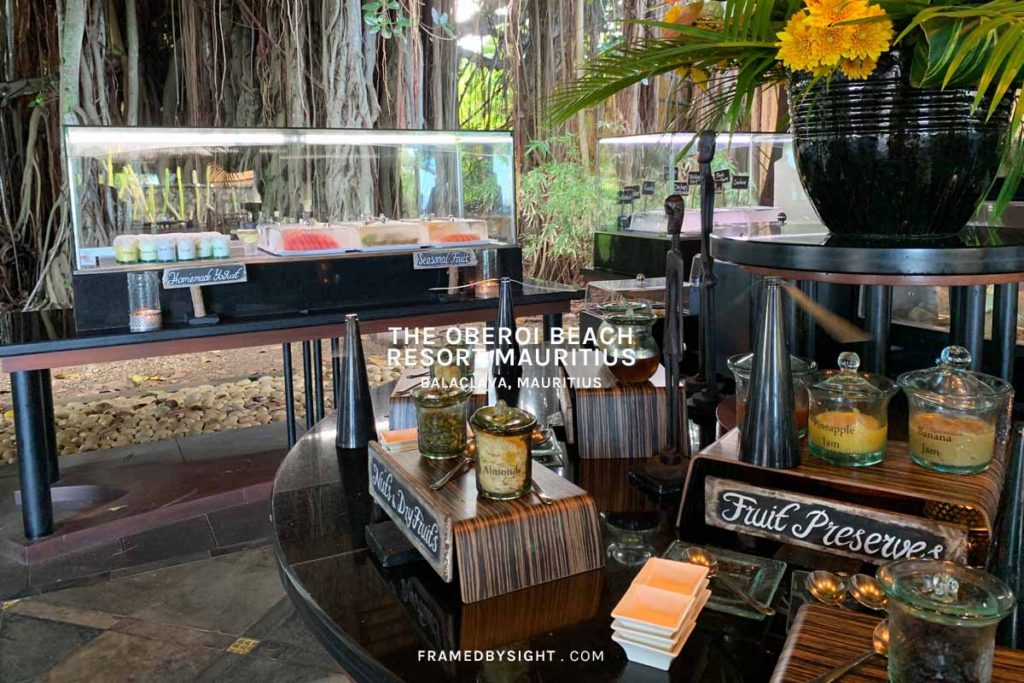 Breakfast is held daily between 7am to 10.30am at The Restaurant. Creole, Indian and international cuisines are available – and if you're not afraid to be recommended something different each day, don't hesitate to ask. There's a handful of fruit, yoghurts, pastries and breads available as part of their buffet breakfast menu, in addition to ordering from their main a la carte breakfast menu. Choose from classic or gourmet eggs, muesli, porridge, waffles, crepes, pancakes and special signature delights.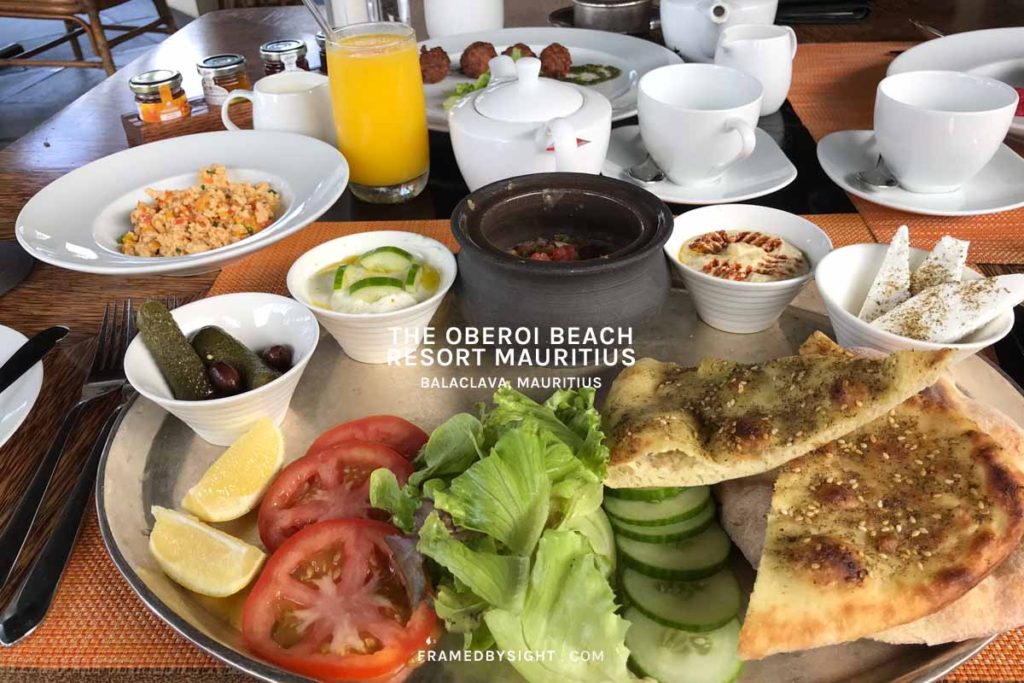 We had the lovely Ashwan greet us on most mornings during our stay. I'm a foodie at heart so I wasn't afraid to try new things and I was keen to be guided by his recommendations. As for the Arabic Breakast, I'd recommend to save yourself for a day that you are very hungry. Look at this feast – ahh, delicious.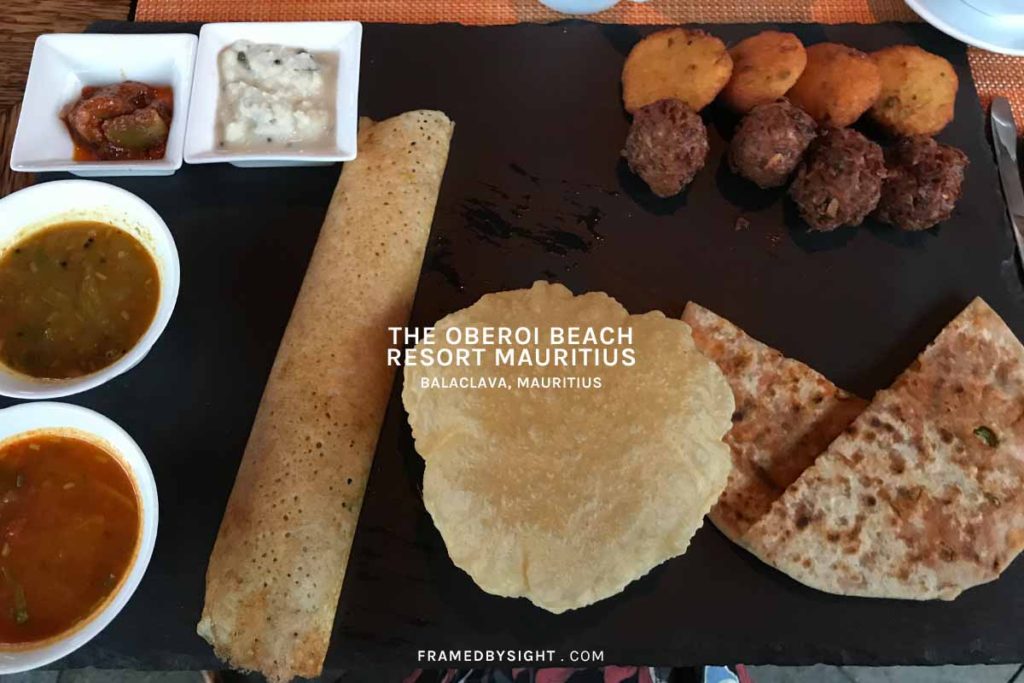 On our last morning, I still hadn't tried a few things from their menu, so Ashwan organised a mixed tasting platter of Creole and Indian bite-sized options from the main a la carte breakfast menu. The chef also came out and introduced the platter which I thought was a nice surprise and great impromptu interaction. Wowsers, another favourite of mine and the perfect assortment if you want to try a bit of everything.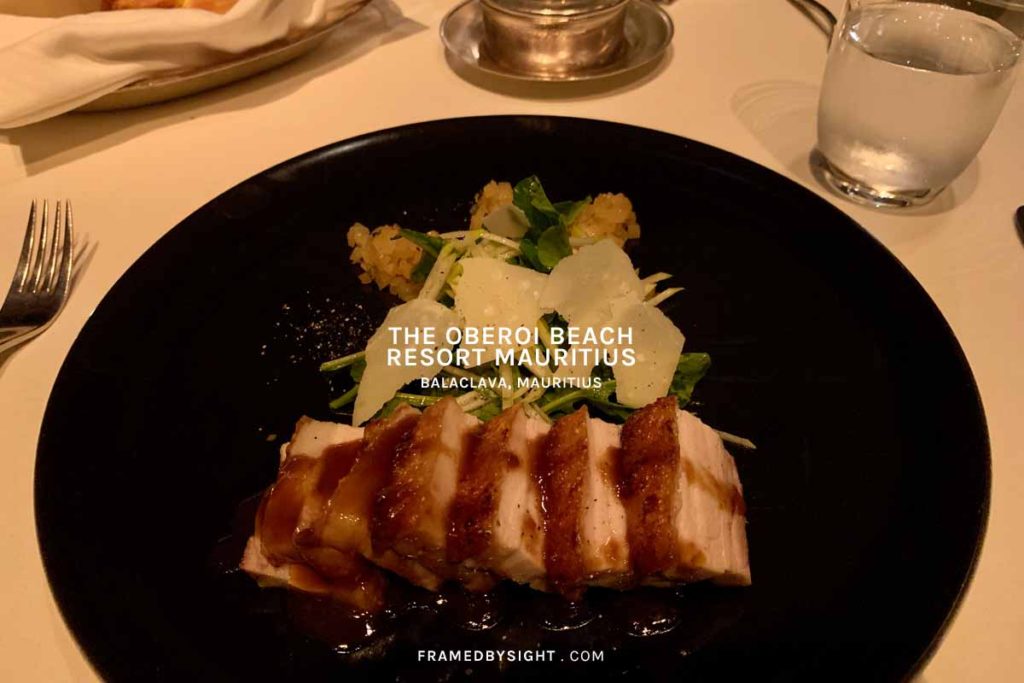 Dinner at The Restaurant was also a great dining experience with one of our favourite dishes being the roast pork belly with organic rocket and pear salad and pear jam for 1,550 Mauritian Rupees. I ordered this twice during our stay, not overly large in portion size, and just the right amount – perfect to be coupled with their local Mauritian Phoenix beer too.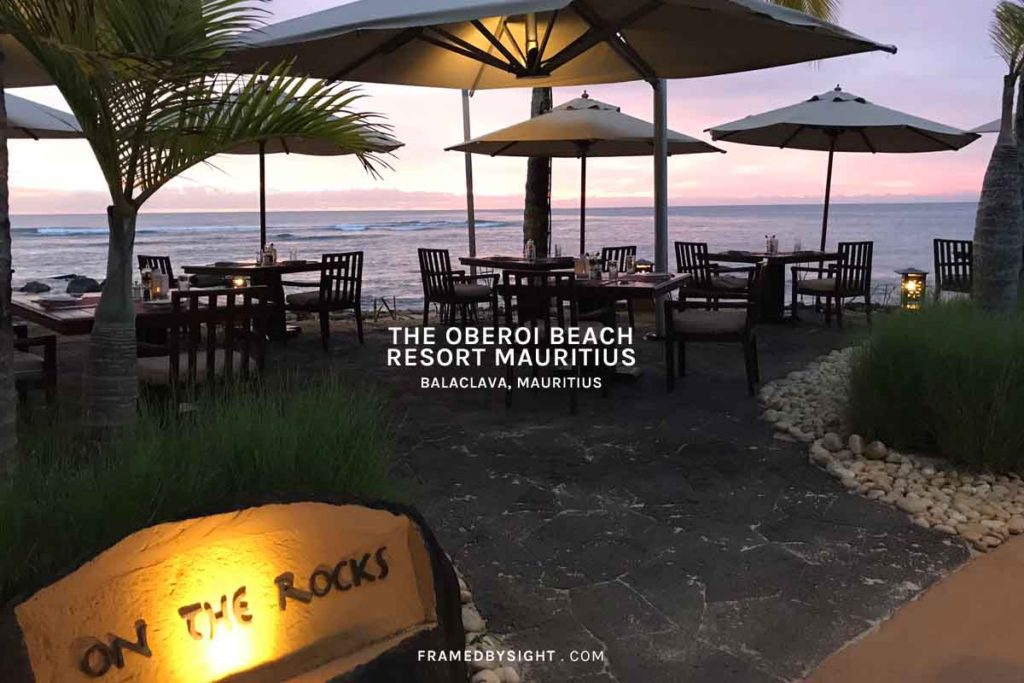 Sonah and Anika were familiar faces at On The Rocks dining. We also found them at The Restaurant too later during our stay – so the staff do rotate between the restaurant venues.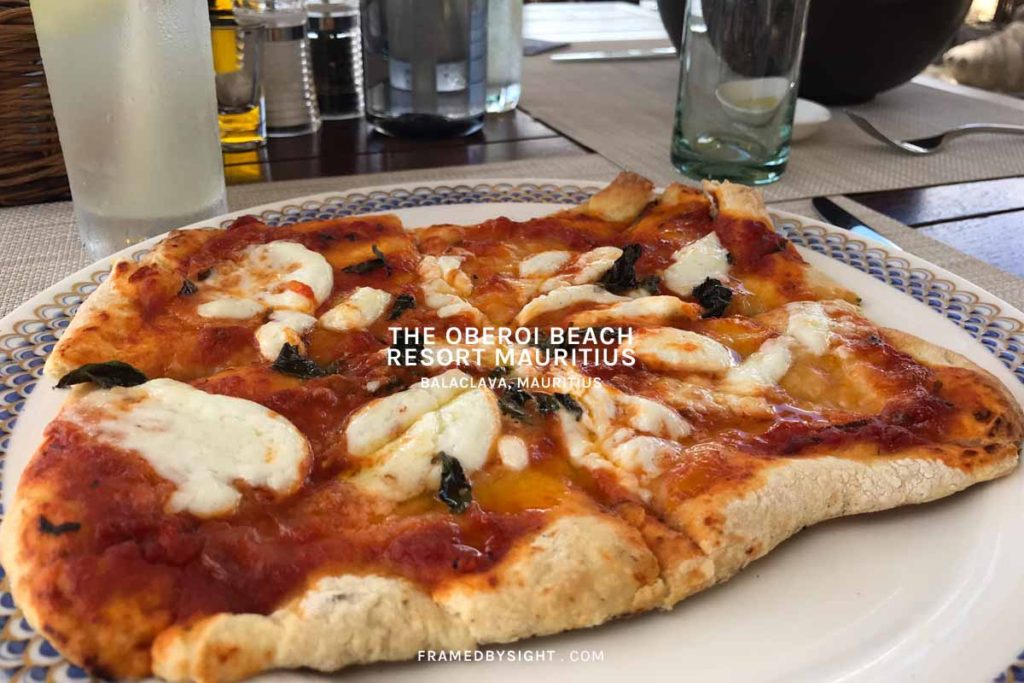 At lunch, choose from fresh seafood from the grill, salads, pasta and pizzas with mains starting from about 800 Mauritian Rupees to 1,450. One evening we tried the mixed meat platter (shared between two people) at 3,300 Mauritian Rupees inclusive of one side dish. I did notice there was a handful of vegetarian and gluten free options on the menu too, so the team can cater for dietary requirements.
The water views here are picturesque and quite calming, so if you have a sunny day or a balmy evening at the resort, I highly recommend dining here outdoors as the weather can turn quite quickly during your stay.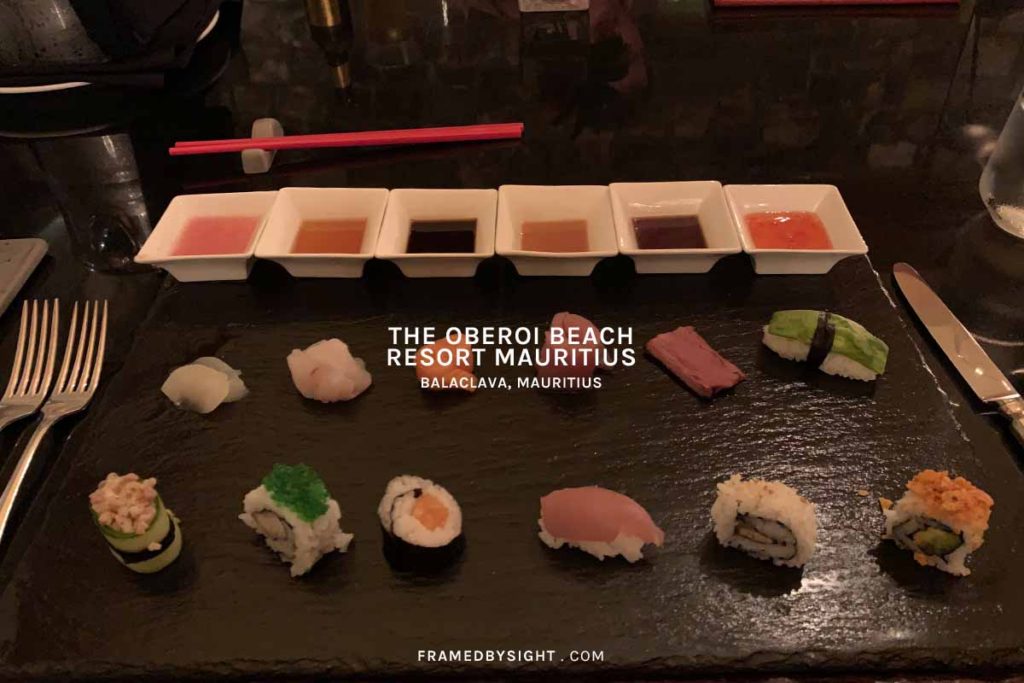 The Gunpowder Room is a venue for those special occasions, a limited number of diners per night and a choice of traditional Creole cuisine or their Omakase Japanese menu on select nights. We tried the 4-course degustation Japanese dining one evening and at 3,300 Mauritian Rupees per person, it felt like a truly exclusive Japanese experience, with our hosts Ash and Sweta talking us through each of the menu items we were presented.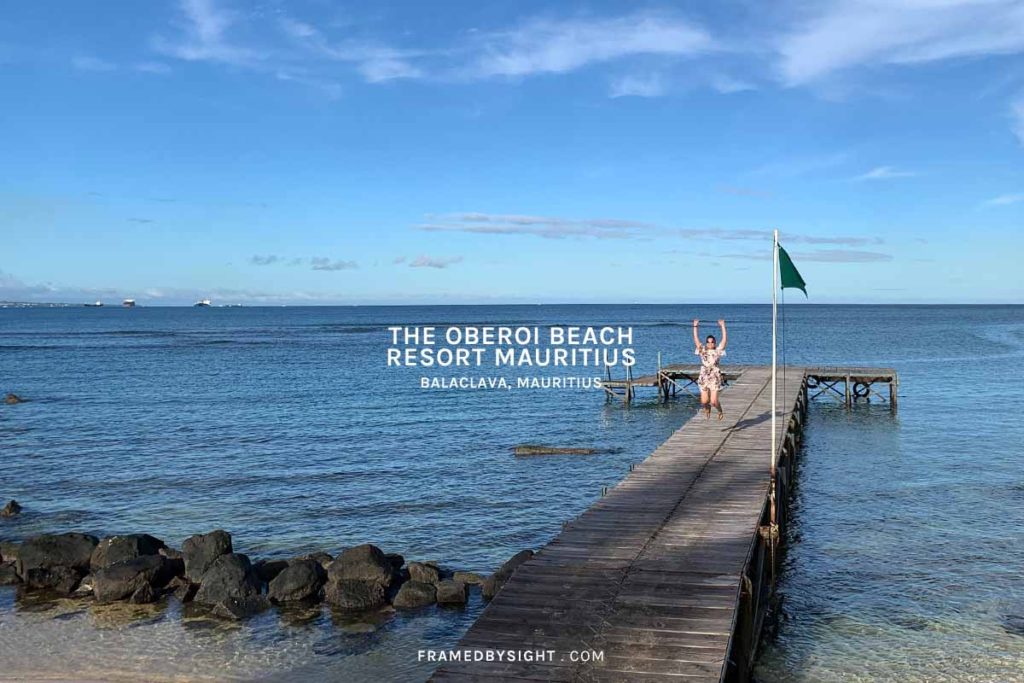 What to do at the resort you ask? My, my.. I'd highly recommend to take a moment and review the available at The Oberoi Beach Resort Mauritius. Each time we participated in an activity, we seemed to be the only people turning up, so it felt like exclusive experiences throughout our stay.
We participated in a number of the wellness activities led by Henrio. Talking from his own personal experience, he is well-versed in this area of mind, body and soul expertise and looked after us very well during our stay. Highly recommend his Breathing Exercises, Relaxation Technique and T'ai Chi classes which can be taken outdoors (weather dependant) or hosted indoors too.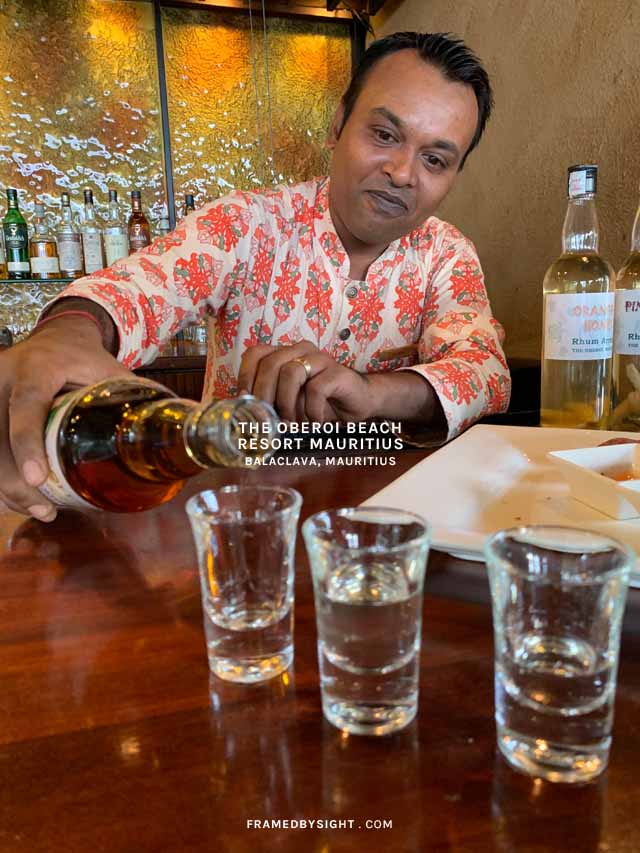 Now the Rum Tasting was a trip highlight (another free activity which you should book in and try).. white rum, sugar and different fermented flavours in each of the rum tasters.
One of my biggest shout outs here is to Rabin. We walked away from this experience feeling as though we had been chatting with a long-time friend that we hadn't seen in a while. Again, it was just Tim & I participating in this, so Rabin really opened up in conversation. He has been at this resort for many years, passionate about working here and genuinely invested in sharing his stories and time in Mauritius. He was such a good host and a friendly member of The Oberoi Beach Resort Mauritius, loved his funny personality and I would say he is a true asset to this hotel.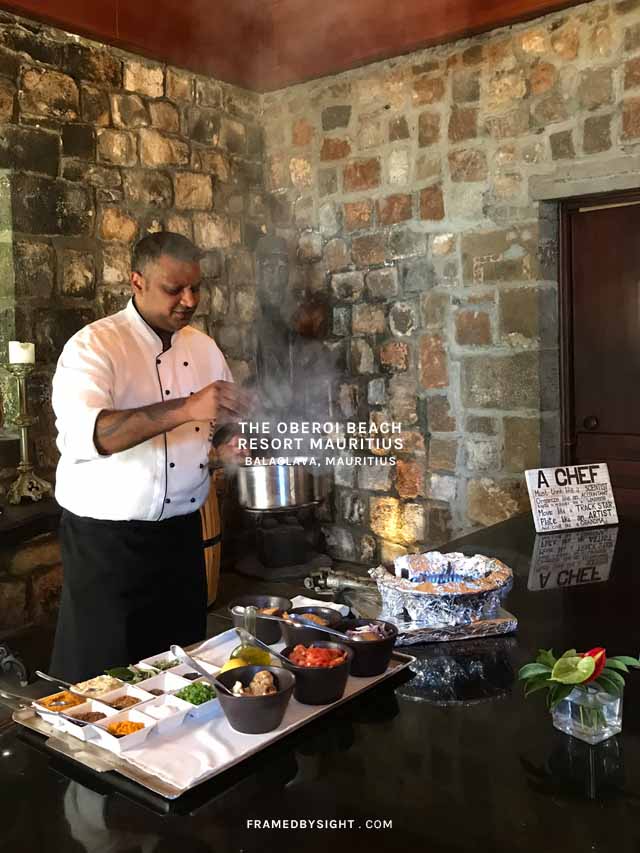 Don't forget to book in to the cooking class (yes, another freebie). This is the first time we met a few other guests joining a scheduled activity. We watched the preparation of a traditional fish curry and cauliflower dish, followed by the opportunity to dine and meet one another over a flavoursome meal. #delish #nomnom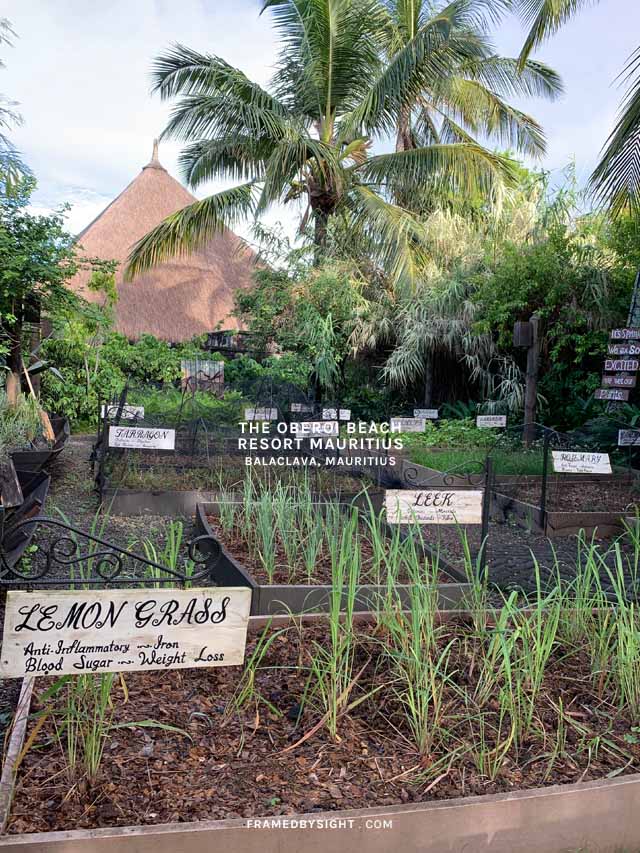 We didn't try the Herb Trail 4-course communal dining experience, however the herb garden is free to roam at any time of the day, so feel free to take a wander through here too.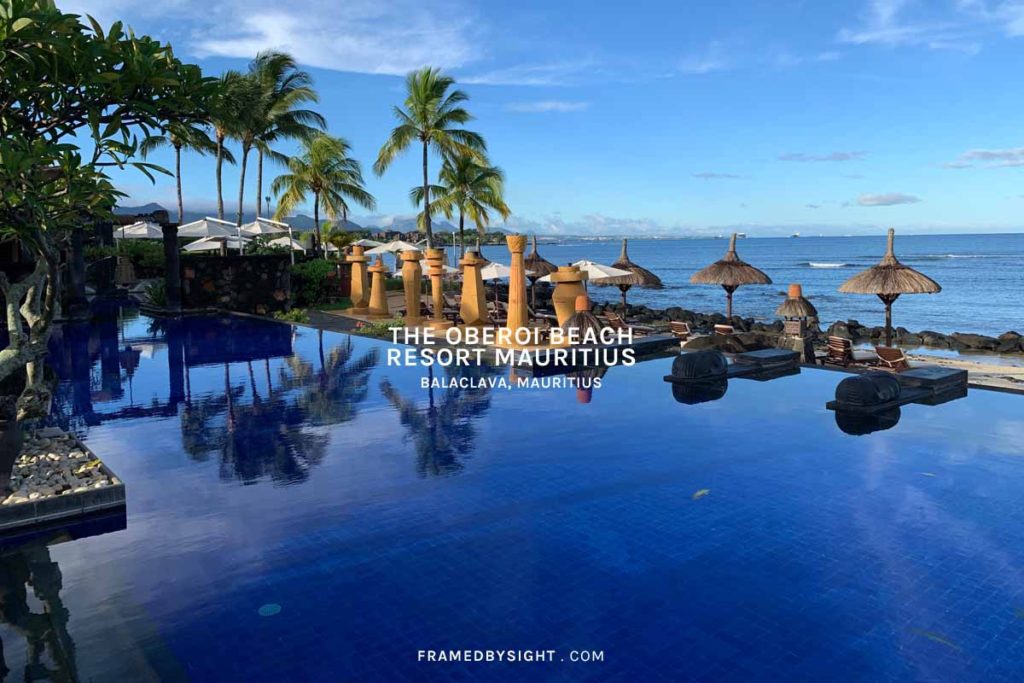 As for the resort pools, there are three in total (if you include the kids pool at The Hub Kids Club). The main pool overlooks the beach at On The Rocks, and this is where we found a majority of the guests during the day, or relaxing by the beach as an alternative.
However, we preferred the adults only pool facing Turtle Bay, which during our time, very rarely had guests visiting, so it felt like a private pool on most days.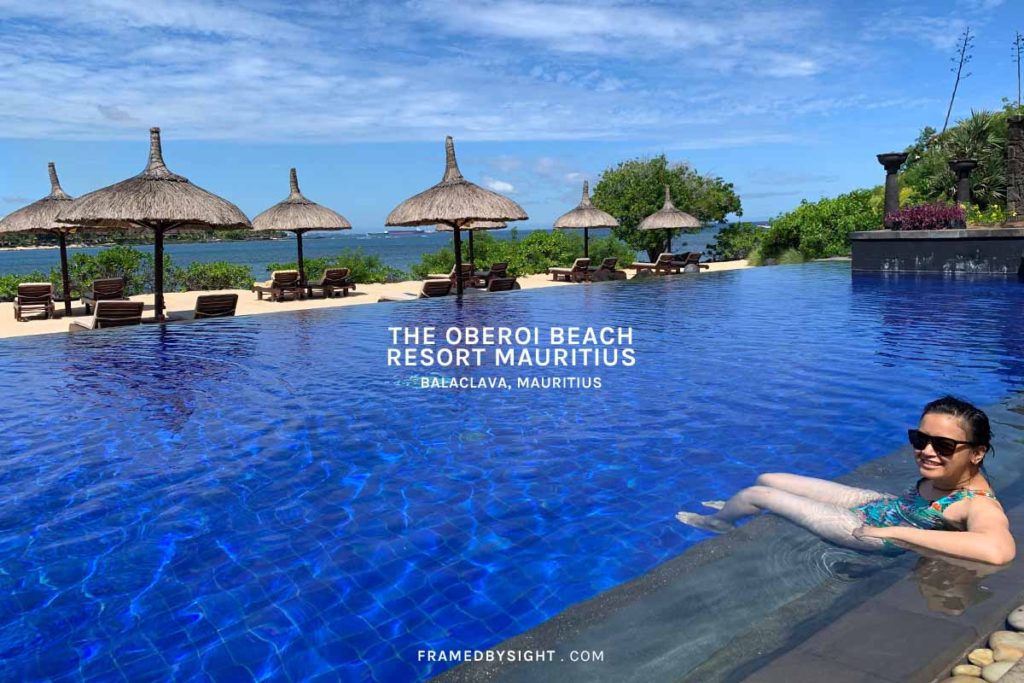 Nishant remembered us every day that we visited the adults only pool, he prepared our sun lounger with the towels each time and also our daily mojitos. Did you say it's only midday? How could you not resist these refreshing cocktails on such glorious sun-filled days?!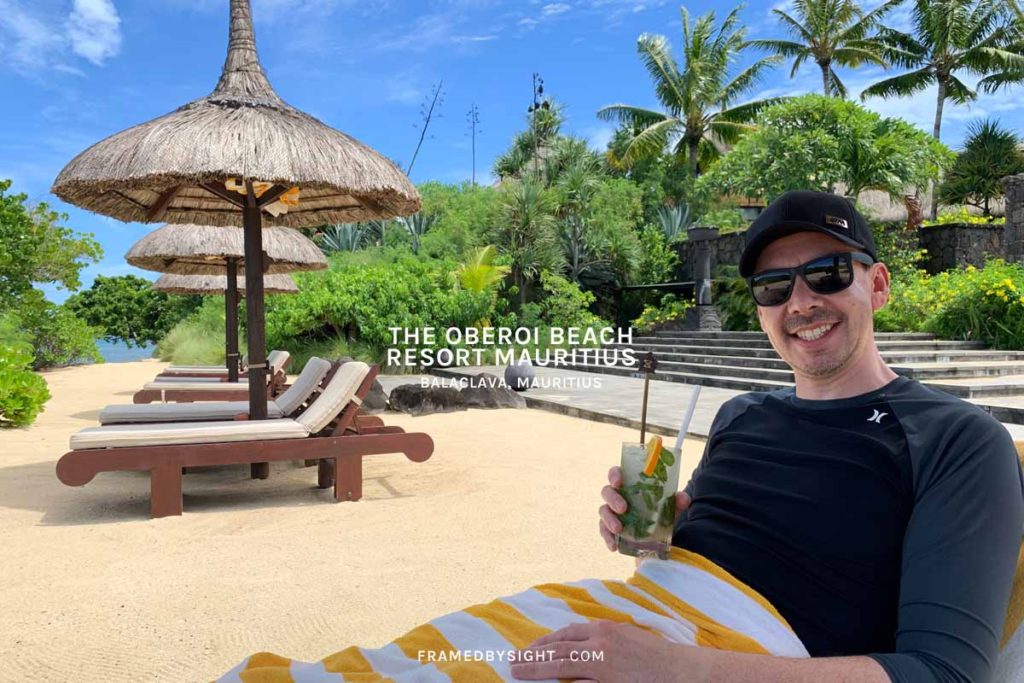 On-site, The Oberoi Beach Resort Mauritius offers complimentary water sports right in front of the resort on the main beach. Choose from windsurfing, sea kayaking, the pedalo, or scheduled snorkeling and glass bottom boat trips too.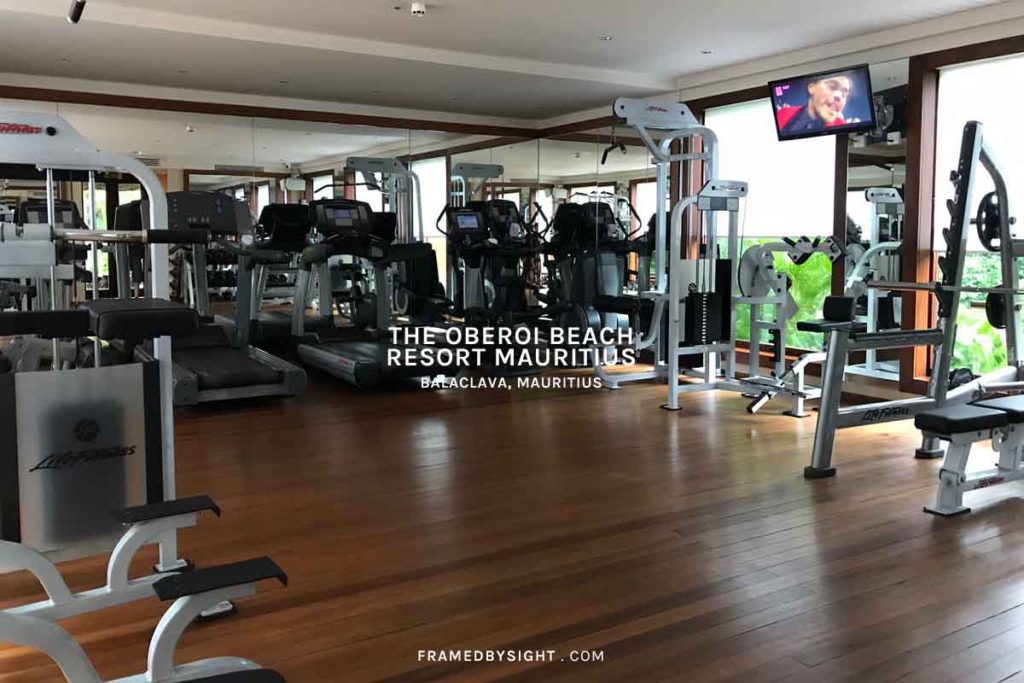 We also booked into The Oberoi Spa for a massage treatment at an additional cost (ahh.. absolute heaven) and made use of the fitness centre in our spare time, equipped with plenty of machinery for your liking.
I guess you're wondering if there are any flaws with our stay.. and I'm going to be completely honest and transparent about our time here. The actual beach itself is not the long coastal stretches of powdered white sand that you may have experienced at other destinations, and at low tide you do see volcanic rock appear from the water (which at first you may not even realise exists). The sand itself is a mix of crushed coral and rocks so it's not as silky and soft under your feet as expected. But, if you're happy to use the hotel pools or have your own pool in your villa, I don't think you'd see this as a real issue at all. And, the main footpath ran parallel to the beach and we usually walked on that instead.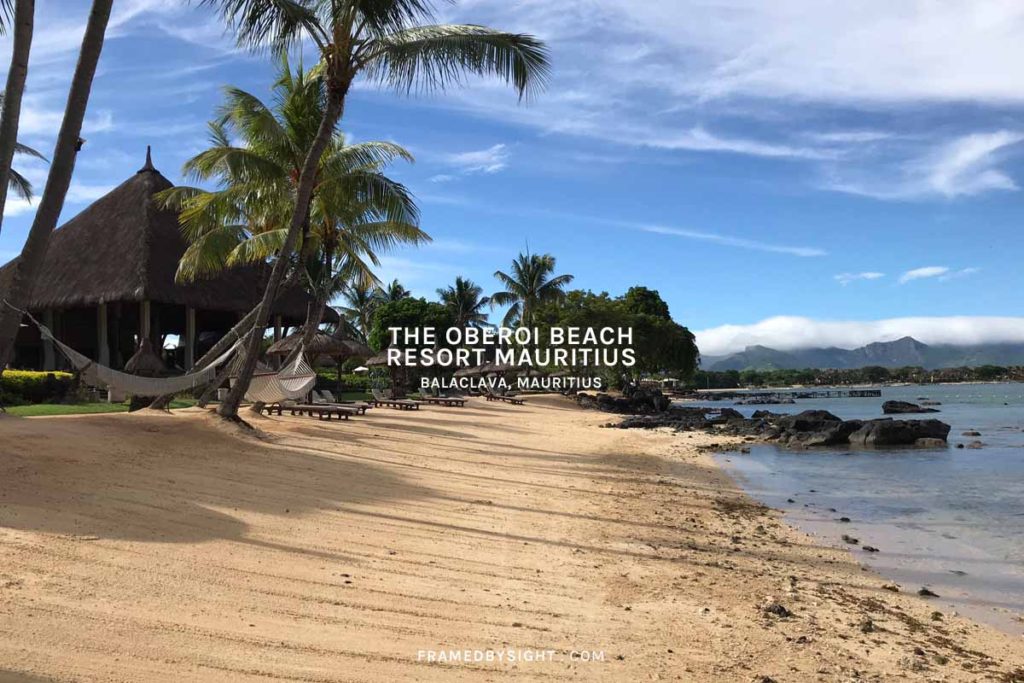 Also, whilst you think that you are on a "private beach" staying at The Oberoi Beach Resort Mauritius, they formally don't own the beach and local vendors/beach hawkers can approach you from neighbouring beaches, selling goods to purchase. This only happened to us once during our stay, but if you're use to leaving your belongings on the beach, just remember that locals can walk past these areas as well. Mind you, there are security guards around the property standing from a distance, so you do feel safe at all times.
My only other feedback was about the stray cats. There were a few here and there, and sometimes they'd appear from the bushes or you'd hear a meow in the distance whilst dining. They were absolutely harmless however a little odd to be on the property as I wasn't expecting them.
Whilst I've mentioned the above, I felt these were minor issues in comparison to our overall experience at The Oberoi Beach Resort Mauritius. I would still highly recommend staying here as it is an absolutely beautiful hotel, filled with superb staff who really make you feel welcome and offer service excellence every single day. I don't ever recall feeling any negative attitudes from the team here and they were always smiling and helpful if needed.
I also like that this resort discourages individual tipping of staff and it's reiterated in signage and the like. If you're happy with their overall service, there's a group gratuity service box near reception. Whilst you can still commend individuals in this process, I'm personally inspired by team collaboration efforts and companies that hold these values.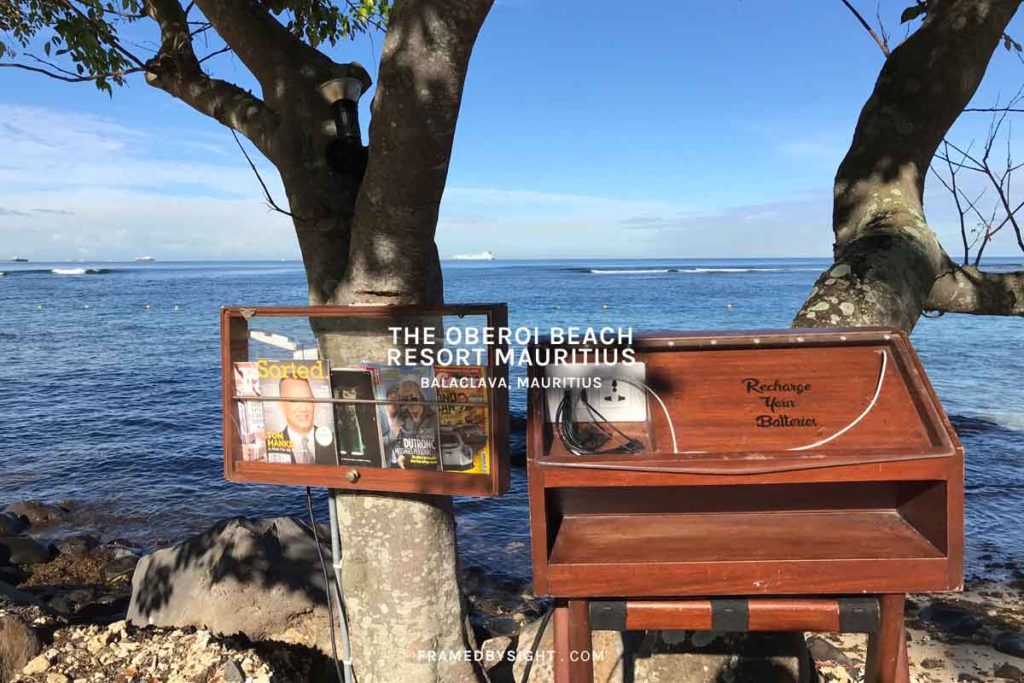 The free Wi-Fi coverage is brilliant throughout the resort too, readily available at the restaurants and within close proximity of the pools, oh and they even have magazines and charging stations by the beach – talk about modern technology at its best.
If you're looking for where to stay in Mauritius with top-notch, exceptional staff and 5-star luxury service, look no further than The Oberoi Beach Resort Mauritius. I know there are other staff that I may have missed to mention and also those that operate behind the scenes to make this resort amazing – thank you all for making our trip awesome.
Address
The Oberoi Beach Resort Mauritius
Baie Aux Tortues, Balaclava, Terre Rouge 20108, Mauritius
---
---
8