Travelling to the Eurobodalla region and looking for the perfect coastal accommodation? Most people would easily recognise Batemans Bay, however if you opt to travel a little further south, you'll pass through Moruya and discover the beautiful seaside town of Narooma.
From Sydney, Narooma is only a 4 1/2 hour scenic drive along the Princes Highway and the A1, or from Canberra, it's just shy of a 3 hour drive. Why would you stay in Narooma over all other coastal towns you ask? Did you know you could swim with seals off the coast of Montague Island, near Narooma? There's also an abundance of outdoor activities including cycleways, rainforest walks and a nearby drive to the heritage village of Tilba Tilba, which is the gateway to the Gulaga Mountain (Mount Dromedary) Walk.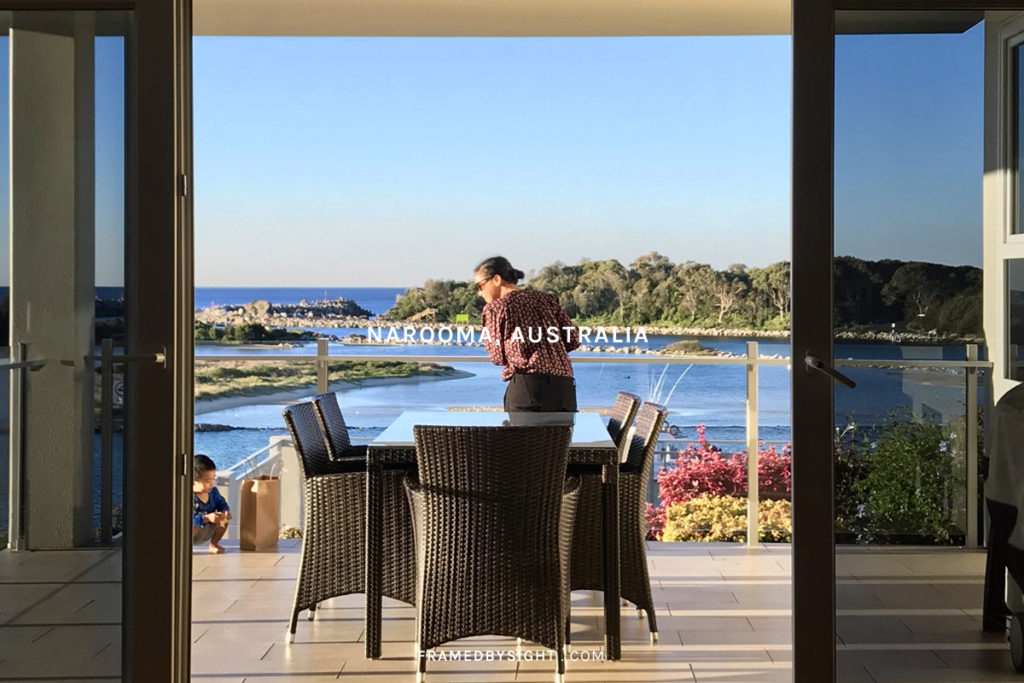 Narooma reminds me of what Byron Bay use to be, years ago before the tourism really kicked into overdrive – a chillaxed waterfront town, local markets held on weekends, friendly people always up for a chat and no one ever in a rush. Personally, I love these finds when they're still untouched, and what's even better is when you have the right accommodation to match.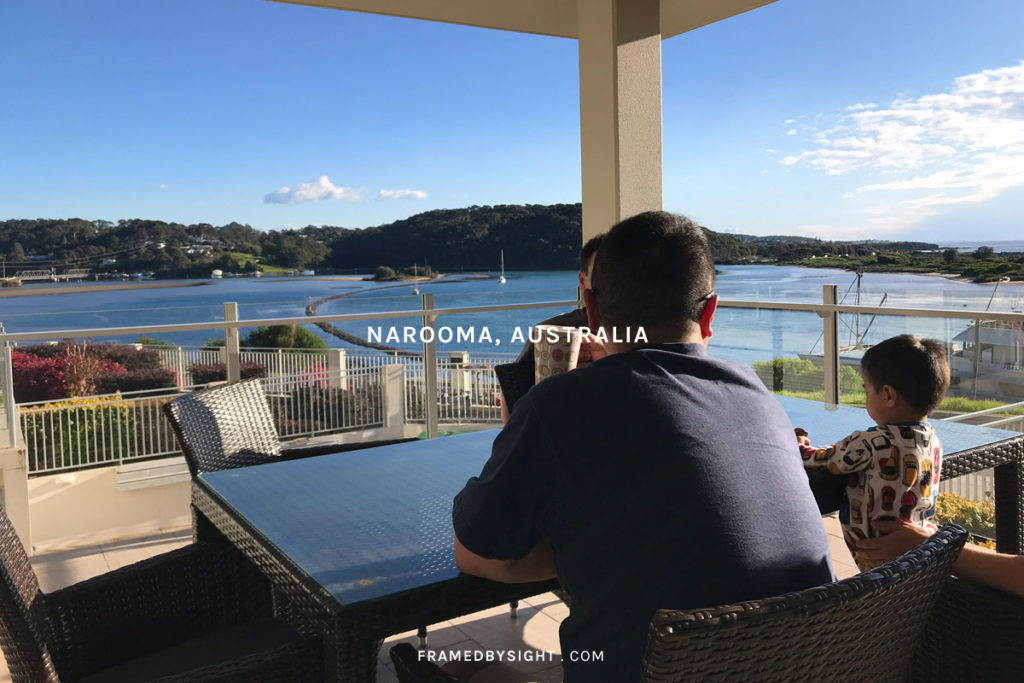 We booked in to a 3-bedroom apartment with Southbound Escapes at the Wharf and boy, what a view! I'm in love. If you're considering to make a reservation, make sure you book Apartment 2 as you'll have 180-degree views from your balcony all day long. Plus, it's north facing too, so expect sunshine on the deck from morning through to mid-afternoon each day.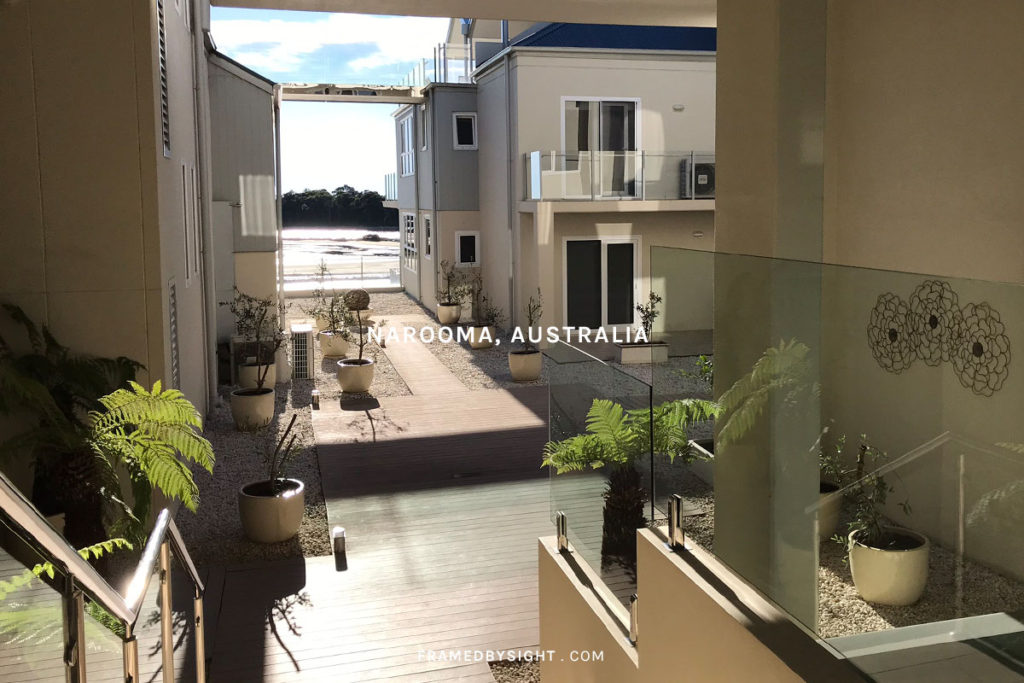 The apartment itself is situated within a mid-sized complex. There are stairs to and from the main entrance however, these can be avoided if you go via the undercover secure parking. Included in your stay are two car spots with direct lift access to your apartment floor.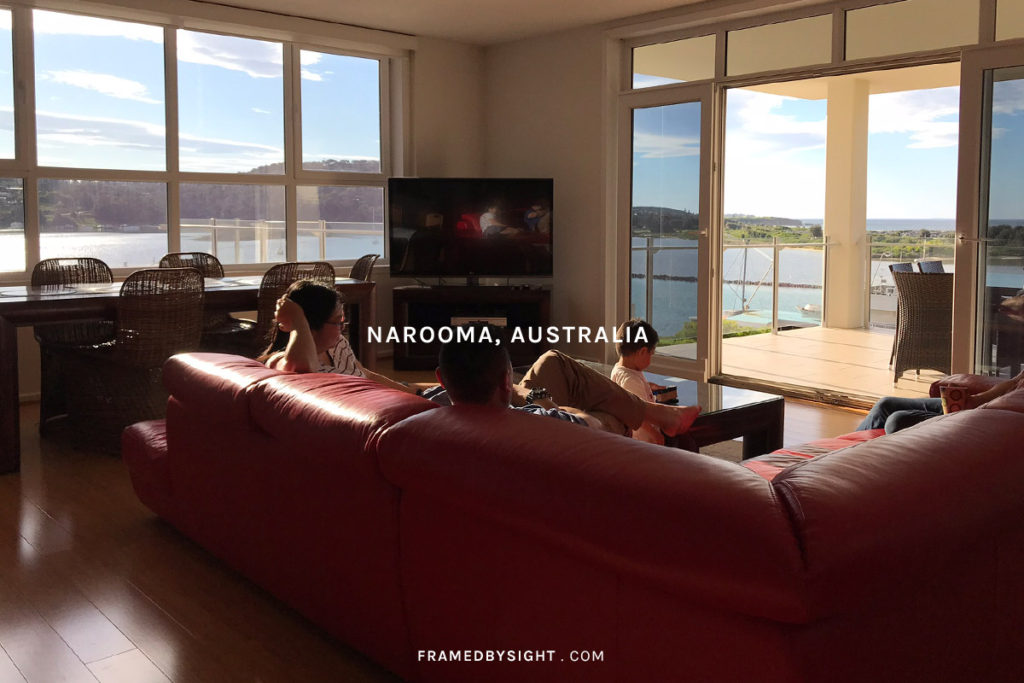 We were two families coming together (four adults + 1 child) and I'd recommend this stay would also comfortably suit a family of six or three couples.
Expect a spacious, open plan living, dining and kitchen area filled with plenty of natural light. Plus, an undercover balcony equipped with a bbq, the added option of outdoor dining and the unmissable panoramic water views surrounding the apartment.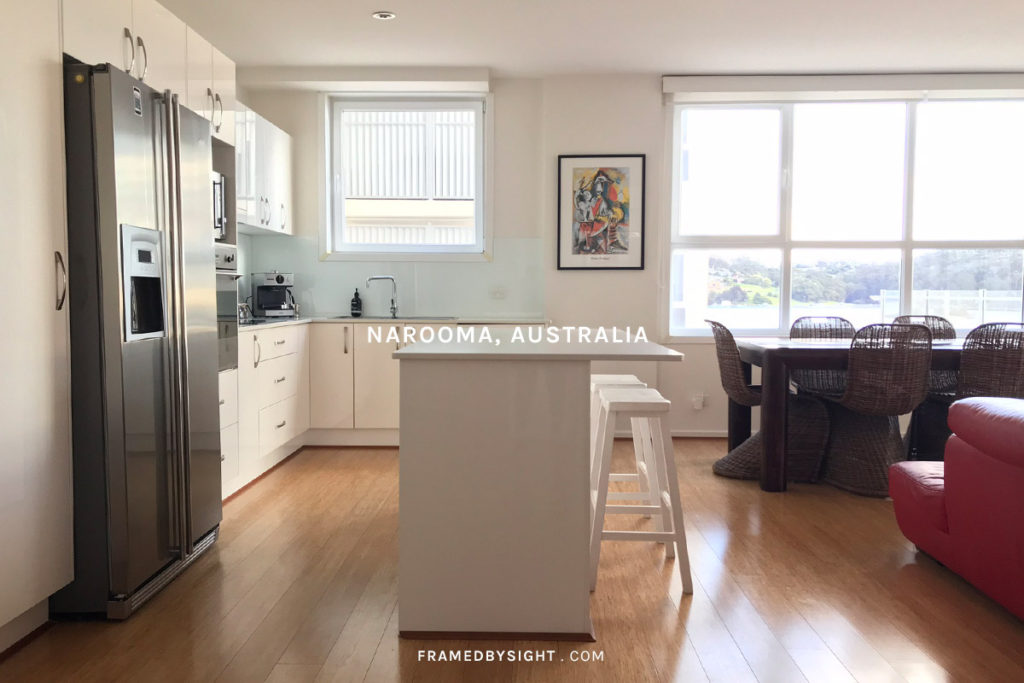 The kitchen itself is well stocked with an endless amount of plates, cutlery, kitchen utensils and a pantry filled with basic cooking items available for your use.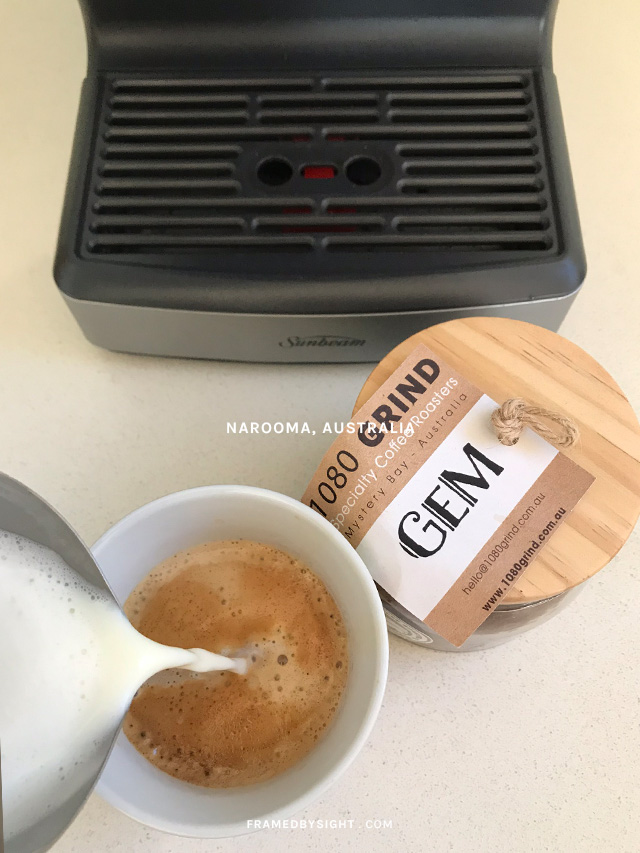 And if you're comfortable to attempt a coffee, there's a small coffee machine available too. I must admit, the balcony was the best seat in the house each morning with a warm cup in hand. Watch the boats exit the inlet and Narooma Wharf, right in front of your apartment.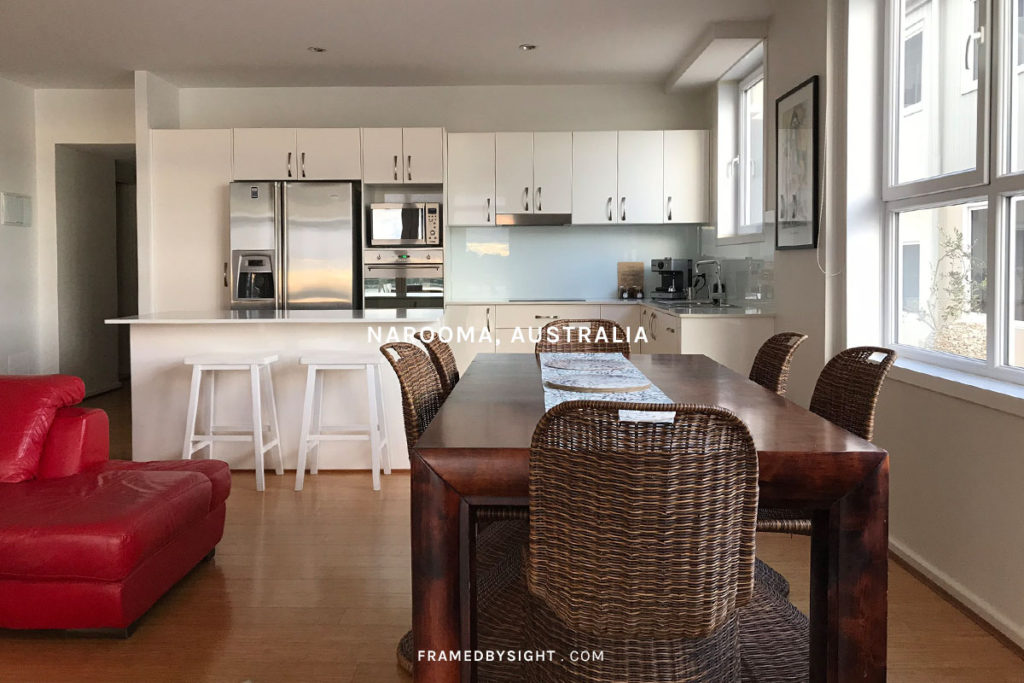 In addition to 3-bedrooms, this apartment features 3-bathrooms, which is a rare find for accommodation stays of this size.
The master bedroom has a walk-in wardrobe and an en-suite with a shower.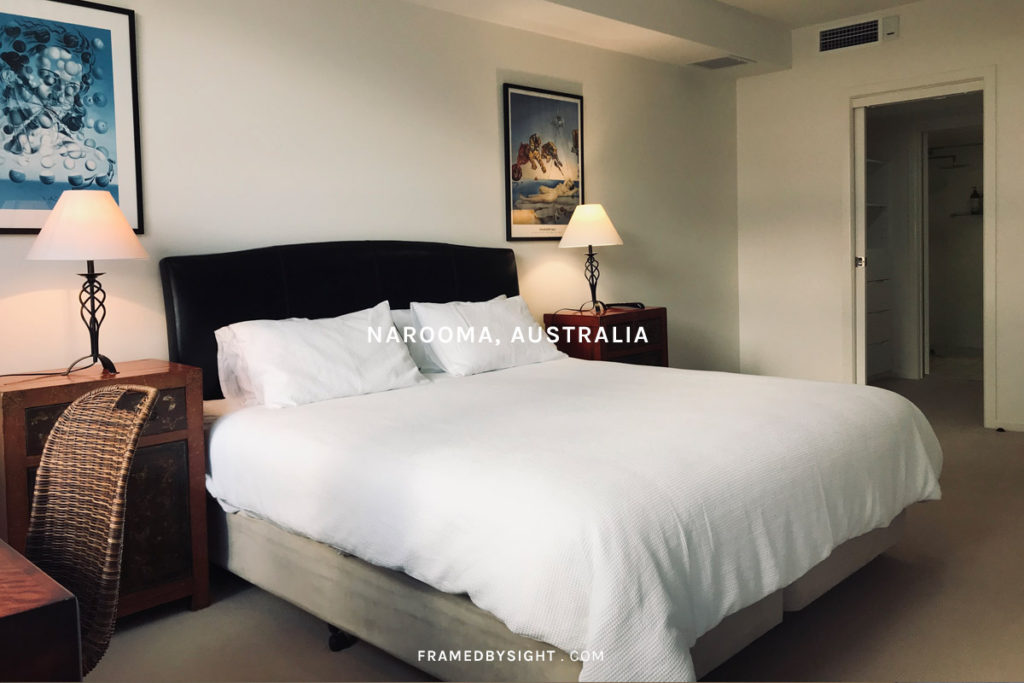 The second bedroom has built-in wardrobes and an en-suite with a shower. The sliding doors open to the external foyer area of the apartment complex with roller blinds available to shield the view when required.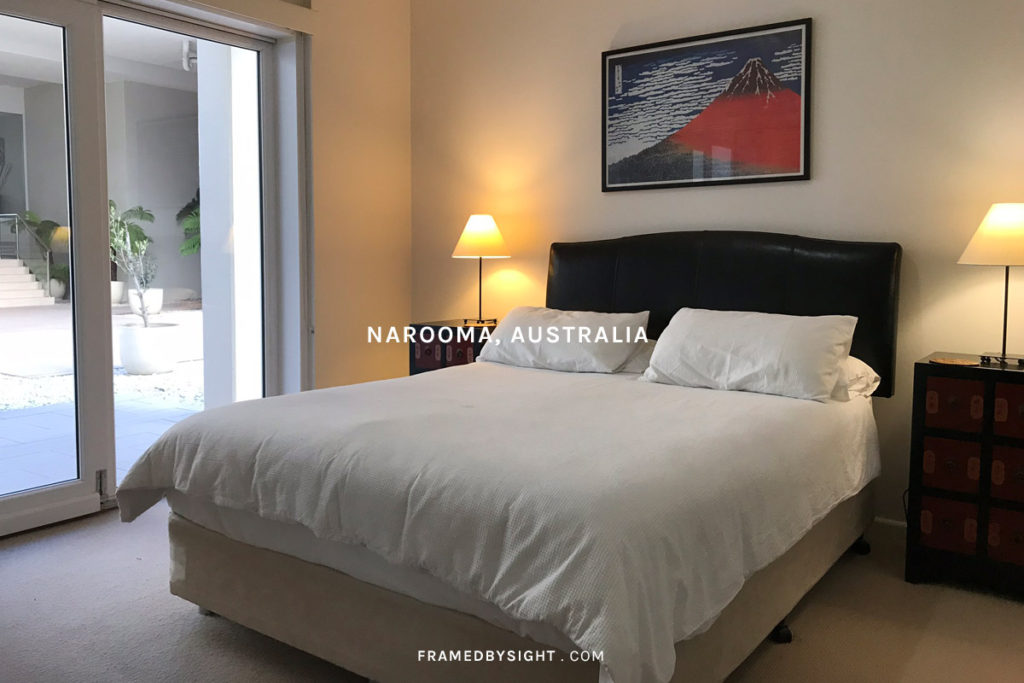 The third bedroom has twin beds, built-in wardrobes and an en-suite with a shower. This en-suite has a second door which can be accessible by visitors if required (without entering via the bedroom).
If you're planning a few days break, or even for a longer-term stay, Southbound Escapes at the Wharf, Narooma has all you need. All linen and towels are provided in the apartment, and tucked away behind sliding doors, is an internal washing machine (with liquid provided), dryer and ironing board too.
Plus, less than a 50-metre walk from your front door is the shared apartment complex pool which you also have access to throughout the day.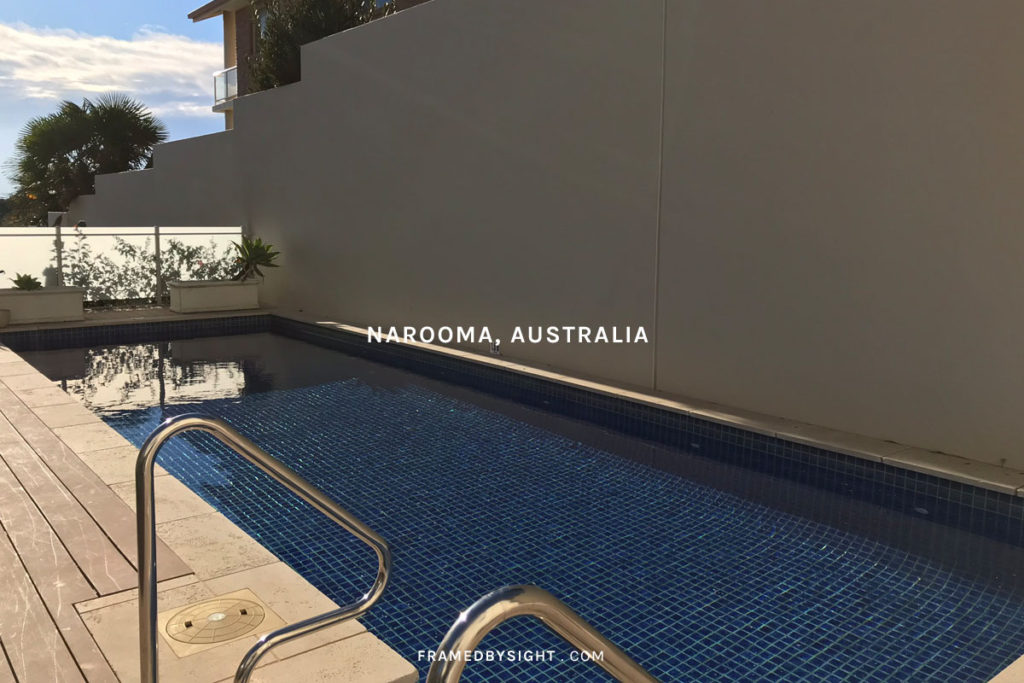 Within easy walking distance from the property is a cinema, petrol station, family-friendly park and a handful of restaurants including Chinese and Italian cuisines, a local pub and The View Coffee & Bites cafe.
If you're looking for accommodation in Narooma, I'd suggest you look no further as this has honestly been such a relaxing getaway. 'That view' is one I won't forget any time soon and if I'm ever travelling along the NSW coast again, I won't hesitate to come back and stay in Narooma.
Tips:
Book in a snorkelling or dive tour with Underwater Safaris and swim with seals at Montague Island, the only chartered service in the area who are PADI certified instructors
Hire e-bikes from Southbound Escapes and cycle towards Mill Bay Boardwalk and Dalmeny
Walk from your apartment to Australia Rock and Bar Lookout
Enjoy breakfast or lunch at The View Cafe & Bites adjoining the apartment
Grab local fish and chips at The Inlet Narooma or visit the tiki themed bar, The Quarterdeck located right next door
For a dining experience not to be missed, book ahead at the Mimosa Wines restaurant
For some family fun, visit Mogo Zoo or the Bodalla Dairy Shed
Spend half-a-day hiking the Gulaga Mountain (Mount Dromedary), accessible from the quaint little town of Tilba Tilba
Address
89 Campbell Street, Narooma, New South Wales, Australia 2546
14