Wanting to bring your dog or cat away on a pet friendly, weekender, or hotel staycation in Sydney? Look no further as The Langham, Sydney is the one for you – this is honestly one of the best, pet friendly hotels in Sydney that I've experienced so far. And yes, you read right.. The fancy, 5-star, luxury Langham Sydney hotel is dog friendly.
From the moment you step into this hotel, you'll receive more than a simple greeting. The concierge and front desk staff go above-and-beyond to acknowledge you and your pets on arrival and include them in the check-in process. Kenji – my child fur-baby – experienced this first-hand. He travels with us wherever possible and when I'm looking for a place to stay, dog friendly hotels are at the top of my list.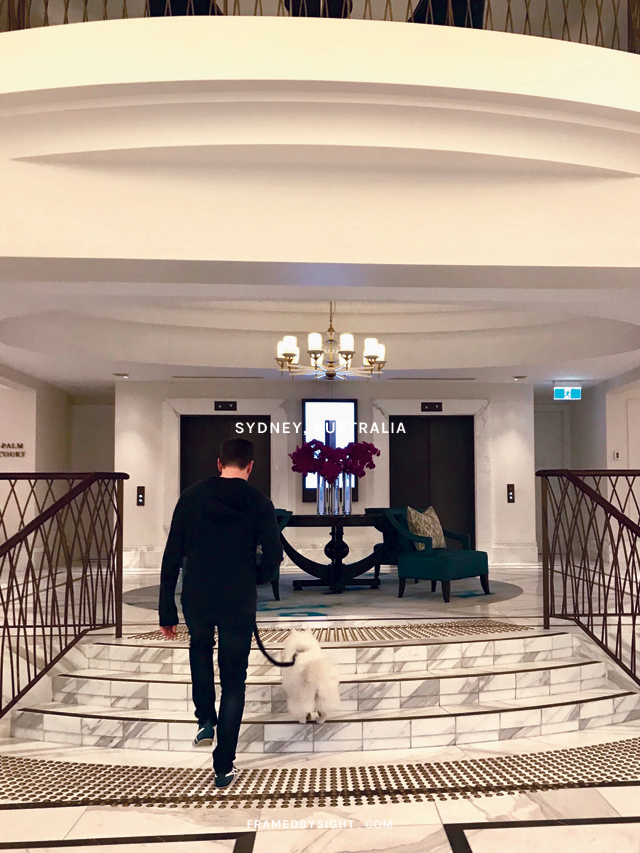 When I found out that The Langham, Sydney has a Pampered Pets Program, I wanted to try the 5-star luxury hotel experience as soon as I could. For anyone even interested in considering a getaway with their pet, the main requirement here is that your pet is less than 20kg, with a maximum of two dogs permitted per room.
The minute you walk through the foyer, the staff don't even flinch that you're entering the hotel with your dog on a lead, even on to their nice, shiny white marble-tiled floors. You may get a few glances from guests, but to be honest, I don't think you'd be considering to bring a mis-behaved dog here, so I felt like my boy was on his best behaviour throughout (thank gosh). Michael checked us in. He took a moment and stepped away from the front desk area to give Kenji a pat when we arrived – talk about check-in service. I was honestly chuffed that he acknowledged my boy. It's all the more reason to stay here, knowing that this is such a pet friendly hotel.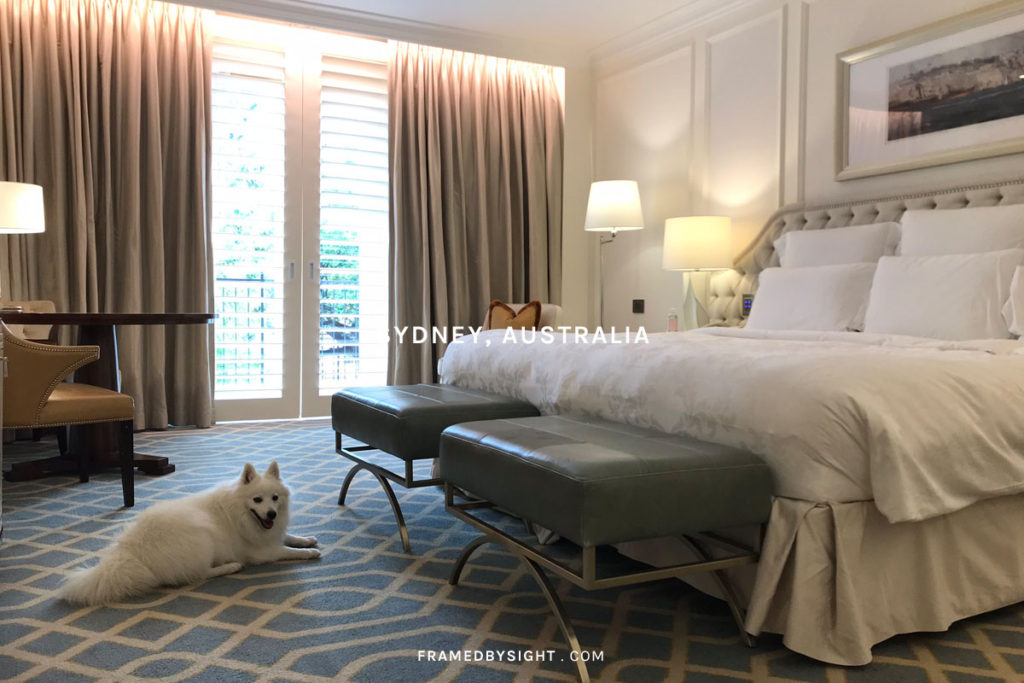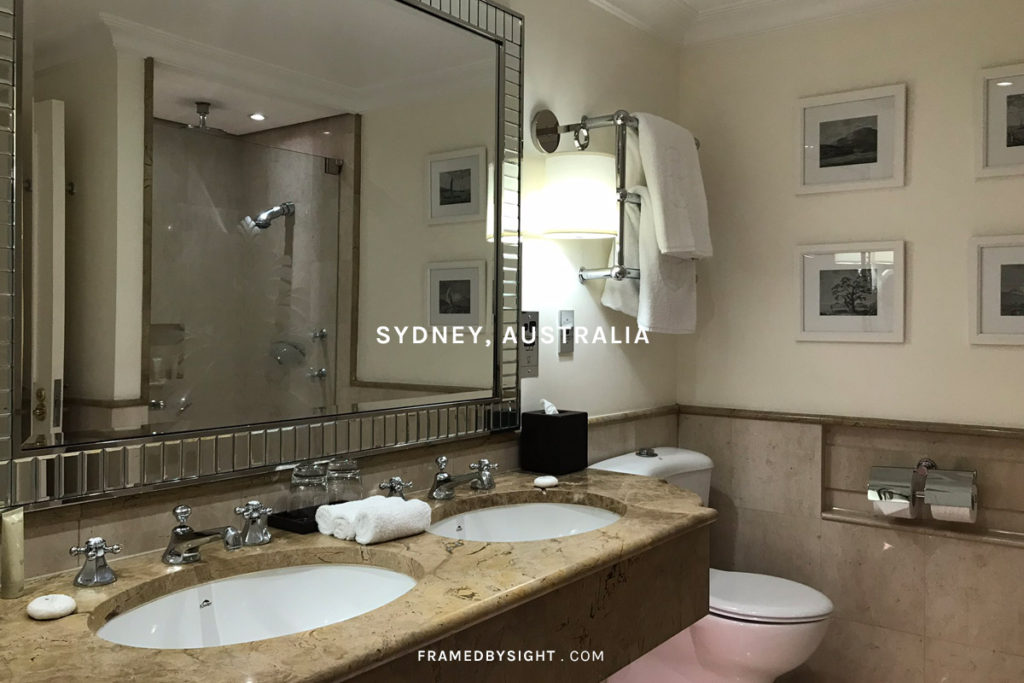 We were booked into a Deluxe Room located on the first floor. Kenji had never been in a lift until this stay. He didn't take to it too well, however we simply picked him up to ride between floors and he was fine thereafter.
Upon opening the room doors, Langham you have a big thumbs up from us. Spacious, spacious, spacious. What I do love, is the double doors within the room layout and the petite balcony for some fresh air every now and then.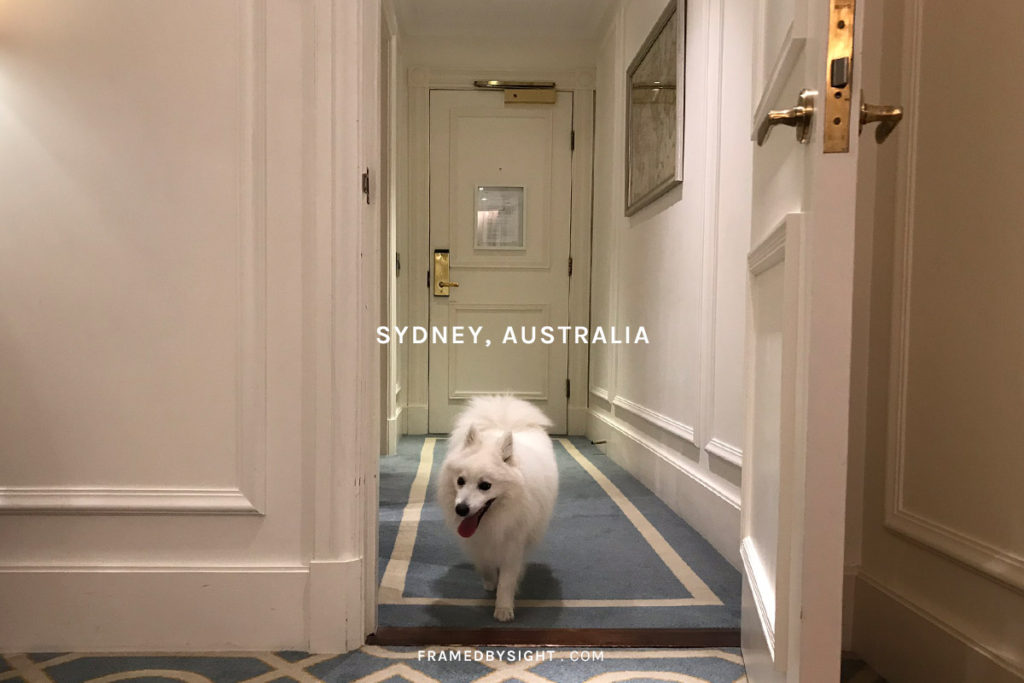 For those that use dog parks, you'll understand the double gate to enter and exit. There's a similar concept in your room – the first door upon entry, followed by a second door into the bedroom area. The benefit of this is for anyone's dog who has sensitive hearing and barks at noise (mine has a tendency to do so), the additional door prevents your dog from acknowledging the foot-traffic in the hallways. Which is absolutely brilliant. Definitely a highlight during my stay as my dog hardly made a noise – except when he wanted to be vocal on the balcony.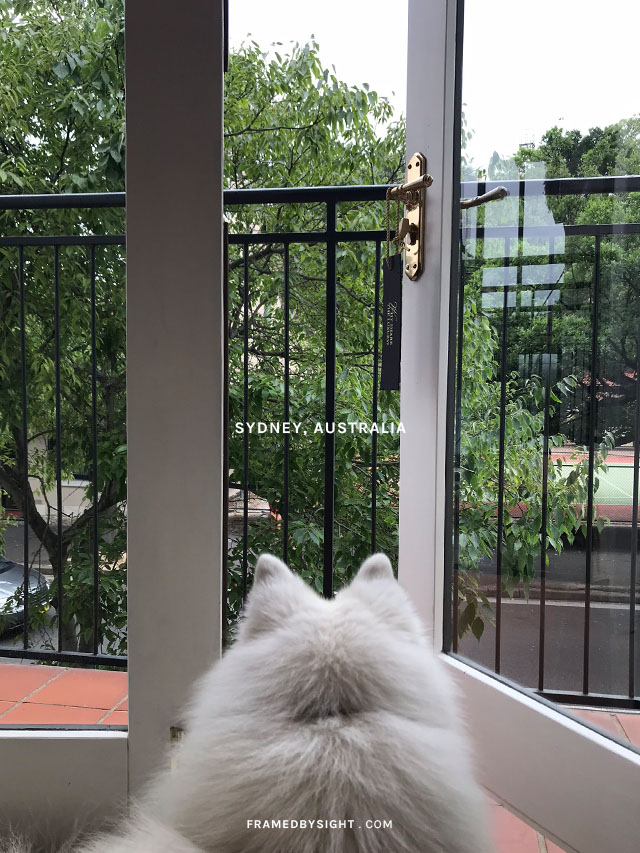 Specifically for the pooch, in your room there's the Langham-branded signature pink bedding cushion in addition to two bowls and a complimentary bottled of water. There's also a room service pooch menu available; Lassie's Favourite (diced cooked Angus beef fillet with vegetables) or Bow Wow (roast chicken) – these personal touches are simply rewarding to stumble across during your pet stay.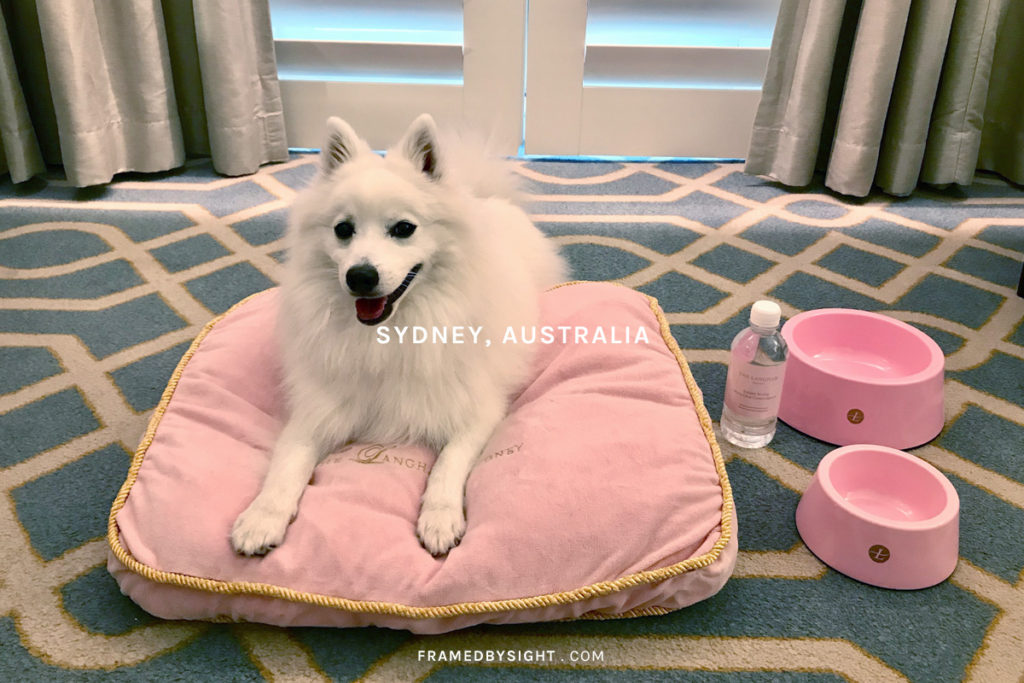 About the Deluxe Room, I personally loved the size available for you and your dog – it felt like an actual break to stay in a room comfortably despite not having an adjoining courtyard. Whilst we couldn't play too much 'fetch' within the room itself, there was enough room next to the balcony area for him to stretch his legs every now and then.
The room itself is very light-filled, relaxing and simply the 5-star luxury that you want to experience. They have signature branded towels, a large rain shower overhead in the bathroom, plenty of seating for in-room dining and, I actually think this is one of the largest hotel rooms I've ever stayed at pet-inclusive. Oh, and don't forget to try their Pillow Menu Service – with a choice of eight different types, why not?!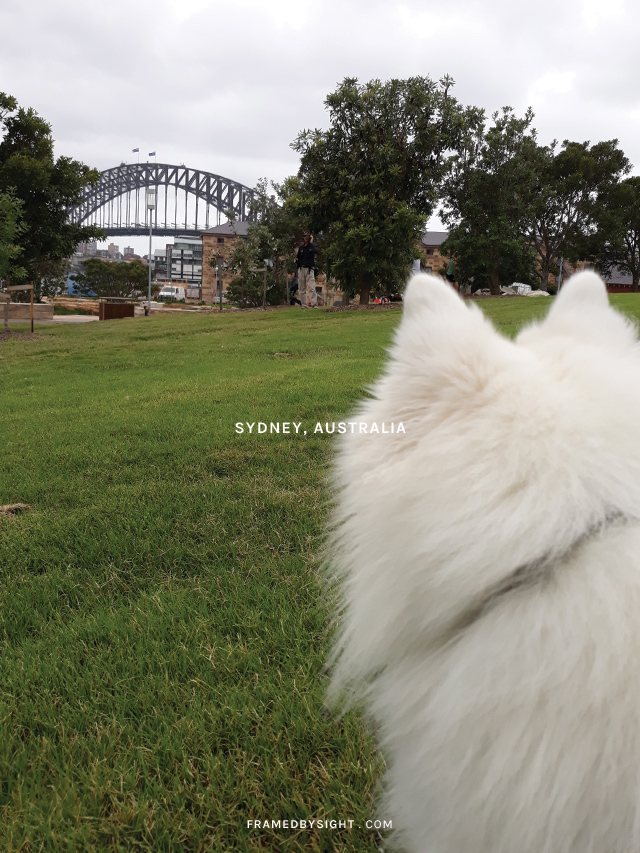 The Langham, Sydney is located within walking distance (less than 7-minutes) from both Barangaroo Reserve and Observatory Hill Park. There are also a handful of smaller parks closer by if you need to step out for a brief walk down the road.
Similar to most other hotels, you're not able to leave your dog in your room unattended, however pet-sitting services can be arranged in advance if required (additional cost).
Unfortunately, in-house restaurant dining isn't available with your pooch, however, that said, room service is great. They have all-day dining until 10.30pm with a range of soups, salads, sandwiches, burgers and even a handful of vegan options too. If you're wanting an evening treat, my recommendation is the Dark Chocolate Fudge Brownie. Oh.em.g. Think homemade vanilla ice-cream with dark chocolate brownie pieces. Are you salivating with me? Absolutely delicious.
For pet friendly dining, The Lord Nelson Brewery is less than a 3-minute walk from the hotel's doorstep and could be an outdoor alternative.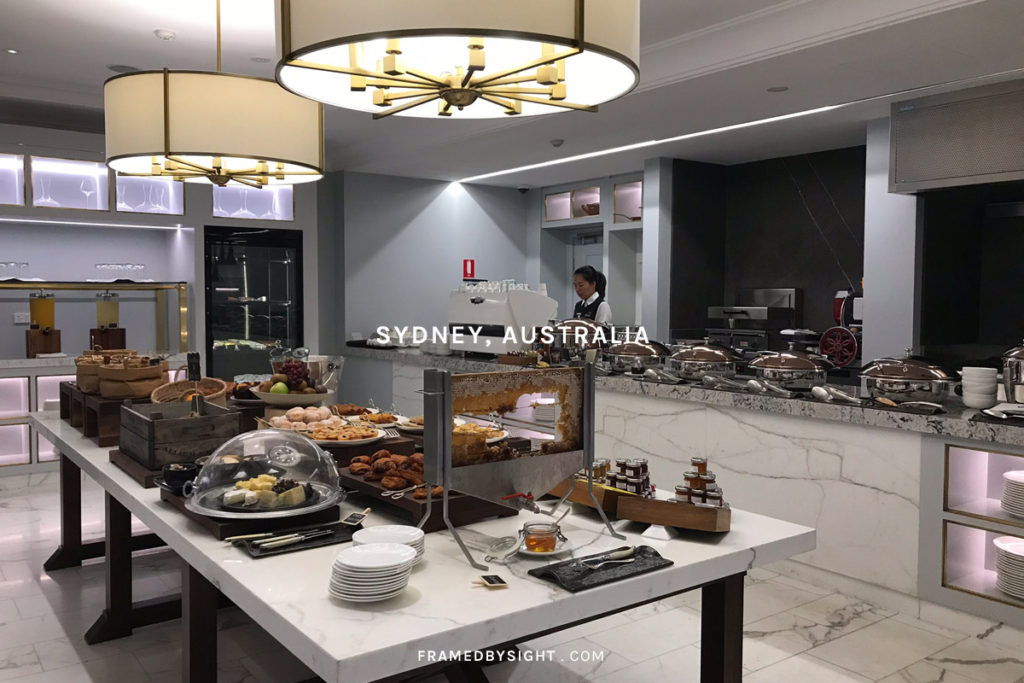 Breakfast the next morning at Bistro Remy was fabulous, classical music played overhead and I enjoyed dining on my own whilst my husband looked after our pooch in the room. I was served by a gentleman by the name of Mahir. He spoke very politely and regularly checked if anything else was required, quite personable actually. Not intrusive yet, at the right moments, he'd check in for any other requirements.
The breakfast area has more than enough to choose from: chicken sausages, bacon, your choice of eggs made to order, breads, cold meats, pre-prepared yoghurts and granola combos, pastries, museli, fresh fruit and more. Clearly I ate too much as my eyes were darting around with the ample choices available. A tip from me is to head to breakfast before 8.30am as it gets quite busy from 9am onwards.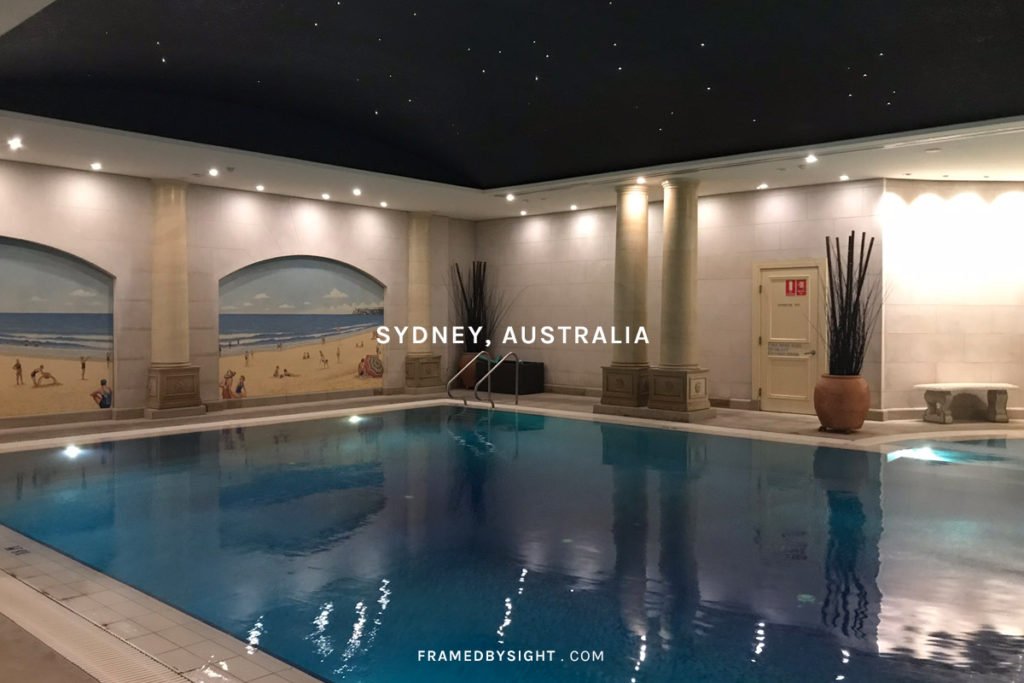 If you do have time, make use of their relaxing pool. Adjoining The Day Spa by Chuan, you can access their large indoor pool, spa and sauna equipped with locker access. Well worth the timeout as well as booking in a massage.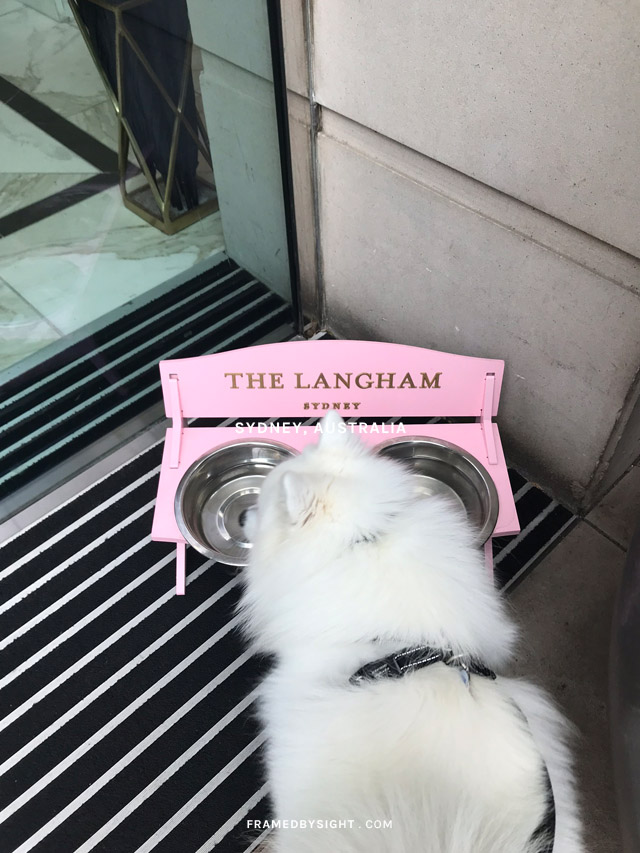 I highly recommend such an amazing pet friendly hotel and we will definitely be back again. The location, the staff and the close proximity of parklands, made this stay all the more worthwhile.
Address
The Langham Sydney
89-113 Kent Street, Millers Point, New South Wales, Australia 2000
22