When a planned getaway includes bringing your pooch, hands down one of the best Sydney road trips is the coastal drive towards Port Stephens. An added bonus is when you find a hotel which not only incorporates a pet friendly room, but also has pet friendly dining too. Bannisters Port Stephens I'm in love.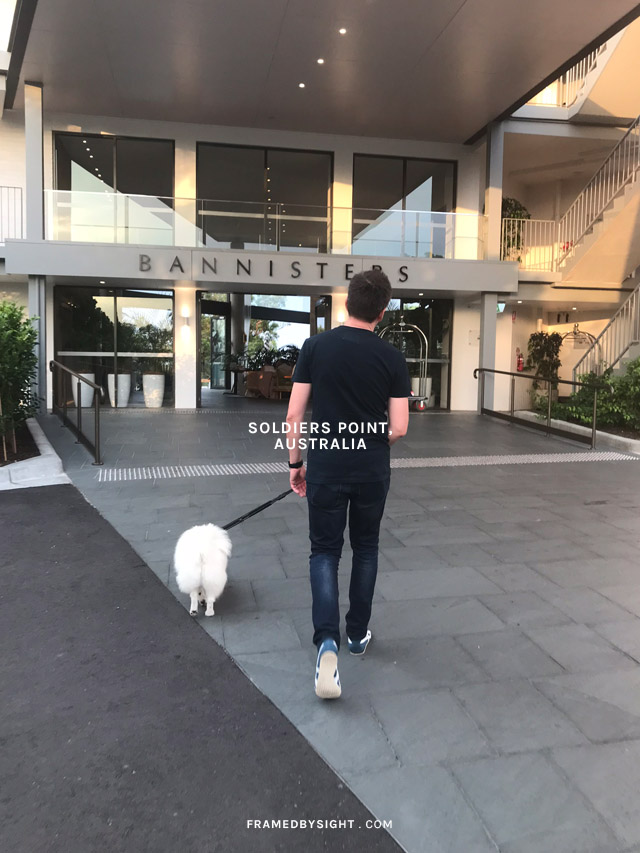 Upon arrival, we had a warm welcome from Sarah who was very helpful throughout our check-in process. The parking bays are split between a few levels so if it's easier, you can drop your bags at the main entrance – plus a pooch in my instance – and the team will happily arrange complimentary valet parking thereafter. Bringing a pooch with you on your travels doesn't always makes things easy, but the team here – with a shout out to James too – have the hospitality down pat. When you find a dog friendly hotel like this, you know you'll be back again without hesitation.
Let me be completely honest. If you're after 5-star luxury, marble finishes, butler service and more, this possibly isn't the hotel for you. But, if you're looking for a relaxing, pet friendly, beach getaway, with great staff throughout, and possibly a fine dining experience at the famed Rick Steins Restaurant, then Bannisters Port Stephens might just be the weekender that you're after.
With only two pet friendly rooms available on-site, we were booked in to an Ocean Deck room located on the Ground Floor and steps away from the main entrance. There is an elevator located right outside the room, so do keep this in mind as you will have light foot traffic and your dog may bark every now and then.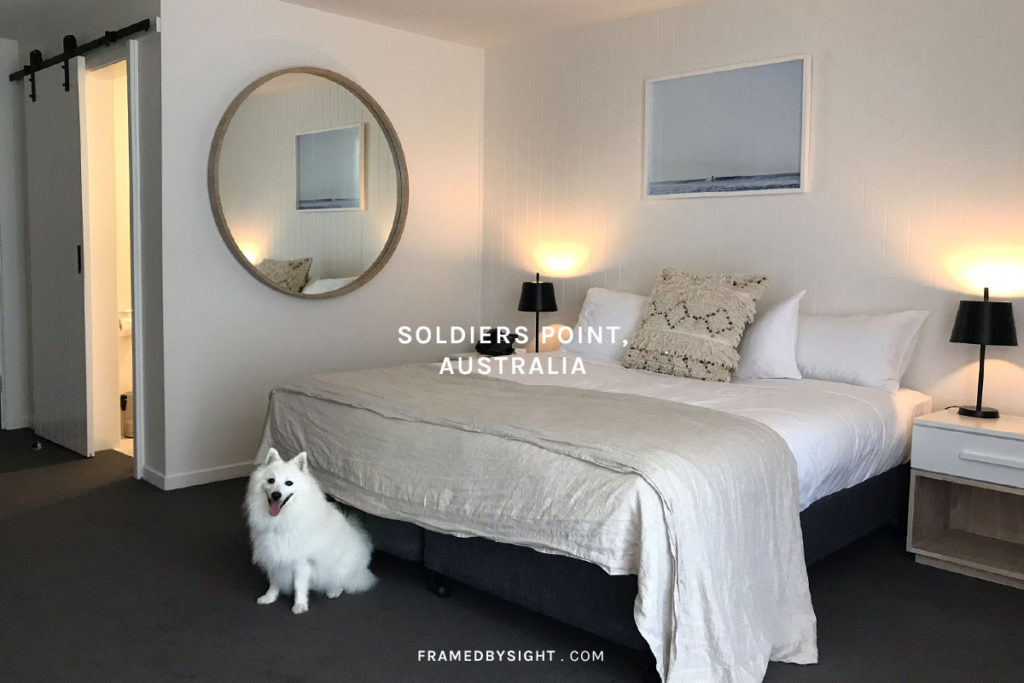 The room itself has a coastal vibe, soft blue and white toned furnishings, not overly cluttered and a super relaxing, comfy bed. There's also a small bar fridge, tea & coffee making facilities, hairdryer and an open hanging wardrobe with ample storage, plus free Wi-Fi access for multiple devices.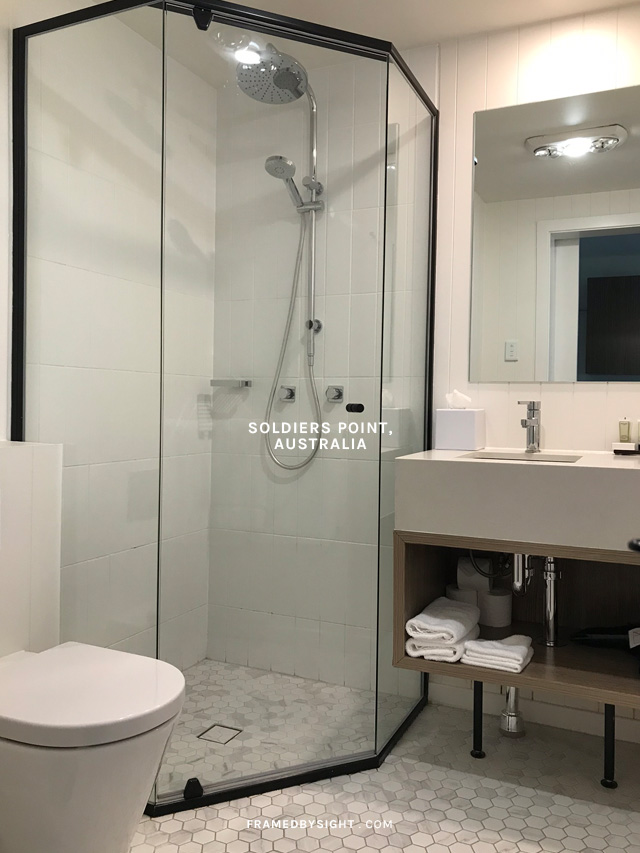 The bathroom is modern and simple, with all the regular amenities inclusive of a large rain shower overhead. The door is a barn type- sliding door, not that this makes a huge difference, but you're not boxed into a small room and its a great way to save on door opening space.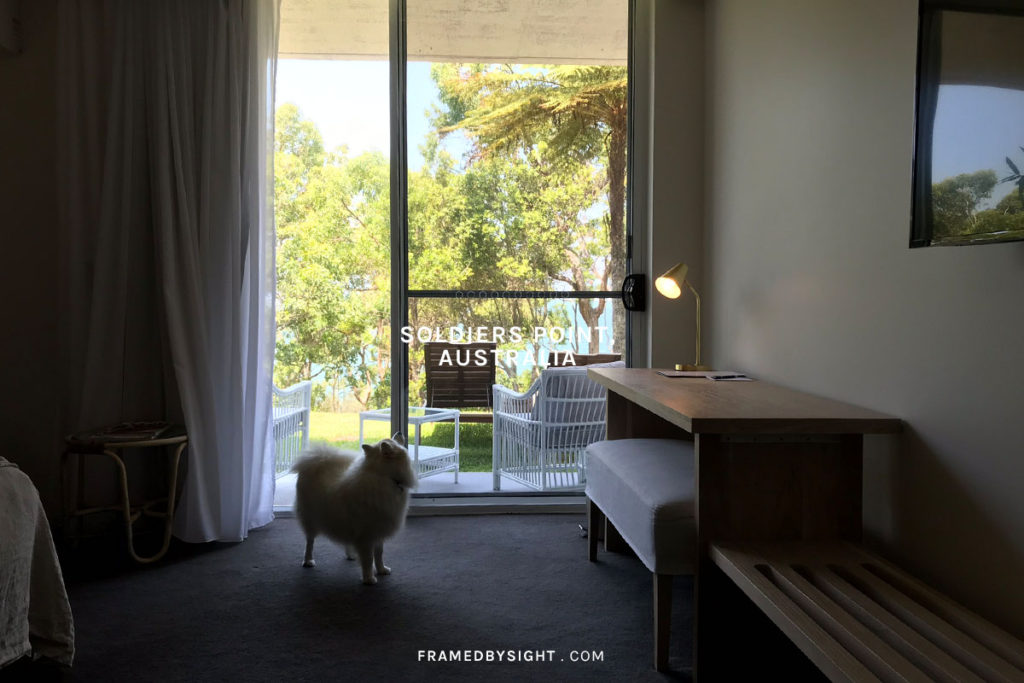 With direct access to an expansive garden – dog owners, this is ideal when you're staying in pet friendly accommodation – this area is easily accessible through a sliding door adjoining your room. You might also catch a glimpse of the ocean from your semi-private outdoor terraced area too. That said, this is not fenced in, however if your dog is good with recall and just wants to have a sniff here and there, you have plenty of space to do so.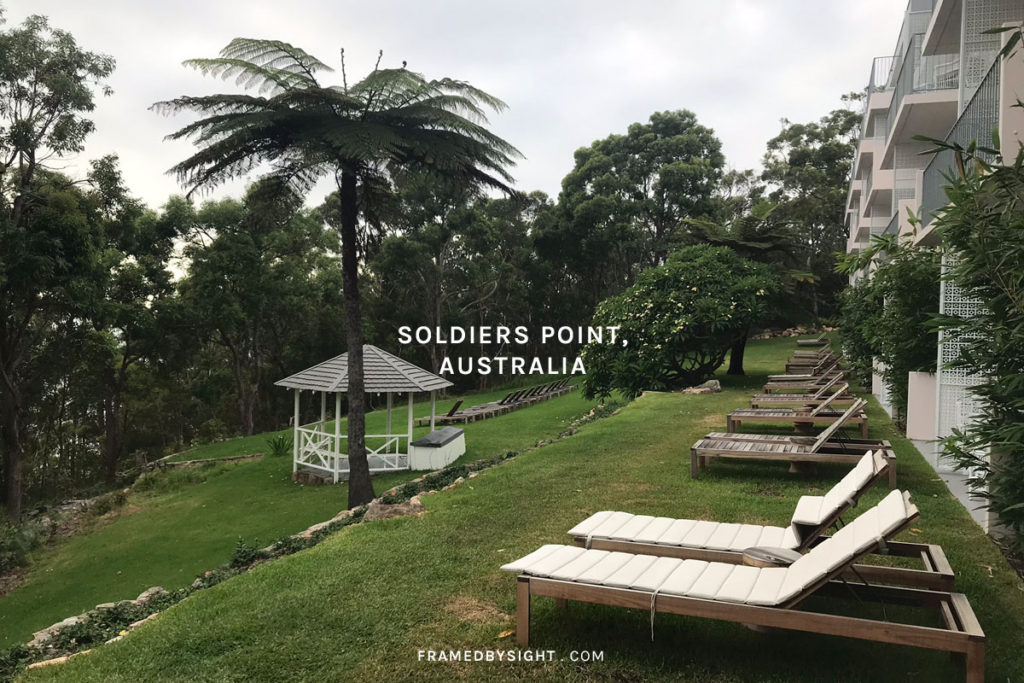 Specifically for your pooch, you must bring your own dog bowls and bedding, which is completely fine with me as I prefer to do so anyway. I'm just grateful that the weekend getaway works for all of us, including bringing Kenji (my dog).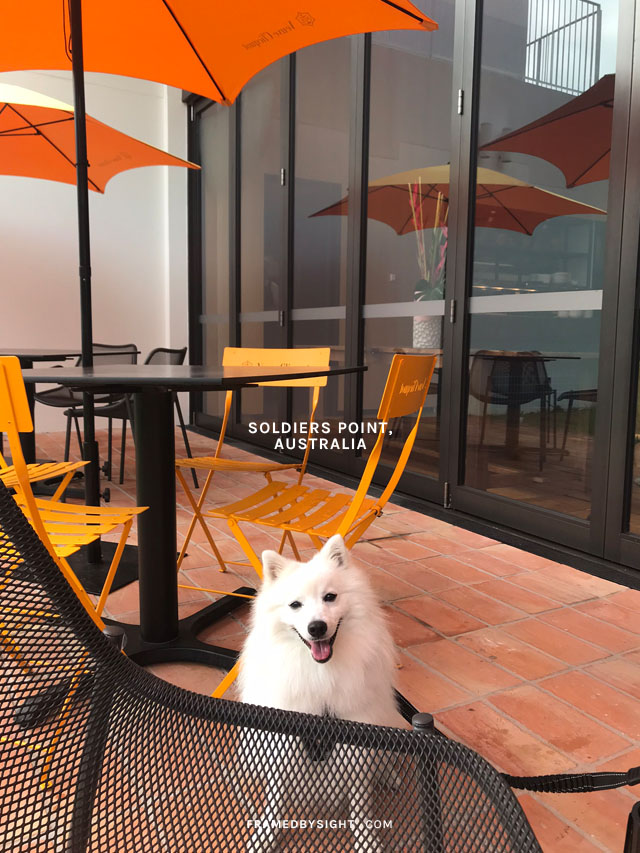 What I love about Bannisters Port Stephens is that it is dog friendly throughout – your room rate includes continental breakfast and your dog can dine outdoors with you too, which is mostly undercover.
Rick Stein's Restaurant transforms from a fine-dining lunch and dinner venue, to a breakfast restaurant of a morning. Choose from a wide range of included fresh fruit, cereals, toasts, yoghurts, pastries with tea and fresh juices. If you're after hot foods, for a little extra, you can order eggs cooked your way (AU$10) or a hot english breakfast inclusive of eggs, sausage and bacon (AU$17). Barista made coffee is also available (AU$4).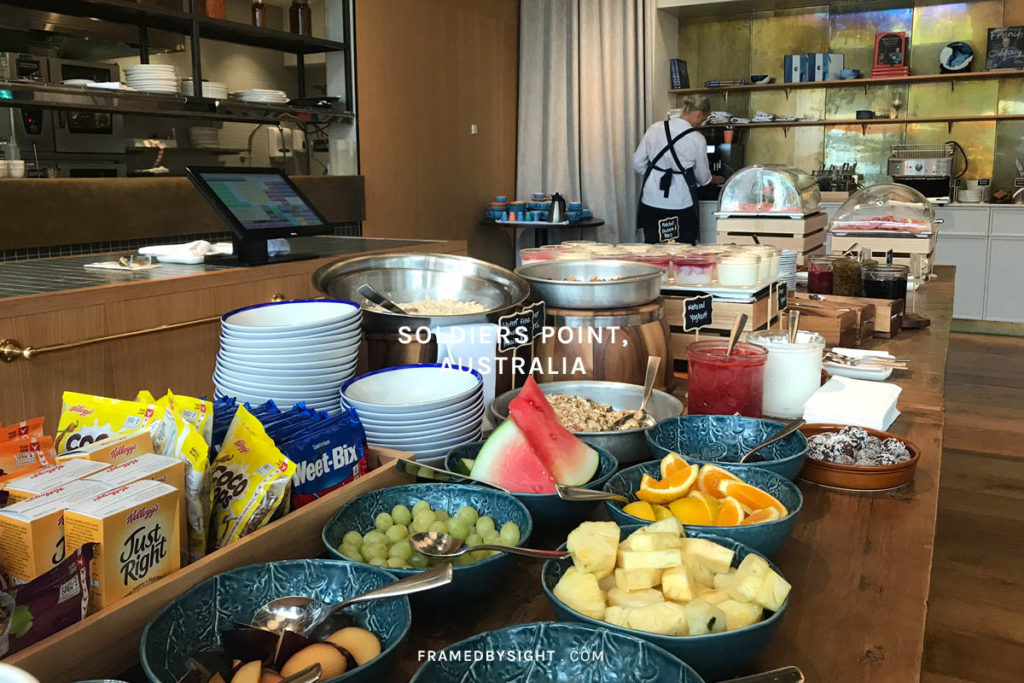 For those without pets, indoor seating is bright and vibrant, filled with an abundance of natural lighting through the floor-to-ceiling glass doors. There is also booth type- seating available, dotted along the edges of the restaurant if you prefer a little more privacy.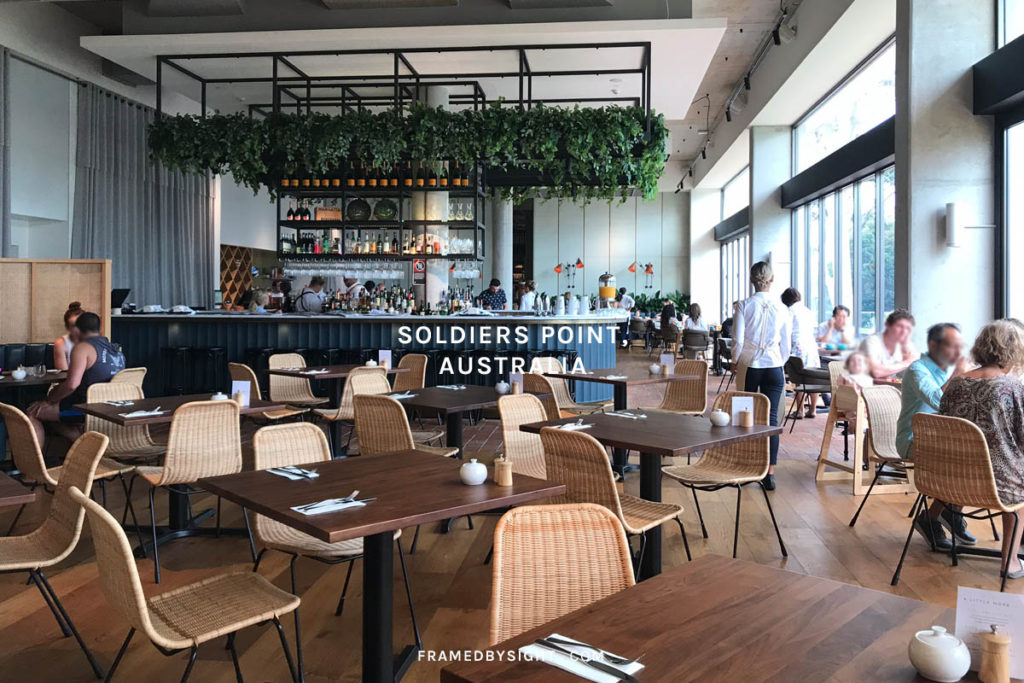 Now for those wondering if you can dine at Rick Stein's with a pooch? Unfortunately you cannot bring your dog with you to experience lunch or dinner at Rick Stein's Restaurant, but Bannisters Port Stephens does permit you to leave your dog in your room whilst doing so – can you believe it? Clearly, you have to have a well-behaved dog that is ok to leave indoors on their own in unfamiliar spaces. For this trip we decided not to do so because our dog is still quite young and full of energy – but next time we stay, we'll definitely consider it.
That said, we enjoyed dining at the Terrace Bar, which again is pet friendly. Open from 12pm daily until late in the evening, it's a casual dining atmosphere with the choice of indoor or outdoor seating (with a pet, it's outdoors of course). The menu offers a range of mediterranean flavours and modern Australian dishes throughout.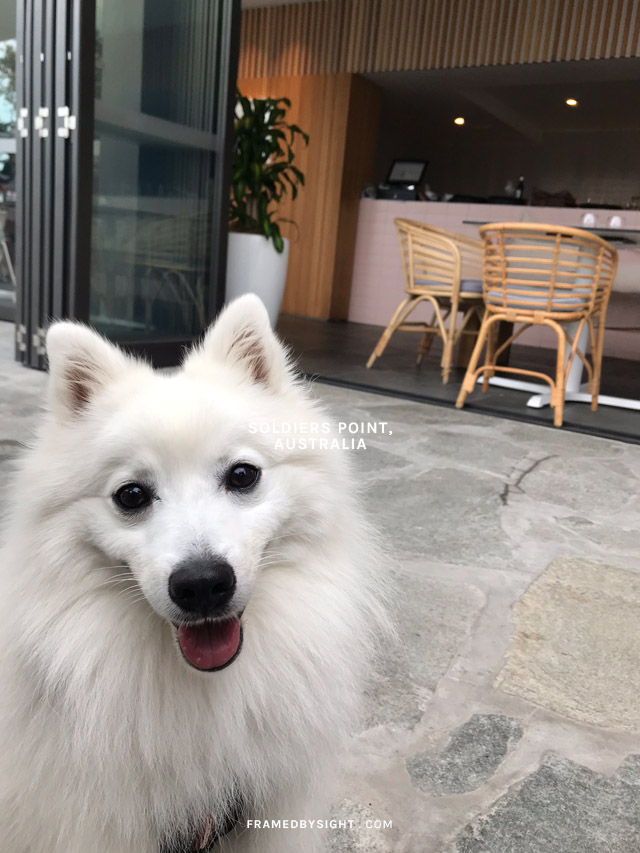 I selected the grilled salt water Barramundi with chargrilled broccolini, raisin dressing, feta and toasted pine nuts (AU$35). Plus a side of crushed steamed chat potatoes with lemon oil and herbs (AU$12) – all of which I highly recommend.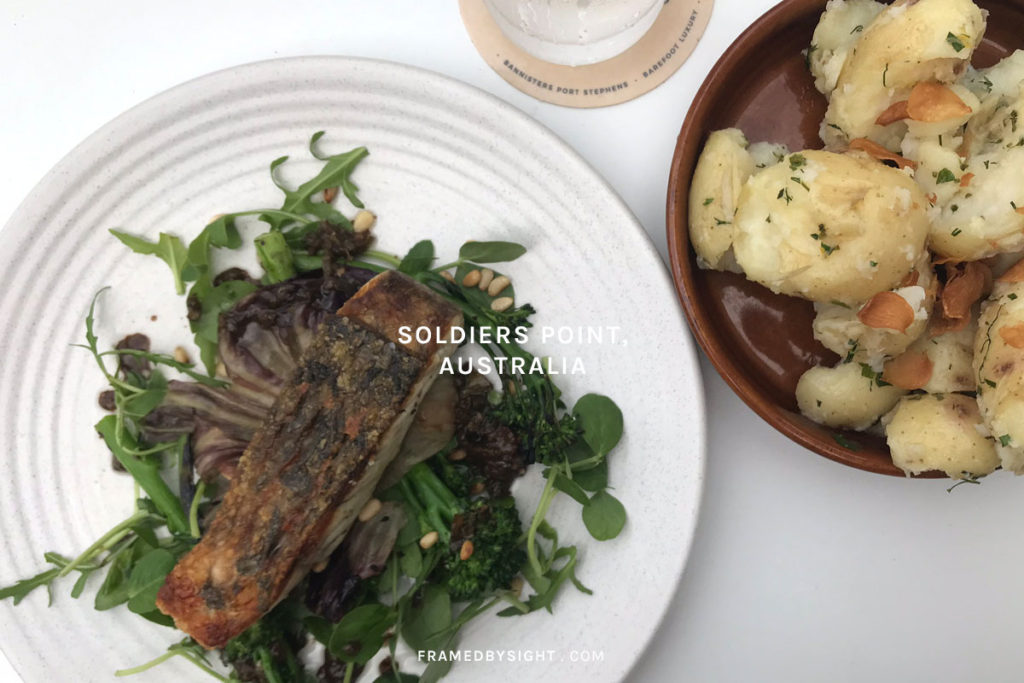 But this was my favourite. Ready to drool? Save some room for cinnamon brioche doughnuts (AU$12) with bourbon butterscotch or chocolate sauce and vanilla bean ice cream as your dessert. Absolutely delicious – if you have a sweet tooth, this is my choice of dessert to end the evening on and can easily be shared between two.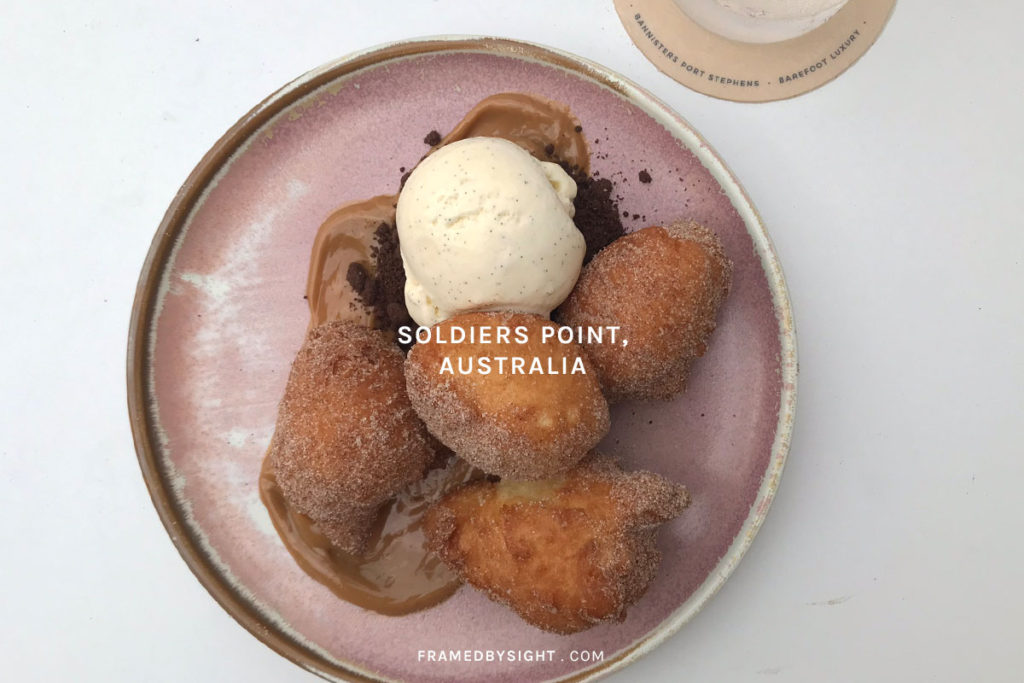 The on-site pool area adjoins the Terrace Bar, however there is wide range of seating choices so you may not necessarily be within close proximity of the pool.
We didn't go for a swim, but I would say this is more of a pool to take a quick dip, rather than doing laps in private as its location is quite central to the dining area. It did look inviting and I'm sure on a warm summers' day, it would be the perfect spot to cool down and laze about in.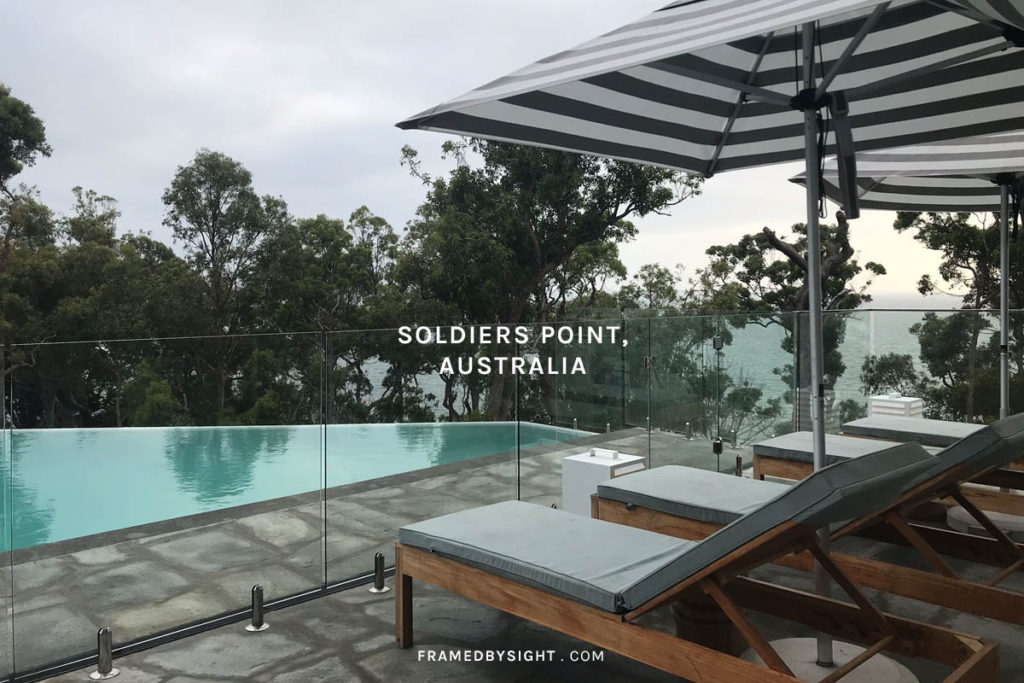 With a pooch, there are plenty of chill out spots at Bannisters Port Stephens. I personally loved the numerous deck chairs featured on the grassed areas – reminds me of sunbaking in London parks actually – with glimpses of ocean views. It was also a great place to relax with my dog and play afternoon fetch.
There's also a local on-leash dog friendly beach less than a 5-minute walk away too.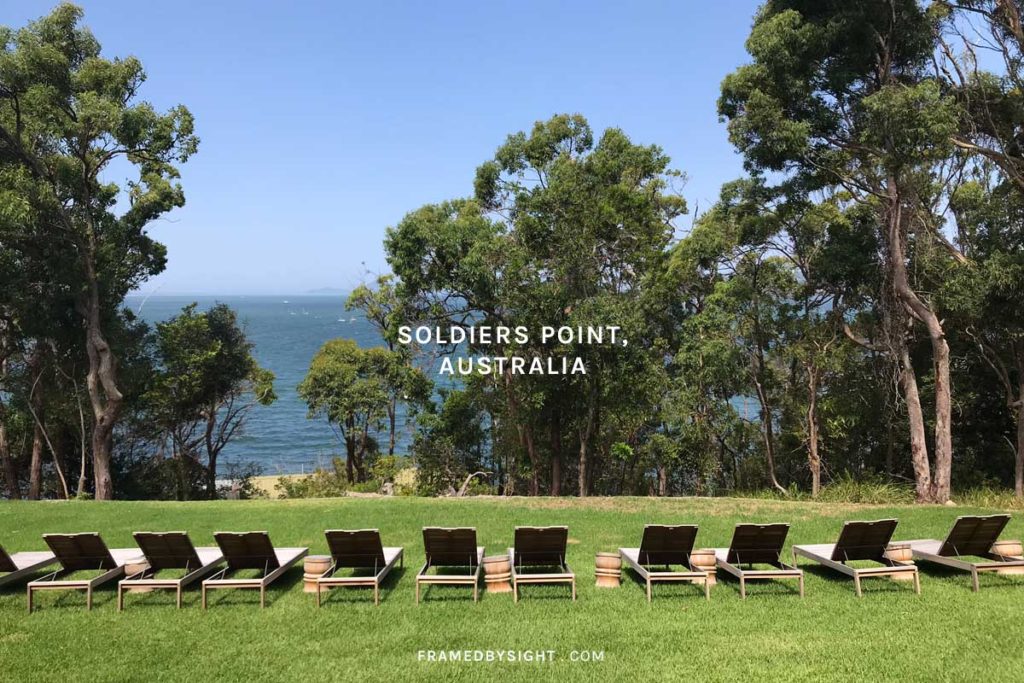 Driving such a distance can be difficult for some, but if your dog travels well in the car, Port Stephens is a beautiful location to visit with a pooch. Bannisters Port Stephens offers the perfect all-rounder trip; dog friendly accommodation, with your weekend complete not only during your stay but with dining and outdoor activities readily available too.
The popular off-leash Bagnalls Beach Reserve dog beach is only a 10-minute drive away from Bannisters Port Stephens and there are a number of dog friendly cafes in the area including the Inner Light Tea Rooms and The Little Nel Cafe.
Address
147 Soldiers Point Road, Soldiers Point, New South Wales, Australia 2317
27