A great way to organise getting together with family and friends is at a park with a well packed lunch. In light of COVID-19 regulations currently in place, sometimes you hesitate on what's considered a safe option to come together with others, but a pre-made picnic hamper is the perfect idea, without having to organise the food preparation yourself.
As a group of four, we placed an order with Pop Up Picnics for two-sets of the Pop Up Picnic 'hampers for pairs', available for pick-up from their head office location in Annandale, Sydney. Or, for an additional AU$20, the picnic hampers could be delivered within a 7km radius from Annandale, which is what we opted to do instead.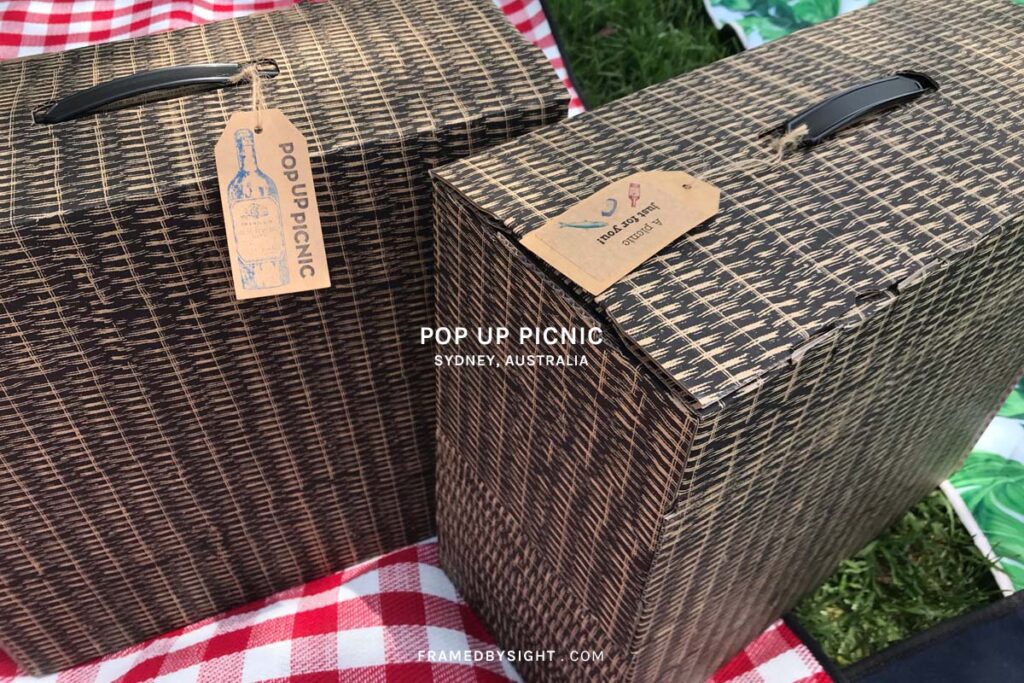 Delivered on-time and as expected, all picnic inclusions arrived in two large boxes. At the time, we hadn't read the instructions properly, so we packed our own picnic rugs. But little did we know, everything was already included in the box – and I mean everything.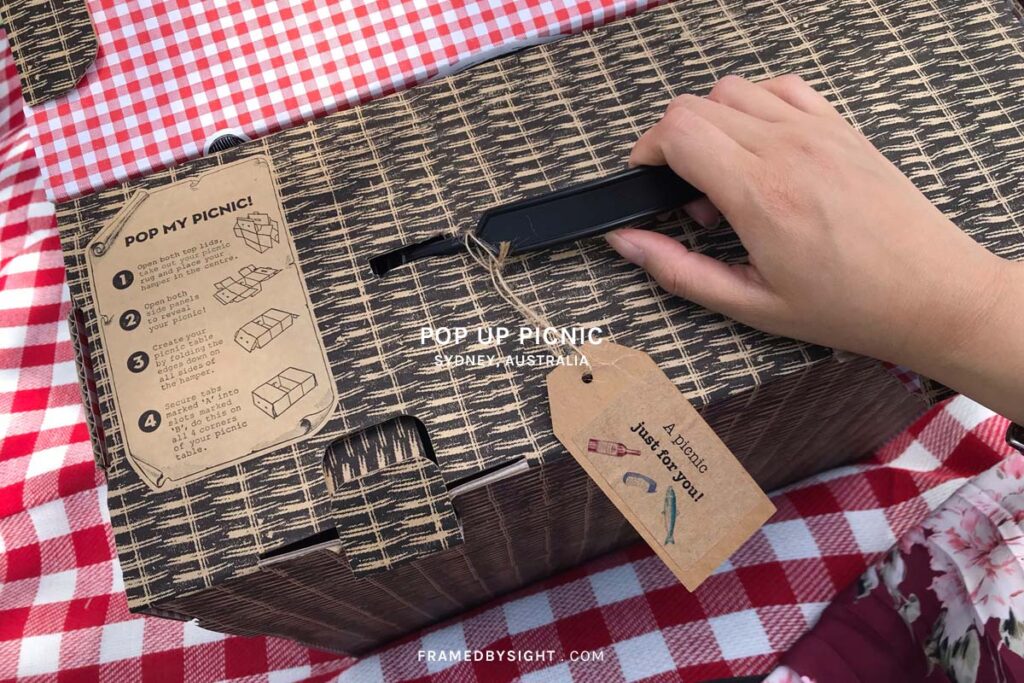 Settling under a large shady tree, we placed our own blankets down and then started to open up the boxes. Inside each box you received a picnic rug to keep (shared between two), in addition to all the required disposable plates, cutlery, and stemless champagne flutes, plus two bottles of still and sparkling water. We also loved the printed menu too.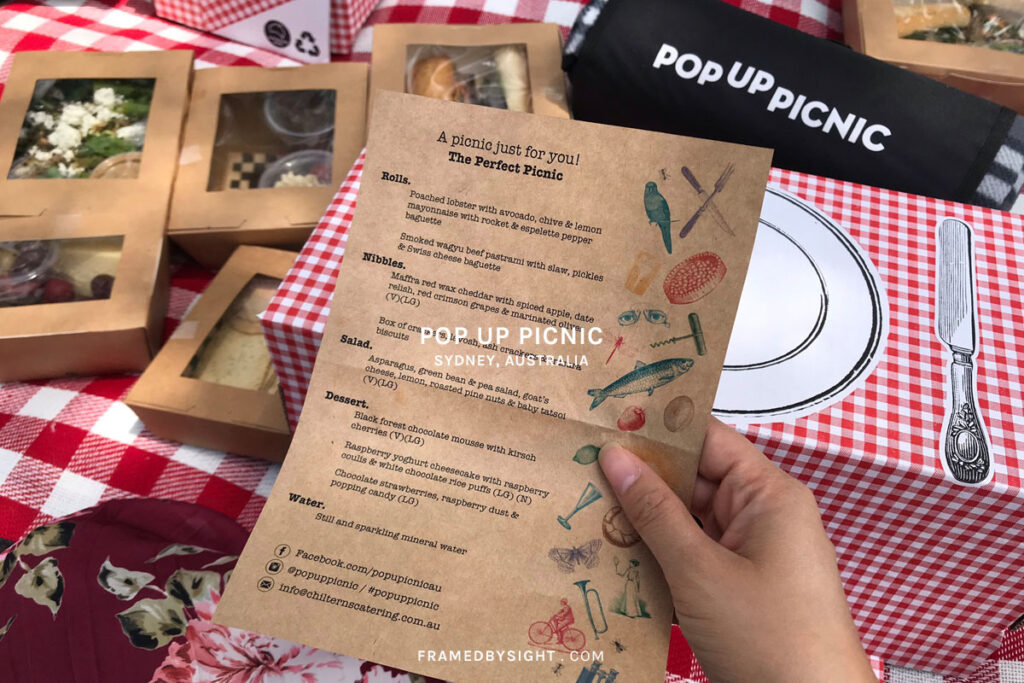 Then came the challenging bit… the instructions to convert and assemble the carry box into two small dining tables. Look, we're not built to put IKEA furniture together – just saying – so this took some careful navigation to get one part arranged, let alone four. After a barrel of laughs, we finally got it sorted, folding each individual dining table into the right shape.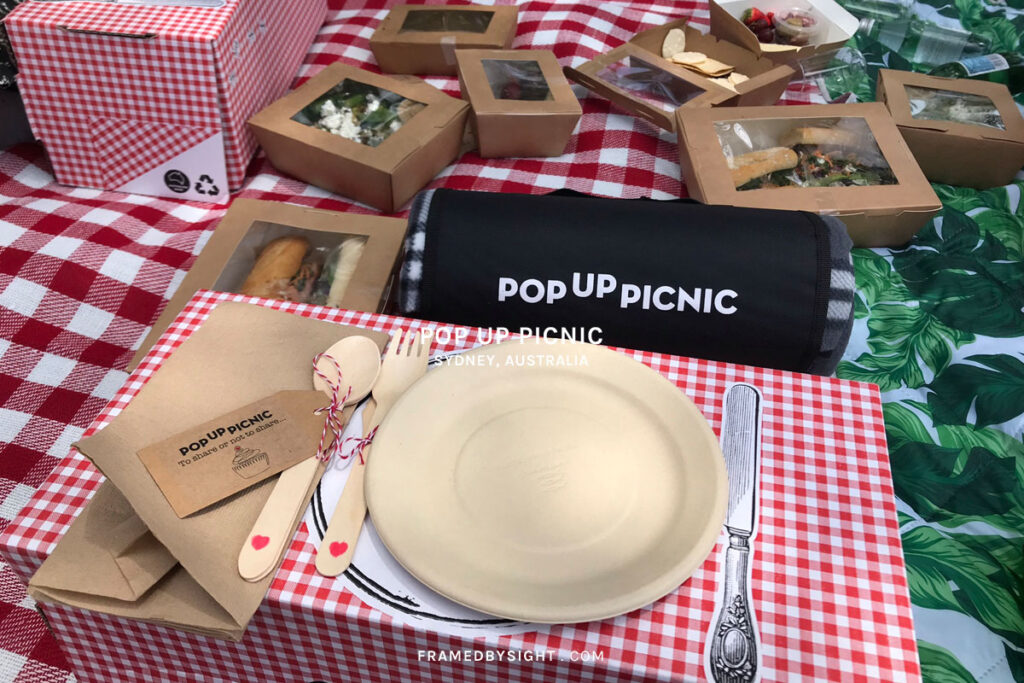 Between two people, the ready made food servings – per picnic hamper – were quite large and well portioned. To start, there was cheese and crackers to share, marinated olives, and a spiced apple relish.
Followed by two baguette rolls each; one filled with poached lobster, avocado, rocket, and chive and lemon mayonnaise. Whilst the other was smoked wagyu beef pastrami, coleslaw, pickles and Swiss cheese. I preferred the poached lobster more – not that I didn't like the wagyu beef – but oh my. The poached lobster was absolutely delicious and I'd recommend you eat this baguette second, and indulge in the wagyu beef baguette first.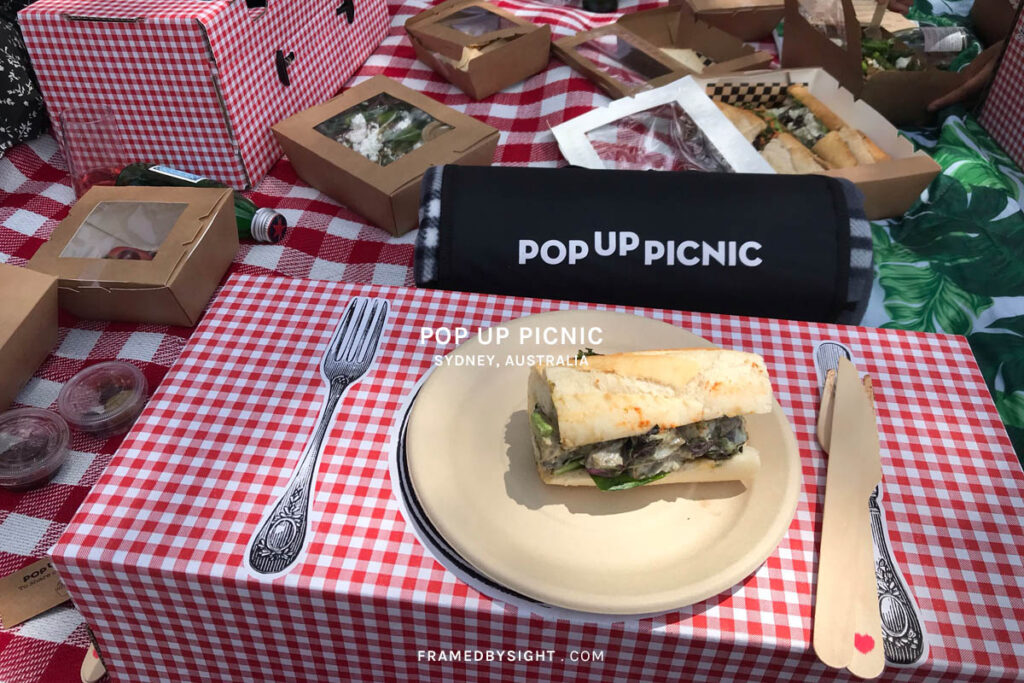 There was also a tasty asparagus, green bean, pea, roasted pine nuts and goats cheese salad included.
And to top it all off, you'll enjoy a selection of mini desserts such as black forest chocolate mousse, raspberry yoghurt cheesecake and chocolate covered strawberries… oh.em.g. #delicious #nomnom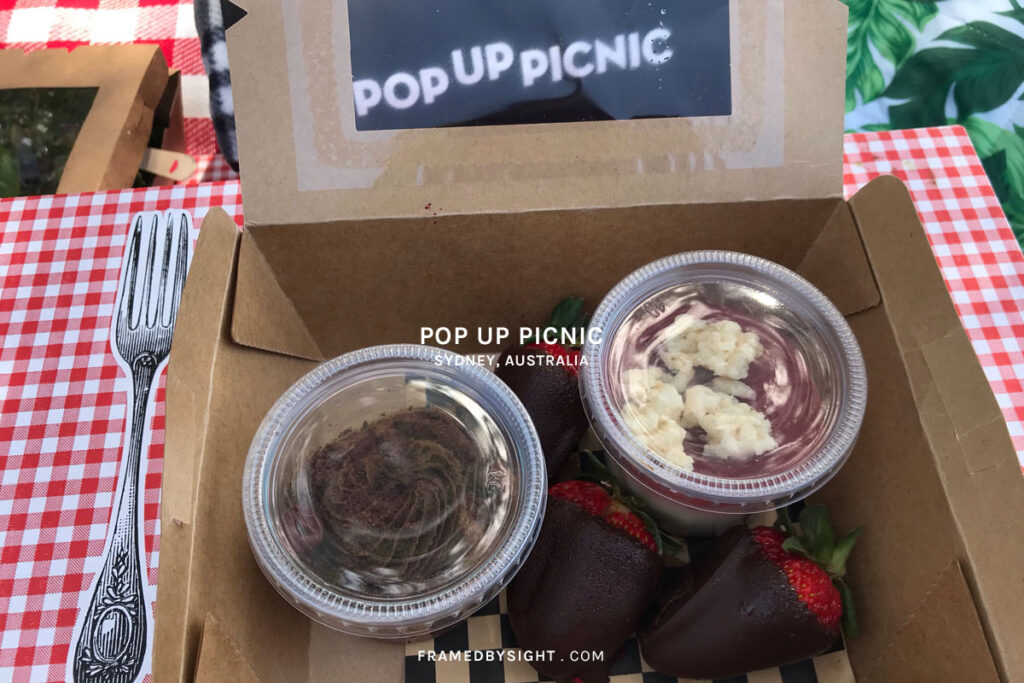 We actually packed a few other snacks, beverages, serviettes etc., incase the hampers were not enough, but between the four of us, we still had leftovers which we couldn't finish.
I actually can't fault this hamper purchase from Pop Up Picnics. We were all quite impressed with what came in each of the boxes and how they were prepared too. All the meals were individually boxed, separated and really easy to share between each other. Soon after delivery though, I'd recommend eating the food from the hampers, so the flavours remain fresh throughout.
If you're looking for a pre-packaged picnic hamper supplier in Sydney, it's a big thumbs up from me to recommend Pop Up Picnics. And if you live within close proximity of Annandale, the delivery option adds to the ease of purchase. They can cater for groups or bespoke events, individual picnic packages for breakfasts or lunches, or even parties and weddings too.
Tips:
For a bargain buy, keep an eye out for Groupon, as sometimes they advertise Pop Up Picnic discount voucher offers.
If you're looking for a local park to meet with friends, there are a handful close to Annandale. You could try Ashfield Park, Burwood Park, Bicentennial Park in Sydney Olympic Park, Camperdown Park, Jubilee Park in Glebe, or Sydney Park in Alexandria.
Address
Pop Up Picnic
227 Parramatta Road, Annandale, Sydney, New South Wales, Australia 2038
27