I'm always hanging for another road trip – and better yet, when dog friendly stays are on the cards too. Just over an hour's drive from Sydney's CBD, you'll find the beautiful Kims Beachside Retreat on the Central Coast, in the beachside town of Toowoon Bay.
This accommodation caters for guests aged 12-years and over only, and is pet friendly. Yes, you read right a boutique beach resort, with suite or villa rooms, that only cater for adults… and allows pets. Can you believe it?!
I certainly couldn't at first. We don't have children of our own and whilst I have no issues with them (quite a few of my friends have kids), it's rare to find waterfront getaways that cater for just adults – and dogs can join too.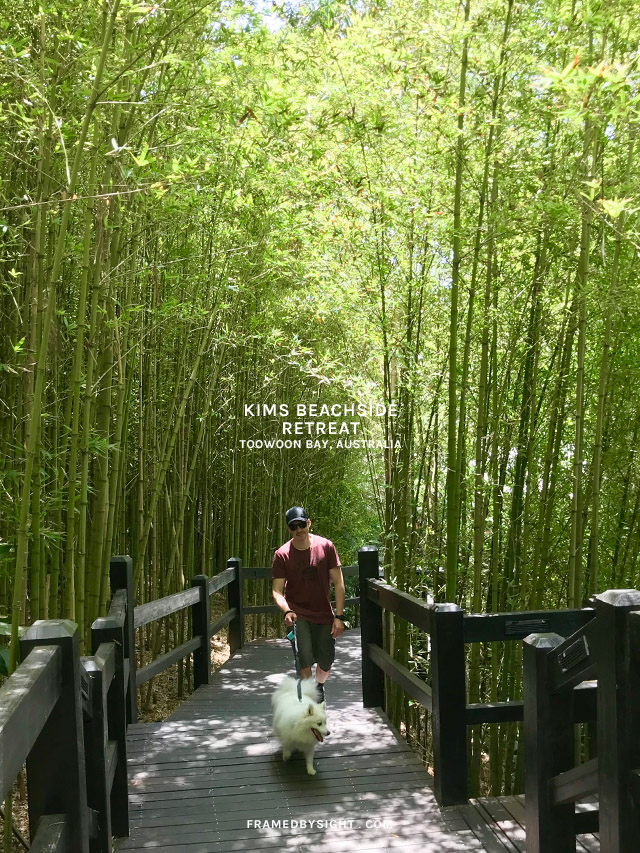 On arrival, there are two main parking bays; the Terrace level car park is generally better parking (it was empty most times we left and returned), however you're required to walk several steps down to reception and then on to your room. For anyone driving a Tesla, there's a Destination Charging Station here too.
If you're able to nab a parking in the other car park, the Beach level would be more preferred, as the Garden Bungalow pet friendly room is located right next to this. However, as it's name states, it's right on the beach and the number of times we tried to park here, we reverted and went to the other parking area as this was always full with other spots filled by guests also staying at Kims Beachside Retreat.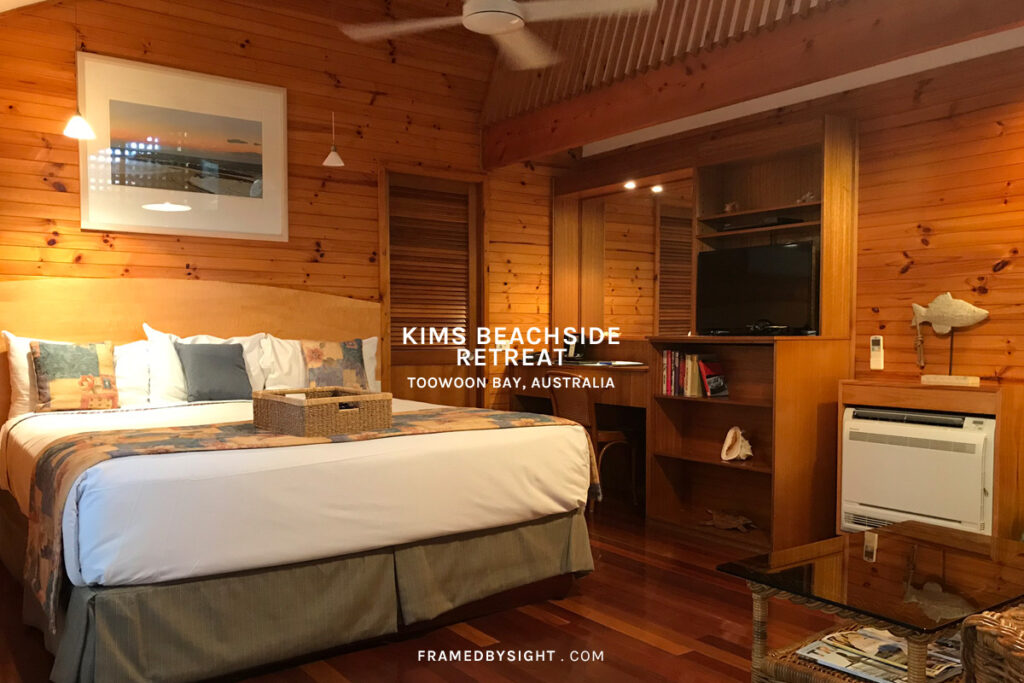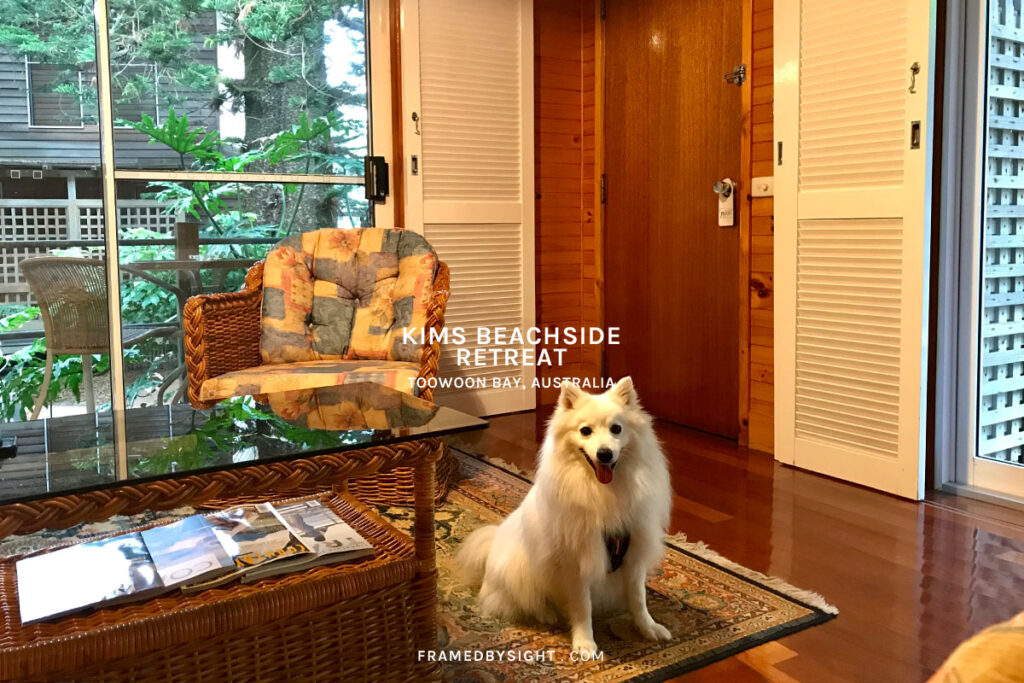 Our accommodation was a Garden Bungalow pet friendly room. It was spacious inside, with a small, enclosed, fully fenced terrace deck adjoining the room, in addition to the front balcony area, facing the main thoroughfare of guests staying at the resort.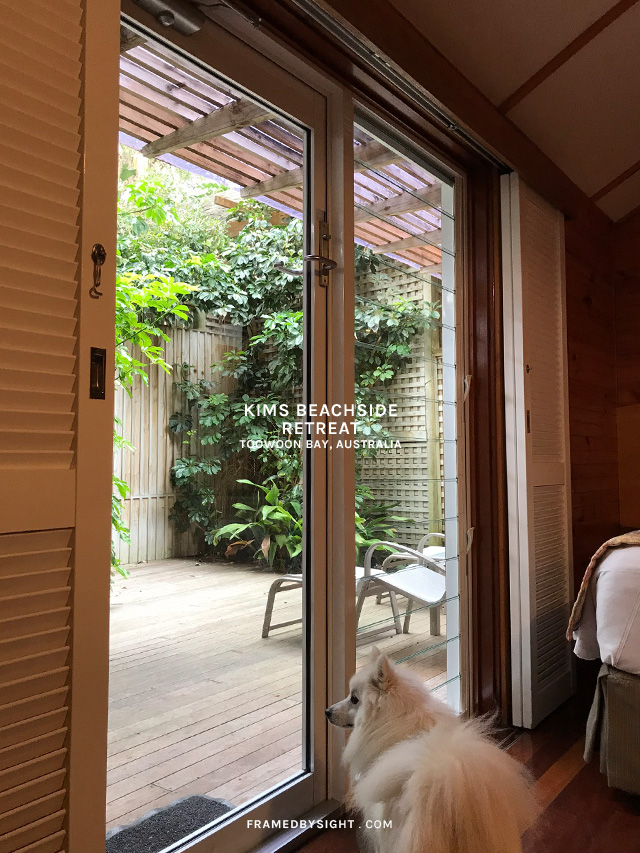 There was plenty of natural light throughout the rooms, with a natural skylight over the bathroom area, and most modern technologies available in your bungalow including a TV, air-conditioning, ceiling fans and Wi-Fi. There's also a spacious walk-in wardrobe area with beach towels provided, a lockable safe, and a mini-fridge with coffee, tea and milk provided. Plus, a gorgeous traditional Japanese bathrobe folded on your bed, ready and waiting to be tried on and worn during your stay.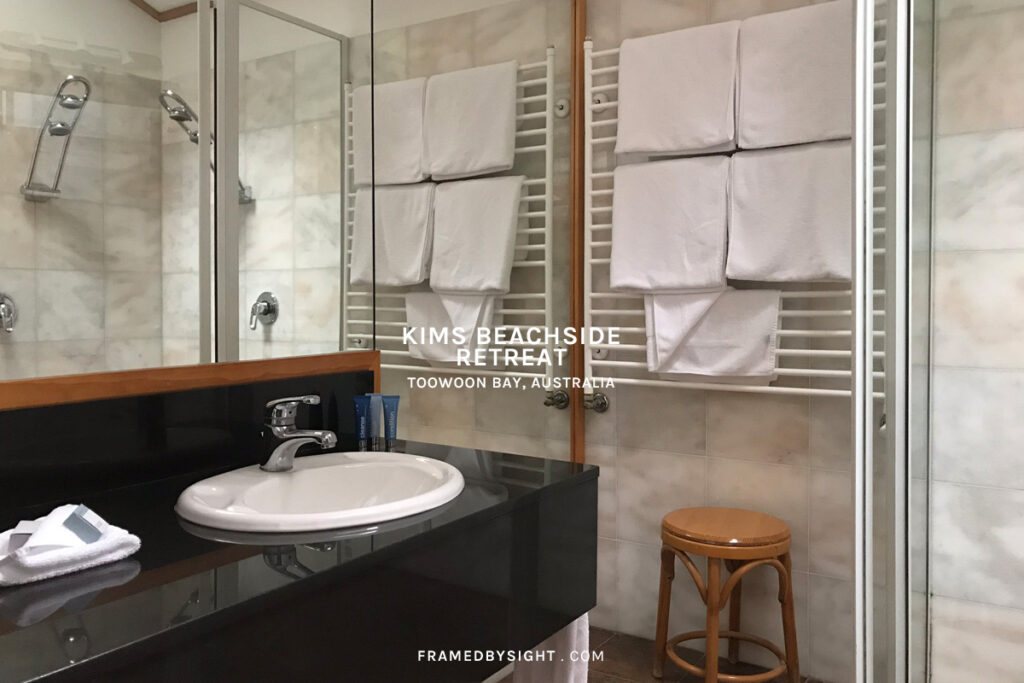 On the property, you'll find a handful of grassed areas for your pooch to wander on-lead. Toowoon Bay beach is directly in front of most accommodation suites and villas however, this is not a dog friendly beach, and you'll need to walk another 5-minutes to the adjoining beach; North Shelley Beach where you'll find plenty of dogs running through the water and having loads of fun.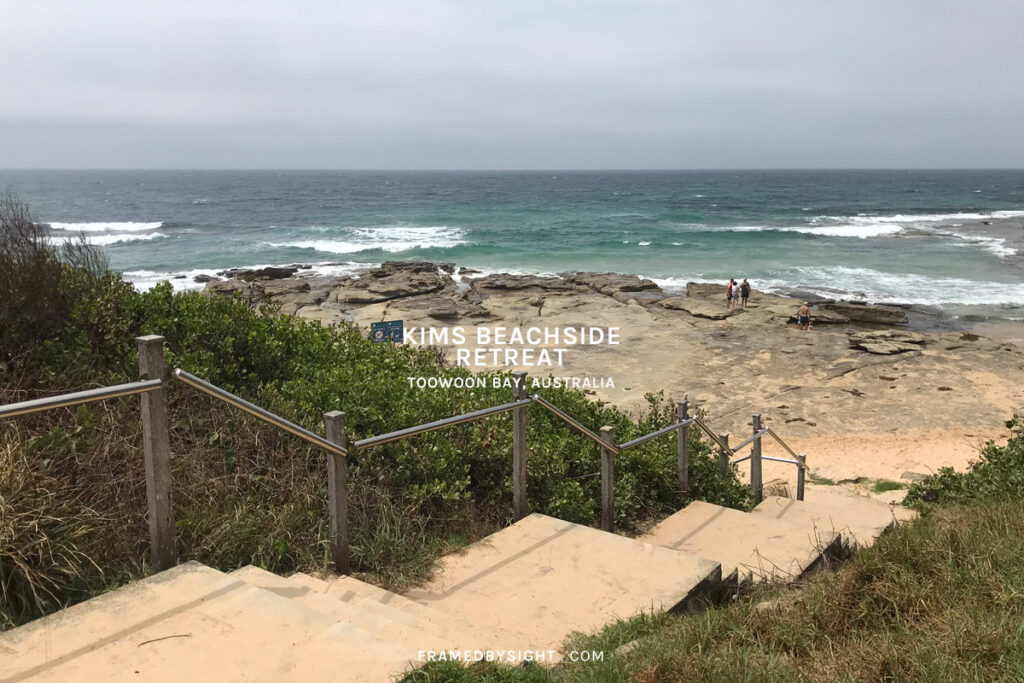 If you follow Bay Road and walk towards Swadling Reserve, you'll see some stairs jutting out from the park that people may be walking up and down from. Head down the stairs and you'll be met by the dog beach, ready for play time with your pooch by the water.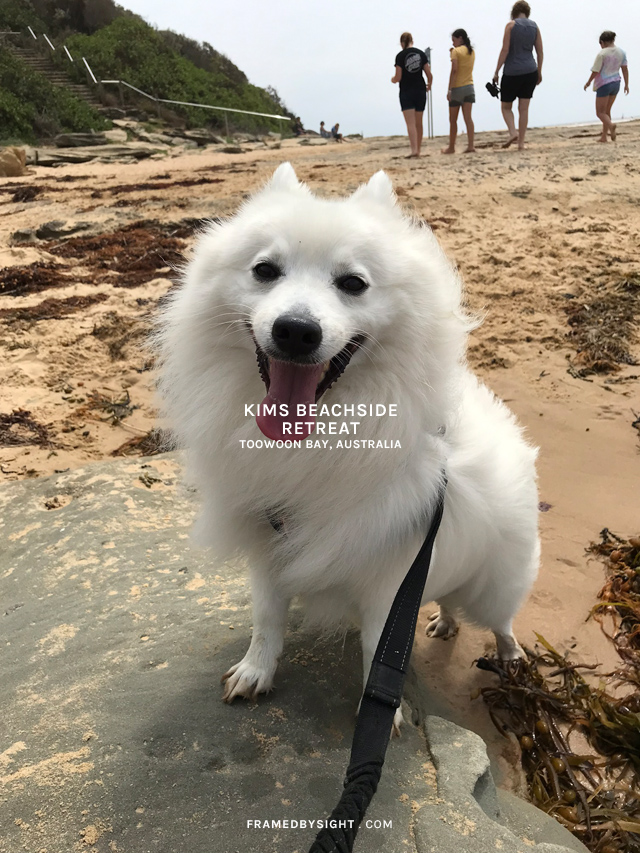 Bring your dog carrier/crate if you plan to leave your pooch in the room on its own, or if they're well-behaved to stay in the room on their own, then that's fine too. We hadn't prepared this in advance, and as our boy is still quite young, we honestly don't trust him on his own in unfamiliar spaces.
Unfortunately, pet friendly dining is not available at Kims Beachside Retreat – which I completely understand by the way the dining is set-up – but it is a shame as there's plenty of outdoor seating on their restaurant deck and it'd be opportune if an area could be isolated for pet owners as there are four different pet friendly room types available whilst staying here.
During our stay, we opted to go on rotation, where we individually dined whilst the other remained in the room. We've done this before at other hotels, so we actually don't mind when we have been in similar situations. In terms of actual seating, they are pre-allocated. You may request for a balcony/window seat with water views, but it's not guaranteed and it's depending on how busy the resort is at the time.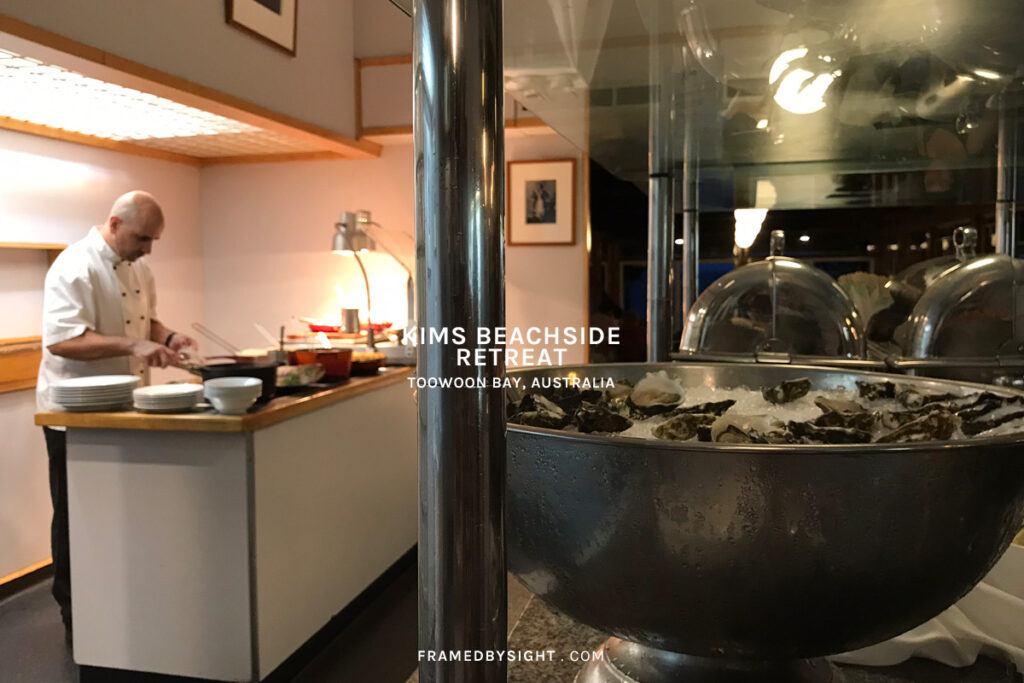 Upon arrival to Kims Restaurant, you have a personalised welcome card on the table with your details. The dining hall is well prepared, with an array of food on display, looking oh so fresh too mind you. In the evenings, there's a number of choices on the menu; soup of the day, cooked prawns, oysters, Japanese cuisine including sushi and sashimi, your choice of hot & cold selections such as salmon, curry, or roast pork, fruits, cheeses and desserts including cakes and tarts.
For breakfast, you're also spoilt for choice; cereals, porridge, natural yoghurts, fruits, hot & cold selections including eggs, and breads with plenty of options for different spreads too.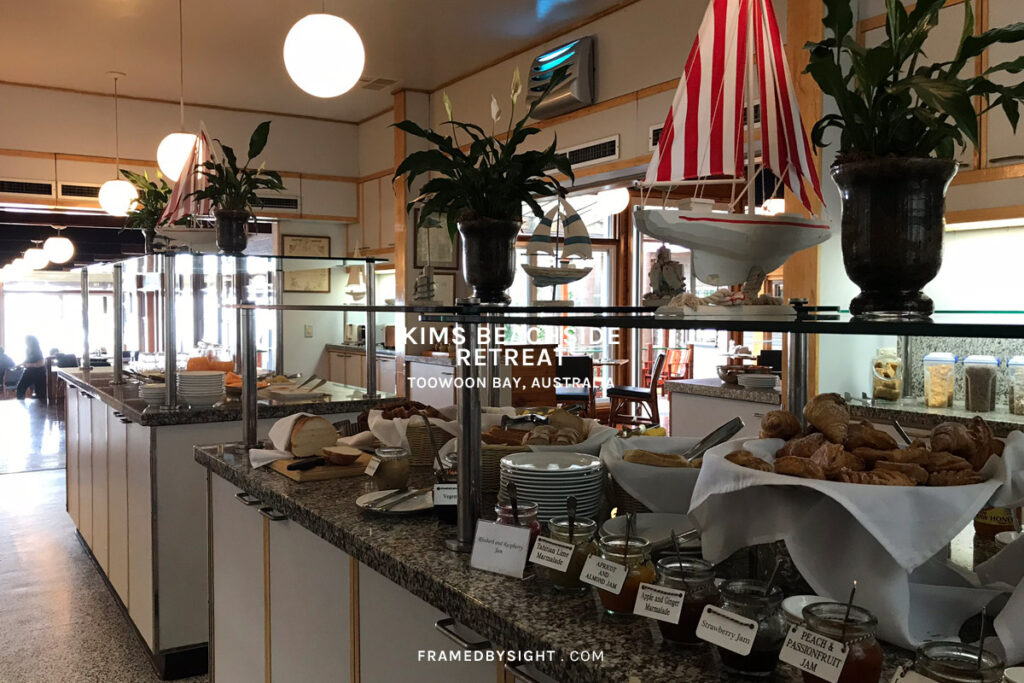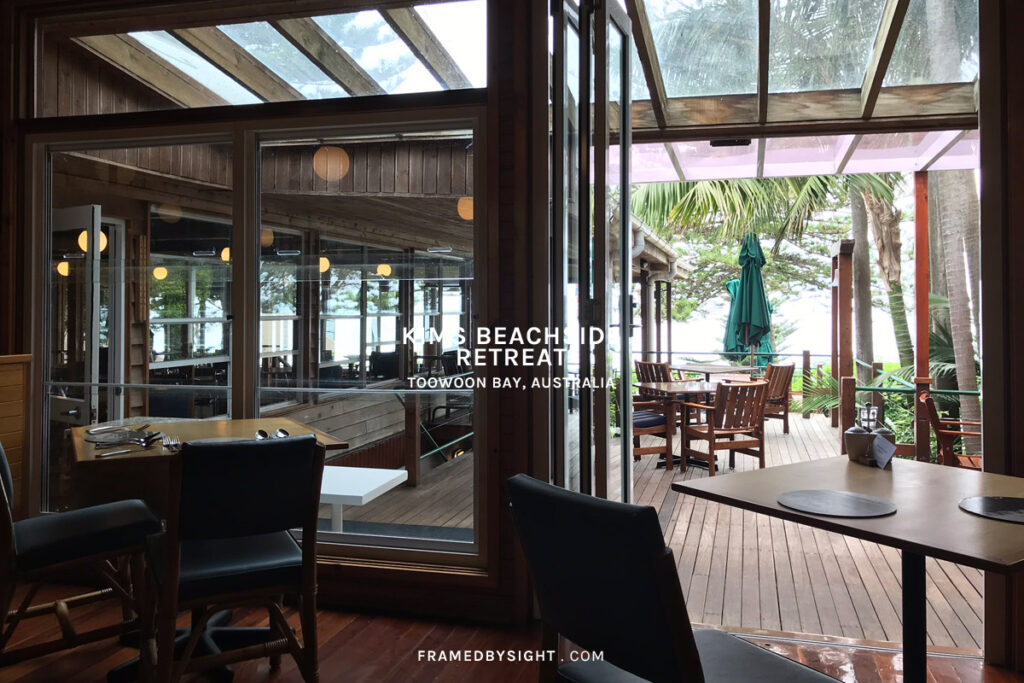 The overall location for Kims Beachside Retreat is simply bliss; not too far of a drive from Sydney, yet it feels like you've been transported to a relaxing coastal beach destination once you arrive.
When you first wake, you'll hear the birds chirping each morning, and it's an easy stroll to the dog friendly beach – or local beach right in front if you don't have a dog – and just sitting, relaxing on your front verandah hearing the waves crashing is absolute heaven. This is a seaside, romantic, dog friendly, adults only resort, with plenty of accommodation options to choose from, including villas right on the beachfront facing the ocean.
Address
Kims Beachside Retreat
16 Charlton Street, Toowoon Bay, New South Wales, Australia 2261 (in the Central Coast)
18