For many years, I have fond memories of my Christmases in the Philippines always involving festive family gatherings with never-ending food preparations, fireworks lighting up the local streets, houses filled with bright Christmas lanterns, nativity set decorations on display, door knocking of caroling… and the many days of laughter, and screams of "exchange gift" when the time was right. Pasko was such a happy time for families getting together and it was true joy when December rolled around each year.
Living in Australia, I always wanted to bring those same traditions and festivities to our home during the Christmas period. The celebrations of pasko are not exactly the same in Sydney, but I was determined to include a token Christmas lantern decoration to our house – a Filipino parol.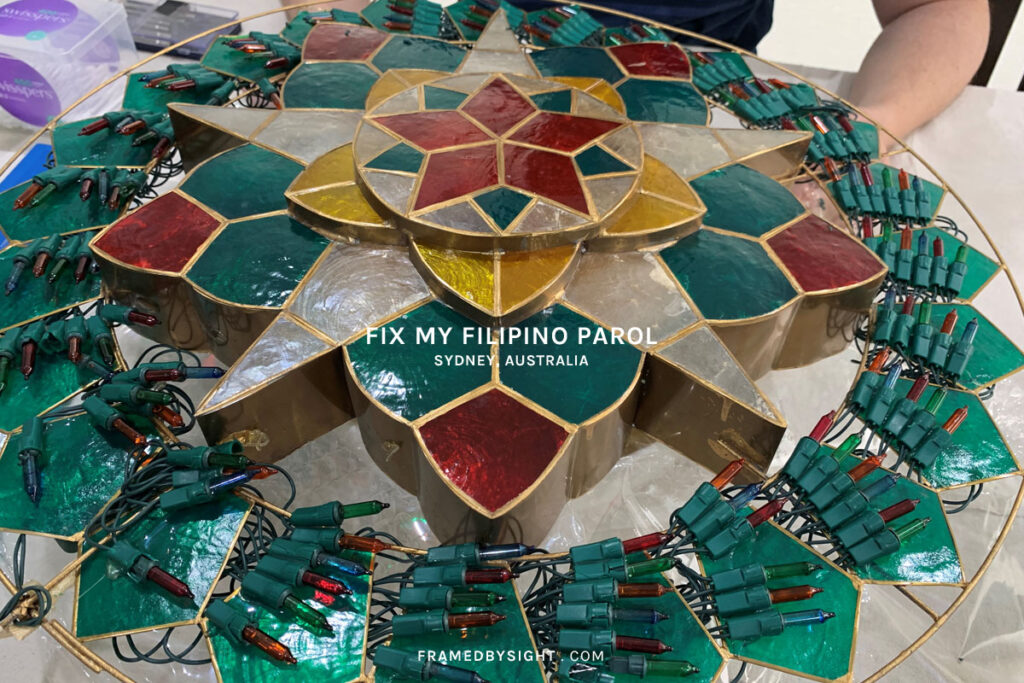 I searched Sydney far and wide to buy a traditional Filipino Christmas parol; calling Filipino grocery stores to ask if they stocked them, seeing if there's any way I could pre-order a parol for the following year, or even contemplating a more modern, simplistic version not made from capiz shell. With no luck, I even considered purchasing a parol from overseas – which was quite expensive – just so I could have my own parol in the house.
Every time it was Christmas, it'd pop into my thoughts to continue the hunt. But I soon learnt, Filipino parols are hard to come by and no longer imported into Australia – or very difficult to import – due to the delicate capiz shell that they're made of and our strict quarantine regulations. Mum always told me next time I visit Philippines, to go to Pampanga, in Angeles City and I'll find an array of lanterns there. But unfortunately, I don't visit Philippines too frequently these days – only once a year – and not always during the Christmas period.
Recently though, we were in luck. A lovely family was selling their old, non-functioning Filipino Christmas parol on Gumtree for AU$30 – and quick as a flash, we were onto it – determined to make it light up again.
We drove to Western Sydney to pick up the parol and didn't know how we could even restore it until we saw its condition. The overall look and feel of the parol was still in great condition, and the family placed it in its original box after each Christmas.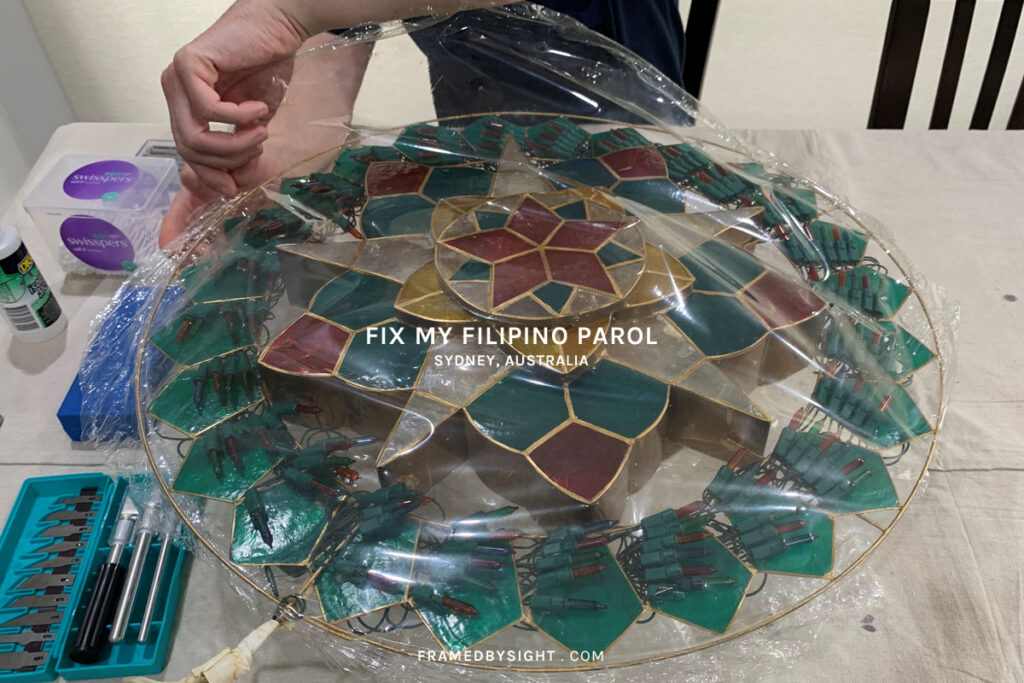 How do I fix a broken Filipino Christmas parol, especially in Australia? Tim and I dubbed this project "operation restoration" of our new Filipino Christmas parol, which was actually quite fun to do.
Upon initial inspection, the wiring was in tact with the original Filipino plug, and a convertor still attached for use in our local power points. That said, its only 'just' worked where a portion of the lights would flicker when we first turned it on. But to be completely honest, it didn't look safe, so we knew we had to replace the entire unit.
We used a bowl to raise the parol off the table and also placed down a drop sheet, and then began our delicate removal of the main plastic covering. The parol was old and brittle, and the connections needed to be replaced to suit Australian electrical standards. It was an absolute bargain to purchase this parol at such a price, and we were determined to fix it, to once again light up our house just like how I use to remember it as a kid.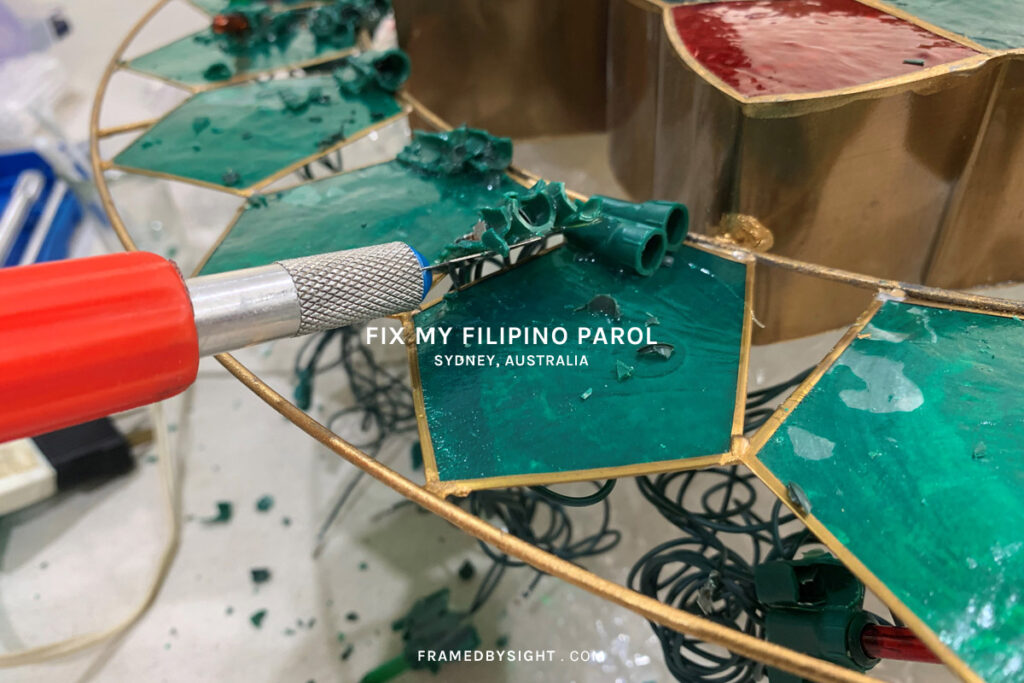 So where did we start? The restoration was much harder and delicate than expected. The shell decoration was beautiful, yet due to its age, it was so soft and fragile at every movement.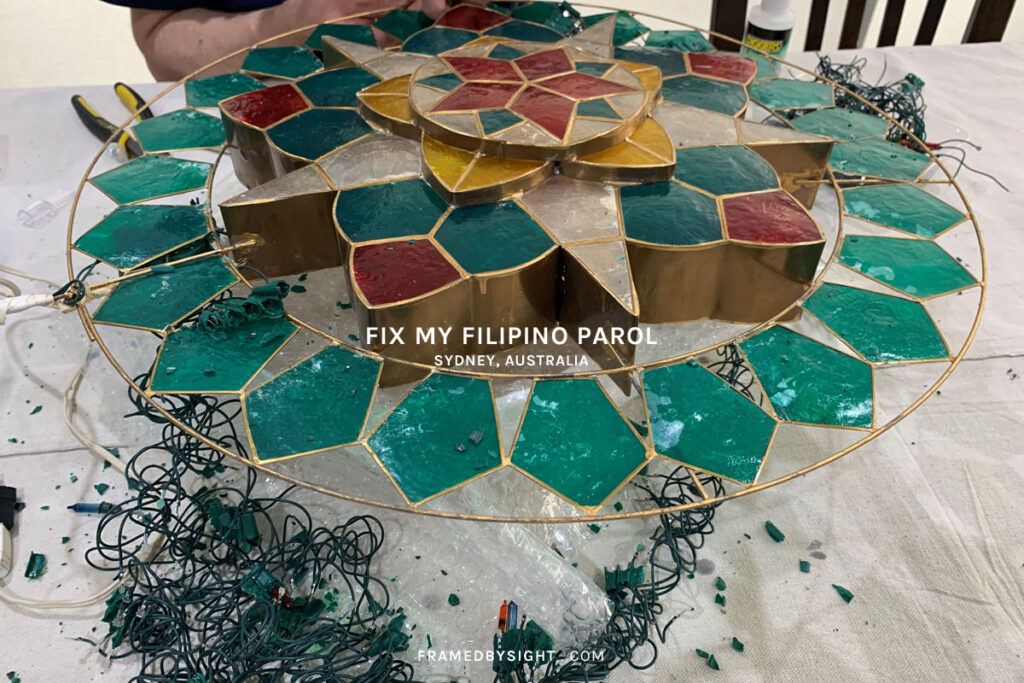 It was difficult to remove the old lights – we scratched these back using a blade and Diggers Isopropyl alcohol cleaner (bought from Bunnings) as they were each originally glued to the capiz shell design using a hot glue gun. Some crumbled, so be prepared for the light fixtures to crack, and other parts came off in complete sections. This took up most of the time, and we did have two casualties where the capiz shell design cracked or became damaged in the process.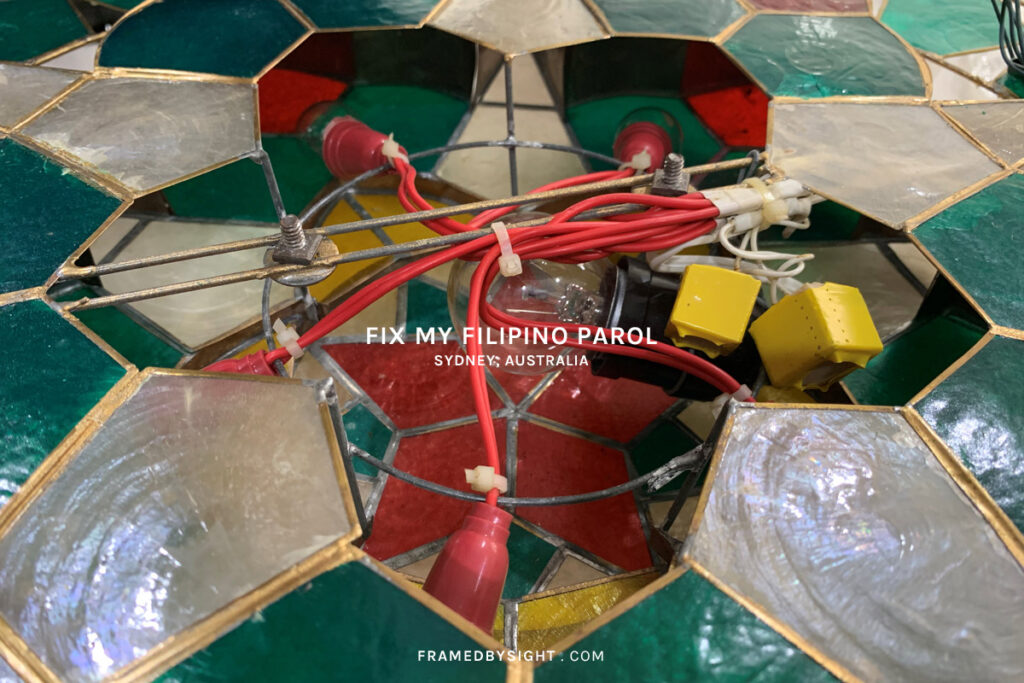 We purchased a box of standard Christmas lights with an Australian plug (a main kit and an extension kit). We kept the light colours inside the parol as clear, whilst the external lights were coloured. We grouped the clear lights into bundles to fit inside each of the parol's pointy ends and chose to use cable ties to attach to the existing wire frame.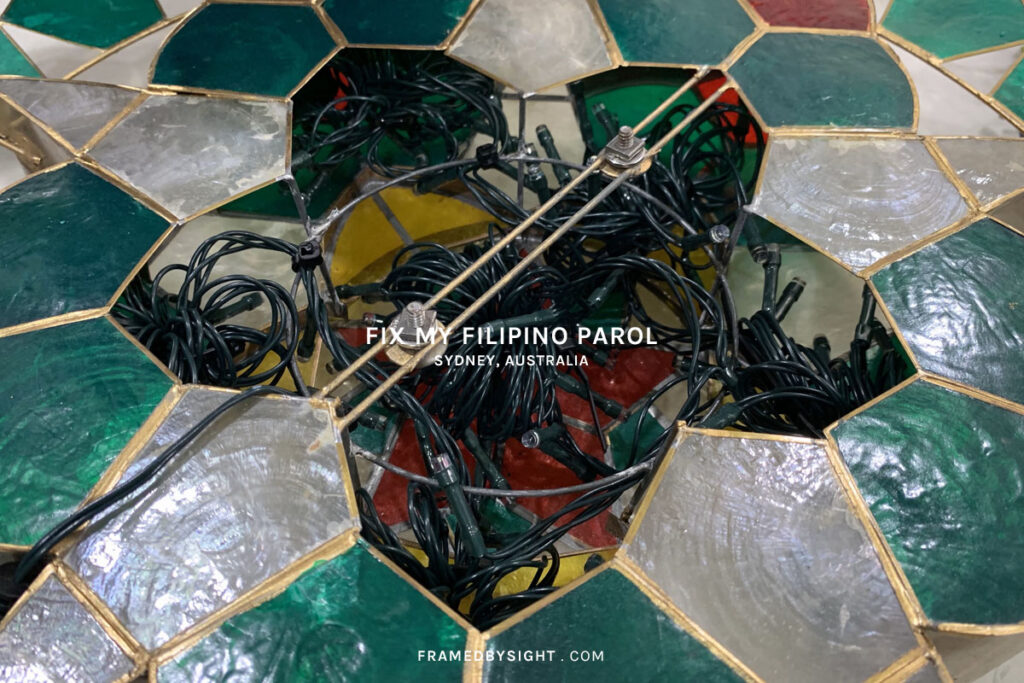 Over time, the lights will more than likely stop working again, so we thought it'd be much easier to replace them this way in the long term. We then bundled each of the coloured lights into bunches of six, rather than re-glueing them back on to the actual shell design, and again, used cable ties hold them in place.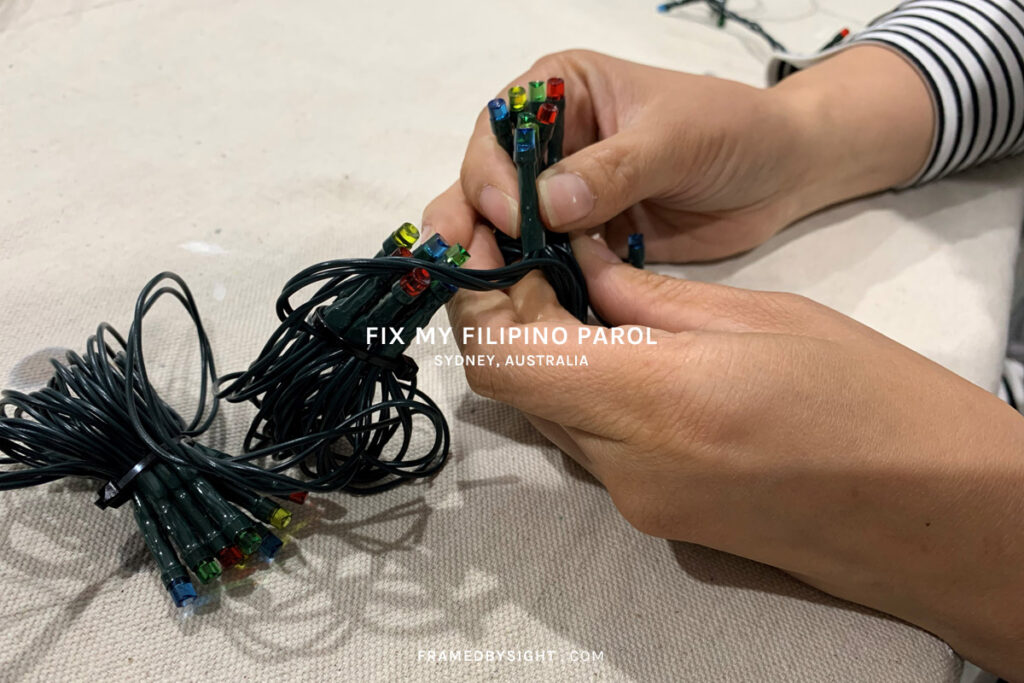 After cable tying the bundled lights back onto the wire frame and putting the parol back together, voila – I could not believe we actually made it happen.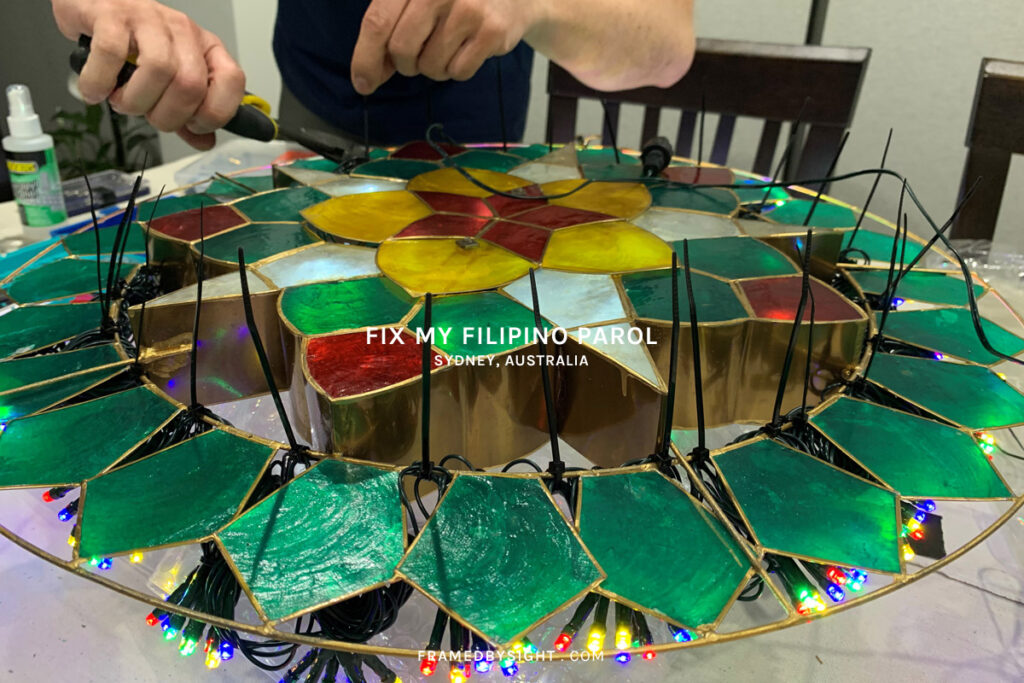 I can't explain my happiness when we got the parol working again. It was a highlight when the lights came on and seeing all the star points and the surrounding areas light up.
We messaged the original Gumtree owner, and they were chuffed to see we were able to get it working again too.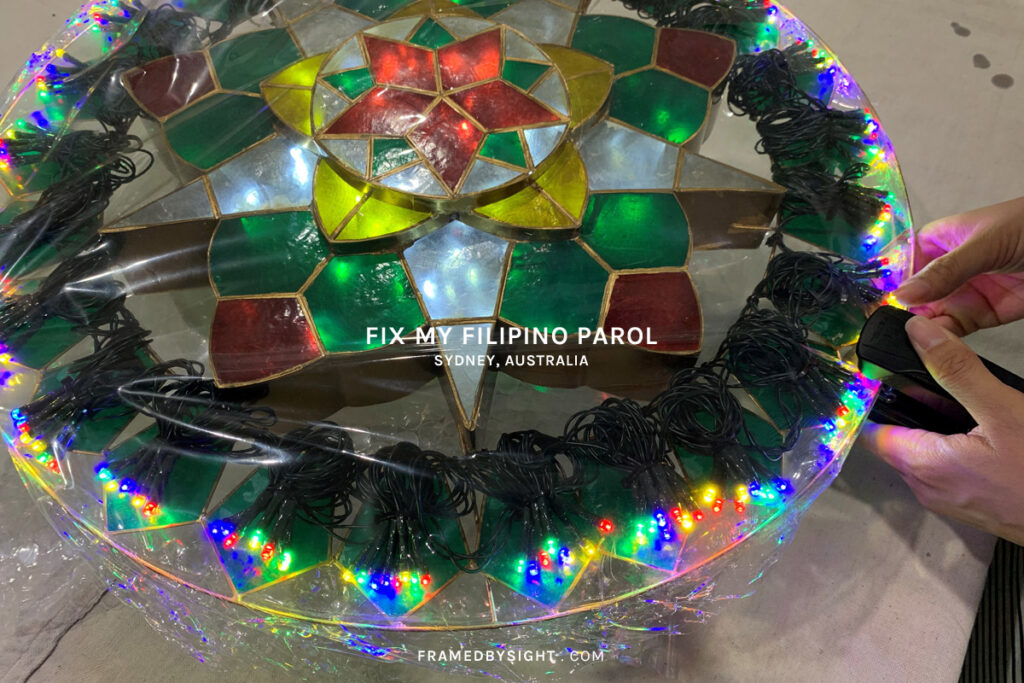 It took us about five hours to pull the parol apart and then put it back together – plus a lot of patience – but the upside was that I felt so festive.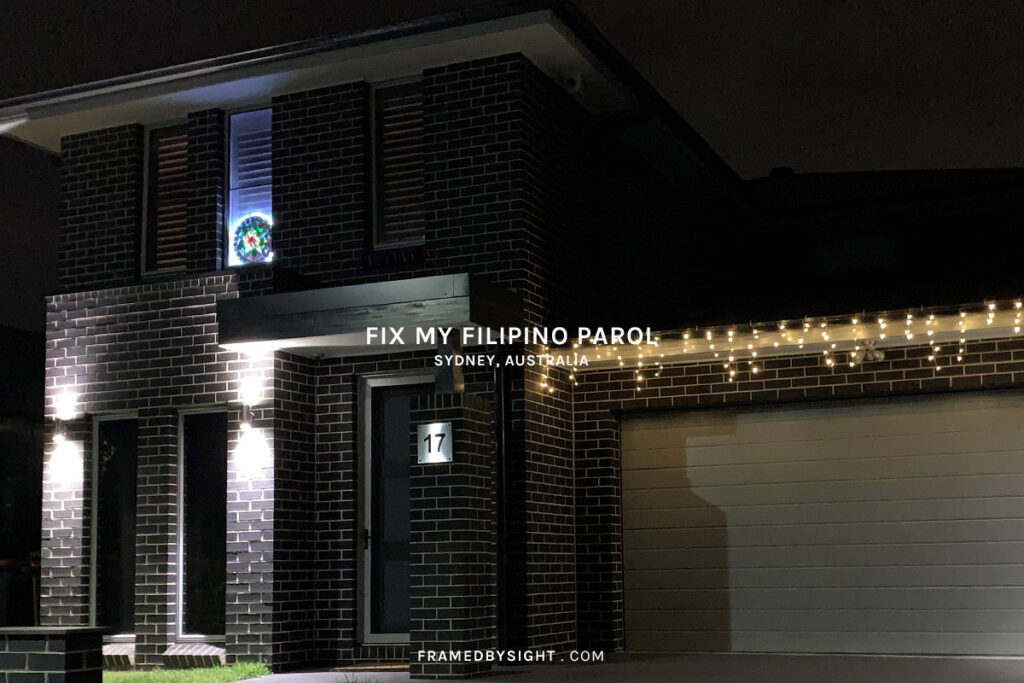 Whilst I don't celebrate Christmas every year in the Philippines with extended family, what I can say is that I'm genuinely happy to see a traditional Filipino Christmas star parol in our house window, here in Australia.
A fond childhood memory during this festive season, which now lives on in my family home too.
5