Ever craved bite-sized, traditional Filipino desserts or cakes on-the-go? Located in Western Sydney is Tita's Cakes; prepared by master chef and baker extraordinaire, Percy Morilla.
I was first introduced to Tita's Cakes through the recommendation of a friend, Jen. She knows I love desserts – well, eating Filipino food in general too that is – and boy what an awesome find. I'm not the best Filipino dessert maker at home, which is why buying these types of treats makes it all the more exciting. And when I find great places, it's even more fun when I get to share the experience with others.
Jen told me to keep a look out for Tita's Cakes weekly Instagram story announcement (posted on Wednesdays), so I was onto it in a flash. The actual dessert menu changes for these mixed boxes each week, and the options are led by the team at Tita's Cakes, so it's an element of surprise where you don't get to choose the individual cakes yourself.
And bam… there it was…
Calamansi Soufflé Cheesecake, Cathedral Window, Ube Brazo, Mango Float Cup, Leche Flan and Buko Pandan featured for the week. I'm definitely in. I could easily eat all of these – and more – if I didn't have to share.
For AU$30, you'll enjoy a mixed box of 6 desserts (one of each flavour); or for AU$50, a mixed box of 12 (two of each flavour). To note, some desserts may contain traces of nuts, wheat, soy, egg and milk ingredients.
In a matter of minutes whilst exchanging a few messages, I placed my order, made an EFT payment, and scheduled pick-up collection for the upcoming weekend.
Between a handful of friends, it was a great way to taste a variety of Filipino desserts in one sitting. Reminiscing of all the different treats we miss, yet indulging in that very moment, licking our lips after each bite, surrounded by Tita's Cakes. #mmm #supersarap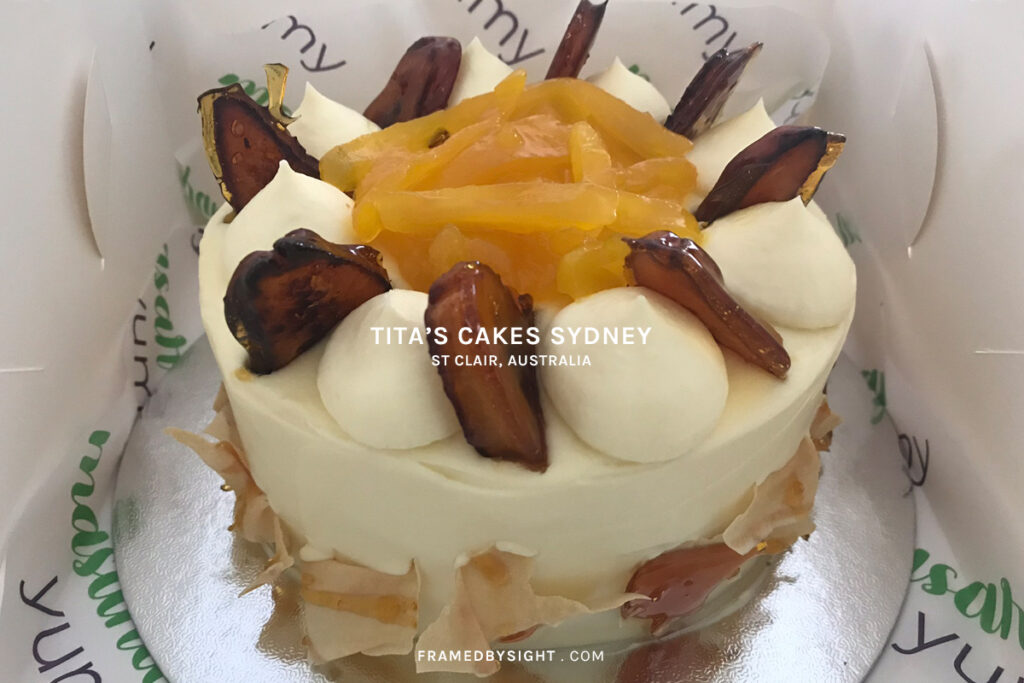 I also purchased a 6-inch / 5.5-6cm Banana Turon Cake for AU$35 which was perfect to share. Imagine Turon (Filipino Fried Banana Roll) flavours; layered sponge cake, cream, caramel and/or possibly banana syrup… it may sound a little strange to some… but I'm telling you, it works. Dessert portions were just the right size due to its sweetness, coupled with a warm cup of tea.
If you know me well, I love Filipino flavours. Whilst growing up in Australia for many years, I still thoroughly enjoy Filipino food, just like these ridiculously delicious desserts from Tita's Cakes – they're the perfect accompaniment when visiting family and friends, or even just snacking at home. I'm grateful too that I've found another place within close proximity, that I can indulge in my Filpino dessert cravings.
These cakes are prepared within a home residence, so you must pre-order in advance. It's well sign-posted to find the actual address, and both the cake and desserts are tucked into sturdy packaging, with spoons provided for the mixed boxes. The cakes and desserts are professionally made, the presentation, the level of detail, the taste – if you didn't know it was made from someone's home, you'd honestly think it was purchased directly at a cake shop.
Tita's Cakes has a wide range of Filipino cakes and desserts to buy. In addition to the flavours already mentioned, the Filipino menu continues – think Ensaymada, Spanish Bread, Suman, Bicho Bicho, Mamon, Mango Royale, Yema, Leche Flan, Cassava, Bibingka, Sapin Sapin… and more.
Have I made you hungry yet?
Address
St Clair, New South Wales, Australia 2759
15