I just want timeout. Somewhere that won't cost a fortune, yet down-time from Sydney streets and a moment to unwind and detach from work chaos. I'm having travel withdrawals. There, I've said it. #fomo seeing family and friends travel the world.
It's the year (or two) of road trips. B&Bs, cosy cabins with log fires, coastal beach houses, winery stays… why not explore NSW? We've committed to saving solidly for our house build, but there is room for small getaways now and then – all in budget might I add.
Fox who? A hidden gem well-worth the escape from Sydney's hustle and bustle for your next road trip. Foxground. The place of flying fox colonies the sign says.
I never knew of Foxground had it not been for Airbnb. I was searching for a nice spot to stay near Gerringong or Berry and viola! the perfect weekender. Only a 2-hour drive from Sydney towards the south coast, Eagleview Park, "unique romantic getaway for couples" the accommodation listing says.  Sounds like the recharge we've both been hankering for!
Approaching the entry to Helen and Bernard's 50-acre farm, there's a 1.5km gravelled driveway from the main road ascending to the house 180-metres above sea-level. The private guest house studio neighbours' the main house, both overlooking majestic views of the Barren Grounds.
Travelling at a slow speed towards the hillside, you are met by a small herd of cattle, possibly a wombat, wallabies, rabbits and ducks – all part of the property stay.
Helen and Bernard are wonderful Airbnb hosts, greeted us on arrival with their bumbling two dogs in tow and showed us through the mod cons of our private studio stay. Equipped with both air-conditioning and overhead fan options, TV, kitchenette (no cooking equipment) and an open shower experience, this was the perfect romantic getaway from the moment we arrived.
In the studio, we were treated to lemon-almond biscuits and a bottle of red wine. No occasion, simply a kind gesture from Helen and Bernard. I must say, it takes a moment to adjust. Beautiful accommodation with 180-degree panoramic views over the valley through glass-louvered windows, enveloped by the sounds of blue wrens and kookaburras. Sitting here by the window with a cup of tea in hand, the view is absolutely mesmerising.
Helen and Bernard have thought of everything you can think of; an inviting queen-size bed, gigantic hotel type- bath towels (I'm 5'1″ mind you, so the towels are huge), textured robes, coffee and tea provisions including a Nespresso coffee pod machine, pool towels and even a set of boules to play. Oh and don't forget the refreshing hand soap and lotion – I kept making excuses to use it – Williams-Sonoma French Lavender with essential oils (it's now added to next week's shopping list).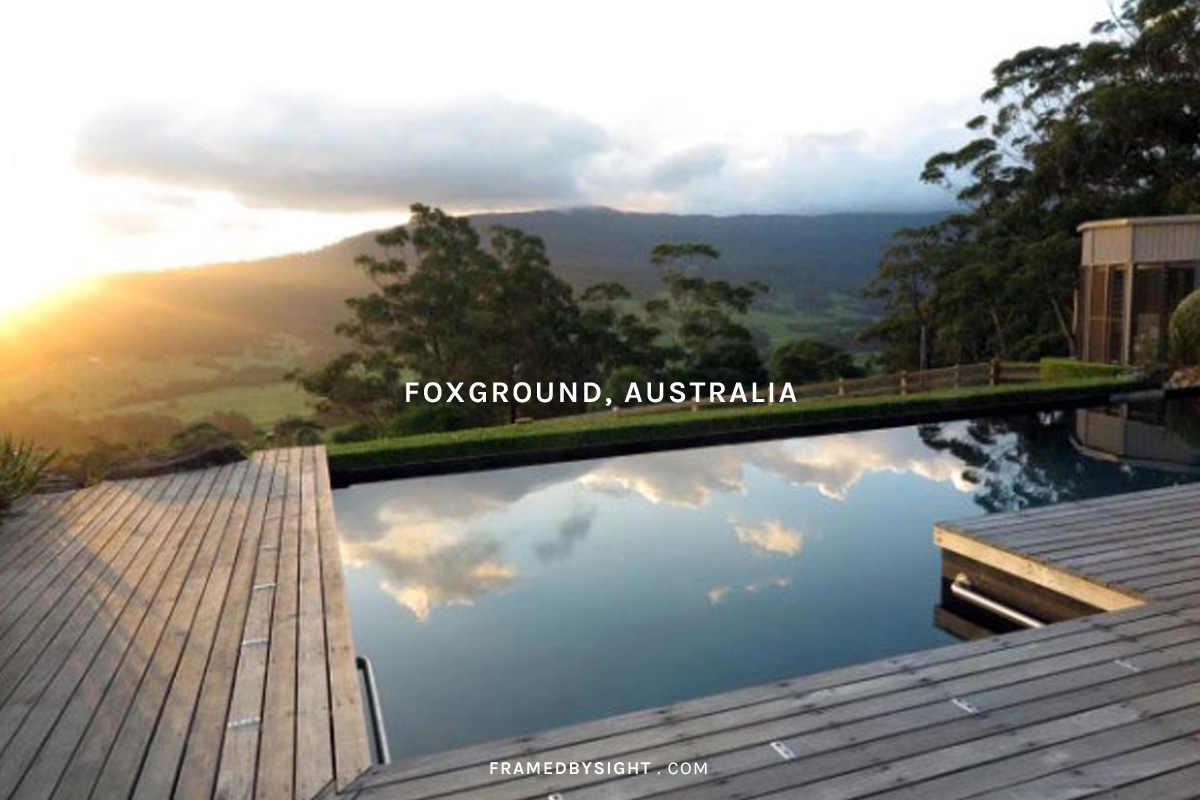 Each evening, coloured light domes are placed by the studio door entry to guide the way (it gets quite dark at night on the property, especially if you head out for dinner). There's a sensor light which turns on with movement and the keys provided also have a small torch attached.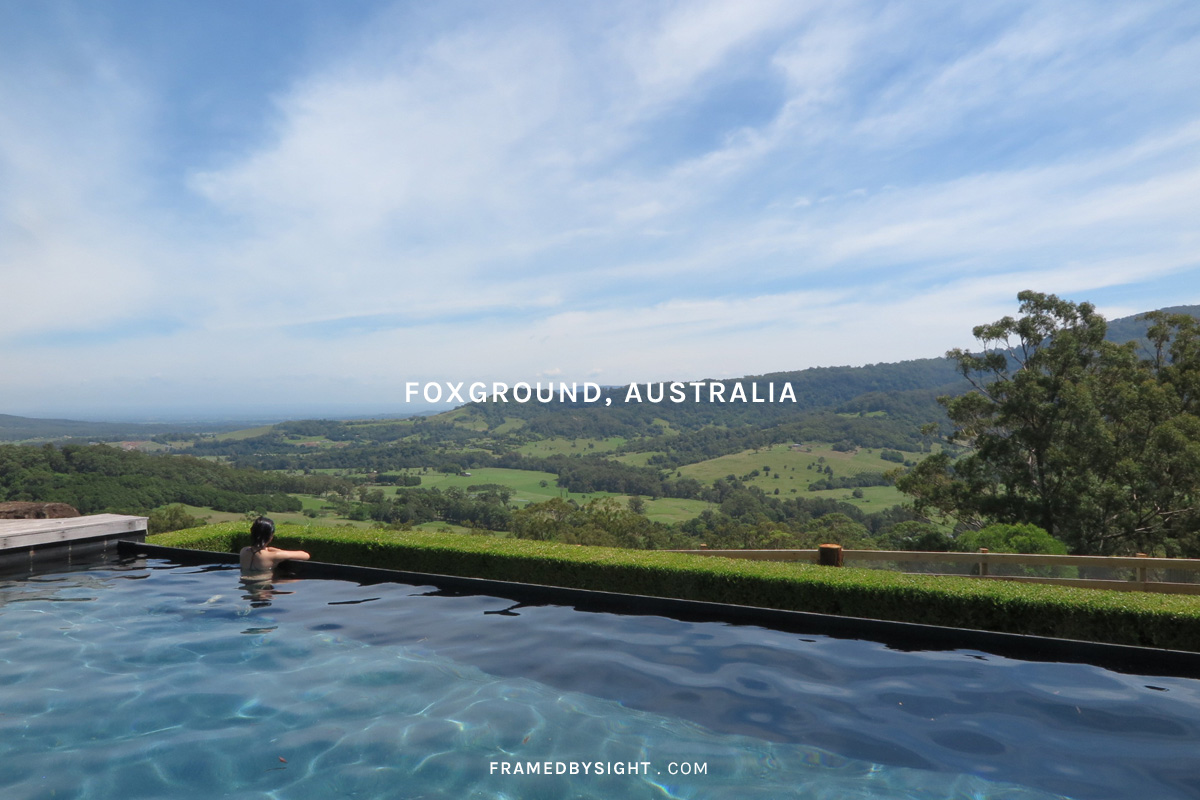 The only common ground between us and the hosts is the main driveway and pool. Parking, entry to the studio, sleeping arrangements is all separate – you truly feel like you're at your own private hideaway.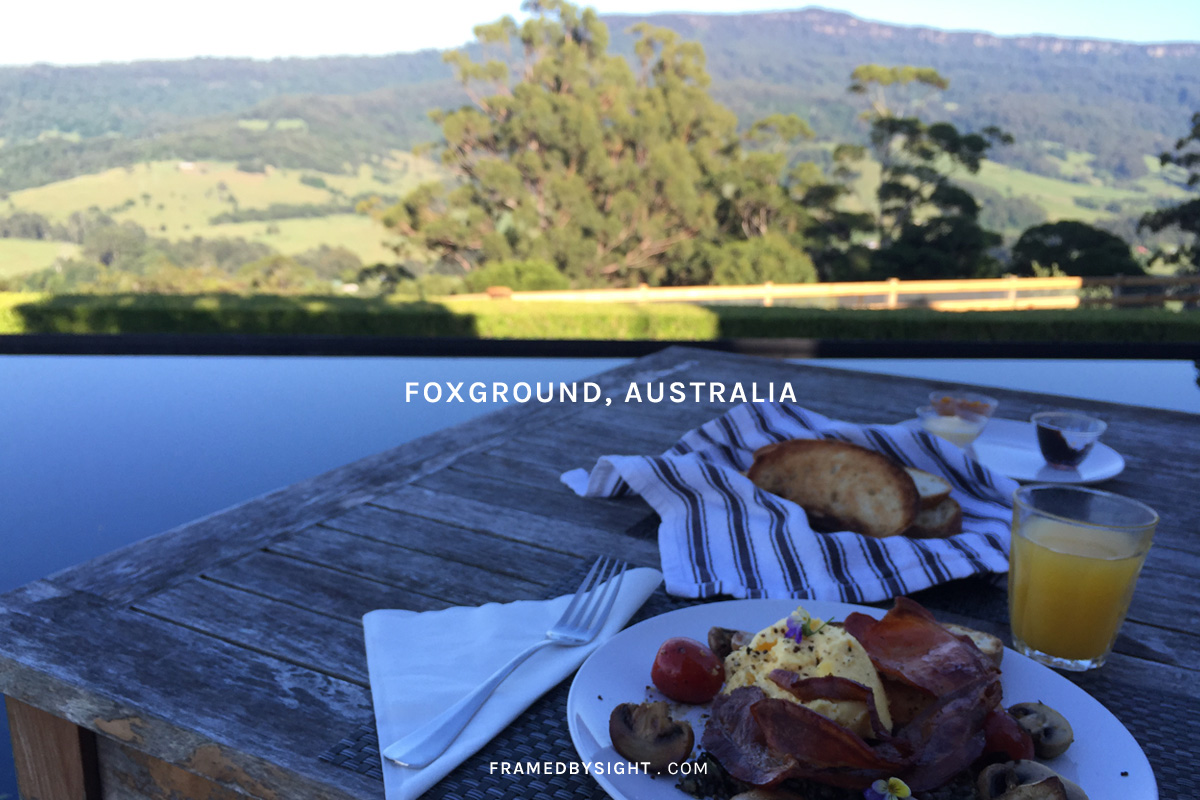 If you're after a fairly close weekend road trip from Sydney, this is a beautiful retreat. Less than a 10-minute drive to Berry (where most of the dining options are) or a 10-minute drive in the other direction to Gerringong for coastal beach options. You can also try Helen and Bernard's cooking if you don't feel like leaving your relaxing haven.
Tips:
If you're considering to book a 3-night stay, stay from Friday-Monday rather than Saturday-Tuesday. Most of the restaurants in Berry are closed Monday and Tuesday.

Book lunch or dinner reservations in advance. We left it to the week we were arriving and on a Saturday night, the first two restaurant options were fully booked, the third had an 8pm booking, no earlier.

Visit Gerringong Seavista Cafe for breakfast or lunch and request to sit on the deck overlooking beach views. If you're feeling a little modern and hipster, try The Burrows Cafe Berry. For asian-fusion fine dining, we ordered a 5-course banquet for AU$55pp at the Hungry Duck in Berry and loved the delicious Kaffir and Tahitian lime tart to round out the evening.

Pop into the local IGA supermarket in Berry and pick up some cheese and crackers. There's also a delicatessen close by.

Sit by the studio window with a good book in hand.

Visit Werri Beach or Seven Mile Beach.

Enjoy a dip in the pool, cool off, then laze about and wait for the incredible evening sunset over the valley's rolling hills.

Try Helen and Bernard's delicious hot breakfast served by the pool (AU$20pp).
Address
Foxground, New South Wales, Australia 2534
8