(Edit: Stay was pre- COVID-19 lockdown)
If you're planning a trip to Mauritius, consider staying in the heart of its capital, Port Louis at the Labourdonnais Waterfront Hotel (part of the Indigo Hotels Group). I cannot fault this hotel's location. It is right on the waterfront with harbour and marina views all around, and walking distance to most attractions of the city.
On arrival, we were met by the lovely Vaishali, who brought us up to our room. She talked us through the features including the minibar fridge being controlled by the swipe card to open.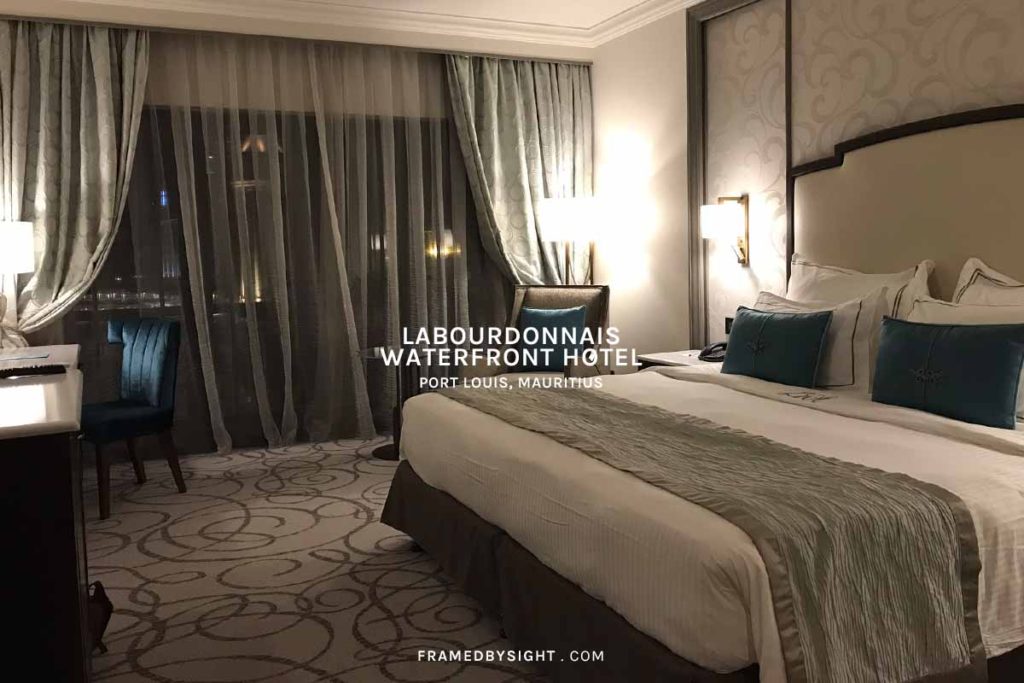 The Classic Room has standard inclusions such as temperature controlled air-conditioning, 55″ flat screen TV and complimentary Wi-Fi in room and throughout the hotel property. It also had a king-sized bed and private balcony with views overlooking the city and marina.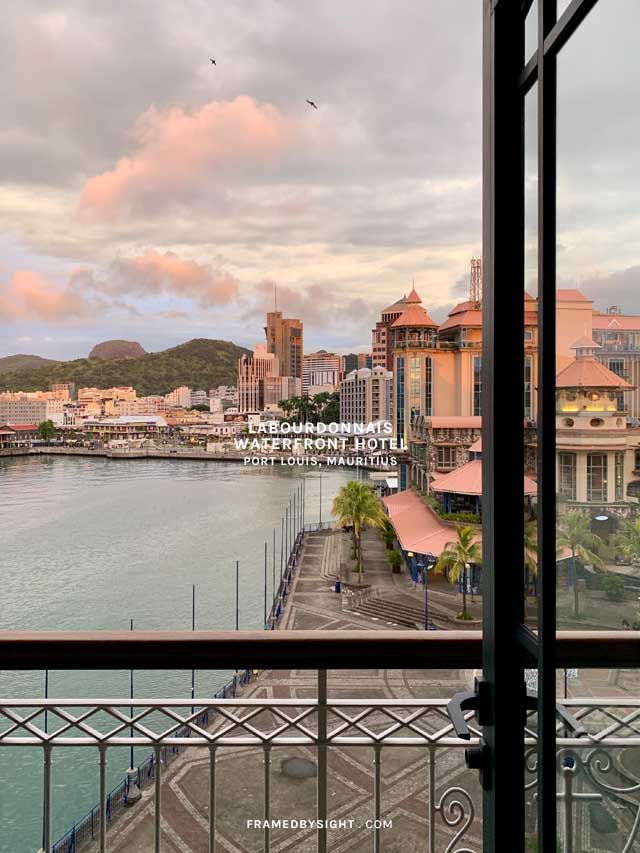 I must say, the view from the balcony was absolutely beautiful. It was one of my highlights whilst staying in Port Louis – reminded me of Venice at night. The buzz in Place du Caudan and the buildings lighting up the night sky looked magical.
Sheer and blockout curtains draped over the main window and balcony area, so you could choose to leave the balcony door ajar of an afternoon and let plenty of natural light in.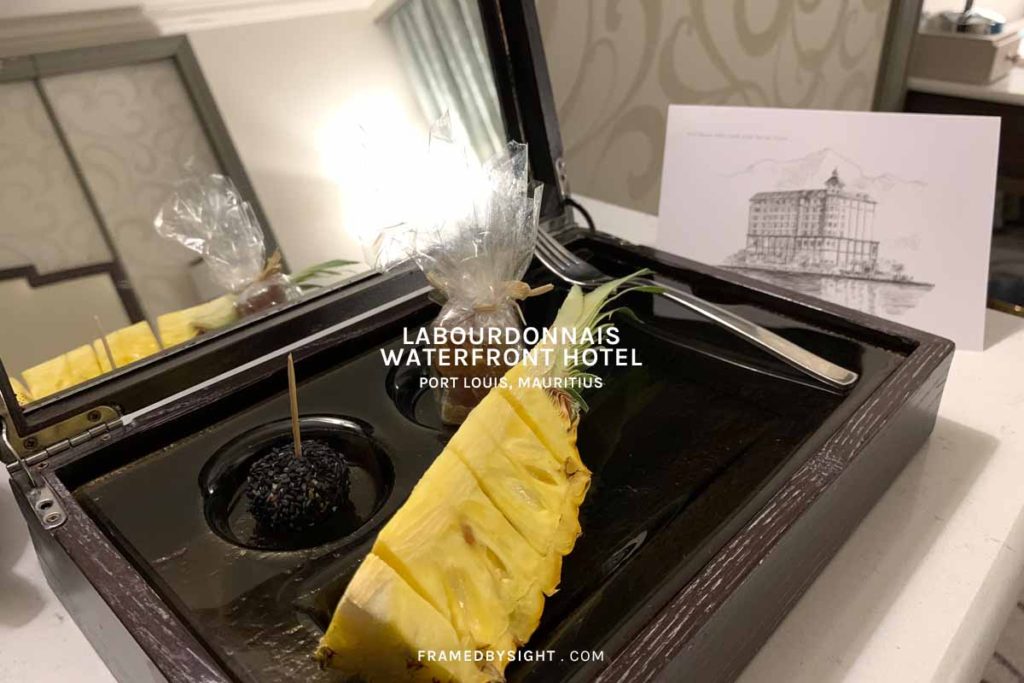 There was also a lovely welcome fruit and tasting treats in the room on arrival, which was such a nice surprise. And each night, turndown service was included, with a small boxed chocolate by the bed too.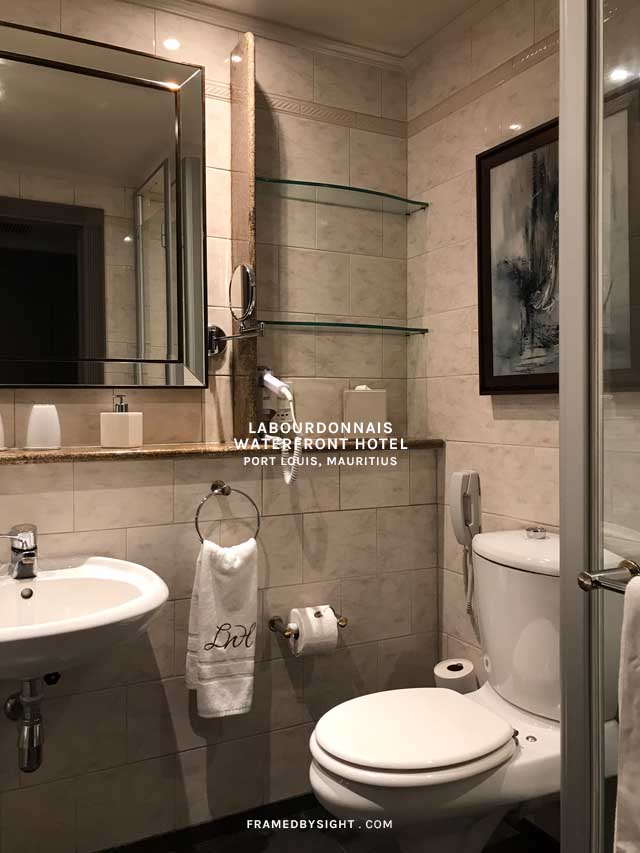 The bathroom was fairly spacious inside, stocked with Bvlgari amenities. I will be completely honest, and this did not wow me because I don't think all areas – in particular our shower – was renovated. By all means, it was still completely fine to use but it felt less updated than the rest of the room.
Did you know though, the Labourdonnais Waterfront Hotel was the world's first environmentally certified business hotel? Well done I say. Good to see there's a forward thinking and considerate business out there!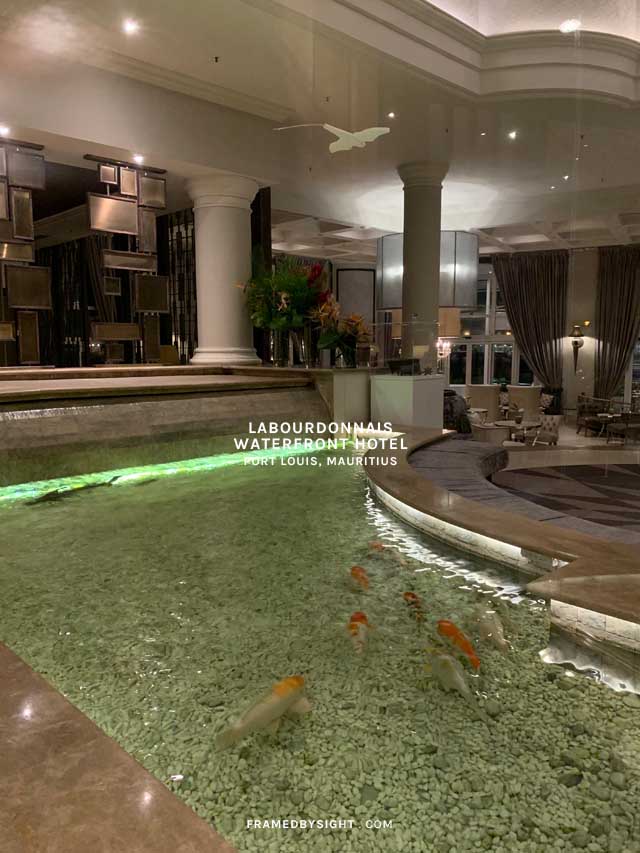 The main hotel entrance foyer was so grandeur. We loved the indoor koi and catfish pond surrounding the lift area – such a unique feature and a delight to watch when coming down the lifts and passing through this area.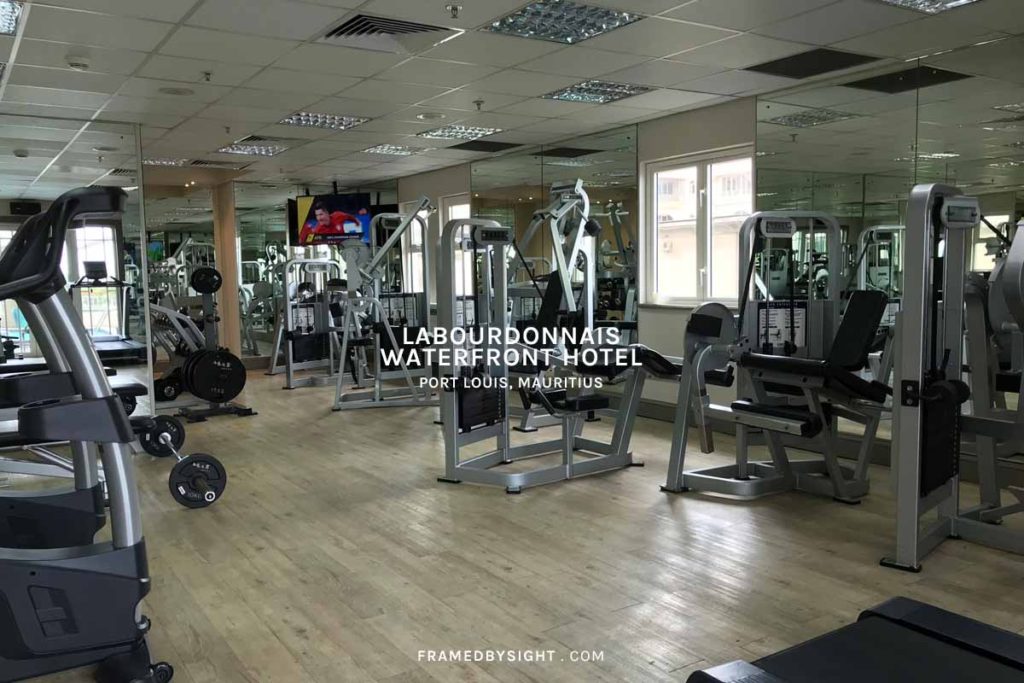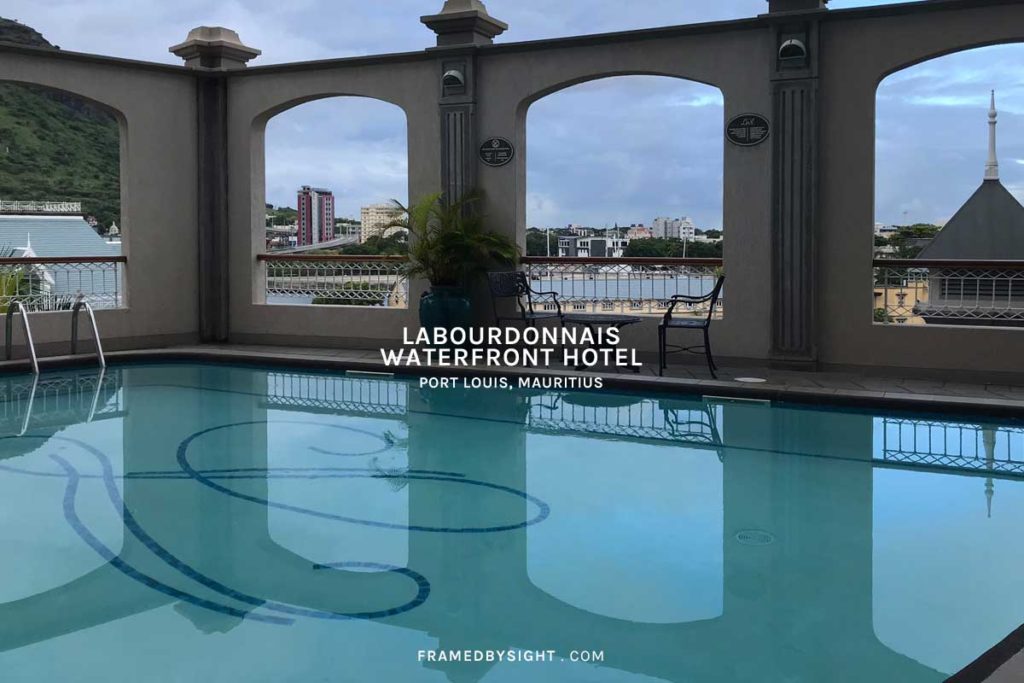 There's also a small gym & fitness room and an outdoor swimming pool.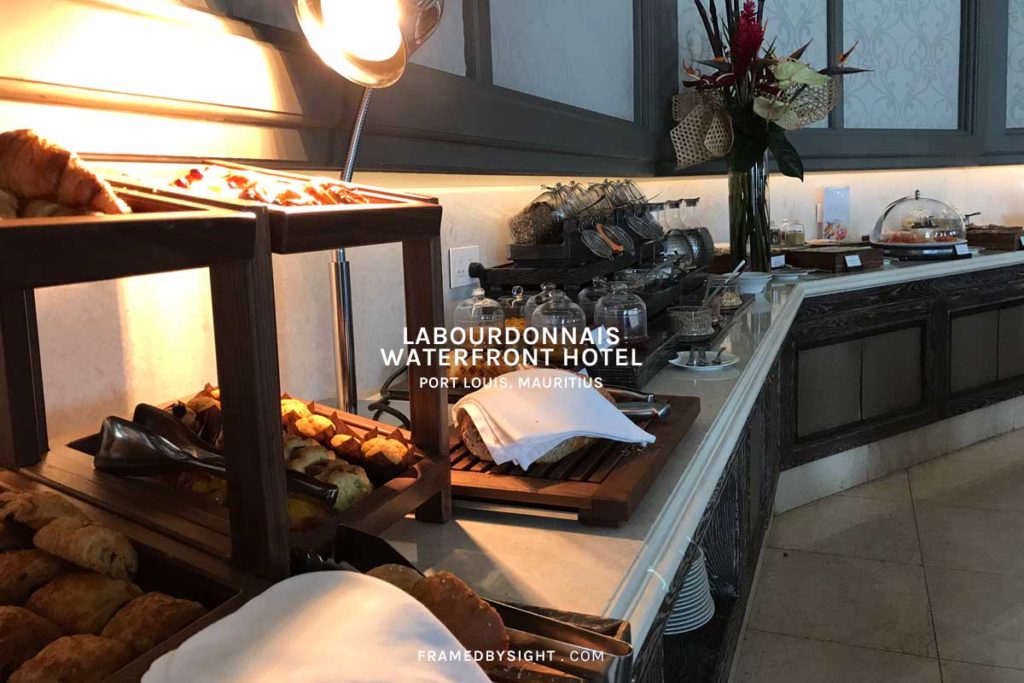 As we only stayed here for two nights (and this was our first time to Mauritius), we pre-purchased the room rate inclusive of half board dining, with beverages charged at an additional cost. To note, the half board offer is not permitted at their on-site Asian restaurant Yuzu, so we had breakfast and dinner at Brasserie Chic for the entire duration of our stay.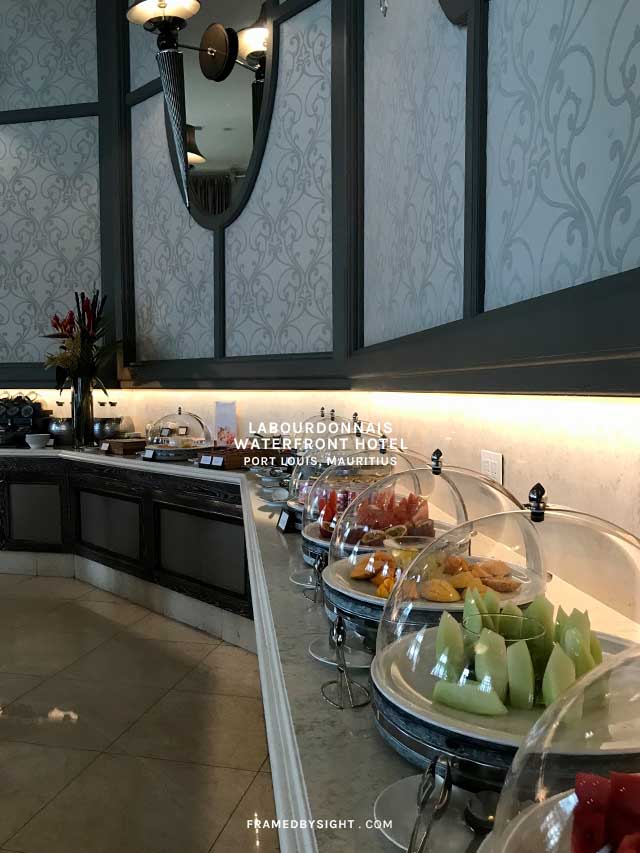 Sada introduced us to the initial breakfast menu and took the time to walk around the buffet area and talk through all the different food choices available – and boy there were plenty!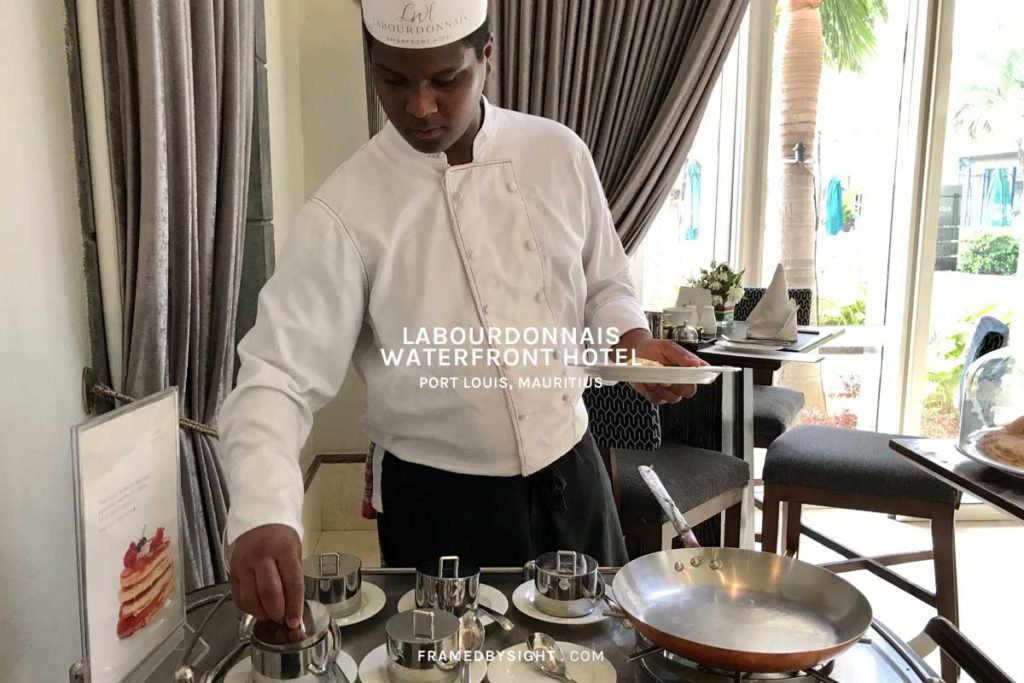 Expect fresh fruit, yoghurts, cured meats, cheeses, pastries, bread, crepes, pancakes, cereals, bircher muesli, Asian dumplings and curries. All the fresh fruit is well presented, sliced perfectly and covered with lids.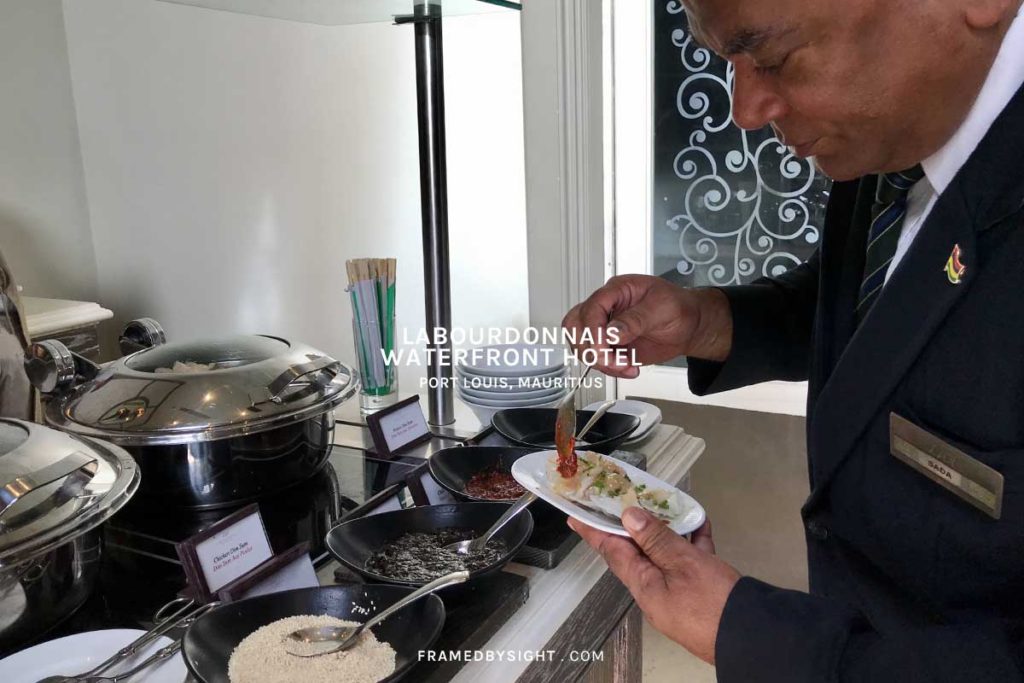 Sada even prepped my dumplings whilst talking to him and I learnt he's been working at this hotel for the last 20-years. It's so nice to hear when team members enjoy what they do and stay committed for such a long time.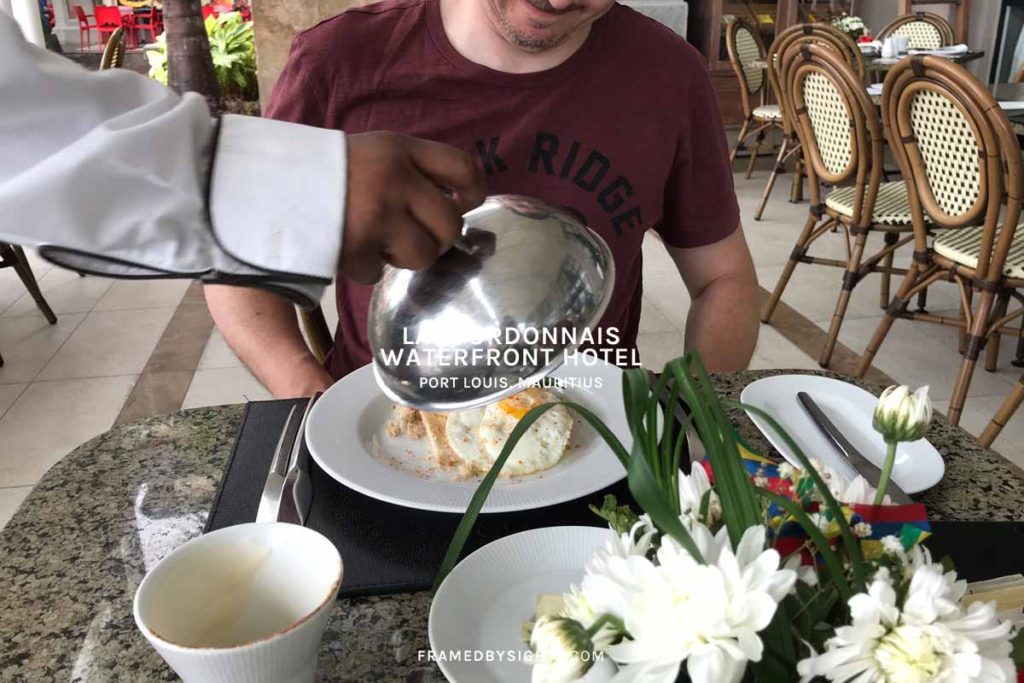 Sanjeev was always a friendly face during breakfast. He remembered my husband's order each breakfast (Tim doesn't stray far from eggs and bacon) and always willing to assist if needed. It's not common in Australia to have cloche food covers, so I always found it a treat when I was seeing food presented in this way. Loic too provided excellent service – I really enjoy it when team members are personable and ok to chat, even albeit brief.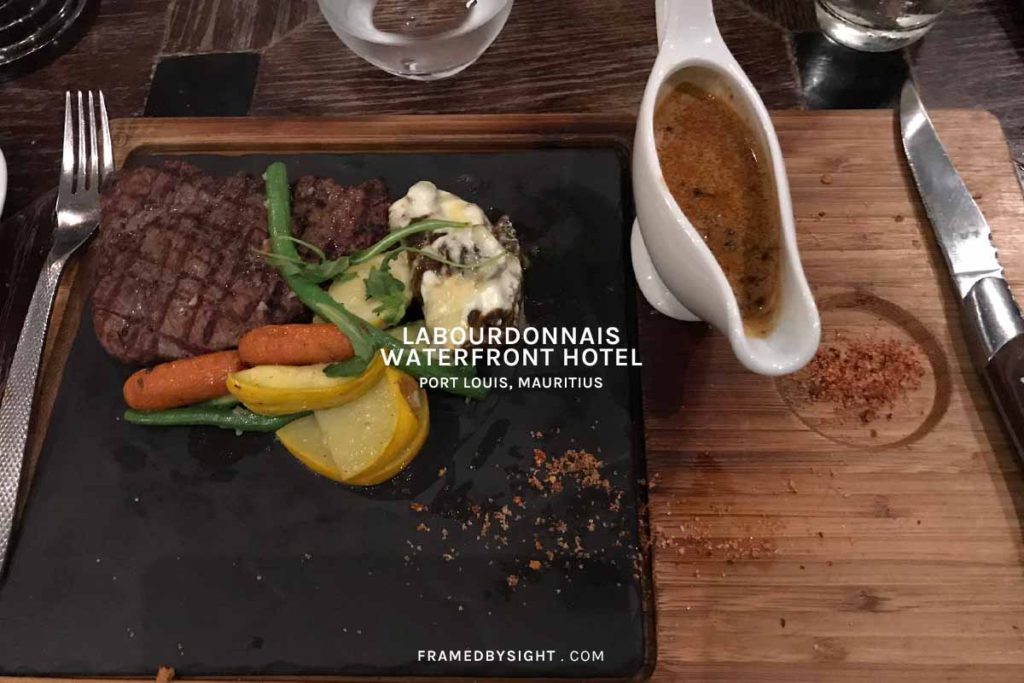 Dinner each night was flavoursome. We tried their buffet one evening, followed by a la carte the next night at Brasserie Chic. As we weren't stay long in Port Louis, it was an easy option to return to our room each day after exploring the city sights and then pop down stairs for dinner and drinks.
What I really enjoyed was that you had the option to dine indoors or outdoors (at their The Post Box Lounge Bar) of an evening, and still be in the heart of the Caudan waterfront.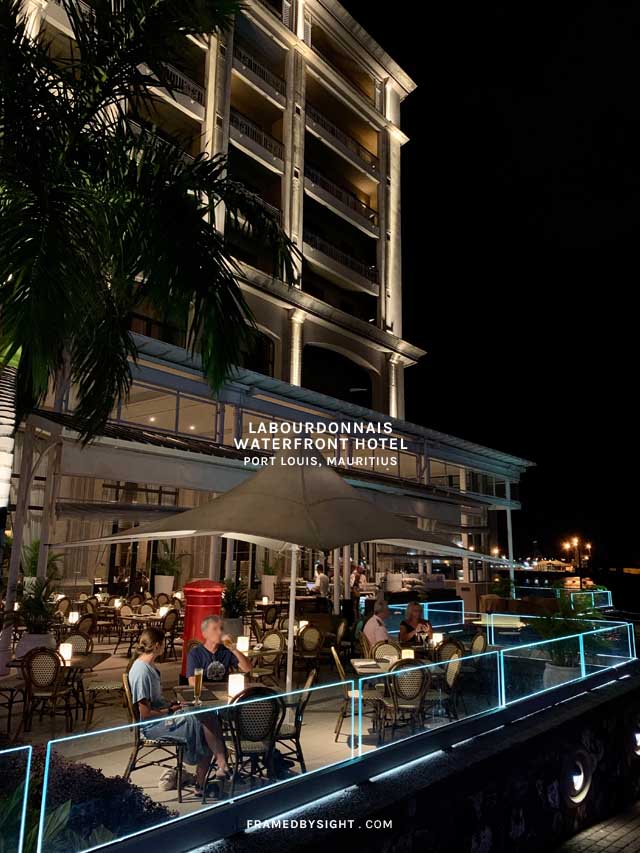 My only feedback is that there is a working post box as an added feature in their bar, but the hotel doesn't sell stamps! So, to send your postcard, you'll need to visit the local post office to first buy stamps, which is about a 10-minute walk away.
If you prefer to dine outside of the hotel, there are plenty of cafes and restaurants within close walking distance. The location is very central to the main shopping area of Port Louis and there's even a food court nearby too. Right out the front of the hotel is the Sunset Cafe and if you're after an evening dessert like ice-cream, Gelateria Love is just next door. And, if you're looking for a good coffee house, I'd highly recommend trying Cafe LUX Caudan which is right on the marina.
With over 160 retailers in the Caudan waterfront location, this is the perfect spot to search for a souvenir or gift, local crafts, or stroll through designer boutiques.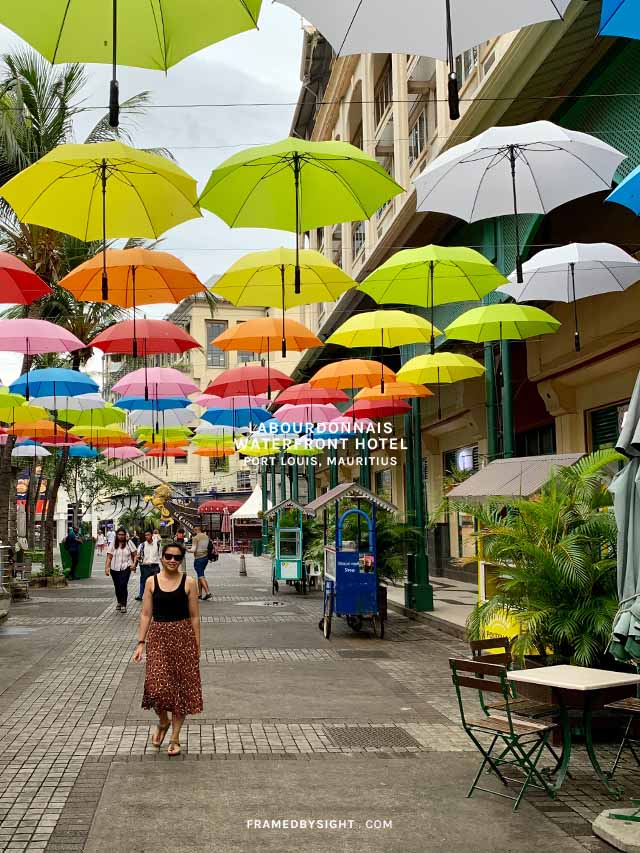 The Blue Penny Museum is also just around the corner from the Labourdonnais Waterfront Hotel as well as the casino, cinemas and the famed Umbrella Square.
Staying here for a few nights before heading to a beach resort on Mauritius, was such a great idea. If you're planning a cruise, or going to Reunion or Seychelles, or even considering a business trip to Mauritius, this is the most conveniently located hotel in the heart of Port Louis and a great stopover accommodation choice.
We were able to walk around and see the city, purchase a few needed items and then continue on to our next hotel and simply relax on a beach, with no other plans but to recharge. The Labourdonnais Waterfront Hotel offers excellent service throughout and is in the perfect location; at the Port Louis marina and in close proximity of nearly everything.
Address
Caudan Waterfront, Port Louis, Mauritius
6