Japan is known for its quirky accommodation and in Tokyo, Book and Bed Ikebukuro is definitely one of those accommodation experiences that is a must. Sleep doesn't have to be boring, this is a unique hostel stay in a bookshelf – yes, you read right, a bookshelf.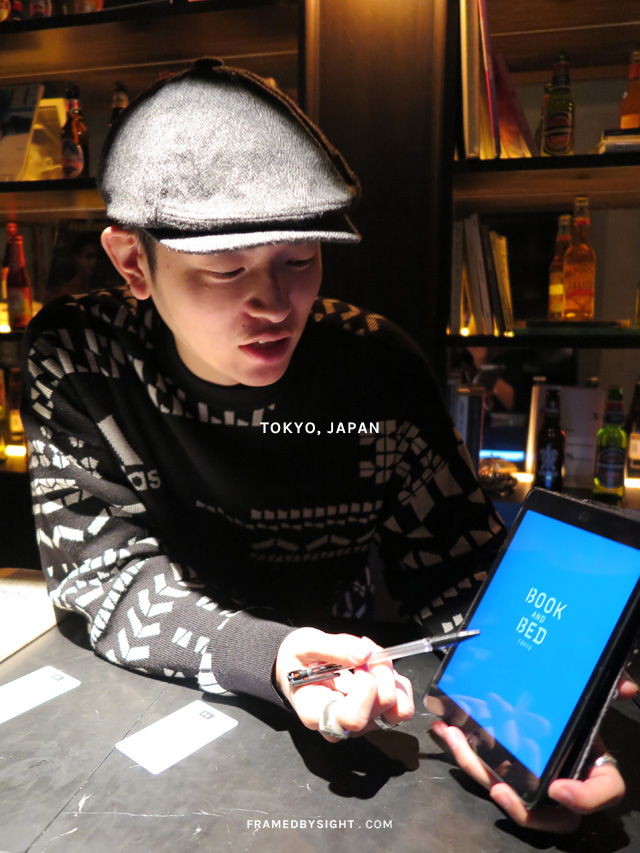 Let me be upfront from the get-go. This is not your average hotel stay – you're provided ear plugs on arrival for a reason and there are no hotel creature comforts such as a glorified buffet breakfast or luxurious bedding.
But what this stay does bring, is a unique experience to meet others alike, try accommodation that is something different, in an affordable, central Tokyo location (less than a 1-minute walk from Ikebukuro train station), plus the opportunity to flick through a book or magazine in what feels like an everyday bookshop. Confused? It might seem like a strange proposition at first, but overall, I did actually enjoy my stay. The books aren't for sale, but they are available to be perused – both English and Japanese novels, travel guide books and current magazine publications too.

Upon exiting the elevator, we were welcomed by awesome people manning the front desk reception. Ryu (just like the name from street fighter), Hazuki (named after the month of August), and later during our stay Moeki (named after spring and hope). Really cool people and more than just friendly faces – willing to take a seat, chat when they had time, and give us great local foodie recommendations across the different cities we were intending to visit – with Tokyo being our first stop.

Common areas are all shared. There's a large, sofa lounge space, power points located at the base of some of the seated areas, in addition to a small kitchenette area. Plus, free Wi-Fi throughout.
The shower areas were good, individual shower bays and toilets each with lockable doors.
The washroom area is an open space, equipped with hair dryers. Plus, towels are available for rental if required.
Wondering how the sleeping arrangements work? There are two types of beds available; a Standard bed is 120cm x 200cm in size, whilst a Compact bed is 90cm x 200cm (cheaper).
In addition to this, there's two different areas to stay; the Bookshelf beds are facing the common areas with the opportunity to sleep behind the actual bookshelf – similar to the stay I experienced. Whilst the Bunk stays are closer to the bathroom areas and the beds look stacked side-by-side (cheaper).
If you have room in your budget, I'd recommend to stay in the Bookshelf beds as I would think this was the quieter end of a morning and evening and they felt a fraction more spacious in-between each of the sleeping quarters.
Whilst staying in a Standard Bookshelf bed, I actually didn't mind it at all. You're provided bedding on arrival which you must arrange yourself; a pillow cover, two flat sheets and an added doona.
Within your sleeping area, there's a reading lamp, two hangers, a power point, a small safe for valuables and a pair of slippers to use during your stay. Your luggage is stored at the bottom of the main bookshelf itself which is covered by a sliding curtain. The bedding is fairly thin, about 2-inches is my guess, somewhat common in Japan if staying on futons. I found I could sit up completely fine with a bit of room above my head, and likewise, lying down, it wasn't cramped in size.
The overall sleeping arrangements was bigger than expected however, do keep in mind if you're a light sleeper, this possibly isn't the right stay for you. Your area is only covered by a sliding curtain with an eyelet to close it in, so you do hear everything at all hours of the day.
Most people sleep and shower at respectful hours, however, we did have someone arrive from a late night out after 4am. I clearly remember it woke me up as I looked at my phone to figure out what time it was – 4.37am to be exact. This person ruffled through their hard luggage suitcase and a bundle of plastic bags, and following, was in an upper Bookshelf bed, so the person climbed up the ladder ensuring everyone woke up in the process.
At times I could sense someone was on the other side of my curtain (perusing the bookshelf) and in the beginning, I kept peeking through a slither in the curtain to check who was there. But over time, you soon forget that people are on the other side.
The main sleeping quarters is only accessible by swipe card, past the reception area entrance as you exit the lift. You can move between level 7 and level 8 stays – but I didn't really find a reason to go to the other level as our floor had the main amenities. There aren't any formal suitcase or baggage lockers, so it's with the honesty of others that your bags stay safe at the base of your bookshelf.
If you're travelling with friends, happy to meet people, looking for affordable Tokyo accommodation within close proximity to Ikebukuro local and JR train station lines, then this could be the place for you. There's plenty of nearby shops and eateries, all within walking distance of your accommodation and both a convenience store and your morning Starbucks coffee is literally just around the corner.
Address
Book and Bed Ikebukuro, Tokyo
1-17-7, Lumiere buillding 7, 8th floor, Nishi Ikebukuro, Toshima-ku Tokyo, Japan 171-0021
9