The Reef Retreat Palm Cove is affordable accommodation, centrally located, and walking distance from local cafes, restaurants and the long stretch of Queensland's idyllic coastal beaches. It's a great base to explore both Cairns, Port Douglas and everything in between, with complimentary undercover parking available on-site for those driving around the area. To note, parking is not allocated per room, so it is upon availability and per vacant spot that you can find, with entry on Amphora Street.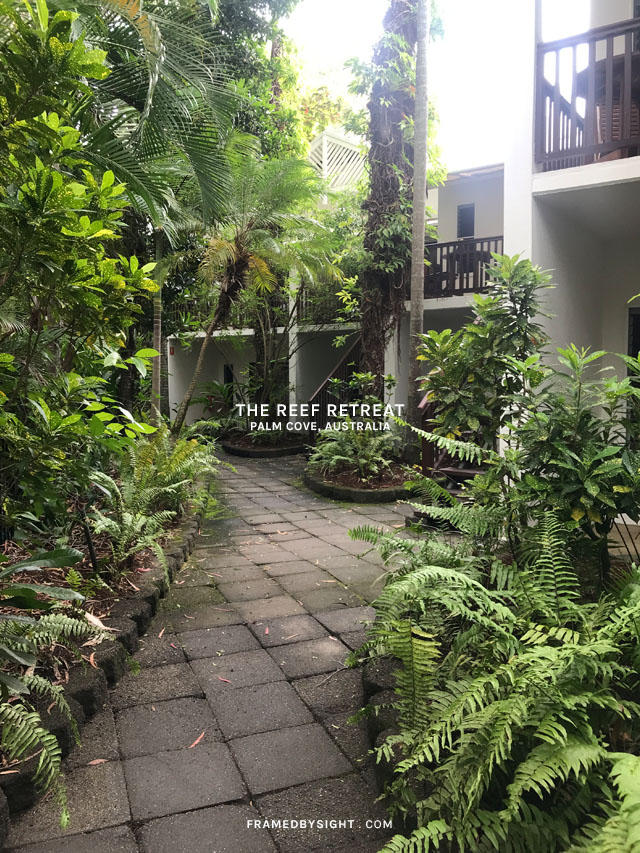 The ambiance of this boutique hotel is like walking into a mini tropical rainforest; tall trees all around, and you hear the birds sing every morning when you wake. Choose from Studio Suites, or One-, Two- and Three- bedroom apartments with kitchen facilities and spacious living arrangements throughout.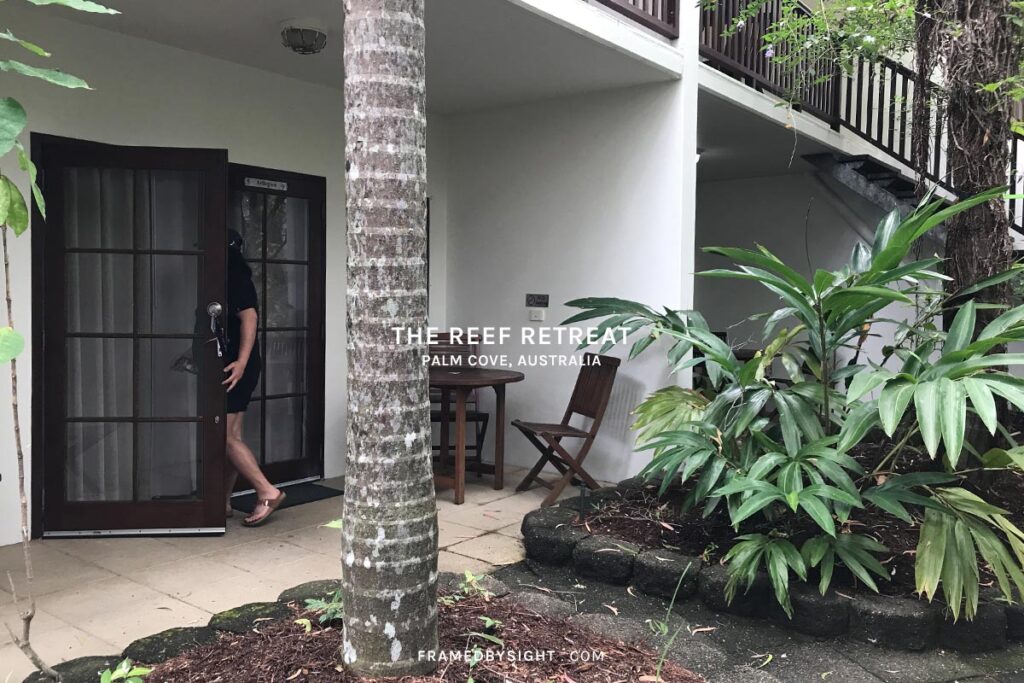 To be completely honest, we were pleasantly surprised with our stay – in a good way – and I'd highly recommend staying here. We were booked into a Studio Suite, and from photos that we had seen online, we thought the rooms looked smaller, but for a five night stay, the Studio Suite was much to our delight, and perfect for two.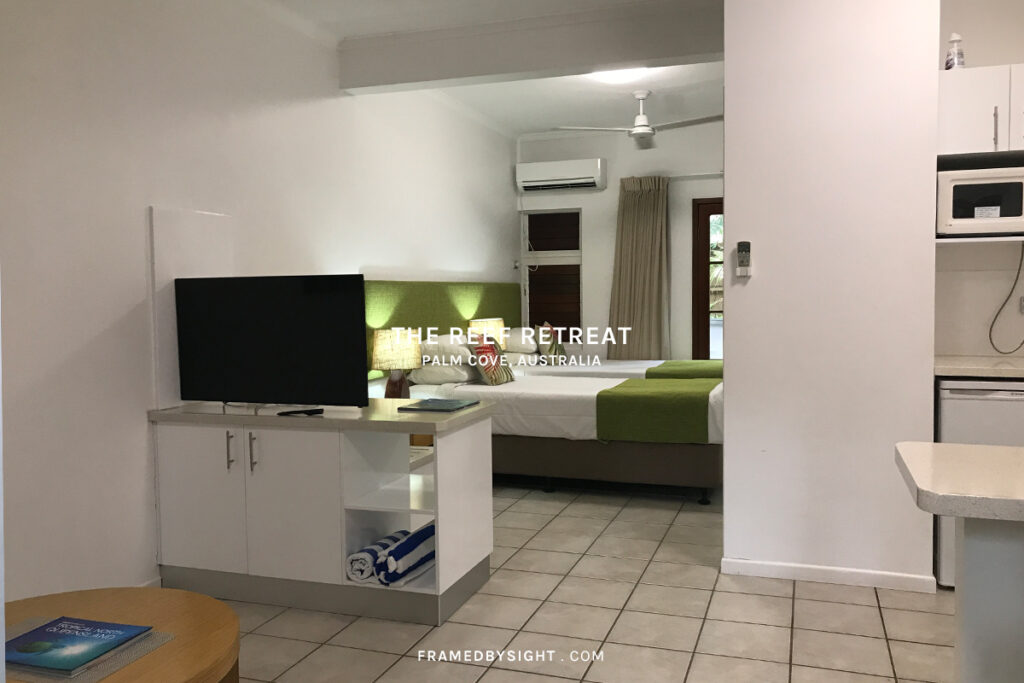 We didn't actively stay in our rooms though. We ate out for most meals except breakfast, sat by the beach, or went for leisurely strolls each day to the pier and along Williams Esplanade, dining at the cosy beachfront restaurants.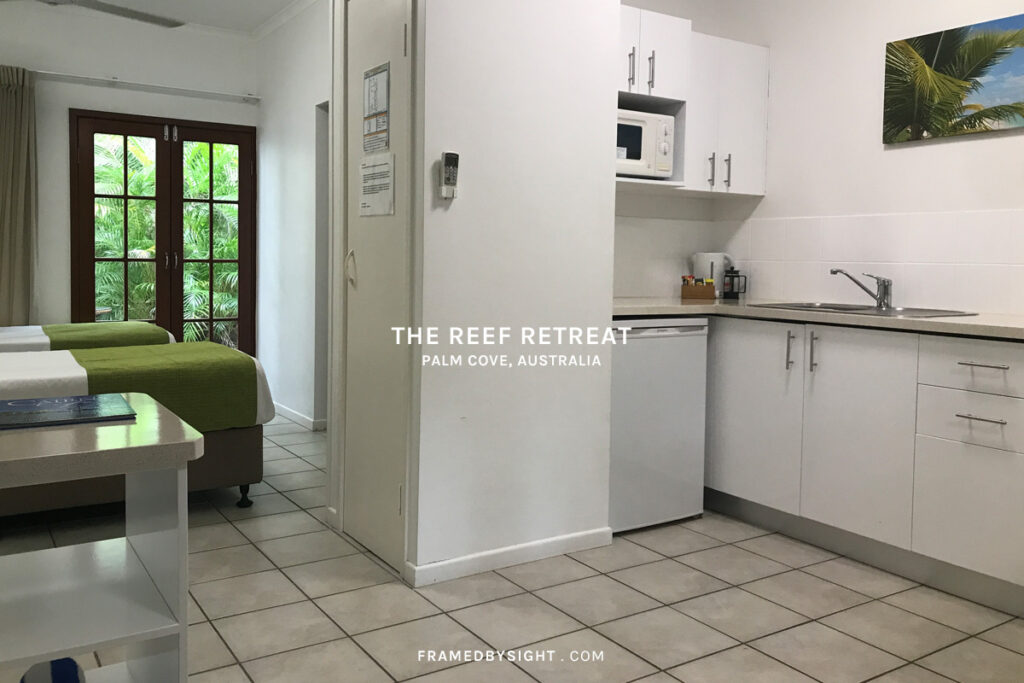 The Studio Suite itself was located on the Ground Floor, with a view over the garden. We had two terrace areas; one at the front of the studio when you first enter, and another at the rear, both with dining tables available for two. Wi-Fi is complimentary, and there's a split system air-conditioning unit mounted on the wall above the beds, plus ceiling fans throughout. The kitchen is well equipped with a mini fridge, tea & coffee supplied, and a full set of cutlery available.
There is a pool and spa area, BBQ cooking facilities, and a coin-operated guest laundry (additional cost) available too.
The Reef Retreat is less than a 1-minute walk to Palm Beach, Kushi Yakitori Bar & Japanese Restaurant (which I'd highly recommend to book and dine at), and Pete's Place serving fish and chips, which also has a small grocery store within.
Being on QLD's coast, expect tropical weather, and I'd suggest to embrace the outdoors as much as you can. The room included beach towels in addition to bath towels, so it was quite easy to head to the beach every now and then, enjoying the sun. The designated beach swimming area is about a 5-minute walk further down the beach, but if you're after just some sun and relaxation, this is literally a stone's throw away from your accommodation.
What I did love about our stay at the Reef Retreat Palm Cove, is it's managed by two lovely people – Jim & Joanne. Being a boutique property, they were hands on for all of our requests. On one of the mornings, there was intermittent downpours, and whilst watching the rain from our front terrace, we then saw them dropping umbrellas to each of the apartments. Whilst some may not think this is anything major, it was a nice touch to see, as like ourselves, we hadn't packed for a rainy day, so it was handy they were providing this without question.
Address
The Reef Retreat
10-14 Harpa Street, Palm Cove, Queensland Australia 4879
15