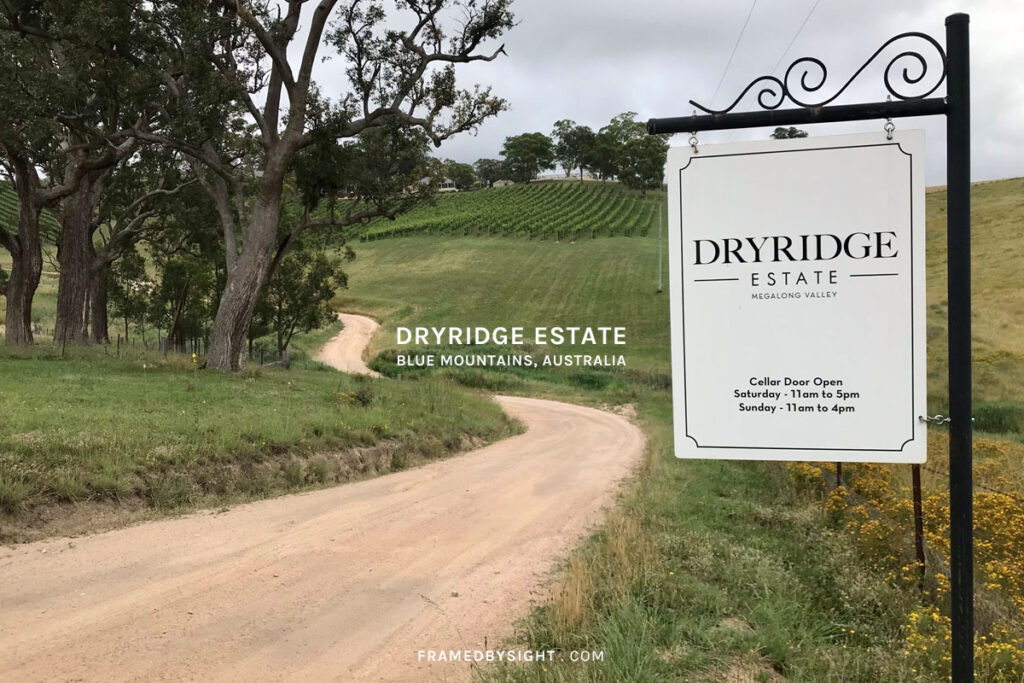 Located in the Megalong Valley and just a 20-minute drive from Katoomba or only two hours from Sydney, the Dryridge Estate is easy to find, with ample signage available after turning off from Megalong Road. Before arriving at the winery, there is a 2km stretch of unsealed road (a little bumpy at times), and one you'll need to drive slowly along before reaching the estate.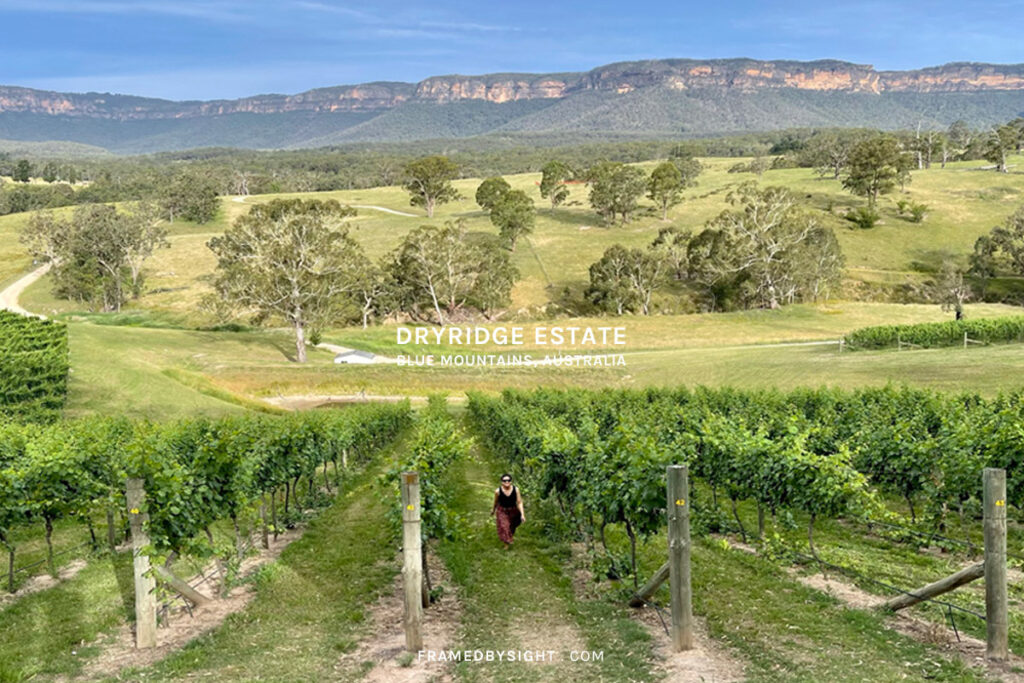 And once you arrive, oh my… you will absolutely love your stay.. The secret is out about staying at the beautiful Sunrise Lodge, in the heart of the Dryridge Estate, surrounded by the breathtaking views of the Blue Mountains National Park. We booked our accommodation four months in advance, and one which I'd say was well worth the wait.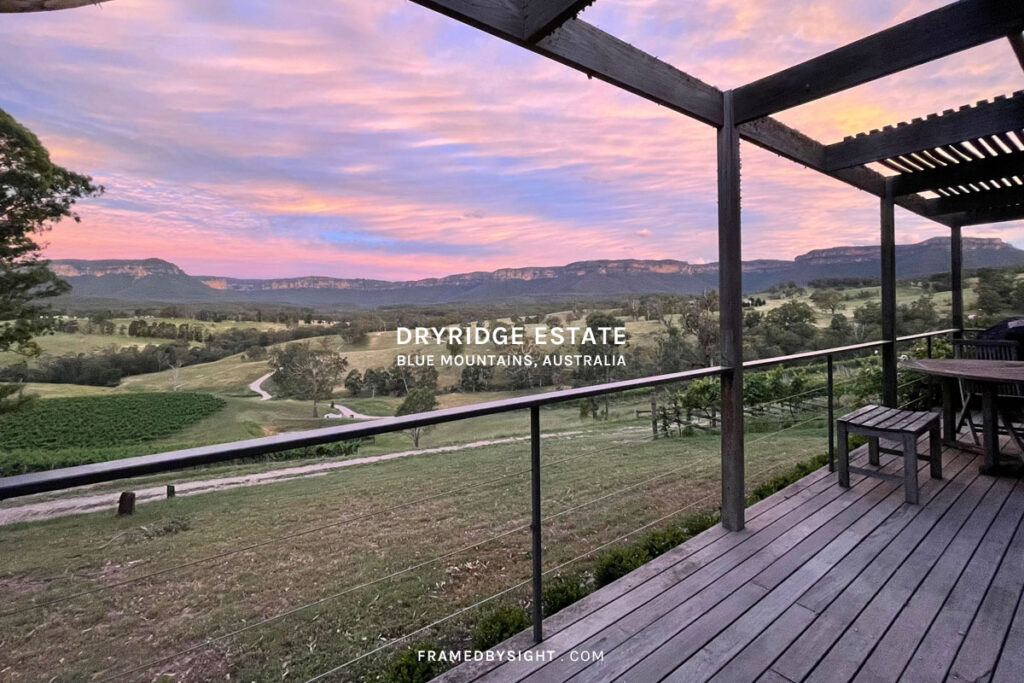 As you settle in to your cabin, what a phenomenal sight – insert those love heart eyes emoji. It is absolutely spectacular when staying in the Sunrise Lodge accommodation. Imagine a private cabin located on the high side of a hill, with views over the vineyards and a magnificent mountain backdrop all around. Lets just say… the photos are real. We were in true awe of the deck – it looked just like the photos listed, and the views were phenomenal at all different times of the day.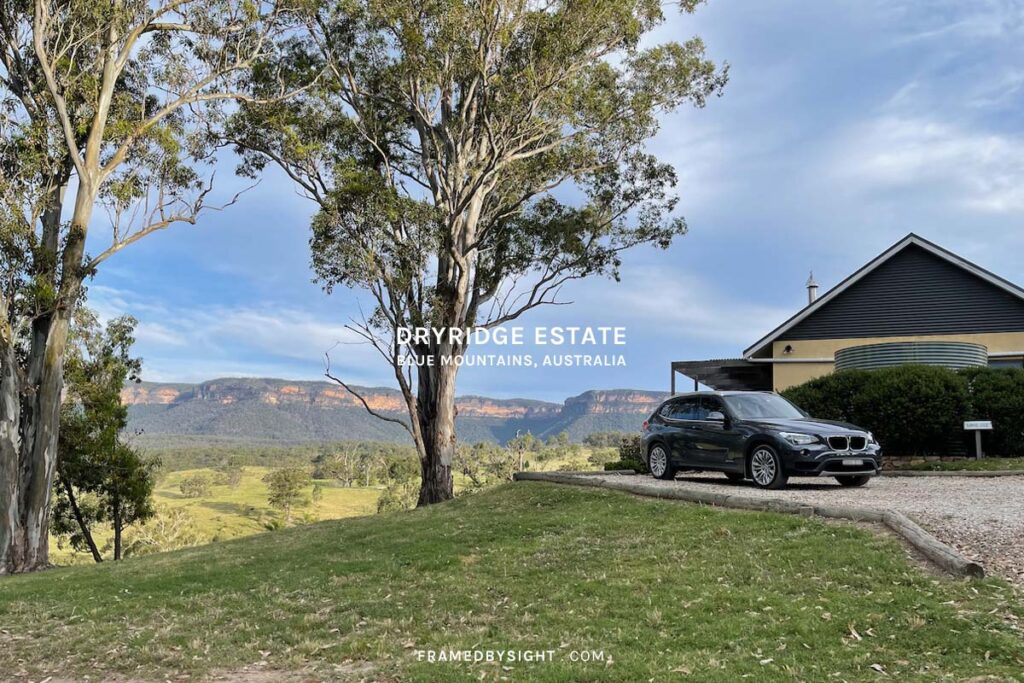 When we first arrived at the signposted Sunrise Lodge, parking was available right next to our cabin. You'll notice the cicadas buzzing through the trees, but once you're inside your accommodation, the noise simply fades into the distance.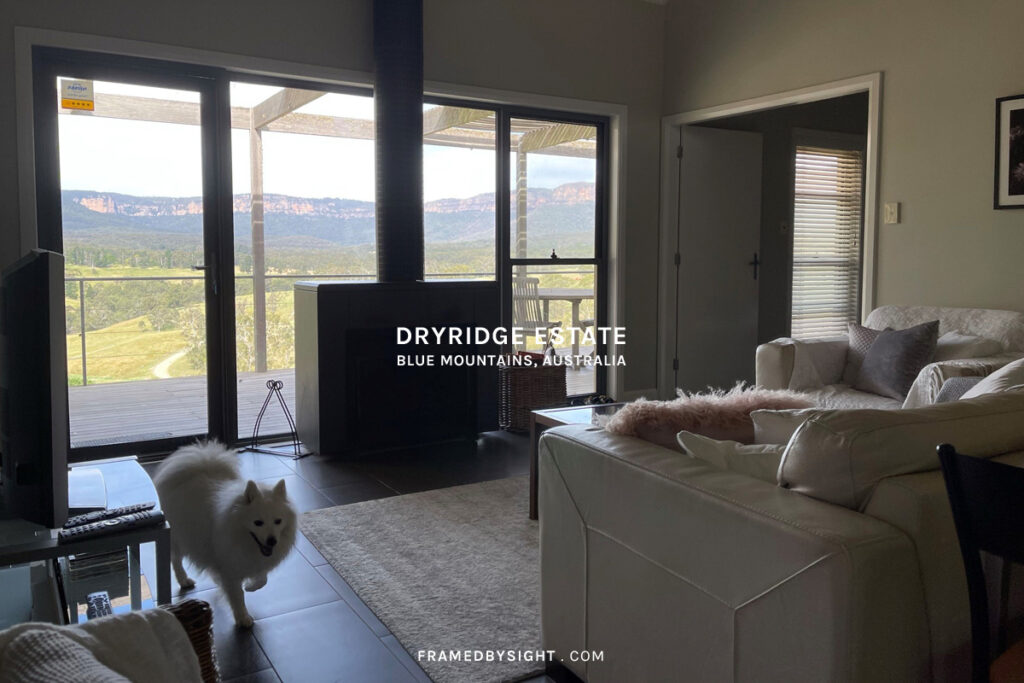 The owners weren't on-site when we first arrived, but with simple instructions emailed in advance and a lock box found on the entrance wall, we let ourselves in, ready for the relaxing weekend ahead.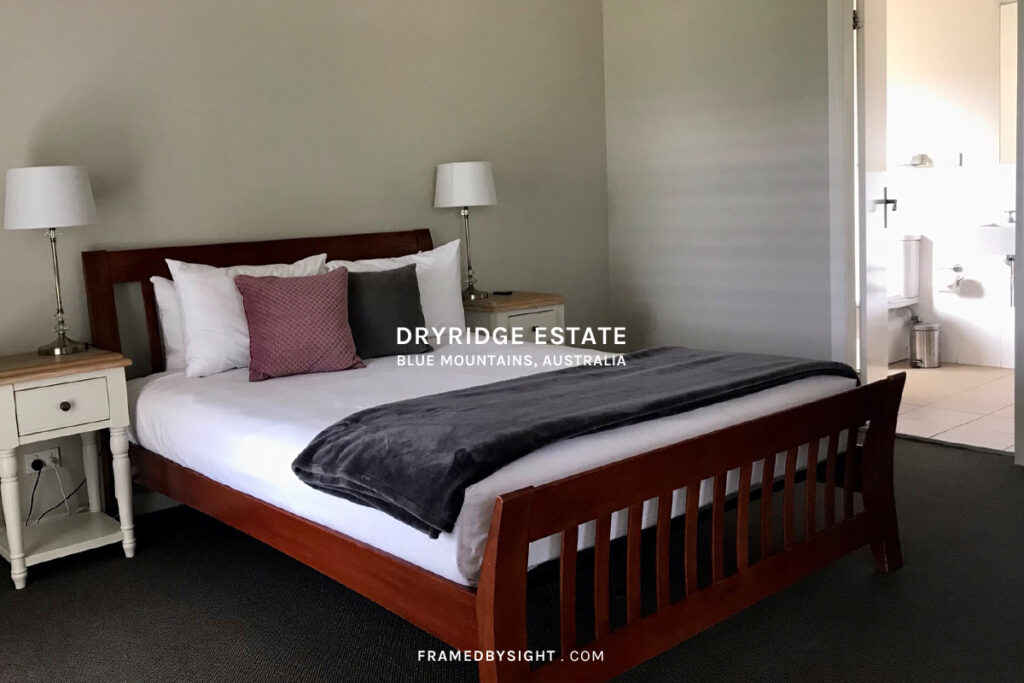 The Sunrise Lodge is spacious – perfect for two couples, a group of friends or a family of four, with the added bonus of being dog friendly accommodation in such a scenic location in the Blue Mountains. The 2-bedroom cabin includes two bathrooms (towels and bed linen provided), a relaxing spa in the master bedroom, a decent sized kitchen and living area, and ceiling fans throughout.
I was quite impressed with the kitchen. It was stocked with basic condiments including olive oil, salt, pepper, and a coffee pod machine, plus decent crockery, cutlery, pots and pans. Oh and a very fancy toaster to use too. Dryridge Estate wines were also featured in the cabin, and charged on consumption.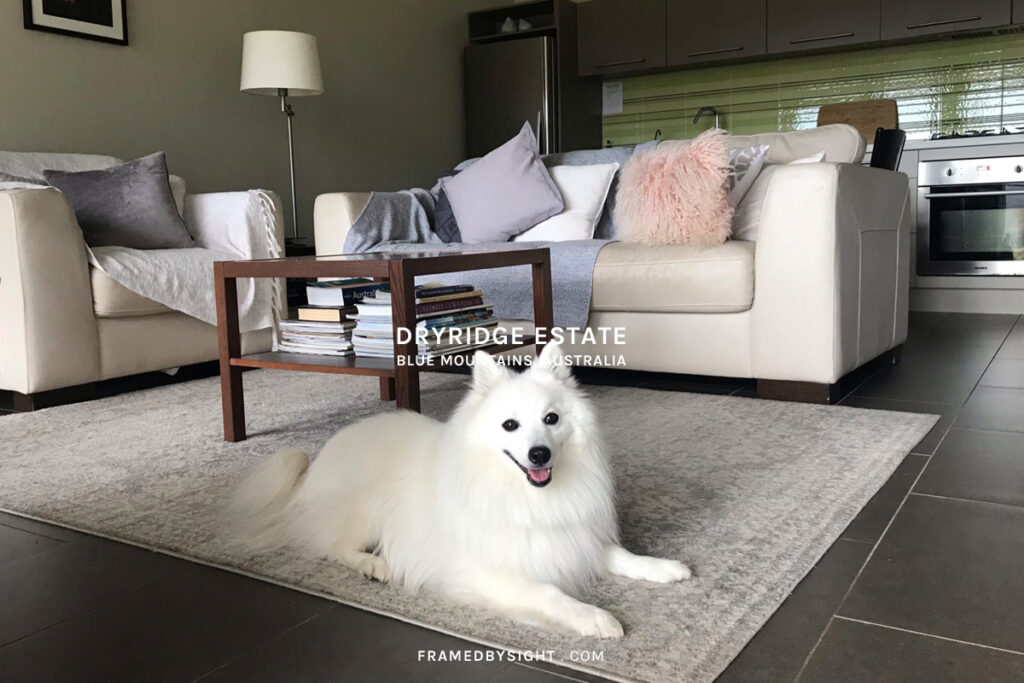 When we decided to stay at the Dryridge Estate, we were aware of its secluded location, so we picked up cooking supplies prior to arriving. We didn't have big plans to leave the cabin during our stay and simply wanted an R&R weekend away with our dog. You'll have access to Foxtel in your accommodation, board games including Pictionary, Twister and a box of playing cards, and full use of a toasty fireplace – perfect for the cold and winter months.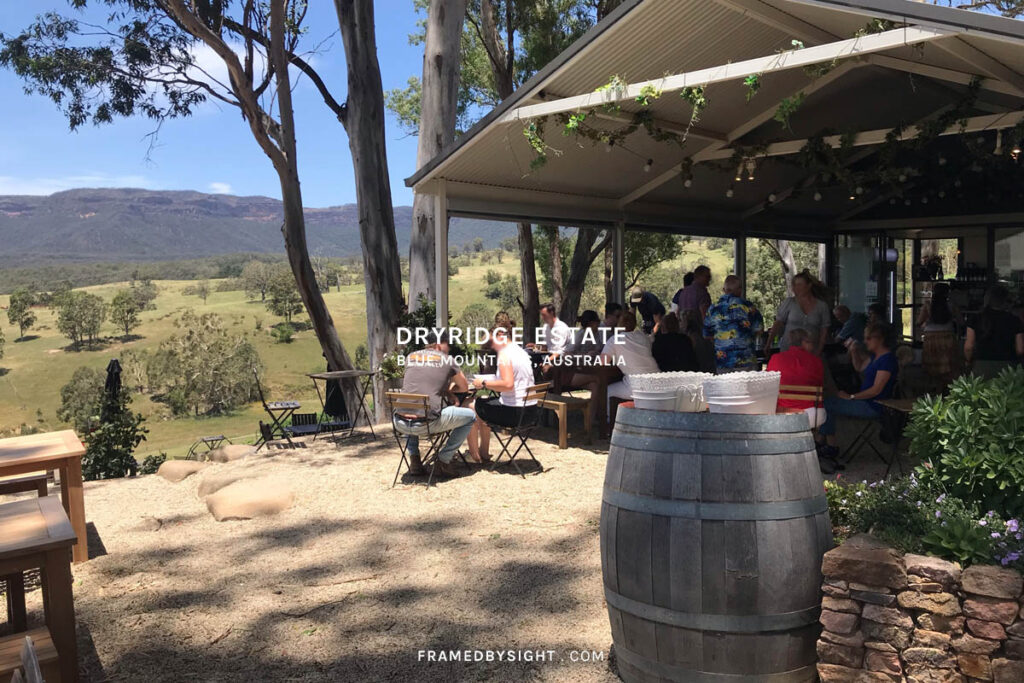 The added bonus when staying during a weekend, was the Dryridge Estate Cellar Door was also open. Less than a 30-second walk from the Sunrise Lodge, with beautiful views over the wineries, why wouldn't you book yourselves in to try the cellar door experience, accompanied by a delicious cheese & charcuterie board?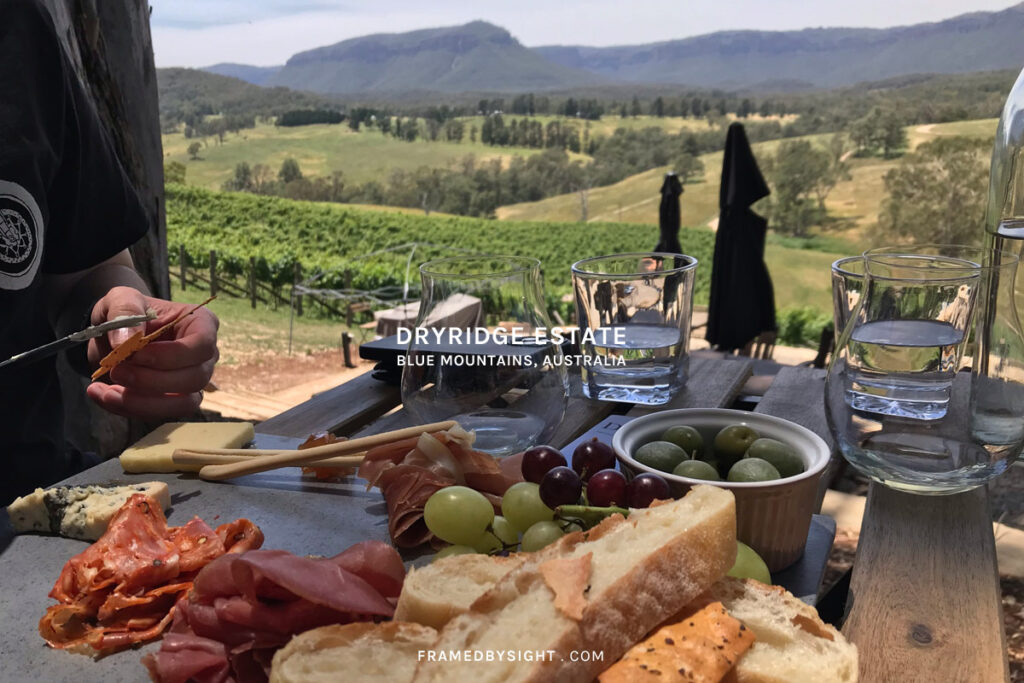 Enjoy a wine tasting experience at A$10 per person, plus A$35 for a board prepared for two which included 3 cheeses, 3 cold meats, quince paste and olives, with fresh, locally made breads. We're lucky the Dryridge Estate Cellar Door is dog friendly, so our boy Kenji joined us here too.
My favourite wine during the tasting was the 2017 Francoise Rosé – more so for it's light, refreshing flavours. We happily purchased a bottle to bring home afterwards, plus a box of delicious bite-sized Whisk & Pin chocolate mud cookies also available for sale – if you have a sweet tooth, these are the ones to try… they are absolutely delicious.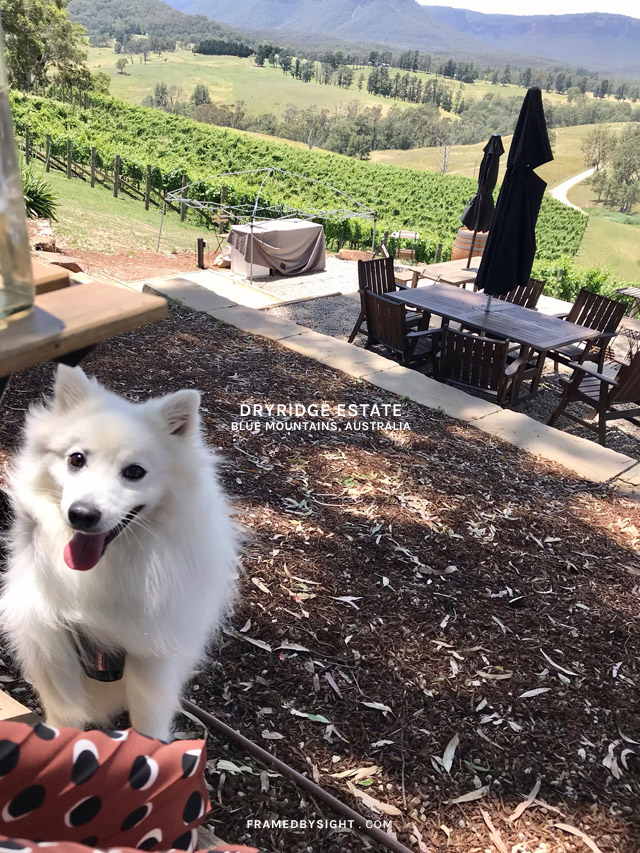 For those who enjoy hikes, the Six Foot Track passes through the Dryridge Estate and I'd highly recommend stopping by the Dryridge Estate Cellar Door to simply take in the views, and enjoy a short break. It's such a beautiful spot, and something not to be missed if you're in the area.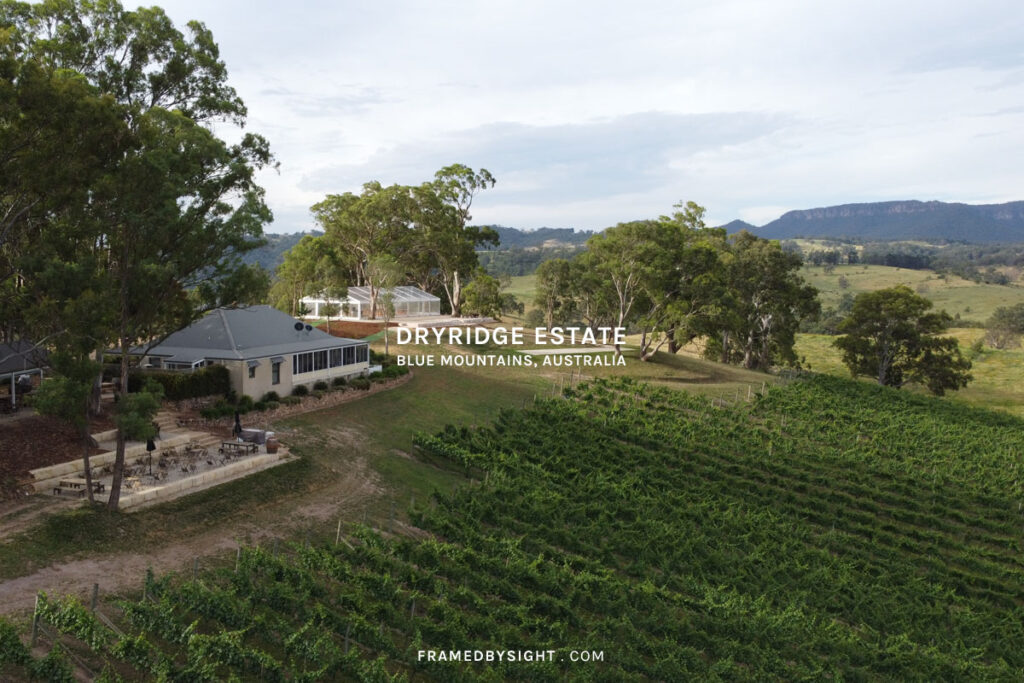 Whilst staying at the Dryridge Estate, there is a second accommodation option on-site; The Homestead, which can comfortably suit up to six, or eight inclusive of a double fold out bed. From the deck of the Sunrise Lodge, you can see The Homestead at a distance, but there is minimal interaction between the two properties.
And for those considering a wedding reception here, Dryridge Estate have a clear roof marquee permanently set-up on-site – which I'd say would be one of the most gorgeous boutique wedding venues I could think of.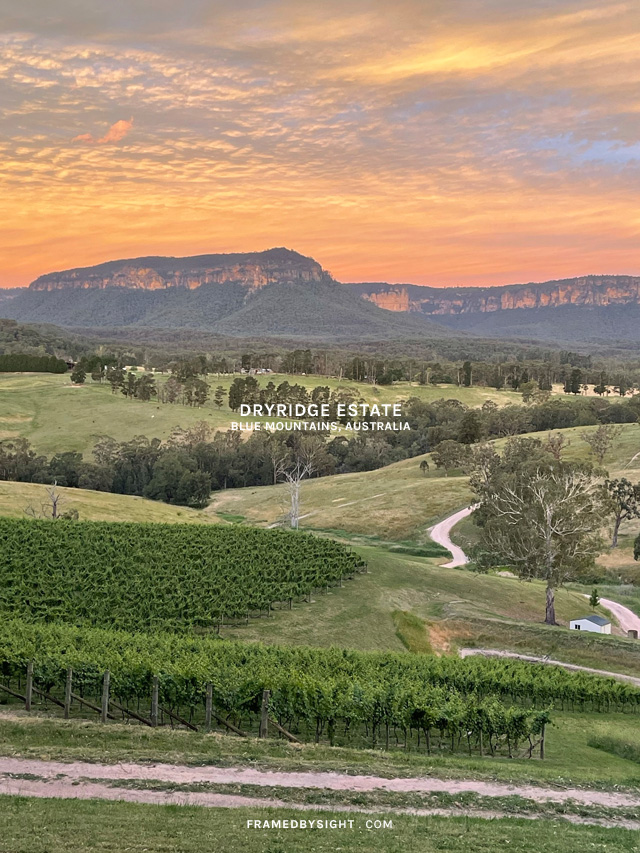 Our weekend included local wines… and relaxing. That's all we did, enjoyed the views, watched the weather change throughout our stay, and went on long afternoon walks throughout the vineyards. I felt like we were in our own little paradise for the weekend. We didn't interact with any other guests during our stay, other than when we popped in to the Cellar Door. And once their doors closed for the day and the diners left, you rarely heard or saw others staying on the property.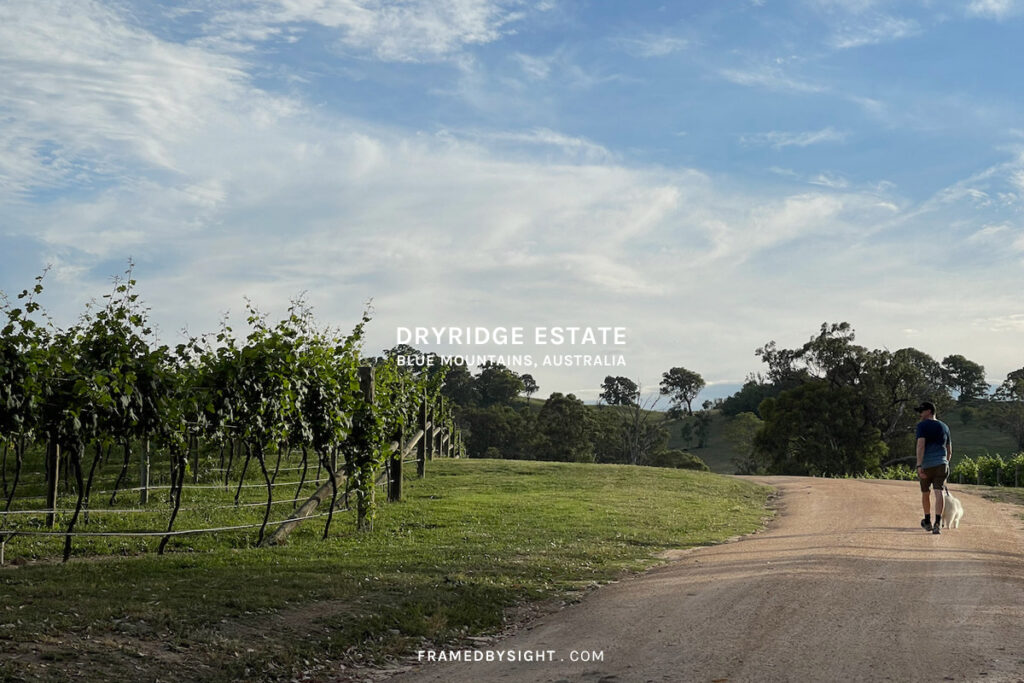 If you're wanting to step out to dine close by, I'd recommend The Megalong Valley Tearooms, less than a 10-minute drive away which is also dog friendly. Open daily until 3.30pm, serving breakfast, brunch, lunch, and afternoon tea.
Outside of the Megalong Valley, the next nearest town for dining is towards the Katoomba area. We opted to stay in for our weekender, such a beautiful location that we had no reason to leave. All I'd suggest is for you to plan your meals in advance, otherwise pack your bags and get ready for an amazing, relaxing weekend away at the Dryridge Estate.
Address
The Dryridge Estate
The Dryridge Estate Cellar Door
226 Aspinall Road, Megalong Valley New South Wales, Australia 2785
35