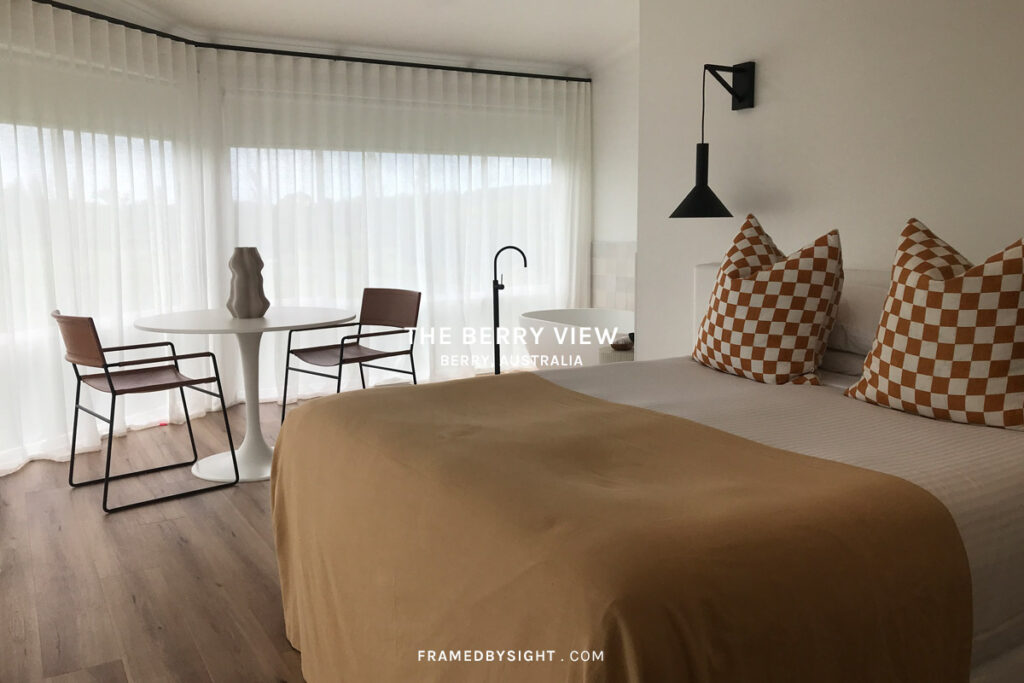 Located on Queen Street and less than an 8-minute walk to the heart of Berry, you'll find The Berry View boutique accommodation. Once an old motel in the 1950s, The Berry View currently offers 13 renovated rooms, bursting with new modern touches throughout, and your choice of bedding options; Standard or Deluxe Queen Rooms, Family Rooms, a Classic Room, or even a Deluxe Couples Suite.
The Berry View location is an easy, flat walk in to town, and centrally located too. All you need to do is park your car right in-front of the accommodation actually, and then walk to most places around town during the rest of your stay.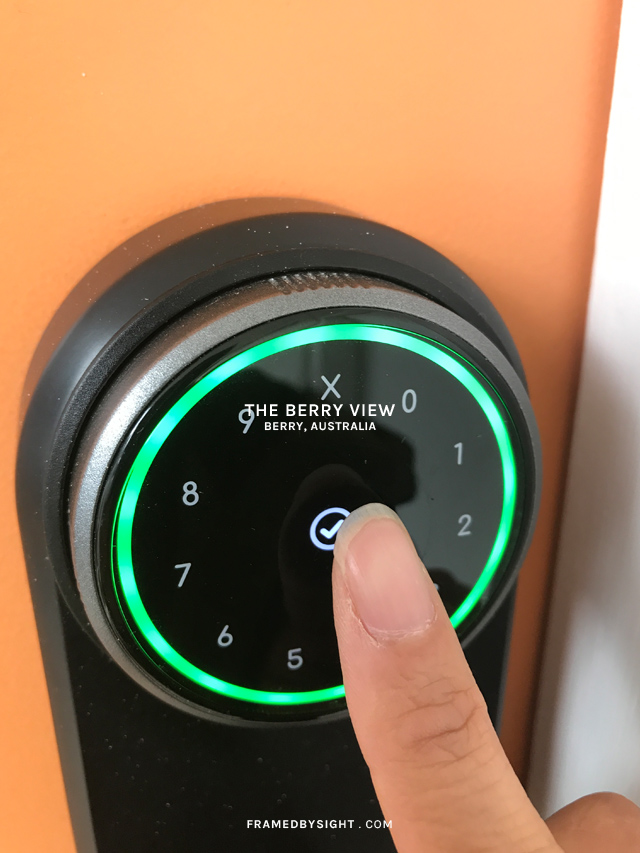 Using Smart-Lock technology, the check-in process to our room was seamless. I was sent a text message (on the day of check-in) with the door pin code. Reception services are available if required, but we proceeded straight from our car to the room, with contactless check-in and check-out. It's hard to miss the bright, individual orange room doors when you first arrive, so you know you've parked at the right place (in case you've missed actual The Berry View signage beforehand). As we enter the door pin code and open our room door, you're instantly drawn to the pops of orange colour all around.
We booked the Deluxe Couples Suite, a perfect room for a girls' weekend away for two. It was clean and sparkling new, exactly what we were longing for. Minimalistic, bright, and inviting, just like the photos online – my initial feels when we first saw where we were staying.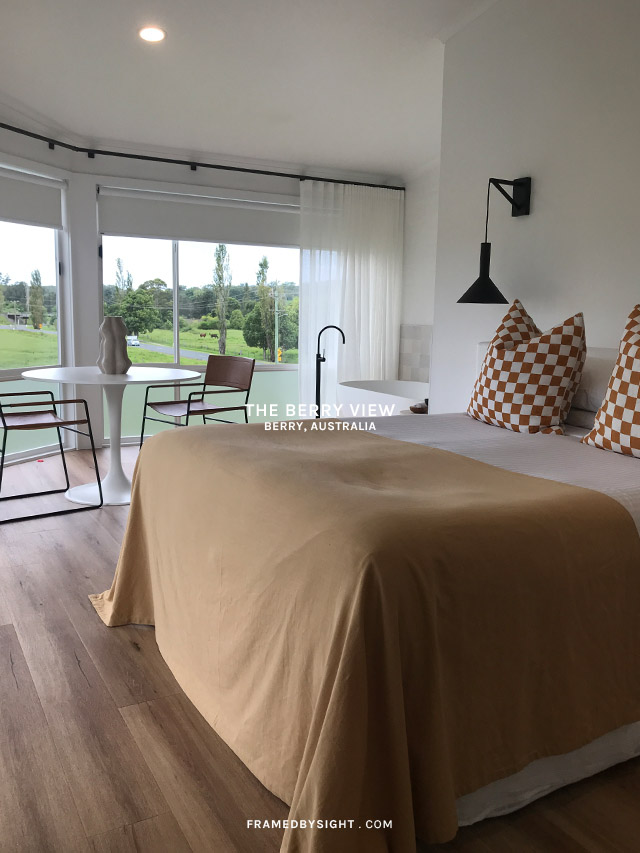 The air conditioning was switched on, the sheer curtains were initially drawn closed, and the electric/automated blinds were raised, so you could see glimpses of greenery through the bright, large windows.
The room itself felt spacious, easy to move about in, with a freestanding bathtub tucked in the corner, and a separate bathroom across the way. The queen bed was so soft and comfy to laze about in too. The adjoining bedside table had easy access to the light switch – so you didn't have to roll out of bed for it – and power points also within arms' reach.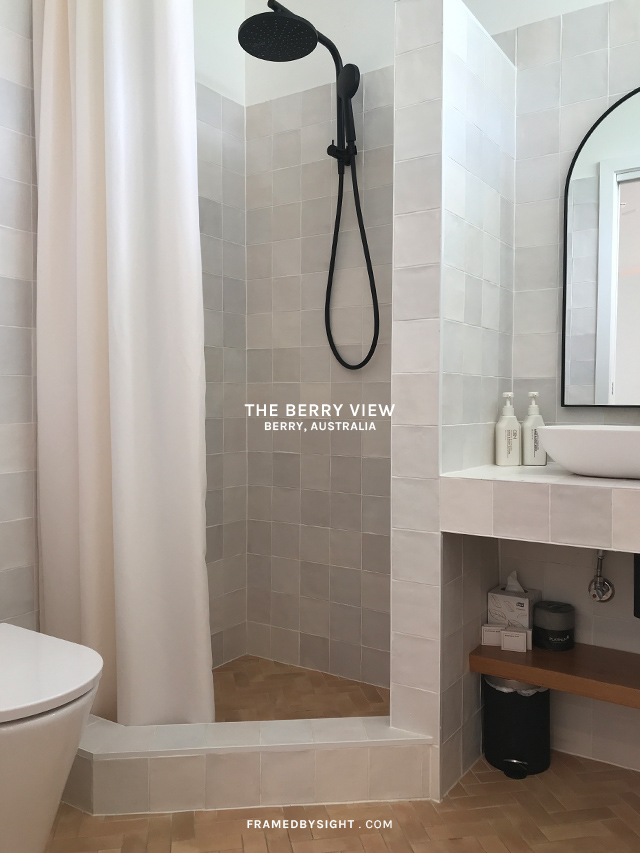 Extra towels were included for both the bath, and shower use, so it was handy that we didn't need to request more during our stay.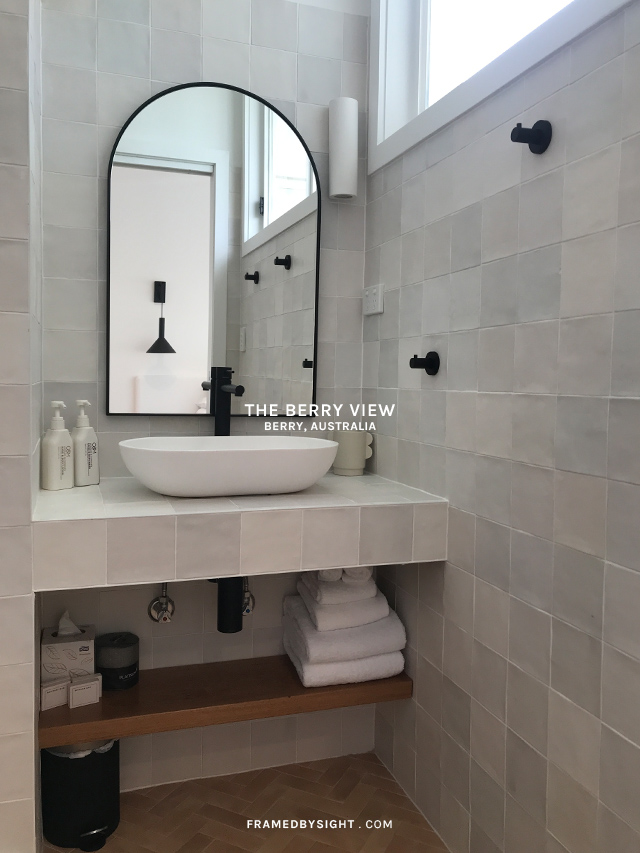 Toiletries by O&M were included; body wash, shampoo, conditioner, plus a nice smelling body lotion too. Of an evening, the bath was oh, so relaxing. There was a candle in the main bathroom that we brought out to place next to the bath, plus a soft textured bathrobe hanging in the corner – the exact R&R that we were both hankering for.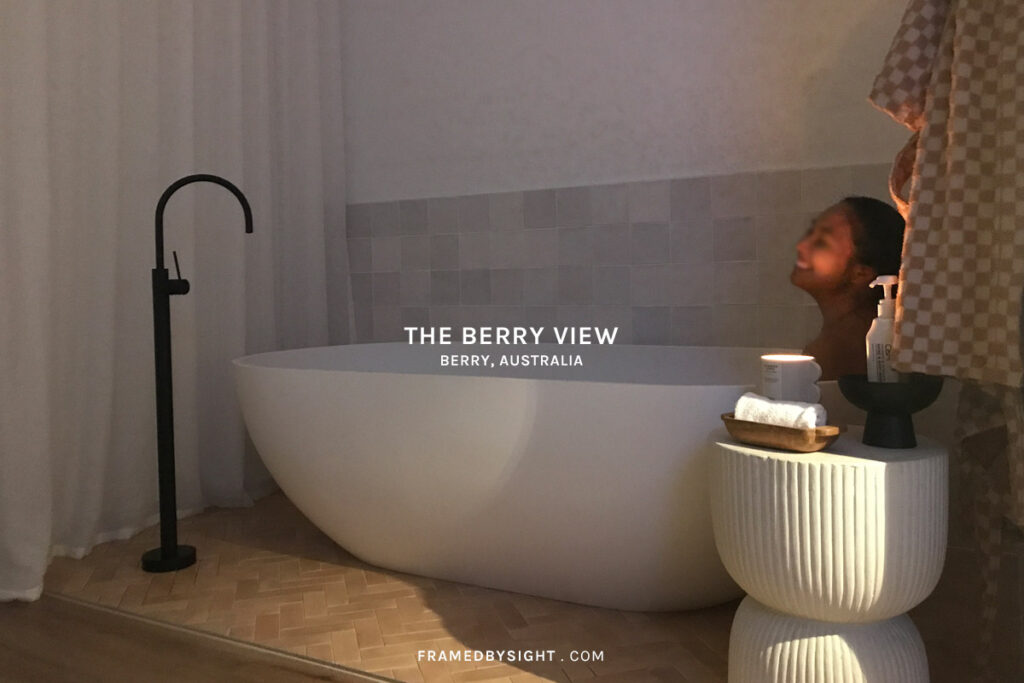 Whilst the room does not offer a full kitchenette service, there's a Nespresso coffee machine (including pods), kettle, and a mini-fridge. There's also an ironing board and hairdryer, plus storage for hanging clothes. Free Wi-Fi is also included during your stay, and we had no issues connecting.
If you prefer to use a swipe card instead of a door pin code each time you exit and enter your room, you'll find one of these available in the room cupboard.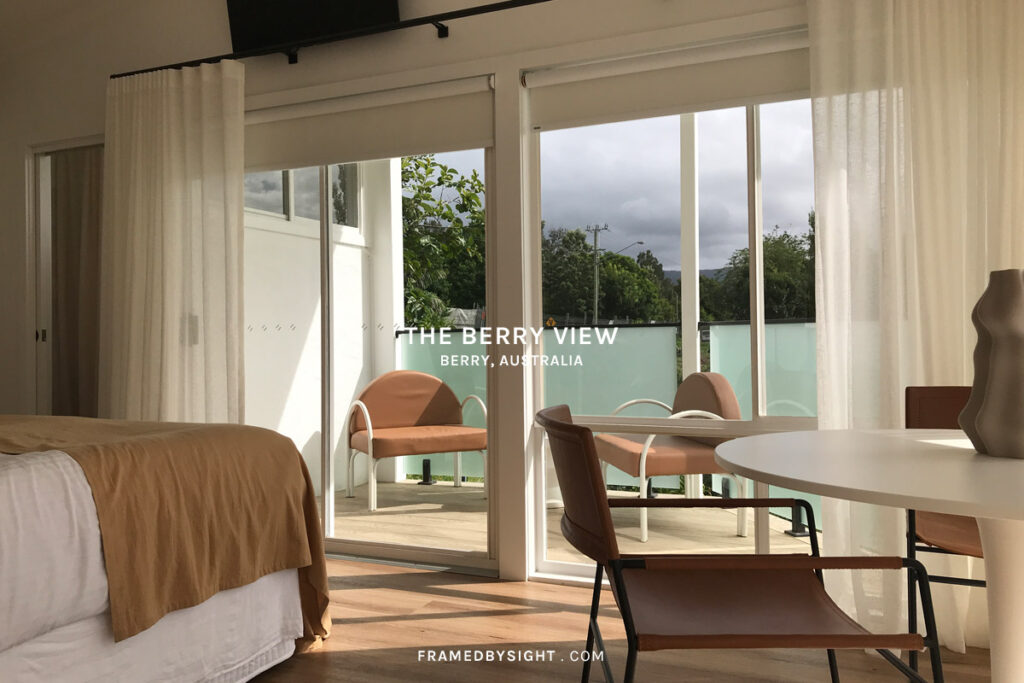 There was a TV placed above the sliding doors (leading out to the private balcony), which was best to watch whilst lying in bed. Otherwise it was quite high up to view whilst sitting at the table.
But all in all, we had a great time. Peter was hosting us during our stay, and he was easily contactable via text or phone. I recall receiving a text message from The Berry View around 7pm (whilst at dinner) on the day that we arrived, checking in with us before the day had ended, which I thought was a nice touch.
Whilst this boutique hotel has since been reopened after its main renovation, you'll find there are some noticeable areas still under further construction. From the Deluxe Couples Suite private balcony, I could see the new infinity pool underway, which will be positioned close to this room. And in the nearby distance, the potential site where The Berry View is further expanding; inclusive of a new building with 16 more luxurious rooms, a communal decking area, and a fire pit – planned for completion in 2022-23.
Look forward to re-visiting The Berry View again, and see its transformation come alive.
Address
The Berry View
180 Queen Street, Berry, New South Wales, Australia 2535
14