Flower fields are absolutely gorgeous – and when you get the chance to pick flowers from a local farm, it's even better. The pops of colour, the sea of blooms as you wander through – and the happiness associated with each flower interaction, brings me pure joy.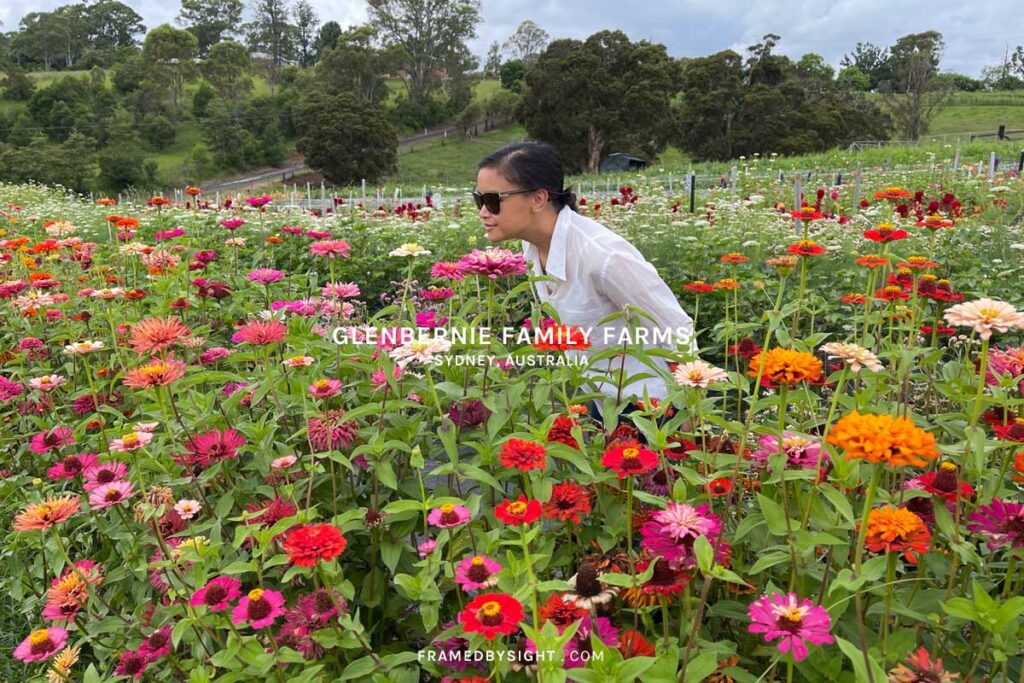 Located in Kurmond, in the Hawkesbury region, less than a 30-minute drive from Sydney's north-west, or a 1 1/2-hour drive from Sydney's CBD, you'll find Glenbernie Family Farms, owned and managed by Marika, John and their kids. Once a flower wholesaler at the Sydney Flower Markets, Marika & John channelled their inner creativity during the major flooding of the Hawkesbury region in 2021. These floods closed access in and out of the Kurmond area (via the main bridge), isolating their community for over a week.
They had fields of sunflowers with no where to go. So the idea was borne, to open up their farm to the locals; to pick their own bunches of flowers, and brighten community spirits in a time that many were distressed during the floods.
More than a year on, their flower farm is still open to the public, filled with visitors from all around Sydney and afar. Open every Friday, Saturday and Sunday between 9am and 3pm, a visit to Glenbernie Family Farms is perfect for a day out with kids, your partner, your dog, or even just as a fun, outdoor activity. And not only will you see an abundance of flowers, you may be lucky to see a few farm animals too.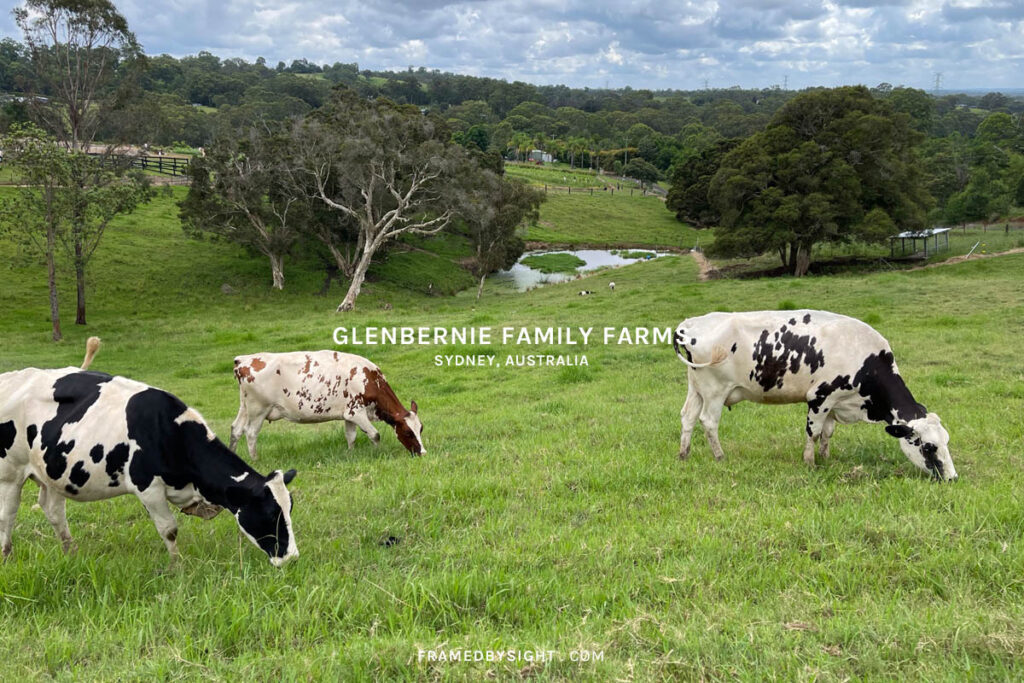 I met Marika briefly when I first arrived, greeted with a warm welcome and their youngest daughter peddling around on her bike. Such a lovely young family, so do take the time to have a quick chat before you meander on through.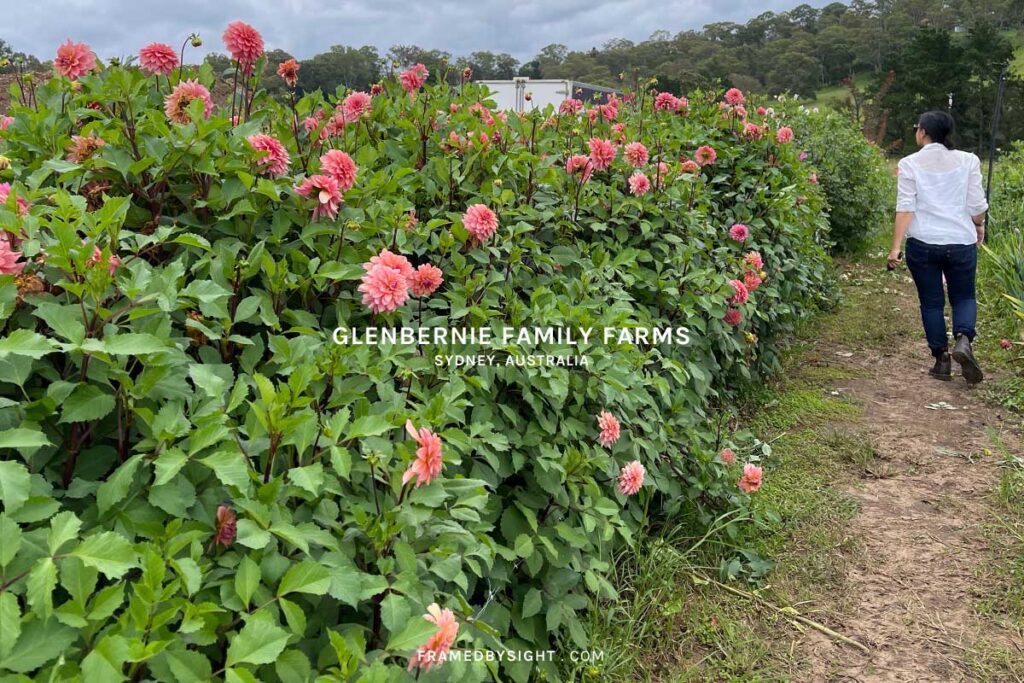 Bookings are not required to visit Glenbernie Family Farms. However, there is an entry fee of AU$10 per adult, and AU$5 per child aged 4-15 years old, payable by credit card or cash on arrival (free entry for children aged 3 years old and under). And then you're off to walk through two flower patches at your own pace, armed with your own secateurs and a bucket. It costs AU$4 per stem that you pick, but you don't actually need to pick flowers if you don't want to. After paying the entry fee, you can simply walk around and take photos with the flowers too.
For young families, you won't be able to push a stroller through the fields, but I did see people put these aside near the main flower patch and gently wander through; carrying their young child, or hovering around the edges of the fields.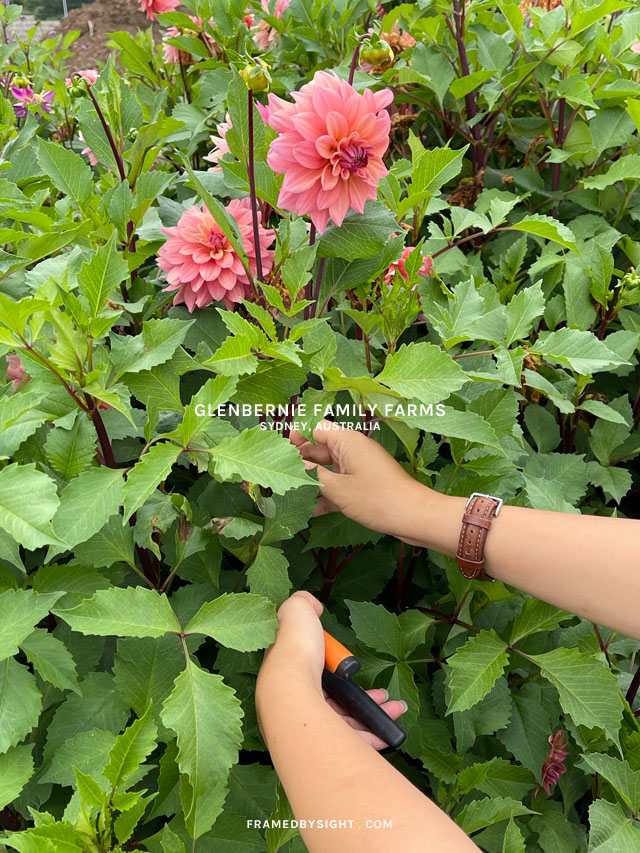 This is a working flower farm, so don't expect it to be laid out like the garden centre in Bunnings with perfect aisles and signposted areas. I'd suggest to stroll the main paths until something catches your eye, to consider picking. Comfy boots or enclosed shoes are a must when you visit here.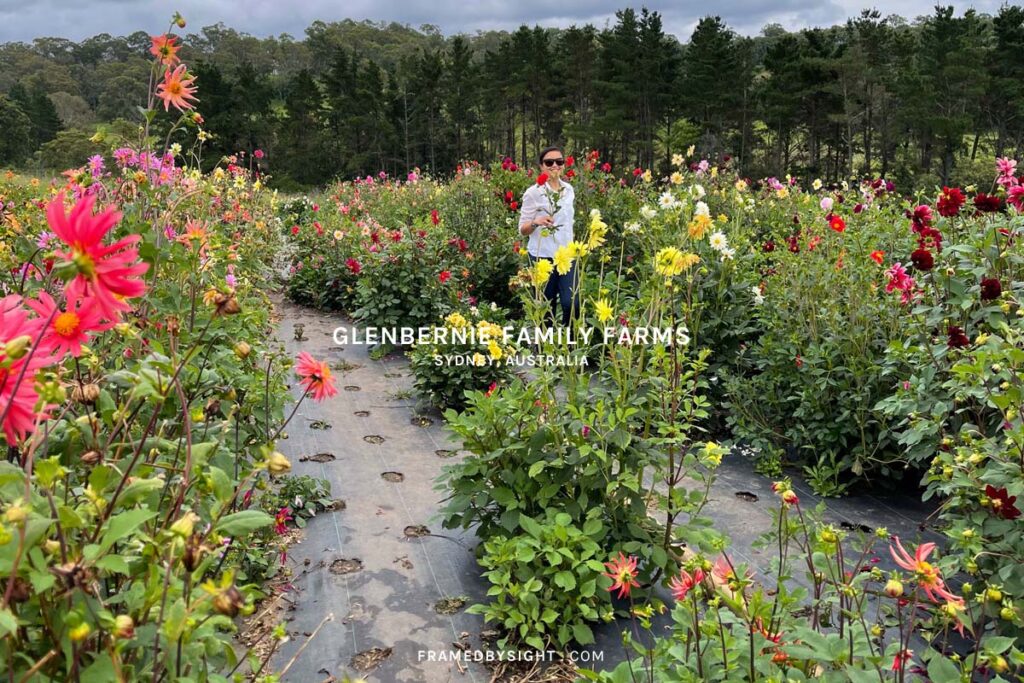 This flower farm is brimming with sunflowers, celosias, cosmos, dahlias, delphiniums, statices, zinnias, cornflowers, snapdragon flowers, and more. As the seasons change, you'll find different flowers blossoming, dependant on the time of year that you visit.
Fortunately for us, during the summer period, the sunflowers were on show and glowing brightly, ready and available for the picking.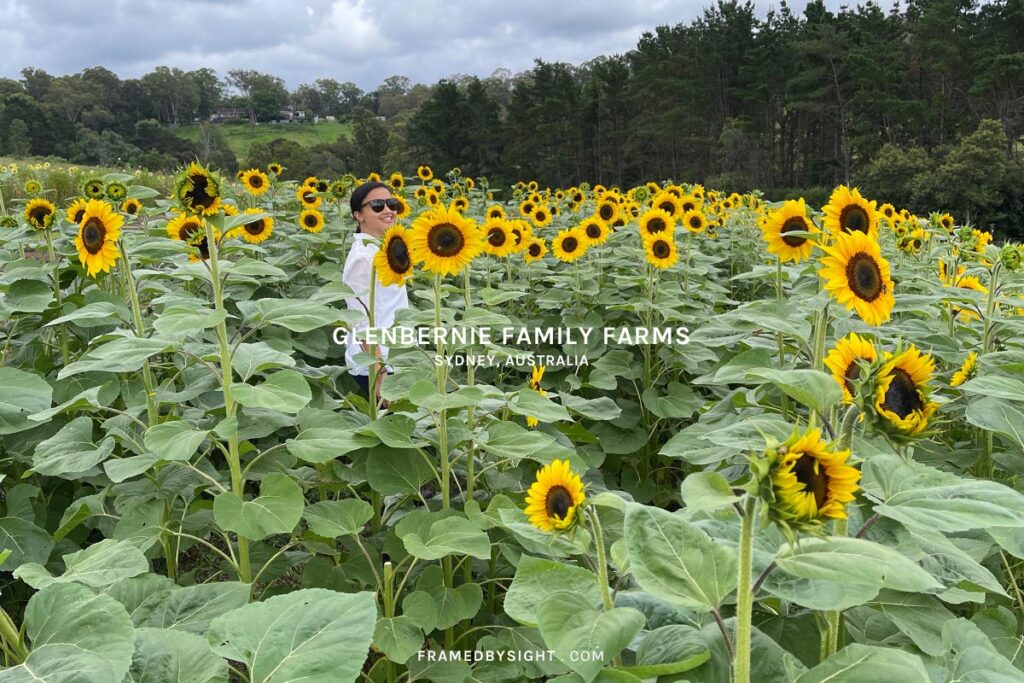 Some people follow Marie Kondo, by asking themselves if individual clothing items "sparks joy". I know for me, detoxing through my wardrobe, does not give me joy at all.
But flowers truly do.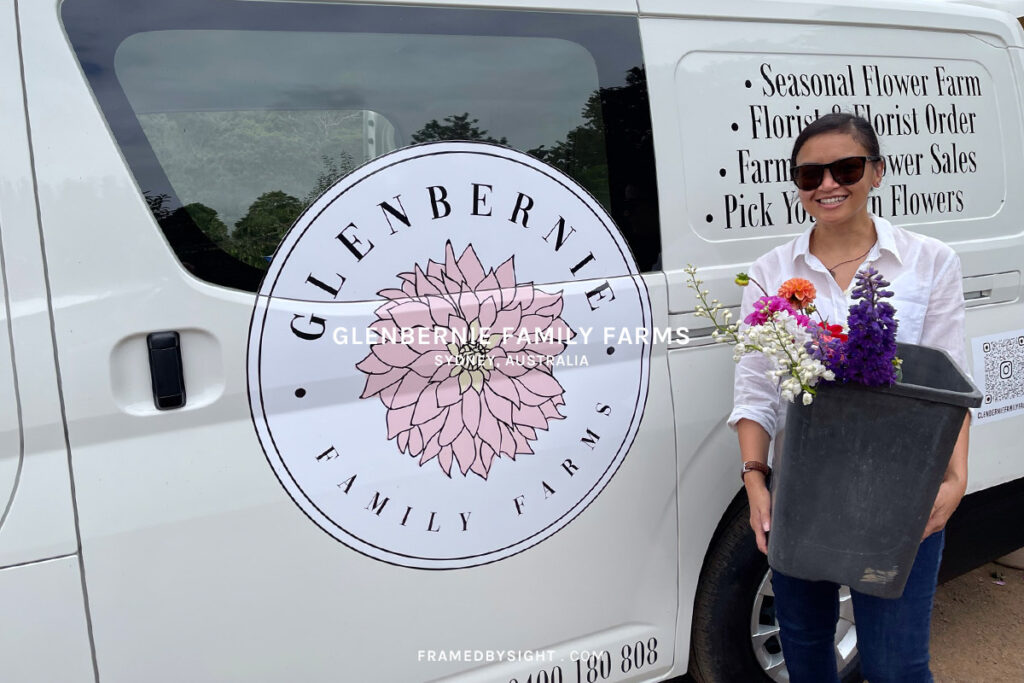 And what I love most about flower farms, is that I can pick my own flowers to take home, put them together in a vase with a few extra greens from our yard, and once I'm done, they're on display in our house – made locally with love.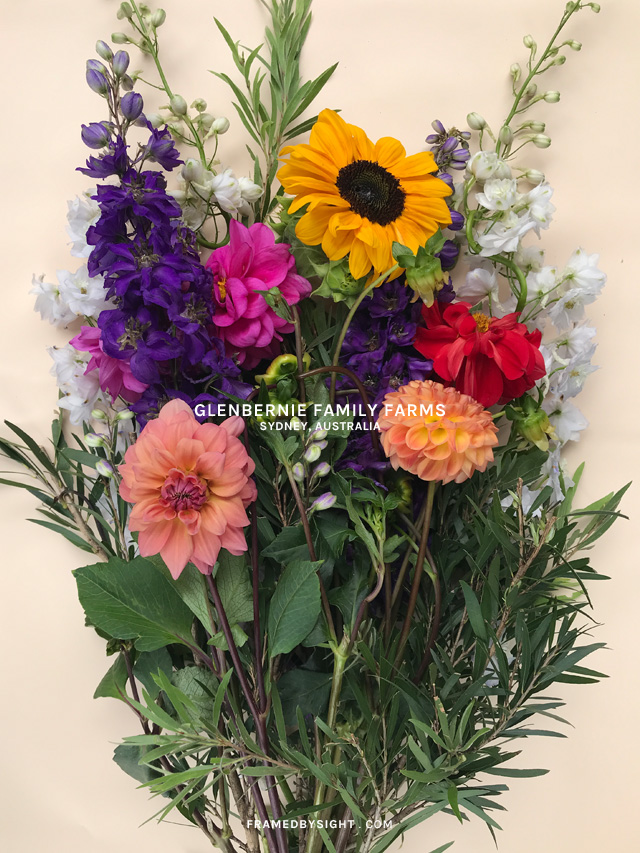 I never thought flower farm picking would be so close to our home in Sydney, and Glenbernie Family Farms is one I now plan to visit more often. Next time, I might bring my dog with me too.
Tips:
No booking is required.
You must wear closed-toe footwear (boots, gumboots or enclosed shoes). Glenbernie Family Farms is a working flower farm, and they won't let you enter if you don't have the correct attire. They do sell gumboots, but there are no guarantees they will have your size and/or are stock. Be prepared for your shoes to possibly get dirty. On a nice sunny day, you'll be fine if you stick to the main walkways. But after a rainy day, the grounds may be damp.
Bring a hat, as there are no shaded areas.
After paying the entry fee, you don't have to pick flowers. But if you do, it costs AU$4 per stem. Bring gardening secateurs/pruning shears and a bucket if you want to pick flowers. Water is available in the car park for your bucket.
For those that are picking, stroll before you pick (so you don't snip away too many flowers, too quickly). See what flowers you like, and consider what colours go together.
This is a small flower farm. If you're not picking flowers, a leisurely stroll through the two fields would take about 15-minutes.
There will be flying insects, including bees. If you're planning to walk between the flowers, you'll find them buzzing around, so be careful.
Glenbernie Family Farms is a dog friendly (on-leash) farm. Just keep in mind there will be insects, and a lot of people visiting, especially during the weekends.
I'd highly recommend arriving early, as soon as they open if you can. The farm itself has about 20 parking spots, otherwise, it's street parking on Bells Line of Road. We left the farm around 10.30am, and parking on Bells Line of Road was already down the road. So this place can get busy.
Visit Glenbernie Family Farms' Facebook page to re-confirm they're open (weather dependent).
Address
Glenbernie Family Farms
610 Bells Line of Road, Kurmond, New South Wales, Australia 2757
Phone
0400180808
30