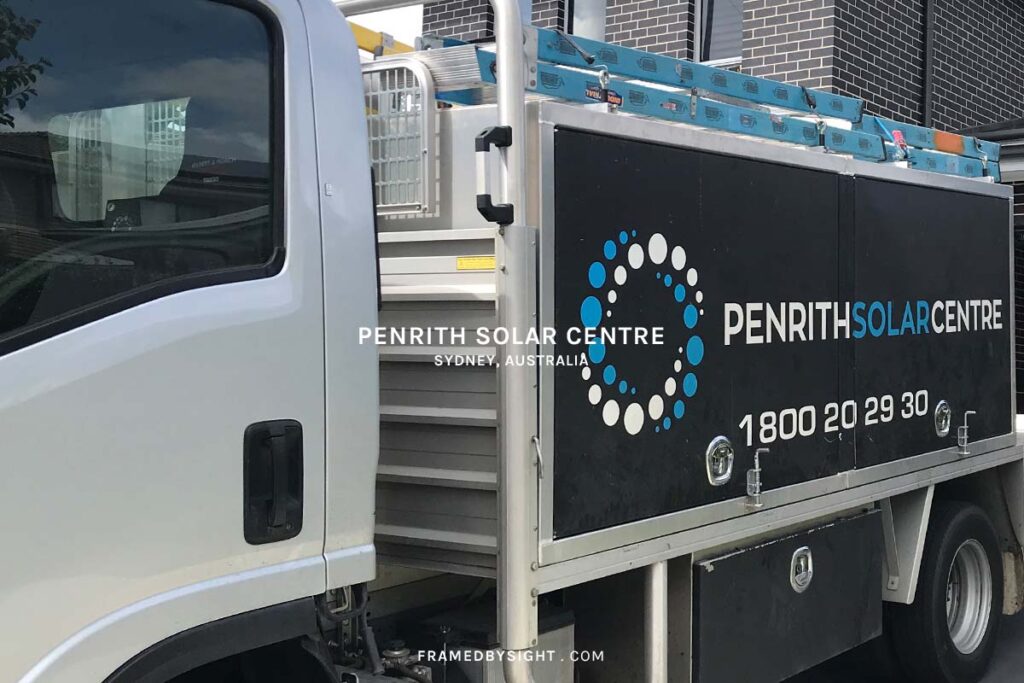 These include:
Positive customer reviews. Penrith Solar Centre has stellar feedback throughout a number of websites – not just one – but several. As you trawl through the internet, Penrith Solar Centre seems to appear as a lead solar panel installer and supplier in Sydney, NSW. 390+ positive reviews on Solar Quotes, with an average rating of 4.9-stars (out of 5), 340+ reviews on Google, with a perfect rating of 5-stars (out of 5).
Interactive YouTube videos. If you're wanting to get a feel of who you'll be dealing with at Penrith Solar Centre, take a look at their YouTube video channel – an example shared below; customer focused, comfortably backing a product promise throughout the process, and striving to deliver excellence across all customer touch points; from the first point of sale, leading up to the install, and a safety walk-through and demonstration post install.
In-house electricians and tradesmen. We've had mixed reviews from neighbours who have had solar panel installations. What I love about Penrith Solar Centre is that their installers are in-house, certified electricians – directly employed by Penrith Solar Centre – not subcontractors. Whilst there are good contractors out there, there are also those that just want to get the job done and move on to the next job. One of our requests was to hide the conduit on the external part of our house as much as possible. Our bricks are dark, and the last thing we wanted was the white conduit visible down the sides. Whilst they couldn't guarantee to hide everything, they said they'll try their absolute best (and they did).
Responsive. Our main contact throughout the sales process was Billy Elmer – great person to liaise with. Polite and informative, no question is a silly question, and his approach was always professional.
Keep it simple. We did our own research first, so we understood what the quotes meant as we were going through the process. From three quotes, Penrith Solar Centre was not the cheapest, but quality and customer experience is equally as important for us. All solar panel installers will ask for copies of your electricity bills and propose the size and brand of your systems. For a 6-8kW solar energy system and battery install, ballpark pricing was from AU$15,000+. Penrith Solar Centre provided a simple quote, and confidently endorsed the product performance and reliability.
Quality products offered. High quality products, well-regarded in the industry, slightly more premium compared to other solar systems quoted.
Certified. Penrith Solar Centre is an Enphase 'Platinum' Installer… "a designation reserved for solar installers with the longest track record of installing Enphase products, exceptional quality, and the highest customer satisfaction scores." Penrith Solar Centre is also named the Enphase National Winner FY21 Installer of the Year.
Warranty. 10 years Penrith Solar Centre workmanship warranty, and they're an accredited installer offering the CEC Approved Solar Retailer Guarantee. For solar packages installed over the value of AU$20,000, you will automatically be issued a Home Warranty Insurance Certificate. Enphase IQ7A microinverter warranty is 10-years, Hanwha Q CELLS Q.BOOST solar panel warranty is 18-years, and the Tesla Powerwall 2, 13.5kWh home storage battery product warranty is 10 years.
Showroom Experience – meet Jake Warner
---
Address
Penrith Solar Centre
130A Batt Street, Jamisontown, New South Wales, Australia 2750
Phone
1800202930
---
---
38