Our morning started early, with the team from Penrith Solar Centre arriving at 7.30am. From the window, I could hear and see their truck parking in front of our driveway, filled with our soon-to-be installed solar panels, plus all the bits and bobs ready for our install.
We had been booked in for a 6.6kW solar panel system and Tesla battery installation over the next two days – and we were very excited the day had finally arrived. We were introduced to Will, Rob and the rest of the team, and then briefed on the plans for the day, including a review of our confirmed proposal before the work commenced. They set up their equipment, propped up their ladder to our roof, and then the next thing I knew, they were already measuring the placements for the solar panels and racking from above.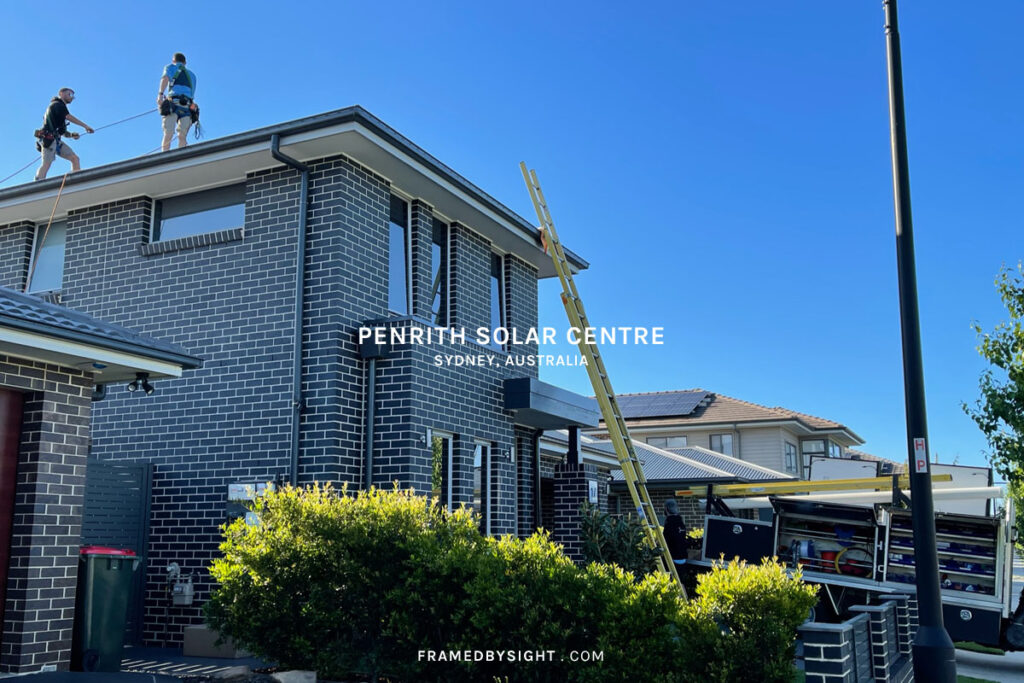 Will came and spoke to us prior to commencing the actual solar panel install, as there was a slight adjustment to the panel positioning after their initial inspection. During COVID-19 restrictions, there was no opportunity for the team to inspect our roof in-person prior, so they estimated panel positions using available satellite imagery. The plan was to install solar panels across the east facing and north facing sides of our roof. However, due to the shape of our north facing side, two solar panels no longer remained evenly positioned.
Will did offer to move these panels to the east facing array if the uneven panel positions were of concern, but we were advised it would be more beneficial to remain on the north facing array, off centred, to maximise energy opportunities – which is what we decided to do. Whilst this might not be an issue for some, it was the courtesy we were even provided this option, which we genuinely appreciated.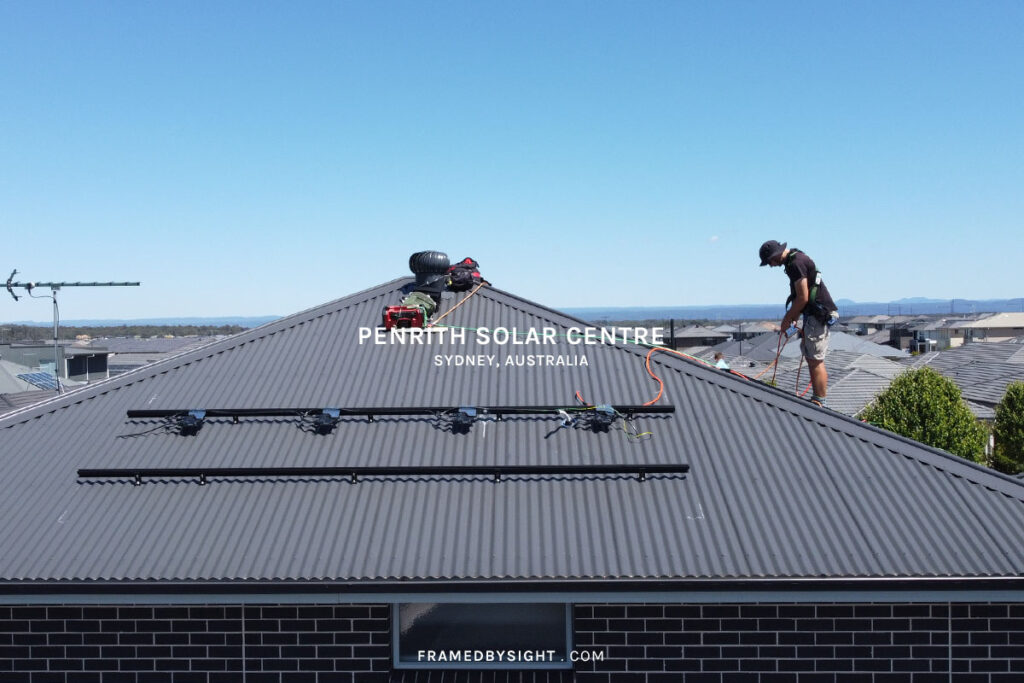 Whilst on the roof, the team navigated the electrical cabling installation under the colourbond roof sheeting and through the wall cavities. This is one of our personal highlights for us – the little things I know.
When you look around at other solar installs on neighbouring homes, many have surface-mounted conduit running from the roof to the electrical meter box. This is the fastest way to install a solar panel system without going through the roof and wall cavities.
But with dark bricks all over our house, any white conduit on the exterior brickwork would personally bother us.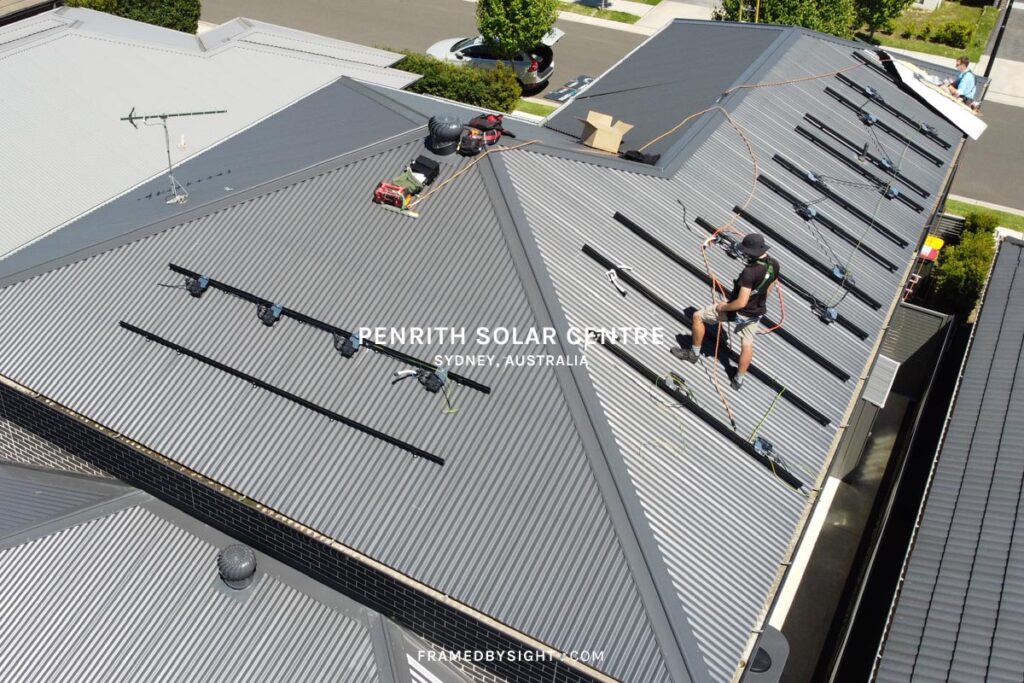 Penrith Solar Centre installers did their utmost to conceal all cabling and not use conduit. I recall it took over an hour and a half for the team to feed the cabling from our roof, down the wall cavities, into both the electrical meter box, and to where the battery was going to be installed – I must say, they did a brilliant job; clean, tidy, very impressive. The garage was the only location that we saw visible conduit, otherwise all else was hidden.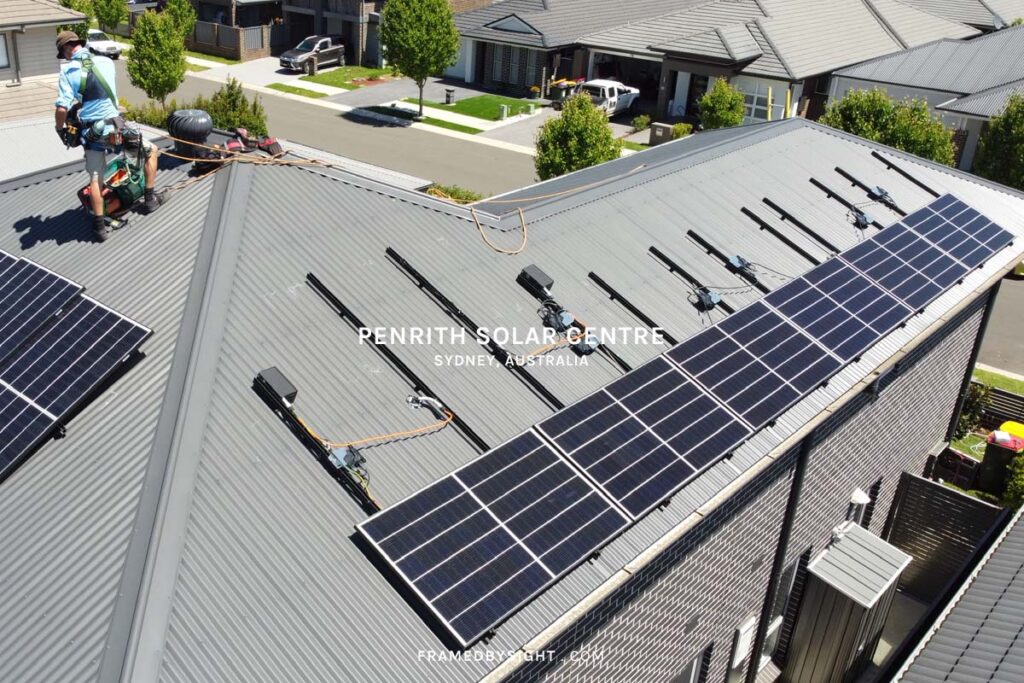 After the panel racking positioning had been finalised, it was time to prepare the solar panels to be mounted.
Our solar install included 17× 390W Hanwha Q CELLS Q.BOOST panels and 17× Enphase IQ7A microinverters. These microinverters are installed under each solar panel on the roof, and convert the absorbed sunlight from the solar panels to home electricity. Today, these Enphase microinverters offer the most advanced inverter technology on the market with a 10-year warranty, and one of the key benefits of microinverters is that if one solar panel fails, the others are not impacted and will still function independently and continue to generate electricity.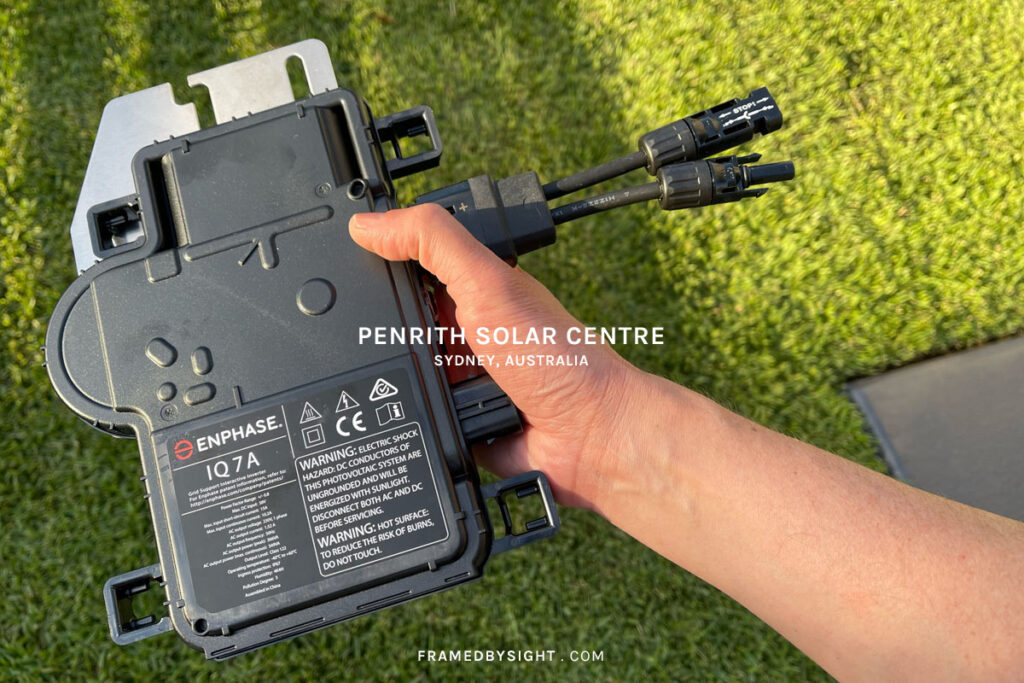 Within the electrical meter box, an Enphase Envoy was also installed, providing data updates from the Enphase microinverters, giving you the ability to monitor each of the panel's performance and if required, troubleshoot remotely. Additional circuit breakers were also installed in the electrical meter box, enabling the ability to shut down the solar panels and microinverters. And for those that love technology, once installed, you'll be able to download the Enphase Enlighten app and view each of your solar panels' real-time performance from your mobile device.
There is an alternate solar panel system that you may have also considered, known as string inverters instead of microinverters. To compare the two when installing an average sized residential home:
String inverters tend to be more affordable than microinverters
String inverters have less connections, and only require one to two inverters (depending on your total solar panel system size). Solar panels with microinverters on the other hand, generally have the same amount of microinverters to solar panels.
Because string inverters are wired in a series, the entire solar array output, affects each panel at the same capacity to the least-producing panel. For example, shade on any of the panels from a building, large trees or clouds, will reduce the performance of all panels in that string. Whilst those with microinverters and associated solar panels, yield the most energy possible from each individual panel, regardless of differing performance in the array.
If you're considering to add more solar panels at a later date, adding another string inverter could become even more costly due to the original set-up. Microinverters can be added one at a time, at an individual level. Of course it would still cost to add more solar panels, however they can be added to existing solar panel systems.
And, let's talk about expected lifetime – on average, string inverters can be up to 12-years, whilst microinverters can be up to 25-years. If you purchase through Penrith Solar Centre, the associated Hanwha Q CELLS Q.BOOST solar panel warranty is 18-years.
That all said, Penrith Solar Centre do not offer the string inverter product, but rather a solar panel system inclusive of microinverters. Whilst these both sound comparative and highlight the benefits of microinverters more so, it also depends on your overall situation. You may have the perfect roof position, ease of placement with minimal interferences, and seek affordability overall when installing your solar panel system. And if that's the case, string inverters may be in your favour.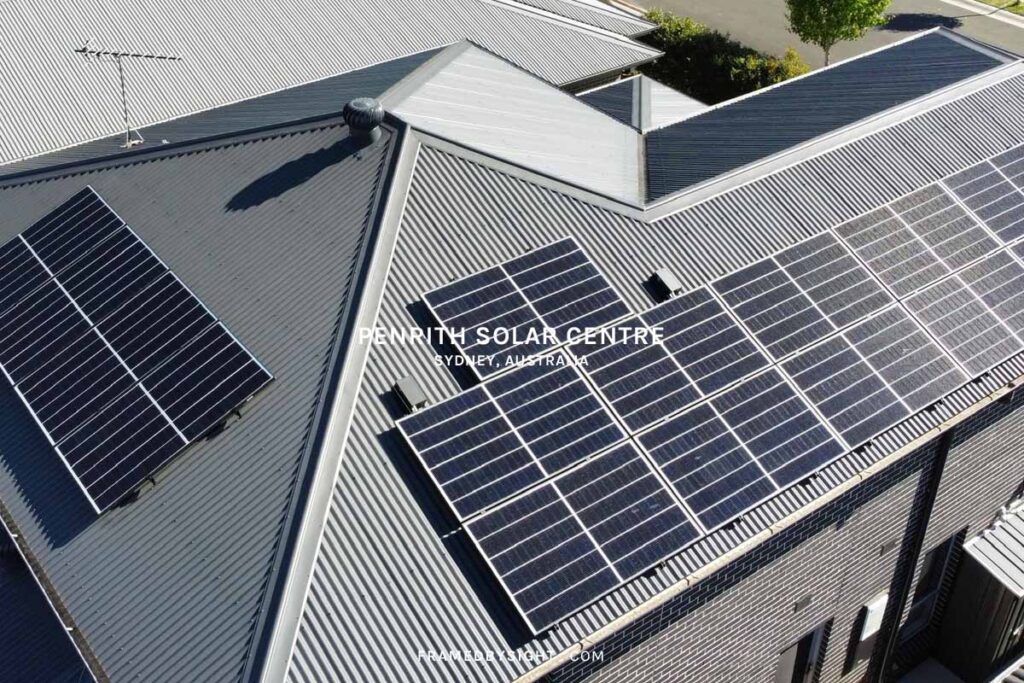 Penrith Solar Centre's end-to-end installation experience is excellent. Having in-house electricians servicing the installation is much easier, and the team were always discussing next steps or queries that we had on the day.
I did originally wonder how this solar energy installation on the roof would span over two days, but now I know why, and it was great to be home to see the process first-hand. The day ended with the team having installed all of our solar panels and, completing most of the wiring requirements. They'll be returning the following day to finalise, test and walk us through the functionality of our solar and battery installation.
If you choose to only have solar panels installed (with no battery) an average residential home install could be completed within a day.
Address
Penrith Solar Centre
130A Batt Street, Jamisontown, New South Wales, Australia 2750
Phone
1800202930
---
27