I heard an interesting stat the other day, which was that one in four residential homes in Australia have solar panels on their roof. Living in Sydney's north-west, I'm not surprised really. In and around my neighbourhood, I'm surrounded by new house builds, and there's ample opportunity to include solar panels during the construction process. We're just late to the party and didn't do it when we first built, so adding them after the fact is slightly more challenging.
We have been researching solar for quite some time, with the intent to have panels and a battery installed once we had saved that extra bit of money. Solar panel prices in Sydney are expensive, so it has been a lengthy wait for us… but now the time has come to finally get them done.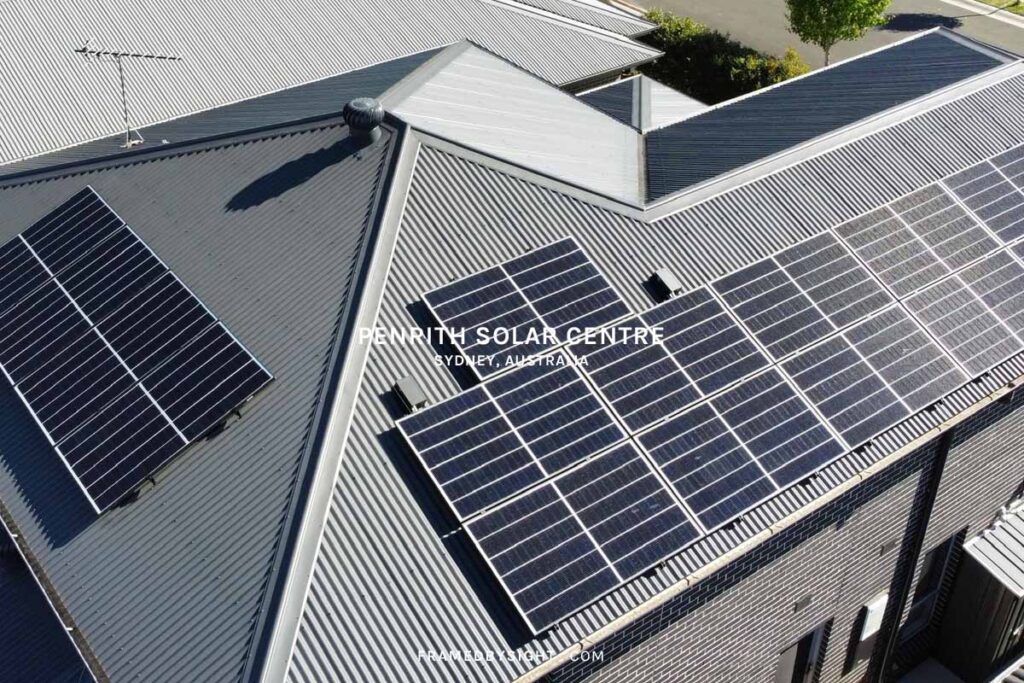 Depending on your budget, some people choose to just get solar panels installed without a battery. By doing this, you'll consume what you generate during the day, and any excess energy will be sent back to the grid. However of an evening, once the sun has gone down, you revert back to using the grid – the energy provided – and charged – by your electricity provider.
For those who opt to also have a battery installed, during the day, you store excess energy generated in your battery, and once full, any other energy generated will be sent back to the grid. Of an evening, you'll consume the energy saved in your battery and depending on your usage behaviour, you could potentially be living 'off-the-grid' with little, to no charges applied by your energy provider in the future.
So why doesn't everyone buy a battery you ask? Well, lets just say the battery itself is costly – sometimes more expensive than all the solar panels installed on your roof. So depending on your budget, will depend on what you choose to do in the end.
Before you start requesting quotes;
I'd highly recommend grabbing a copy of your last few electricity bills. If you can view all four quarters, that'd be even better, as winter usage is different to summer usage. This will help formulate your conversations when you start requesting quotes.
From your bills;

Review what is your average daily usage in kWh. The average daily usage is important, as this will help guide the size of the solar energy system you require to be installed. Do review this over different periods during the year, as you'll find it varies depending on if you use a heater, clothes dryer, ducted or split system air-conditioning etc.
Understand how much you currently spend (AU$) on your electricity. What is your average daily usage, and possibly monthly or quarterly usage too. Our quarterly average was between AU$600-$700, so annually, about AU$2,500. And if extrapolated over the next 4-5 years, that would equate to AU$10,000-$14,000 in electricity bills alone.

If you're curious to know your usage by the hour, check if you can access this information from your energy provider. I was able to download detailed usage information from our account, which I found quite interesting. From this, I learnt how much electricity on average was used at different times of the day i.e. during the day vs the evening.
To work out what type of solar energy system you need, on average, each kW of solar you install, can produce up to 4kWh per day. There are a number of varying factors which could alter this value, such as solar panel position, time of year, weather etc., but for the purpose of simple calculations:

If your average daily usage is 23kWh / 4 (kWh per day) = 5.75 (kW solar energy system)

This doesn't mean you have to buy this exact size. You could increase or decrease as required, and you still need to scope if you can comfortably fit the equivalent number of solar panels, based on your roof layout.
Once you've understood what your overall power usage is, the next would be to consider what is your budget. For us, we plan to remain in our current home for a few more years yet, and felt the level of investment we had ball-parked, will be beneficial long-term.
After I had an idea of our usage, I used Solar Quotes as a starting point. We then also did our own research on individual company reviews and customer experiences. I am in no way affiliated to Solar Quotes, however I genuinely found their website useful, providing a range of solar panel installers to choose from.
In saying so, we did our due diligence by requesting three independent quotes. We took the time to find out more information about each of the companies we had selected, watched YouTube videos about their installs, and read reviews before we made our decision. We were spending the value of a new car to be frank (in the vicinity of AU$20,000+), so we took the time to consider potential solar panel suppliers before cementing our choice.
With over 390 positive reviews on Solar Quotes, we selected Penrith Solar Centre, holding an average rating of 4.9-stars (out of 5). And on Google, with more than 340+ reviews, you'll find they have a perfect rating of 5-stars (out of 5). I don't think I've ever seen any company on Google reviews with a perfect 5-stars, coupled with this many reviews that is. That's a phenomenal number of positive experiences posted by many customers, so they must be doing something right.
Living in a fairly new, less than 5-years old, double-storey 5-bedroom house, I didn't think we consumed excessive amounts of energy. We do compare the differences having moved from a 2-bedroom apartment (built in the 1980s); our power bills were similar to our current house, despite the space being much smaller. We did however, frequently run the heating and cooling from the split system air-conditioning in the apartment, so depending on your house features, would also depend on your overall power usage and requirements.
Based on our existing bills, we were looking to quote for a 6-8kW solar energy system. For a solar panel install only, we found quotes started from about AU$6,000+ and upwards. However, when quoted for a solar panel and battery install, quotes started from about AU$15,000+.
We weren't installing a system for the purpose of the energy rebates, and at the time of writing, our current energy provider was only providing AU$0.05, per kW generated back to the grid. So you don't receive much in solar credits these days, unless you have ample roof space, in a north-facing sun position and a ridiculously large solar panel set-up. Over time, we feel as more and more homes move to solar panel installation, energy providers will soon remove the rebate anyway, and the charges could potentially increase on evening usage (as not everyone has batteries installed). This is an assumption mind you, so I don't know if it'll happen for certain.
If you're looking for a solar panel company, I would highly recommend you request a quote from Penrith Solar Centre when comparing solar panel installers and suppliers in Sydney. Based in Western Sydney, and servicing as far as the Blue Mountains, Penrith Solar Centre services include commercial and residential solar energy installations, in addition to battery storage. They weren't the cheapest of our quotes, but their professionalism and customer service – from the time we first made contact with them, to now – is excellent. Based on the many, positive company reviews of Penrith Solar Centre, they're highly regarded by their customers, so I'm expecting a good experience upon installation, if not best.
Address
Penrith Solar Centre
130A Batt Street, Jamisontown, New South Wales, Australia 2750
Phone
1800202930
---
46