Who doesn't love the smell and sight of gorgeous flowers? Inspired by my work colleague Nicole, I too have always had a fascination with flowers. She's recently been enrolled in a floristry course for a handful of months, and I truly love seeing her flower creations come to life through her photography. A few years ago, I participated in a floristry one day workshop at The Bloom Room, and loved it quite a lot.
That said, this year has been a difficult year for many, including myself – we've been through a very different 2020, which has continued into 2021. So, when the notion of Mother's Day came up this year, I thought I'd do something that truly brings me joy – and that is preparing my own flowers for both my mum and my sister. These two ladies mean the world to me, and I thought I'd expand on a hobby that I do every now and then, and make them something amazing!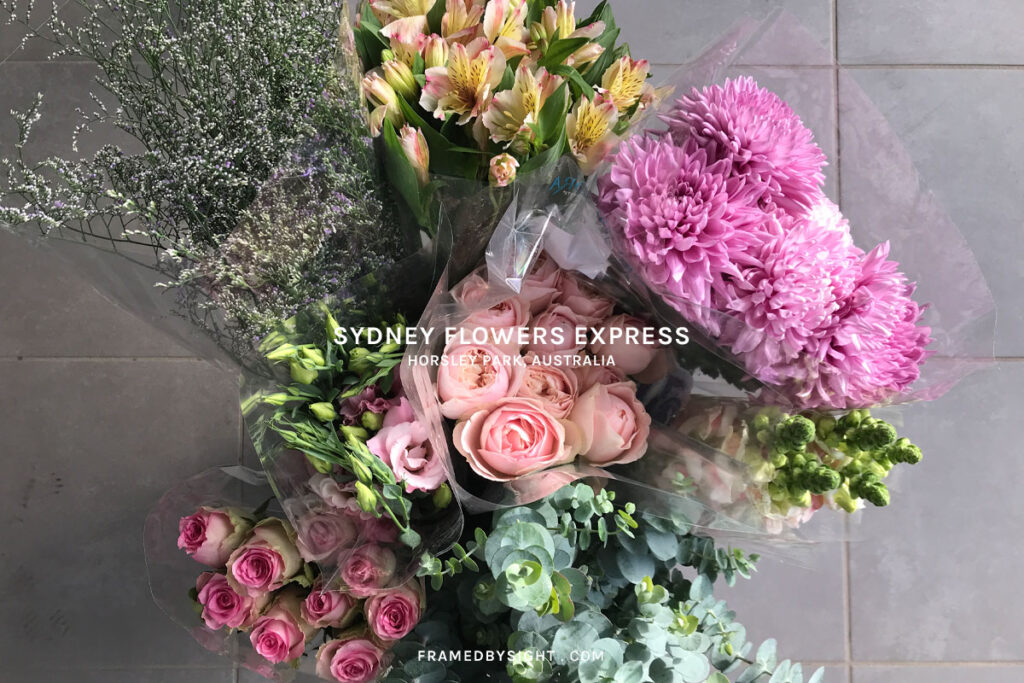 I was looking for fresh cut flowers available in Sydney – wholesale flowers for sale, direct to the public (or to florists too for that matter) available for delivery. I didn't want bunches of flowers prepared on my behalf, as I wanted to take the time to put them together myself. And that's when I found Sydney Flowers Express online. I know you're probably thinking "why didn't you just go to the Sydney Flower Market?". But to be completely honest, I wanted to prepare the flowers the morning of, before our family lunch and I just didn't have time. I don't live close to the flower markets either (a good 45-minute drive), so for simplicity, delivery was best.
And boy, did the team at Sydney Flowers Express make me happy with the freshness and quality of flowers supplied. I was liaising with Alex via email, and the communication was quick and responsive. Then on the day of delivery, a gentleman arrived and delivered my flowers in a plastic floristry tub, already filled with water. Seamless hand-off from the ordering process, through to delivery.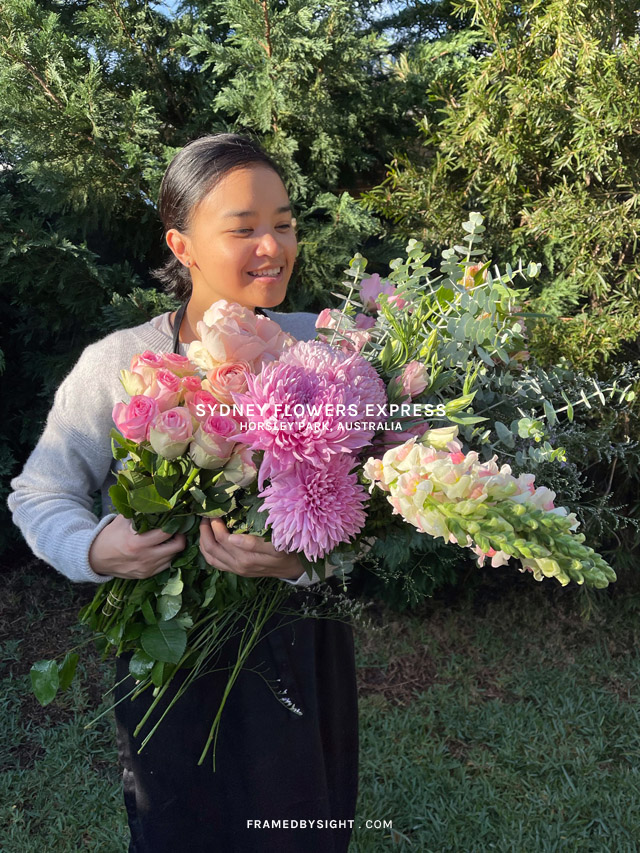 I placed an order for snapdragons, roses, chrysanthemums, alstroemerias, lisianthus, misty blue and eucalyptus – and oh my, these flowers were so beautiful when they arrived. Each bunch came separately wrapped in plastic, and the roses also required de-thorning before handling.
The morning of preparation was a day of absolute fun – and mess – creating my mum and sister's floral bouquets. Floristry is such an enjoyable experience when putting flowers together, but not to forget that there is also alot of greenery that flies around as you trim, remove or delicately place each flower or filler in your hand.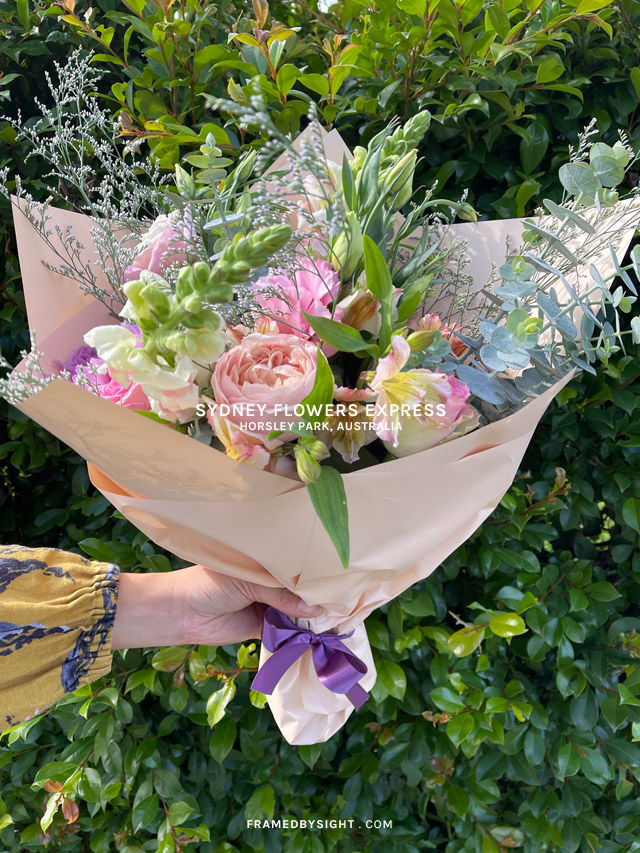 As the first bunch begins to build, I'm smiling from ear to ear. The aroma of the eucalyptus is throughout the bouquet, and the colours are slowly coming together. I didn't really have a solid direction, but more so how I was feeling as I placed each flower side-by-side. This was such a rewarding experience to prepare flowers for two people that I love so dearly, and it added lots of true colour to my day before I saw them too.
Flowers bring me joy, happiness and give the gift of love, and also share compassion. They seem to add magic when you least expect it, with an added a spark of hope when times can get tough.
Address
Sydney Flowers Express
109-125 Ferrers Road, Horsley Park, New South Wales, Australia 2175
Sydney Flowers Express is also available at the Sydney Flower Market (Stand no. 8)
Building F, Parramatta Road, Flemington, New South Wales, Australia 2129
7