Garden maintenance is difficult when you usually have a busy week, let alone when your trees are about 4-5 metres each in height. I have to admit, we were ignoring it for a while, until one afternoon we were thinking about how big our trees really were – and how they're growing slightly out of control too that is.
I was actually struggling to find a company online that would happily quote and trim our large-ish Leighton Green trees situated in our backyard. It may have been a job too fiddly for some (in comparison to larger project jobs), or they were simply too busy. Our Leighton Greens hadn't been shaped since they were first planted, so it was about 4-years worth of growth, and they were long overdue for a haircut.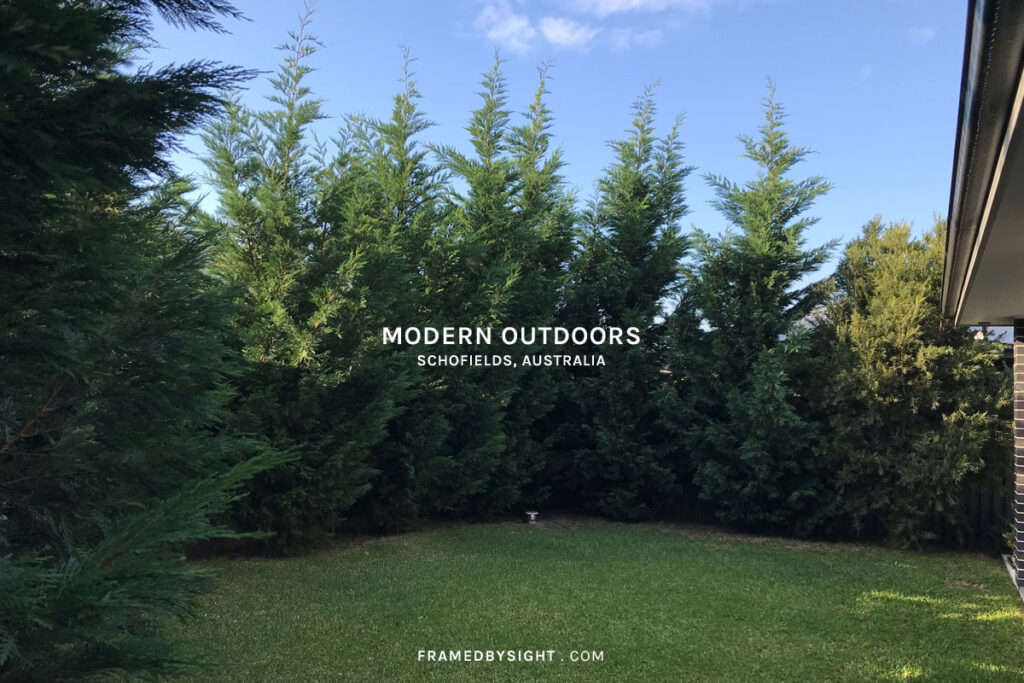 Asking around for a good hedging company, our neighbour Wendy recommended us to use Modern Outdoors. I am always a person for a good recommendation and as long as the initial service and communication feels right, I'm more than happy to give anyone a go.
Using the Modern Outdoors contact form on their website, I sent a quote request with our requirements, and the next day, I received a phone call from Stephen requesting our availability to schedule an on-site visit.
He arrived on time with a colleague (for a 7am arrival) – yes, I'm a stickler for prompt people and services – and after a quick walk around of both the front and back yards, we agreed on a price and scheduled in the job for the following week. The quote included all pruning, hedging and tree shaping requirements, plus the tree matter to be taken away.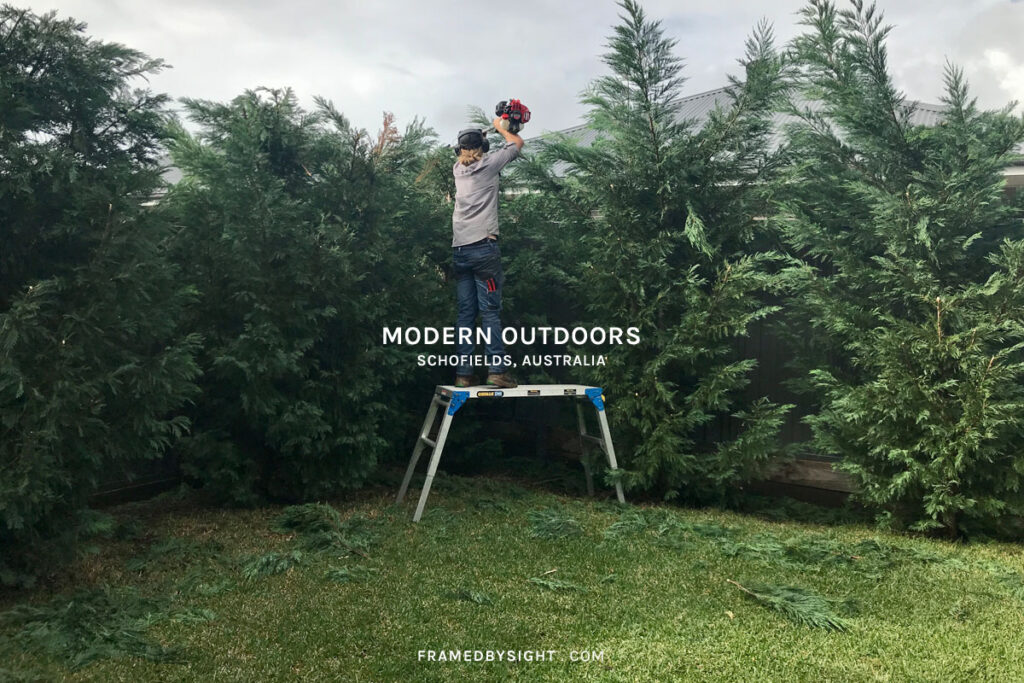 On the day of the service, Stephen turned up with his ute and a trailer, and then armed with the tools of the trade, him and his team got to work. At first, I was in shock when I saw the trees and their casualties. Losing their limbs at each stroke of the chain saw, followed by the trailer slowly filling up with mini-sized looking Christmas trees.
But we knew the trees needed it, and wanted them to thicken up too, with the plan to schedule regular pruning services to hopefully give us the lush solid boxed-hedge screening in the coming years.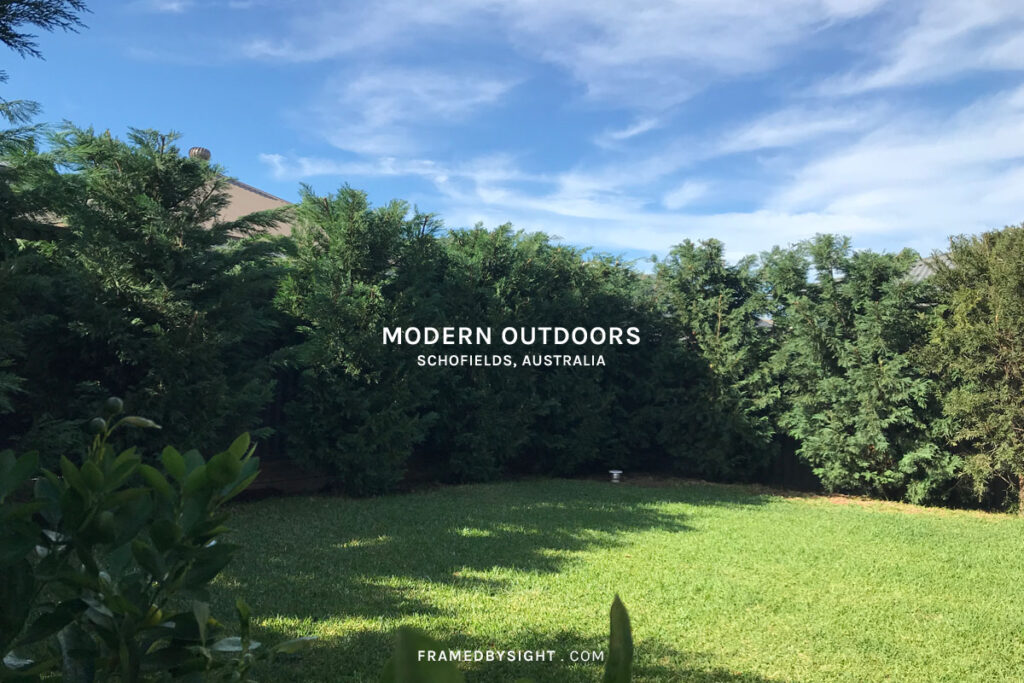 How do I feel after using Modern Outdoors services? It's a thumbs up from me. Prompt communication; on-time on both occasions; informative (as we had bugs attacking one of our hedge plant leaves and we sought advice); tidy – knocked on our neighbours' homes to request to remove the loose leaf matter that came away and fell into their yards from the tree pruning services; and even just the way they operated – friendly, courteous, and easy going.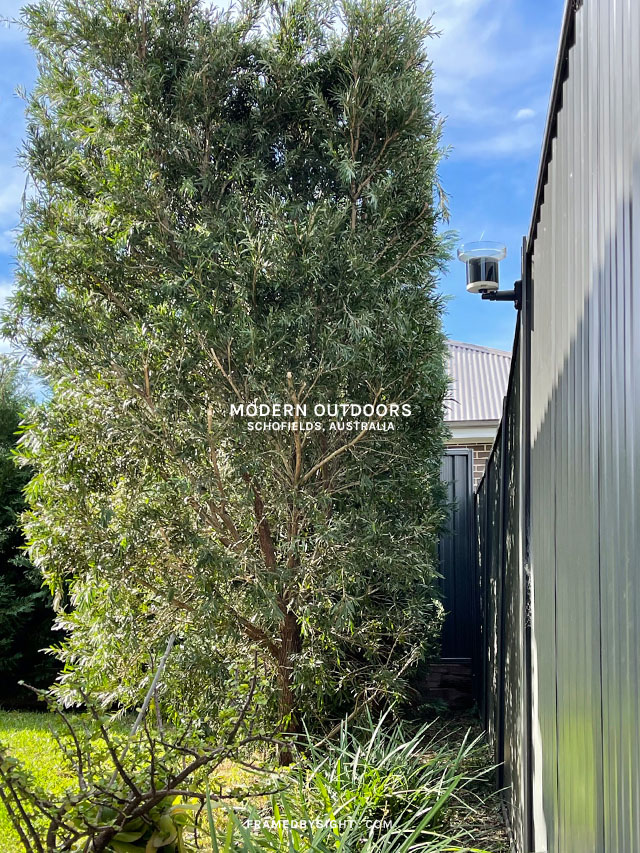 Whilst admiring the work of Modern Outdoors the next morning, I still can't get over how they got behind these trees to take them off the fence line. Our Bottle Brush too was part of the line up and we can see the boxed hedge slowly taking shape (even though it's early days).
If you're looking for a good residential hedge and lawn gardener/maintenance provider, I'd highly recommend you giving Modern Outdoors a go. They support all types of landscape maintenance including residential, commercial and strata gardening care, and are available for mowing, edging, hedging and pruning services. They can also do weeding and pressure washing services of pavers, footpaths and driveways if required. Modern Outdoors covers most of Sydney's north-west and the Hills District which include; Baulkham Hills, Castle Hill, Box Hill, Windsor, Richmond, Marsden Park, Blacktown, Schofields and all suburbs in between.
To note, I am not connected with this company in any way other than our trees and hedges being maintained. I found regular gardeners focused more on lawn care only, and weren't always the right people to do tree maintenance. When you meet good people and you feel their business deserves the shout out, this is one of them.
Address
Modern Outdoors
Schofields, New South Wales, Australia 2762
4