I've always loved flowers. The colours, the smells, the joy they bring when they're on display in my home. Whilst in Richmond one weekend, I stumbled across The Bloom Room florist in passing – oh my, what a gorgeous find.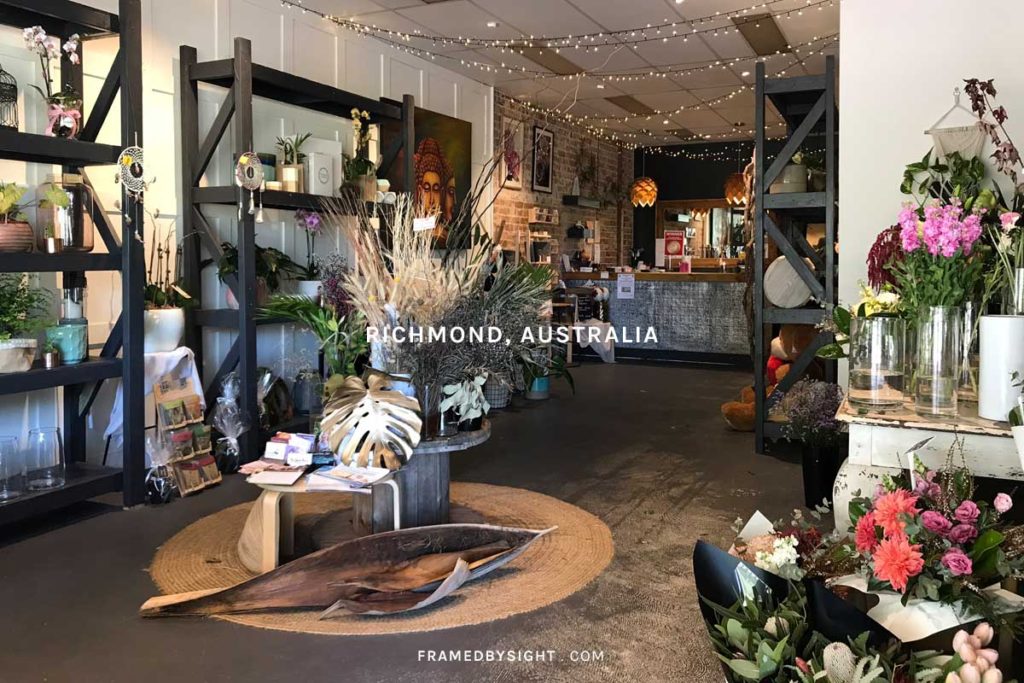 It wasn't an overly large florist, yet the interiors were so welcoming and bright that I've had them top of mind ever since. That said, I made a recent flower order delivery and in doing so, I also noticed that The Bloom Room had floral workshops available to book online.
'Crafts' have been a personal side hobby when I get the chance; DIY'ing my way through my own wedding, making invitations, wrapping presents – I love this stuff. So, without hesitation, I booked myself a spot to participate in making a beautiful table flower arrangement of the latest seasonal blooms.
On the day of the workshop, I was very fortunate to have a 1:1 class with the owner of The Bloom Room, Jody – who is absolutely lovely to work with. Jody mentioned their flowers are sourced from the local Sydney markets, involving early morning rises with the opportunity to choose from a wide range of fresh flowers in preparation for bouquets, posies and the like.
The workshop was held in the back of the local florist. Bunches of coloured, pastel flowers and greenery, separated in tall, clear vases on a stainless steel working bench. Strangely, I found this process slightly nerve-racking at first. Why you ask? I think because I originally thought there's a "correct way" in preparing flower arrangements – but with great relief, there actually isn't!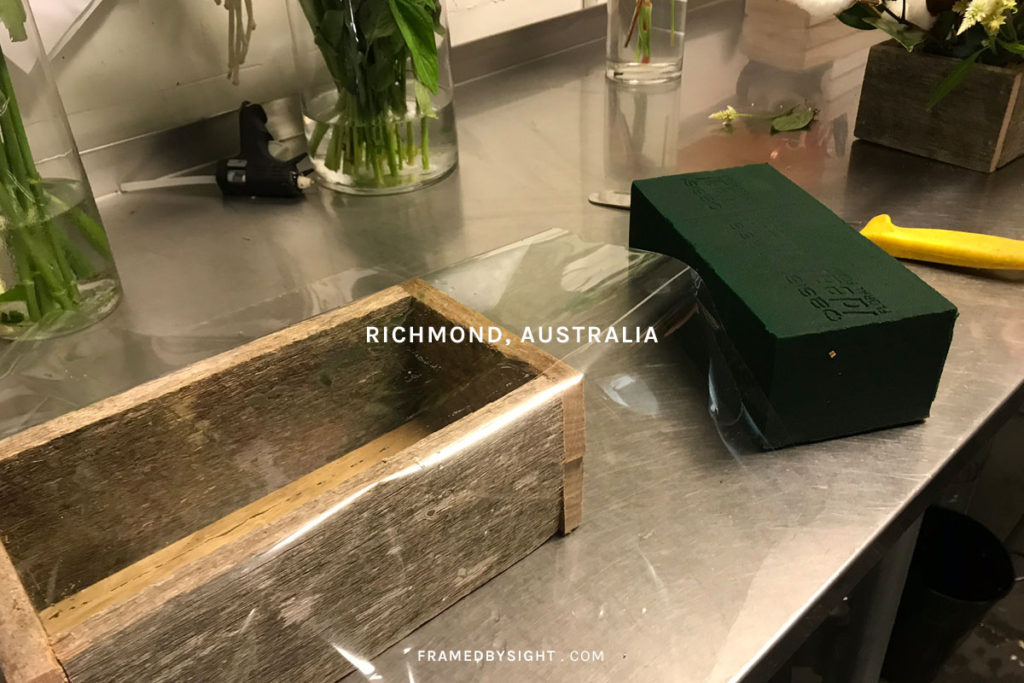 For my flower arrangement, a wooden box is the main 'vase' feature and using a sheet of cellophane in between, an oasis foam block is trimmed to fit, then soaked in water and placed on top. The oasis foam is the building block to hold the overall flower arrangement in place; leaves planted in each of the corners, plus one additional for the centre. Thereafter, the world is your oyster for what you decide to create next.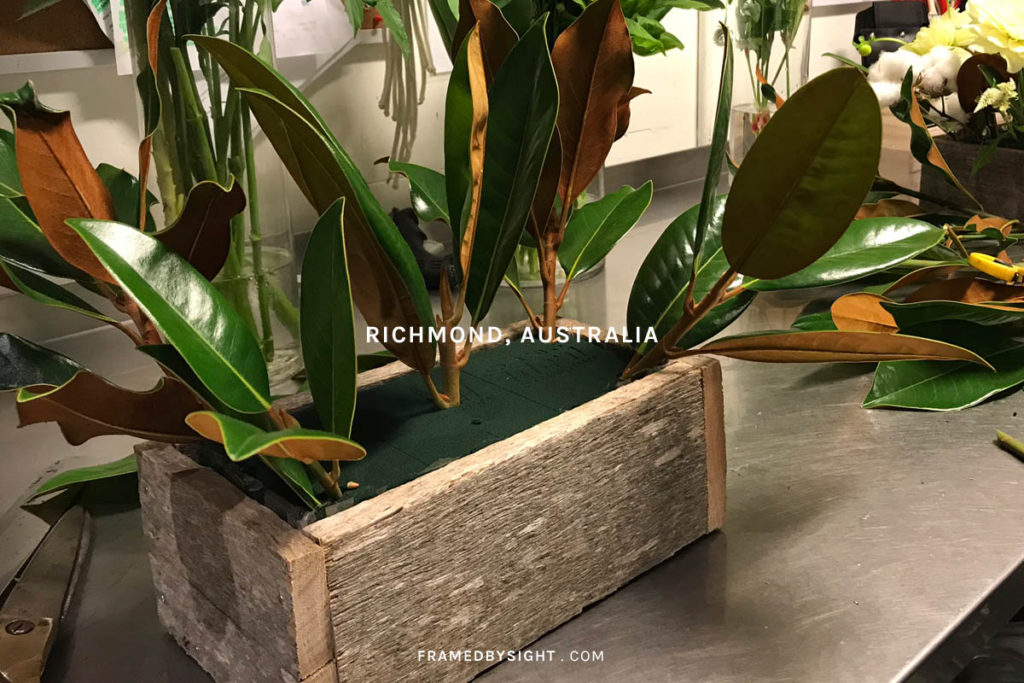 Jody slowly teaches you the way – designing a floral bundle is all about using contrasting colours and textures, adding height of proportionate sizes, and finding the balance of how your arrangement is completed.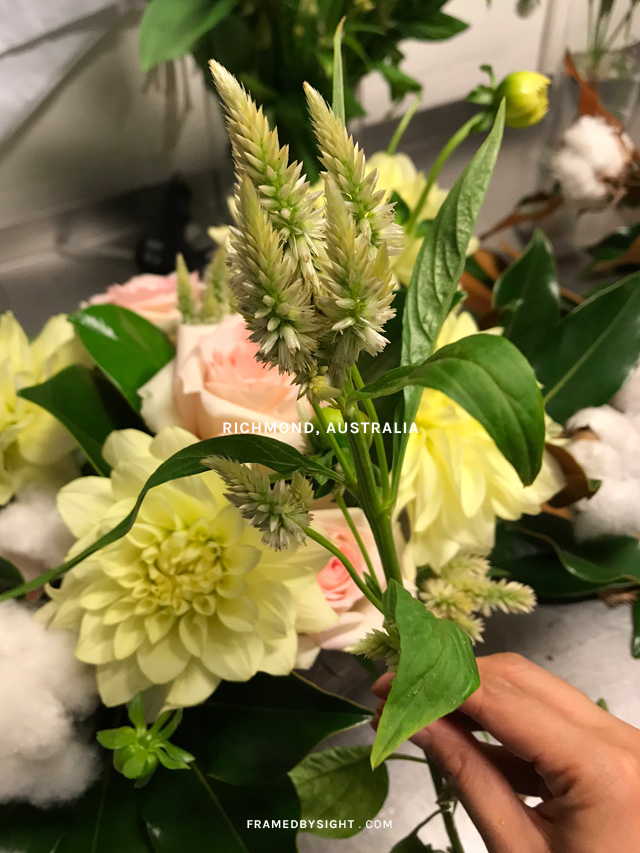 I had the pleasure of including Magnolia Leaf, Dollar Gum, Yellow Dahlia, Yellow Stock, Pink Roses, Yellow Tulip, Cotton and Feathered Celosia to my flower arrangement. Pruning their stems to different heights, removing the leaves and positioning the flowers in a particular way, was actually quite rewarding as the arrangement started coming together.
Jody was really helpful to bounce ideas from and guide you to design such an amazing arrangement. She did have a flower design pre-prepared to act as a reference point, but to be honest, my version did not turn out exactly the same, so you do have the flexibility to move your flowers around and make it your own.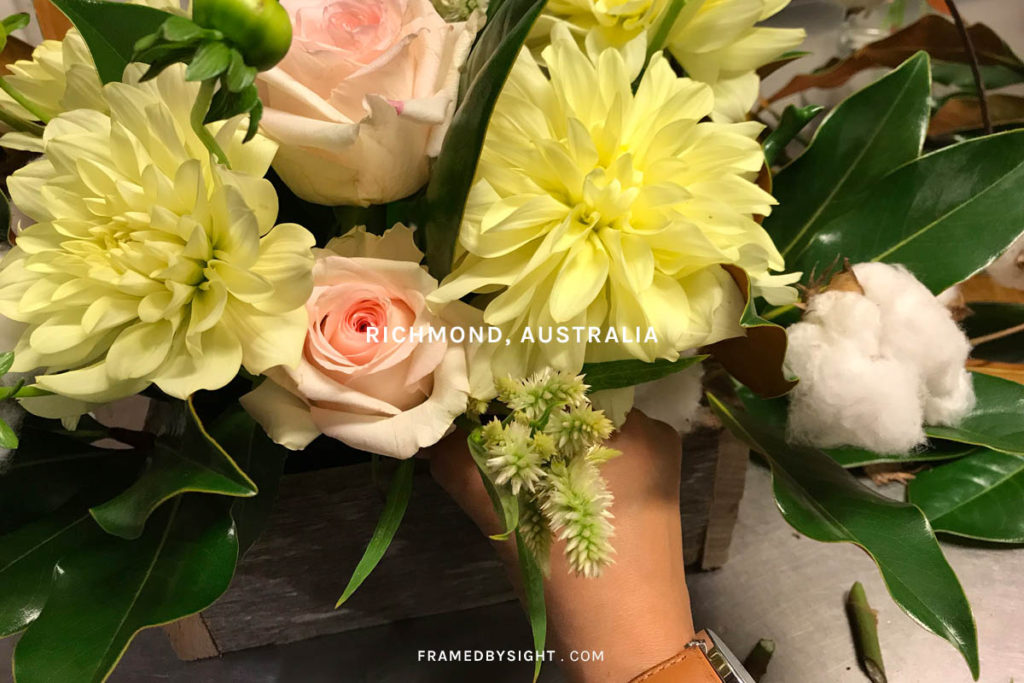 And voila, you're done! When you're floral arrangement is complete, you have the joy of being able to bring your creation home. I was honestly chuffed with what I had made, I personally felt it looked as good as the shops. Who would have thought cotton balls would one day be in a flower arrangement?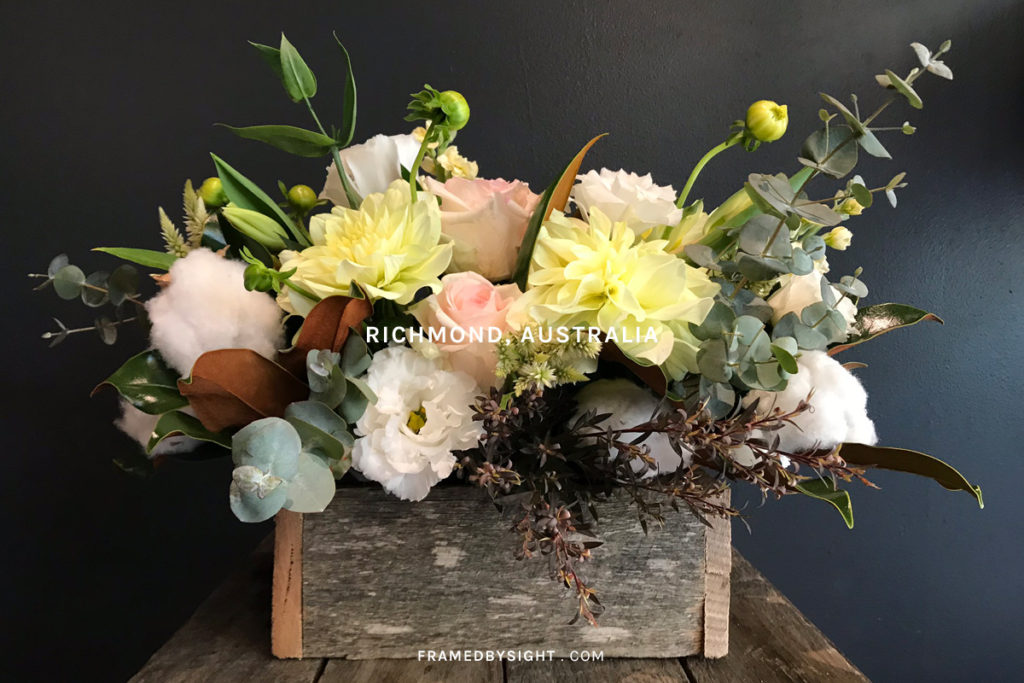 Jody shares how to care for your flowers and their longevity. She guides you to be confident in your preparation and is willing to on-share her knowledge and floristry skills. These flowers lasted just over a week on our dining room table with a regular top-up of water onto the oasis foam.
The Bloom Room offers floral design services for birthdays, anniversaries, corporate functions and even wedding arrangements. Flowers can be delivered as far as Mount Tomah, Kurrajong Hills, Windsor, Richmond, Marsden Park, Box Hill and Jordan Springs to name a few, so for a small fee, they may deliver to your area too.
For anyone interested in learning the art and secrets of flower styling and bouquet designs, these workshops are such a fun experience. Or, if you're thinking about a children's party or bridal shower in Sydney's north-west or the Hawkesbury region, this is the perfect opportunity to participate in a similar flower workshop or flower crown making session at The Bloom Room.
Address
205 Windsor Street, Richmond, New South Wales, Australia 2753
4