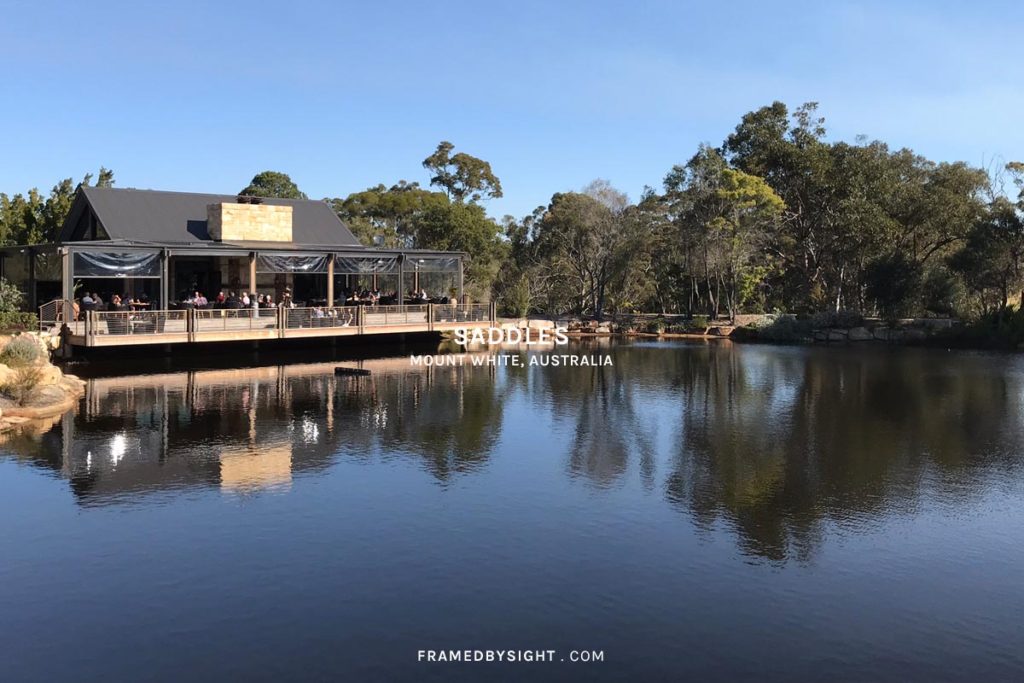 Located in Mount White on the Central Coast (and a good halfway stop point between Newcastle and Sydney) you'll find Saddles Restaurant, Bakehouse and Garden Centre. At the time of writing this post, with an average Google rating of 4.4-stars (out of 5) by more than 380+ reviews, it's not just us that love visiting this place – many others vouch for their superb dining experience too.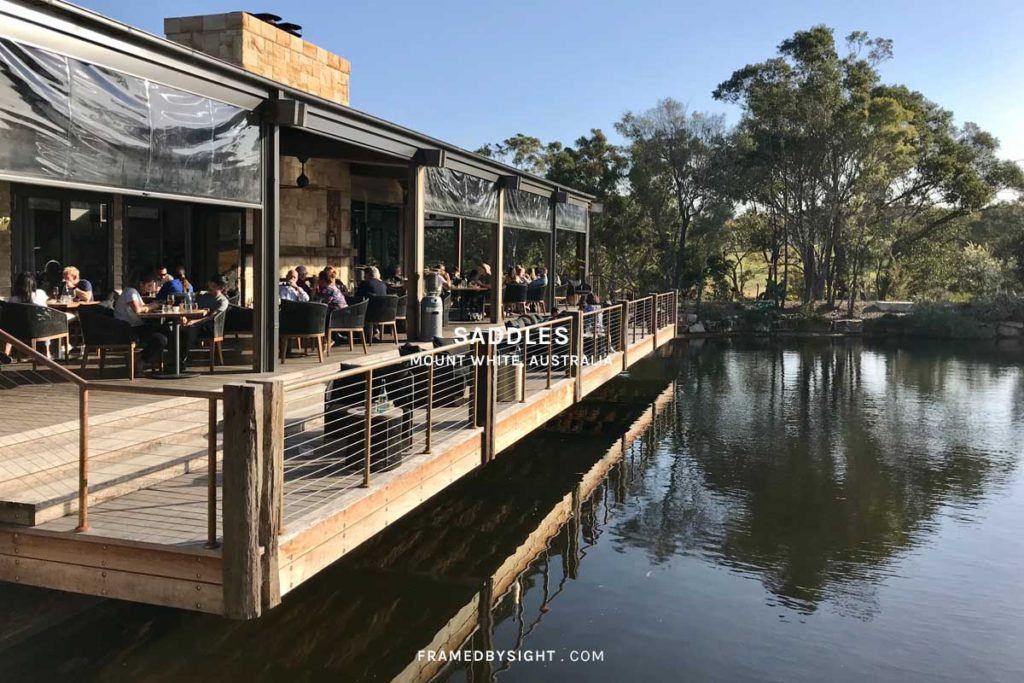 Situated on 10-acres of bushland with stunning views all around, Saddles is a relaxing oasis offering both indoor dining by a fire place, and outdoor dining on their expansive verandah, overlooking a picturesque lake.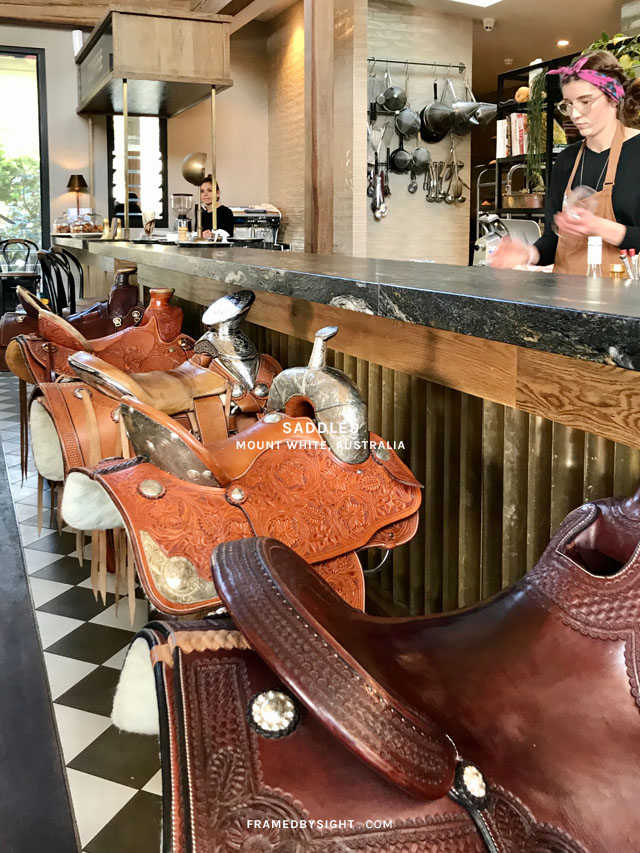 As its name states, 'Saddles' was originally inspired by an artisan saddler, Heath Harris, who worked with John Singleton crafting saddles for his nearby Stud. Inside this restaurant, you'll find uniquely designed saddle bar chairs in the main dining area, plenty of natural lighting and soft sandstone interiors throughout.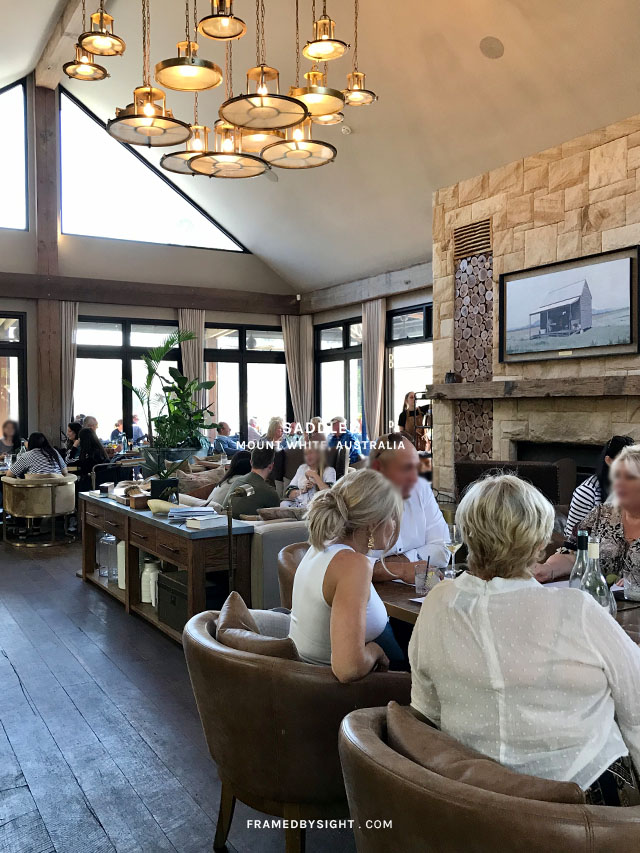 What's more, is that your pooch can join you too; both indoors and out. Yes, you read right, surprisingly indoors as well. The first time we visited, I was so chuffed that our pooch was welcome to join us. We were driving from Sydney to visit family in Newcastle, looking for a dog friendly venue in-between to have lunch.. Ever since our first visit to Saddles, this has now become our rest stop on our road trips to Newcastle, even if it's just for a quick take-away coffee.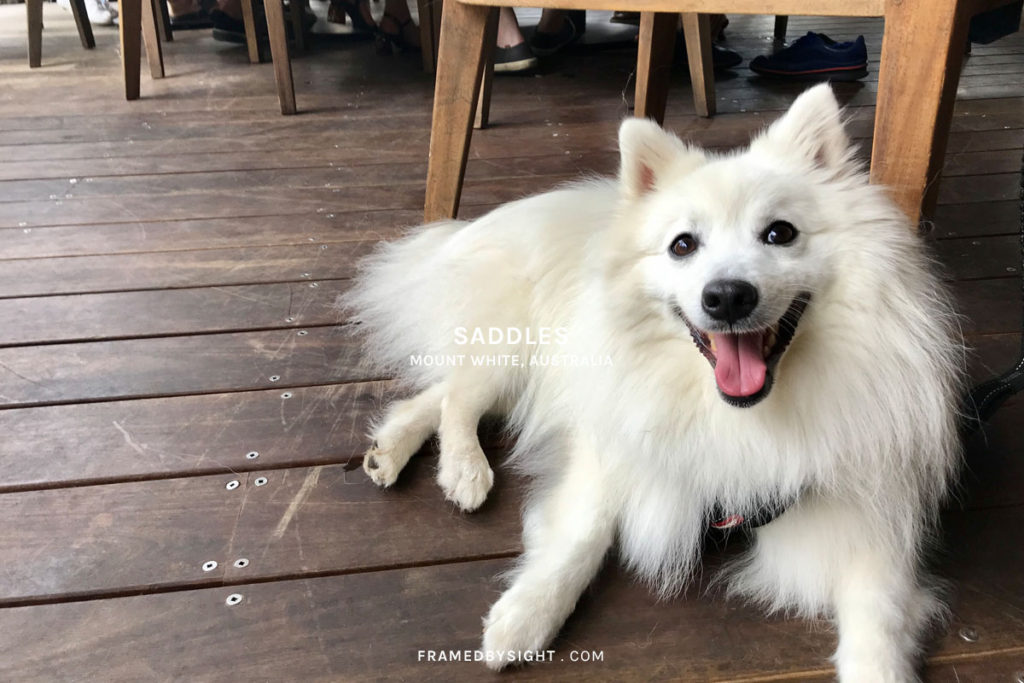 During one of our dine in experiences, I had counted six other dogs with their pawrents. They were all so well behaved, I even saw one pooch curled up under the owners' chair basking in the sun on the deck, which I was so impressed at. Clearly your dog has to be fairly social to join you at a venue like this, but it was nice to know that dogs are happily welcomed in a gorgeous restaurant like Saddles.
We genuinely enjoy coming here because of their simple, reasonably priced – and absolutely delicious – menu. Most of their dishes are made with fresh ingredients and local produce; like delicately hand made pastries and salads harvested from their garden. For us, their lunch portions are just the right size and it's an absolute must to also try their desserts.
Pork & fennel sausage roll with house sauce & salad (AU$22)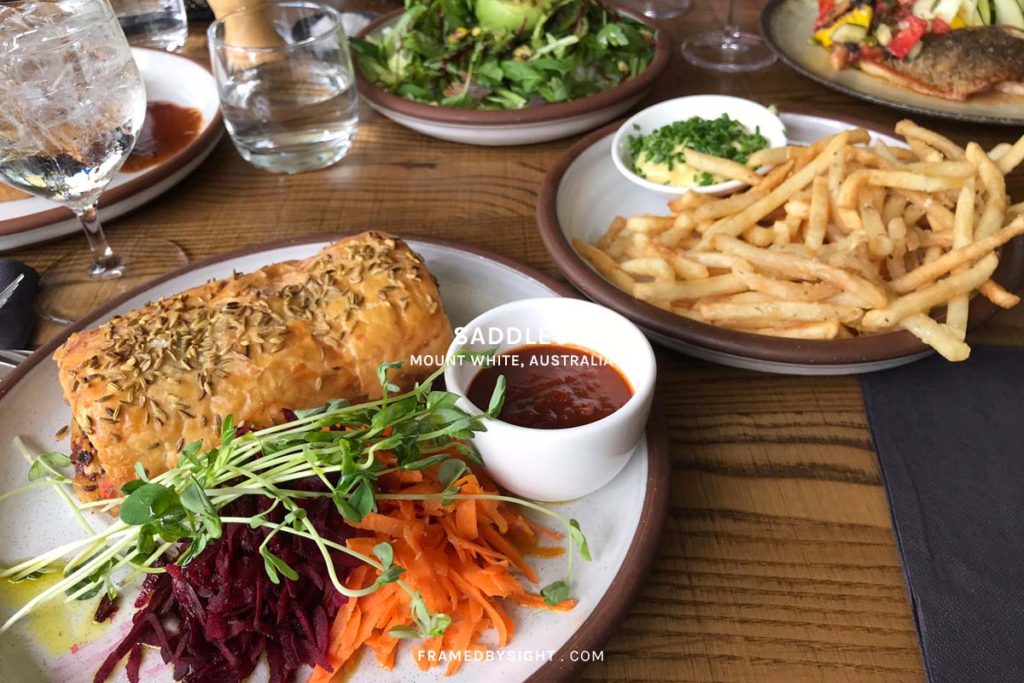 Saddles beef, red wine, pearl onion & mushroom pie with potato puree (AU$25)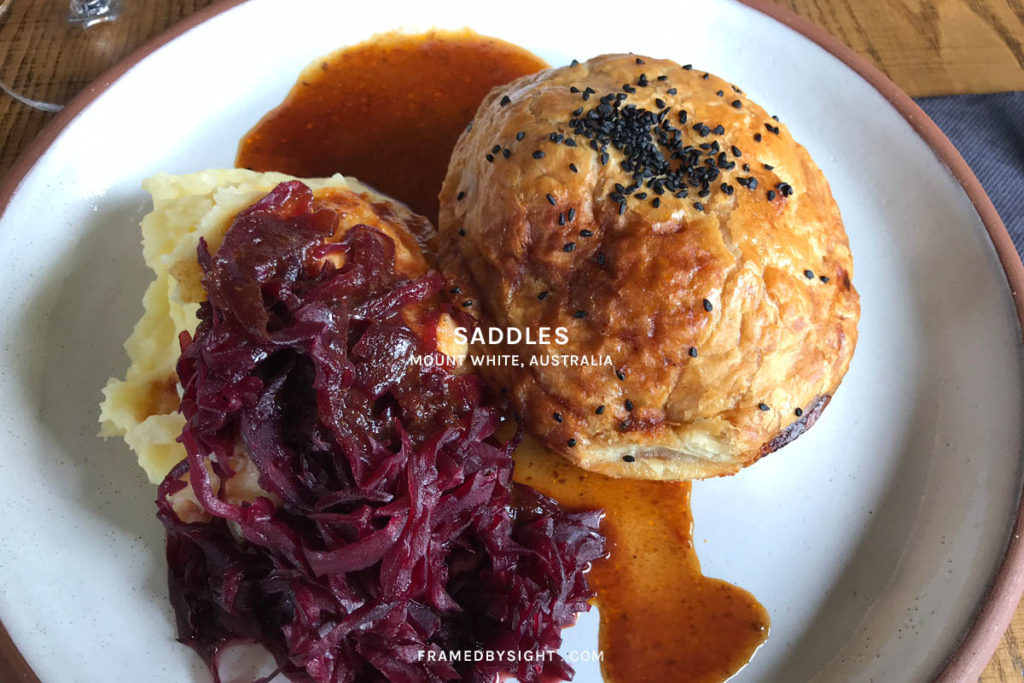 We also organised a beautiful birthday cake through Saddles (additional cost) to share between four.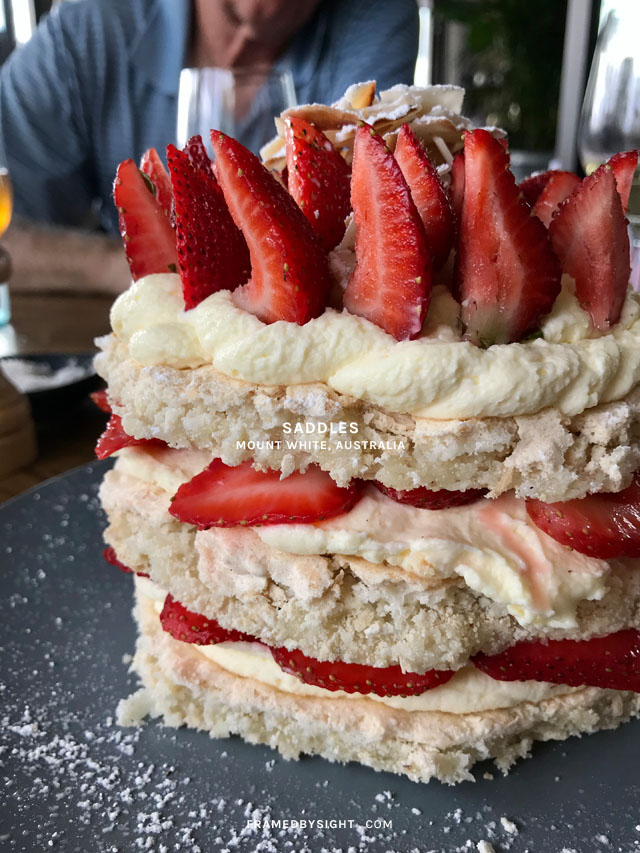 Strawberry, coconut & almond dacquoise cake; flourless almond & coconut meringue, layered with mascarpone & vanilla bean and fresh strawberries. Oh.em.g, so delicious..
A big shout out here the staff – the service has been amazing each time we've visited. Everyone is happy, professional and attentive, and the food is served quite promptly too.
Once you turn off the highway, it's as though you've been transported to a rustic, country homestead when you first arrive at Saddles. You'll be pleasantly surprised too that Saddles is far enough away from the highway, that you don't actively hear cars whilst dining at the restaurant. Parking is available right in front, or if it's full, there's ample parking on the main road before you enter.
And once you've finished, pop over to the Saddles Garden Centre across the lake where you can peruse the garden nursery and consider adding some greenery to your home – I certainly did (I love a good indoor plant).
Dining at Saddles Restaurant can get busy on the weekends, so bookings in advance are highly recommended – you can do this directly on the Saddles website too. This is the perfect venue for family gatherings, celebrations or even just catching up with friends. It's dog friendly and child friendly too, so I'm sure many of you will enjoy Saddles as much as we do.
Open daily all-year round from 8am to 5pm (except on Christmas Day, Boxing Day and New Years Day), this is a lovely restaurant on the Central Coast; an excellent spot for breakfast, brunch, lunch, or even a late afternoon beverage on their sun-filled verandah.
Address
Saddles Mount White
20 Ashbrookes Road, Mt White, New South Wales, Australia 2250 (in the Central Coast region)
Phone
0243701152
52