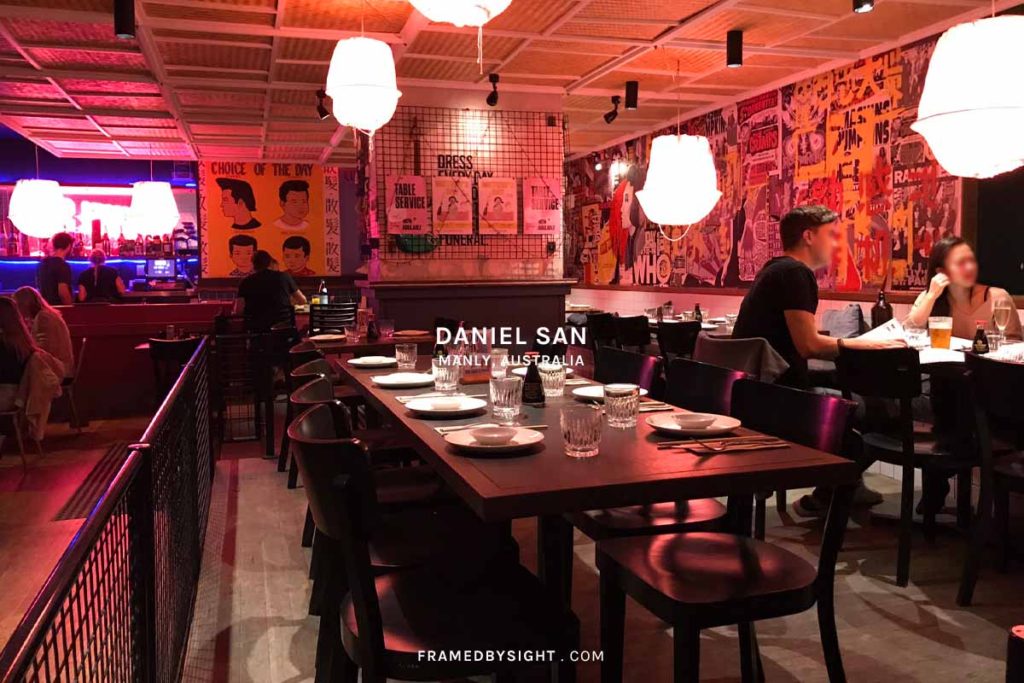 Staying at the Novotel Sydney Manly Pacific brought me to Daniel San. Actually, curiosity also got the better of me. Great beats, cool interiors, bright lights… It was calling us for a visit.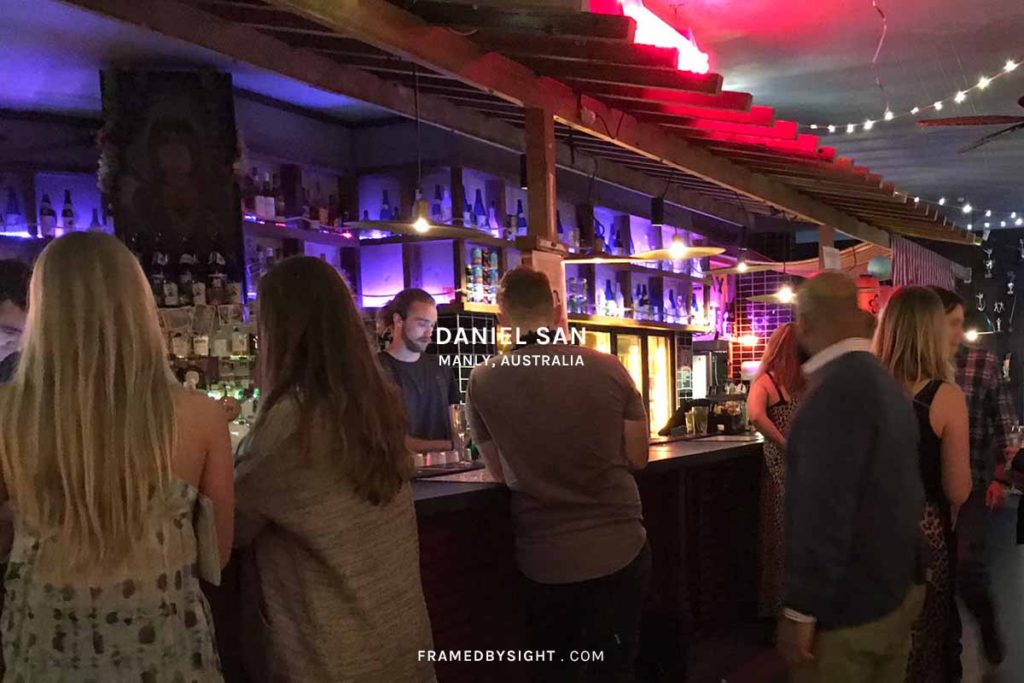 Located in the heart of Manly and opposite Manly Beach, Daniel San is a quirky restaurant experience not to be missed. With the option of outdoor dining on large communal tables, or indoors amongst the crowd, the atmosphere here is buzzing.
Good music, rock n roll themed seating areas throughout, bright neon signage in different pockets of the venue and I also noticed bamboo steamer baskets decorated as light fixtures. If only my mum saw this and she'd absolutely lose it and comment that they're suppose to be for dumplings – not for the ceiling?!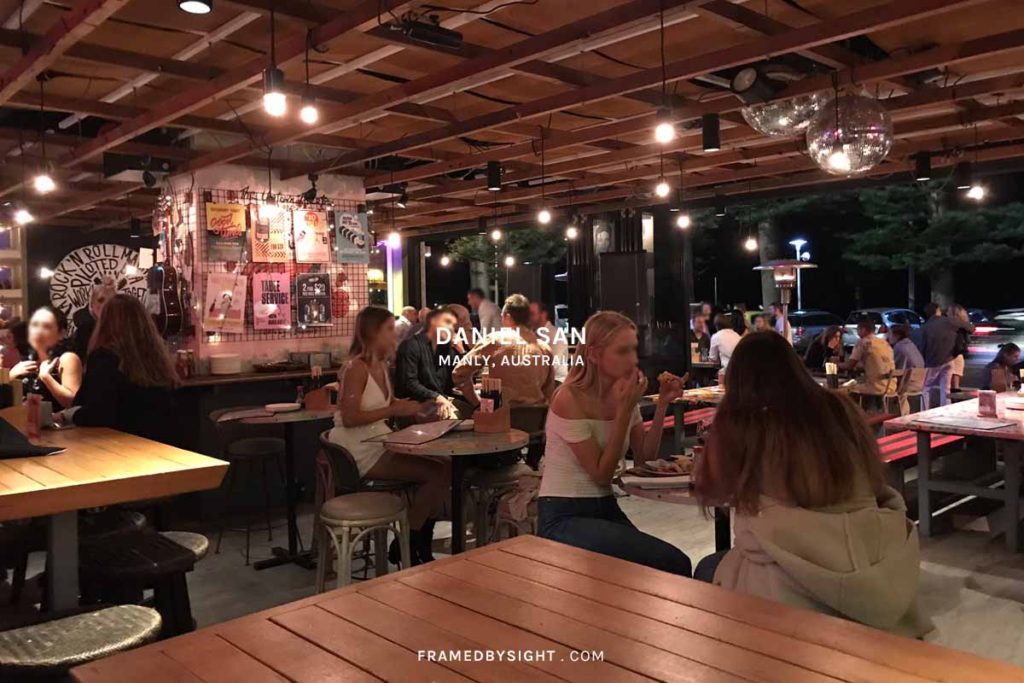 Expect a Japanese fusion meal with an array of food choices on their menu; tempura, sushi, gyozas, burgers, salads, poke bowls and more. All served as fairly large portions and a great opportunity to share meals with friends.
We chose: Chicken katsu curry (AU$21), 'Karate Kid' sushi (AU$16), KFC (Korean fried chicken) (AU$15.50) and 'Volcano Roll' sushi (AU$15).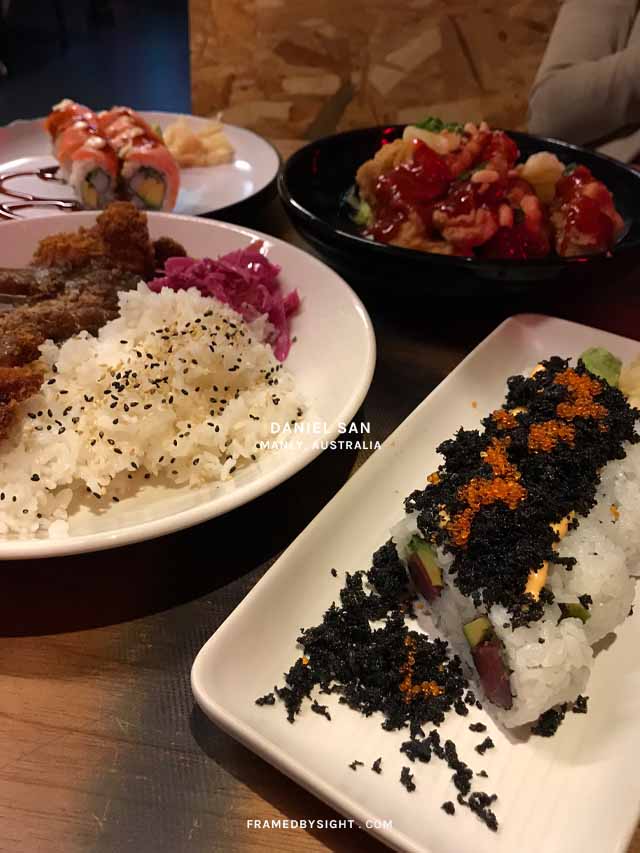 Despite being a busy night, the food at Daniel San's was still served quite timely and tasted delicious. Music did seem to get louder later into the evening – or maybe it's because more people start arriving – but if you're in there for a few drinks, good food and not after a super quiet restaurant, then this might be your jam. Coupled with the overall ambiance, decor and friendly service, I'd personally recommend the visit.
Daniel San is also a great venue for group bookings/dining in Manly and caters for young families with a children's menu and kids colouring area for drawing and the like. They also have pinball machines and arcade games available to play too.
And, if it's a weeknight, pop in for happy hour drinks from 6pm to 8pm; house spirits, house white, red, sparkling, Okinawa lager and Tiger Beer are just AU$6 each, or check their website for other daily house specials.
Address
55 North Steyne, Manly, New South Wales, Australia 2095
11