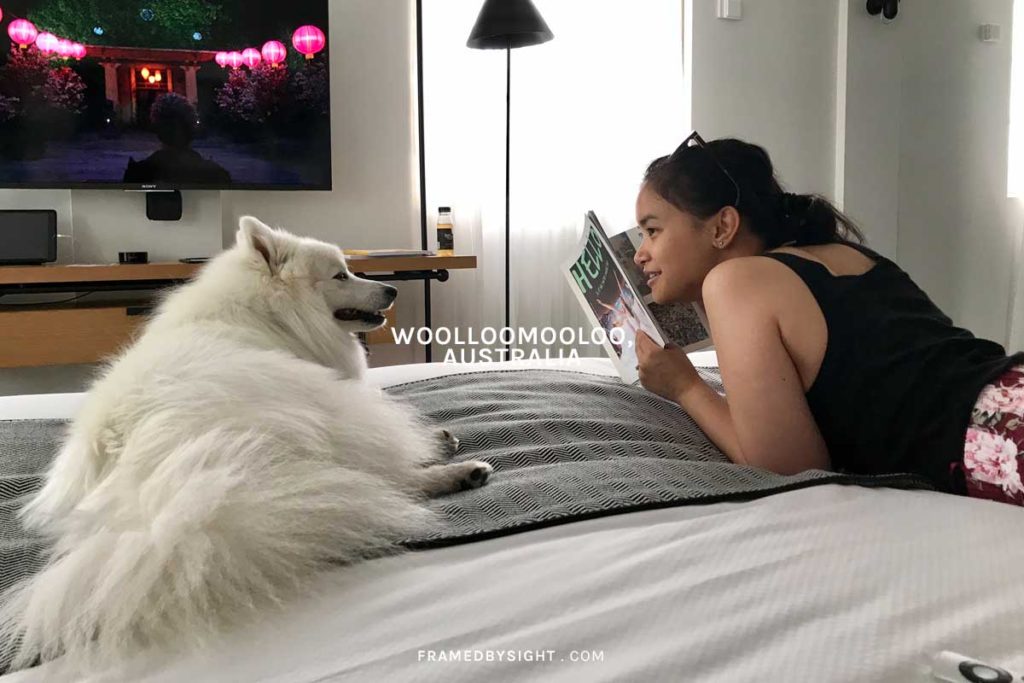 With an impromptu weekend getaway in town, what better way to indulge in a hotel stay that allows you to bring your furbaby too?
In search for dog friendly accommodation in Sydney, I found Ovolo's V.I.Pooch package at the Ovolo Woolloomooloo Boutique Hotel. Located on the wharf at Woolloomooloo, with both city and Sydney Harbour views throughout, expect your pet friendly stay to be in a modern and luxurious, eclectic yet sophisticated, heritage-listed building, transformed to an artistic and funky hotel. It radiates plenty of personality, in a great waterfront location with a range of trendy restaurants at your doorstep.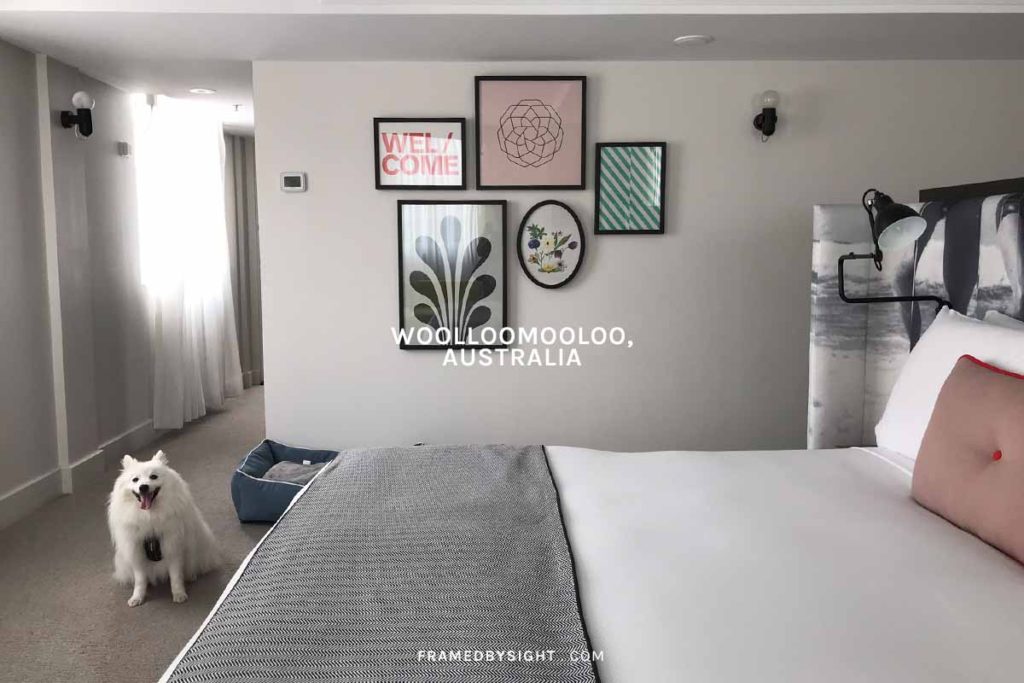 If you're staying with a dog, I'd highly recommend booking the Deluxaroo King Room (or larger) because the extra space is definitely worthwhile.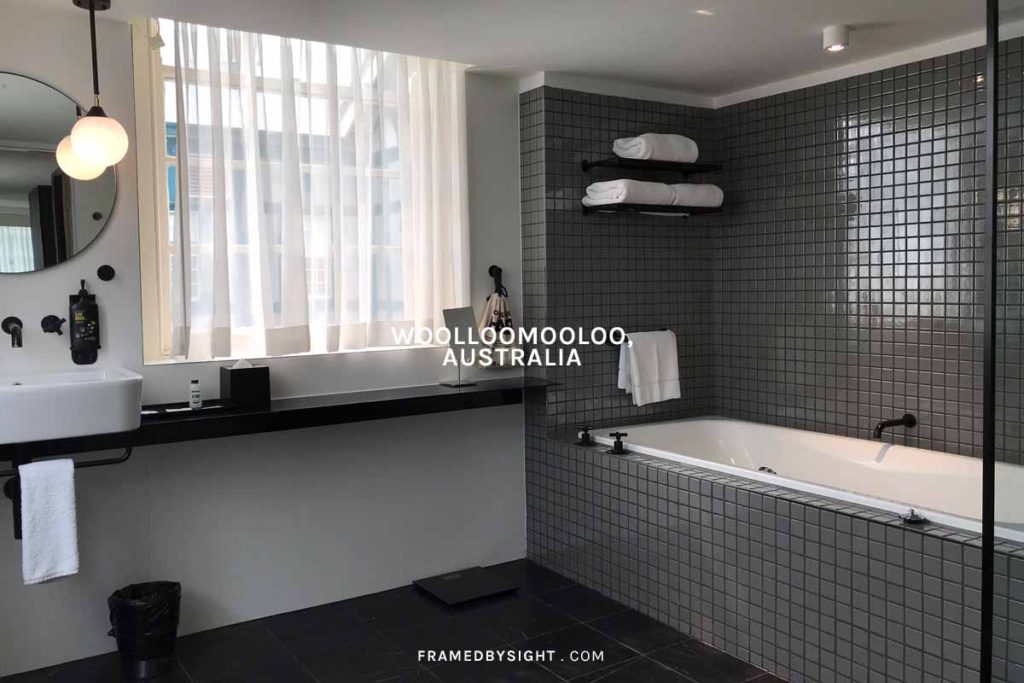 At 46m2, there's plenty of room for you, your dog, a king-sized bed, a comfy doggy bed, a generous sized bathroom and a walk-in wardrobe too.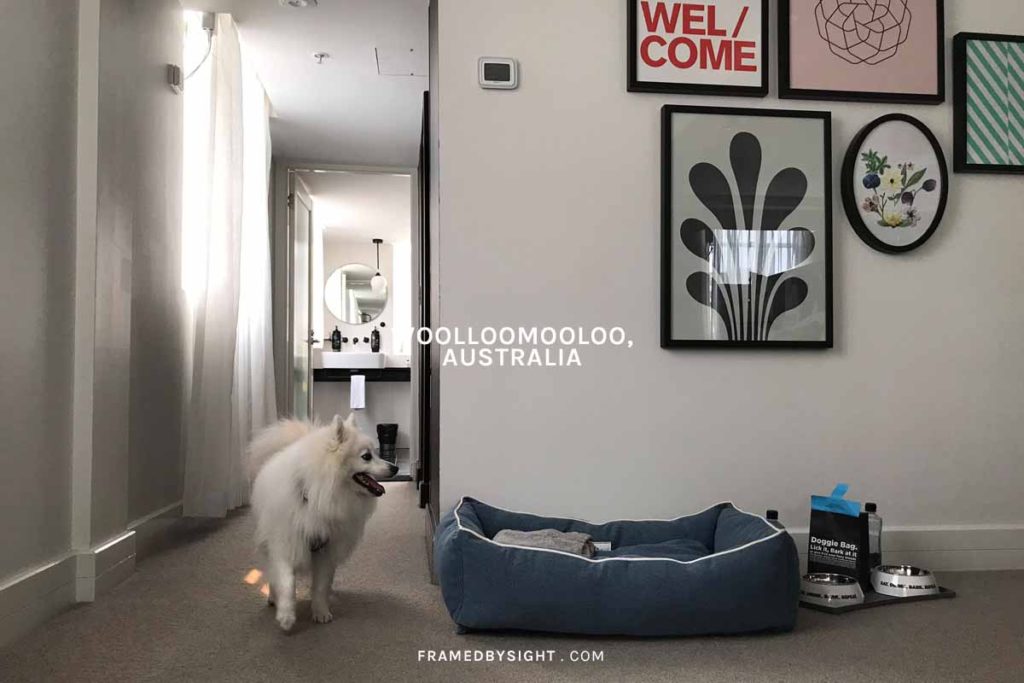 In addition to the pooch bed, Ovolo's dog friendly V.I.Pooch package also includes use of two dog bowls, bottled water and a 'doggy bag' inclusive of complimentary Billy and Margot dog food, which fortunately, is the same brand we use at home and an added bonus for us – Kenji's nose was right into it as soon as I opened the bag.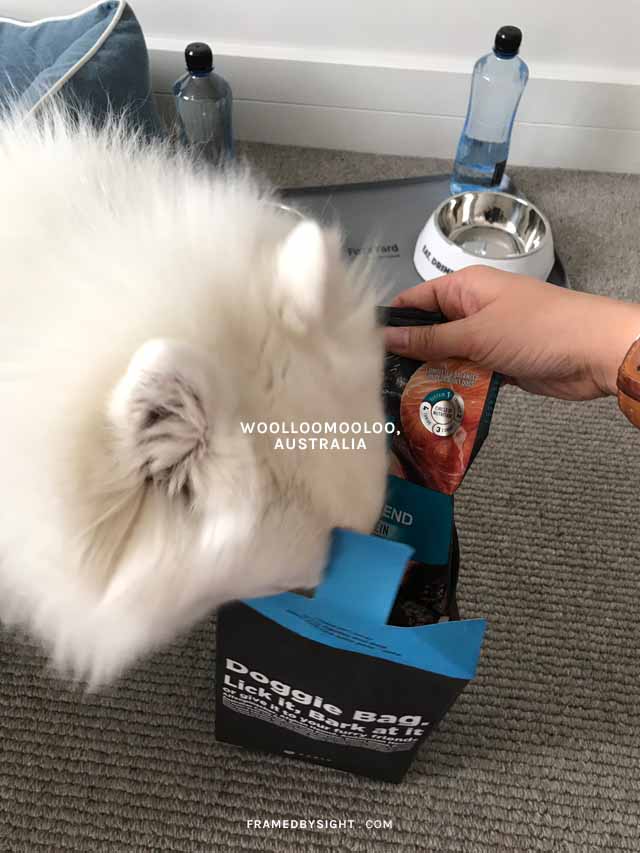 What I loved about the room was that it was actually positioned at the end of the hotel hallway. What this means is there was no-one regularly walking past the front door and if your dog has sensitive ears like mine, he wasn't barking down the house from anyone being too close to our room.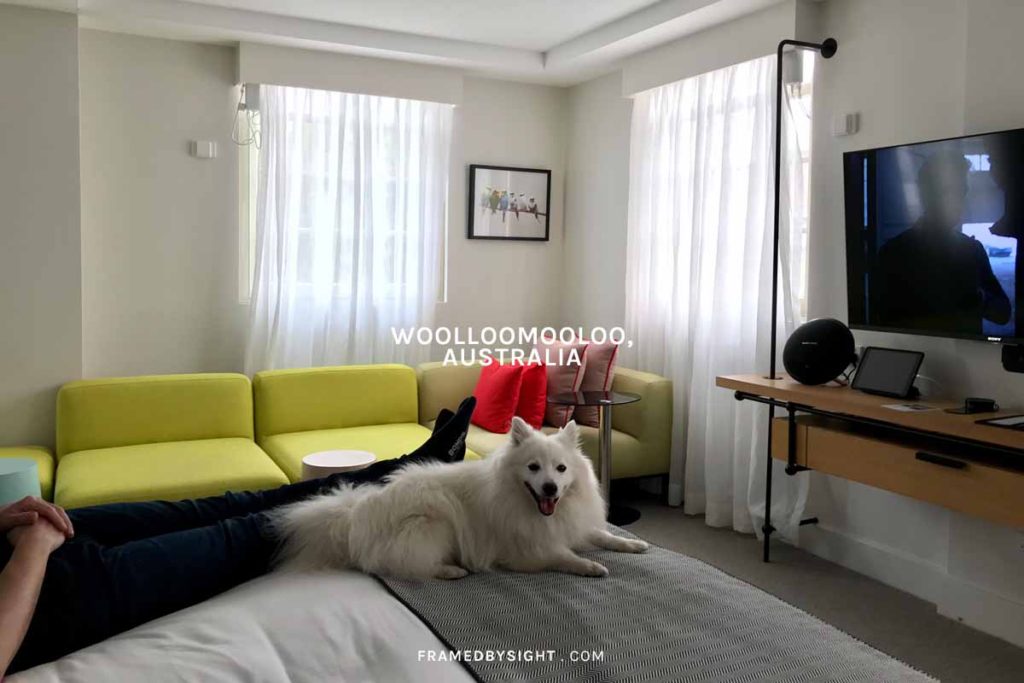 Expect a tech-savvy room; talk to Alexa and ask for today's weather, use the smart TV and log-in to your own Netflix account, access Apple TV to view even more shows, or use the in-room iPad to search for a late night food craving from their 'Sleep Walker' menu. The room also includes block-out electric blinds and ducted air-conditioning throughout. Whilst we were staying in a street facing room, we did still have a nice view overlooking the naval yards.
All guests of the Ovolo Woolloomooloo enjoy:
Free in-room mini-bar, replenished daily. Beverages include bottled sparkling water, mineral water, orange juice, apple juice, soft drink, bottled Young Henrys beer, Peroni beer and sparkling chardonnay and sauvignon blanc wines.
Free Ovolo 'Loot Bag' included a 90g block of dark chocolate, Haribo jellies, Red Rock deli chips, protein bar, lolly pop and Tim Tams
Free self-service laundry services
Free pool and 24-hour gym access
Free Wi-Fi access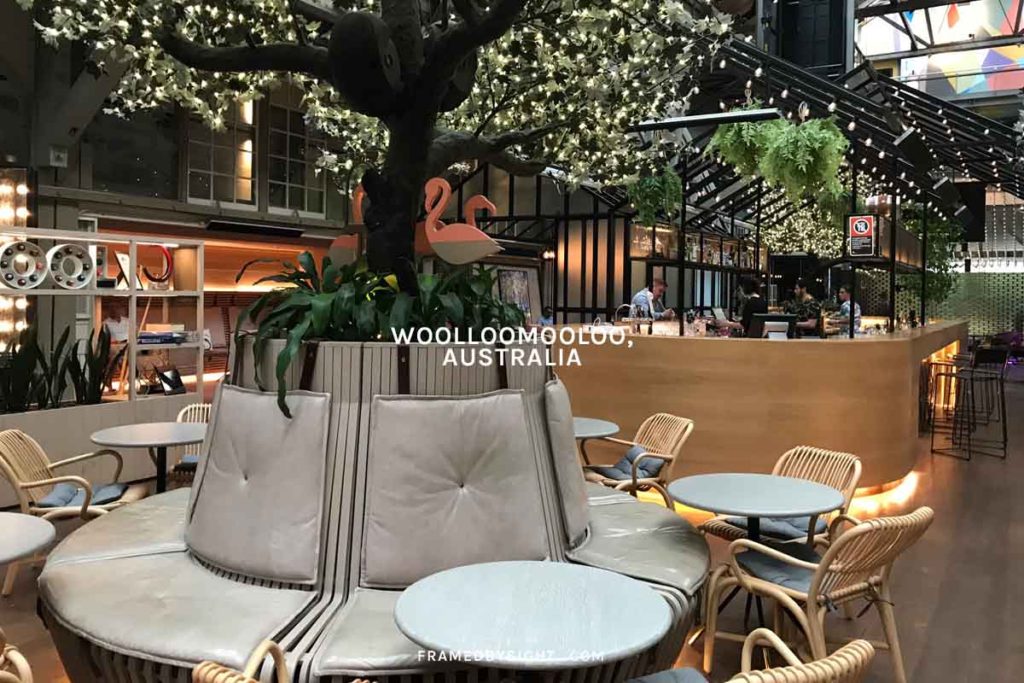 Plus, in addition to these, when you book direct with Ovolo, you'll also receive extra exclusive bonuses during your stay:
Free daily happy hour from 5-7pm, which includes a selection of beers, wines, spirits and soft drinks and light snacks held at Alibi Bar & Kitchen… free, what?!
Free continental buffet breakfast (usually AU$25pp) with your choice of cereals, breads, pastries, fresh fruit, muffins, use of a coffee pod machine and a selection of juices… double what?!
As peace of mind, when you book direct, Ovolo offers a rate guarantee. That means if you find a lower, publicly available rate for the same hotel, room type and booking date, they'll match the competing rate, plus give you a free room upgrade subject to availability. So what are you waiting for?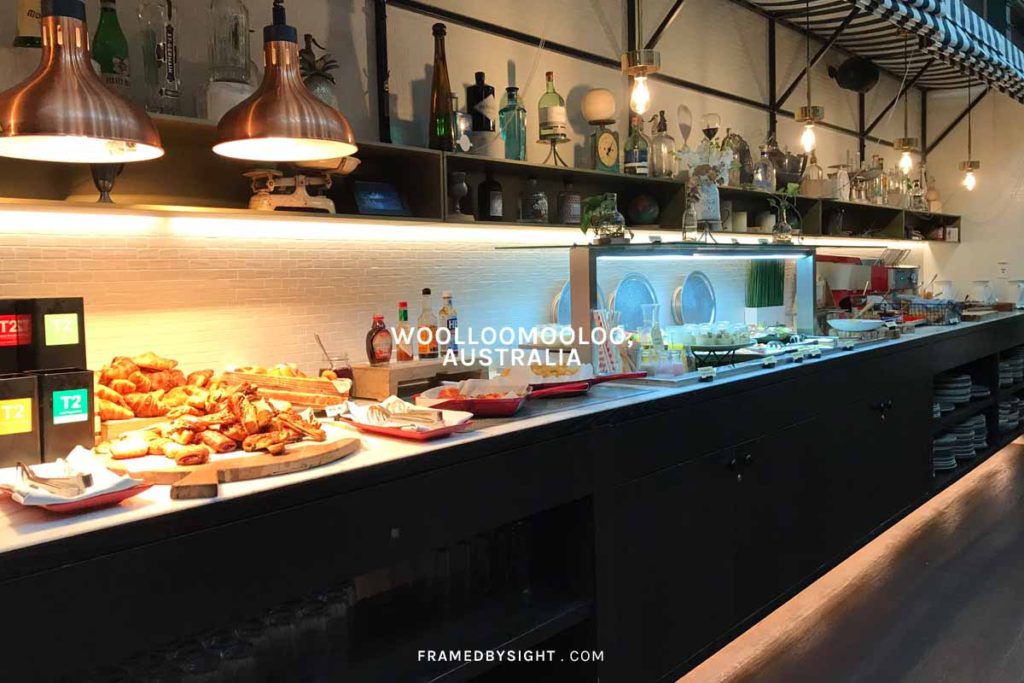 Ovolo Woolloomooloo offers a great dog stay for a maximum of two dogs per room with an additional charge of AU$80 per dog, per night to your room rate. That said, dogs are not permitted in any hotel bar/restaurant and you cannot leave your dog unaccompanied in the room.
I was advised by the team that they can set-up a pen near reception if you need to step out for a short period. We didn't try this as we were happy to spend time with Kenji and take him with us whilst we dined out, but the staff here were more than welcoming during our pooch stay.
A kind staff member also delivered extra dog treats to the room after he saw us in the hallway – unfortunately, I didn't catch his name, but the gesture was very much appreciated.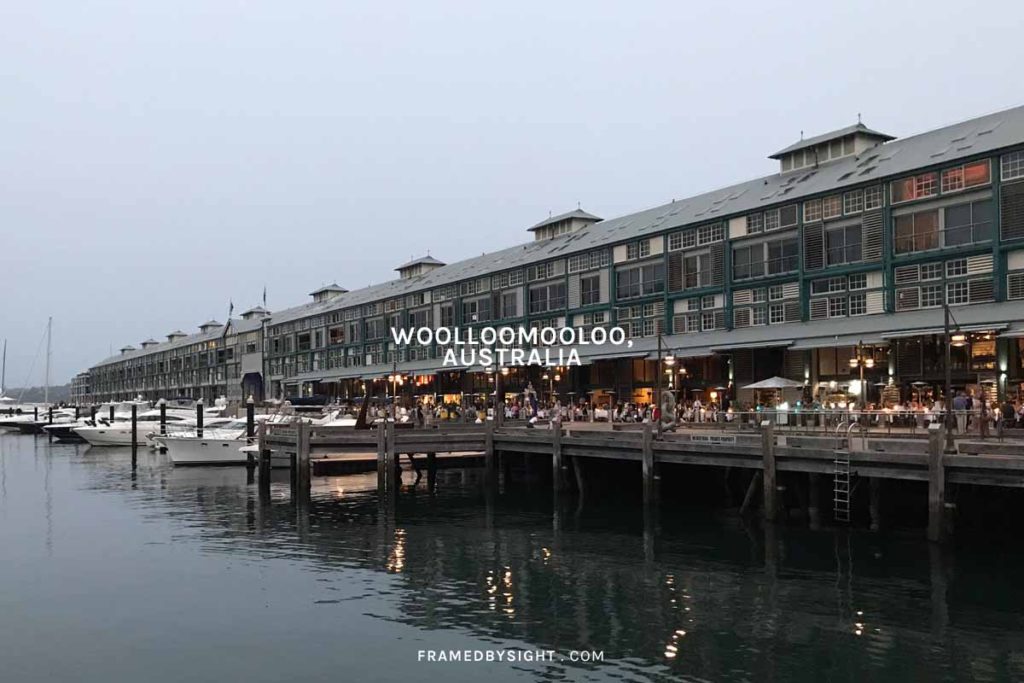 Where to go with your dog? If you're ok to leave your pooch at reception, there's plenty of restaurants on the wharf within close walking proximity of the hotel. Unfortunately, the wharf restaurants are not dog friendly dining options, however The Tilbury Hotel is across the road from the Ovolo Woolloomooloo and permits outdoor dining with the pooch at its public bar. Or Harry's Cafe de Wheels Woolloomooloo, is just 100m from the hotel's doorstep and you can grab a famous meat pie or hot dog right on the water's edge.
Alternately, enjoy a brisk 15-minute walk towards Elizabeth Bay and dine at the dog friendly Gazebo Wine Bar & Dining, or at the neighbouring suburb of Potts Point at The Silly Tart Kitchen and try their delicious garden to plate dining menu. For something a little more fancy, enjoy modern french dining with your dog at Bistro Rex.
For a beautiful off-leash dog friendly park (selected areas are on-leash), take a 15-minute drive to Sydney's Centennial Park. Expect to see plenty of dogs running around these grounds and if you have time, grab a coffee at H Pantry located inside the parklands. Unfortunately, the nearby famed Royal Botanic Gardens do not permit dogs, but there are a few small pockets of grassed areas next to the Ovolo Woolloomooloo, or you can stroll with your pooch along the wharf too.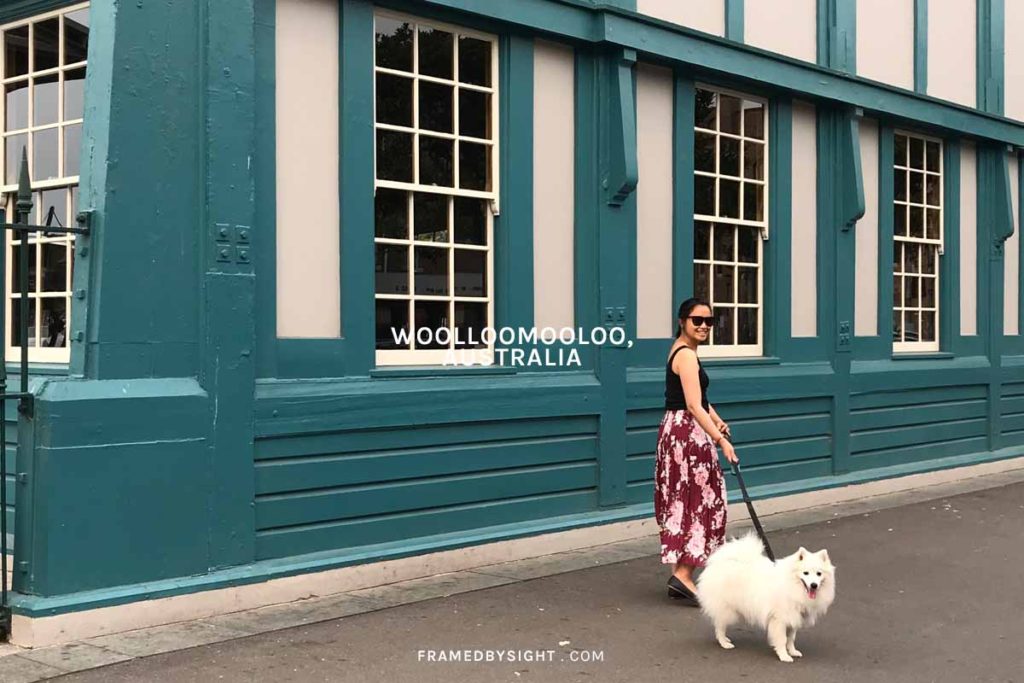 A big shout out to the team here at Ovolo Woolloomooloo – when you're looking for genuine hospitality, this hotel lives up to exactly that. From the front reception, breakfast bar or even walking the hallways, the staff here are very courteous and friendly. If it was just on staff alone, it's already a big thumbs up from me.
Address
Ovolo Woolloomooloo
6 Cowper Wharf Roadway, Woolloomooloo, New South Wales, Australia 2011
34