Ready for some pinoy boodle action? A boodle what you say?
Back in the hey day, a boodle fight is one thought to be a meal had without using cutlery – no spoons, forks or knifes and simply using your hands. It is what Filipinos would say as 'kamayan' which translated, is 'eating with your hands'. It is a time in the military where food would be placed on top of a long banana leaf-lined table, and the troops would stand side-by-side as a senior officer would announce for the team to "commence the boodle fight."
Yes, it's true. Sounds like a made up story, but apparently a boodle fight was part of our history. To be honest, it reminds me of how family gatherings would be. I grew up in a Filipino household, not having regular traditional boodle fights, but kamayan dining more often than not.
So a visit to Sydney's Panlansang Pinoy Kogarah restaurant was one I was prepared for… ready and waiting (to fill my empty stomach that is).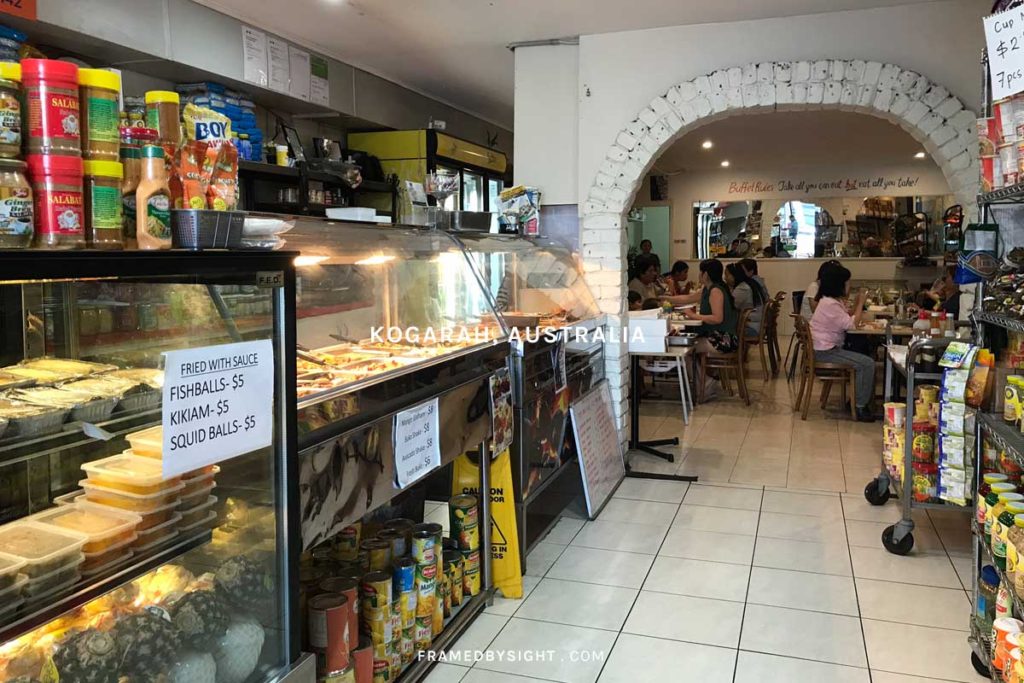 This experience had been recommended to us by a friend, so we added it to the list for our next catch-up – and what a nice surprise when you first walk in. A supermarket at the front, restaurant at the back. In the beginning, it is slightly confusing as you're wondering if you have arrived at the right place, yet all-in-all, it adds to the ambience and quirks for such a Filipino restaurant.
There's a mix of dining options to choose from:
Take-away food order from the main window
All day breakfast selection for AU$10 per person
Filipino food buffet for AU$15 per person, or
A Filipino boodle fight (minimum of 4 persons) for AU$25 per person with a pre-booking
Panlasang Pinoy Kogarah also offers Filipino food catering services such as lechon pork belly, kare-kare, bulalo, pancit and more, so if you're in Sydney, give this restaurant a call to pre-order your requirements.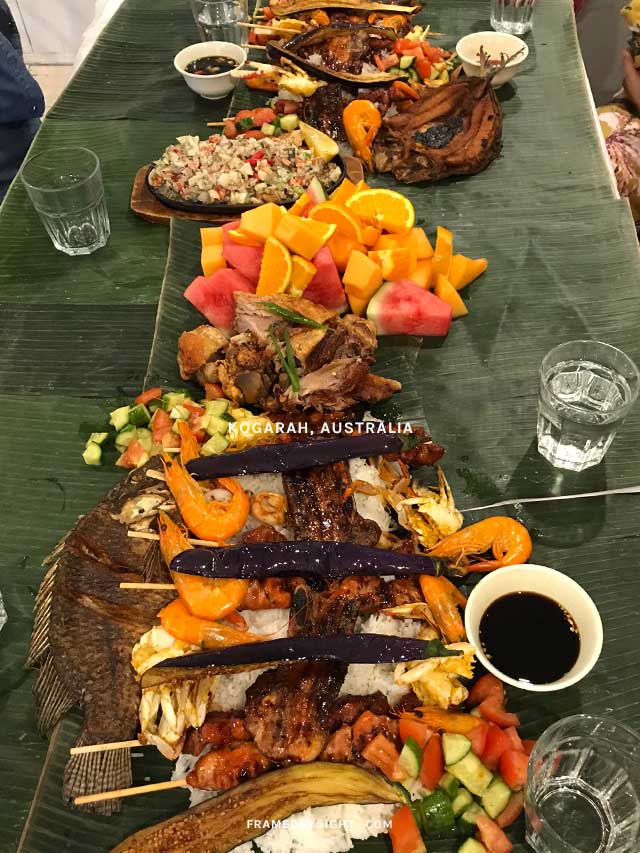 So what's on this Filipino boodle fight menu you ask? If you love Filipino tasty goodness, get ready to drool with: crispy pata, pork and chicken bbq skewers, sizzling sisig, squid, fried tilapia, prawns, crab, eggplant, rice, mixed vegetables and fruits. #mmm #lickthoselips #absolutelydelicious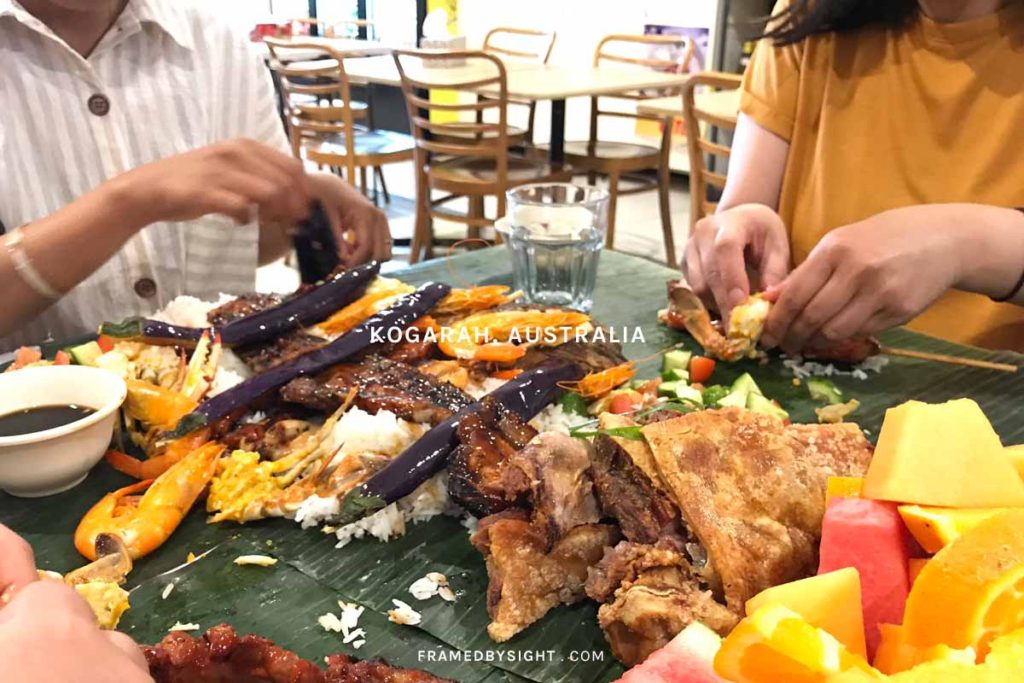 We were all reminiscing of how this experience brings you back to your childhood and street vendors back home.
Imagine the aromatic Filipino cooking wafting throughout the store, Tagalog chit-chatter from the surrounding tables, and a choice of drinks like sarsi and calamansi juice to complement your meal.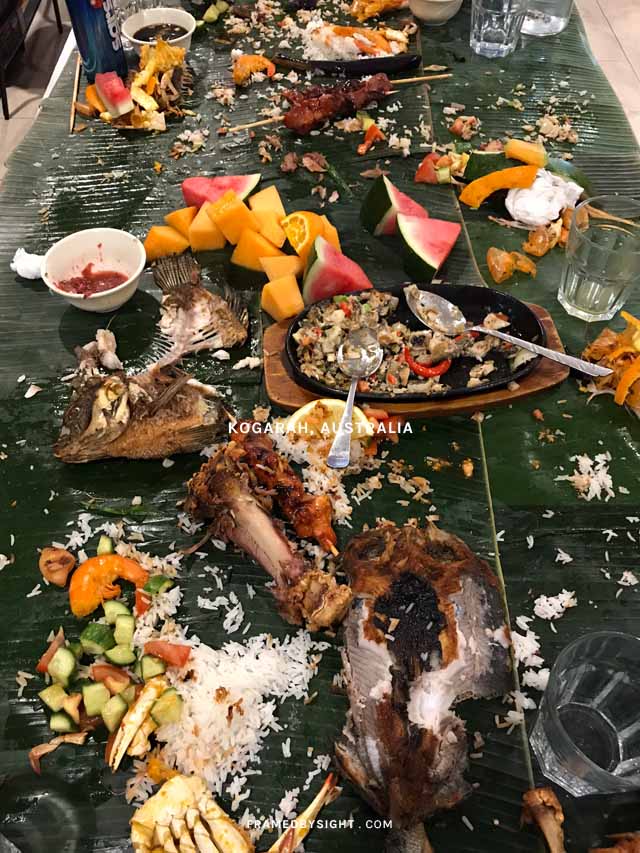 That said, we didn't realise how quick the time had past, yet we actually grazed through most of our boodle fight. There's definitely plenty of it, so be prepared to experience a self-inflicted food coma soon after.
Panlasang Pinoy Kogarah is a nice, simple restaurant to visit, not over the top, yet very traditional with the staff here even talking to us in Tagalog each time we ordered drinks and desserts (additional cost).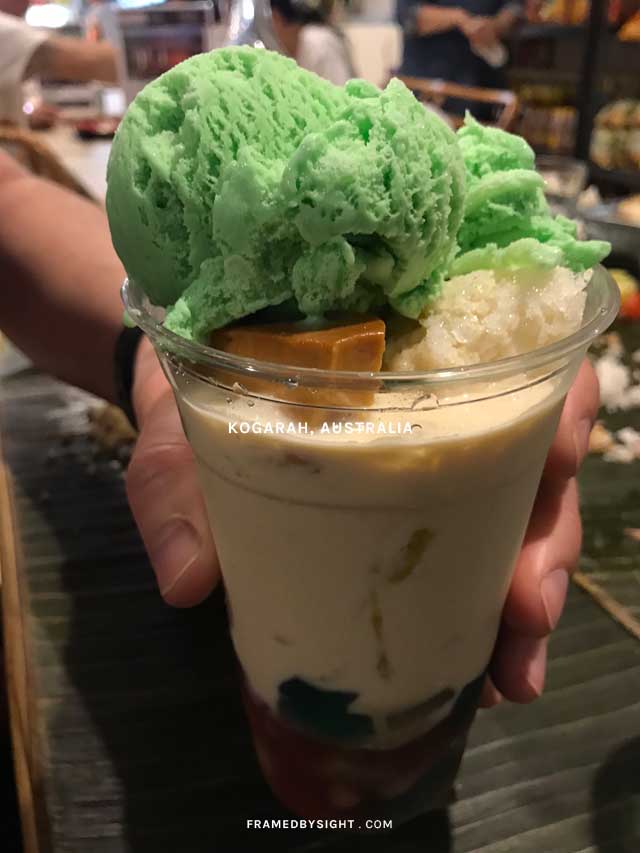 Don't forget to try their mango graham, buko shake or halo-halo. I'd have to say their halo-halo dessert is one of the best ones I've had, right proportions throughout all the different layers.
And if you haven't had enough food, don't forget Panlasang Pinoy Kogarah is also Filipino grocery store so make sure you stock up on pinoy food supplies on the way out.
Address
26 Regent Street, Kogarah, New South Wales, Australia 2217
21