Whilst sitting on a plane to Singapore, I was reading the in-flight Qantas Spirit of Australia magazine and there was an article titled "A Concierge Reveals Singapore's Secret Hotspots."
"The restaurant locals are loving is… National Kitchen by Violet Oon" it says.
I'm thinking, well if the locals are loving it, it must be worthwhile?! With a list of dining recommendations already prepared for our Singapore trip, I add one more – National Kitchen.
Staying at the Ritz Carlton Millenia Singapore, this restaurant is less than a 1.5km walk away. But to be completely honest, in the heat, we jumped in a cab to take us right to its doorstep. Make sure you ask to be dropped at the Coleman Street entrance of the National Gallery Singapore. This is the easiest way to find National Kitchen by Violet Oon once inside the gallery.
It's a bit tricky to see at first, there's no large signage upon entry and you're dropped off at a famous art museum housing the world's largest public collection of Singaporean and Southeast Asian art – not exactly a restaurant shopfront that you're expecting to find. When you do arrive, ask the information desk for directions.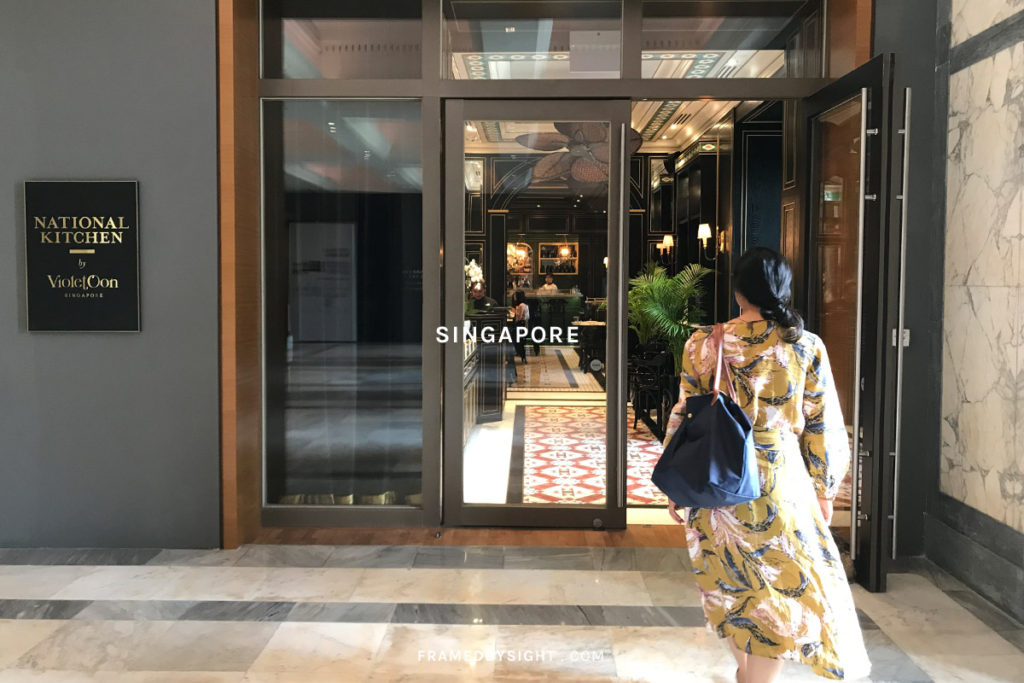 Hello National Kitchen! Awe, you are such a glam, glam find. Stylish with all that black, yet bold with those strong golden touch finishes – I certainly love the decor in this place.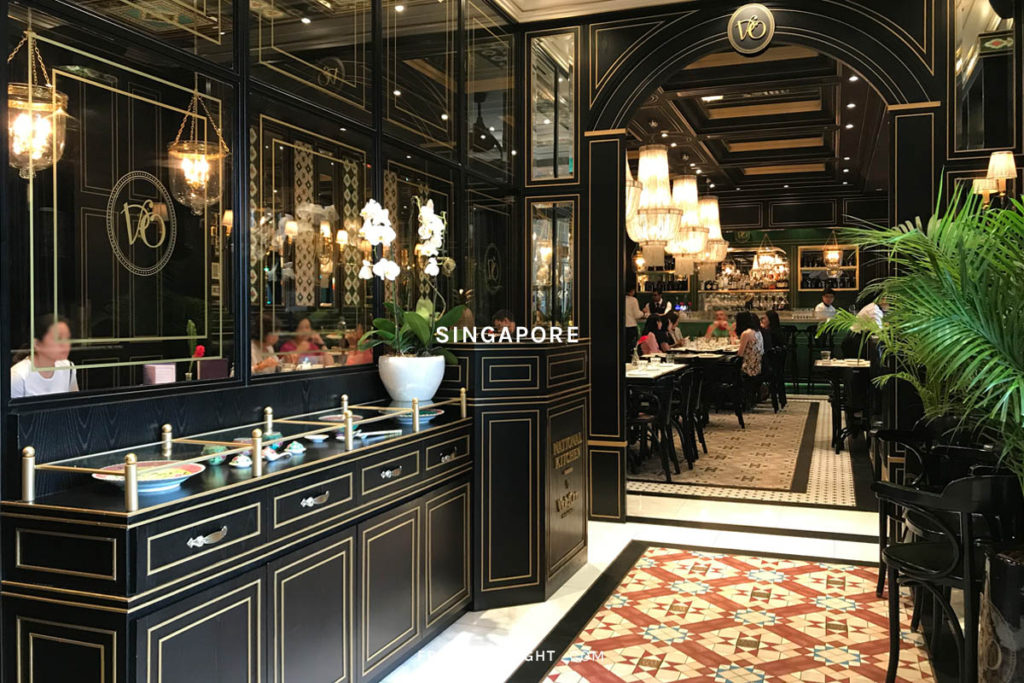 Reading reviews online, it was recommended to book ahead (which luckily we did via email). The indoor dining area was a full-house by mid-afternoon and there was a nice buzzing atmosphere throughout. Jazz music playing overhead, loads of chatter and laughter all around – it was a really nice ambience to be here and I was so glad we decided to try National Kitchen on a whim.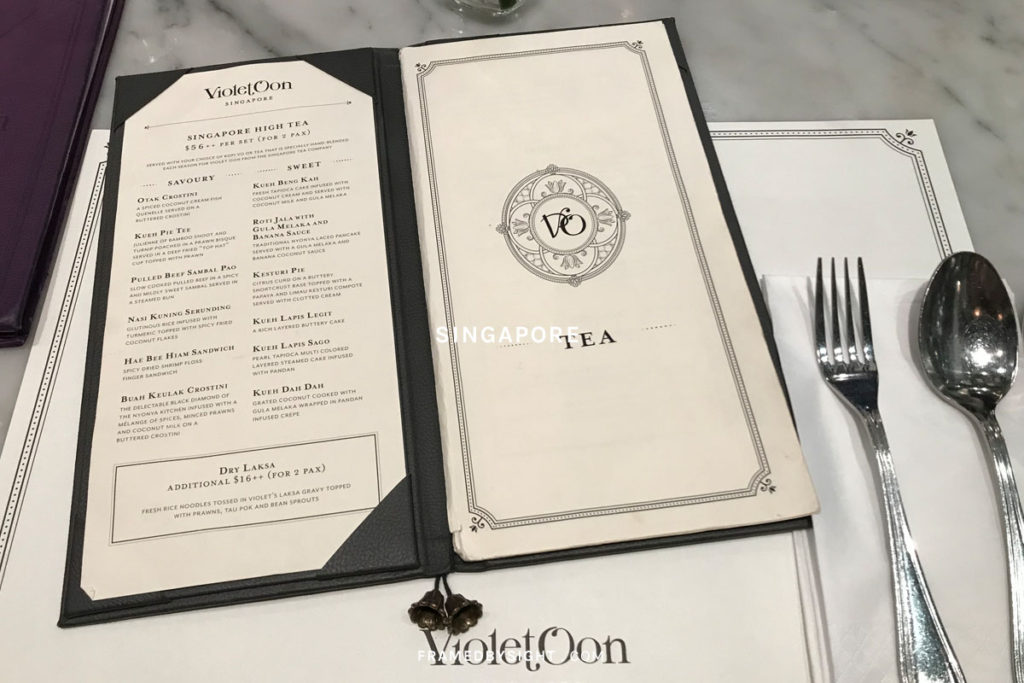 Without making the food decision process too hard, we ordered the Singapore High Tea at S$56++ per set for two people. The service team were on point with the positioning of the cutlery, talking through the menu, being attentive and happily answering any questions we had.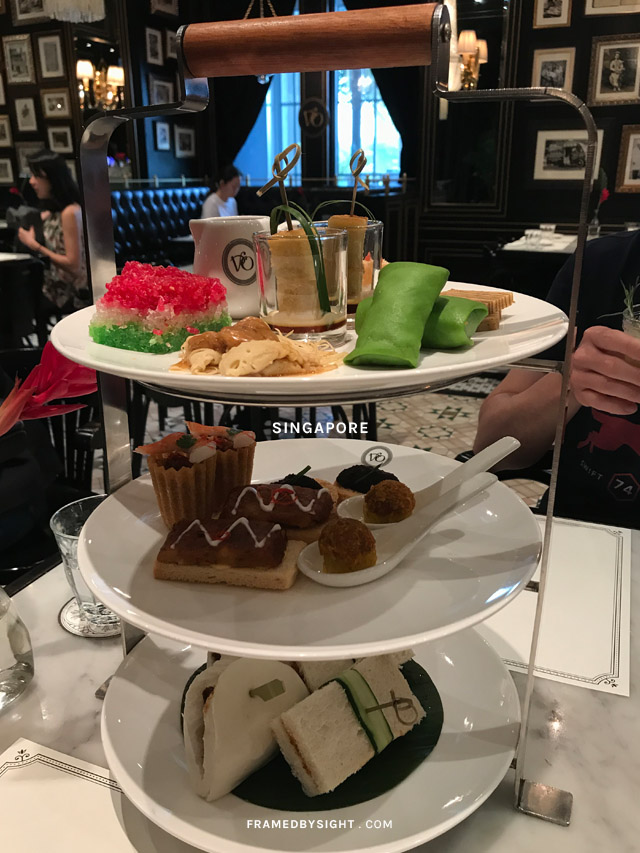 To be completely honest, I didn't know all the items we were trying. I was listening, but my eyes lit up as soon as the three-tiered stand arrived. I was also impressed at the presentation of the different sweet and savoury Peranakan flavours that we were about to experience.
We were provided a detailed explanation of the individual menu items and my key take away was to start from the bottom to the top, with the dessert at the top for the last.
In lieu of a traditional english high tea experience, let your tastebuds be tantalised by a delicious Pulled Beef Sambal Pao; slowed cooked pulled beef in a spicy and mildly sweet sambal served in steamed bun. Also try the Buah Keulak Crostini; the delectable black diamond of the Nyonya Kitchen infused with a melange of spices, minced prawns and coconut milk on buttered crostini. Of the savoury, my absolute favourite was the Kueh Pie Tee; julienne of bamboo shoot and turnip poached in a prawn bisque served in a deep fried 'top hat' cup topped with a prawn. #nomnomnom #yum #lickthoselips
In the world of desserts, this is where I honestly wasn't sure which was which. They all had unique flavours but what I did enjoy the most was what I think is the Kueh Dah Dah; Grated coconut cooked with gula melaka (palm sugar syrup) wrapped in pandan infused crepe.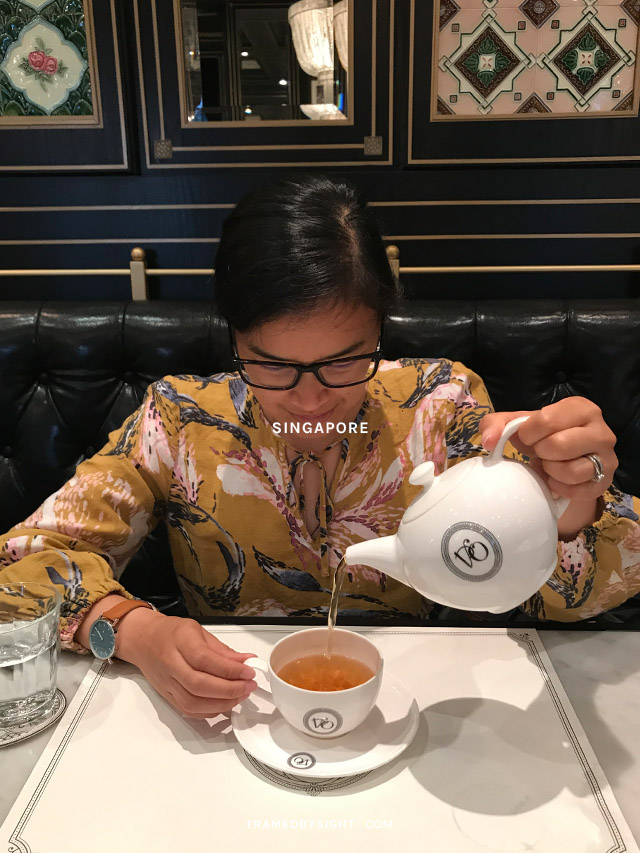 If you're an overseas visitor with an interest in art, I'd suggest you consider purchasing an admission ticket as you could easily spend half a day here looking at the exhibitions, pre- or post- your dining experience. There are some areas which you can simply wander around and view, but the main exhibitions and artworks are sectioned off.
There are also daily scheduled guided tours available in both English and Mandarin, so if you plan your day well, you could book one of these in too – only available for same day registration.
Address
1 St. Andrew's Road, #02–01, National Gallery Singapore (City Hall Wing),
Singapore 178957 (access via Coleman Street entrance)
14