Less than a 2-hour drive from Sydney's CBD, or a 45-minute drive from Bowral, you will find the expansive Wollondilly Tops property in Canyonleigh.
Searching for our next dog friendly road trip from Sydney, I found this accommodation in the Southern Highlands area – instantly captured by the cliff top valley views.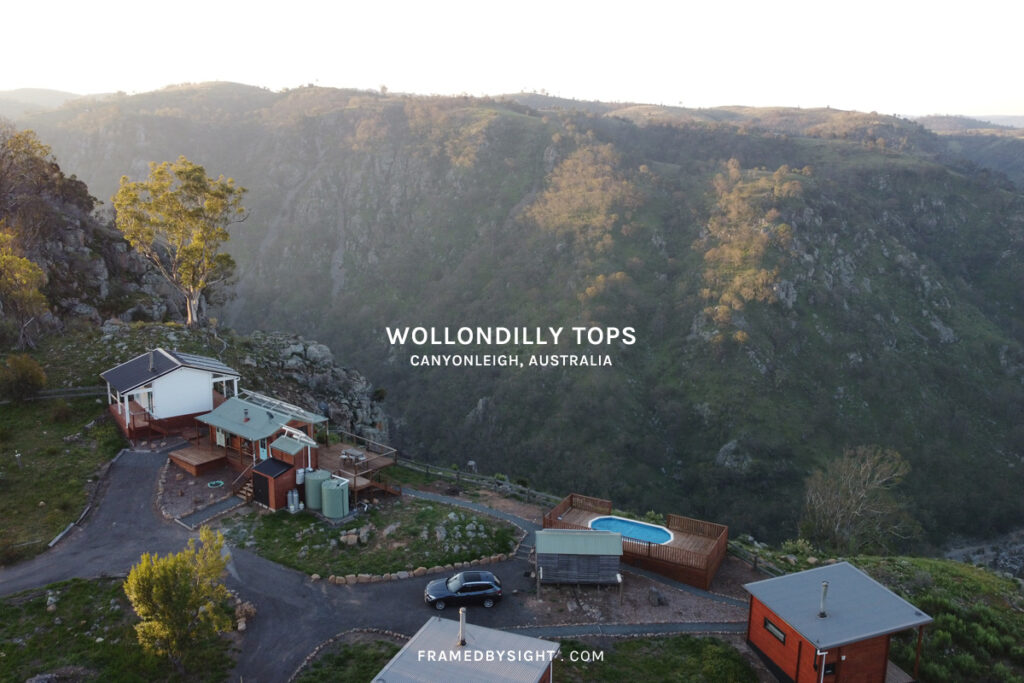 Wollondilly Tops is situated about 300m above the Wollondilly River Valley, and from our cabin, I could not see any neighbours in sight. I can tell you now, having experienced this stay first hand, the photos are real and the views are absolutely stunning and magical. The accommodation listing introduced the property with words along the lines of "sensational views at Wollondilly Tops"… it is that, and more.
We were fortunate to have clear skies all weekend; epic sunrises from the cabin deck, spectacular sunsets sweeping across the valley, and night skies shining bright, perfect for stargazing too.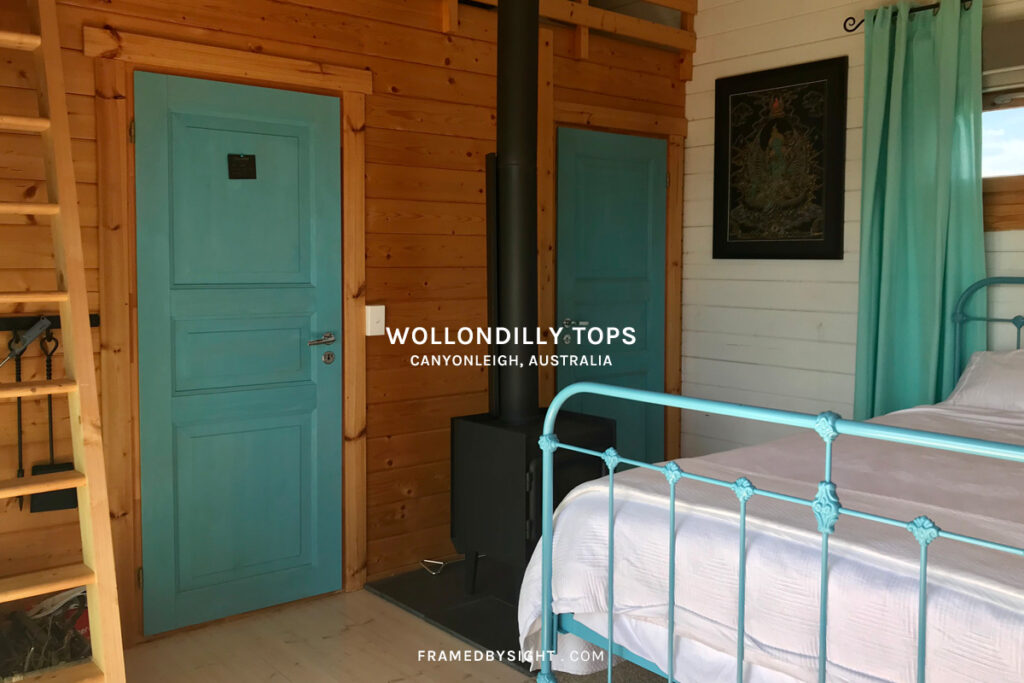 Despite being off-grid, your cabin is small yet cosy and relaxing; expect a comfy bed, a modern ensuite with great water pressure in the shower, and a clean eco-bathroom.
The room itself is fairly simple with just your main sleeping area, a corner seat, and a chest of drawers to store your clothes. There's also a crawl space/semi-loft suitable for young kids, accessible by a wooden ladder. Your room includes an overhead ceiling fan, plus a fireplace with wood and kindling supplied – perfect for the cooler months.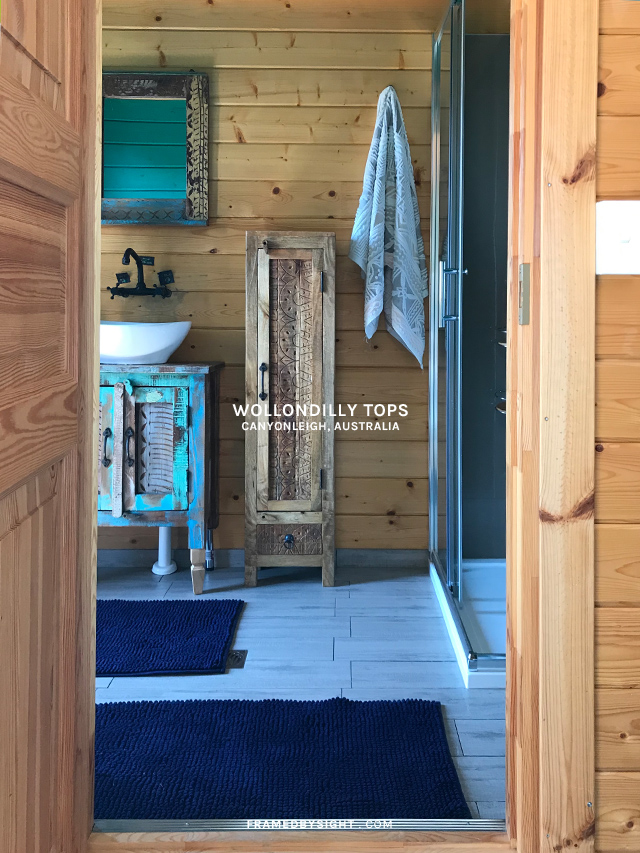 If you've been camping before, you'll be completely fine with the composting toilet, but if not, do a quick Google, so you know what their eco-friendly bathroom means.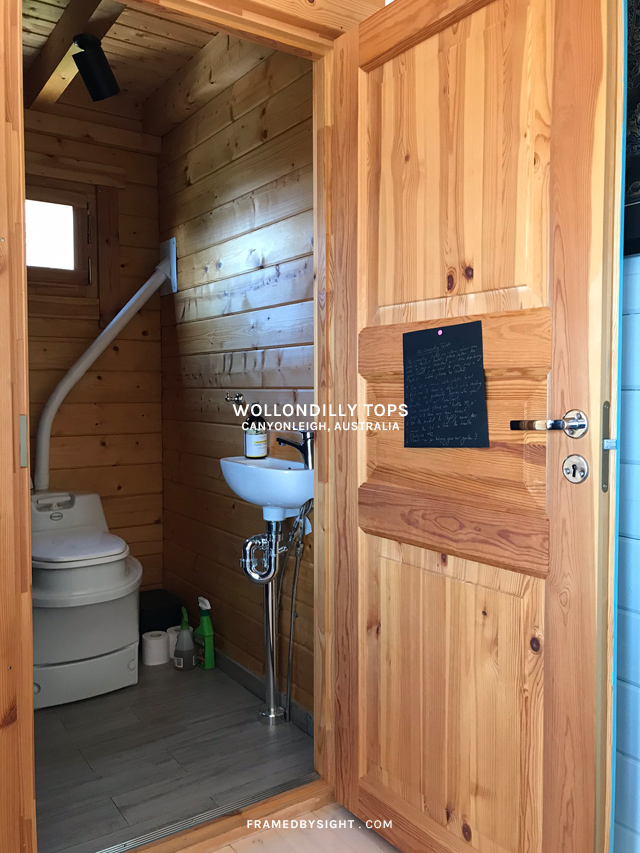 The bathroom looks like a bathroom, but in simple terms, the toilet does not flush and is environmentally friendly.
Bottled water is provided in both your cabin and the kitchen/living area since drinking water is supplied from the rain. The cabin has sliding fly screen doors in addition to its main glass doors, which helps to open up the cabin and admire the views throughout the day.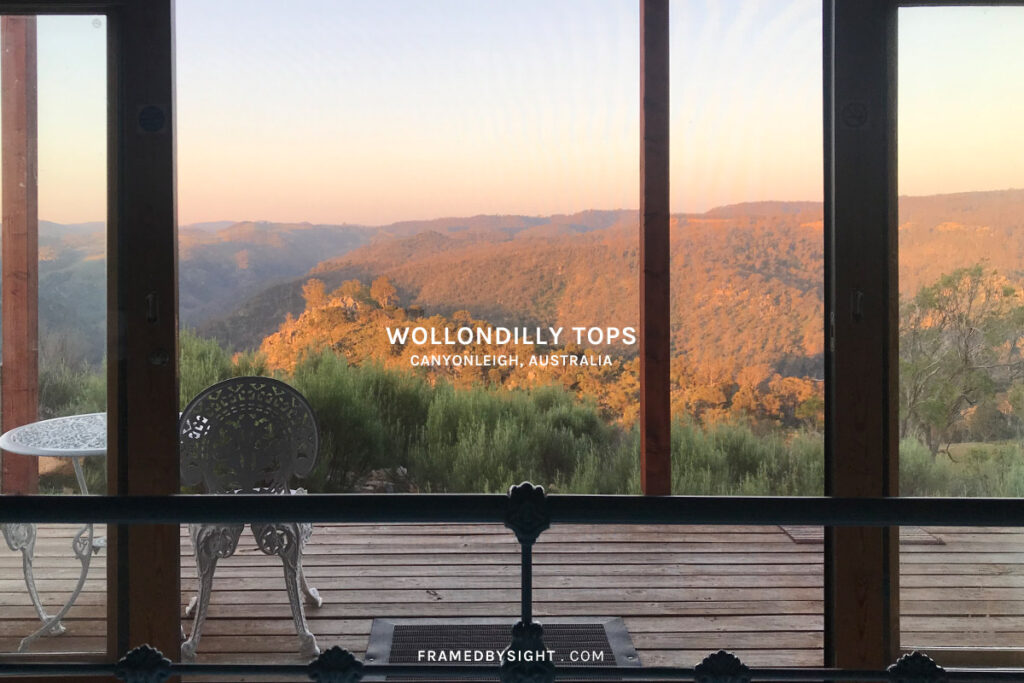 There are two cabins available on this property, and I'd highly recommend staying in the North cabin when you book. This room has a northerly facing view over the valley and on a clear morning, a sunrise lights up the entire sky. Set your alarm to wake up early and watch the sunrise from your deck – the golden rays of light awaken the mountains and it's so beautiful to watch with the birds singing too.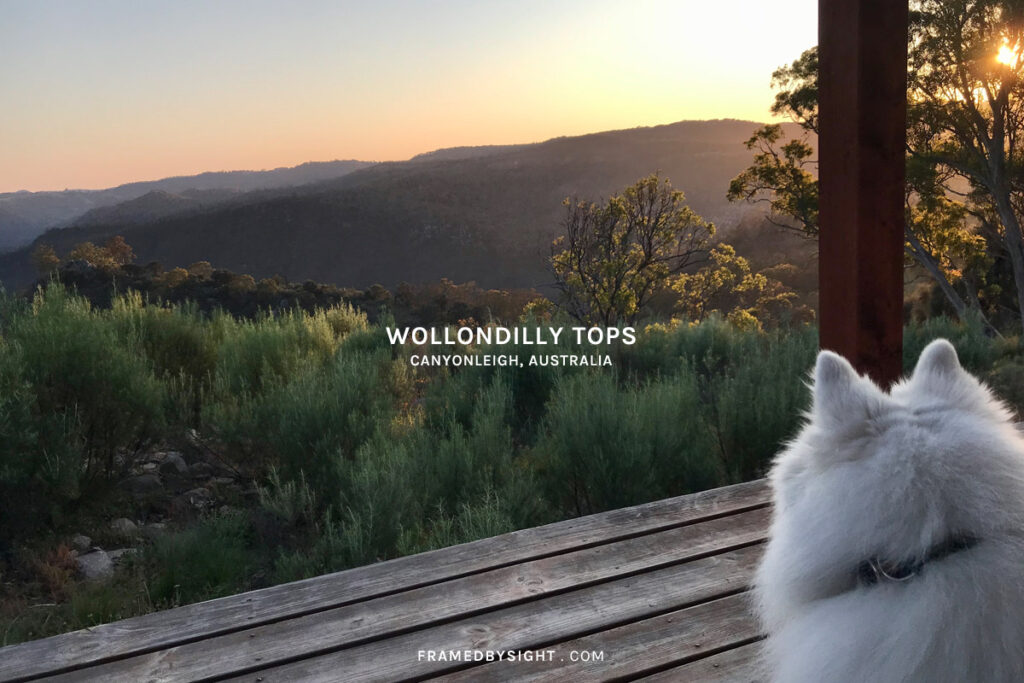 If you love nature, photography, and the sheer silence and beauty of a sunrise or sunset, Wollondilly Tops is one of the most outdoor scenic locations I've been to in Sydney, and it's one to add to your list if you're needing a few days of R&R without technology.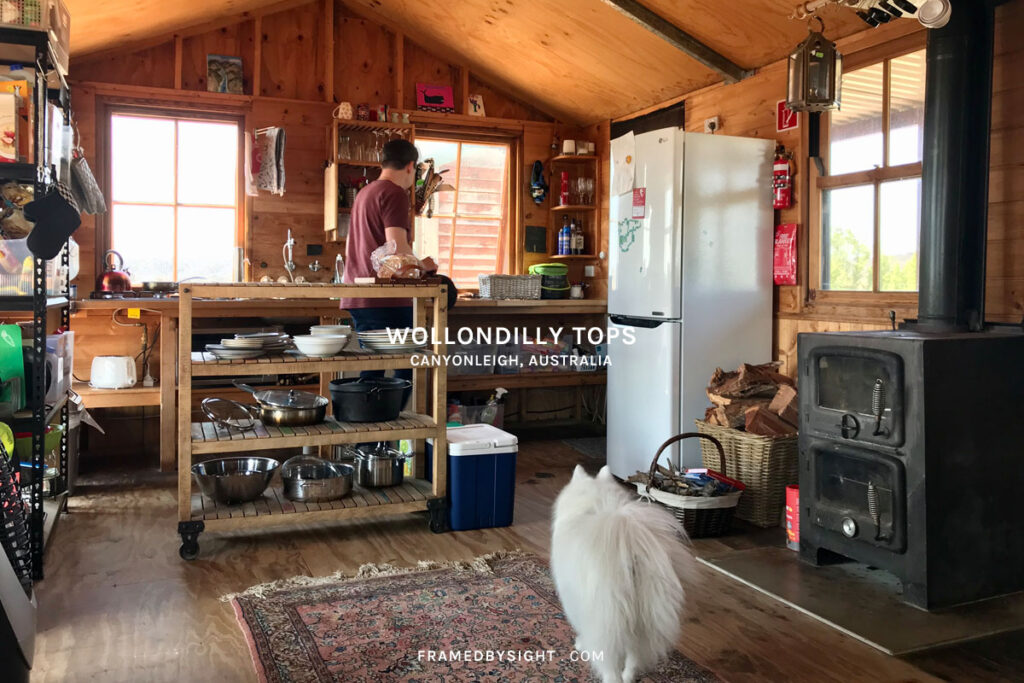 The main kitchen/living area is fully-equipped, minus an oven, but includes a four-burner gas cooktop and microwave, and there's plenty of space to store food that you bring in the fridge. Brad (our host) was kind enough to arrange fresh bread, milk and eggs on our arrival too.
Sitting in here reminds me of a ski lodge, a little eclectic, yet a timber winter wonderland where you'd come with family and friends to enjoy a meal or two. And don't forget to relax on the outer decks – there's the perfect hammock tucked around the side, overlooking the valley.
To note, the kitchen/living area is not directly adjoining either of the available cabins, and you do need to walk on an outdoor gravelled footpath (less than 1-minute away) to prepare breakfast, lunch and dinner here. Head lamps can be found in the kitchen upon entry, and I'd suggest to bring these with you to your cabin, as they come in handy of an evening.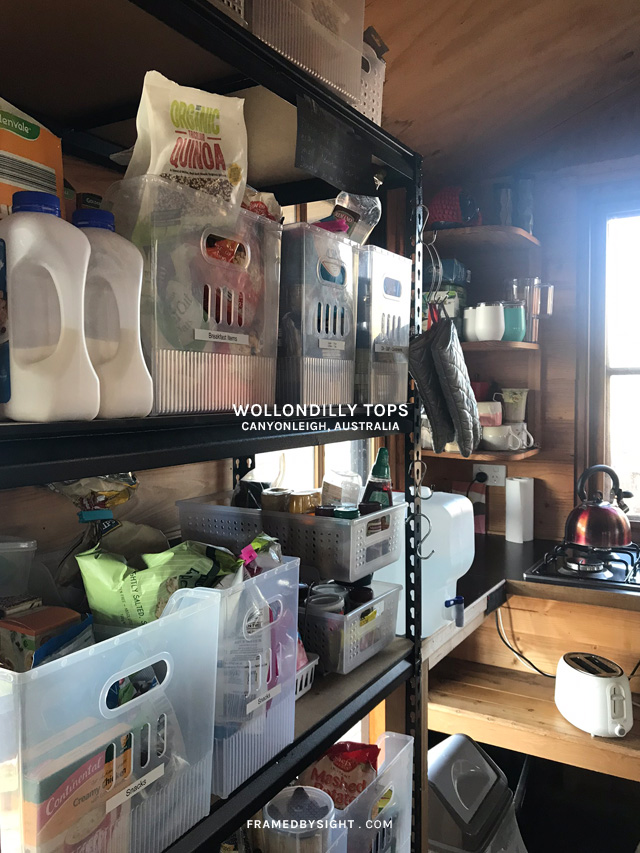 I was also surprised to find what looked like a shared pantry, filled with condiments that you can use in-kind and/or with a money contribution. Previous guests must've left things behind, and possibly the host stocks up on basic items every now and then. Very useful if you've forgotten to bring something – there was a variety of cooking oils, cereals, spices, pasta and tinned food. The fridge was also stocked with jams, maple syrup, honey, dressings and chilli sauces.
When you're staying at Wollondilly Tops, the intent wouldn't be to keep leaving the property in your car and returning late each day. A supermarket isn't within close proximity (walking nor driving), so pack well and plan your meals before you arrive.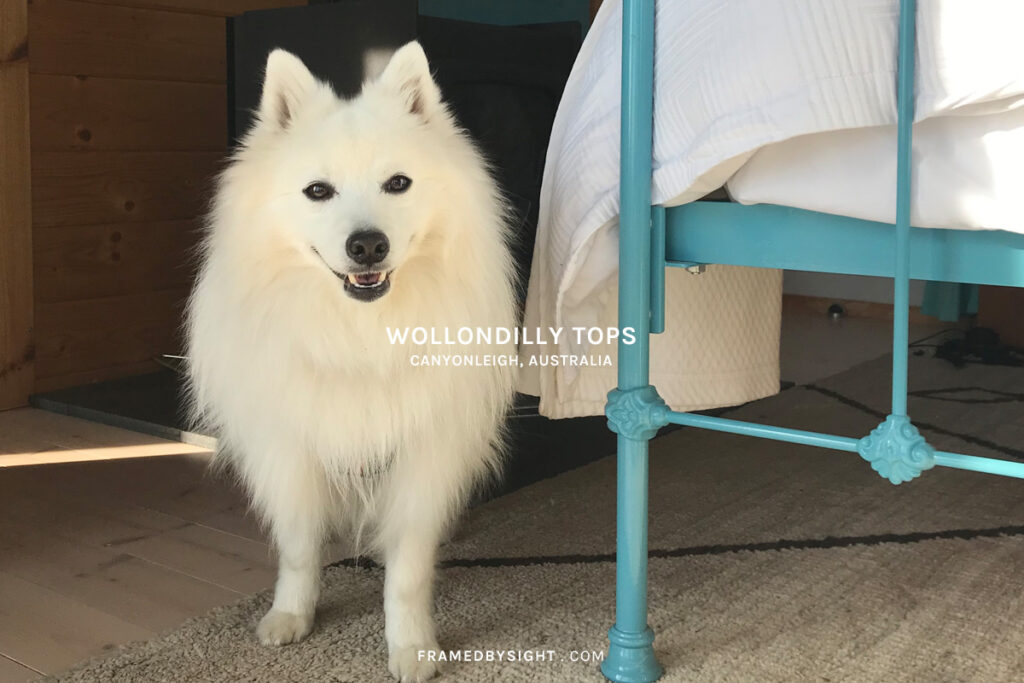 Another highlight to our stay is that the accommodation is dog friendly and I was very grateful that Kenji (our pooch), could join us during this road trip. For those that are pet owners, it's quite rare that our dogs can stay with us too, so I was very happy that we were able to bring him. This type of trip is something I would do with Tim when travelling overseas, and there aren't many locations of a similar nature in Sydney, where I could also bring our boy.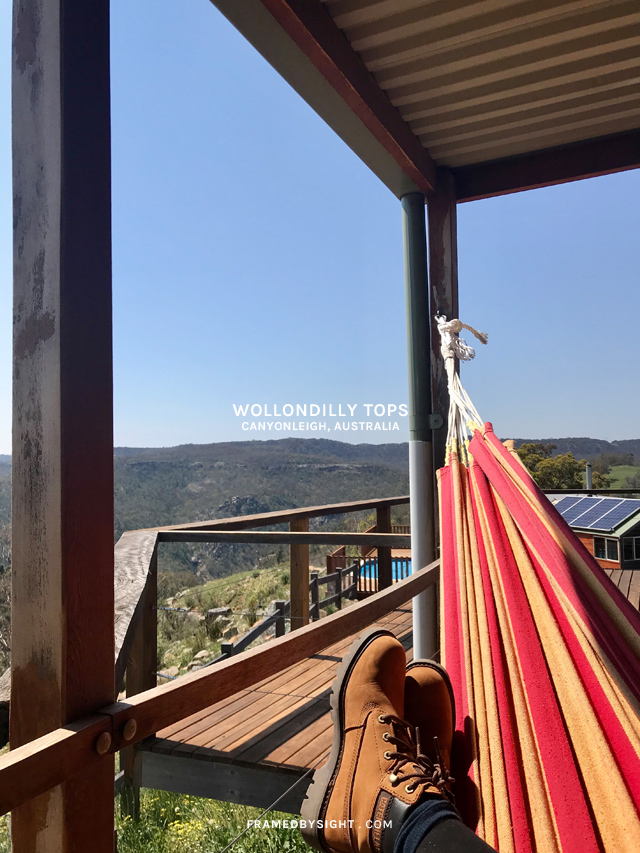 Expect to unwind and detox from your norm hustle and bustle. There's limited technology available at this property; there's no TV on-site and Wi-Fi access is only available in the living/kitchen area.
Each day you wake, the days and nights are filled with absolute silence – no traffic, no cars, no people… other than nature and a few farm animals.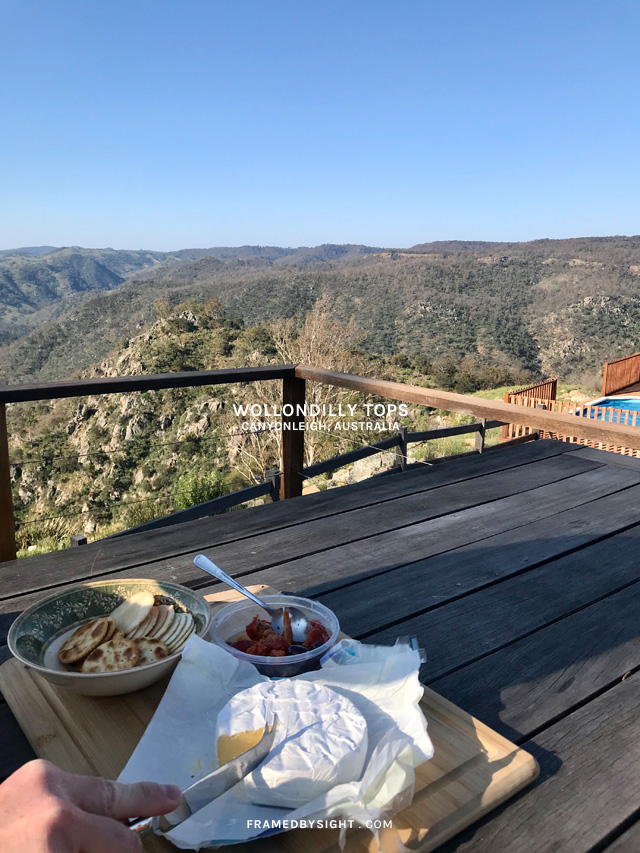 Make sure you pack a picnic to have whilst you're here – some antipasto, cheese and crackers. You will embrace the never ending views from every corner of this property, and it's a must to sit out on the expansive entertaining deck for an afternoon snack or evening bbq.
During the winter months (and when there's no fire ban in place), you can light the fire pit on the lower deck and toast some marshmallows. Plus in summer, swim in the outdoor pool which overlooks the spectacular canyon views.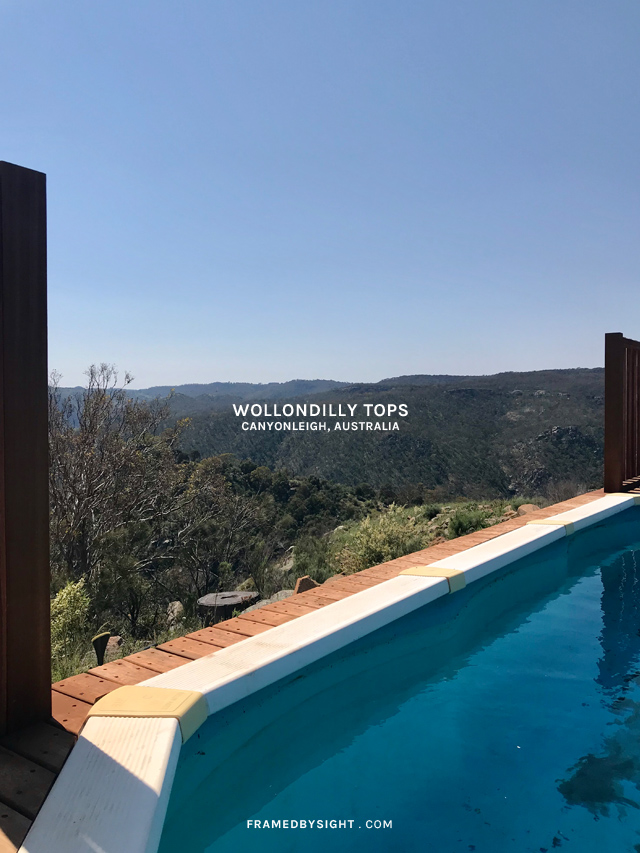 I cannot recommend this stay more than I've tried to express in this personal review. Wollondilly Tops is such a different road trip in comparison to other pet friendly accommodation stays in Sydney that we've experienced – and definitely worthwhile.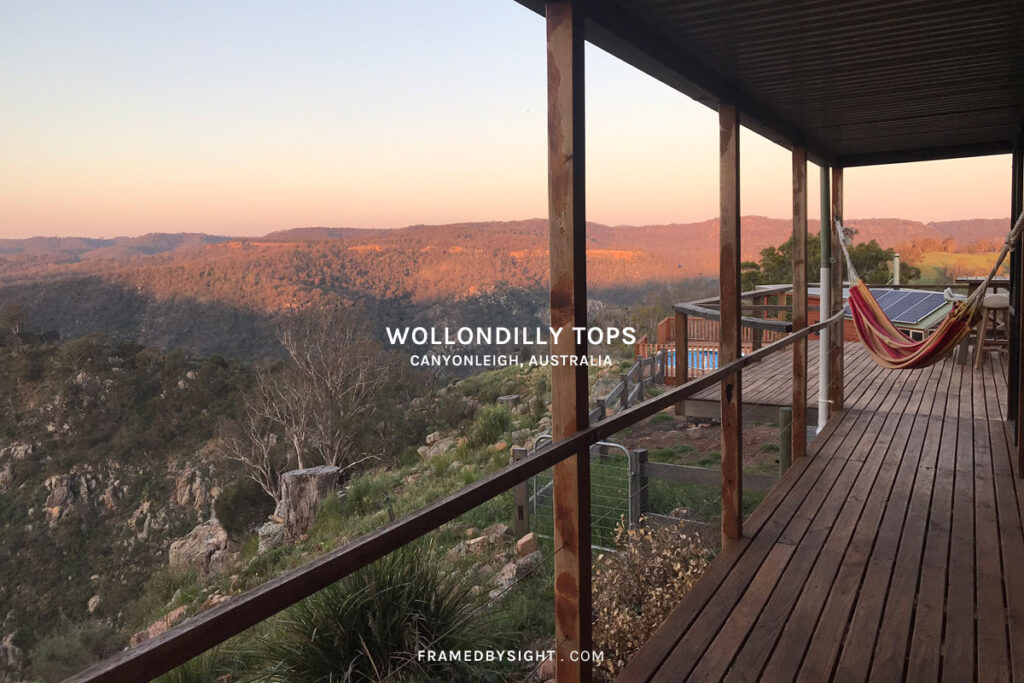 When you arrive, come prepared to stop and appreciate the silence of the outdoors. Bring a good book, a handful of groceries, a wide-brimmed hat, and if you're like us, your pooch can come too… and just get ready to switch off for the next few days and escape to the beautiful Wollondilly Tops in Canyonleigh.
Address
Wollondilly Tops Farm
Canyonleigh, New South Wales, Australia 2577 (in the Southern Highlands)
32