The villa accommodation at The St. Regis Maldives Vommuli Resort is nothing short of saying it's phenomenal. Whilst you have to keep in mind the room is not designed to that of a traditional island bure with a thatched roof, the architecture and modern technologies that are available to this room on a tropical island, 160km away from the mainland is quite impressive.
We stayed in the Overwater Villa with Pool that overlooks the ocean and has a partial beach facing view. However for a little extra, you can upgrade to a Sunset Overwater Villa with Pool that has uninterrupted water views throughout and the added bonus of the sun setting each night.
That said, there is a travel hack which is, you can wake up early in the standard Overwater Villa with Pool and watch the sunrise in lieu (which we did instead).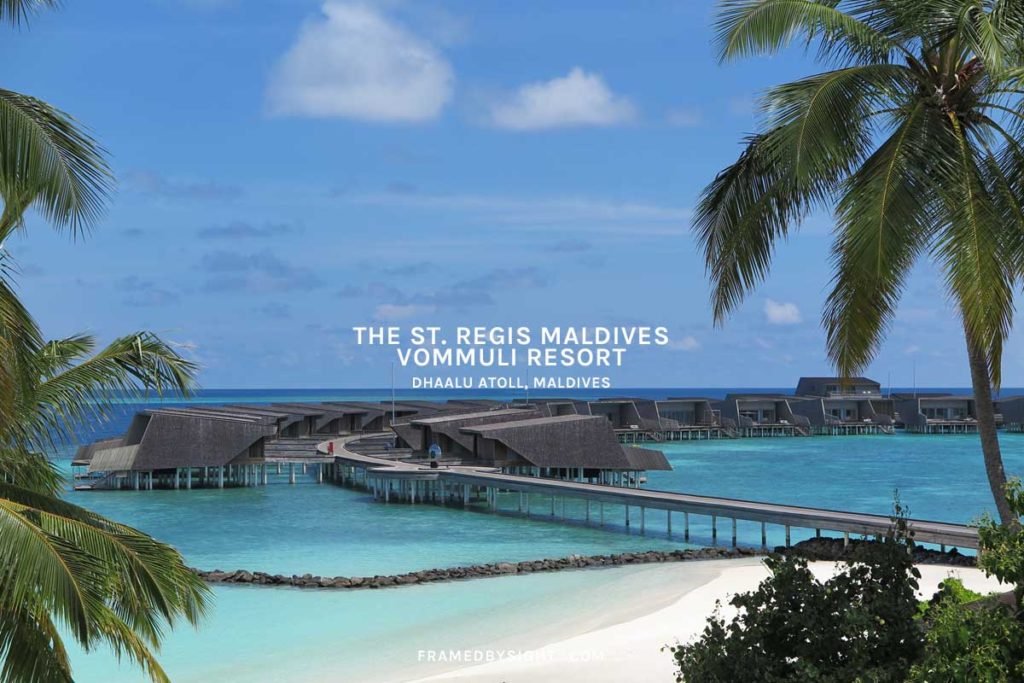 This idyllic overwater bungalow experience is where all the impossibles are made possible, nothing I have ever experienced before and yet, the best stay I could even ask for and more.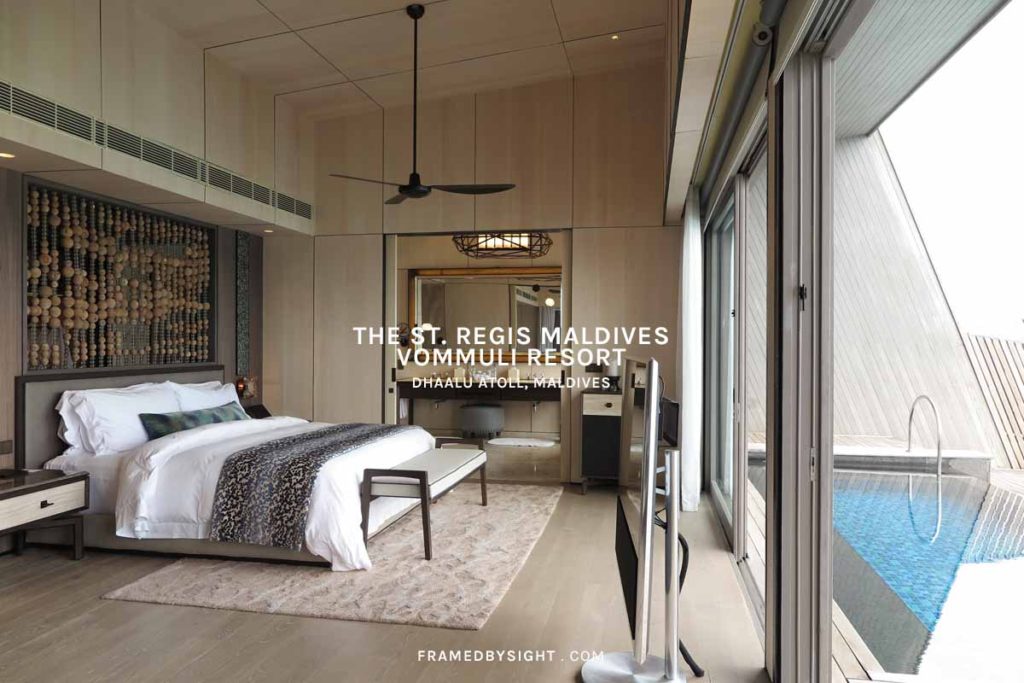 Full view glass sliding doors running the length of the villa, offering plenty of natural light throughout and a view out to the Indian Ocean, your own private 16-metre plunge pool, an expansive outdoor terrace, plus relaxing overwater hammocks that you can step out onto whenever you wanted and have a moment to reminisce where you were … ahh, in the Maldives (just because you can).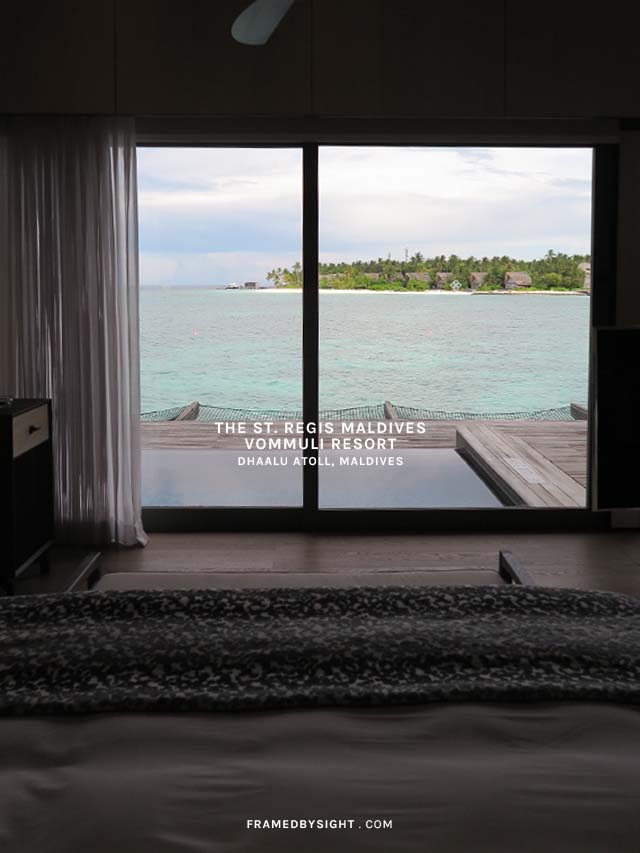 Your villa also has direct access to the ocean where you will find an abundance of fish right under your feet due to the close proximity of a house reef.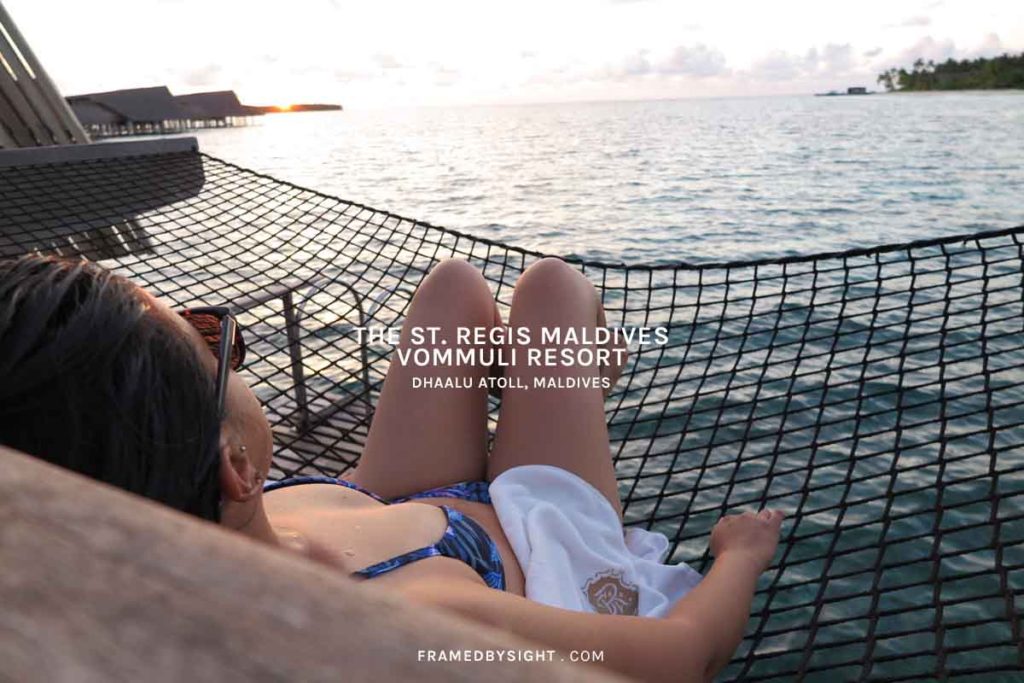 We popped on our snorkelling gear each day and found it quite easy to swim out as the water remained calm. I don't ever recall feeling as though it was too rough, especially as I'm not a strong swimmer either.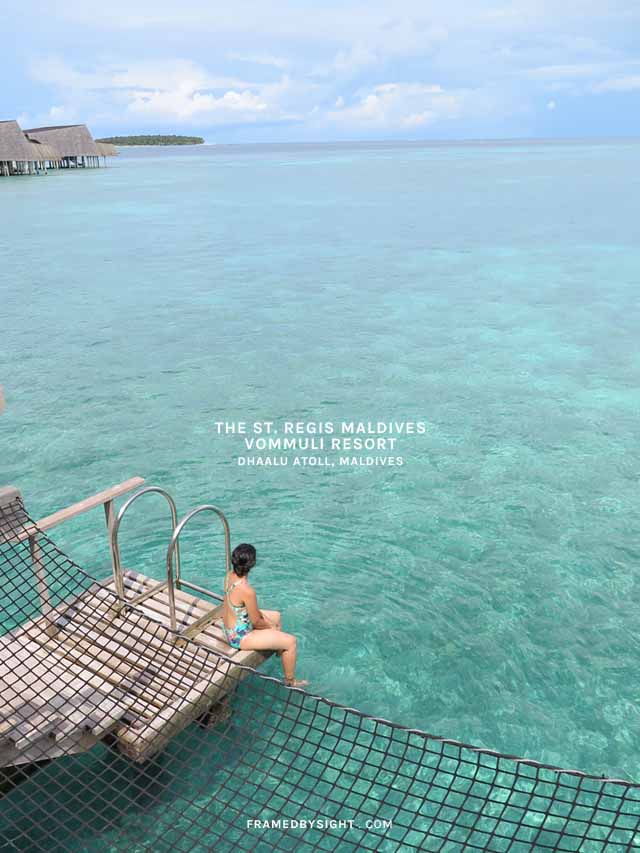 The room controls are beside your bed on an iPad where you can manage the air-conditioning, lighting, motorised blinds and room service. You can even turn on the TV and pivot it's position via the motorised stand, again controlled via the iPad. There is an option for sheer curtains on sunny days, or you can darken the room with block-out blinds of an evening.
We also tried ordering ice-cream from room service on the iPad and look what turned up? It's so warm in the Maldives, they delivered it in an esky otherwise it probably would have melted before it arrived – love it St. Regis, well thought of.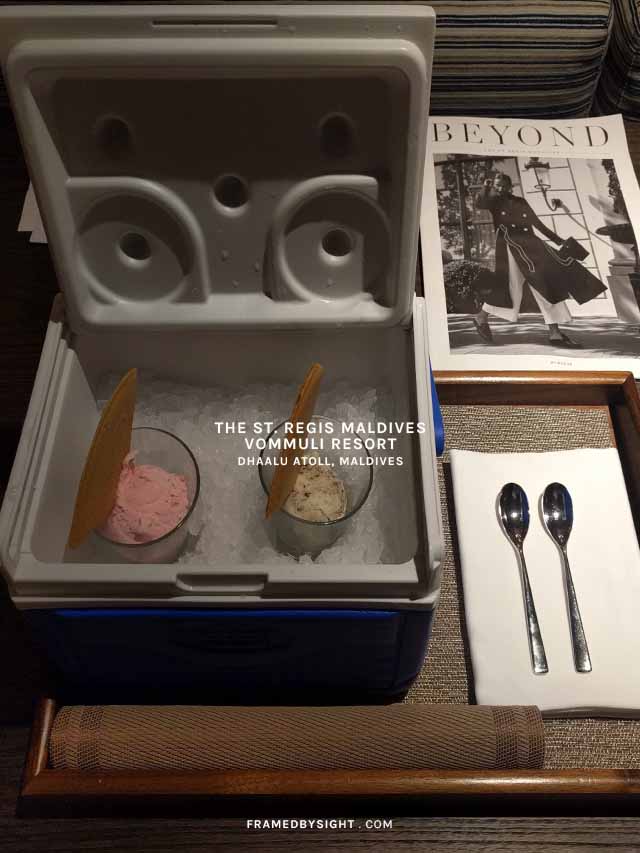 Expect nothing short of luxury during your stay. This walk-in wardrobe offers ample storage space and is probably bigger than my whole bedroom at home (I think).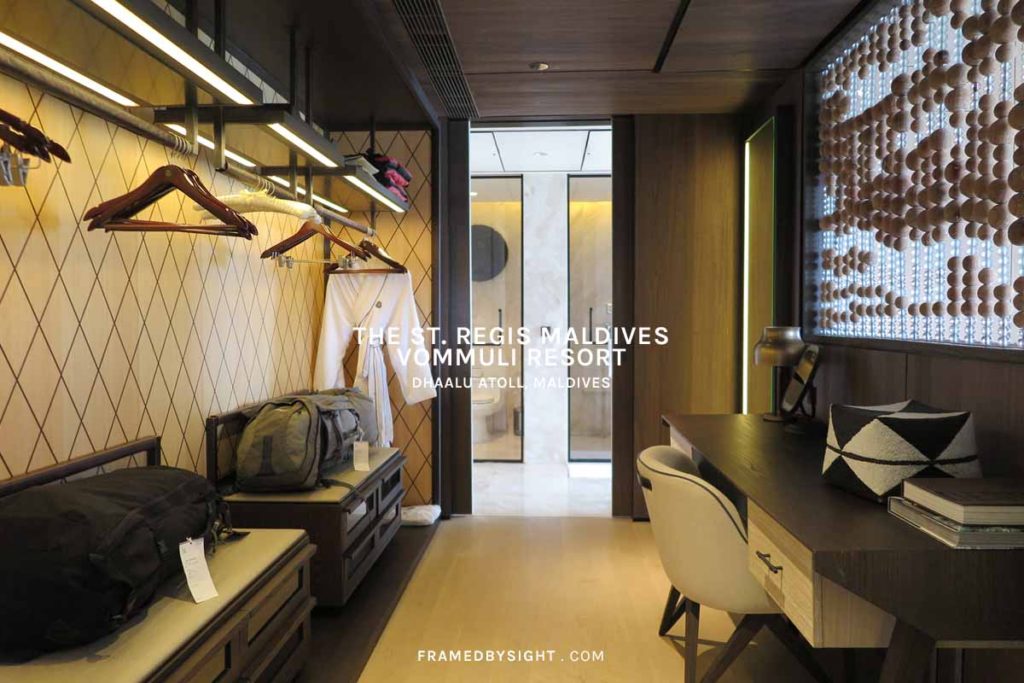 The bathroom has marble furnishings throughout, a double vanity and separate bath, again with amazing water views… inside voice: please don't let this holiday end.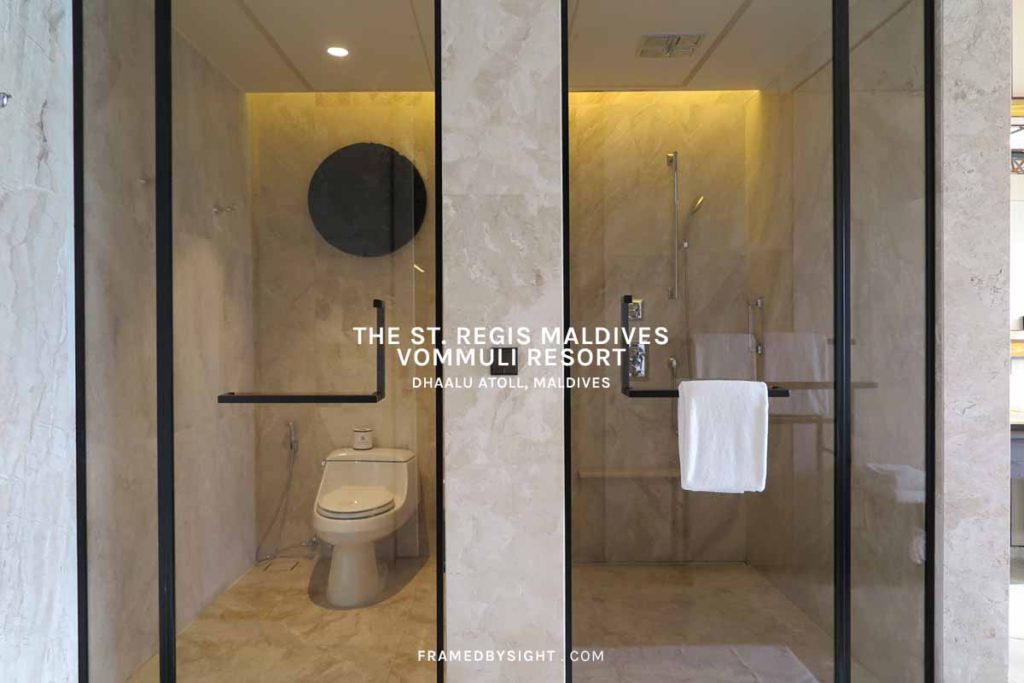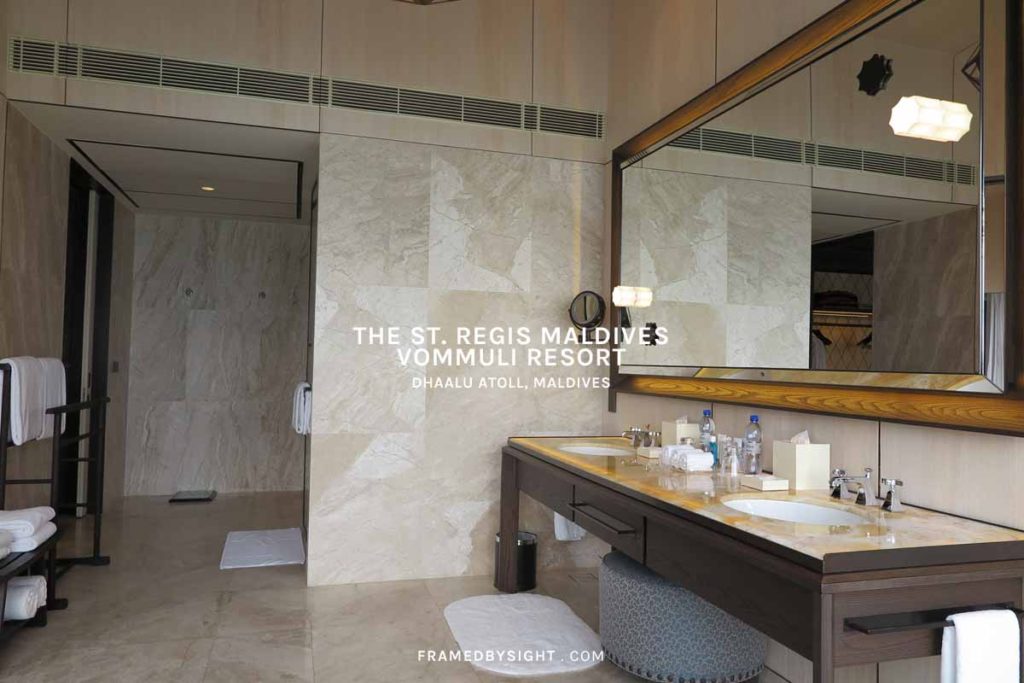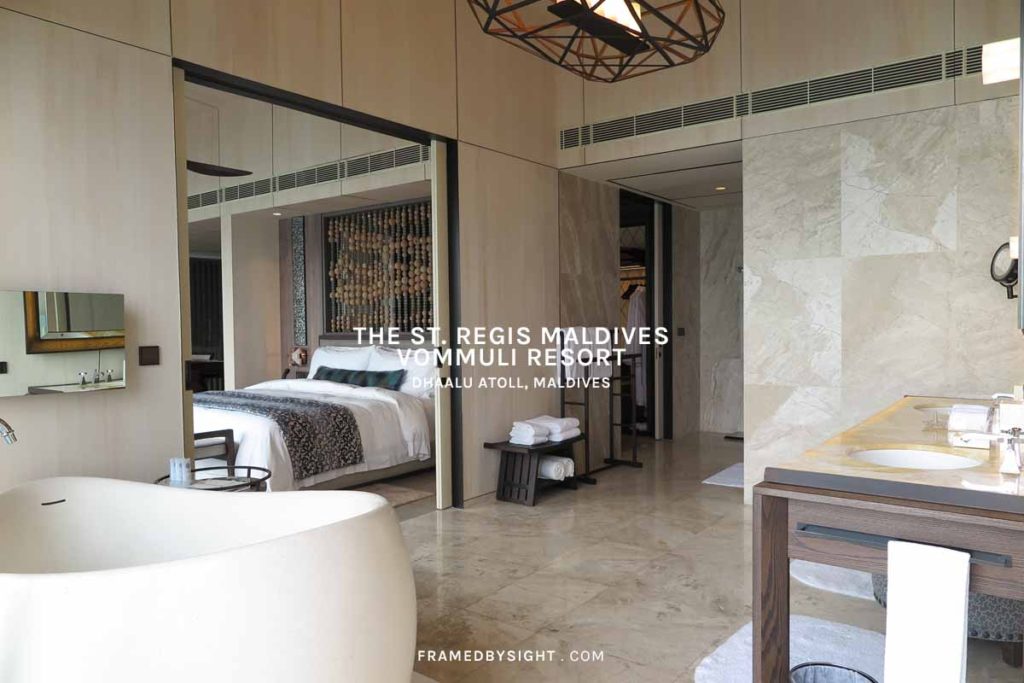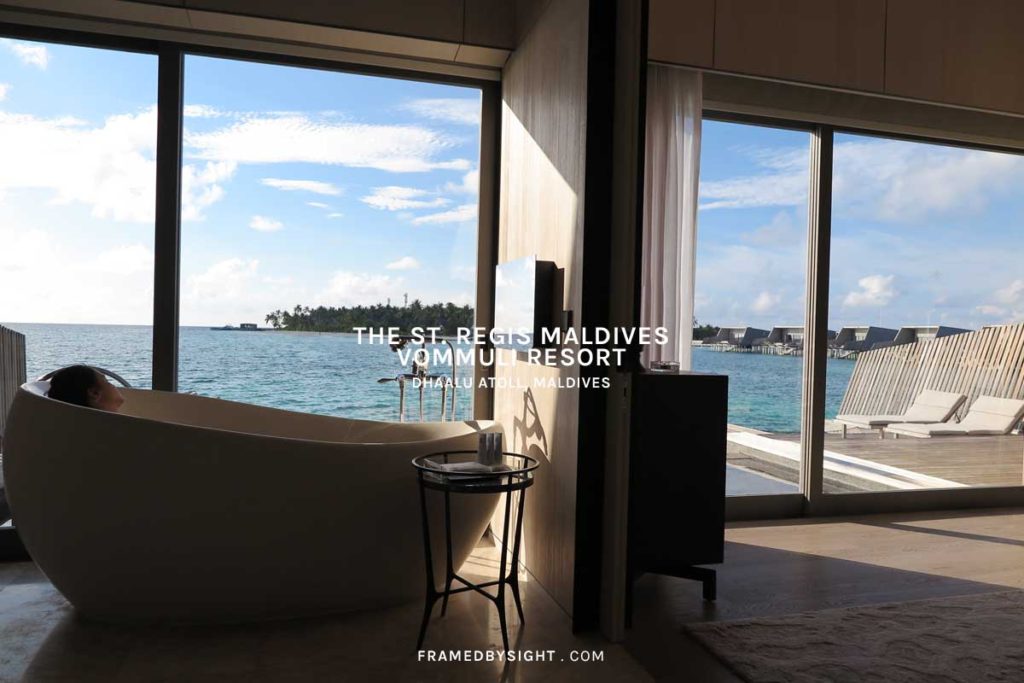 The villa also has a separate sitting area and on arrival, we received a fruit bowl and some bubbles which we brought out to the terrace after settling in – the perfect start to our stay.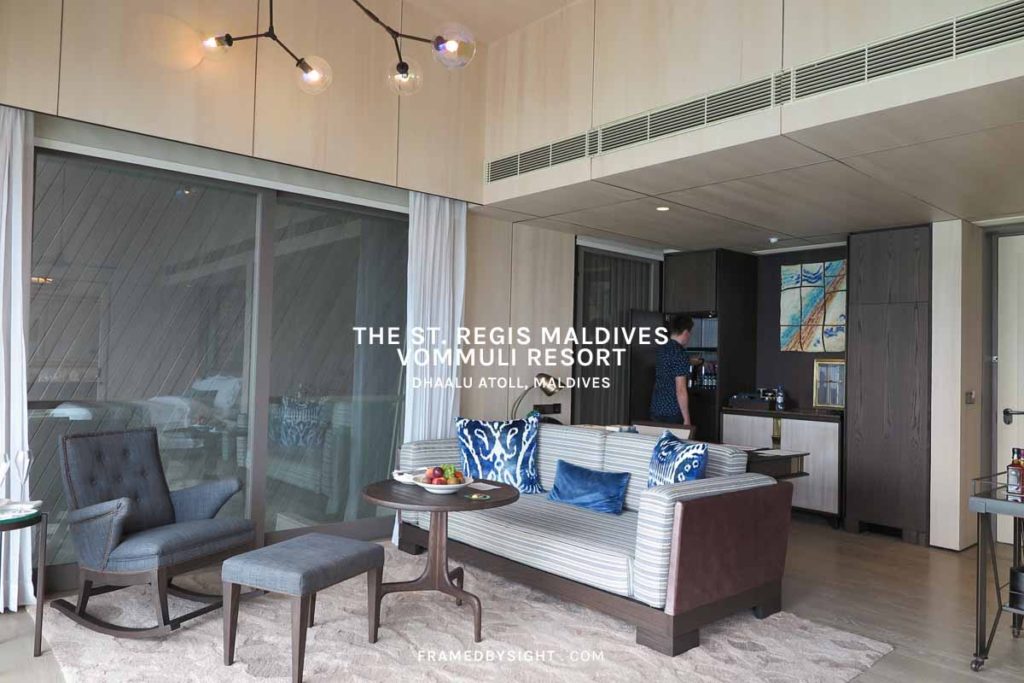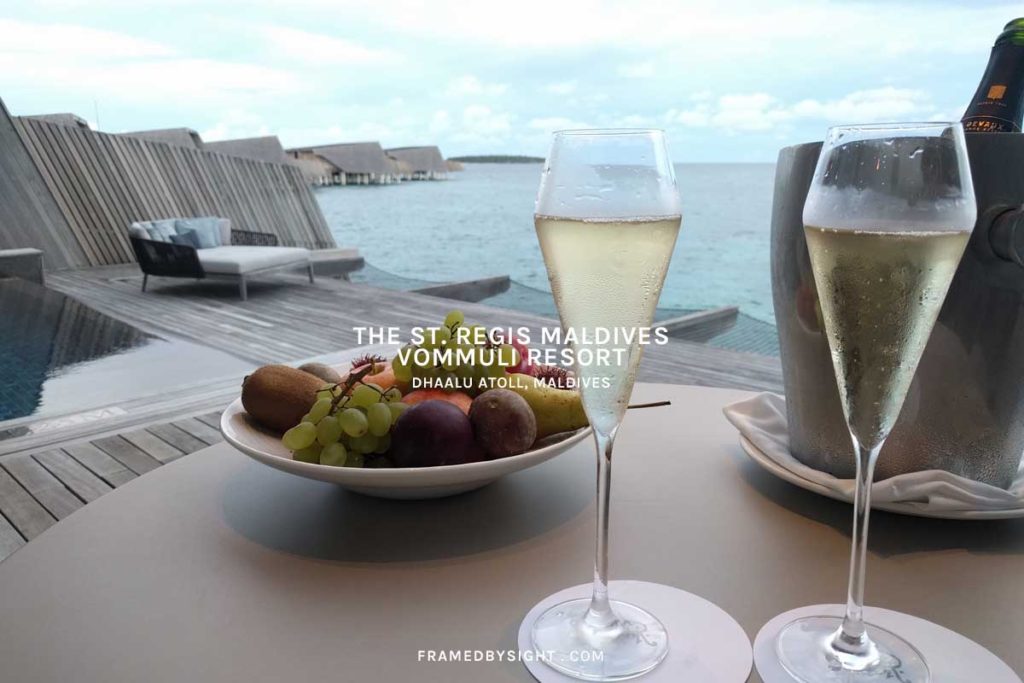 Oh and we found these delicious pastries and desserts filled in a glass cabinet too.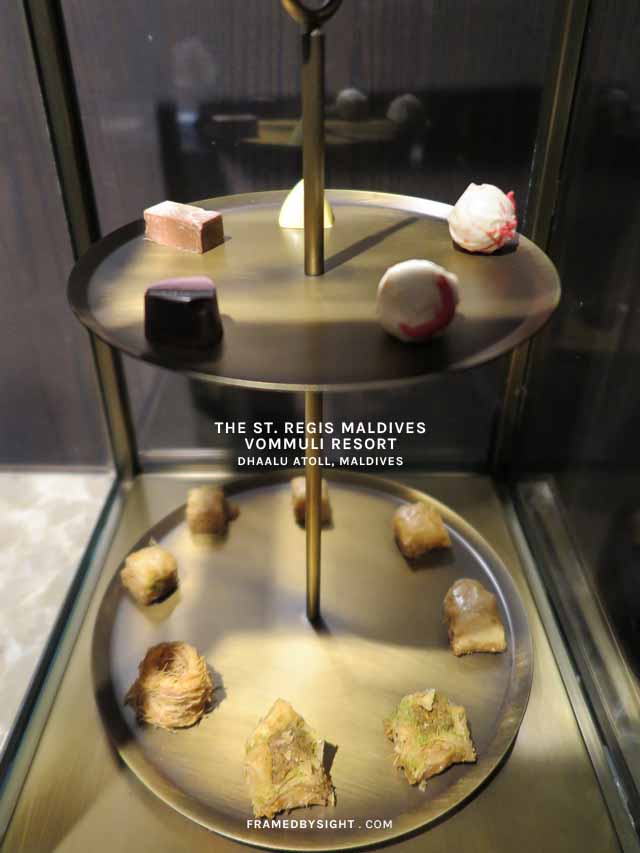 Your room includes a variety of teas, complimentary bottled water and a coffee machine.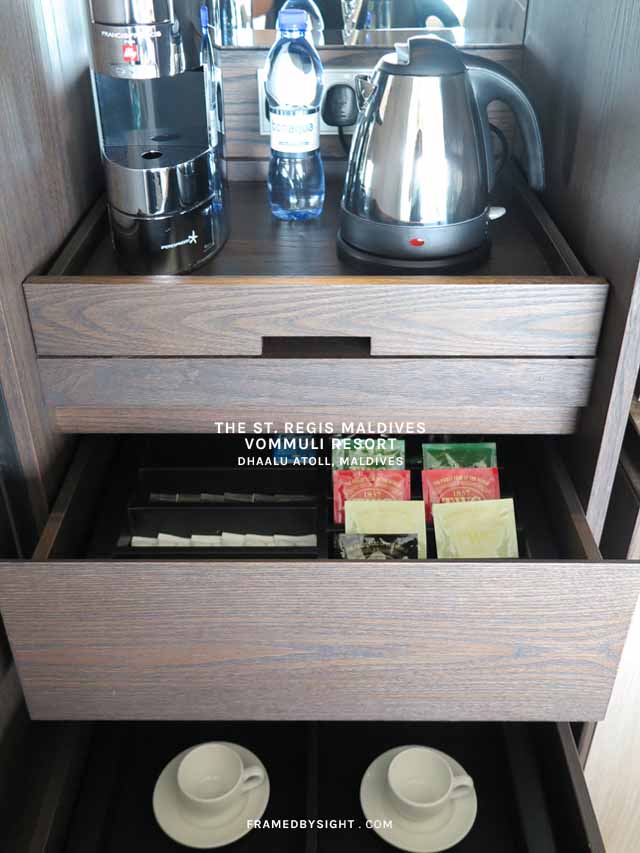 And a selection of beverages available from the mini-bar (at an additional cost).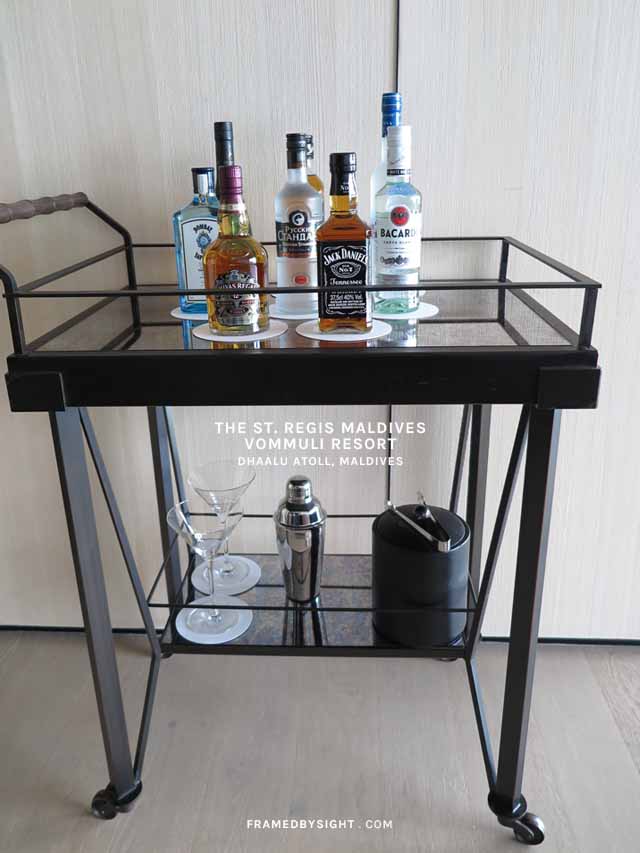 But the outdoor terrace is where we lived for most of our stay – the perfect spot at all different times of the day; morning, noon or for an evening dip.
If you haven't booked a Sunset Overwater Villa with Pool, these rooms actually have the vantage of a sunrise – balmy island temperature, perfect morning swim and the reality check that yes, you've just woken up on the beautiful island of The St. Regis Maldives Vommuli Resort.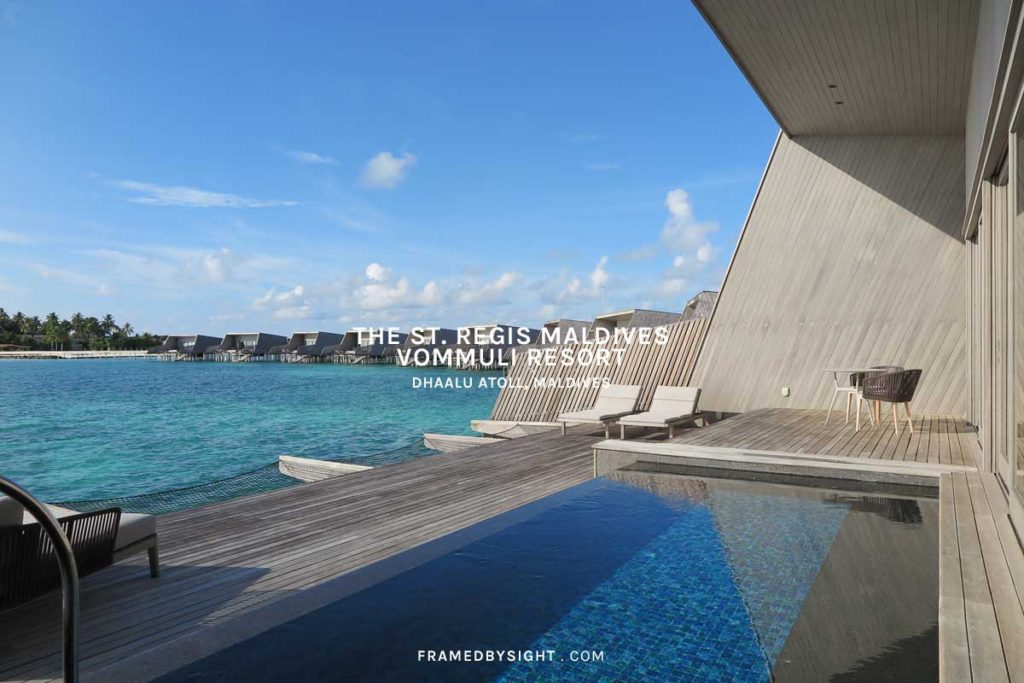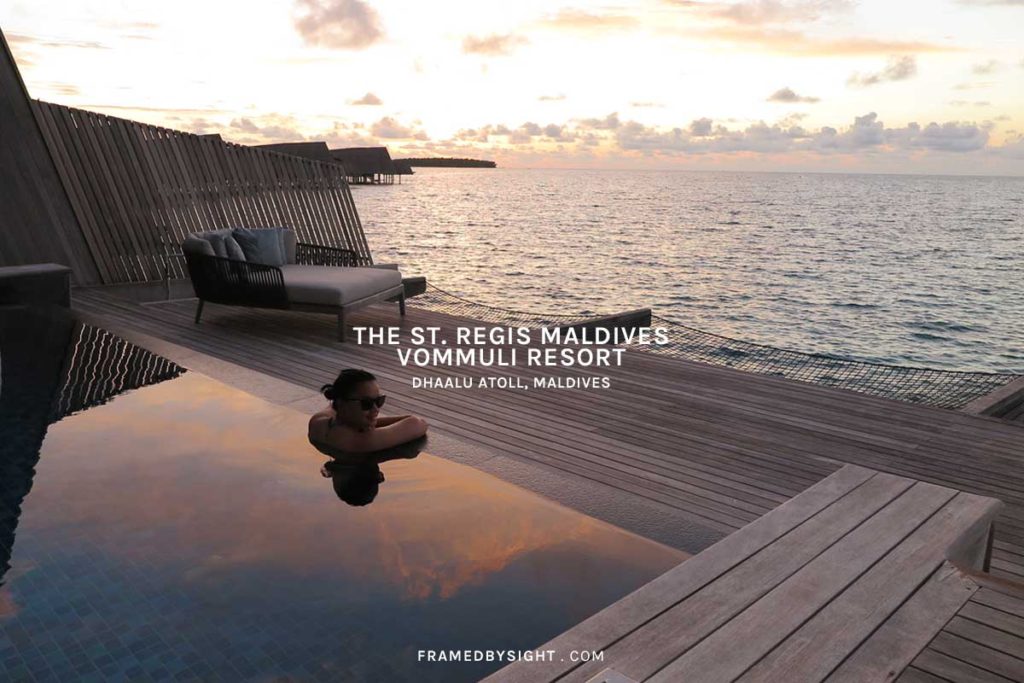 Transport around the island can be arranged with a buggy pick up or drop off service by your personal butler (a signature inclusion and bonus experience when staying at St. Regis properties), push bike which is included at your villa on arrival, or you can just walk around most of the island too.
That said, at times the heat gets a bit much, so the buggy service or bikes are much quicker and easier to move around.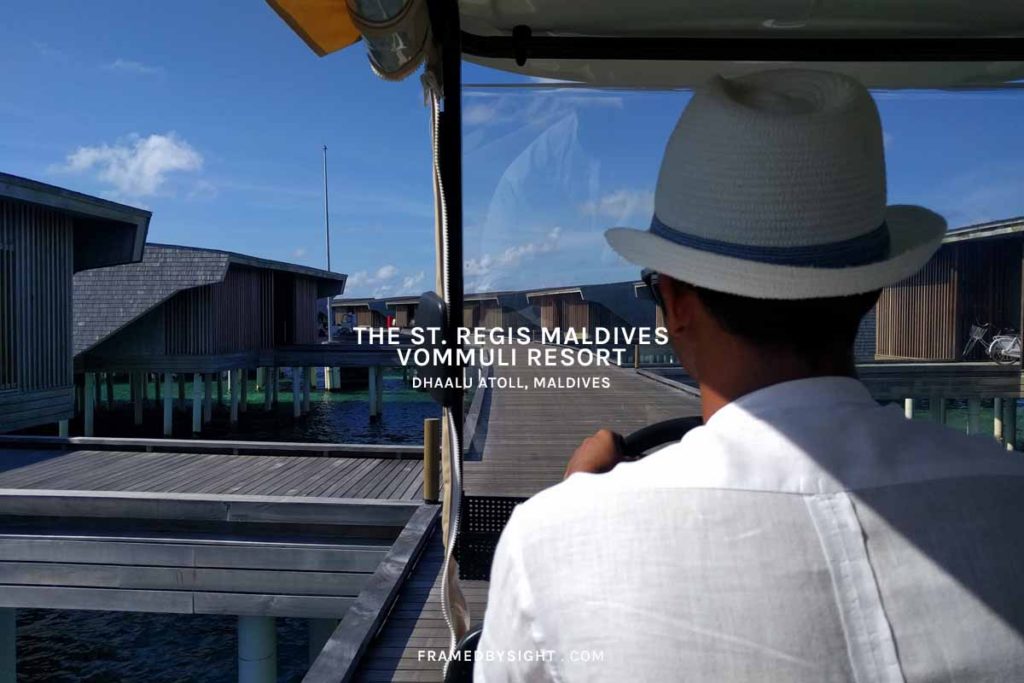 If I could sum this room up in a nutshell: nothing to fault, everything to love. I'm curious at what the more expensive rooms are like, because if I loved this room so much, I can only imagine that the other rooms must've been even more incredible than this. And to be completely honest, this room for me was already wow!
I had the best time staying at The St. Regis Maldives Vommuli Resort and I am so glad I was able to experience my version of the Maldives here first hand. I'd recommend you look no further, as this is one of the most beautiful resorts I have ever stayed at in my life.
Address
Vommuli Island, Dhaalu Atoll 13080, Maldives
---
---
18