It was a visit to celebrate a friend's birthday which brought us to Forbes. A 5-hour drive from Sydney, nearly 400km one-way, with a stop in both Katoomba and Orange en-route.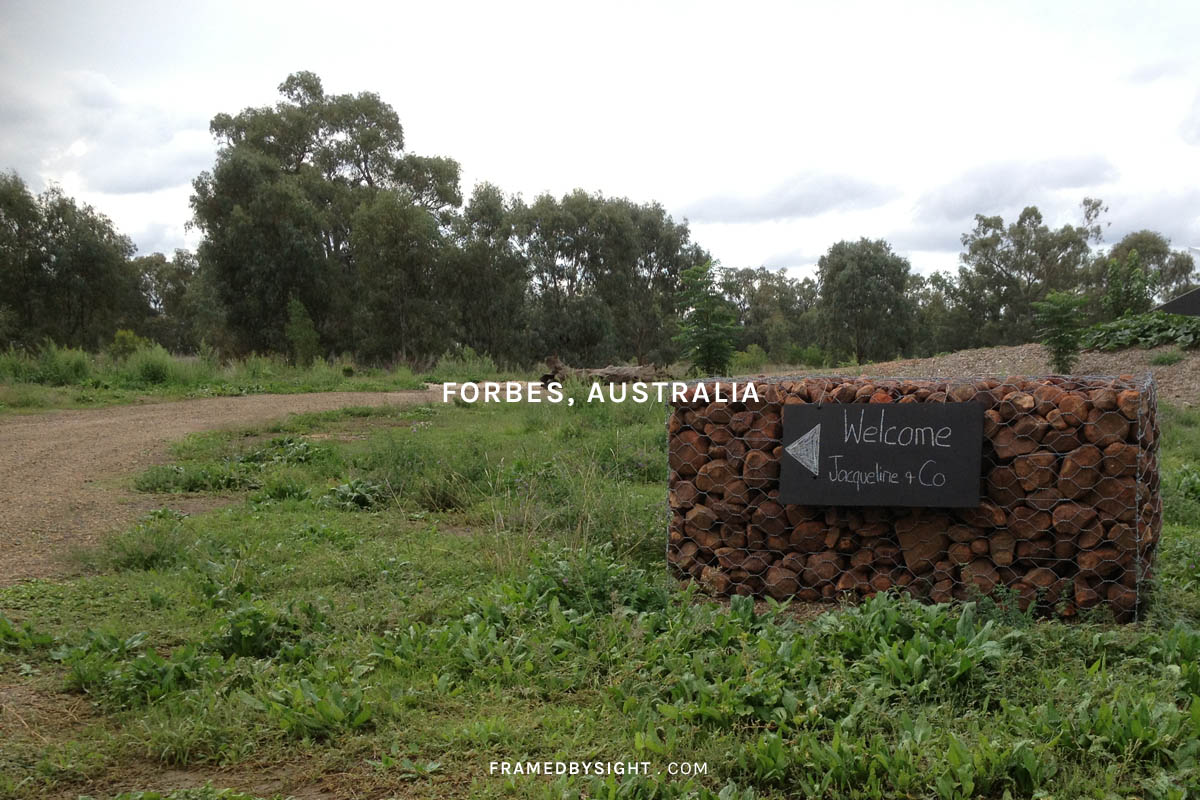 When we go on road trips, I try to look for a relaxing place to stay. It's time to unwind and take a break regardless of what city we end up in and boy, what a beautiful find Girragirra Retreat is. Driving along a gravelled driveway, on arrival to the 50-acre farm, we see a blackboard chalked sign "Welcome Jacqueline and Co". I looked at Tim and smiled, what a nice way to arrive.
We're met by Wendy (one of the owners). I have to admit, I wasn't listening too clear during the guided tour of the retreat as I was in awe of what I had actually booked. Immaculately clean, private accommodation, very modern and less than a 5-minute drive from the heart of Forbes, NSW – such a wonderful surprise to say the least. We're two couples comfortably accommodated in this 2-bedroom retreat and it would easily also suit a four person family.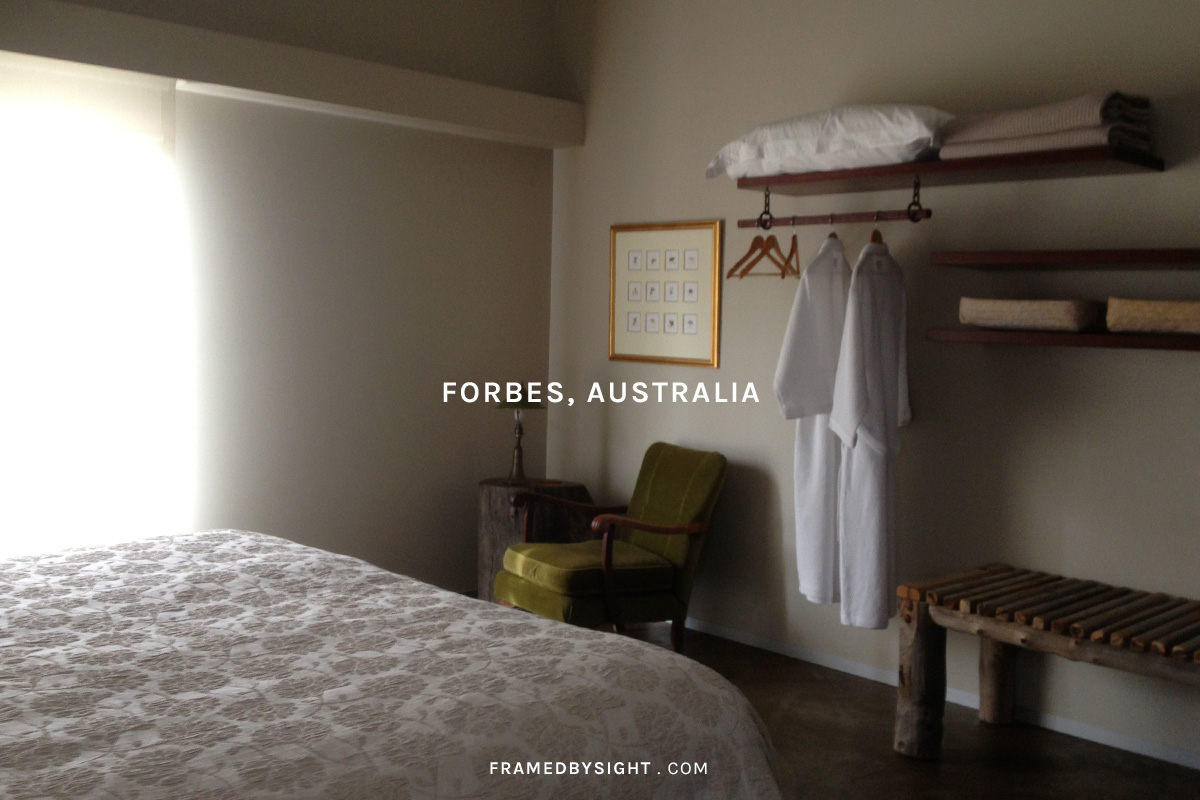 The retreat has an adjoining outdoor courtyard connected to the main home, but other than that, it's self-contained and your stay has as much (or as little) interaction with the owners. Wendy is a great host. Warm, friendly and very personable. She knocked on the door later in the afternoon with a surprise treat; a plate of homemade, warm chocolate brownies – absolutely delicious.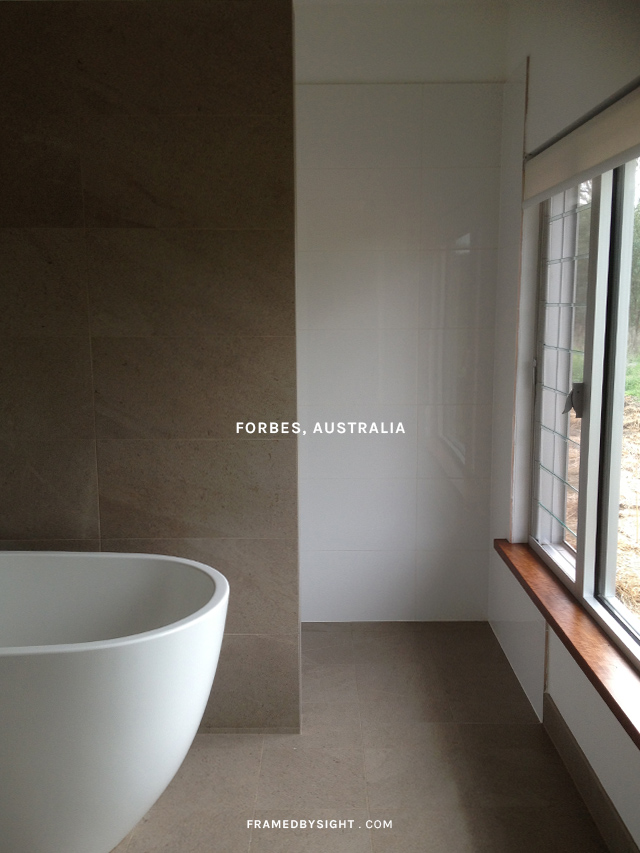 The decor is rustic throughout with touches of true nature such as wooden bedside tables and a uniquely-designed and carved dining table from a once fallen gum tree. It exudes luxury accommodation from every angle; soft bed linen, robes to keep you warm, overhead ceiling fans and a freestanding bath overlooking the picturesque billabong.
Breakfast provisions are included in your stay. Fresh bread, local honey, jam, eggs, cereal, milk and herbs readily available from the courtyard garden. What else could you ask for? The kitchen has standard amenities such as a dishwasher, stove, oven and microwave. Laundry facilities are available within the retreat if you need those too.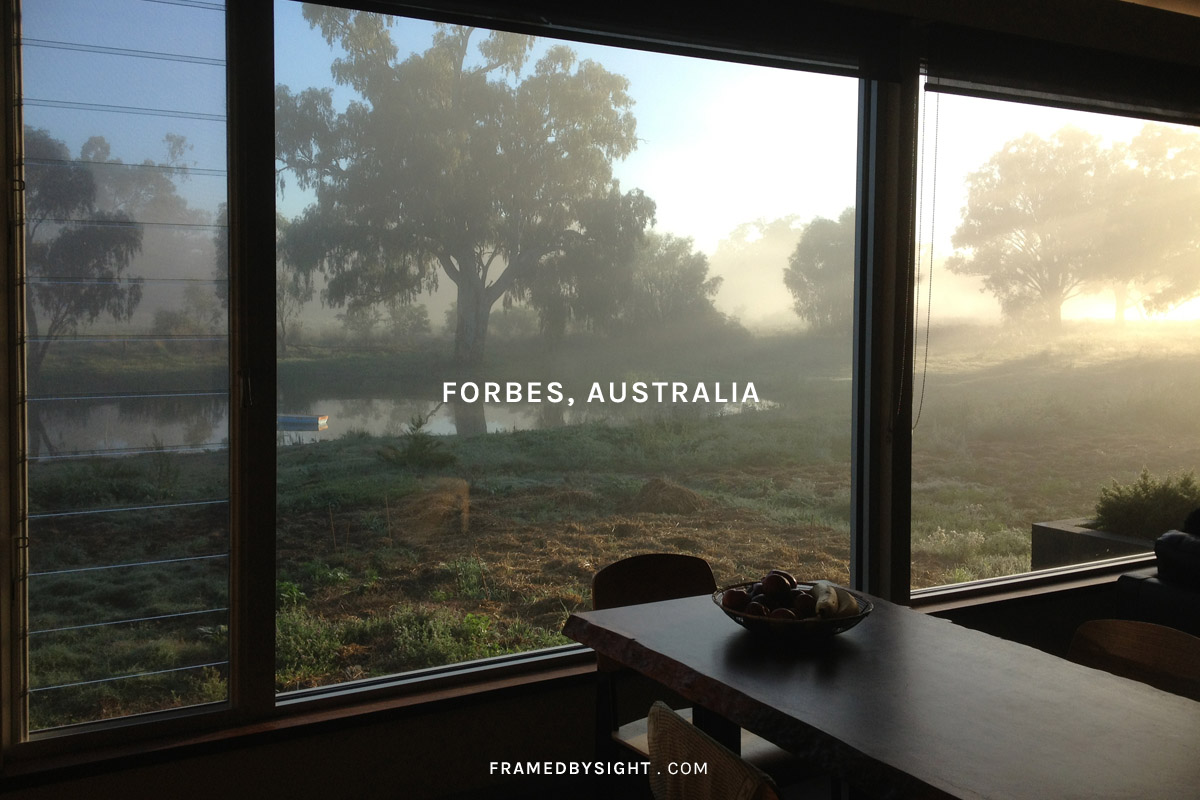 I also found it rewarding to know sustainable living is integrated throughout their farm – did you see the solar panels that power the property? There's also a 200,000L rainwater tank on-site. Mind you, our home rainwater tank is only 3,000L (mainly to water the garden might I add) so I can only imagine the size of their tank, bigger than a swimming pool by the sounds of it.
If you're an early riser, grab a cup of tea and watch the morning haze rise. The floor to ceiling window views from the open plan dining, living and kitchen area overlook the billabong and it feels like time stands still for a period until the haze fades, then the day officially wakes.
This is the accommodation to book if you're planning to stay in Forbes. Wendy and Kim have just started building a large garden, so hopefully in a few years time, this will become luscious and green on their property too.
Address
180 Warrul Road, Forbes, New South Wales, Australia 2871
11