Looking for a good an excellent coffee in Kyoto? If you haven't yet stumbled across % Arabica, now is the time to find it. With three locations in Kyoto, the Arashiyama cafe in particular is located on the outskirts of Kyoto city, but within close proximity to the tourist attractions of Tenryu-ji Temple (a UNESCO World Heritage site), Arashiyama Park and the famed Arashiyama Bamboo Grove.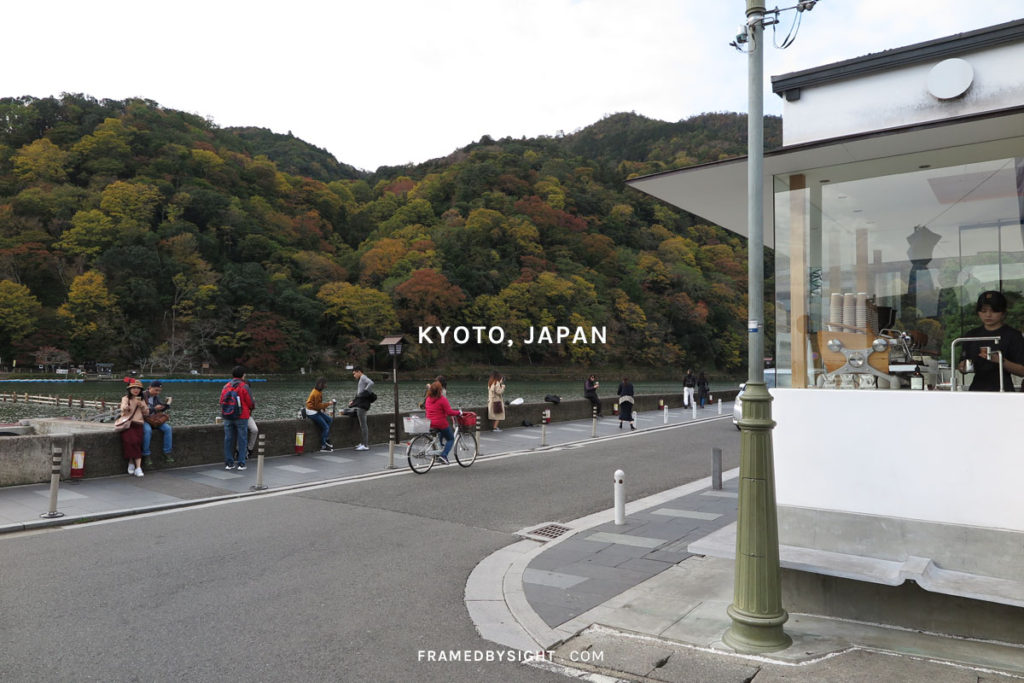 Whilst strolling along the Hozu-gawa River, located approx. 200-metres from the Togetsu-kyo Bridge, % Arabica is not easy to miss. We were curious why a bunch of people would be taking selfies with a coffee cup?! Surely the coffee must be good?!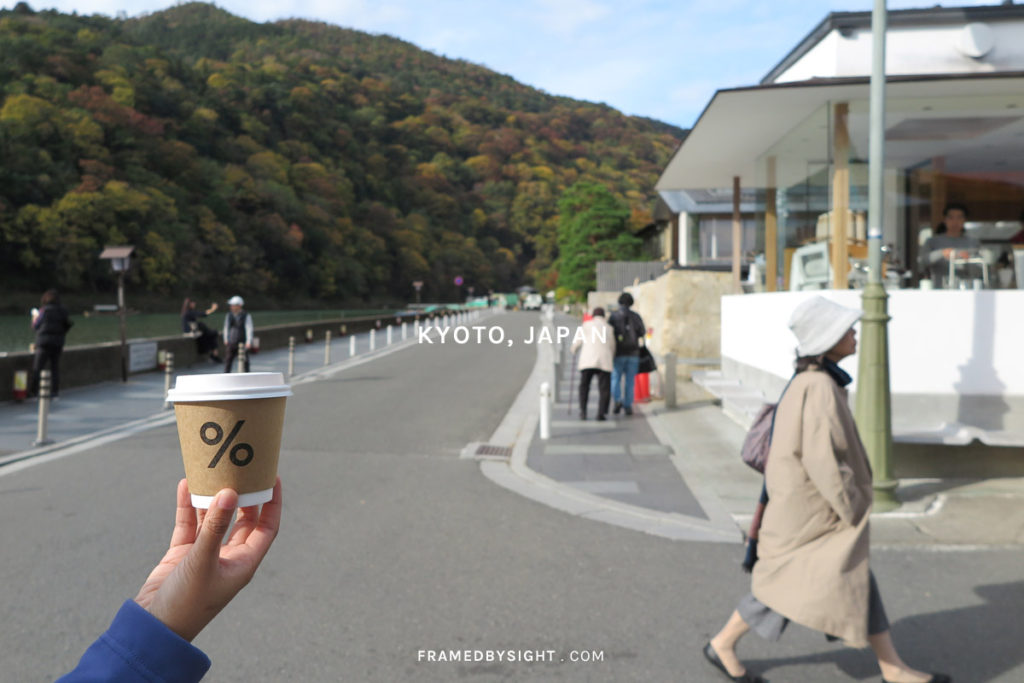 So, here's mine – actually, with the help of my Japan travel bud, Mel – plus a whole bunch of hashtags to go with: #ΔRΔBICΔ #percentarabica #arabicakyoto #arashiyama #seetheworldthroughcoffee
Little did we know, Kyoto is actually the birthplace of what is known today as % Arabica (pronounced Percent Arabica), readily available in 29 cities and 10 countries worldwide, founded by Kenneth Shoji.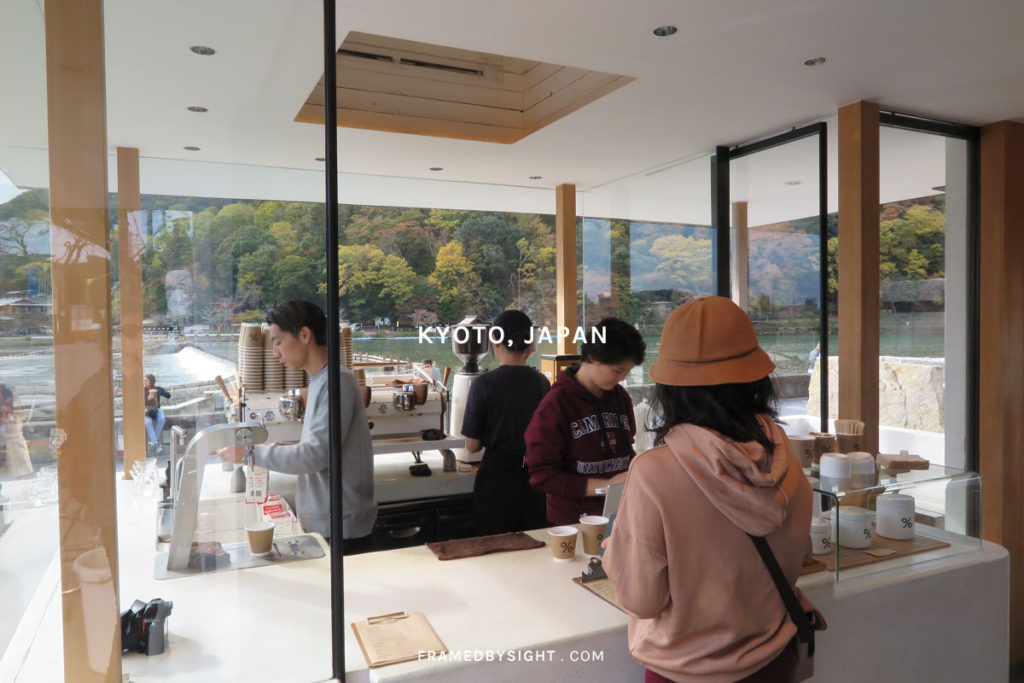 With a handful of wall-mounted concrete seats in front and to the side of the cafe, this is the perfect location to take a break whilst exploring Kyoto. You'll find a number of the commercial coffee houses in Japan with the likes of Starbucks on nearly every corner, but there's something special about % Arabica – the people, the view, the roasted coffee bean flavour.
I'm no coffee snob, but it was such a nice surprise to find good barista coffee in Japan and opportune to sit back and relax on the banks of the beautiful river with the Arashiyama mountain in full view – if only I could insert the aromatic coffee smell experienced whilst typing.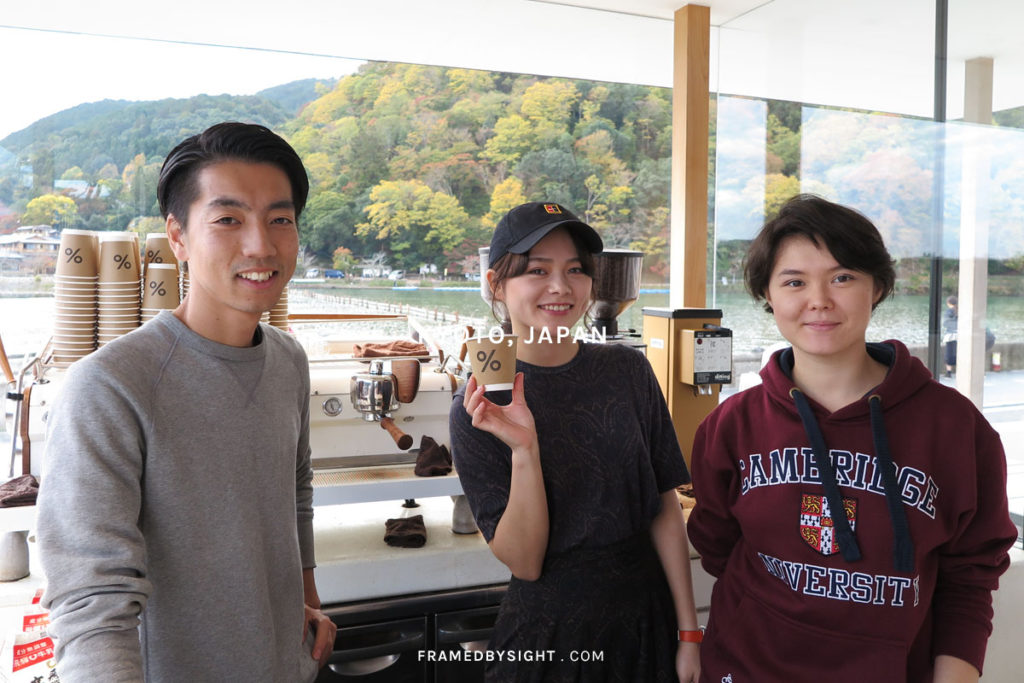 % Arabica is the place to be – a boutique, modern, bright-lit coffee house, with the perfect pick-me-up coffee to go. We discovered this cafe first thing in the morning and the line-up wasn't that long at all, less than a 10-minute wait.
That said, we recommended % Arabica Arashiyama to friends we had met whilst on our travels and they ended up waiting more than 45-minutes during the mid-morning rush. If you're in the area, do pop by. Try to get there early to beat the queues. % Arabica Arashiyama is open from 8am to 6pm daily.
Address
43-47, Sagatenryuji Susukinobabacho, Ukyo-ku, Kyoto 616-8385 Japan
5