Hotel Ocean Grand at Hulhumale is the perfect overnight accommodation before transiting to an outer island in the Maldives.  Located only a 10-minute drive away from Male's Ibrahim Nasir International Airport, this hotel does not require a speedboat transfer on arrival – a convenient, timely, stopover airport hotel for your Maldives trip.
After arriving after 9.30pm into Male, I was looking for a well-recommended, central hotel, within close proximity of the airport and ideally, only requiring a car or van transfer. As the Maldives is in the middle of the Indian Ocean, you'll find a number of the Male airport hotels offer speedboat transfers which, of a late evening arrival, we weren't too keen on, having flown from Australia via Asia. Two flights followed by a boat ride wasn't top of mind for us, so this accommodation was ideal.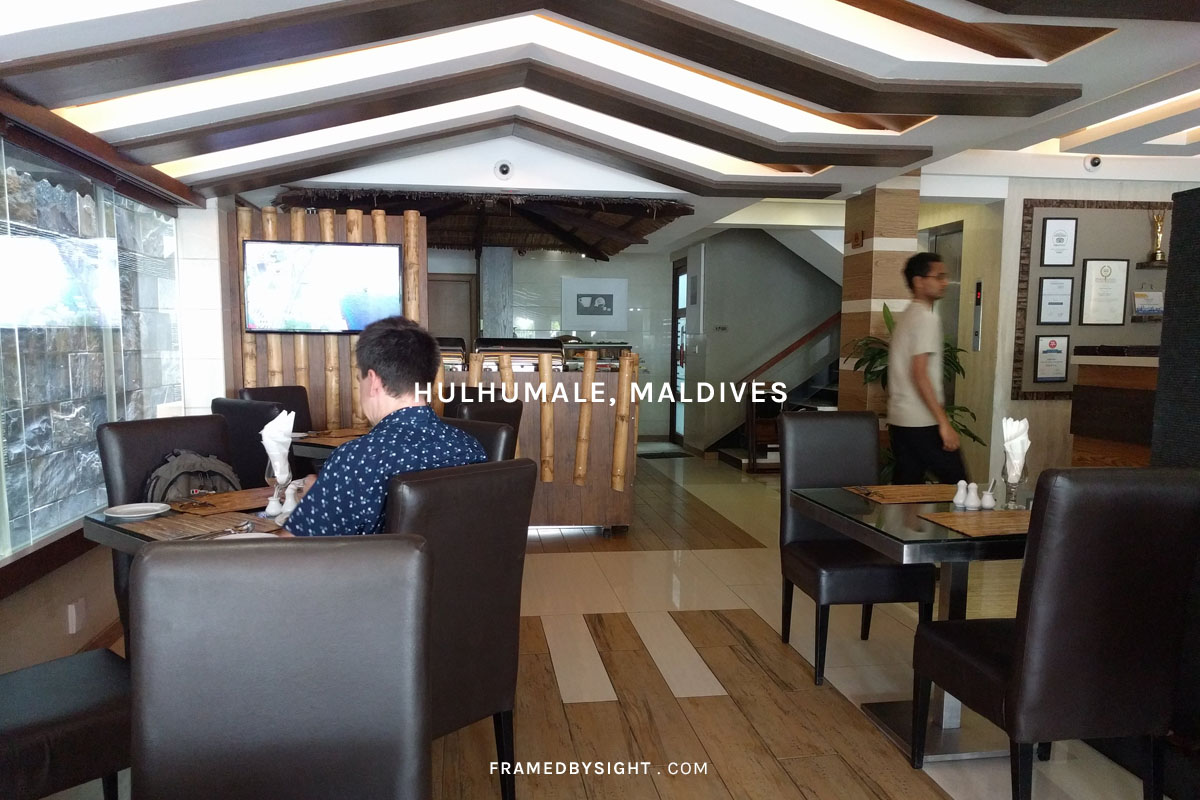 Hotel Ocean Grand is a small, four-storey boutique hotel with direct beach access across the road. It has two restaurants on-site; O'View Restaurant located on the ground floor and Sunrise Terrace offering rooftop dining and evening beverages, overlooking the ocean.
I must admit, the hallways are narrow and the lift is very compact in size – I recall only us fitting in the lift (without the hotel staff and our baggage) otherwise, it would have been a tight squeeze for all.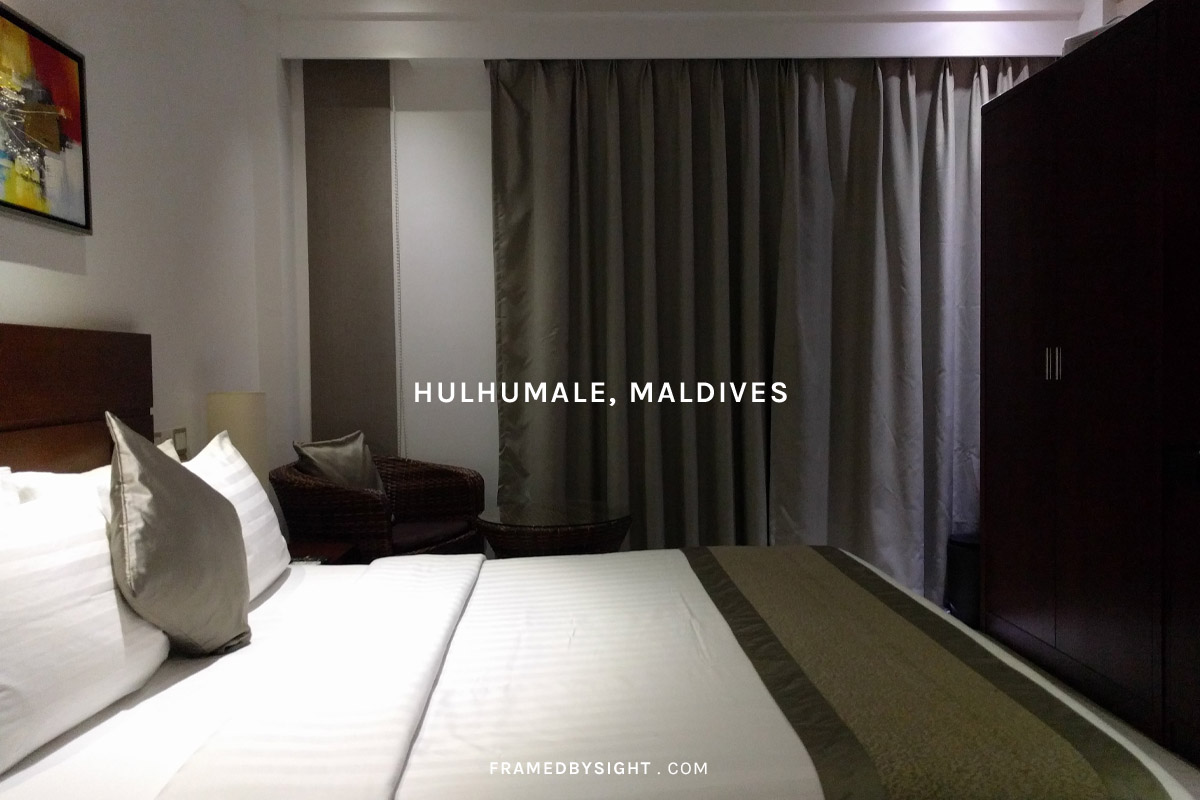 The staff are very friendly and welcoming. We had a meet & greet service on arrival at the airport and their free shuttle service worked with ease. Welcome drinks and a cold towel were provided at the hotel and they re-confirmed our seaplane transfers to the outer island for the next day without us even requesting this prior. Sudher and George are two staff members who deserve a positive mention. They were very prompt and organised with our check-in process and baggage was arranged to the rooms straight away.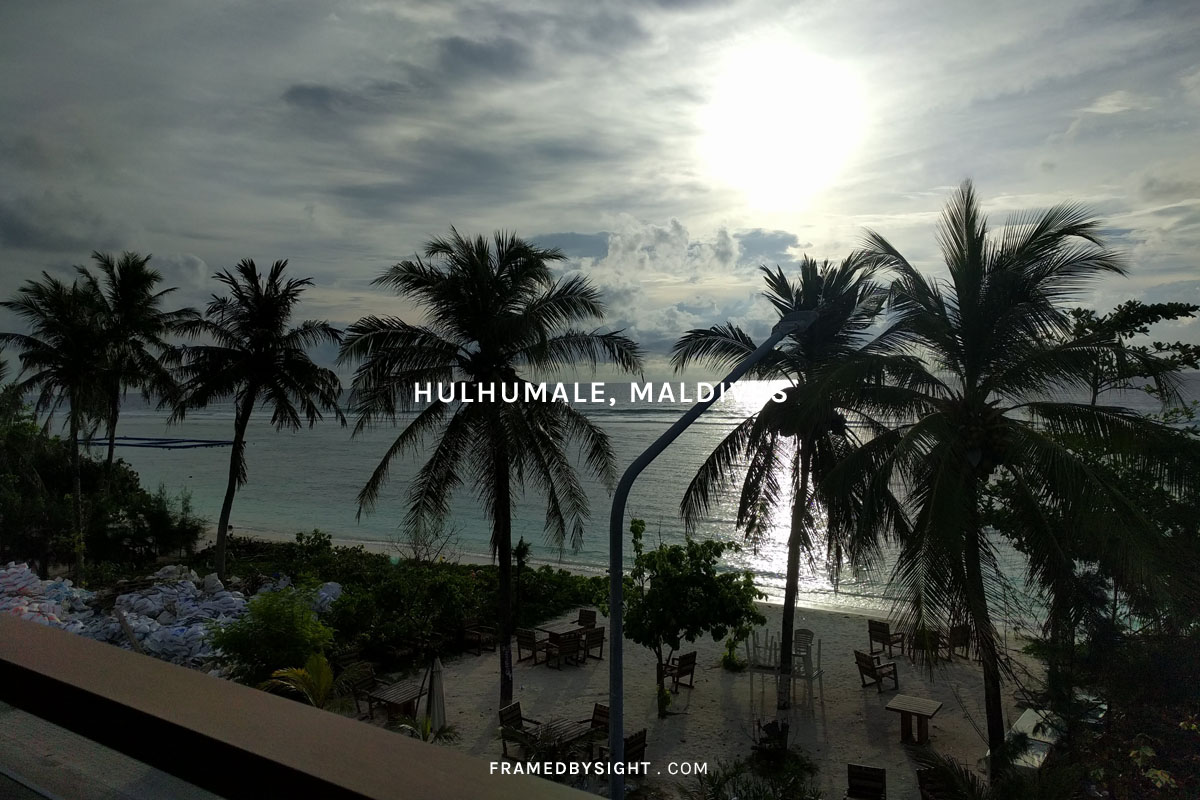 Our accommodation was an Ocean View Suite with balcony access and fortunately, there's no other buildings in-front of our view.  So, if you get the chance, do book this room type as the morning sunrise over the ocean is beautiful.  The rooms are small in size overall, but the balcony gives you that little extra space and a spectacular water view.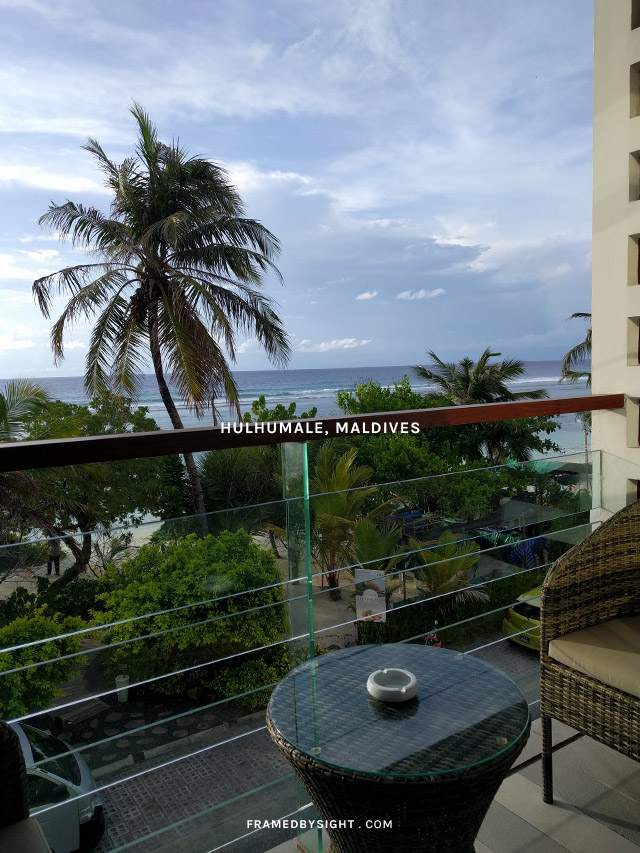 But – there's a but – if I'm being completely honest, the surrounding outdoor areas – to no fault of the hotel – is a little disappointing due to being run-down (e.g. rubbish to the left of the building on the beachfront).  Don't let this discourage you though from staying here as it is a great Male stopover airport hotel and I would still stay here again.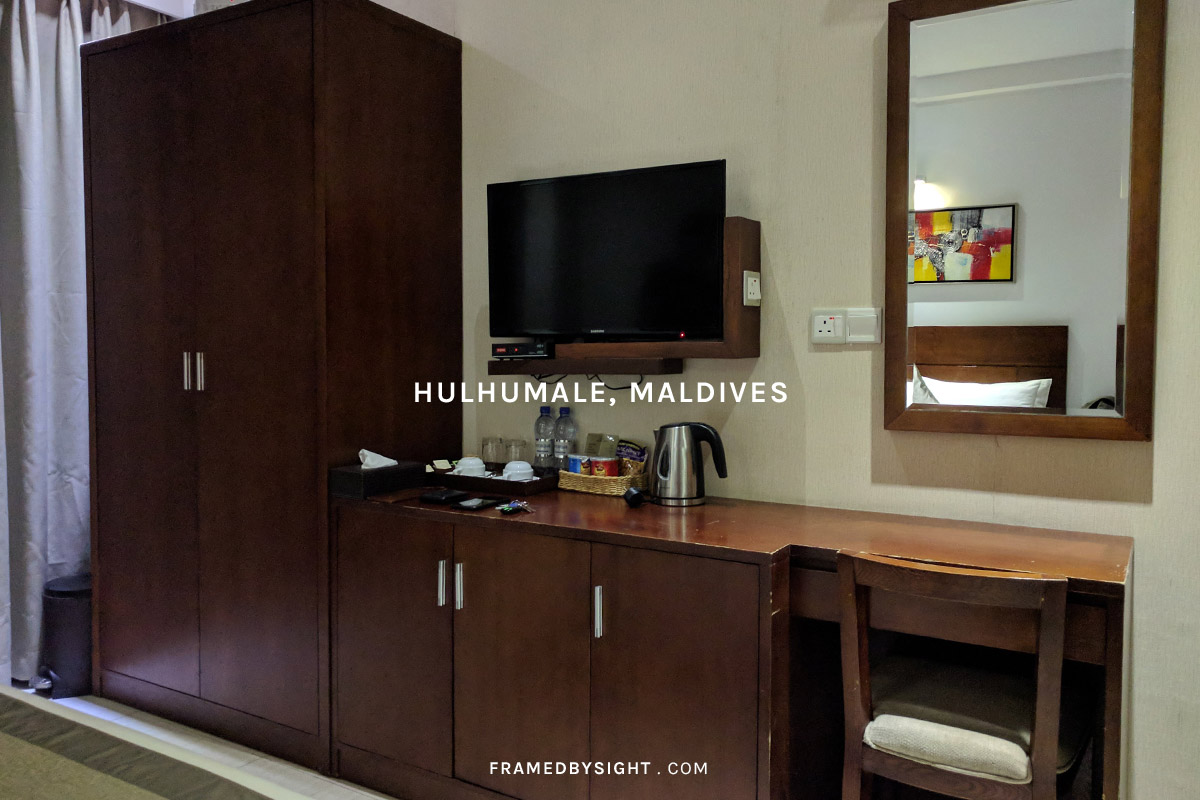 The room itself had a decent amount of baggage space, wall-mounted air-conditioning, mini-fridge access and a bathroom en-suite.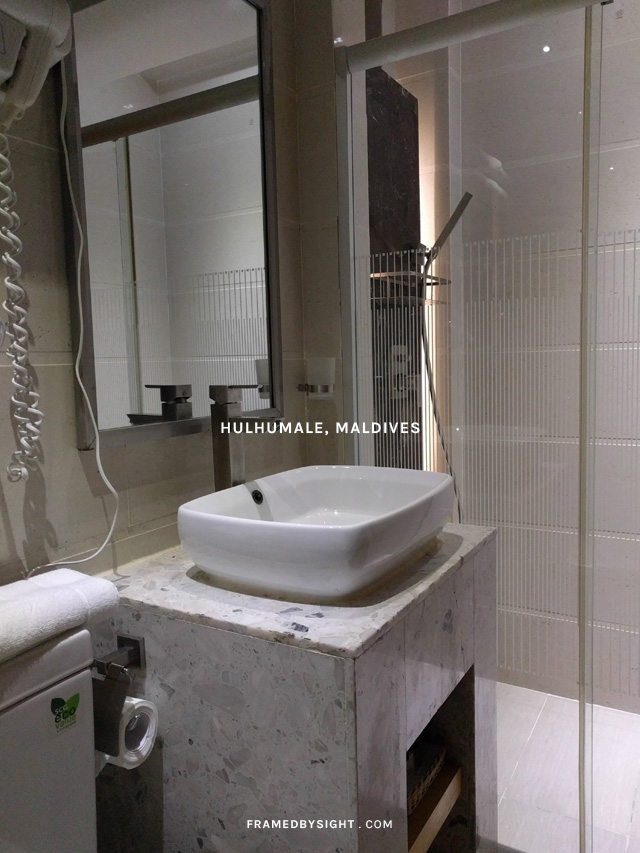 The bathroom and shower is compact in size, there's only a handful of steps between the door, toilet and shower. That said, the shower has great water pressure and is just what you need from a long flight. Free Wi-Fi is included and accessible in the room – a little intermittent at times – but completely fine for brief use.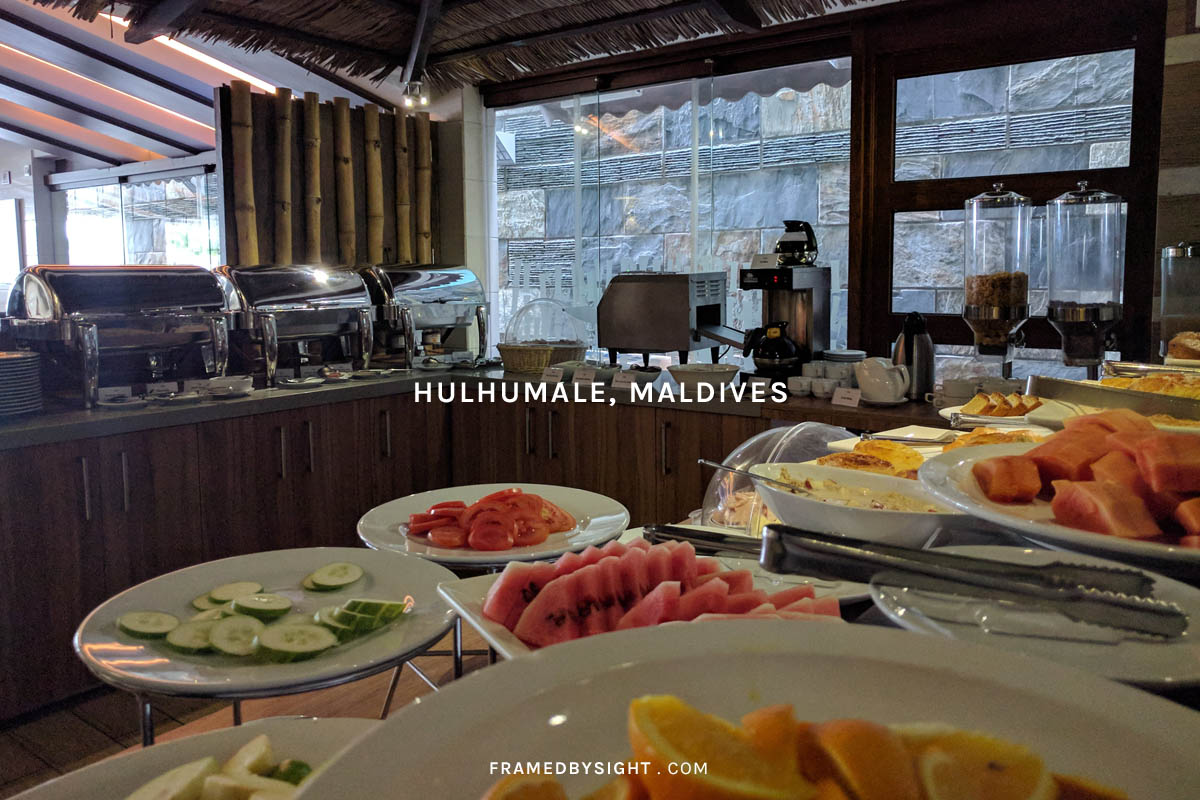 We had Tonyman serve us breakfast – he was friendly and accommodating during our stay.  The buffet breakfast menu had pancakes, fresh fruit, pastries, chicken sausages, eggs made to order, light cereal and breads.  My eggs were served in the shape of a heart with a face which I thought was quite neat.  Whilst this was not an overflowing buffet, we were quite surprised at the range of food that was available.  Good choice for such a small, yet charming hotel.
What I loved about this hotel is its communication. They were easy to correspond with via email and all the staff were personable and proud of where they worked.
The hotel is affordable, cosy and spot on with service and the return airport transfer worked just as well as their arrival.
Address
Crystal View lot 10717, Kaani Magu K. Hulhumale, Maldives
0