I was fortunate to have two friends recently stopover in my hometown – Sydney, Australia – with the task at hand to give them the best Sydney city highlights in 1-day.
I haven't had to do this in quite some time, and with all the tourist attractions on their list, I had to try to make what may seem impossible – possible. Where should I take them around Sydney? What is the true Sydney experience? How much of Sydney can we really explore on public transport with only one day to spare? My friends hadn't been to Australia since we were all kids, so this was going to be an amazing, albeit brief, catch up.
Transport
1. Zoo
There are two Sydney zoos I'd recommend: Featherdale Wildlife Zoo or Taronga Zoo. Depending on where you're based, one location may be better positioned than the other.
8.45am
When visiting Featherdale Wildlife Zoo, arrive at Doonside Train Station by 8.45am. This is an approx. 1-hour train ride from the city CBD to the outer suburbs of Sydney. You may look like you're in suburbia – quite frankly, you are – but it's the best petting zoo for family and friends to see wallabies, kangaroos and koalas up-close. Featherdale has the largest collection of koalas in NSW and home to more than 1,700 native Australian animals. This is a popular zoo for those travelling en-route to the Blue Mountains.
Upon exiting Doonside Station, walk 100m on Doonside Road, then turn on to Kildare Road and walk for approx. 15-minutes until you reach the entry of Featherdale Wildlife Zoo which opens at 9.00am. If you're keen to get-up close to Australian furry friends, Featherdale Wildlife Zoo is your stop. Gate entry is AU$32pp, however when available and booked in advance, you can find a cheaper deal at Book Me from AU$18.50pp.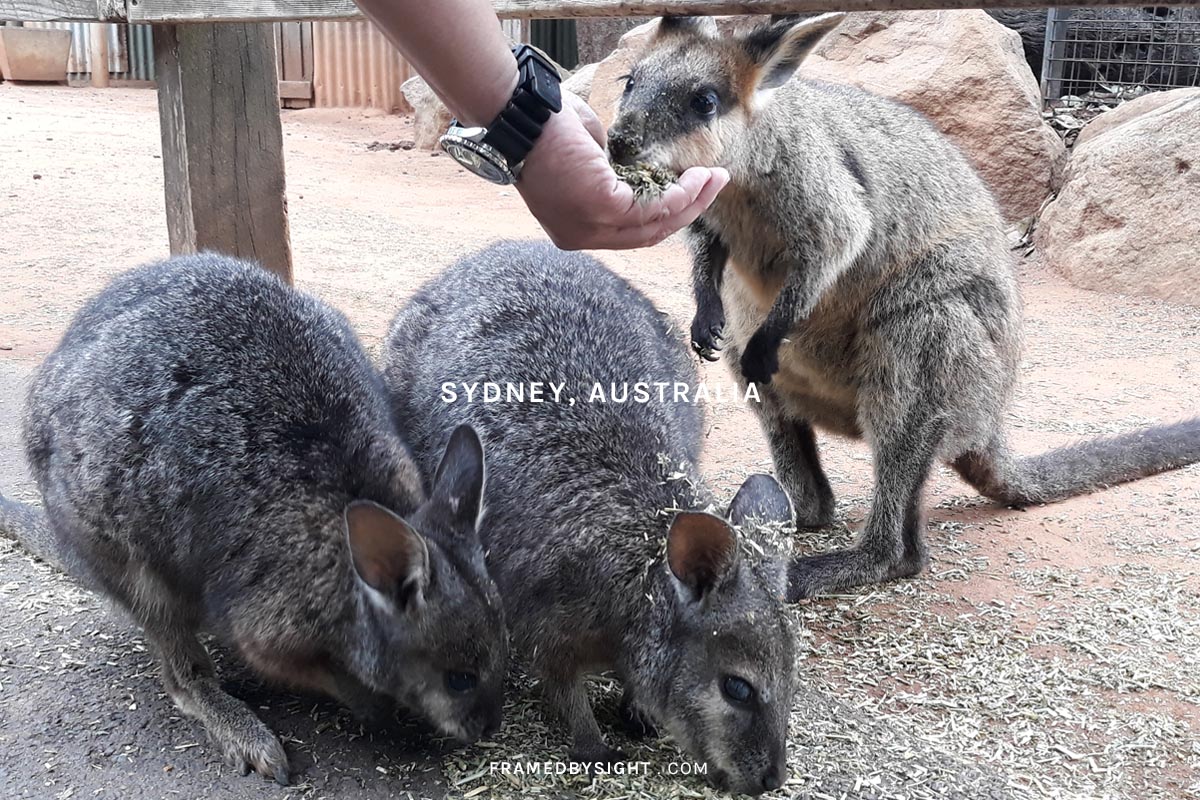 On arrival, you can also pre-purchase an up-close koala encounter experience for an additional AU$25.00pp – inclusive of a take home photo. Otherwise if not, you can still wander the zoo and see koalas at a distance. Make sure you purchase a cup of animal food for AU$2pp just after the entrance – you need this to feed the wallabies and kangaroos within the enclosures.
Depart the zoo by 10.30am and walk back to Doonside Station to catch the train by 11am, arriving by 12pm at Museum Station. Walk to the Liverpool Street exit of the train station and follow this to Stand A (approx. 100m outside of Museum Station) to catch the 333 bus heading in the direction of North Bondi. Allow approx. 40-minutes bus travel time. If you're unsure, ask the driver to drop you at Campbell Parade (near Francis Street) – nearest spot for lunch at Bondi Icebergs; or Campbell Parade (near Hall Street) – for lunch at The Bucketlist.
Zoo alternative 9.15am
Taronga Zoo is Sydney's more well-known animal attraction and is less than 15-minutes by ferry from Circular Quay. With over 4,000 animals, this is a beautiful zoo experience and one you won't be disappointed by.
As Taronga Zoo opens at 9.30am, I'd recommend a breakfast stop at The Fine Food Store located in The Rocks – next to Circular Quay – before taking the ferry to Taronga Zoo Ferry Wharf. Located in the oldest laneway in The Rocks district, this is a great breakfast find to wake up and start your day.
Taronga Zoo's gate entry is AU$46pp, however when booked in advance online, you save 20%. On arrival at the Taronga Zoo Wharf, you also have the option to take the Sky Safari cable car which is included in your zoo entry ticket – the Sydney city skyline from above, is not to be missed. There are a number of Animal Encounter experiences available to purchase on the day of arrival. These spots fill-up quite quickly, so if you're keen, plan this into your visit as soon as you arrive. If you're following my suggested itinerary, you may need to adjust your timings as the Animal Encounters are only available at allocated times.
Depart Taronga Zoo by 11.30am and take the return ferry to Circular Quay, to catch the 333 bus from Stand B on Alfred Street, Circular Quay. Allow approx. 1-hour bus travel time. If you're unsure, ask the driver to drop you at Campbell Parade (near Francis Street) – nearest spot for lunch at Bondi Icebergs; or Campbell Parade (near Hall Street) – for lunch at The Bucketlist.
2. Bondi Beach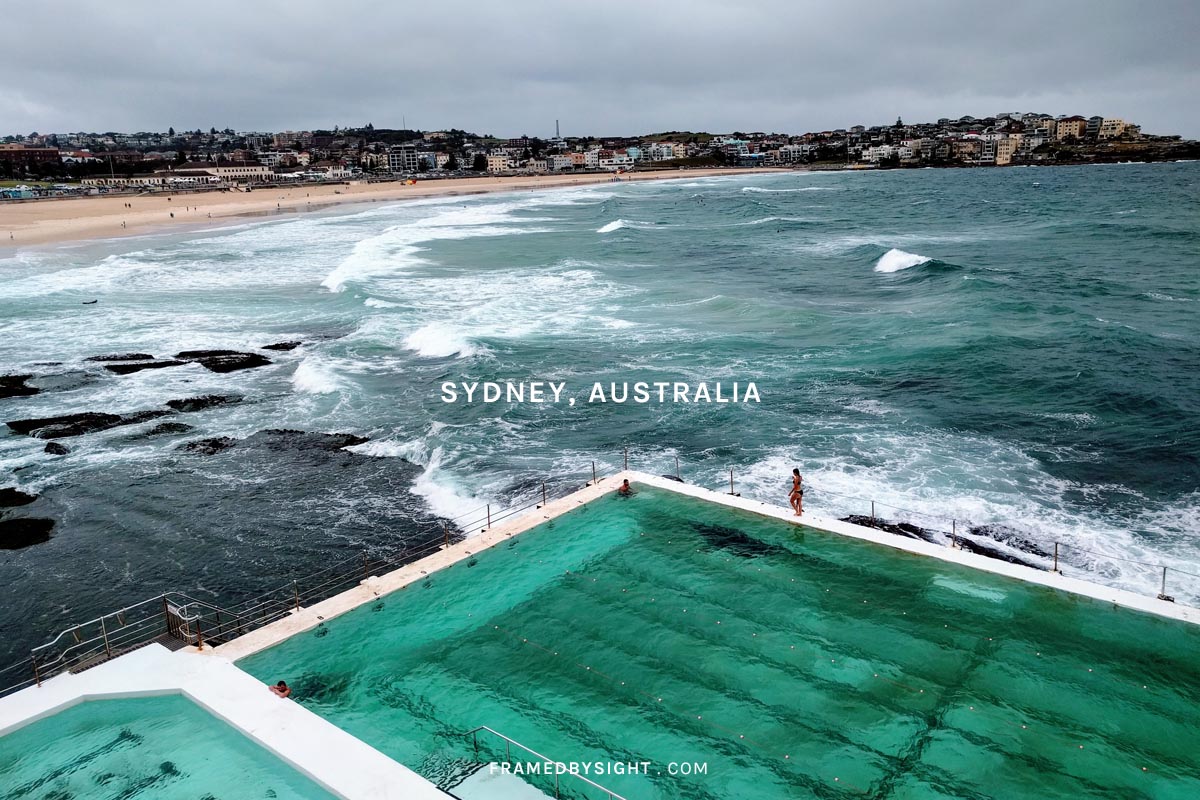 1pm
If you're after a Bondi Beach Experience with a view, then Bondi Icebergs is the spot. There are two main restaurants at Bondi Icebergs: Icebergs Dining Room (fine dining) or, Bondi Icebergs Club (casual bistro). The beach views over the pools are phenomenal and lunch on the balcony is the perfect spot.
Alternatively, in the heart of the beach is The Bucklist Bar Eatery Bondi Beach. It's in a prime position, on the promenade facing the ocean – your perfect beach-side stop.
I'd suggest you spend 2 or so hours here for lunch including a short stroll along Campbell Parade, before heading to Watson's Bay.
3. Watsons Bay
3:15pm
Catch the 380 bus heading in the direction of Watsons Bay (Military Road Terminus) from Campbell Parade. The bus stop is just after Hall Street near both Hungry Jacks fast-foods and Between the Flags retail outlet. Allow approx. 20-minutes bus ride to arrive at the Watsons Bay Terminus, 500m from the Watsons Bay Ferry Wharf.
3:40pm
Time permitting, enjoy a brief stop at the Watsons Bay Hotel for a refreshing beverage. With an outdoor terrace, this is an excellent spot with beautiful water views.
4:10pm
Take the ferry from Watsons Bay Wharf to Circular Quay Ferry Wharf and make sure you hop on the green and yellow public ferry operated by Sydney Ferries – not Captain Cook Ferries. Your Sydney Opal Card is only eligible on the Sydney Ferries. Be sure to check the ferry schedules before planning your day as they do not have frequent services into the evening from Watsons Bay. You may need to take a bus if the ferry services have ceased for the evening.
4. Circular Quay
4:40pm
Sail into Circular Quay with photo opportunities of the Harbour Bridge and the Opera House as your backdrop.
Stroll Sydney's main harbour foreshore. There are several iconic landmarks all within walking distance; the Royal Botanic Gardens Sydney adjoining the Sydney Opera House, The Rocks, and of course the Sydney Harbour Bridge.
If you've followed the above, you would have explored as much of Sydney in brief. To round out the evening, enjoy the views of Sydney Harbour and dine at the Opera Bar or Opera Kitchen (child friendly).
12