The following day, the Penrith Solar Centre team returned to finalise our solar energy installation, including our Tesla Powerwall 2 battery. Certain requirements needed to be met, prior to the battery being installed:
The battery could be either floor or wall mounted;
It must be a minimum distance away from any windows and doorways;
It cannot be installed on a wall that has a habitable room on the other side; and
If it was being placed in a garage area and protrudes from the wall, you may need to install a bollard in front, to prevent a car from damaging it
We had the perfect spot – a recessed brick wall between two columns in our garage, so no bollard was required to be installed.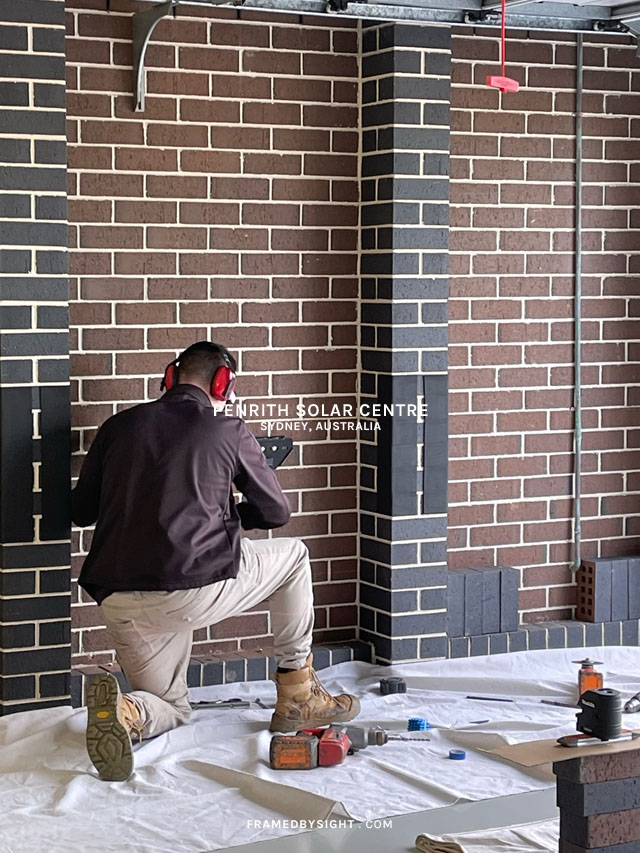 First steps was to mount the wall bracket for the Tesla Powerwall 2 battery on the garage wall.
Now lets talk weight – this bad boy is no word of a feather. Coming in at 114kg, requiring quite a bit of muscle power to lift and place, you'll need a sturdy mountable area, that can sustain such weight. Side note, I was chuffed to see drop sheets down over our epoxy flooring when I came out to have a sticky-beak. These guys kept the place tidy during the entire install process. Another tick, as a satisfied customer.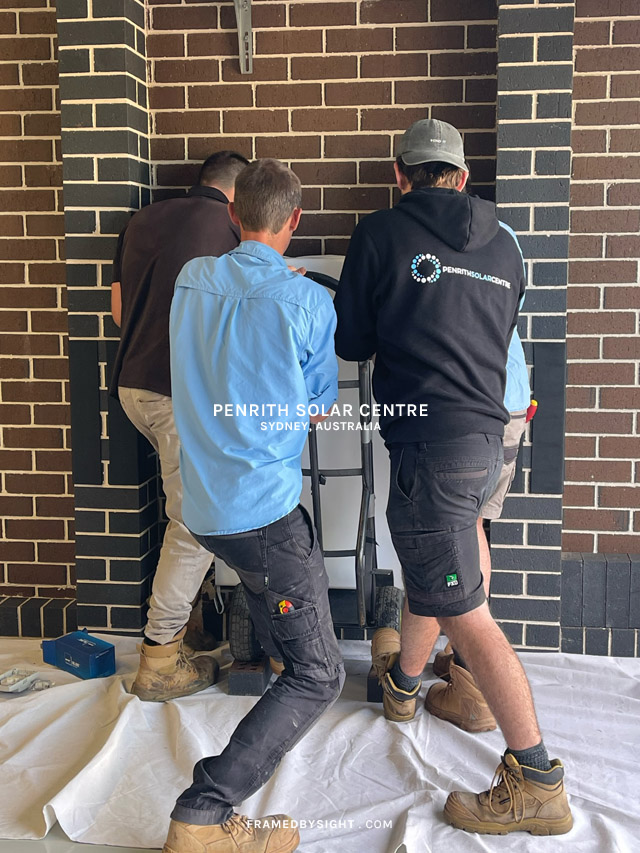 It took four people to mount the Tesla Powerwall 2 battery on to the wall bracket. Imagine the weight, plus the narrowness of the battery and the brick surface stacked to the height of the garage wall. It might look simple to do, but it was tricky watching on – manoeuvring a battery of this size into position, and attaching it on to the wall bracket.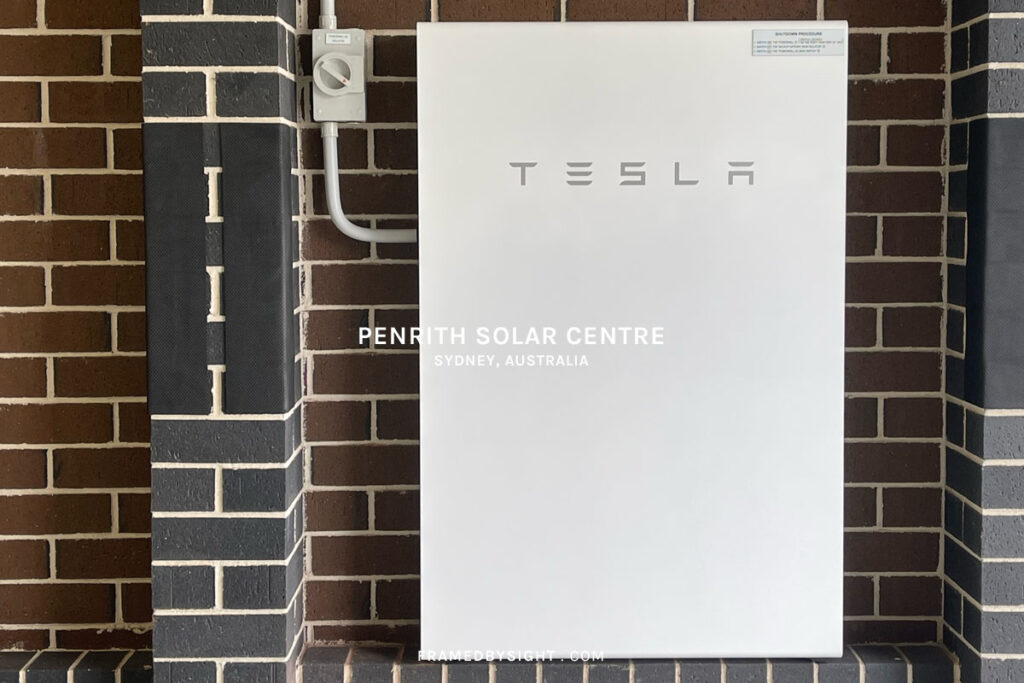 And to my absolute delight, was the conduit. This was the only location of our entire solar energy install, where you could visibly see it running up the garage wall and into the ceiling. Otherwise, on the first day, the team opened the roof and fed the cabling down the wall cavities and concealed all wiring through the roof top of our garage and through to the electrical meter box.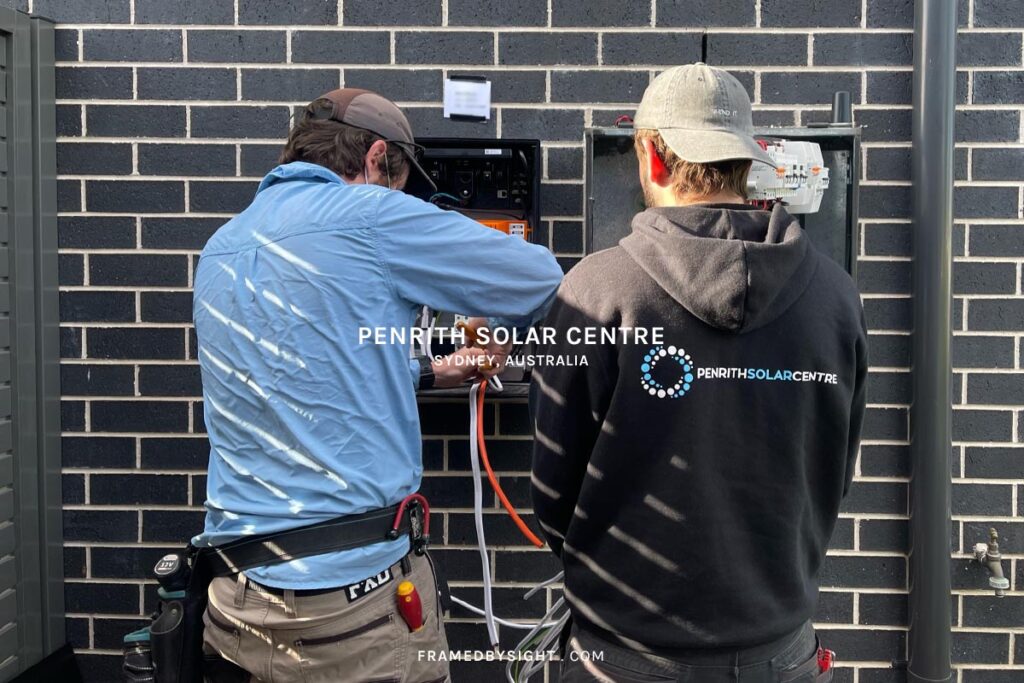 In parallel, Rob was working on finalising the wiring of our metre box, and the Tesla Gateway install. This is the brains and electrical hardware of the entire solar energy set-up. It connects to the meter, main panel and solar inverter wirelessly via the internet, providing solar production monitoring. Rob was great to chat to, and more than happy to share insightful knowledge on the electrical wiring process and how the entire solar panel system functions.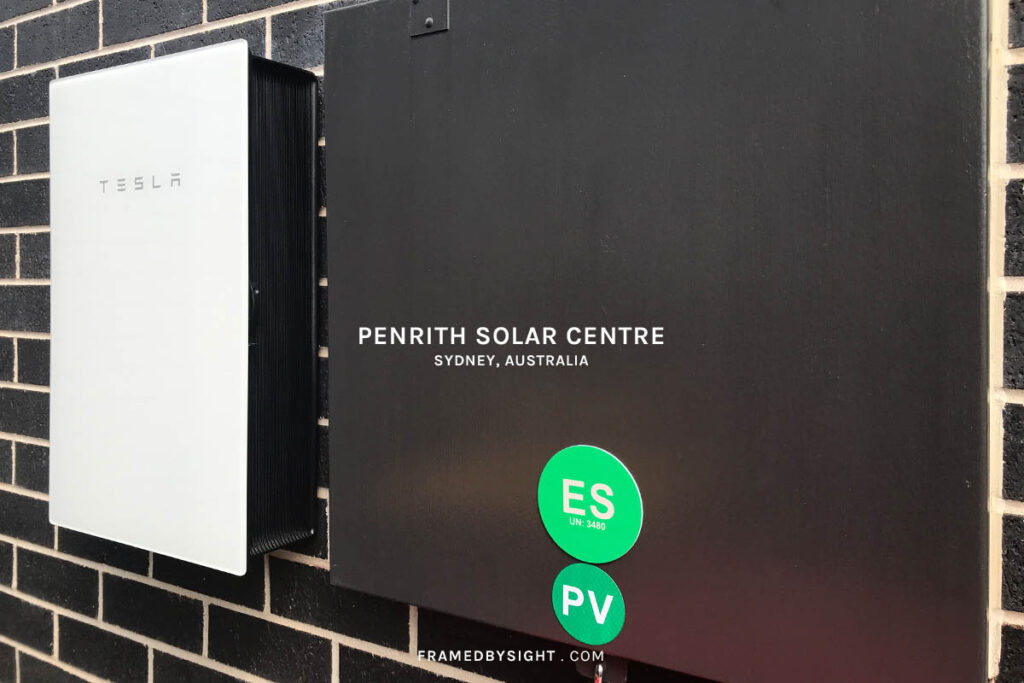 That is what I loved about this entire solar panel and energy system installation. Whilst not everyone is as curious as us, the Penrith Solar Centre team were open to discuss any step of the process throughout, which they not only did well, but the consultation process was brilliant and very customer focused.
By midday or thereabouts, we were nearly there. Once all the set-up was ready to go, we were advised a handful of power outages that would occur during final testing. This included testing the backup capabilities of the system.
The team then ran through the functionality in detail with us – the Tesla Powerwall 2 battery, Tesla Gateway and the meter box. They labelled all the relevant wirings in the meter box as well.
If there's anything that I could suggest, it'd be to give Penrith Solar Centre a call and request a quote. If you're researching solar energy companies in Sydney, then this is the one for you. I'd be very surprised to hear of a bad experience, as I genuinely found their service to be professional from start to finish. Alongside all their other supporting customer reviews you'll find online.
Payment requires an initial deposit, otherwise they do offer an approved payment plan as an alternative. We were advised of a 6-week lead time from deposit through to final install. However, about a week prior to the original install date, a different solar energy install job was delayed, so we were fortunate for ours to be brought forward and rescheduled to an earlier date than planned.
Penrith Solar Centre supported all the paperwork to advise our energy provider to switch our services from electrical to solar energy. This took about 5 business days to process before we saw the change occur, now calculating solar energy production in lieu. You will also receive a hard-copy handover booklet in the mail from Penrith Solar Centre, following the completion and final payment of your solar energy install.
For those that want to view their solar energy performance, I'd highly recommend downloading both the Enphase Enlighten app and the Tesla app to watch the action first hand.
Interestingly, you'll start having conversations on how you can switch your home usage to utilise the peak energy production – something you wouldn't have really acknowledged in the past without these apps and/or whilst not having solar panels installed. Well, we didn't until now.
Address
Penrith Solar Centre
130A Batt Street, Jamisontown, New South Wales, Australia 2750
Phone
1800202930
25