Ever had a dog who nipped at their own bed or floor pillow, and then decided to pull the stuffing out?
Well, when we re-homed our boy Kenji at nine months old, within a month, the cheeky bugger decided to pull his pillow apart. I'll never forget wondering why I thought he fell silent of an afternoon, and when I turned the corner, I knew exactly why. The pure innocence in his eyes with the pillow stuffing all over the floor and partially hanging out of his mouth. It's like he'd just been caught out, knowing well and good that he had done something he shouldn't have.
I was at home the afternoon when this happened, whilst my husband was in the office. I jumped online and arranged a 'click and collect' service from the local pet store, for Tim to pick up a new dog pillow on the way home. I honestly didn't do much research on the new bed at the time, I just knew I had to get a new one to replace the mess Kenji had made.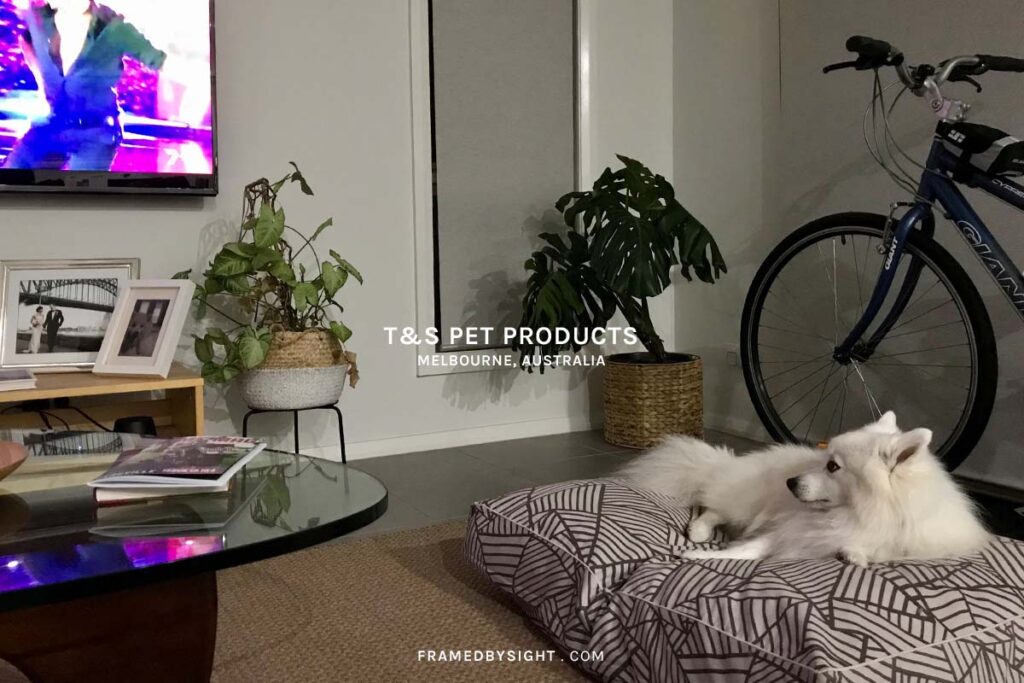 Nearly three years later, I thought it was time to replace Kenji's existing pillow cover. We had washed it a few times already, but it was starting to fade. So I looked up the tag and found T&S Products were based in Melbourne, Australia.
What I purchased a few years back was the T&S Floor Cushion Grey Stripe – with replacement covers for this design still available today. Lucky for me, T&S Products had a sale on replacement covers, and so I decided to add some extra colour to our living room, and choose the Monstera Leaf design instead. Love the fact that my dog bed has a removable and washable cover, and separate cushion insert.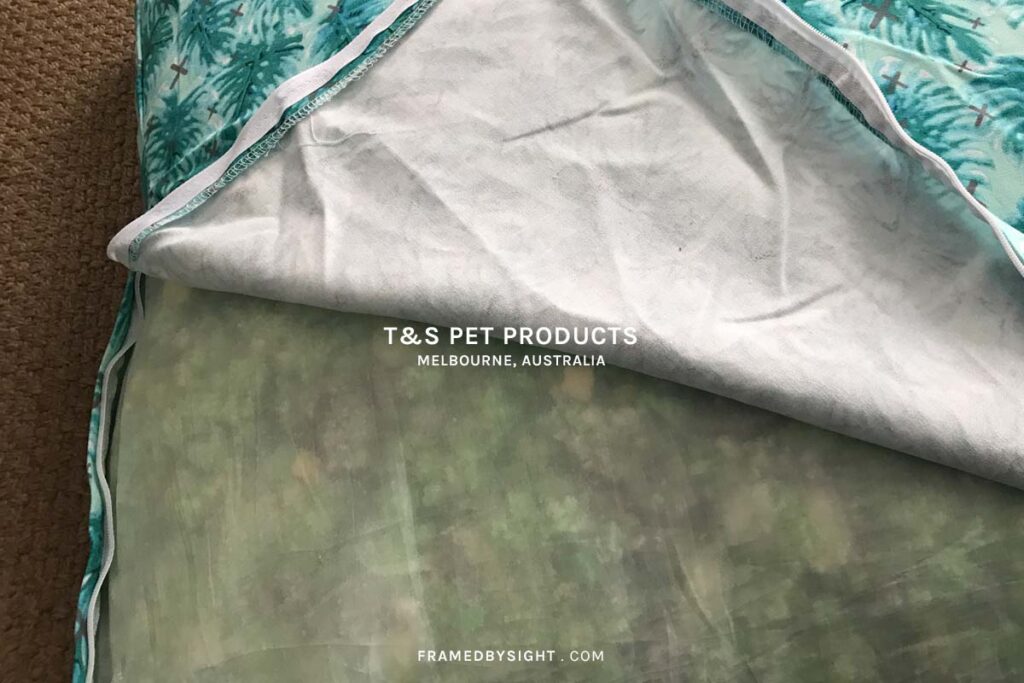 The cover has been very durable over the years, made of strong cotton and is easy to zip-off 1/2 way around. Inside, there's a thin pillow stocking, filled with Australian made Dunlop Foams, perfectly lined for this floor pillow cover.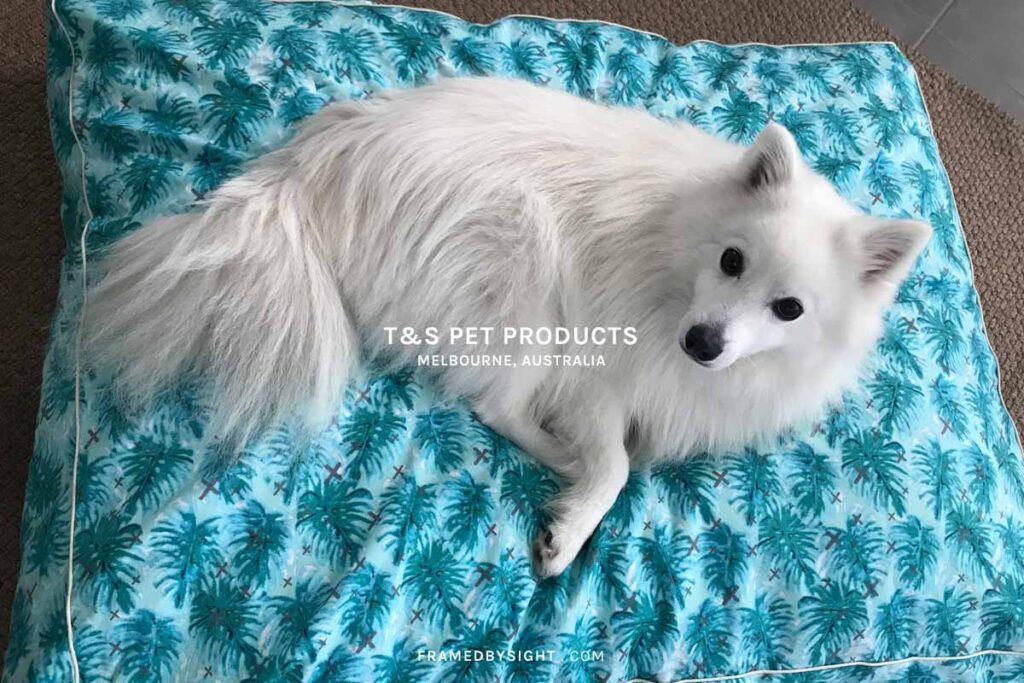 When I first purchased it, I didn't acknowledge the original size, but rather that it looked solid, as I was determined that Kenji wouldn't be able to chew through it. Our boy is about 9kg in weight, and the small pillow measures 95 x 75 x 24 cm.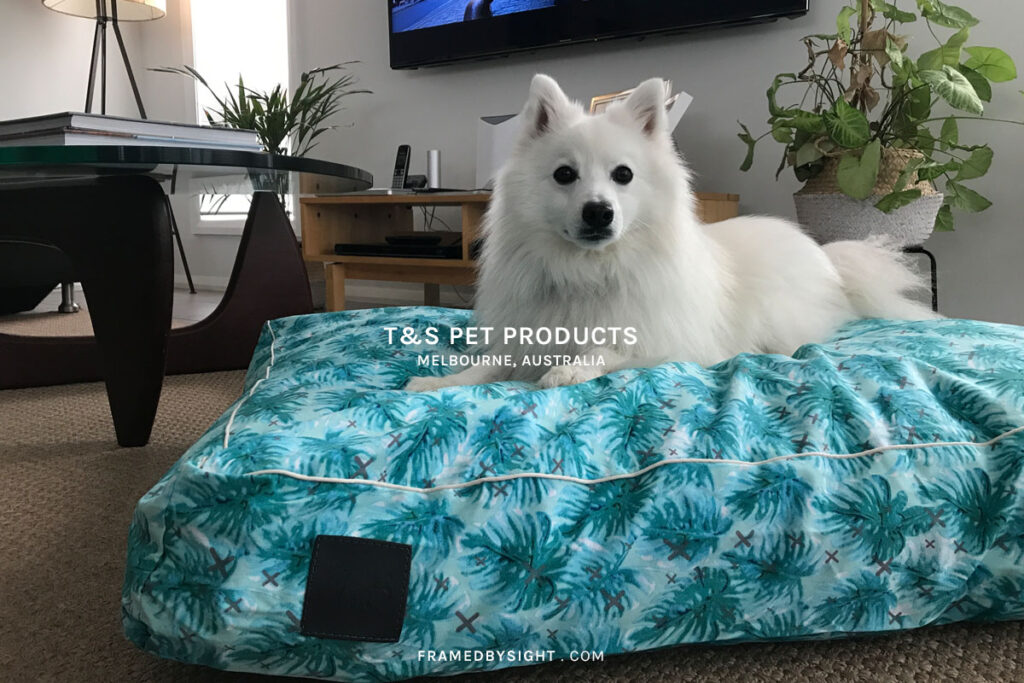 It has been a number of years now and I haven't yet had to replace Kenji's bed, other than just buying the new cover. Our boy is turning four in the coming months, and his knack for pulling things apart has definitely reduced since his youth. That said, he doesn't sleep in our bedroom at all, and actually regularly sleeps on his pillow, so he has tried and tested the durability of this one for sure. I'd happily recommend this T&S dog bed or floor cushion pillow, to be of a great quality, and one that I'd be surprised to hear if it can be easily broken (by chewing through the cover that is).
Address
Melbourne, Victoria, Australia
11