Once built by the Prince of Wurttemberg as his private residence, now transformed to one of Vienna's oldest luxury hotels, the beautiful Hotel Imperial, a Luxury Collection Hotel, Vienna is well worth the stay if you're still deciding on your accommodation.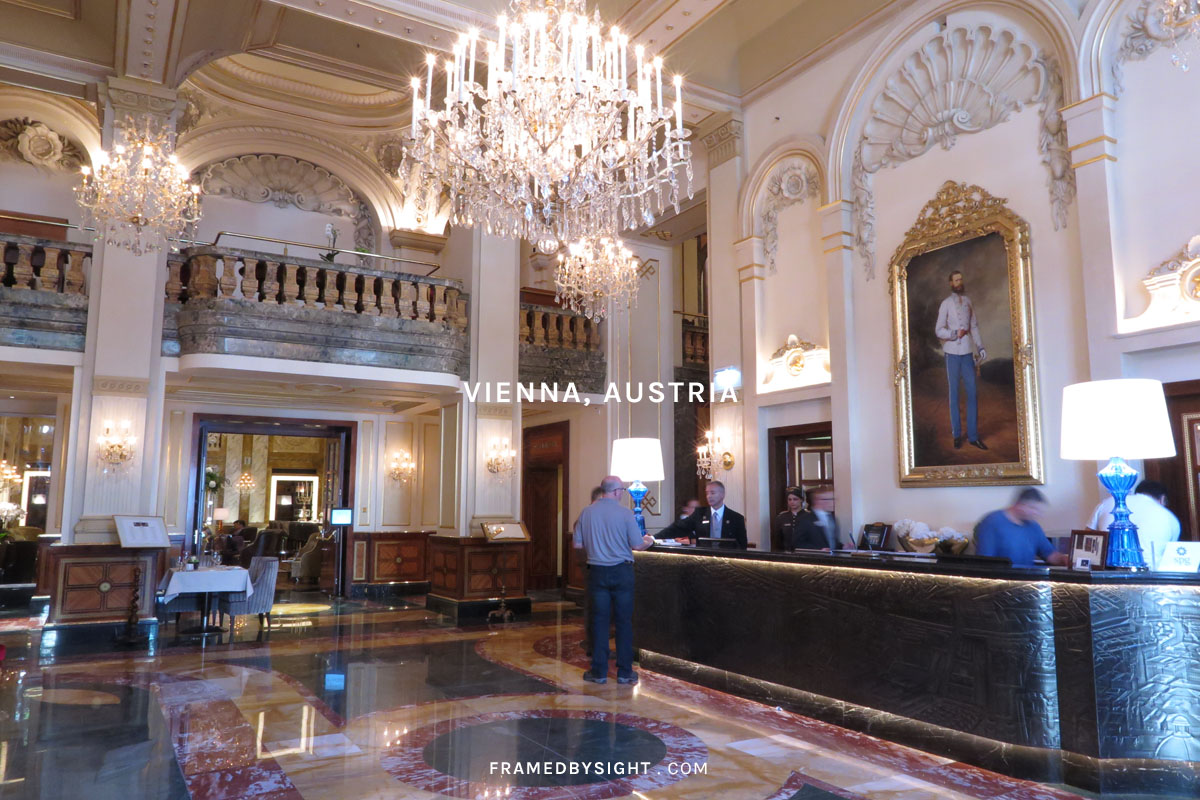 As our European honeymoon adventure continued, this hotel reminded us of our recent trip at The St. Regis Venice San Clemente Palace. It mirrored the same feeling on arrival, the opulence and grandeur entrance of a luxury European experience about to unravel.
The location is excellent, right next to Karlsplatz Station, less than a 5-minute walk away and within close proximity to other tourist attractions. Upon arrival, we did have a laugh. We turned up with our travel backpacks on (nicely dressed mind you) and instantly, the front desk staff asked if we were after directions. In actual fact, we were checking in for our stay and whilst we probably don't fit the usual guests that would stay at a hotel like this, it was strange they assumed we were after directions.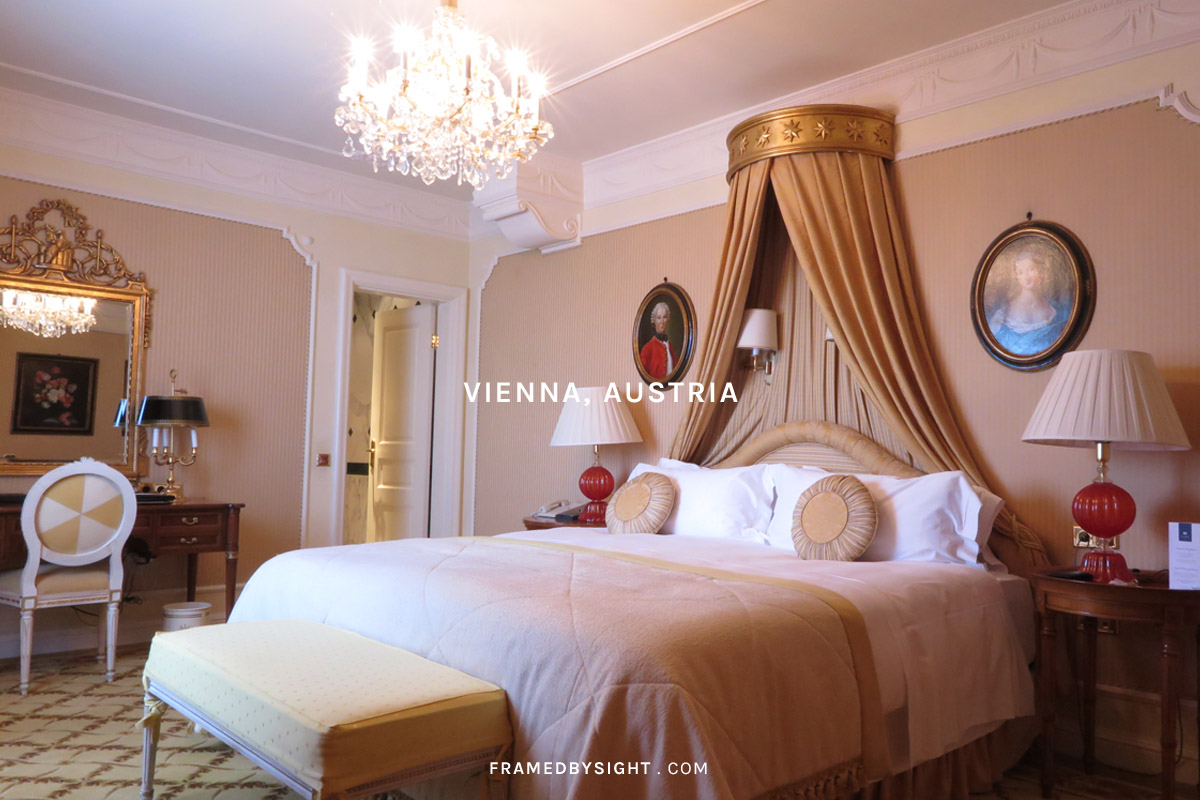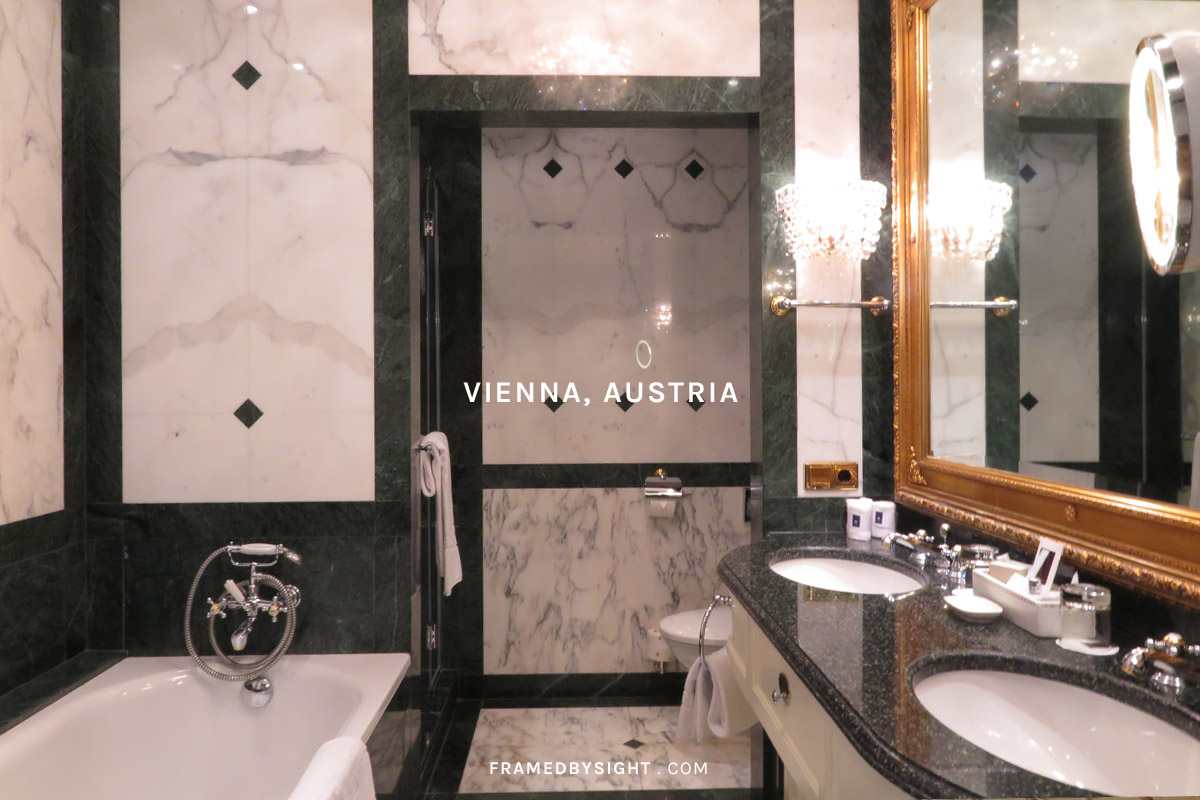 The concierge took our bags straight away and brought them up to the room. They reminded me of old-style bellboys from the movies, dressed impeccably from top to tail. The front desk was very personable, helpful and friendly and nothing was ever a problem when we needed it.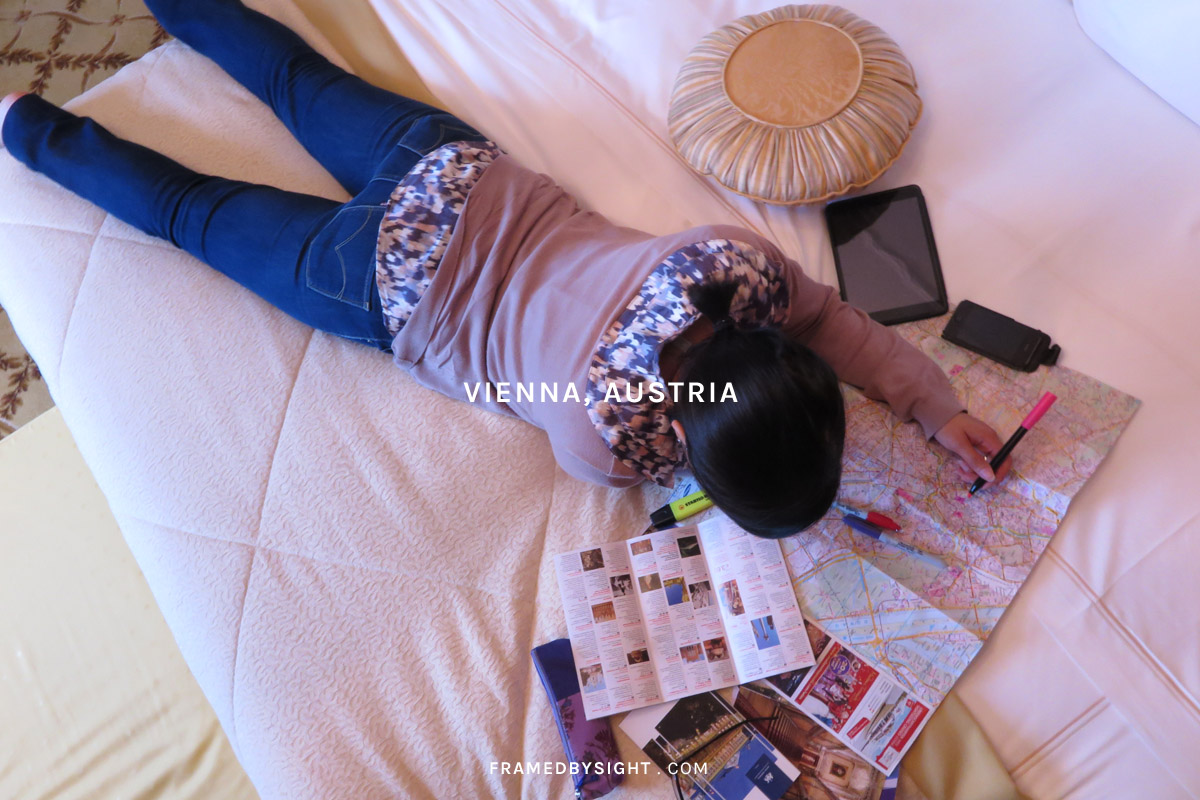 We stayed in a Classic Room, extremely spacious with period features throughout; brushed silk wall-paper coverings, historical feature paintings and tall ceilings. The marble bathroom was also large in size and exuded the feeling of very royal. We did unfortunately have an issue with mould in our bathroom. It looked like steam mould above the shower bay, which we were quite surprised that a hotel of this calibre would not have had this addressed. We didn't want to make a fuss though, as we had been treated so well during this stay so we just ignored it.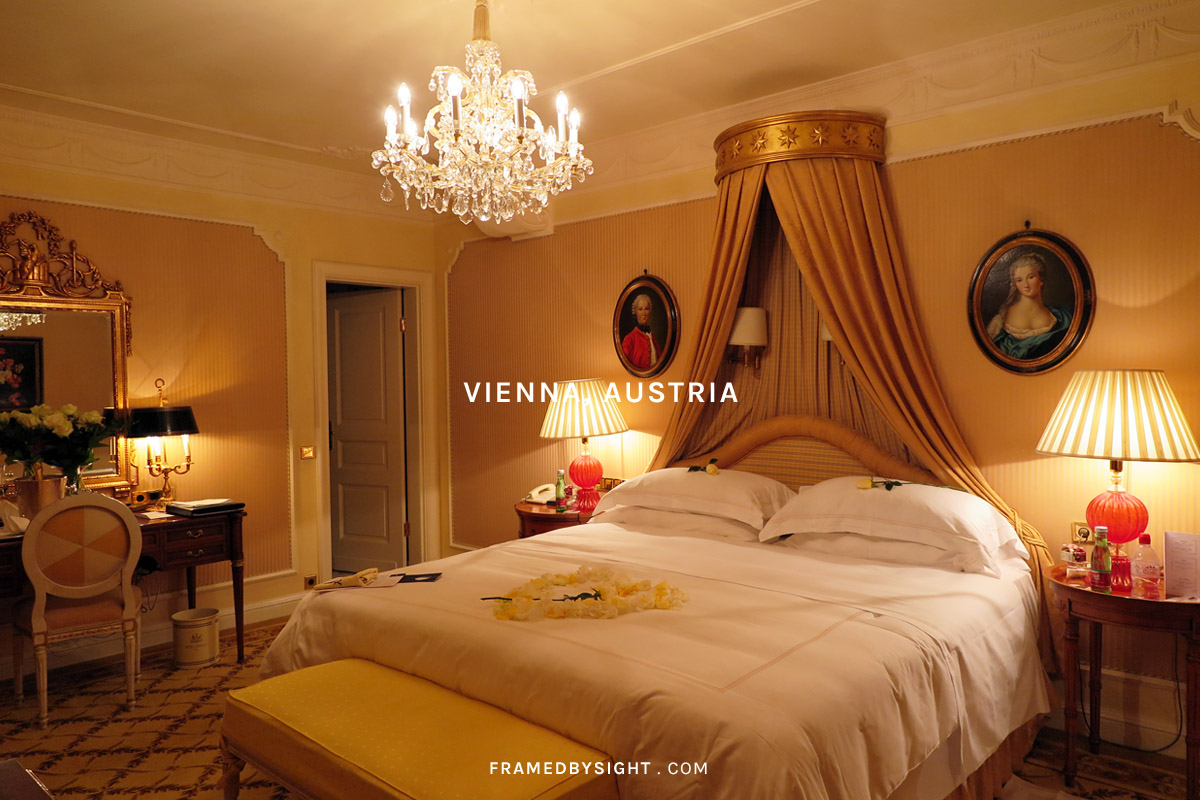 After returning to the room in the evening, we were pleasantly surprised with a bottle of wine and flowers in the room – such a simple yet nice gesture. Thank you Hotel Imperial, Vienna.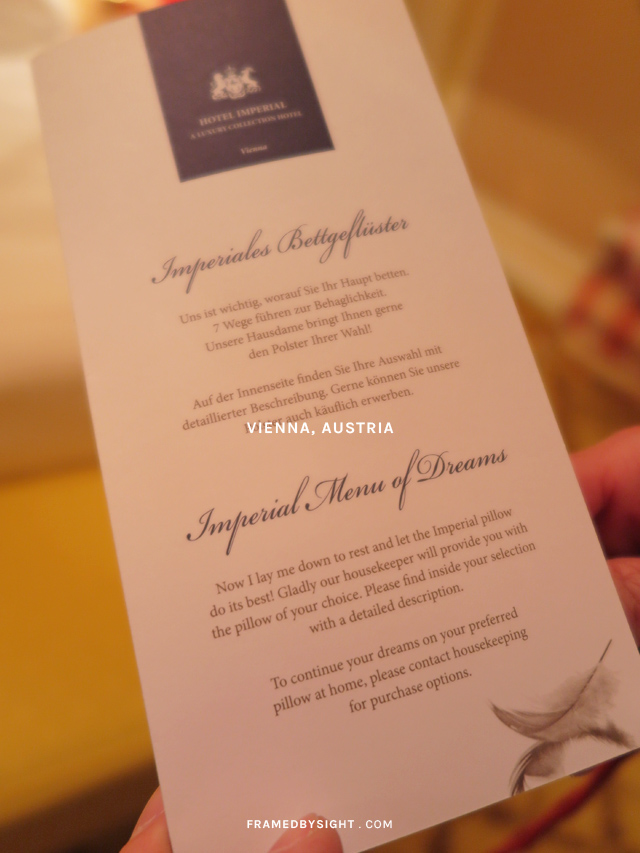 Before you discredit the thought, make sure you have the amazing turn-down service experience inclusive of the Imperial Menu of Dreams.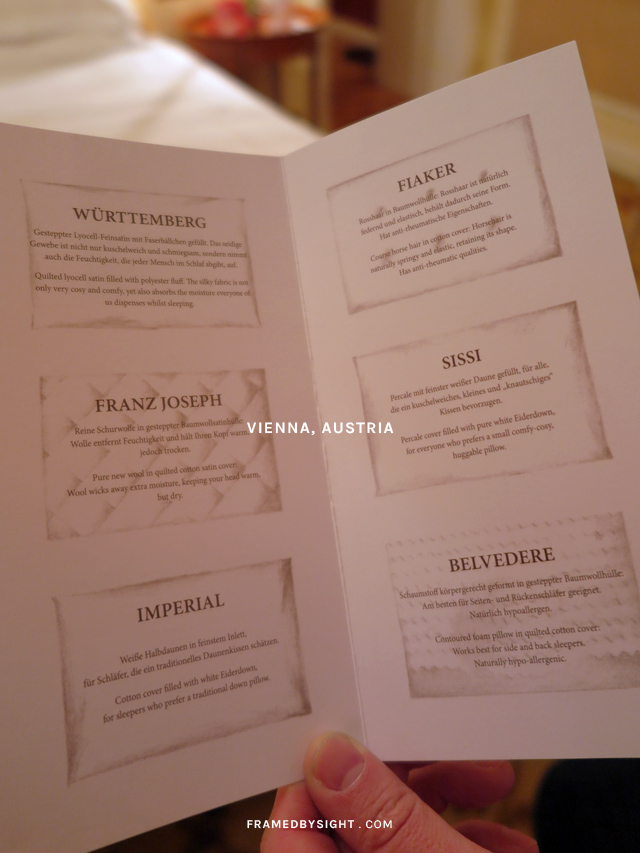 There was a card noted with a range of pillow selections available – since when does this happen? Usually, it's just a selection of soft or firm with the alternate pillow type- in the wardrobe. However, not on this occasion, housekeeping provide any of the pillow types- on request. Thankfully, between the both of us, we tried every option available on the menu during our stay. It was a simple novelty, but oh so fun.
The overall experience here was excellent. I would definitely recommend this stay and return next time I'm in Vienna.
Address
Kaerntner Ring 16, Vienna, 1015, Austria
4