I have to admit, I was a little hesitant to try pre-packaged meals delivered to my home. I personally enjoy strolling the supermarkets, buying fresh fruit and vegetables from market vendors and also visiting the local butcher to complete our weekly groceries.
But, having returned from overseas, we were home quarantined and resorted to technology and the options available for online food shopping. Mainstream supermarket deliveries have since dried up (and are hard to come by) due to the high demand and shift towards supporting the elderly and those in remote locations.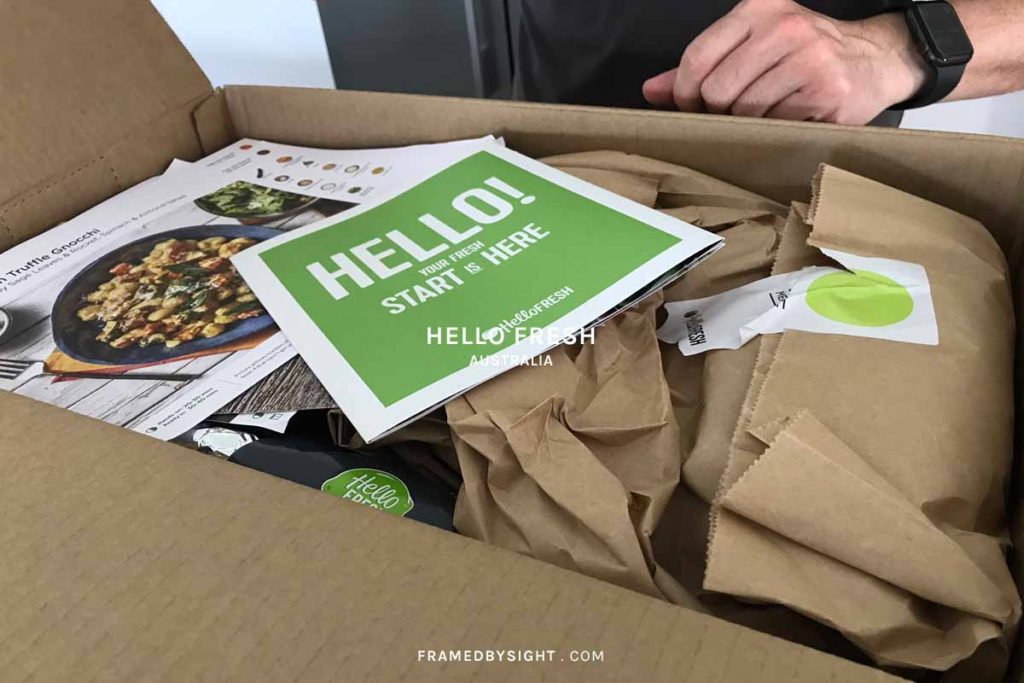 Through the recommendation of a friend, we opted for Hello Fresh and selected their 2 Person Plan, 5 recipes a week delivered straight to our door.
Scrolling through their weekly online menu, there's actually quite a few options to consider. Different meals are available each week (with a four week view), so do scroll ahead to the following weeks incase you might want to try a specific meal now rather than later.
You also have a choice of a number of options; fast preparation meals (under 15-minutes), "customer favourite" recommendations and even gluten free or vegetarian options too. You could also add extra sides or upsize the included meal choices with more hearty options for an additional cost.
So what was the experience overall you ask?
Our first order arrived as expected. It was a contactless delivery which included full tracking via SMS and email, with the final drop-off time texted as soon as it arrived. As I opened the front door, there it was on the doorstep.. Hello "Hello Fresh".
What arrived was a box packed full of fresh food goodness. Take note, the ingredients are sourced from local Australian produce – so, you're also doing your bit in supporting the economy and buying from Australian businesses.
Inside the box were five A4-sized recipe cards, followed by five individual brown paper bags which were your main meal kits assigned colour coded stickers to match the associated recipe cards.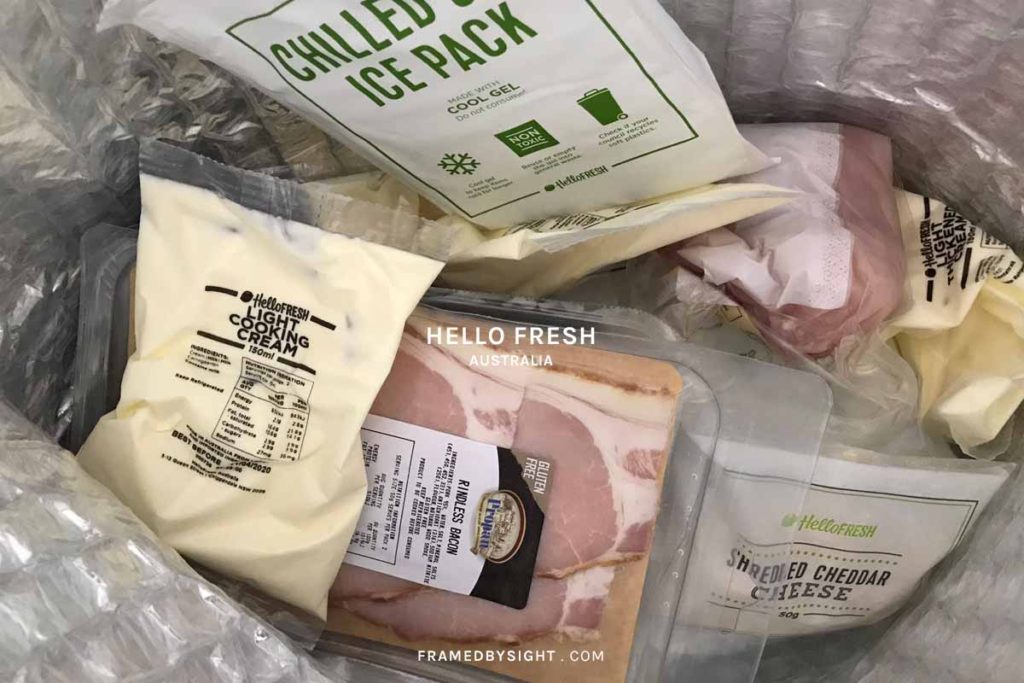 The cold meats and dairy items were in a separate pre-cooler bag, packaged with cooler ice packs.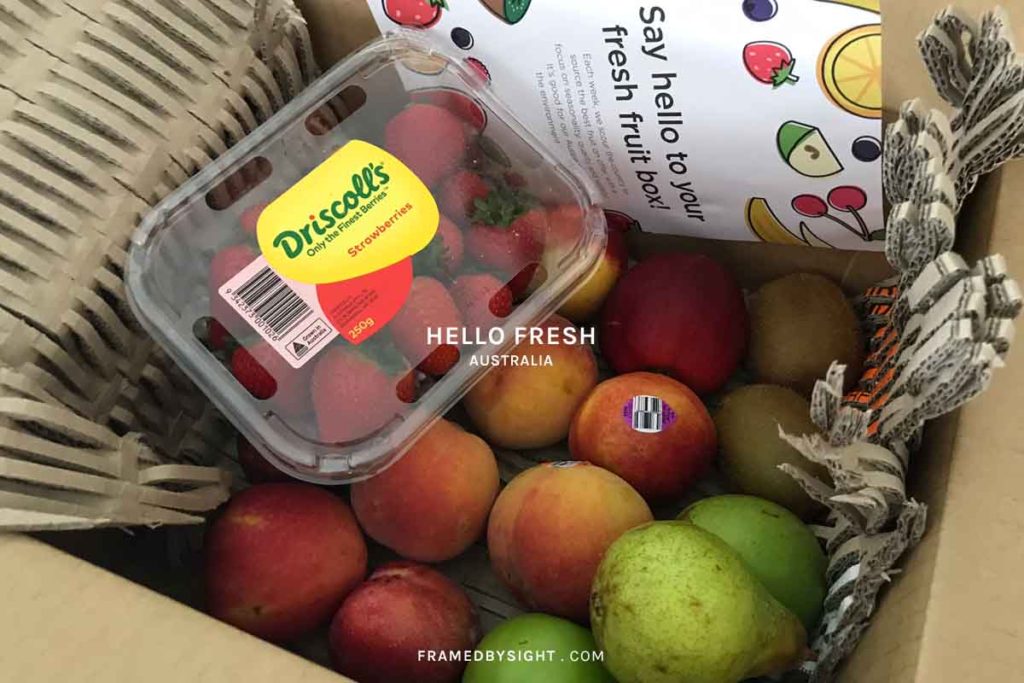 We also opted to order a small box of fresh seasonal fruit which included about 16-18 pieces, again locally sourced and 100% Australian.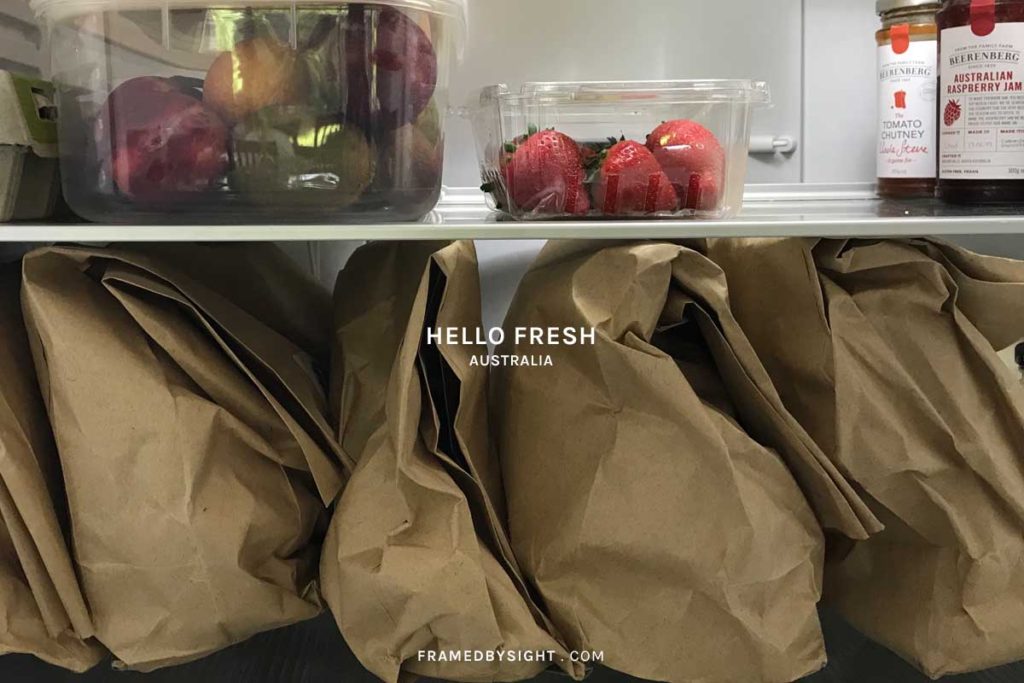 For us, Hello Fresh made cooking very simple – open the fridge and take the relevant bag required for our meal and the associated sauces listed on the recipe card. The only other requirements are your standard pantry items which you more than likely already have such as olive oil, eggs, salt, soy sauce, sugar and honey. The one item we didn't have – and needed to purchase – was rice wine vinegar, otherwise the remainder of the ingredients were supplied by Hello Fresh including truffle oil, chicken stock and fresh herbs like rosemary and coriander, to name a few.
Between Tim & I, we divided and conquered on the cooking duties which was actually quite rewarding and fun. We'd read through the instructions together and then choose to split the preparation such as marinating the meat and cooking on the stove, whilst the other would put together the side dish and / or salads.
Hello Fresh, I genuinely enjoyed welcoming you into our home:
Firstly, for being available when Sydney supermarkets were a miss. You have consistently delivered quality produce each week and if something was unavailable due to limited supplies (e.g. vegetables), you substituted without hesitation.
Also, you've changed our kitchen lifestyle – you've influenced my husband to have a new found appreciation for cooking. Yes, you read right, he's changed. Hha. Your meal plans and food preparation are easy to follow and the inclusions supplied are already portioned per meal, which makes the cooking process all the more easier. Tim truly enjoyed the menus each day, and it also brought us closer together as we now often share the cooking duties, much more than before. At times, we also cooked more than expected, so these meals could transition between lunch or dinner, depending.
Oh and the third thing to thank you for, is for teaching me new cooking tips and tricks as there were a handful that I didn't know. So it's always a great opportunity to learn new and simple ways to prepare food.
Honey Mustard Beef Burgers with Beetroot Relish & Sweet Potato Chips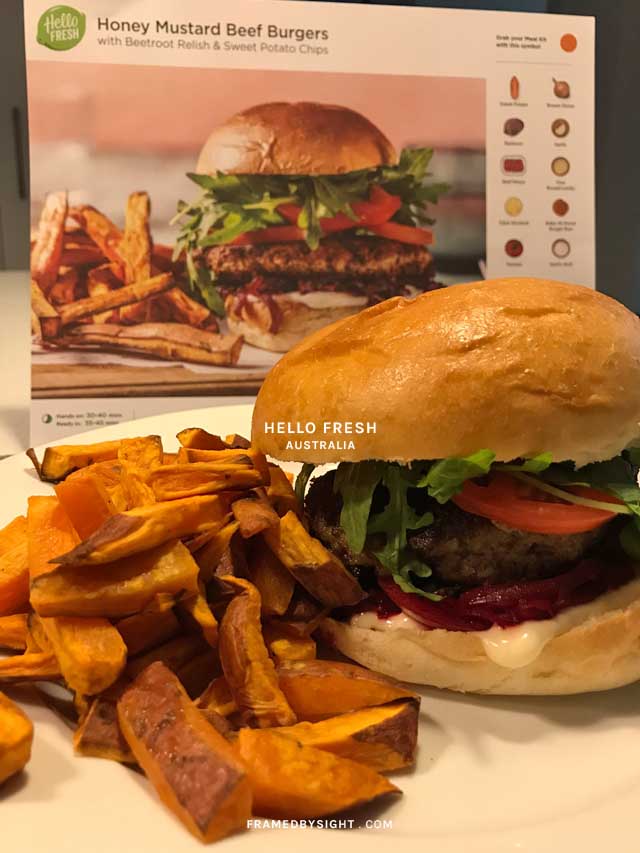 Thai-Style Sweet Chilli Chicken with Coconut Rice & Pickled Onion. I also added snow peas to our greens.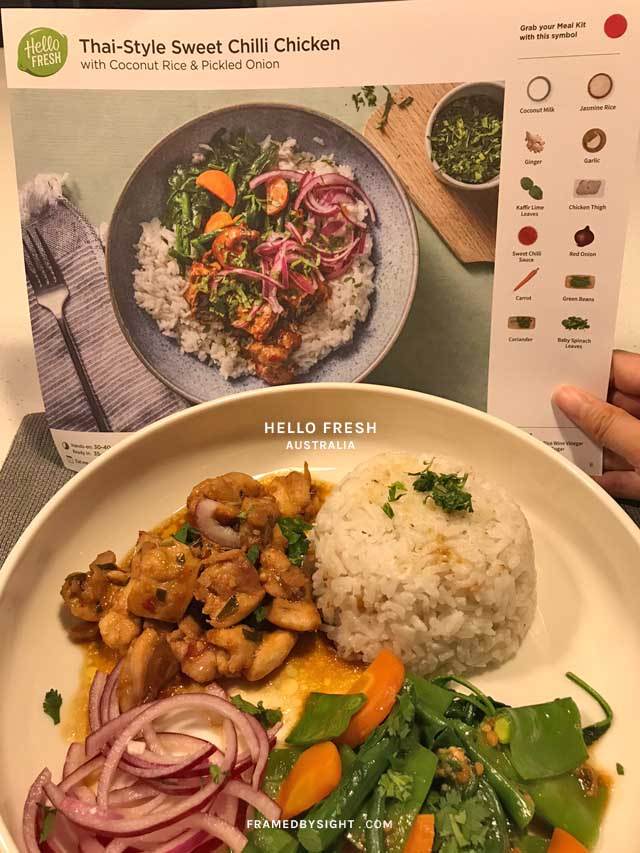 My only feedback is 'time' and that is, if time is not on your side, select the meals that are quicker to make. It works when there's two of you preparing a meal, but if you're on your own, you may be preparing a meal for 30 to 45-minutes which for some people, isn't 'quick' as such.
Also, if you have kids, I'd suggest to choose menus where they can help you too. Simple things like adding cheese on top of jacket potatoes, shaping pork mixture into evenly sized balls for rissoles, or making beef tacos with all the different ingredients – are all fun ways to cook and get them involved.
If you're not already a Hello Fresh member, why not try ordering it yourself and receive a bonus spend credit when you first join?
I'd highly recommend Hello Fresh and honestly found it a rewarding experience knowing what ingredients are being added to your meal from the get-go.
0