I understand the basics of floor plans but will rightly place my hand in the air and say I easily get confused when its about bringing scale to real-life dimensions.
When you have your final plans ready for council submission, these are even more detailed to the millimetre. So if you haven't already, take the time to understand dimensions as it's integrated throughout the build process. Just remember, the onus is on you when you approve and add your signature to all final documentation for both the interior and exterior selections.
Our land is less than 500sqm and most of the Sydney double-storey homes on display are larger in comparison. To gauge size, we drove to newly developed areas such as The Ponds and Kellyville to step out the life-size of some of the houses we were interested in. Yes, we'd casually "walk" past the front of homes with big strides to measure out each metre, just so we had an idea.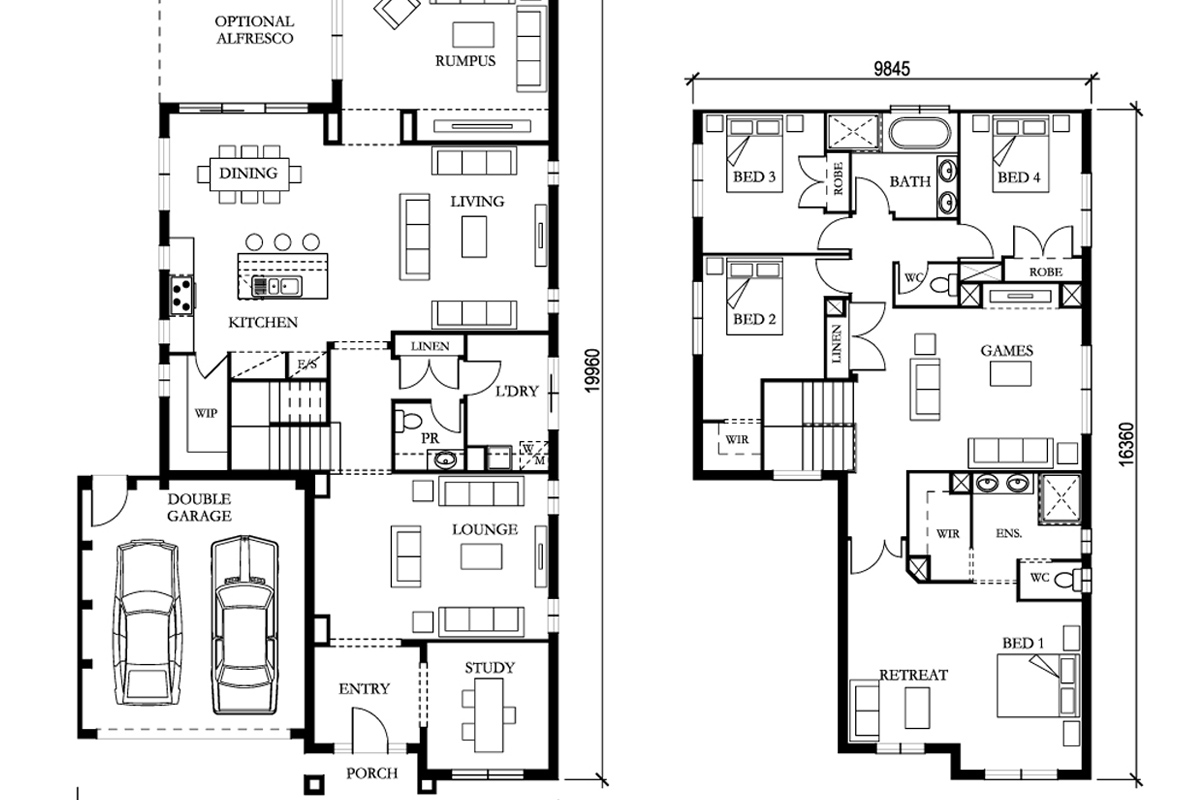 I'm visual in terms of interpretation, so until I see it or can design it, scale is tricky for me to visualise as an intangible object. Funnily enough, we did this for nearly every major decision we had to consider, including running up to the front doors of recently built homes with a tape measure to figure out their size.
Scale
All floor plans are drawn to scale at a ratio. On most occasions, it's written as 1:100 or similar. This would represent the dimensions if multiplied by the greater of the number.
When we were deciding which house type- to build, we measured within our current living arrangements to those on the floor plans.
Make sure you understand these dimensions and size. On paper it may look great, but once stepped out and measured, sometimes, the space is not big enough.
Doors and windows
Doors are marked on the floor plans with a quarter circle representing the direction of the door opening.
Windows are usually marked within the walls as a rectangle with the cross-over and at times, the type of window and the direction of their opening.
AAW Aluminium Awning Window
ASW Aluminium Sliding Window
AFW Aluminium Fixed Window
AWT Aluminium Window with Transom (horizontal divider bar)
For example, window dimensions eg. AAW1506 is: Aluminium Awning Window 1.5m wide x 0.6m height – width is always referenced first before height.
Stack point
This is typically for plumbing and/or ducting/exhaust ventilation running vertical, concealed in the walls. These cannot be moved in the event you're considering to modify that particular room.
Bulkhead
Bulkhead tends to run horizontal and is when plasterboard may be used to cover or conceal another area or to finish off an area. This can also conceal wiring and/or ducting/exhaust ventilation.

For example, when cabinetry meets the ceiling. If there is a gap above the cabinetry, a bulkhead can be included so the cabinets are flush to the ceiling.
North on a compass drawing – the importance of the sun
I won't go into detail on this one, but the sun rises in the East and sets in the West. Look at your house plans (when drawn inclusive of the top down view of your floor plans) and identify where is North on the map.
Basically, when looking East (from North), the sun will rise in that location and where it is West, the sun will set. So, the direction of South would be your most shaded/cooler area of the house. This is very important when you're positioning windows and natural light.
The South side of your house will have minimal natural light, so consider rooms that may not be actively used in this area (such as the garage or placement of your rainwater tank) if you have the ability to re-design your house in such a way.
The size of your windows can provide natural light and if positioned to your advantage, can lighten your home in different rooms naturally with energy efficiency benefits. What's the point of this you ask? In summer, the sun's position is higher whilst in winter it is lower. The orientation of your home can make the best use of the sunlight and wind, increasing the energy efficiency of your home and cheaper to live in.
Space for an air-conditioning unit
Consider a location on your house plans for your air-conditioning unit. Our unit dimensions are D 580mm x H 990mm x W 1320mm. Your unit may be even larger, so do query this if you're planning to include air-conditioning.
Space for rainwater tank
Consider a location on your house plans for your rainwater tank. The standard rainwater tank included is a Tankworks Round unit 3,000L. Approximate dimensions L 1500mm x H 1860mm x W 1500mm. We opted for the Slimline unit and the dimensions are L 2300mm x H 1860mm x W 850mm, so it is large and not easy to hide. There is also an option for an underground rainwater tank which was quoted at over AU$7,000 however we were not interested in this option.
Space for council bins
Ensure you include adequate space on your floor plans to place your council bins, ideally near the front of your house or if there is space down one of the sides of your house.
Sewer lines and major pipes on your land
If you're planning to consider a pool or any activity that involves digging deep into your soil, find out where major lines are. There are restrictions that need to be adhered to in terms of minimum distances to build from.
---
Eden Brae Glossary of Terms
This is simply a brain dump of acronyms and abbreviations I've had to search for. Do add comments if you have any others and I'm happy to update.
Basix
Building Sustainability Index. The Building Sustainability Index (BASIX) aims to deliver equitable, effective water and greenhouse gas reductions across the state. BASIX applies to all residential dwelling types and is part of the development application process in NSW.
PCV
Post Contract Variation. After the initial deposit is paid, any modification to your contract will be raised as a PCV prior to your file being finalised and ready for submission to production.
BV
Building Variation. Once your file is in production and construction has commenced, any new modification will be raised as a BV.
2-pak
Another name for polyurethane cabinetry finishing
HOG
Home Options Gallery
CSA
Customer Service Administrator
HWS
Hot Water System
HC
Hose Cock (tap outlet)
Image source / Eden Brae Homes Cremorne 35 floor plan
9