(Edit: Rebranded to Hanmade's Bakehouse, Mar 2020)
When your mum sends you a text that says "Jacqui, I can't stoping eating the Sans Rival. I keep opening the fridge to take some little by little. Ang sarap kasi." You know you're onto a winner.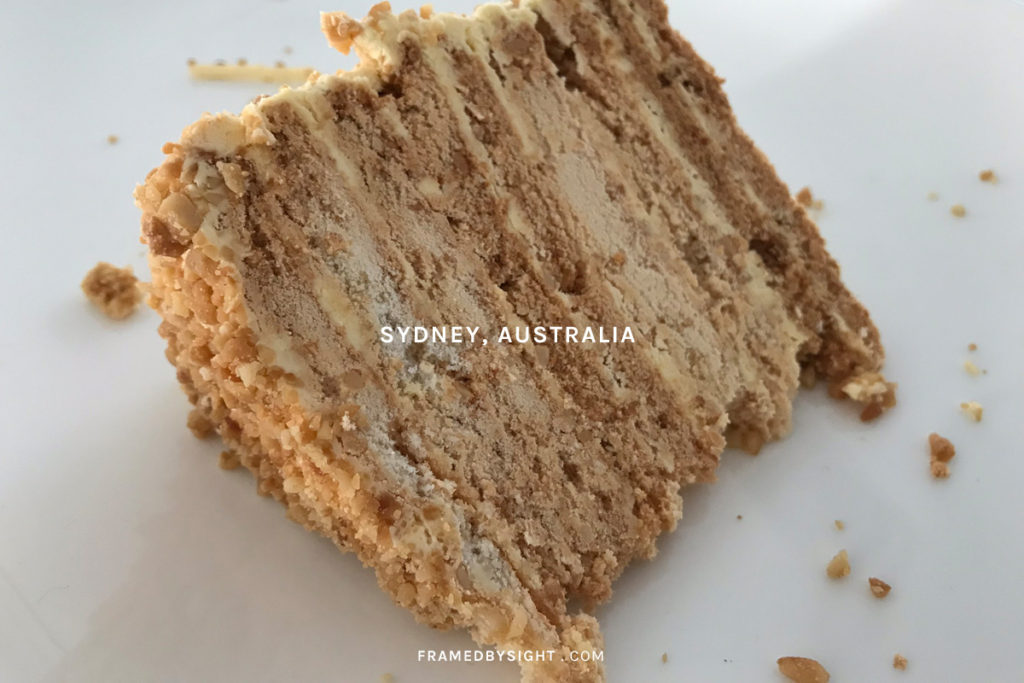 And what an awesome find with Hanmade Desserts, a brilliant creator of Filipino cakes and desserts available in Sydney's north-west.
I met the lovely Hannah via Facebook. I was visiting my parents over the weekend and in doing so, I love bringing them local Filipino treats to share. I stumbled across Hanmade Desserts online and thought I'd give them a go.
Hannah is great with correspondence and really approachable. She's quick to respond and has an absolutely amazing, drool-worthy, Filipino cake list on hand. Once you've secured your order, the invoice for payment arrives fairly promptly and you can simply EFT, and then schedule a pick-up time for collection.
What is available at Hanmade Desserts you ask? I was slightly overwhelmed when I first saw her price list, more so because I was only after a Sans Rival cake, yet what I received back was an extensive range of Filipino dessert options:
Ube cake
Special ube and Sans Rival cake
Leche flan brulee lava cake
Salted caramel cake
Double fromage cheesecake (with the added option of ube or blackforest flavours)
Chocolate truffle cake
Chocolate hazelnut cake
Creme brulee cake
Ube macaroon cheesecake
Vanilla & buttercream biscuit crunch crack cake
Carrot cake
Coffee tiramisu cheesecake
Sans Rival plain cashew cake (with the added option of cookies & cream, chocolate hazelnut gf, peanut butter chocolate gf, butter crumble, smores, mocha, polvoron yema, Tim Tam or mango float flavours)
New cake release: Coconut caramel vegan Sans Rival v, gf. Now, you're really not missing out when Hanmade Desserts can cater for vegan dietary requirements too in a Sans Rival cake. Gluten free, egg free, dairy free and nut free all in one.
Silvanas (cookie version of Sans Rival cake)
Plus cupcakes, cake pops, dessert cakes, mini-cakes, and slices too
I ordered the traditional 7″ Sans Rival plain cashew cake (AU$60)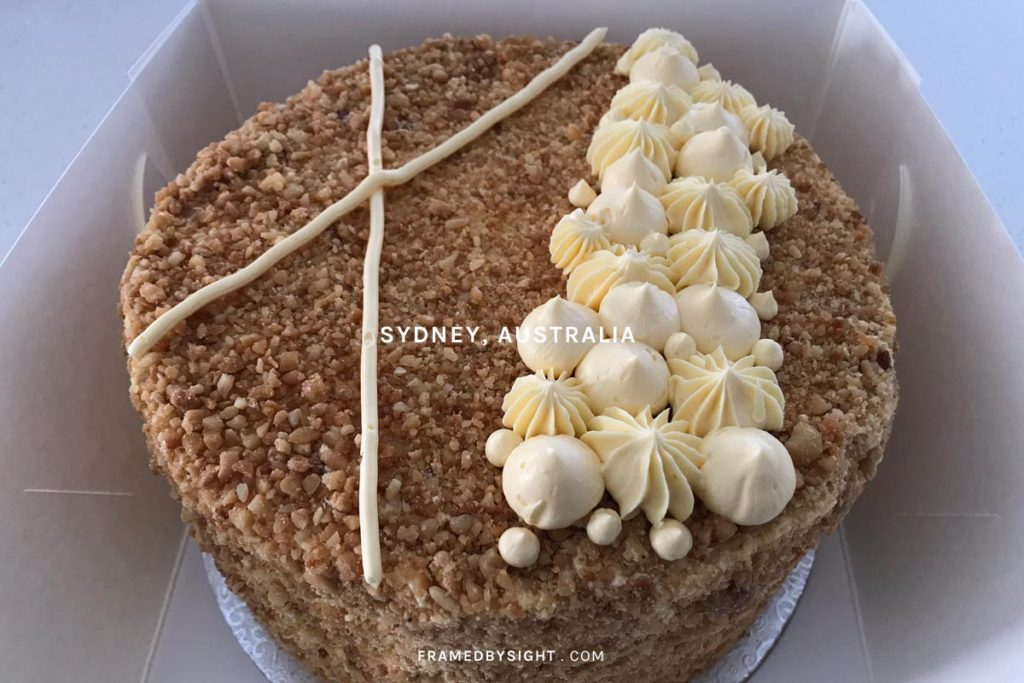 And, a mixed box of 12 small-sized Silvanas (AU$20), which included chocolate hazelnut, polvoron yema, cookies & cream and butter crumble flavours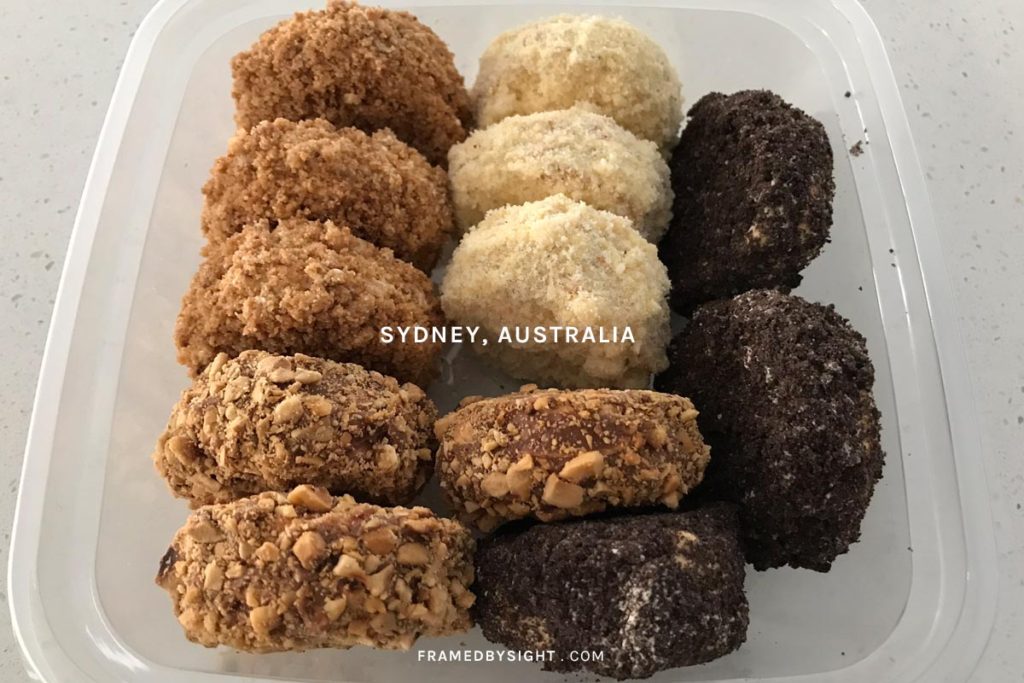 What I loved was Hannah's intricate decorations on the cake. They weren't simple cakes with icing smothered across the top, there was touches of craftsmanship in designing the look and feel, giving it the wow factor. When you peruse the Hanmade Desserts Facebook page, you'll find her cake presentations have that creative flare, with true talent behind her. #nomnom #sarap #dessertalert
The cake packaging was also sturdy. I drove to collect these delicious treats and I placed them in the front seat without worrying too much that the cake would be damaged. In saying so, it was a little strategic with positioning, but the cake box was solid and the Silvanas were snug tight knit in its tub, so the desserts arrived home unscathed.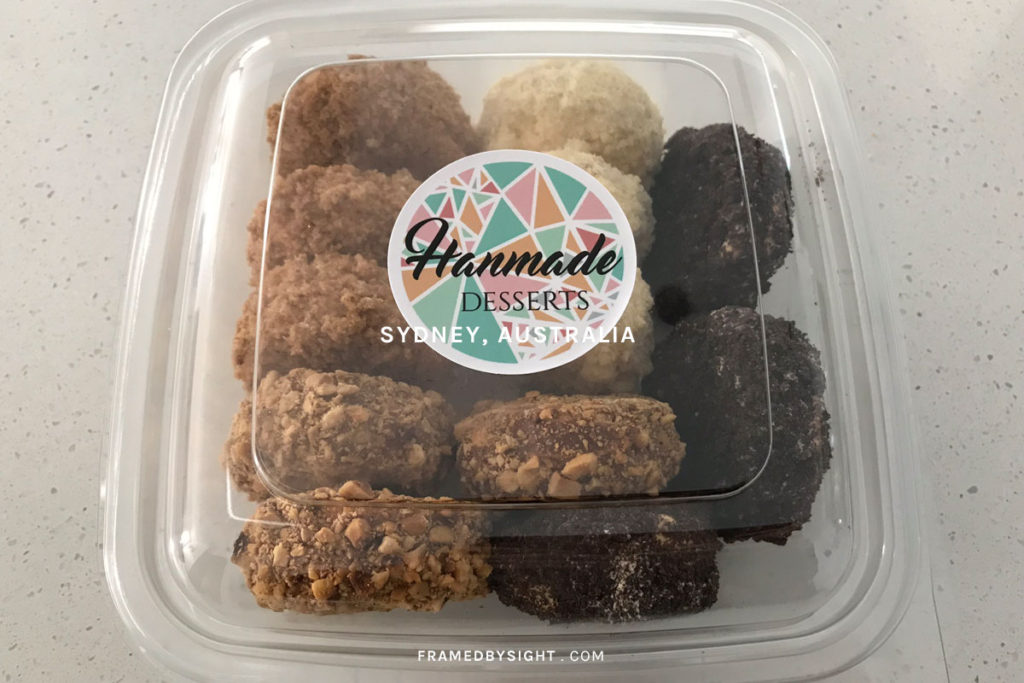 Hannah's baking warehouse is in the comfort of her home, so the lead-time from ordering is about 5-7 days. You're met with such a friendly and personable person at the front door, that I'd highly recommend trying her desserts.
Hanmade Desserts are the perfect accompaniment for any occasion including your next social gathering, birthday celebration or family event. The Sans Rival cake and Silvanas were an absolute hit, each with the perfectly layered buttercream, meringue and cashew nut crunch. #drooling
For those who are Filipino, you know your mum is the best critic when it comes to food – well, I know my mum is – and she couldn't resist these delicious treats even when they were already tucked away in the fridge.
(Edit: Having since first met Hannah, her home business has evolved to an actual store – which is amazing to experience as a customer. It is also the evolution of her business rebranding from Hanmade Desserts to Hanmade's Bakehouse)
Shopfront (now open, Jun 2020)
Hanmade's Bakehouse
Eastern Creek Quarter Shopping Centre
159 Rooty Hill Road South, Eastern Creek, New South Wales, Australia 2766
14